I have some great news: Buffer has acquired Respondly, a social media customer service and brand monitoring tool!
We're excited to bring this product into the Buffer family and move into a whole new market that many of you have been encouraging us to explore for years.
I wanted to take a little time to share the full details about how we came to acquire this product and our overall vision for how we'll grow our social media offerings to help you to deliver great experiences and results on social media.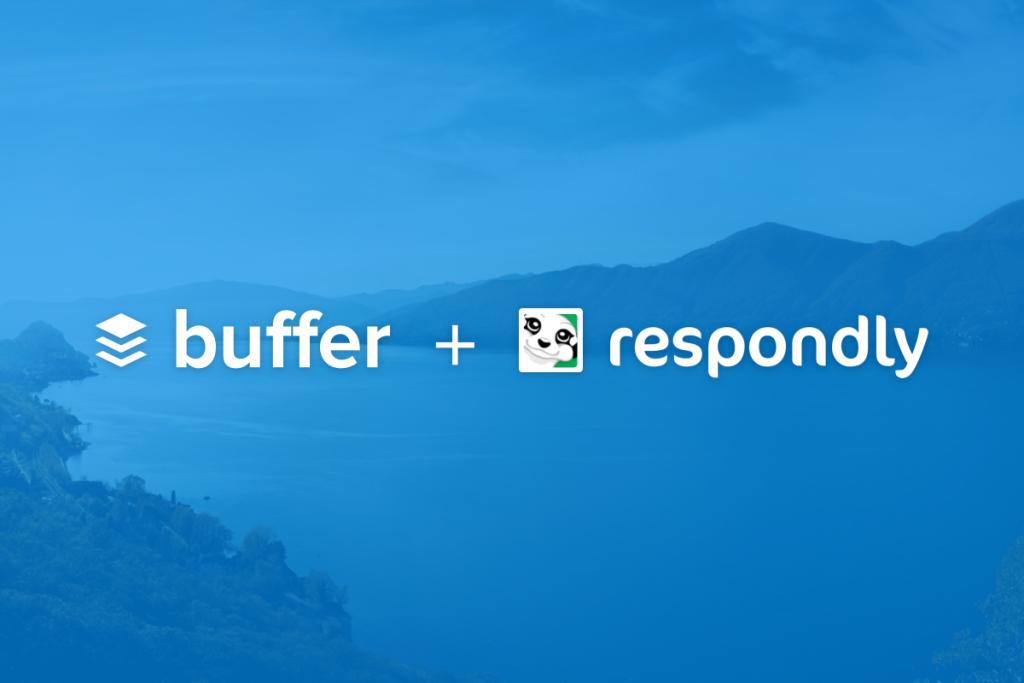 What this means, and when you can get started!
Respondly is a social media customer service and brand monitoring tool. I've personally been a customer for more than a year in an attempt to stay better on top of my own Twitter account.
We'll be rebranding Respondly to Buffer Reply, and it will remain a standalone tool, specifically suited for social media customer support, engagement, community, and monitoring.
We believe there is a power in keeping products separate, to continue our philosophy of simple products with clear purposes.
We're working around-the-clock to get things ready for a full launch soon. Here's a peek at where things are headed: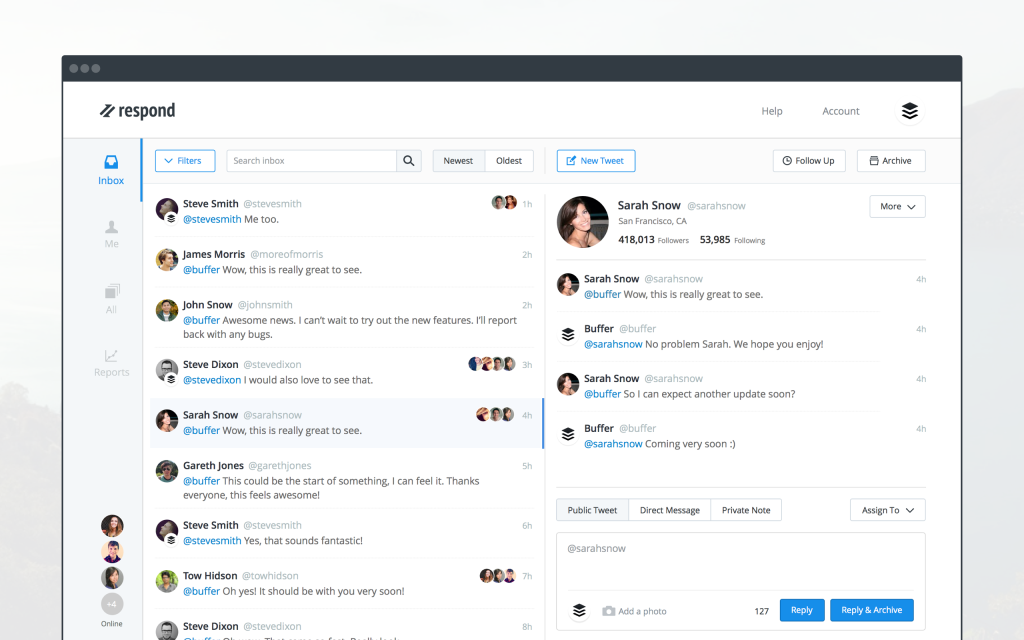 Want to try Buffer Reply earlier? We're starting to invite people in gradually, starting today!
Request an invite at buffer.com/reply and we'll welcome you to try Buffer Reply as soon as we have capacity.

We'd love to have you give it a try! As with our journey with Buffer in the last 5 years, we're excited to rely on many of you to help shape this new product too.
Our overall vision for social media and Buffer
Building a social media customer service product has been on our minds for a while at Buffer. Whenever we thought about it, we weren't quite sure how to get started—until Respondly came our way. I'd love to summarize a few ideas we have about the future of social media and the small role we hope to play in it.
Where we see social media going
Social media has matured tremendously—Facebook and Twitter have gone beyond the "hot new thing" to become ubiquitous tools that help us connect with each other and help businesses reach their audiences.
When we look at what happens as any industry matures, we see that a specialization of tools emerges, especially when the channel can be used for multiple different purposes. For example, as email grew in popularity it was used for both marketing and customer service.
When it comes to social media, we feel that that equally applies. Both sides of social media—customer service and marketing—are frequently rolled into one solution.
A product that combines both these functionalities feels to us like one where you'd have the other side getting in the way, and the whole experience could feel overwhelming. We know those are generally two separate departments in the company. They serve two different purposes, and two different teams are usually handling these responsibilities. The best experience, in our minds, is two separate products with opportunity for overlap through carefully crafted integrations.
In our opinion, as more time passes and the more social media matures, tools will become more specialized and it will make less sense to combine such different functionality. We feel that one product for both of these areas in a company would diminish the user experience.
For you micro-business owners who do it all—and who we know are a large part of our 45,000+ paying Buffer customers—we feel that having two separate tools, geared towards simplicity and speed, will be a huge win and help you save more time. This becomes even more important as your business grows and you bring on new team members to take care of marketing or customer service.
How we want to integrate the two sides of social media management
In the last several years, we have heard two things over and over again from users and customers:
Customers love the simplicity of our marketing and publishing product, and often switch from other products that feel more complicated.
Customers have frequently mentioned to us that they'd love for us to offer a listening and brand monitoring tool.
Because of our focus on simplicity, it didn't quite feel like the right approach to combine those two functionalities together into one tool—our approach to product is to try to keep things simple and intuitive, yet powerful. Instead, we felt that if we were to enter the customer service and brand monitoring space, we would tackle it separately in order to build a world-class product for both the marketer and the customer service person.
The times we have given serious thought to building a customer service and brand monitoring tool, we did assessments of how much time it would take us and the team we'd need in order to build something truly great. Our approach at Buffer has been to take the path of steady and sustainable growth, striving for an excellent product and user experience. Therefore every time we came back to the topic, we felt that we didn't have the resources to build something world-class, so we shelved the idea again and again.
When 1+1 = 3
That was, until Respondly came along and we started a conversation around supporting and growing their incredible product. We felt that, for the first time ever, we might be able to move into this new market:
Respondly was already a fantastic product, saving us months of time if we were to build the product ourselves.
We could therefore offer a great standalone social media customer service and brand monitoring product, alongside our existing marketing and analytics product.
We've reached over 65 people on the Buffer team, and feel we're now at a point where we can tackle both of these areas without letting the quality of one side slip.
It felt like a true 1+1=3. Respondly's awesome founder Tim Haines has a product philosophy that aligned perfectly with ours: Build something truly incredible that solves a very specific need, rather than a solution that tries to be everything to everyone.
When Respondly met Buffer
I've been in touch with Respondly's founder, Tim, for more than a year. He connected via email a while back. I happily agreed to a chat—at that point, I didn't quite know what the call might be about.
We talked on the phone, and Tim shared that he was looking for a new home for the product and its customers, and that Buffer stood out as a great candidate. He mentioned that he believed we were experts in the domain, a great complementary strategic fit, and well known for transparency and integrity.
I started to realize that this could be quite a perfect fit – Buffer has a strong brand and marketing, and also an existing large customer base with some likely overlap into this market.
My hypothesis was that if the product was solid, then this could be a very successful acquisition. My instinct was that we could grow the MRR quite quickly. It's a market we've long thought about moving towards, and we knew eventually we would do it.
The Respondly product is very solid and feels pretty "Buffery" in its aesthetic and user experience. It also fits exactly how we would want to approach moving into this market – to have a separate product and ensure that both products remain simple.
I chatted a lot with Leo, and emailed several advisors for advice. I asked some additional questions around traffic numbers and growth of the MRR over time.
I got Sunil's advice on the tech side and asked Carolyn to experiment with using Respondly for Twitter-based customer service.
I chatted with several team members and also worked with Patrik to do some fast customer development around whether our customers were already also doing customer service and using a tool for that.
Build or buy?
Everything was looking positive, so Leo and I thought about how we should approach it.
I worked with Sunil to do a "Build or Buy" analysis, to essentially try to calculate the difference in the outcome of either building this tool ourselves or buying Respondly.
We modeled reaching $100k MRR and the time it would take to grow the team we'd need to build this product ourselves. We also modeled how quickly we could start to generate revenue if we were to acquire Respondly, compared to building ourselves and taking longer, as well as having a less feature-rich product and therefore probably having a slower growth rate.
We took into account the opportunity cost of not having a product in the market, and how much revenue we would generate during that time. Of course, we couldn't pay too much because we're growing fast as a team and need to have a good amount of cash in the bank as security.
Putting in an offer
From here I put forward an offer to Tim that we felt was generous and fair, and could really be a win-win for both sides. (According to the terms of our contract, I can't quite reveal the actual figure.)
I shared our focus on marketing and customer service and how I think we could be a great home and next step for Respondly.
This was an exciting moment, when I started to think – maybe this can happen! Tim said he'd get back to me in a few days. At this point, I was in Austin for a product creator mini-retreat, so things got fun for me with my schedule! I had a call with Tim and he shared the situation they were in:
They had received two offers from companies whom they admired, ours being the higher offer, and were in conversations with some other companies about potential offers.
He shared that if we were to be the new home, he would be rooting for us and following along.
After the call I chatted with Leo and Sunil. I felt that we could really focus on the fact that we could move fast. I jumped on a call later that same day.
What I shared with Tim
Here are the notes I made for that call, and are pretty much what I said:
First off, I want to say how awesome it is to hear that you'd like Buffer to be the company you move ahead with here. It's humbling and exciting to hear that you resonate with our values and the way we're running the company and would be rooting for us with what we could do with Respondly.
I've had a chance to chat with Leo on things and discuss what we talked about earlier and the current situation.
It's exciting for us to think about moving fast here. As I've mentioned before, that's definitely a part we can act on.
As I mentioned, we have to be mindful of our spending since we raised relatively little and that's a big part of the culture of Buffer and the type of company we've become. We're growing the team fast and so with that growth we need to make sure we have a good amount of cash as security.
We'd really be putting a lot of manpower behind Respondly and personally I think that would be fun to see where it goes.
I really want to come to something we can all be happy with and be super excited about moving forward and seeing what we can do with the product in the coming years.
Later that evening, while myself, Jim, Marc Anthony and Kyle were sharing an ad-hoc, fun chat session on how we'd all reached this point in our lives, a new email came through from Tim with the subject line "Let's move ahead". It was high fives and hugs all around! ?
What's next: Buffer as one brand, with other great products
Going forward, we want to do our best to realize our full vision for social media.
We want to keep building Buffer to offer you, as a marketer, the best solution to manage, publish and analyze your social media accounts all in one place.
And for your community and customer service team, we want to do the same thing: Build a best-of-breed, standalone tool to help you reach out to your customers, reply to their questions, monitor what's being said about you and do so in a fast and reliable way to deliver a great experience for your community. This is Buffer Reply.
We've already started to go down this route with our creative image maker tool Pablo, which lives in a separate place and has been used to create more than 500,000 images already.
Going forward, we hope you can consider and turn to Buffer to help you with most of your social media from a number of angles:
Buffer: For social media marketing, analytics and account management
Buffer Reply: For social media customer service and brand monitoring
Pablo: For image creation across all your content and social media efforts
In the long run, what we hope to build at Buffer is the essential social media tool. Our goal: No matter how many other great tools (and there are many!) you might want to use, we hope Buffer is a key part of your mix to deliver great experiences and results on social media.
Keen to give Buffer Reply a try? Reserve your spot now!
We're beyond excited to give you the chance to fully manage your social media engagement with Reply.
It has been incredible to work with Tim (and the whole Respondly team!), and we're so appreciative of his knowledge and expertise in the space. We've gotten so much help and support since the acquisition closed, and it has been awesome.
Again, we're working at top speed with plans for a full Buffer Reply launch soon!
We're letting people in gradually as we scale up. Starting today, you can reserve your place on the waitlist!

This is a big, exciting change for us, and we're so grateful to be able to share it all with you.
We'd love to hear all your thoughts and questions in the comments. The Buffer team is standing by and ready to answer!