Can you remember where you were seven years ago?
I was in my apartment in Birmingham, UK, coding up the very first version of Buffer as a tool to schedule tweets.
So much has changed since then: the Buffer product has evolved, the social networks themselves have matured, and social media managers have grown exponentially in skills and influence.
Today, I'm excited to share an early look at what we believe these changes will mean for Buffer. The progression with the jobs of social media managers has led us toward an exciting new vision for what we plan to do with the Buffer product.
Over the next few months, we will align Buffer with the social media manager's workflow by turning Buffer into a platform of social media products.
The original Buffer will become Buffer Publish.
Our audience engagement tool (formerly known as Respond) will become Buffer Reply.
We will launch Buffer Analyze for social media insights.
I'd love to share with you more about how we arrived at this vision, provide details of what we know so far, and hear your thoughts on this new direction for Buffer.
(Here's a sneak preview of the future Buffer dashboard. Feel free to click in order to enlarge and explore.)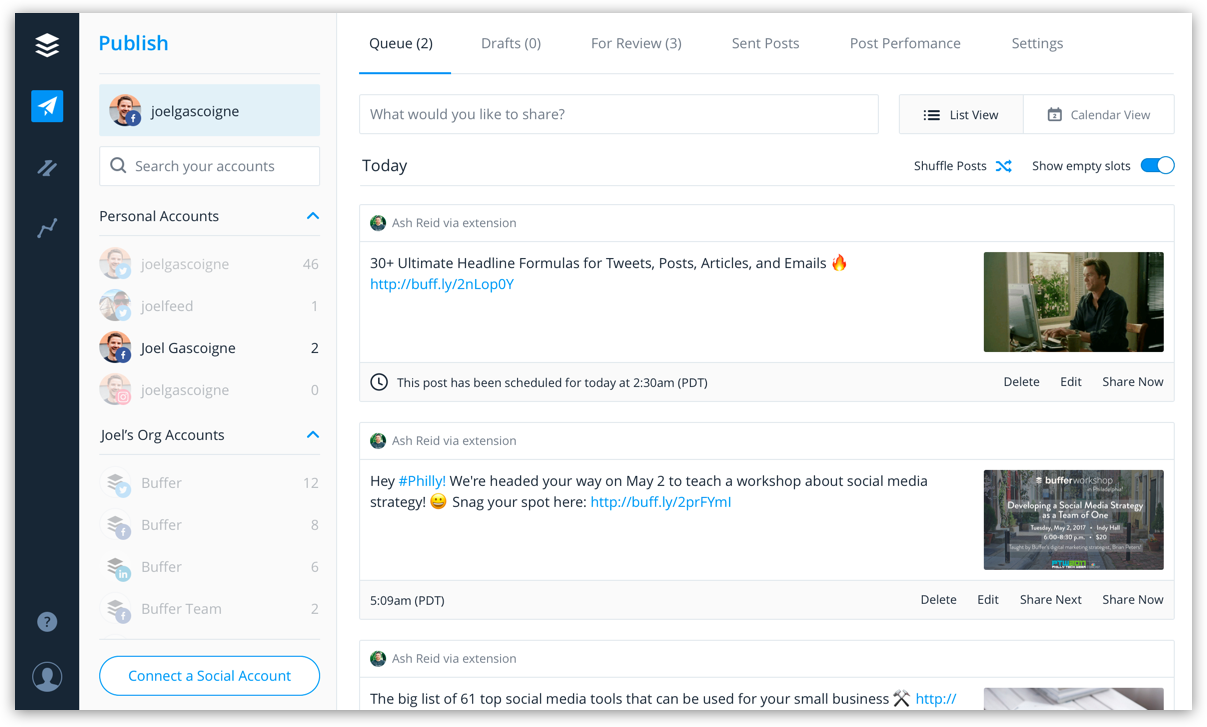 How we believe customers flow through social media jobs
After conducting a months-long research project into social media jobs and speaking with dozens of Buffer users, we began to form some hypotheses about the typical journey a Buffer customer takes. I've described it below and would love to hear if it resonates with you.
Overall, the journey begins with Publishing.
A customer will have a small business, maybe it's even just them running their business alone. Perhaps they're a coach, photographer, or personal trainer. The primary job at this stage is to have a consistent presence on social media.
Once the customer gets comfortable with Publishing, they begin to see results such as growing their following and receiving more mentions, replies, and interactions. This is when they look to handling this new Engagement that they are generating through publishing.
To begin with, they might make do using the social networks themselves or a single-network tool like Tweetdeck. Eventually, they'll need a tool truly built for the task.
Once they have a fully running social media strategy with Publishing and Engagement, they will want to know how this strategy is performing. At this point, the customer has started to invest real funds into social media: both in terms of tools and with full-time salaries. This is the natural point at which they'll start to seek an understanding of the performance of their strategy. As a result, they'll need an Analytics solution that can help them understand what they're doing on social and the results they're obtaining.
Around a similar time as the need for Analytics, a customer will start to explore spending on Ads in order to gain a wider reach and to target specific audiences.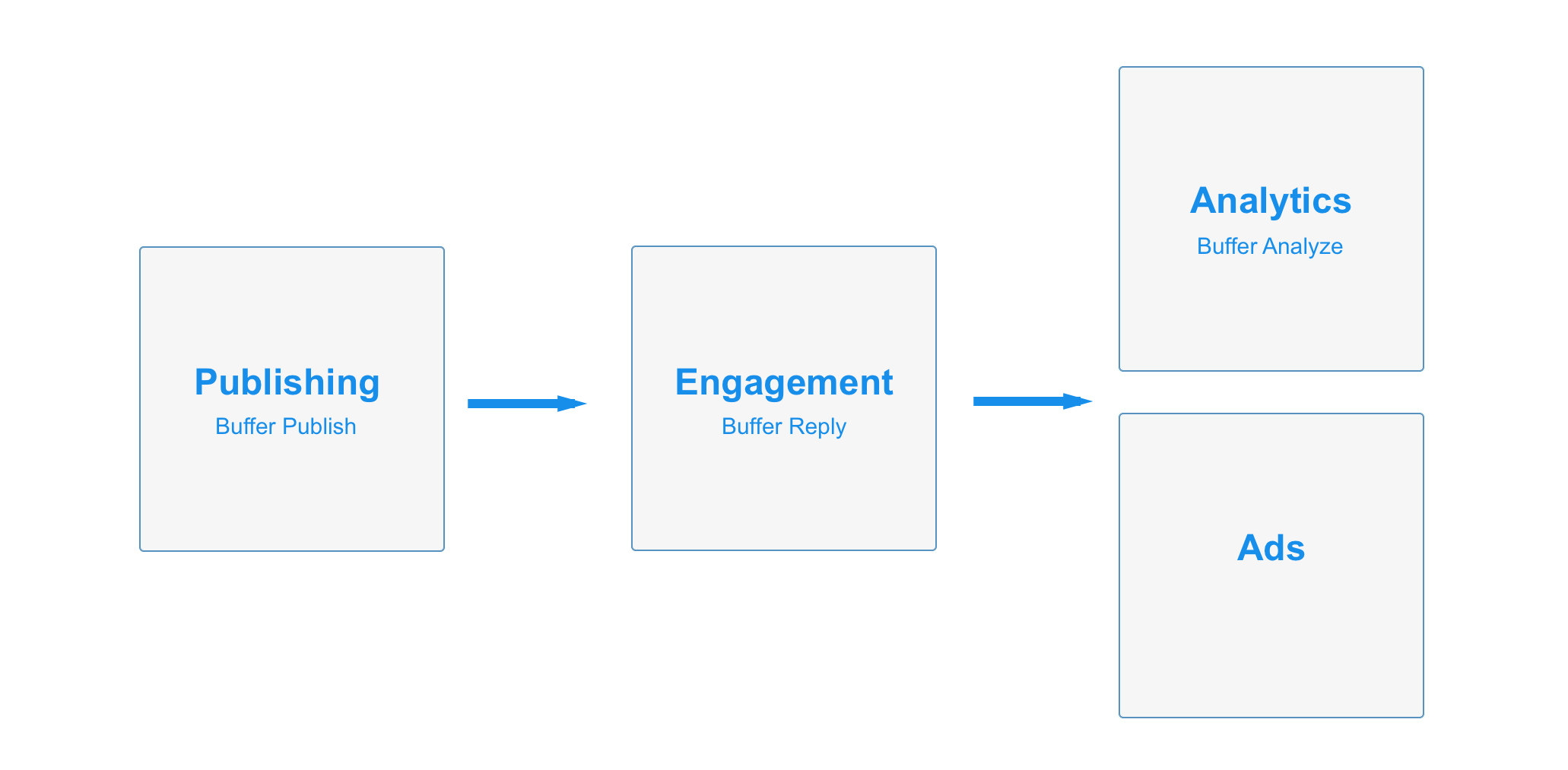 By far, the key reason we saw customers leaving Buffer over the last year was because we didn't adequately fulfill jobs beyond publishing — specifically engagement and analytics.
With our new product vision, our goal is to enable our customers to grow with Buffer and help them execute their social media strategy from start to finish.
We know that social media has matured far beyond being a place to broadcast content, and we believe consistent and authentic engagement with people on social media is as important as ever. In 2016, we acquired Respond (now Buffer Reply) to help us down this path. However, until now, it has been kept mostly separate from our other social media tools.
We've also learned that the value of creating content on social media is greatly amplified if you can truly understand how people interact with it. While we have made some great strides with the social analytics we provide, there is much, much more we can do.
Thanks to conversations with our customers and the social media marketing community, we learned that our product vision needs to evolve, and we're excited about our vision to do just that.
The Vision: A platform of products
The first step we are taking is evolving Buffer into a platform, with multiple products available in one centralized location. We're thinking of it as a suite of tools, each sharing the characteristics that we hold dear at Buffer:
Simplicity: Carefully-chosen features and a refined, robust experience.
Empathy: Being accessible to all people, and offering real, human support.
Authenticity: Each tool should enable you to amplify your own, authentic voice on social media.
This is the family of tools we are working towards:
Buffer Publish
Create, schedule, and post your social media content with ease. This is the current version of Buffer you have come to know and love, and it will remain fully intact and as useful as ever. We will continue to include the current analytics.
Buffer Reply
Engage with your customers and audience from one streamlined inbox. Reply is available now, and you can start a trial here.
Buffer Analyze
Understand your performance on social with meaningful insights, beyond the analytics provided in Buffer Publish. Analyze is coming soon, and you can sign up for early access here. Analyze is now available to all!
At some point in the future, we'd also love to explore developing a Buffer Ads solution to help you manage your paid ads and sponsored content across the major social media platforms.
Here's a bird's-eye view of a potential way this could all function within the Buffer app in the future: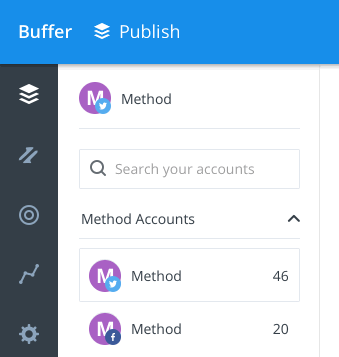 With this shift towards a suite of products, we also want to make it easier to pay only for what you need by allowing you to pick and choose the products that fit your stage of the social media journey. We haven't made any changes to pricing yet and are eager to hear any thoughts or ideas you might have.
Thank you for the feedback so far
This is just the beginning, and we fully plan to keep evolving the functionality of these products as well as introducing new products to meet even more high-impact jobs for you.
Again, here's a sneak preview of our new dashboard.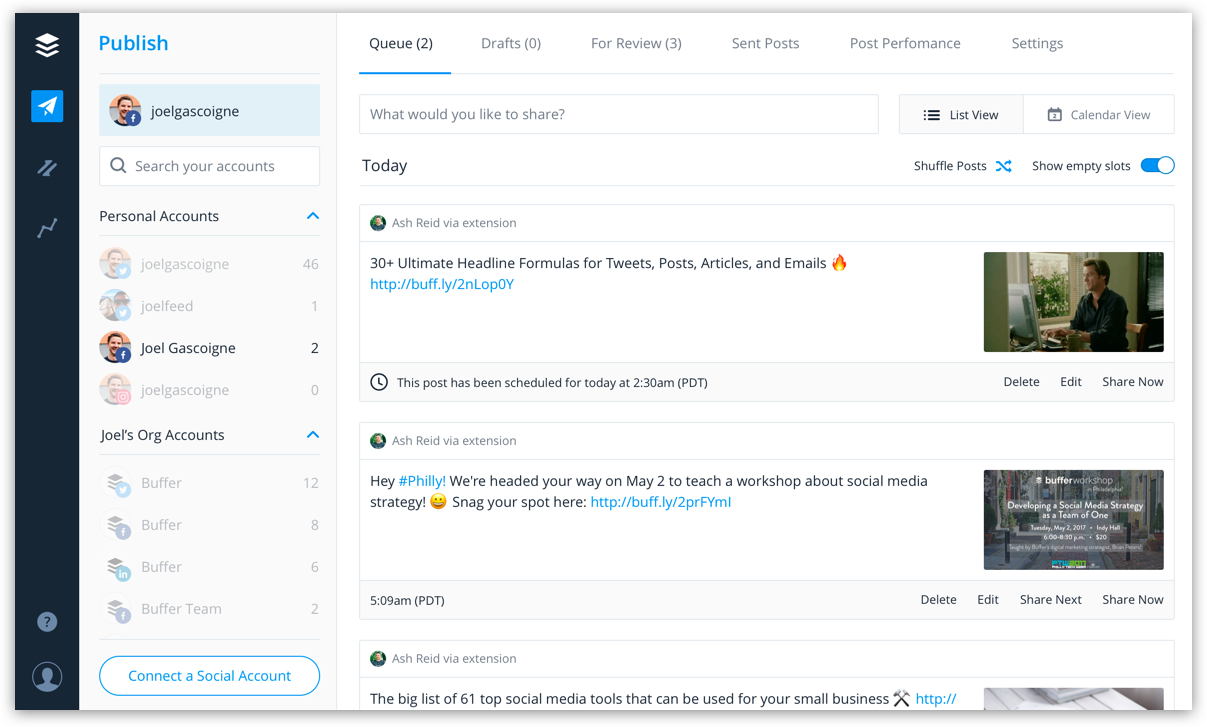 We would be thrilled if you'd like to help move us in the right direction. Feel free to comment below with any thoughts, or you can jump directly to our transparent product roadmap where we're collecting feedback on these changes and more.
All thoughts are welcome. We couldn't do this without you, and we're as excited as ever to keep building, keep iterating, and keep making Buffer the very best it can be for social media marketers!