When I was in university two years ago, Facebook was already intertwined with student life.
We heard about news and events through Facebook Pages and collaborated on group work through Facebook Groups. After graduating, I've been getting updates about the university through the alumni Facebook Page. Nowadays, it's also common for prospective students to research on Facebook when deciding their university and course.
With Facebook being a part and parcel of university students' lives, there are many things that social media teams at universities can do to market the university, engage students, and stay in touch with alumni.
Here are just some ideas I've found through my research that you can implement for your university…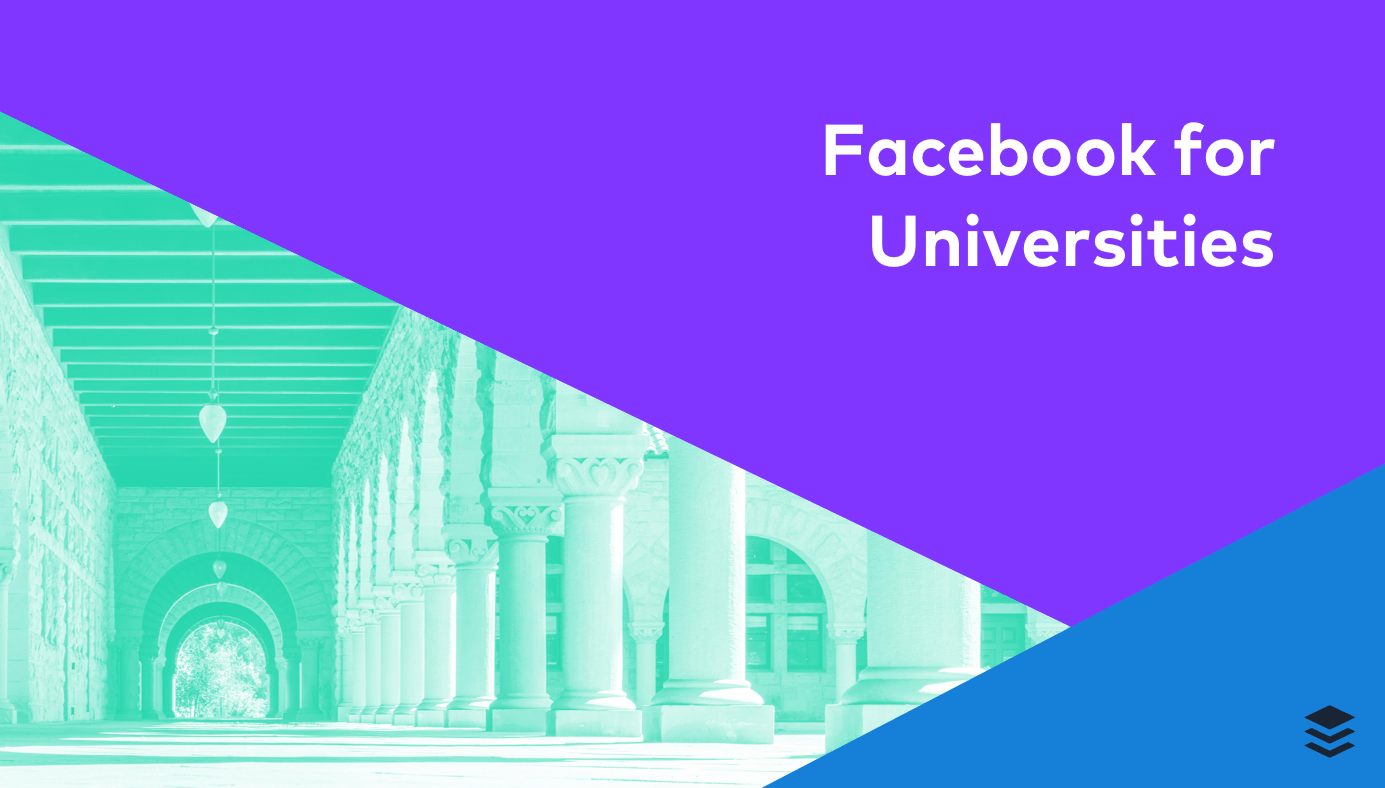 10 Facebook ideas for universities that want to be social
1. Share news, achievements, and milestones
A great, easy way to get started with using Facebook for your university is to share news about the university, such as achievements of students and professors and milestones of the university. This way, prospective, present, and past students can stay up-to-date with the happenings in the university while they are on Facebook.
The Massachusetts Institute of Technology (MIT) shares about an average of one post every weekday (which is a great frequency to begin with).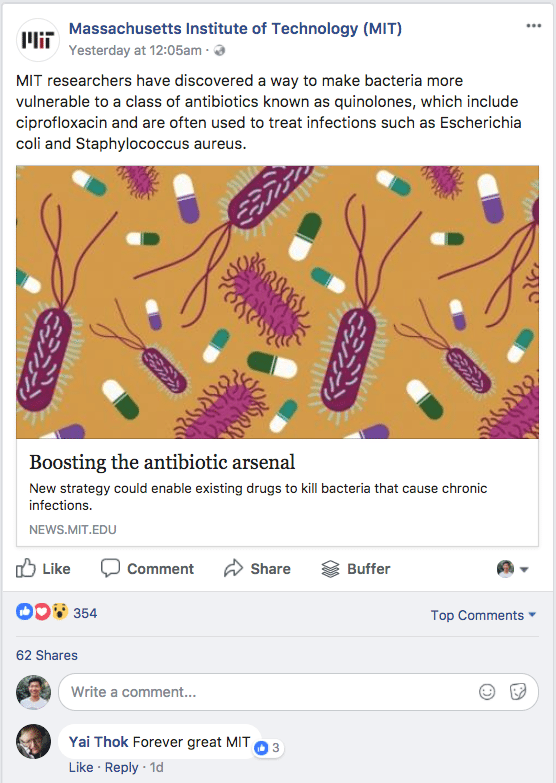 If you want to go one step further, you could list the milestones of the university on the Facebook Page's About section, like the University of Cambridge did. They listed their key milestones all the way back to 1209 when the university was founded.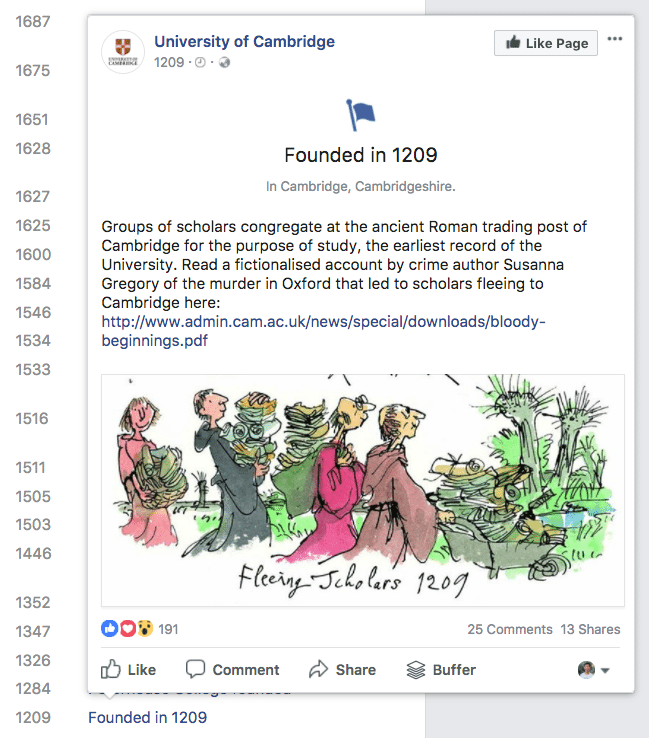 To list a milestone on your university's Facebook Page, click on the three dots below the Page cover photo and select "Create Milestone".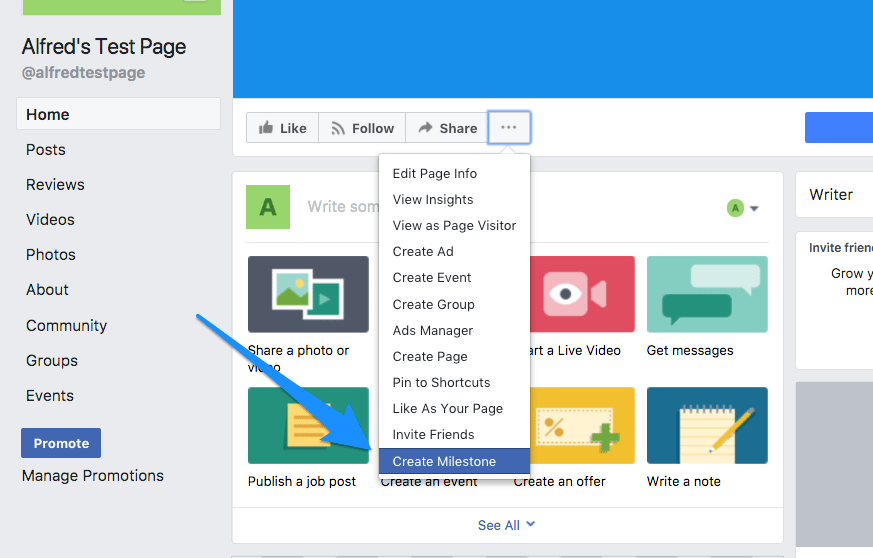 A popup will appear for you to fill out the details of the milestone, expand on the story, and add relevant photos. If you want to celebrate this milestone with your Page fans, you can leave the "Hide from News Feed" checkbox unchecked and hit "Save". The milestone will be added to your Page and shared on its timeline.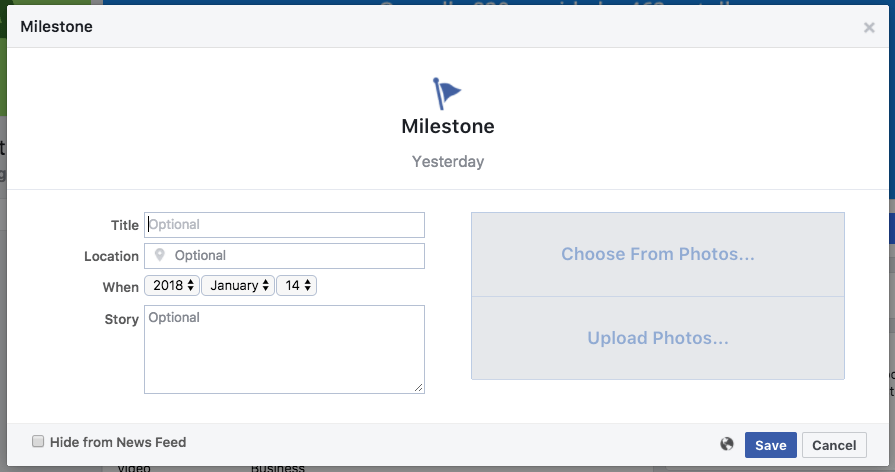 2. Collect reviews from current and past students
Besides websites such as The Student Room and the UCAS, prospective students are also using social media to research their university options. They join Facebook Groups of the courses they are interested in, speak with current students, and check out reviews of the universities.
Facebook provides a section for you to collect reviews and ratings from current and past students, where you can also react or comment on the reviews. And yes, it's important to respond to reviews, especially if it's an unhappy comment.
A university that does this well is the University of Southern Queensland (Australia). They have garnered over 500 reviews and are rated 4.4 stars out of 5.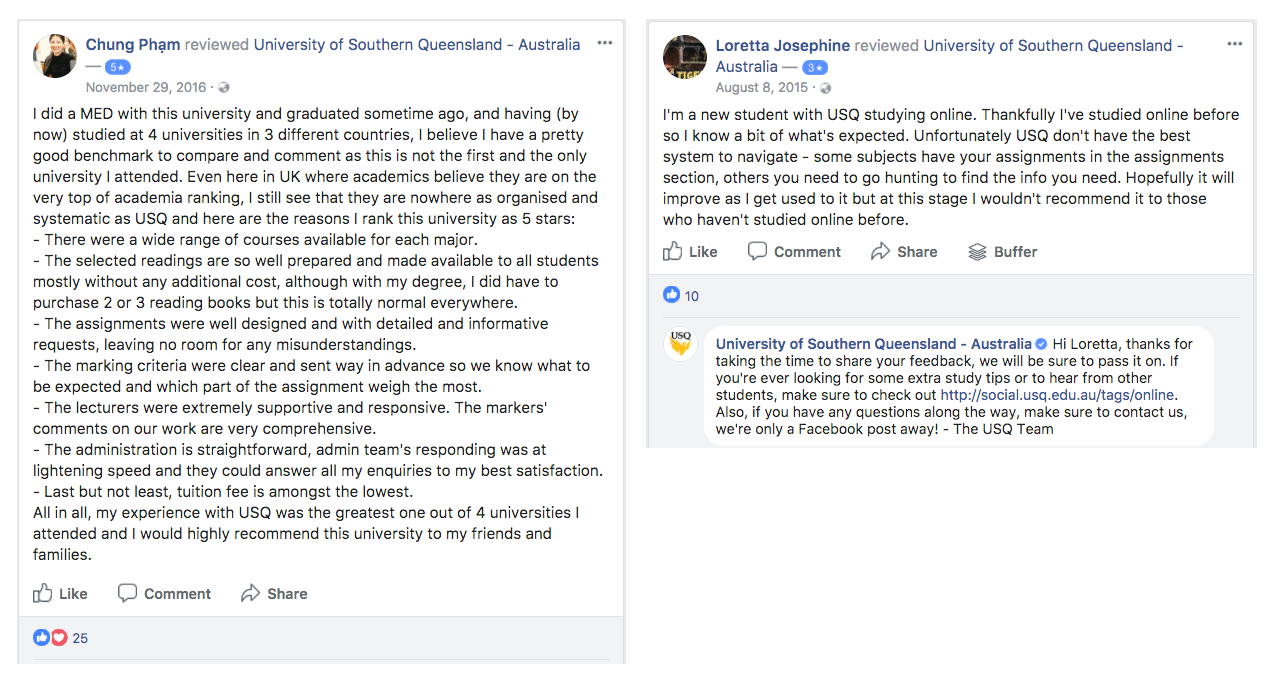 To turn on the review section for your Facebook Page, navigate to "Settings" > "Edit Page" > "Tabs". Besides "Reviews", click on "Settings", toggle the "Show Reviews" option, and hit "Save".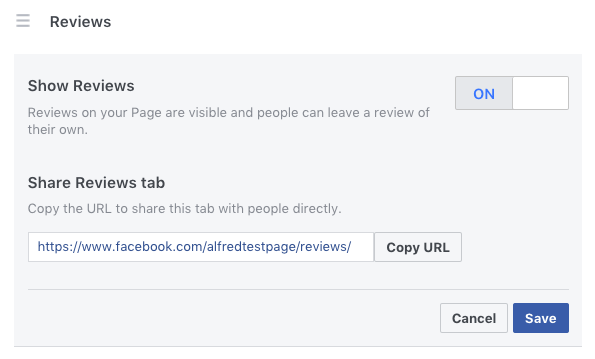 3. Provide virtual tours for prospective students
Another thing that prospective students might be keen on is checking out the university campus. Virtual tours via social media is a great way to let them explore your beautiful campus, especially for international students who are not able to fly over for the university's open day.
Thanks to Facebook Live, you can even take them on a live, interactive tour around the campus. For example, two graduates at the University of Sussex did a Facebook Live tour of their campus and replied to questions via the comments.
You don't need any expensive or fancy equipment to do this. All you need is a smartphone, Facebook Live, and a few passionate students who are interested in showing people around, like Steph and Matt.
On the other end of the spectrum, there are also virtual tours that are created using virtual reality technology. The virtual tour can then be added to your Facebook Page, like how Yale University did.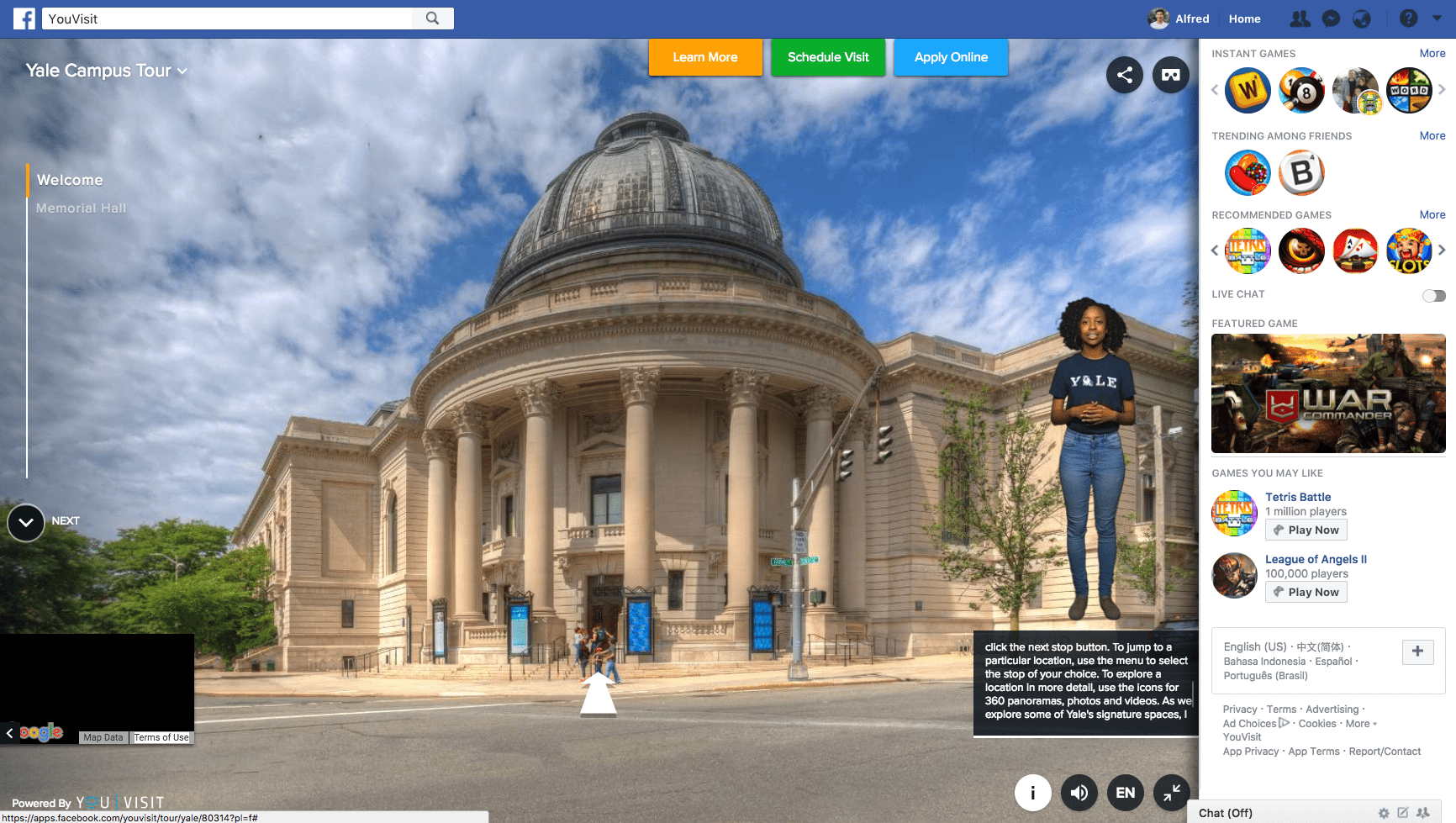 4. Use Messenger to answer inquiries
In the past, emails and phone calls are the most common ways of contacting universities. With the rise of social media and messaging apps, Facebook Messenger opened up another communication channel between universities and students.
For example, Harvard University has a "Send Message" call-to-action on their Facebook Page. According to the Facebook, the Harvard University team typically replies to messages instantly.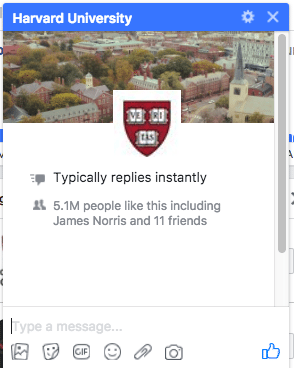 If you are unable to check your Page's messages regularly throughout your workday, you could use Facebook's Response Assistant to set up automated greetings and replies to let students know that you'll get back to them soon. You can find this under your Page "Settings" > "Messaging".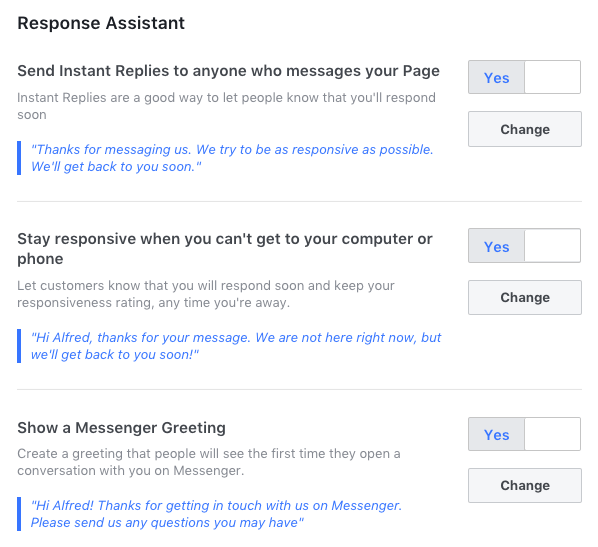 5. Welcome and bring new students together
Starting university life can be quite scary to many. It can be worse if you do not know anyone else going to the same university as you. So many universities create Facebook Groups for new students to ask questions, interact with one another, and get information about events and activities.
For example, the University of California, Davis creates a new Facebook group for every batch of new students at the university, which is managed by a group of administrators from their marketing and communications team.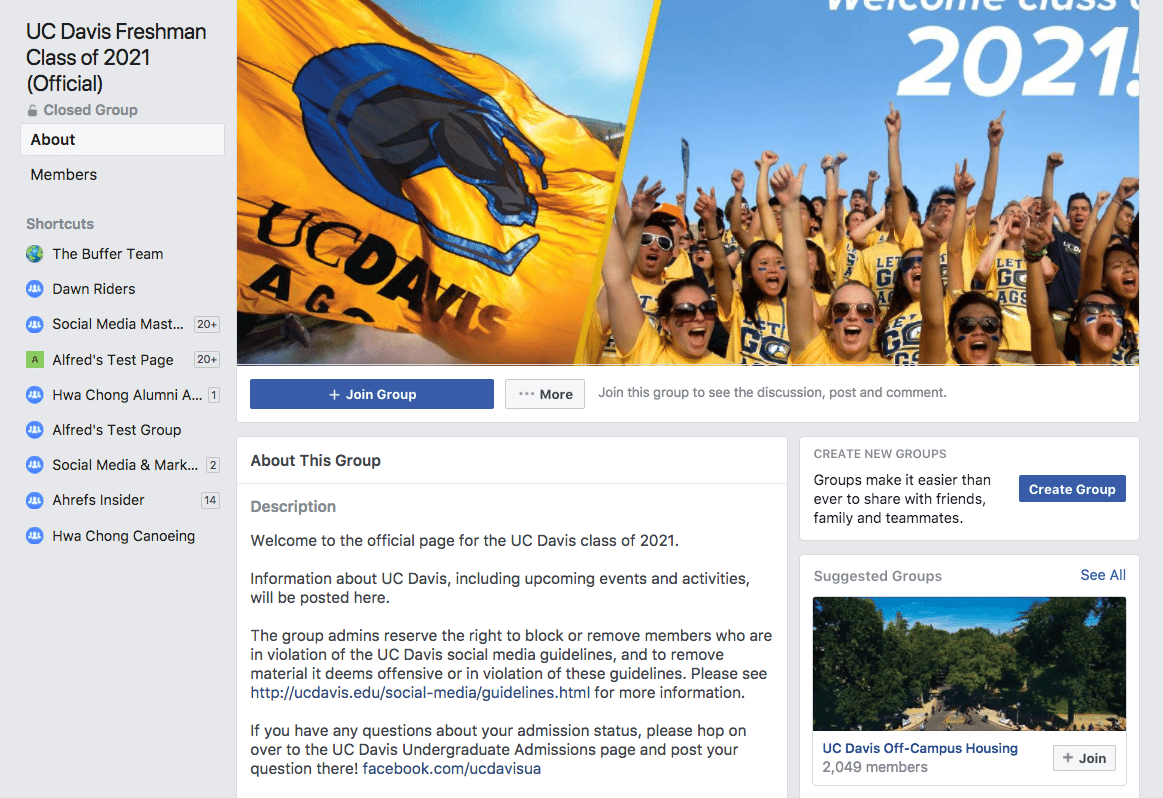 Such groups can allow new students to connect and interact with one another even before the university term starts. After the term has started, you can use this group to inform students about events and activities happening on the campus.
It's also common to have Facebook Groups for the various degrees and residence halls. For example, the Student Union at the University of Warwick sets up an official Facebook Group for every hall annually so that students living in the same hall can get to know one another better and organize activities via the group.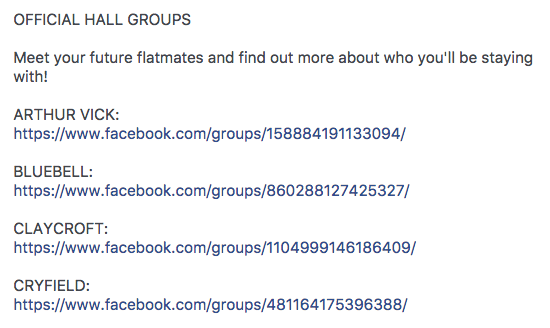 If you would like to create Facebook Groups for the students in your university, here's our guide to help you get started.
6. Curate student-generated content
Beside sharing news and announcements from the university, you could also share photos and videos taken by students. This not only gives prospective students a view of the university from current students' perspectives but also engages current students by featuring them on the university's Facebook Page. How cool would that be!
For instance, the social media team at California Polytechnic State University (Cal Poly) started a hashtag campaign, #CalPolyNow, to help share students' voices and photos. Students would use the hashtags while posting on Instagram, and the team would re-post selected photos on the university Instagram account and cross-post some on their Facebook Page (with permission).
If you feel that the students in your university are more active on Instagram, you could also link to the university's Instagram account from the Facebook Page. Using Facebook apps such as Instatab or Instagram Page App, you can add your Instagram gallery to your Facebook Page for free. Here's an example by Cal Poly: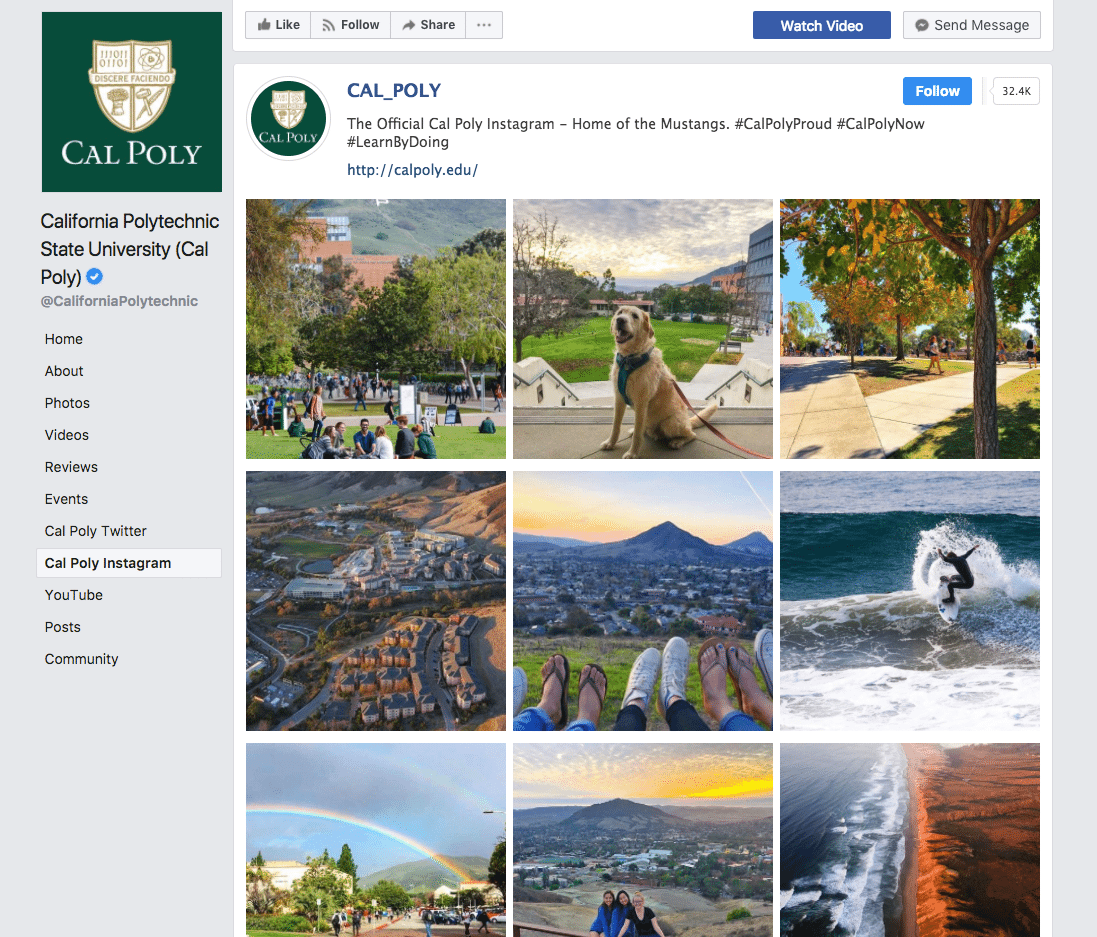 Alternatively, you could curate Instagram posts taken by students and compile them into a Facebook photo album, like Brigham Young University did.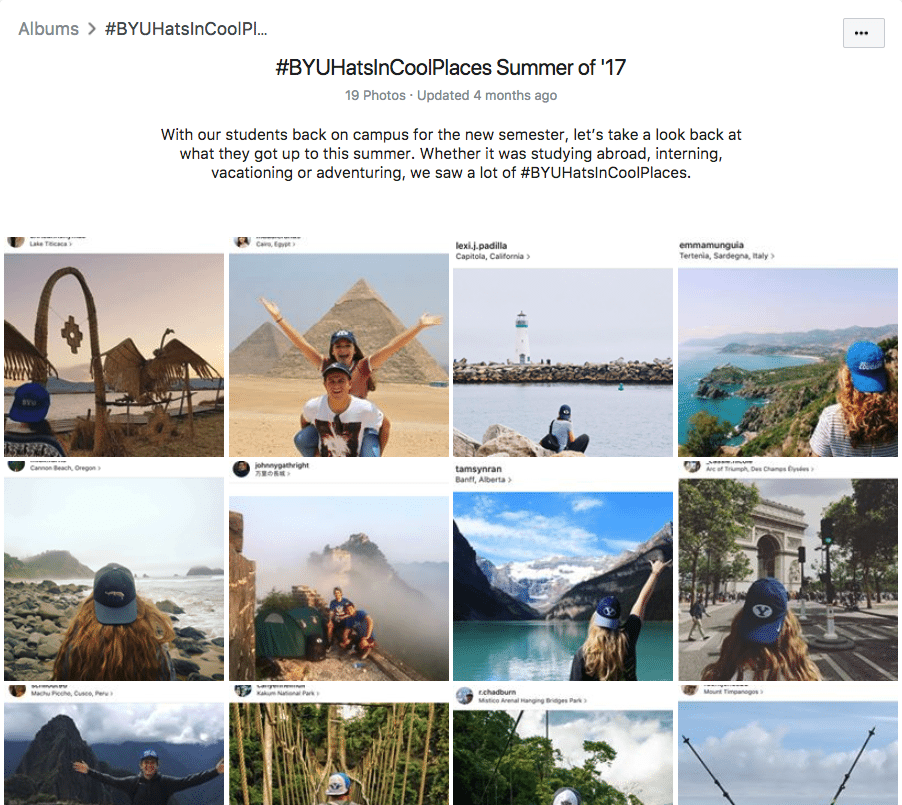 7. Offer career advice and support
Not every student would know how to plan their career. I certainly didn't know when I was in university. Thankfully, many universities now offer career planning advice and support. Facebook is a great way to spread these helpful resources to the student body.
For example, the Student Careers & Skills at the University of Warwick has a Facebook Page, where they share career advice and inform students of relevant career fairs and events.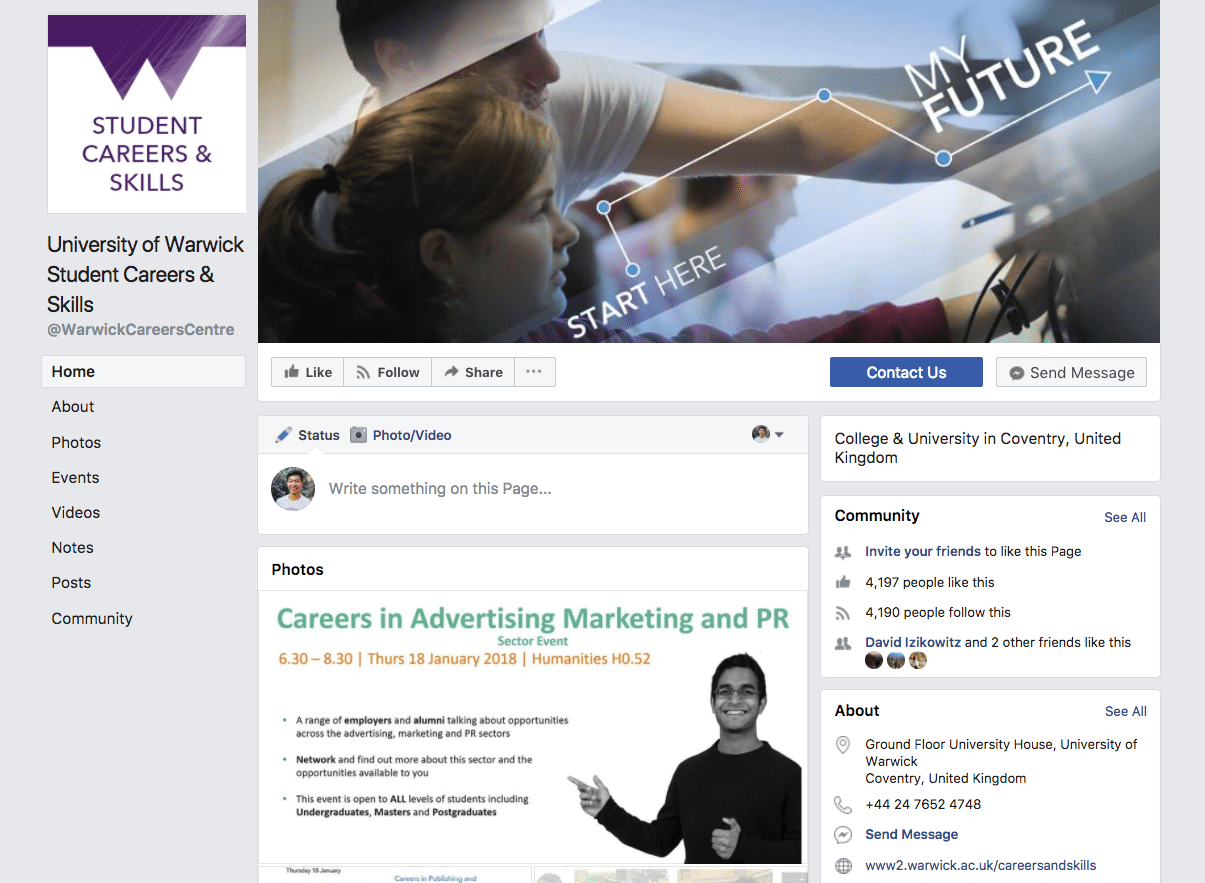 (Fun fact: Our CEO Joel Gascoigne and I both went to the University of Warwick!)
8. Organize and promote university events
With Facebook, you can also easily organize and market events at your university. Instead of having to create a new website for an event, you can simply create an event page on Facebook, where you can state the date, time, venue, and details of the event.
For example, Imperial College London regularly uses Facebook to promote events at their university.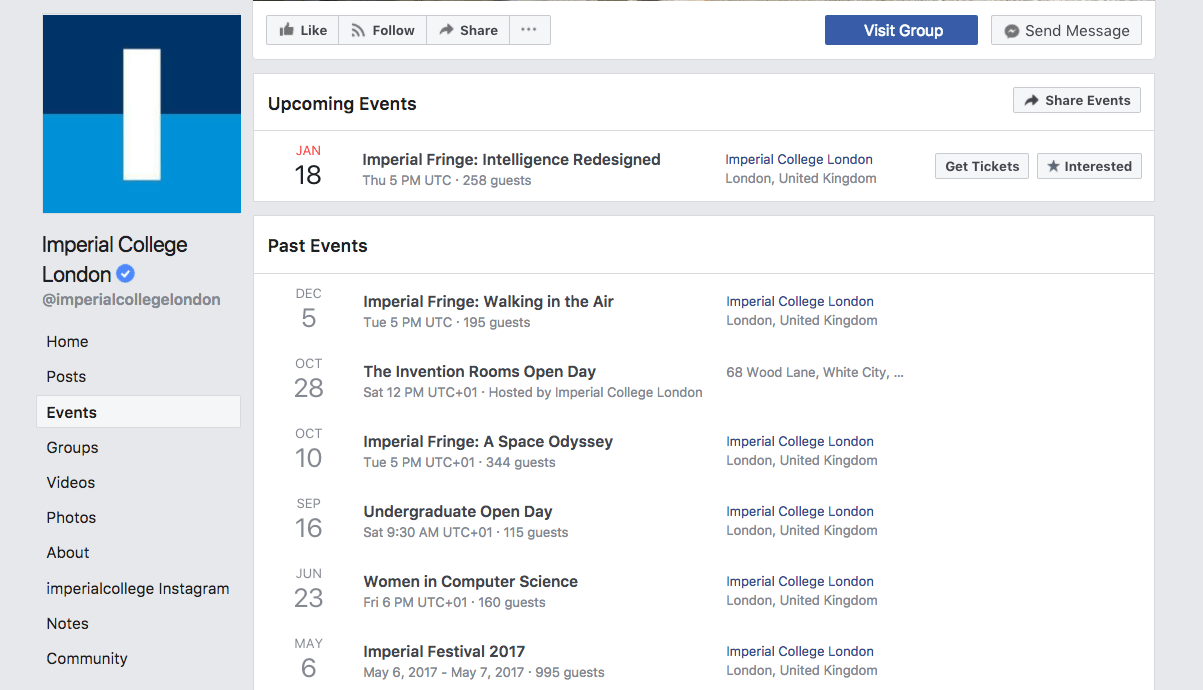 An additional advantage is that Facebook would help you spread the word about your events. When students indicate that they are going to an event, Facebook would show that to their friends either on their News Feed or via notifications. This can help attract more people to your events.
You could go one step further by boosting your event on Facebook (as in advertising it on Facebook). Once you have created your event page on Facebook, there's a "Boost Event" button that'll allow you to advertise your event. Here's more information about creating an event ad on Facebook.
9. Create sub-Facebook Pages
If you were to search "uc berkeley" on Facebook, you'll see not one but more than 50 Facebook Pages. There's the main UC Berkeley Facebook Page but there's also one for the Haas School of Business at UC Berkeley, one for the UC Berkeley's Goldman School of Public Policy, and many more.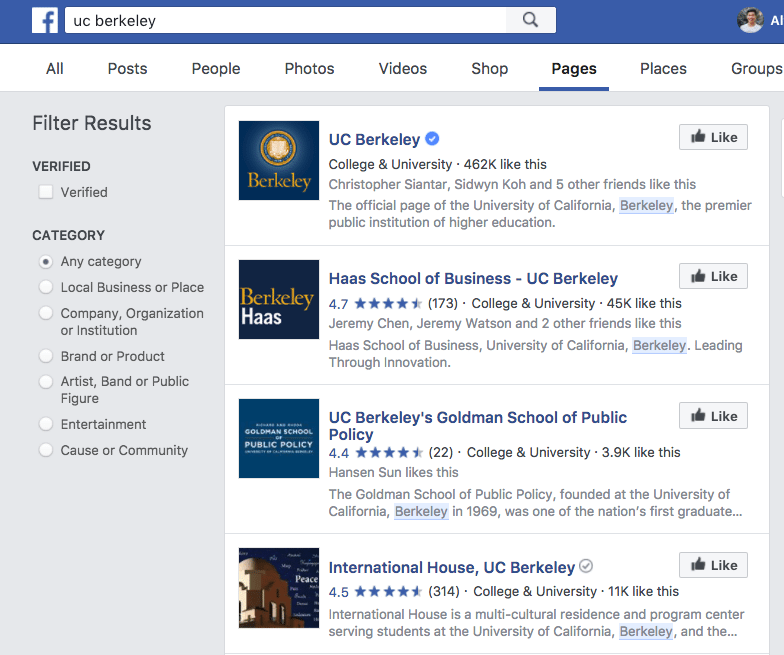 Every university is so diverse with many different departments, societies, and clubs. And each has its own unique set of audience. Rather than having one Facebook Page for the entire university, it'll be more appropriate (and more fun) to have a Facebook Page for each group.
Of course, you do not have to manage every one of them as long as there's someone within each group that is willing to. As the marketing team for the university, it'll be great to lay out some guidelines or offer advice to the "marketer" in each group.
You can also give them an awareness boost by featuring them on the university's main Facebook Page. If you like the Pages with the main Facebook Page, you can feature them by going to "Settings" > "Featured" and selecting which Pages you want to feature.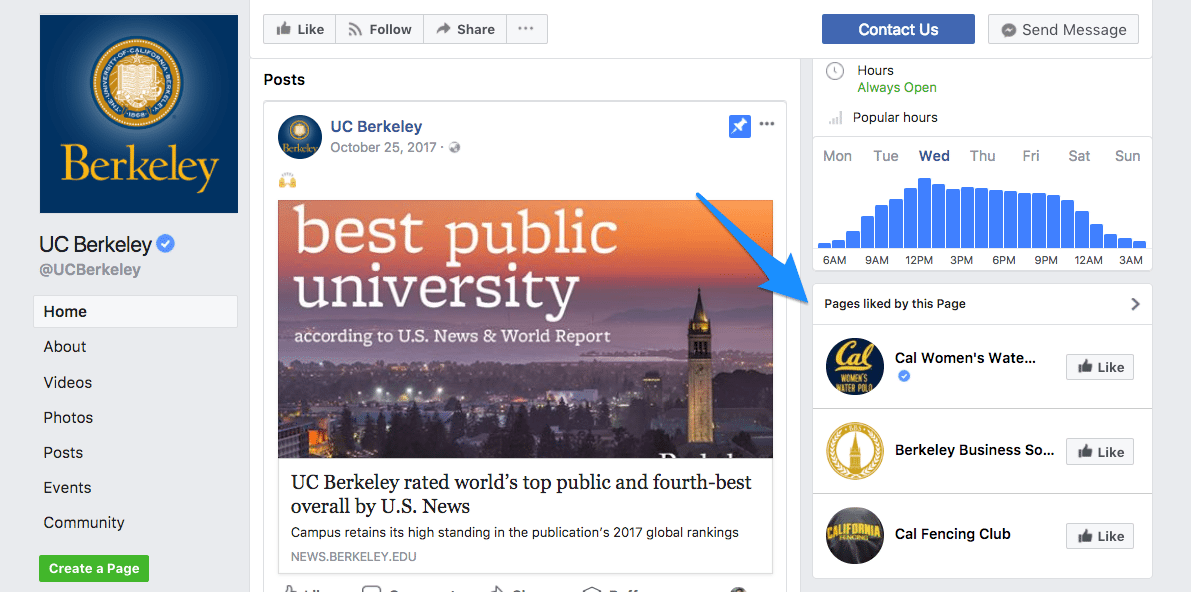 To like another Page, click on the three dots below their cover photo and then "Like As Your Page", and select the Page you want to like as.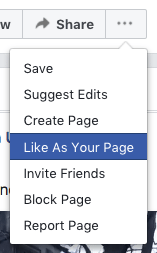 10. Connect with alumni through Facebook Pages or Groups
We've talked a lot about marketing to prospective students and engaging current students. But staying in touch with the alumni is important, too. Alumni can help graduates jump-start their career and contribute through volunteering and fundraising.
For instance, Stanford University has several alumni Facebook Pages. On their main alumni Facebook Page, they share stories about their alumni and reminisce about the Stanford history.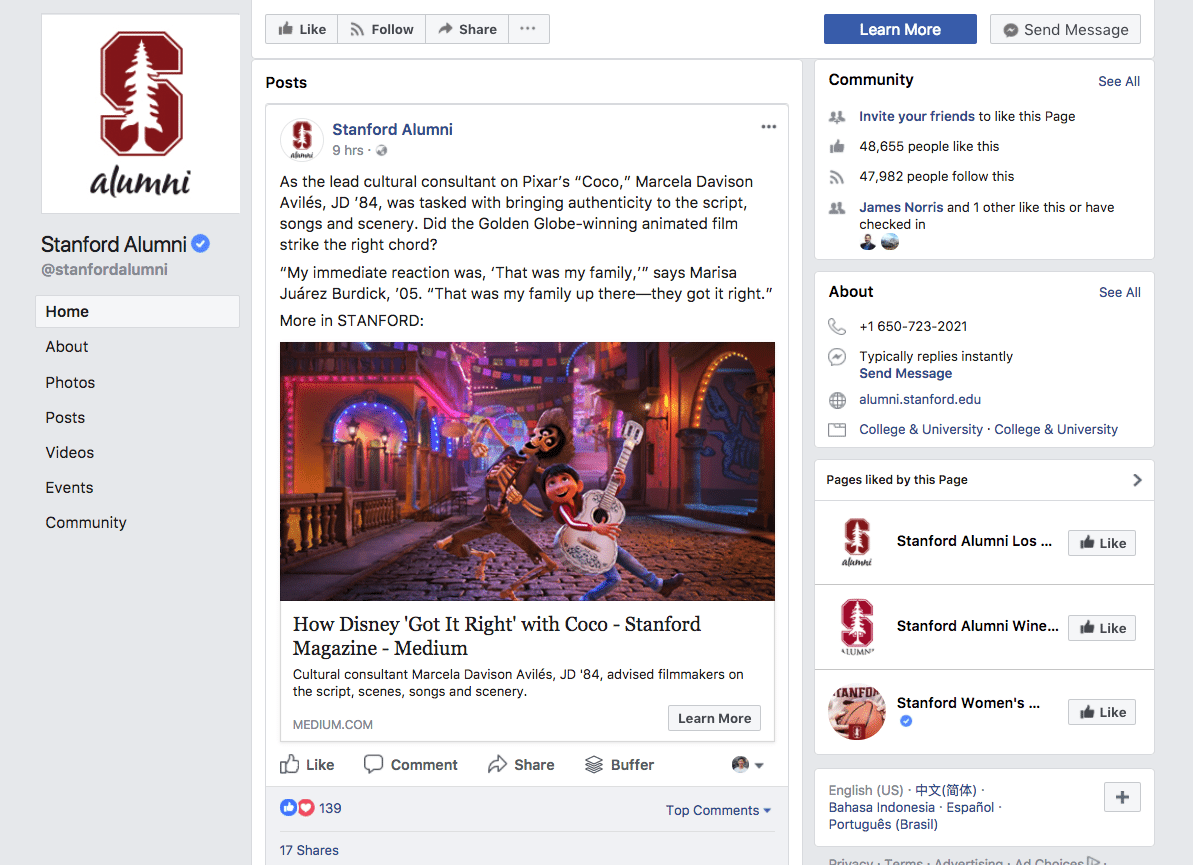 Over to you: What other ideas for you have?
Most students are on Facebook and are using Facebook Groups and Messenger to collaborate and communicate with one another. So Facebook is increasingly becoming an important channel for social media teams at universities to market, engage, and stay in touch with students. (The same can also be said for other social media networks such as Instagram and Twitter.)
As a recap, here are the 10 ideas I've found through my research and from my personal experience at university:
Share news, achievements, and milestones
Collect reviews from current and past students
Provide virtual tours for prospective students
Use Messenger to answer inquiries
Welcome and bring new students together
Curate student-generated content
Offer career advice and support
Organize and promote university events
Create sub-Facebook Pages
Connect with alumni through Facebook Pages or Groups
What other cool ideas can you think of that social media managers at universities can try? Are there anything special that you do at your university? It'll be great to hear from you!
P.S. If you are interested in learning more about social media at universities, you might like our podcast interview with Nikki Sunstrum, Director of Social Media at the University of Michigan.
—
The awesome featured image above is by Jason Leung, taken from Unsplash.