Lead generation is an important task for any marketing department.
And for most companies lead generation means focusing on creating lead capture forms and driving traffic back to those forms.
But that's not the only way to generate new leads for your business.
Nowadays, social media content can play an integral role in lead generation for businesses of all sizes.
But how does someone go from viewing a piece of content on Facebook to making a purchase?
Look no further than the NFL's Miami Dolphins…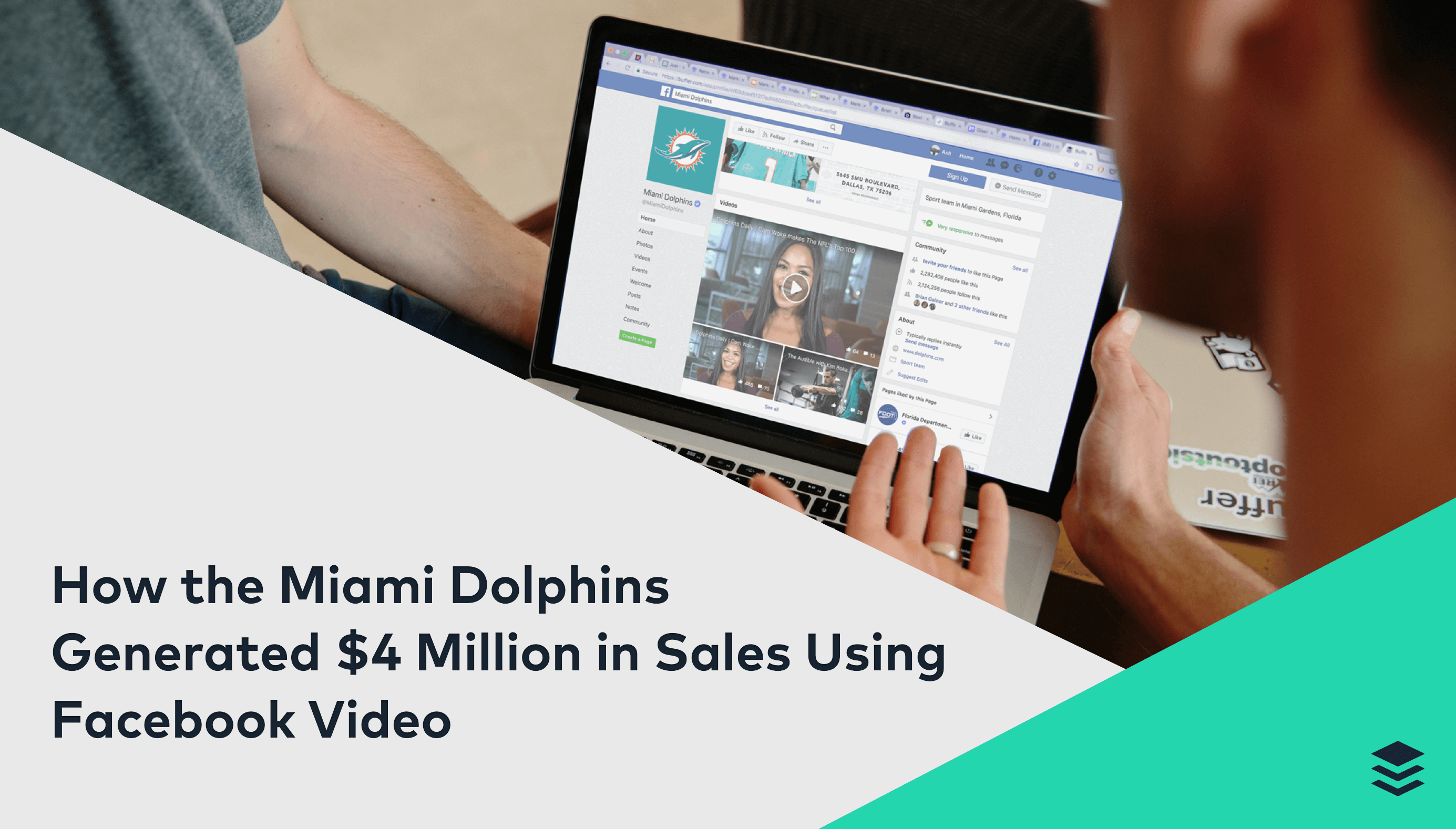 How the Miami Dolphins generate leads from Facebook video
In 2017, the Dolphins became the #1 ranked NFL team for video views on Facebook.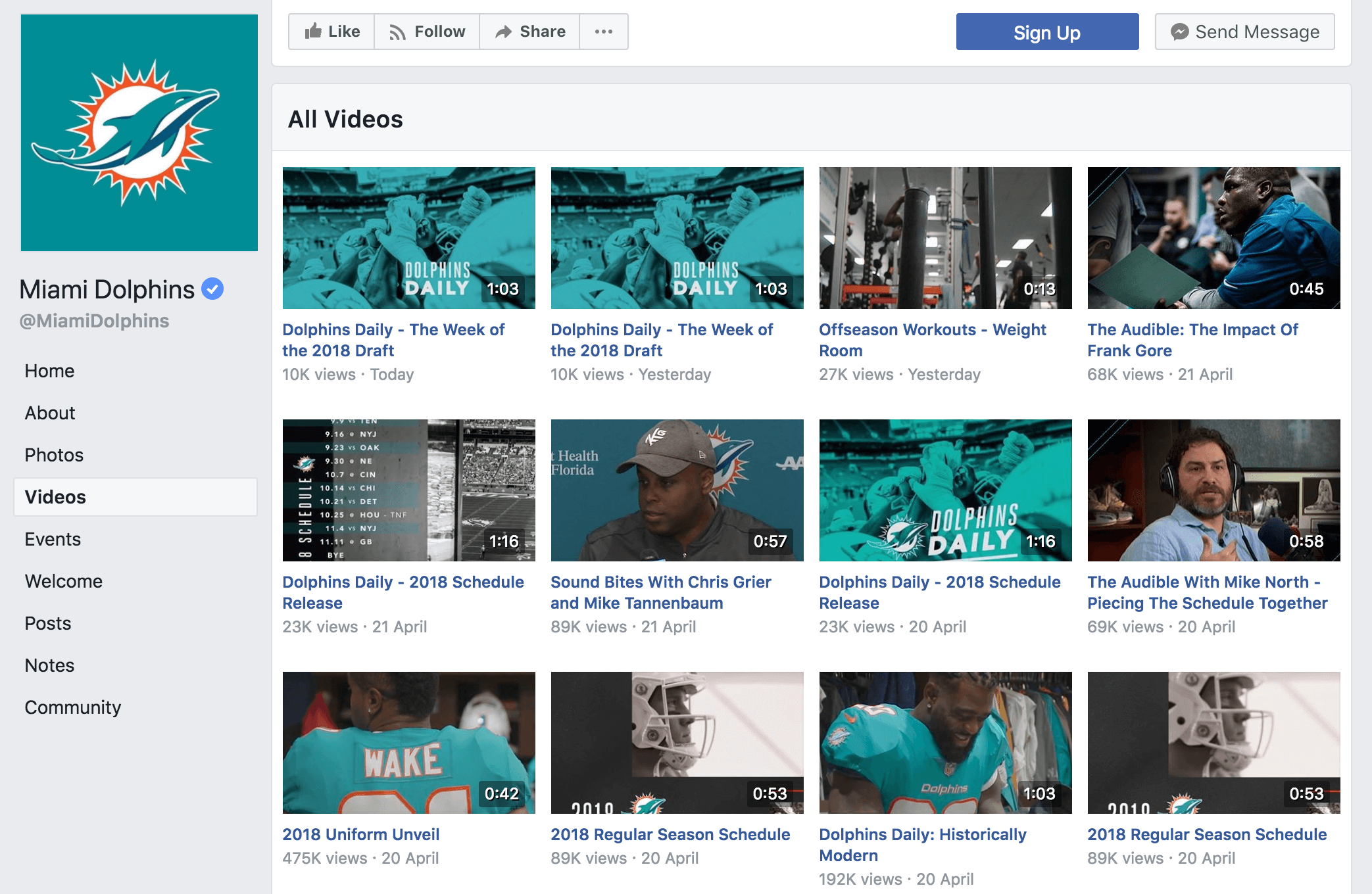 Alone, that's quite an achievement, yet the Dolphins didn't just use their video content as a way to boost engagement with fans, it was also a key part of their lead generation strategy.
During an off-season marketing campaign to sell season tickets, the Dolphins used data generated from the likes, comments and shares their videos to better target people who they felt were likely to become season ticket holders and results are astonishing:
25 percent of new season ticket memberships during the 2017 season was a direct result of leads generated from engaging with social media content. This brought in more than $4 million in revenue for the team.
The strategy: How to generate leads using social Facebook video
Step 1: Create content
Social media content is the most important part of this strategy. Without content, the Dolphins wouldn't have been able to target such an engaged, receptive audience.
For this campaign, the Dolphins created a series of videos called 'The Life'. The Life focused on the Dolphins organization, the Miami community, and the players. The videos featured no mentions of season ticket sales. Instead, they focused on telling stories that might resonate with new and existing fans.
Note: The Life is one of 11 video shows the Dolphins have published directly to Facebook, including:
Dolphins Daily: A short, daily roundup of news from the Dolphins franchise.
The Grind: Behind-the-scenes content from practice sessions.
The Audible: A live, interactive podcast show.
Step 2: Create an Engagement Custom Audience
Next, the Dolphins created engagement custom audiences on Facebook. These audiences were made up of fans who had interacted with their chosen pieces of content. This meant that the Dolphins could target people specific ads at people who had interacted with content.
Step 3: Build a relationship using Lead Ads
Instead of trying to make a sale directly on Facebook, the Dolphins instead focused on creating leads.
The Dolphins used Facebook Lead ads to re-connect with fans who engaged with their video content. The lead ads invited each user to sign up for various events at the new stadium or receive more information about ticket packages.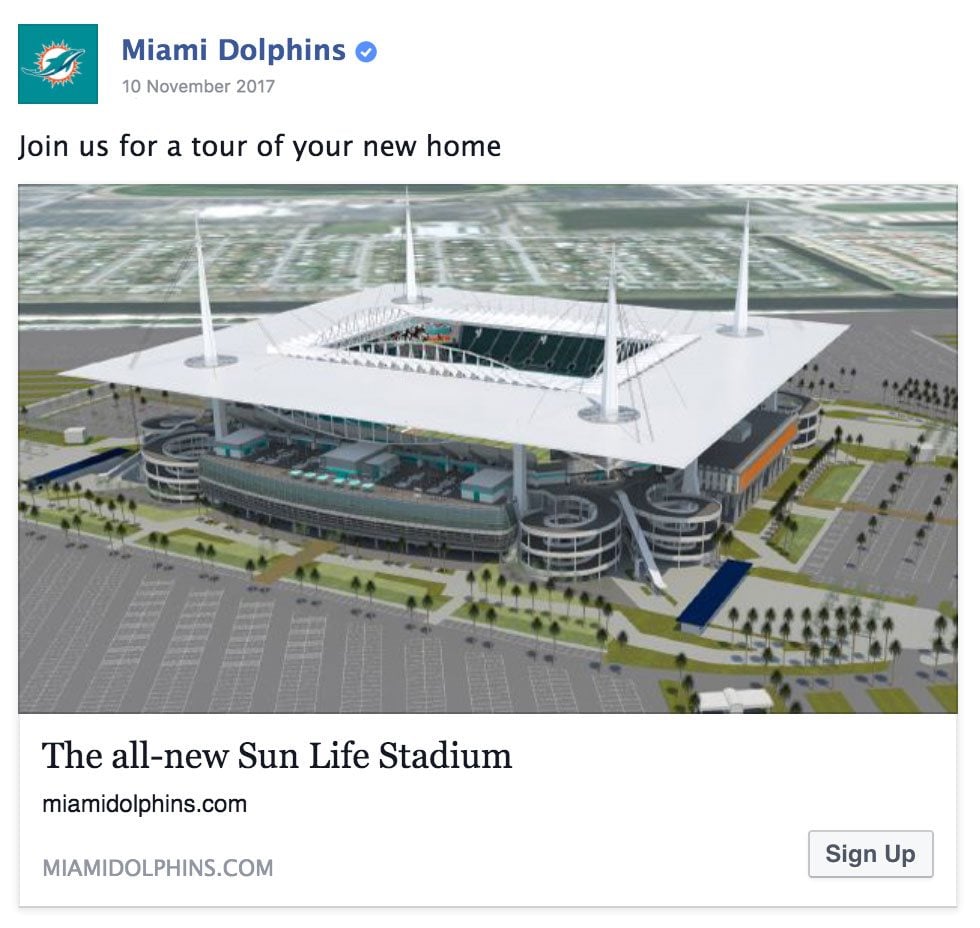 Following the link from these ads would enable the user to share their details with a Dolphins sales rep: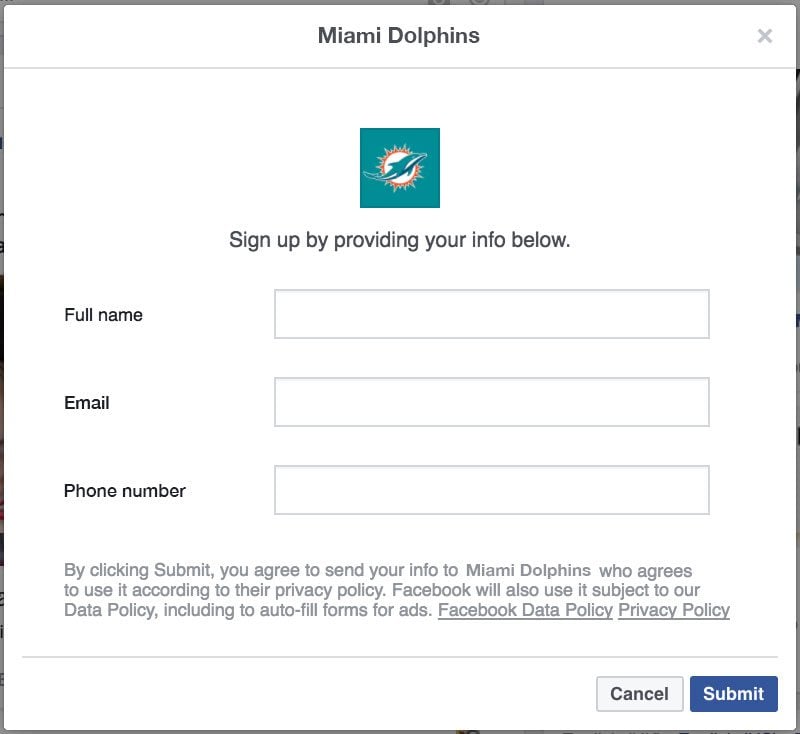 Step 4: Make the sale
Once people had signed up for the events from the Lead ads, the Dolphins were able to start making sales right away. And as we mentioned at the start of this post, 25% of new season ticket memberships during the 2017 season were a direct result of leads generated on Facebook.
Scale your lead generation strategy with social media content
The Miami Dolphins might be one of the most famous and richest sports franchises in the world, but the great thing about their lead generation strategy is that any business can replicate it—all you need is great content to get the ball rolling.
Instead of going right in for the sale, think about how you can create an audience of leads using content and gradually move them down your sales funnel using various ad-types.
This strategy works even if you don't have a sales team and simply want to move leads through your funnel using Facebook Ads. For example, here's a simplified look at how a lead-gen campaign might look for a fitness product:

Step: 1 First, you might create a video ad showing a simple home workout for people in your audience who are interested in fitness: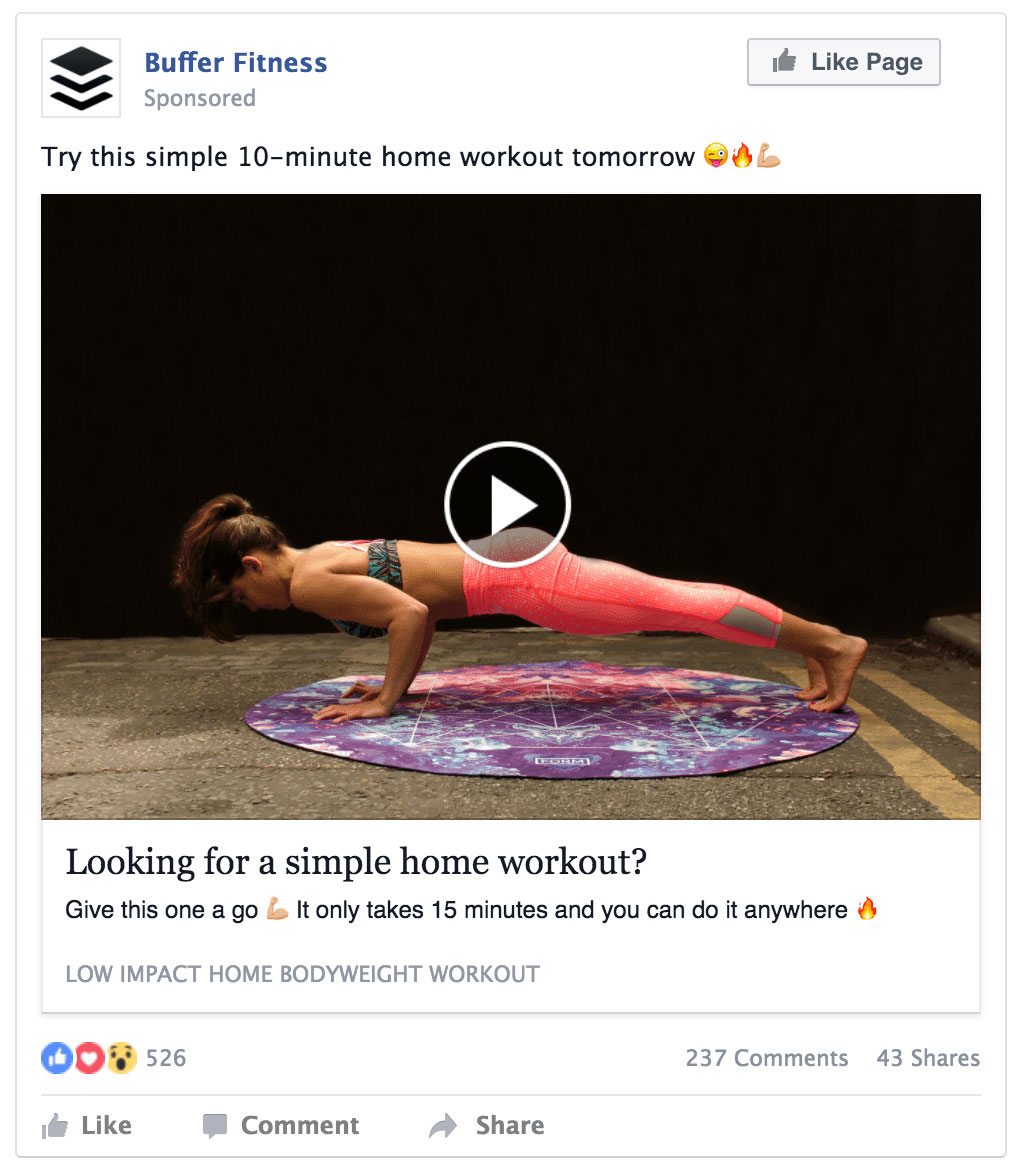 Step 2: Next, you could create a Facebook carousel ad looking to drive clicks to your website and increase brand awareness amongst people who watched 10 percent of the fitness video you created for step 1: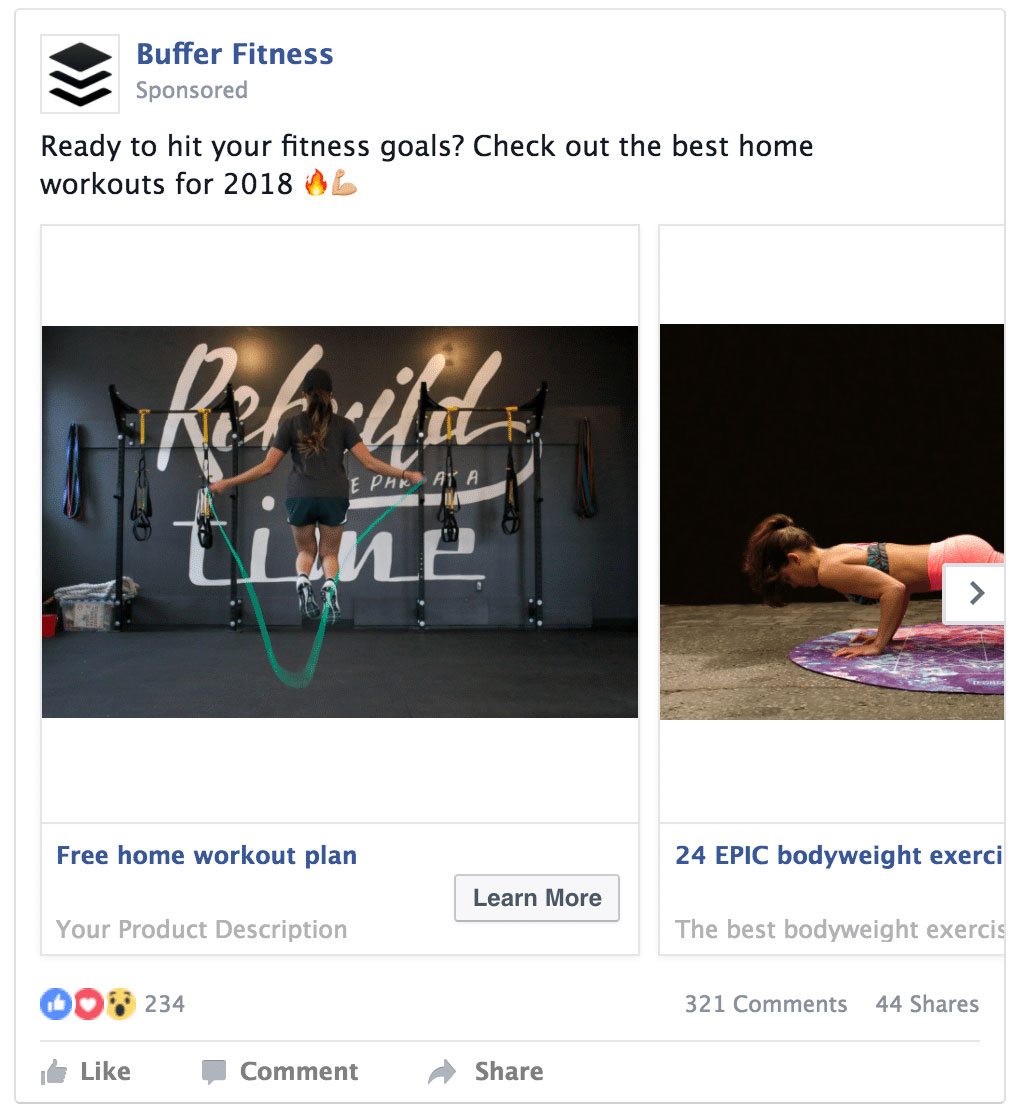 Step 3: Then, you might create a conversion focused ad aiming to get people who clicked the link in the previous ad to become customers of your fitness company: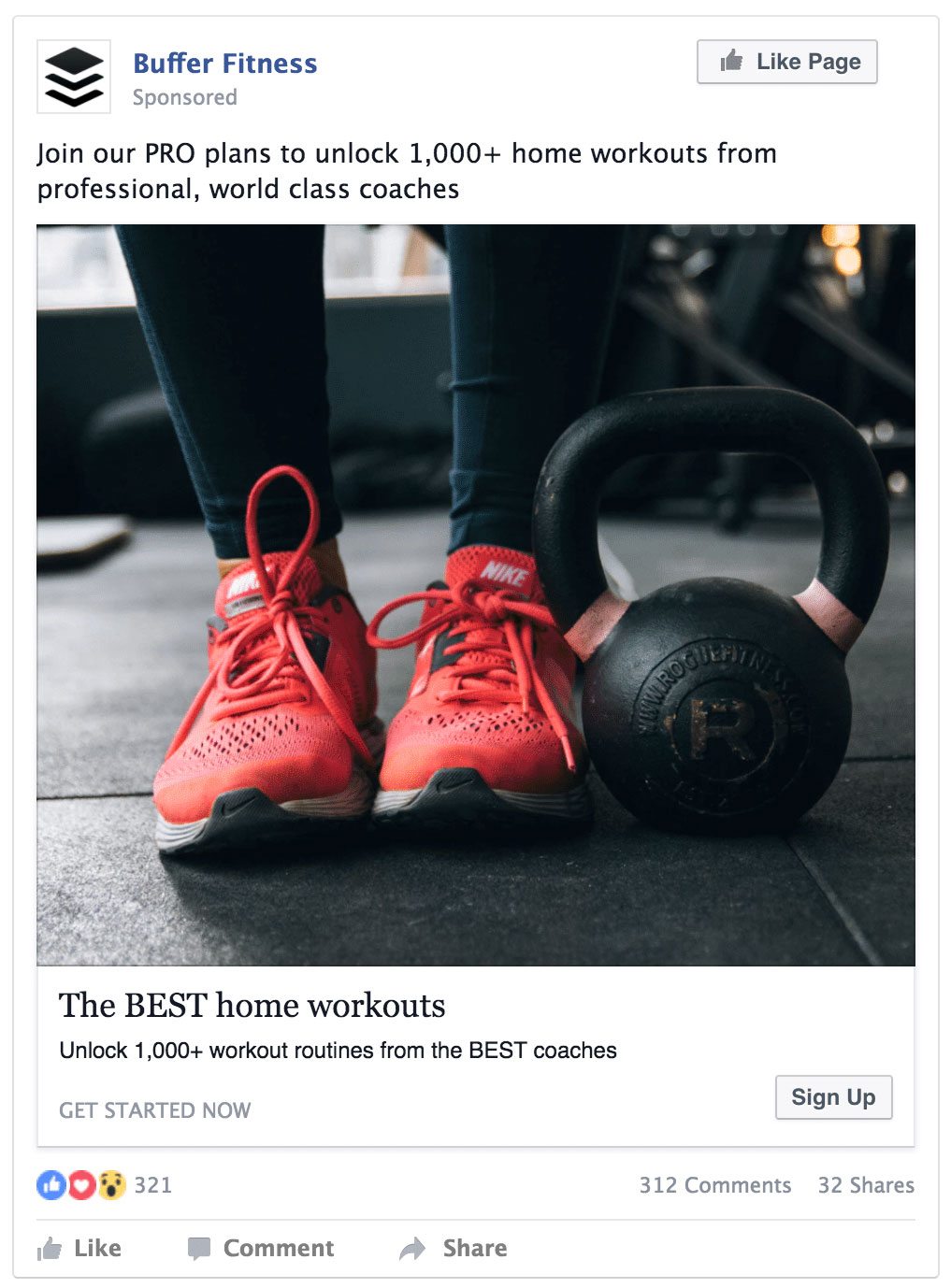 Content has proven to be a huge success as a way to generate leads for the Miami Dolphins and many other businesses on Facebook — we've even experimented with this technique at Buffer as a way to move leads through our funnel.
Have you ever used content as a way to generate leads for your business? I'd love to hear your experiences and any tips you might have.