Happy October! In September, our entire team traveled to New York, NY, to work and play all together for our semi-annual company retreat. (Retreats occur every 5 months, so that they fall on a different month each time. This alleviates one of the challenges of scheduling everyone to travel. This way, if retreat falls over an important personal date or event like a family member birthday, it will change the next year.)
Similarly to April, this put a big dent on our customer service numbers. We feel that the dent is worth the great brainstorming and bonding that occurs when we're all in the same place (and thus the same timezone), having meetings and taking the same days off. However, we look forward to getting back on track for October. More on that below.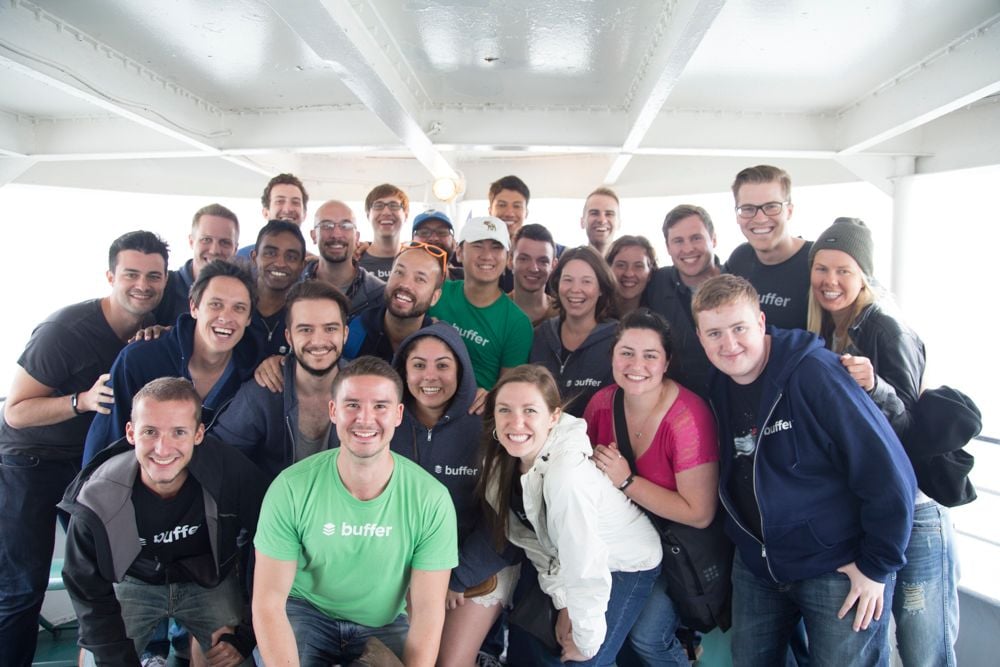 This month, I thought it might be fun to dive into what the Happiness Heroes do and how they help propel the whole team forward. Some have asked why we use the word "Happiness Hero" instead of more straightforward term. One reason is that the Happiness Team does more than simply answer emails and tweets. They influence the whole customer experience and play a big role in the direction of the product. I'd love to break that down for you, and if you're up for sharing, hear in the comments how your team is organized. :)
They don't call them heroes for nothing
In addition to answering hundreds of emails and tweets and dozens of live chats each week, every Happiness Hero has several other responsibilities. Each hero plays a huge role in a product area, as well as a customer service focus.
Why we did this
The whole Buffer team has recently been inspired by the "Decision Maker" framework described by Dennis Bakke in The Decision Maker: Unlock the Potential of Everyone in your Organization, One Decision at a Time. (If you're curious about the Decision Maker framework and how we've applied it at Buffer, please leave a note in the comments, or get in touch directly. We're still learning and would love to share how it has worked for us!)
One of the key points in the book is that the people who are closest to the challenges should be the ones making the decisions on how to solve them. No one is closer to the questions and wishes of our customers than the ones who speak with them all day long. The Happiness Heroes are a wealth of knowledge about how to best serve our customers, so they should be the ones advising on how we go about doing that.
For example, not long ago, the Heroes mentioned that customers were asking for the ability to add an image to a post that was already in the queue. You were able to edit the text, but you could not add an image. They brought this up to what was at the time "the product team," and Niel re-built the editing process. (More on the Product Team's development below.)
This is one example of something small that we didn't know was so important until we started tracking how often it was coming up. Lots of emails, many tweets, and 79 votes on the idea on Uservoice helped us prioritize this one! This wouldn't be possible without our customers, who take the time to share their ideas; our Heroes, who listen, reply, and keep tabs on all of the requests; and our engineers, who strive every day to make customers happy. This process worked over and over, and so we realized that the Heroes should have an even bigger voice as the product team split into many teams and took on new shapes.
Part 1: The customer voice on product teams
While Buffer seems like only one product, it has many points of access. We have the web version of Buffer, each mobile app (iOS and Android), and the browser extension, etc. Each of those areas has a "product team" focusing on it. This is a new setup for us. We've gone from having one "product team" to having many little product teams. This allows us to be a bit more nimble, and it ensures that each area is in focus.
Additionally, each team has a Hero either on the team or as an advisor to share customer suggestions, prioritize bugs, and report progress back to the rest of the Happiness Team.
Currently, here are the customer roles:
Team Dashboard: Carolyn with Patrik as advisor
Team Extension Advisor: Åsa
Team Buffer for Business Advisor: Adam
Team iOS Advisor: Dave
Team Android Advisor: Daniel
What the customer voice role looks like
I'll use the iOS team as an example. Our iOS developer, Andy, does all of the development work for the iPhone app, Daily by Buffer, Buffer for Mac, and the iPad app that's in development. He works closely with Brian (Product Manager and Designer) on many of the decisions and design elements.
But what happens before that? How does he know what to build, which bugs customers are seeing, and what features they're asking for? Well, for starters, he's heavily in tune with customers himself, by managing the iPhone app Beta Facebook group and monitoring Twitter and incoming email for questions. Nothing can substitute for engineers being in contact with customers themselves. :)
However, he obviously can't spend his whole day doing that, so in addition, he leans heavily on Dave to help him get a comprehensive picture of the whole iOS customer experience. Here's where the customer voice comes in: Dave tallies the requests and comments from Uservoice, emails and tweets, and makes sure Andy is up to speed. And Leo jumps on calls with customers to further understand certain big questions.
All of that work allows Andy to feel confident in what he builds, and perhaps more importantly, what he chooses not to focus on. And it means that we are closer to building what our customers want and need.
Part 2: Focusing on each customer service avenue
In addition to having a razor focus on each area of the product, our Heroes also divide up to put the microscope on each customer service channel. In teams of two, they set monthly goals, innovate on how to reach them, and work to improve the overall support experience.
Here are the current pairs:
Email Team: Åsa and Octavio
Twitter Team: Mary and Nicole (our Community Champion)
Live Chat Team: Patrik and Daniel
Voice Calls Team: Adam and Dave
On each team, one person focuses on the numbers. They discuss the team priorities as a group, and then that person sets the team goals for that channel and helps everyone on the team reach the personal goals necessary to achieve the overall goal for the month. (You can always check on how we're doing on our public Happiness Dashboard!)
The other person on the team focuses on the overall experience of the channel. They speak with other companies who have great customer service to get ideas, read about ways to improve SaaS online communication, and work with Colin, our Senior Developer, who implements any of the changes. An example of a change that came from this setup and was implemented by Colin is the new "Tweet to us" option in the Help Menu in the dashboard. We (statistically) give faster service on Twitter than email, so we want to make that option more accessible.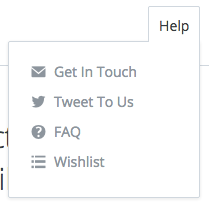 This setup of one person focusing on goals and one person focusing on the experience allows both of them to be the decision makers in their respective areas, and still have a close buddy for advice.
So that's how our team works, how they honor every customer's voice as much as possible, and why they truly are Happiness Heroes. :)
When distributed companies travel together
The great news is that being all together in New York was absolutely amazing. We had so much fun working together, brainstorming product changes and ways we can improve the customer experience, exploring the city, taking selfies, and generally celebrating being together.
There are some incredible benefits to being all together, and we capitalized on it as much as possible. We got to have an all-hands meetings (which normally we don't do), and even discussed some of our key challenges with Hiten, an amazing Buffer advisor who was generous enough to make the trip.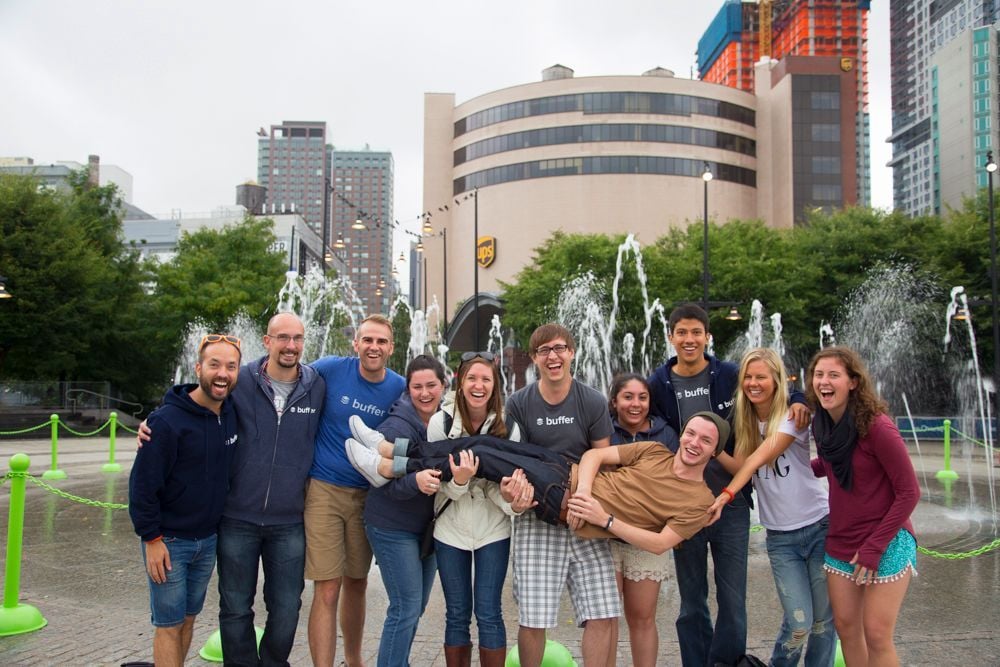 Like April in Cape Town, however, this trip put us far below our goals for the month. Let's see the statistics. (For example, in these graphs, blue is good.)
Here is the response time chart for August: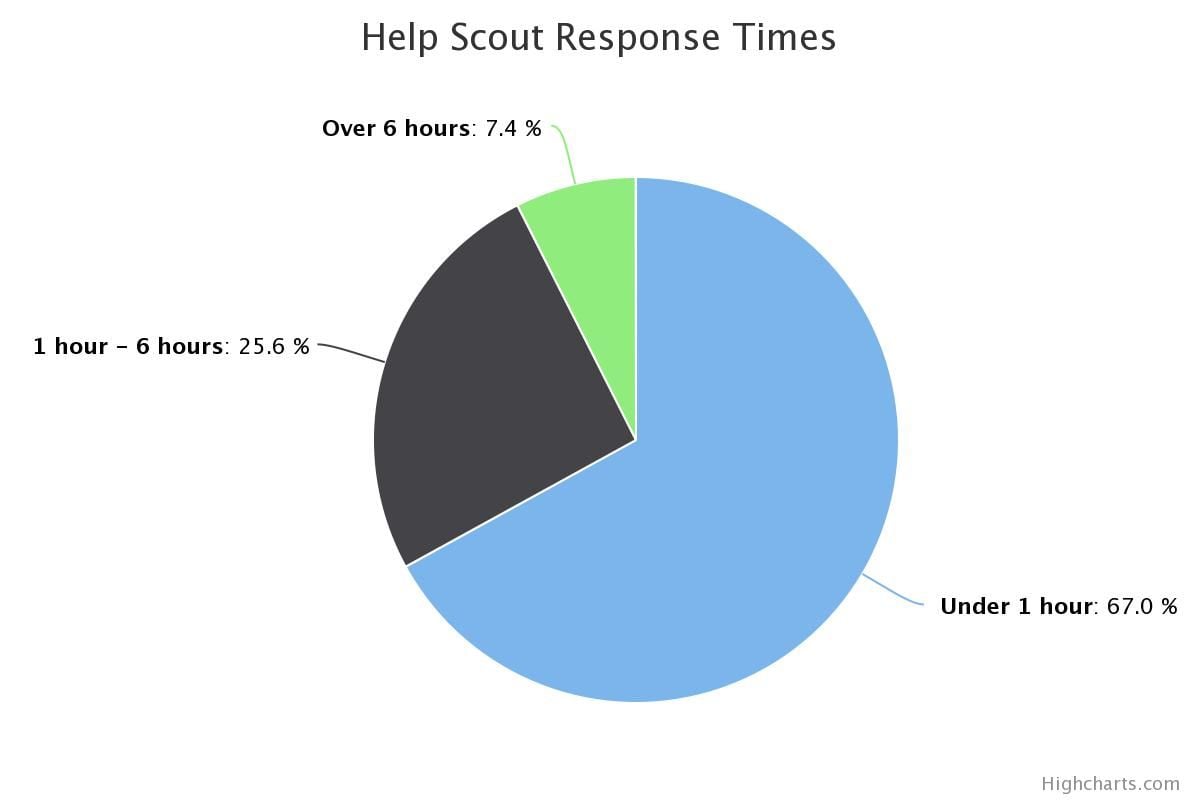 And here it is for September: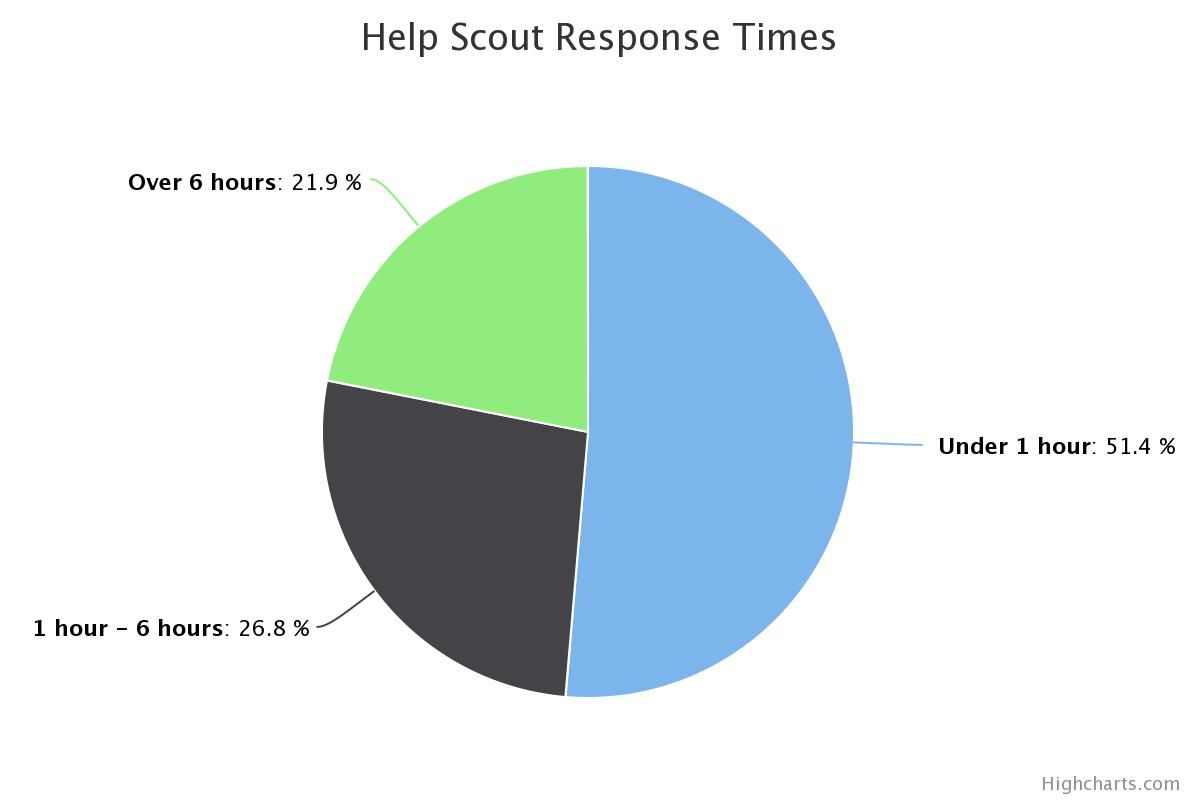 We haven't figured out a solution for this. (Does your distributed team travel to work together at least once per year? I'd love to talk to you!) During the two-week period of Buffer Retreat, the "High Priority" tickets often had to wait for many hours, desperate questions went unanswered, and we generally didn't give our community a great experience. If you are a customer who suffered during that time, thanks so much for hanging in there with us. We'll have our hearts and minds on this one leading up to February.
Over to you, now! I would absolutely love to hear how your teams manage similar challenges and how you're set up to cover different tasks. Please get in touch in the comments below or on Twitter! :)