Yes, there is an incredible amount of tools out there that help you understand more about how well your website performs, where your users come from and more. One thing I realised though is that they are also very complicated to use.
The Google Analytics of the web are powerful, but it might not be always what is right for the job. In the past few weeks, I found myself using a few tools that are taking a rather different approach. They aim to educate you about your blog or website without dumping a ton of stats on you.
So without further ado, let me give you a tool that is super easy and simple to understand for anyone and at the same time, provides enormous value to improve your website. Certainly not your usual Marketing automation software.
When you first drop in your URL, the app will immediately generate a score for you. And if you are amongst the super busy people like most of us, there is immediately some great advice available. Right at the top you will find the top 3 things you can do immediately, without looking into the funnel analysis.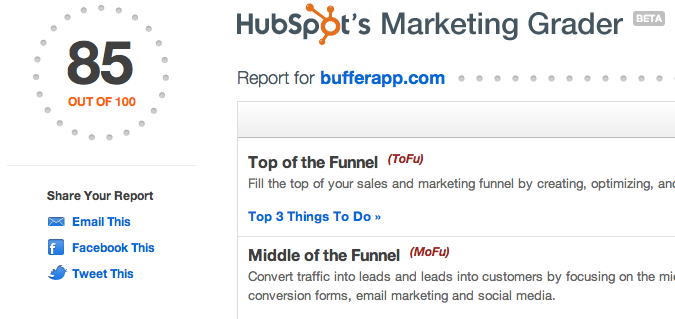 The top of your marketing funnel

The report from the app will guide you through 3 different stages you can work on for your website. The first one being Top of the Funnel. This aspect looks at 4 components and grades your website in SEO, Blogging, Social and Mobile.
For each section, it will give you hints on where to improve and most importantly, what to do in order to improve.
The middle of your marketing funnel
Then, Marketing Grader will examine the Middle of the Funnel. Here the focus is more on which tactics you can use for converting visitors. The report looks whether you provide forms, email signup or subscribe buttons and whether you are missing out on any call to action opportunities.
What I also like about this middle funnel is the analysis of your Tweeting and blogging patterns. They answer questions about, whether you are hitting optimal Tweeting and blogging amounts and how to improve.

How do you improve your marketing funnel?
I feel HubSpot's Marketing Grader is a great solution to help you understand where the strengths and weaknesses of your website lie and how you can easily improve it.
What about your own website analysis? Which tools do you use the most to find out how you can improve your exposure?