At Buffer, our workplace environment looks a bit different: our "water cooler" is Slack, we utilize transparent emails, we offer free, unlimited Kindle books and host monthly book clubs via Zoom.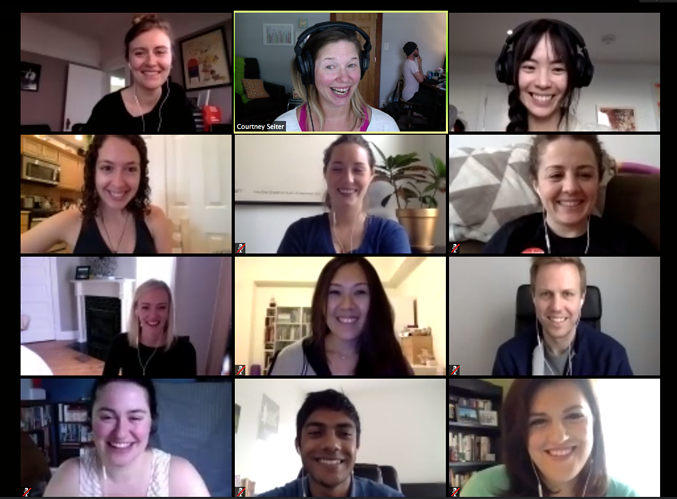 Customers are starting to care more and more about the company behind the product. And at Buffer, it's part of our vision to create the most fulfilling place to work.
In the past five-and-a-half years, where we've gone from 0 to nearly 90 employees, we've experimented with many aspects of our company culture. Some were successful — others, not so much.
When should you think about your company culture? How do you even identify what it is? Here are some of the biggest lessons we learned when it comes to identifying and embracing your company culture.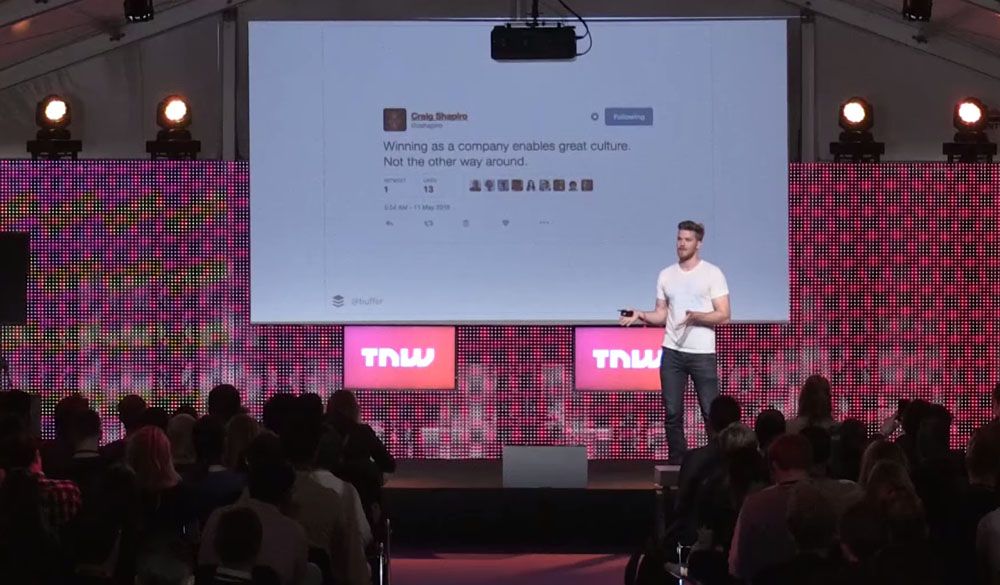 I was honored to give a talk on this at The Next Web Conference in Amsterdam this year. Jump down to the end to see a recording of my keynote!
When (and why) does company culture matter?
If you're just starting a company or at a really early stage in your journey, rest assured. This isn't quite something you need to worry about yet. You don't need culture when you're a 2-person team working out of your living room.
This great quote from one of our investors, Craig Shapiro, is way more eloquent than I could put it.
Company culture has become a popular term and I think it's very important. At the same time, you first need to do something people want, build a great product and "win" as Craig puts it. Nothing trumps that, and culture can't really help you with that either.
A general rule of thumb is that after your company is 5–10 people and you've found your product-market fit — that's when it might be best for you to sit down and think on your culture.
But why is culture important?
Why is it a growing point of discussion in today's society?
Focusing on your company culture and values allows you to build a great company. It allows you to stop operating by policy and start operating by principle.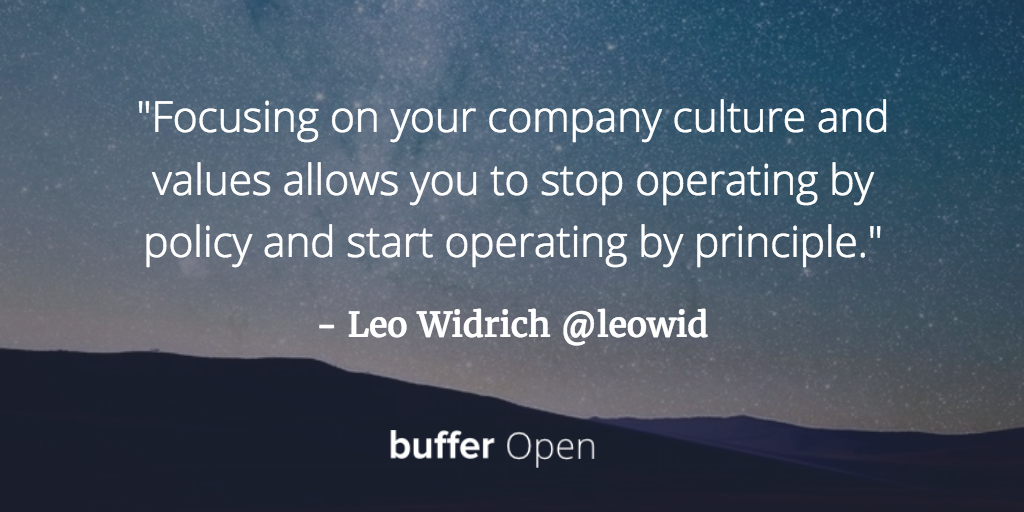 If you have shared values that everyone agrees on and that you all operate by a lot of things become redundant.
You don't need to create a policy for every step along the way. Instead, you can induce it from your values.
How should we set salaries?
How do we handle vacation?
How do we decide which feature to build next?
All these things should be influenced by your values, rather than being sliced and diced into a cookie-cutter process. Your best team members will want freedom, but they also need guidance and a general direction. Culture and values allow you to do both — set high level expectations, but don't shackle people to rules that they don't understand why they are following them.
The good, the bad, the ugly: How we turned our culture into words
The good part about culture is that you don't have to invent it.
It already exists.
If you've hit product market fit and you have a five-, six- or ten-person team, it's already there. Just like that, you have a company culture. At first, it's just the personality of the founders, and then the personality of the founding team and their implicit values.
Once that exists, I think there's a crucial moment in your company's history: You can take charge of your culture.
Observe what your culture is.
Decide to shape it going forward.
Identify how you can shape it.
Act on the culture you've laid out.
This is the first thing we did: Joel, my co-founder and I had a pretty good idea about what our values might be. But we felt that we really wanted to involve the whole team.
We created a simple Wufoo form and asked our team members what they thought Buffer's values were.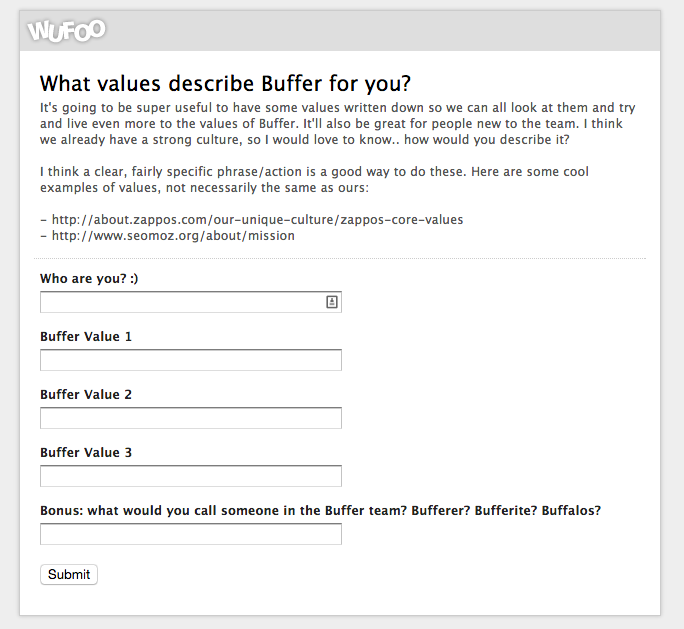 And here's a response from our then happiness hero, Carolyn, who is our Chief Happiness Officer today: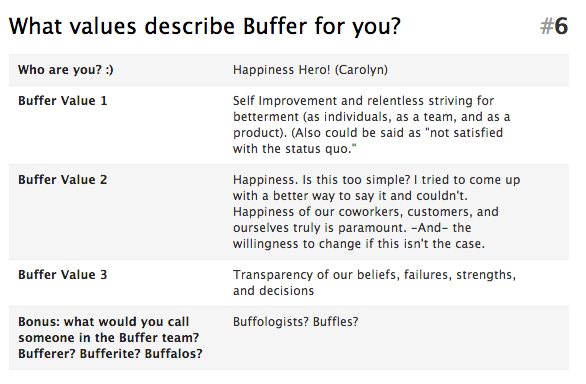 What is interesting here, is that even though we didn't have any of those values written down anywhere, Caro felt that what she experienced at Buffer was best described in these three values. This underscores that this exercise is a mere description of what's going on and then turning those in to your values.
You don't create culture, you just name what you already have.
And this is what we came up with: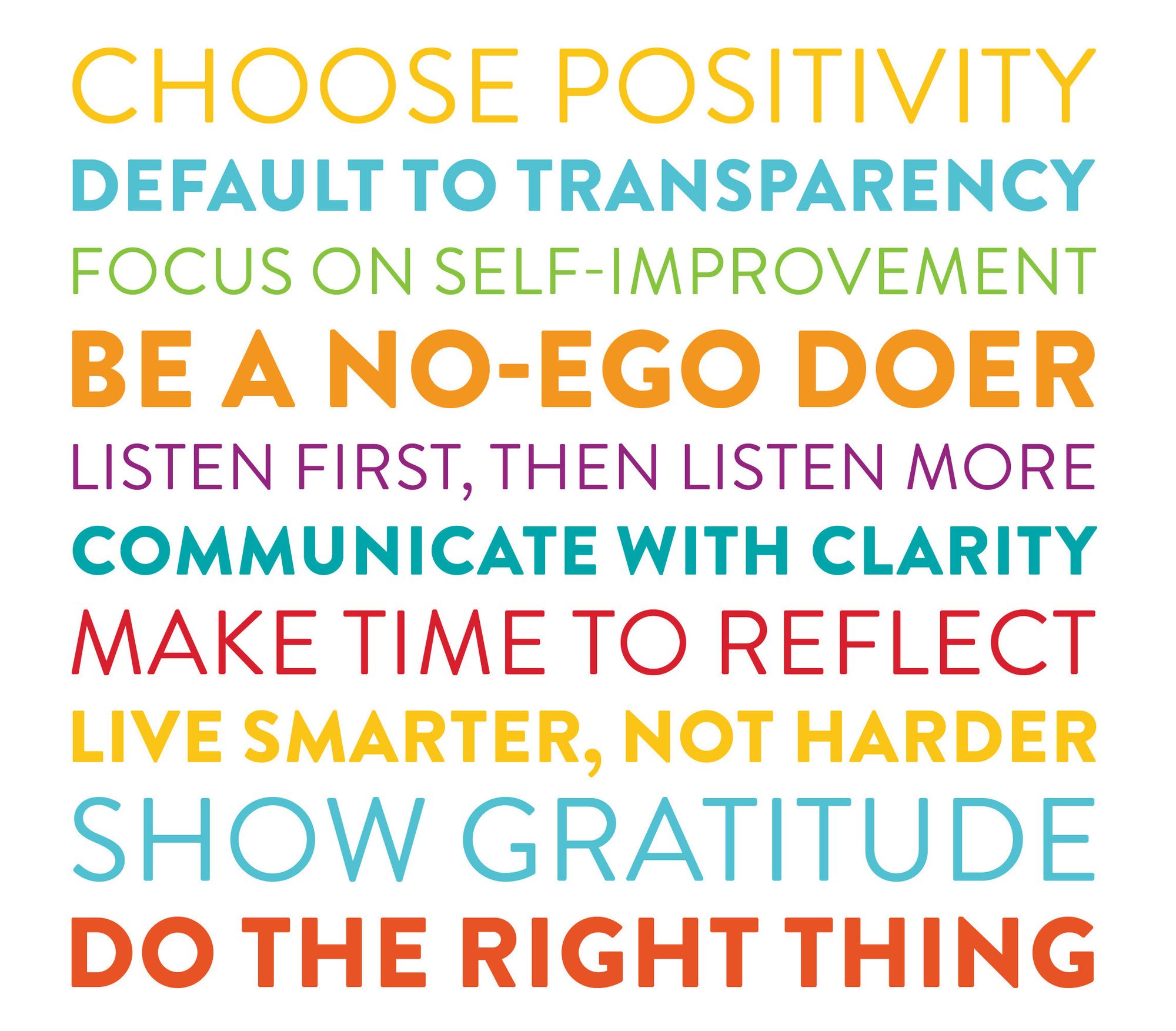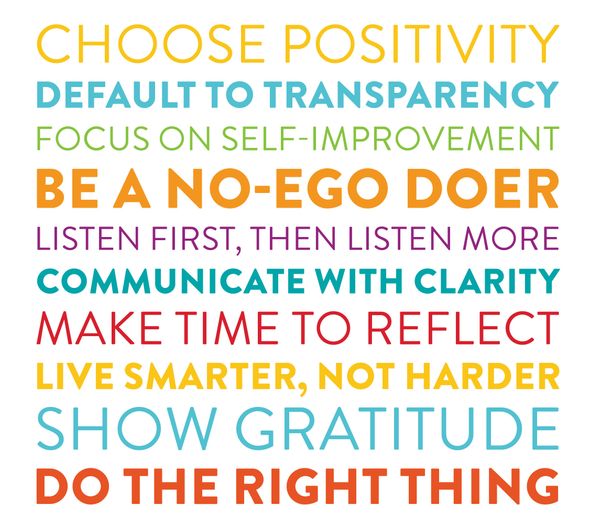 Our 10 Values
Choose positivity and happiness
Default to transparency
Have a focus on self improvement
Be a "no ego" doer
Listen first, then listen more
Have a bias towards clarity
Make time to reflect
Live smarter, not harder
Show gratitude
Do the right thing
After three to four iterations over the past few years, these are the values we try to live by and do our work at Buffer.
And once you reach the stage where you have some things written down, it can be really powerful. You now have something that you can share across the company.
Now this is where it kind of gets ugly.
Culture can often be this nice, fluffy, comforting term in most people's minds. But really, I believe culture is a lot more about honesty, discipline and integrity. And if you follow those traits through to their core, you have to make some really tough calls.
After we identified our core values — over the course of a few months — we had some tough discussions and we let some team members go. We went from 12 or 13 people to eight or nine. It was really tough.
In a way, culture and values act like a disinfectant. Especially once you make the values explicit: you can't turn away from the truth anymore, otherwise your values will become simply a piece of paper taped to the wall.
Once you make the set of values clear, acting on them is the most important thing you can do. The question that matters is not so much, "What are your values?" but rather "What changes did making your values explicitly trigger or do they trigger on an ongoing basis?
It's important to remember you're doing something that heals you and your company in the long run.
3 of our biggest culture successes at Buffer
Success #1: Transparency and open salaries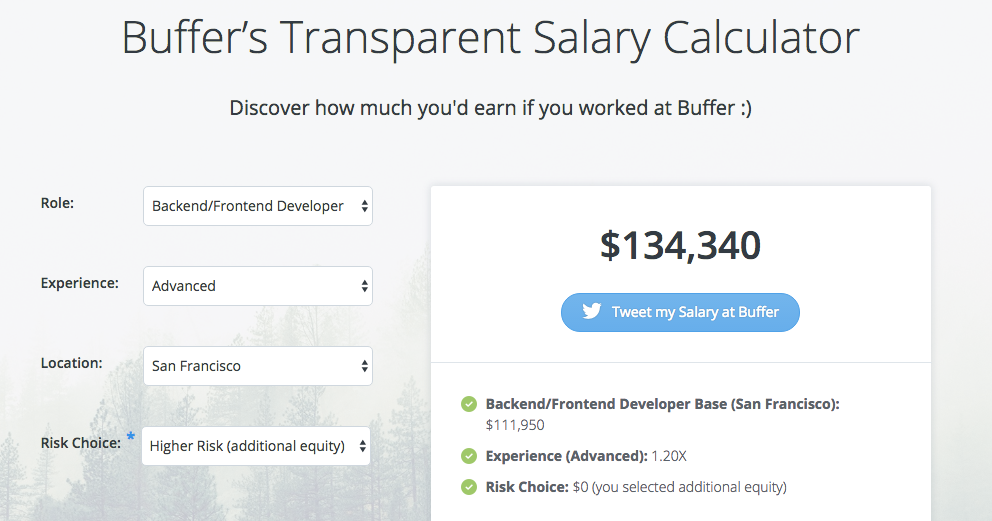 One of the first experiments that I think was successful was our push for making salaries transparent.
When we zoom out and reflect on our transparency value, it's important to note that the way we approached this is that we didn't think about transparent salaries, email, revenue or even a transparency dashboard at first.
Instead, when we set down our values, we just felt that, early on in Buffer's journey, we've always been extremely open with our team and the public around what was going on at Buffer.
We thought, "Transparency is fundamentally something that helps us live a more fulfilling and honest life and run this company better."
So at the core, we just thought that transparency was a good thing to do. The good stuff, such as the publicity surrounding some of our transparency initiatives, is great, but it's not the driving force. It was also a surprising outcome that the month after we posted our salaries, we had 4,000 applications. Many people felt drawn to the values. It was amazing this triggered such an emotional response.
Success #2: Working Remotely
Buffer is completely distributed. We don't even have a physical office location.
We have 82 team members spread across 5 continents, people living in Sri Lanka, South Africa, Taiwan, Singapore, the Netherlands, all over Europe, the US, Canada and so on and so forth.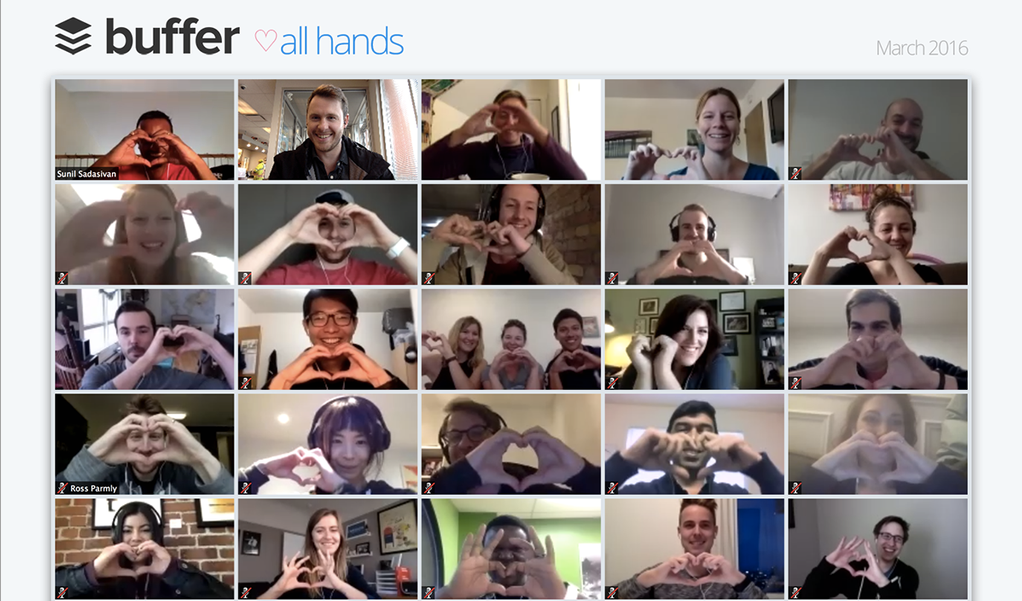 And being a remote company again didn't start with purely the idea of wanting to be remote. It started at the value level.
One of our values is "Live smarter, not harder," and within that value, we encourage people to live and work from the place they are the happiest and feel most fulfilled.
We fundamentally believe that it's a good idea to travel, explore the world and live where you're happiest. And when we wrote that down, we also decided that we want to extend that to everyone who joins Buffer.
A few lessons we learned from working remotely:
Top benefits:
Ablility for team members to travel
No commuting to offices
Can take care of children or pets more easily
Close to 24/7 coverage
Downsides:
Success #3: Public fundraising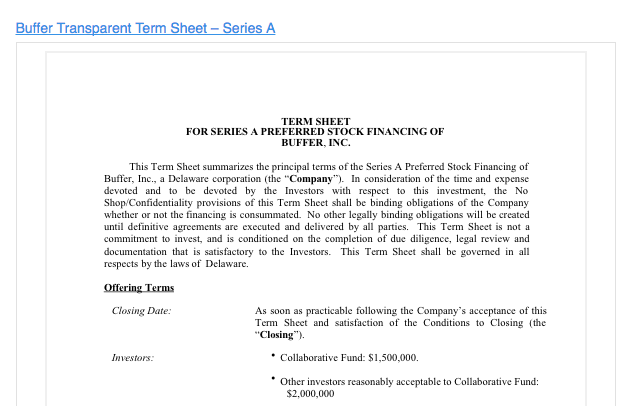 Recently, some legislation changed in the United States so that you could fundraise publicly. We immediately jumped on that.
In 2014, we raised $3.5m completely transparently.
Our first investor, Collaborative Fund, committed around $1.5m to the round and we then said that we'll raise the rest from anyone that would be interested. We wrote a blogpost and published the term sheet and basically said "Hey, who else thinks Buffer is a good investment and wants to participate in this?"
The response was incredible.
We closed the rest of the money within 24 hours and moved on to building things again.
Culture extends beyond your company over time. We're incredibly grateful our investors are aligned with our values and were up for an experiment like this.
2 culture mistakes we've learned from
I recently read a piece from Jeff Bezos on Amazon's failed Fire phone. People asked him whether he was worried about that failure and he said, "If you think that's a big failure, we're working on much bigger failures right now."
When you start to tackle big things, whether it's culture or product, you'll inevitably create your fair share of failures. In Buffer's transparent spirit, we think it's worth sharing those too.
Mistakes #1: Working with no managers
About a year and a half ago, we started to read and learn about a fascinating new approach to work. Some called it holocracy, others called it self-management.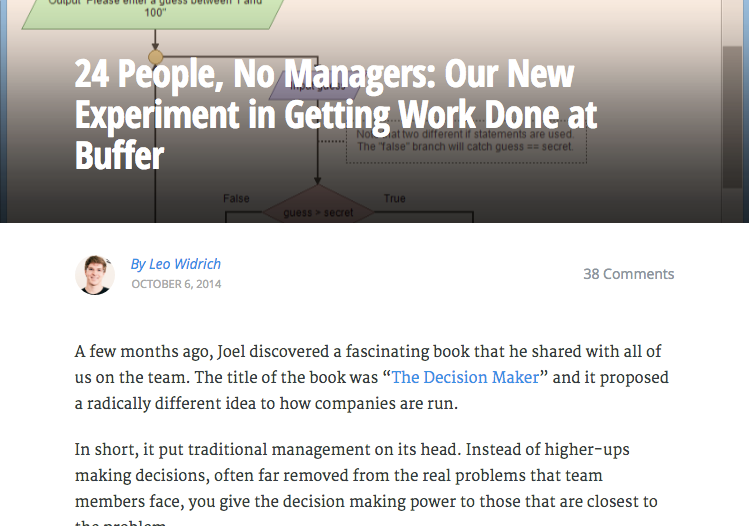 We thought that it was so fascinating to allow everyone the complete freedom to work on what they wanted, create a strong peer-to-peer decision making framework and avoid the need for bosses or managers. We worked in this system with no managers for about eight months, before we gradually started to move back to a more traditional hierarchical structure, which we have now.
So what did we learn?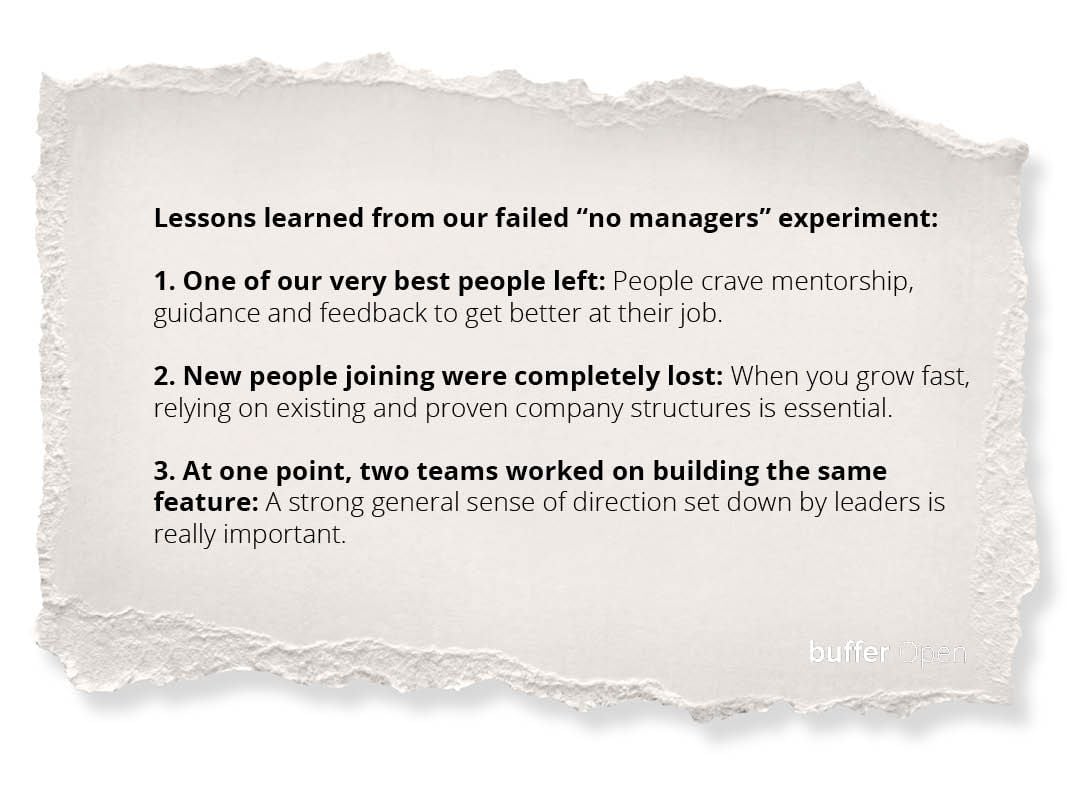 1. People really crave and want mentorship. Especially your very best people. One of our best product designers on the team left largely because he felt he wasn't getting the mentorship anymore that helped him grow so fast as an individual contributor at the start of joining Buffer.
That really hurt.
We thought that giving people all of that freedom would be welcomed, but instead people felt they were stalling.
2. New people that were hired felt lost. We said to them, "just go look for yourself and find something to work on."
That's hard when you come into an established company. You feel like you're constantly stepping on people's toes, and it left people paralyzed. A big conclusion for me was that when you're growing fast as a company, you shouldn't also create completely new company structures. Rely instead on tried and proven stuff.
3. Finally, we could never get a general sense of purpose and direction. We had at one point two teams working on building the same feature. The value of setting down a mission and vision, with input from the team — but still coming from the founders or leaders of a company — is just so crucial. And we've since then moved back to that structure.
These failures are tough, especially in the moment. However, that's how you get better and improve in the long run.
Mistake #2: Transparent feedback
With our transparency value in mind, we thought that we could apply that to everything. Turns out, that's not quite true. The saying, "Praise in public, give feedback in private" turns out to be accurate. At least for us.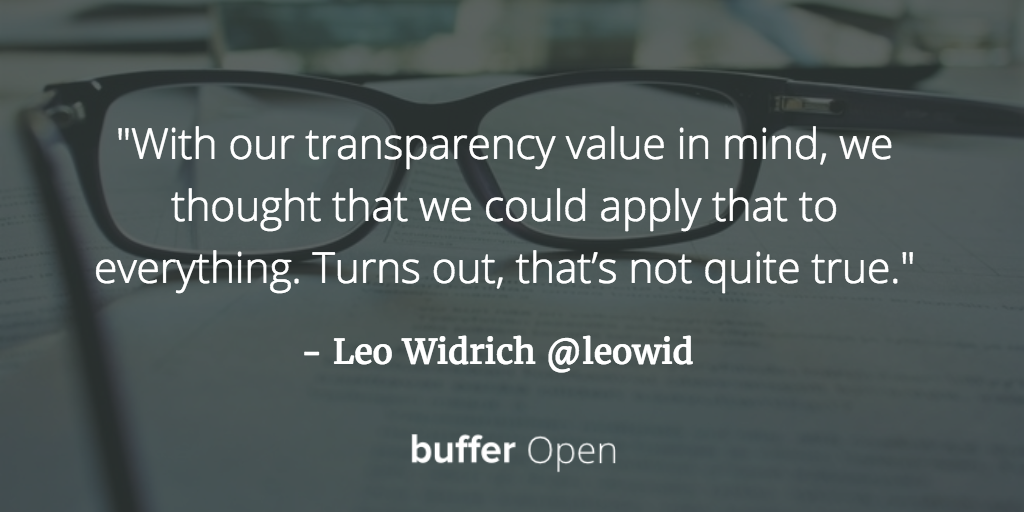 For a time, we decided to make it completely transparent if someone had some feedback for someone on the team — even tough feedback.
It was in a forum-style format where everyone on the team could read it and even jump in to defend or encourage the feedback that was given.
It was kind of like a gladiator battle: You could see two people having to defend themselves in front of a crowd for their actions and for what they may or may not have said. It turns out that this approach hits on some of our human instincts that aren't very productive. People, understandably, got defensive and weren't able to hear any of the feedback as it was intended. And those who were giving the advice felt like every small piece of feedback they wanted to give was turned into this big thing. It became a vicious cycle.
And after a few months, we shut that down and decided to keep helping each other out with constructive feedback, but in private.
When you live on the edge with your values and really live up to them, you'll hit these boundaries of failure. I'm still grateful we tried this experiment and we learned a lot. Although, if I may offer some strong advice on this front: I think feedback is simply best given in private.
The truth of it: Operating by values is really fun
All the hard work around focusing on and living by your values really pays off.
Whichever values you choose to live by at your company, it's worth trying to really stick to them, act on them and learn from these experiences.
Personally, going through all that and having a great group of people that you feel really aligned with is special and a lot of fun. There's a huge reward waiting for you there.
When the timing is right for you and your company, think about your culture and values. Don't be afraid to let your values impact what you do next.
Over to You
Does your company have a set of values? Which values mean the most to you in your workplace? Are there any of the Buffer values that resonate?
Photo credits: Unsplash