The change towards self-management at Buffer is our biggest and most fascinating challenge to work through right now.
March found us evolving in quite a few areas including self-reviews, self-managed salaries and more—all while growing our user base and team throughout the month. Here is the latest update:
The latest Buffer metrics in March
2,171,877 total registered users (+4.5%)
207,035 monthly active users (+9.4%)
50,538 average daily active users (+5.4%)
$488,771.05 monthly recurring revenue (+5.7%)
$5.87M annual revenue run-rate (+5.7%)
$2,084,003.37 cash in bank
31 team members across the world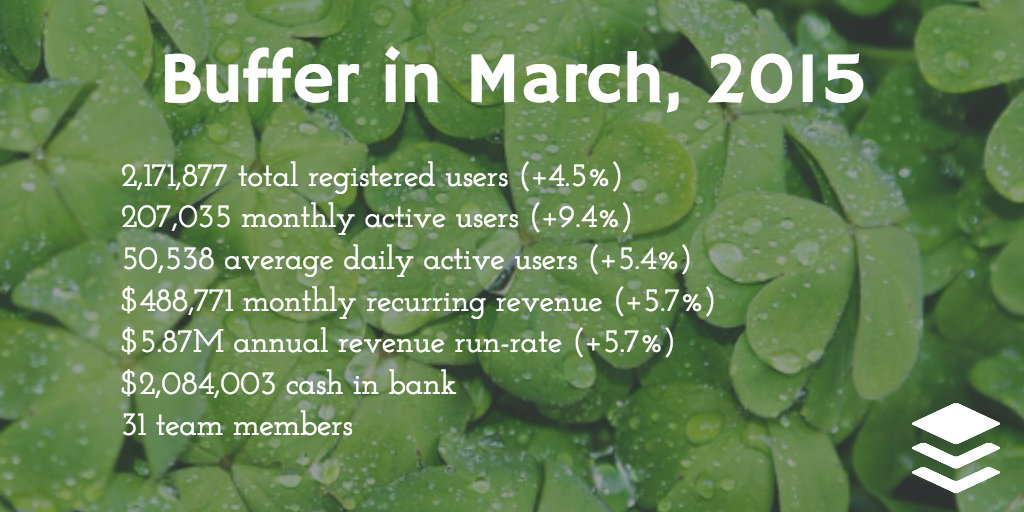 It's awesome to see the revenue continue to grow at a solid pace here, making us very much profitable with the current team size.
Beyond metrics, here are some key things that have happened in the last month:
Continuing our journey of self-management
As we continue making the transition to be a fully self-managed company at Buffer, it's been particularly interesting to get a chance to revisit almost every one of our existing processes and make them more friendly and less hierarchical. Two big attempts in March:
Self-managed salaries
We've started to slowly abandon our salary formula. It has helped us go a long way; however it doesn't feel in line with being truly self-managed.
Instead, we're now experimenting with a time period once a year where all team members are invited to reflect on their salaries and get advice on changes from their teammates and a dedicated Salary Sounding Board.
We've started this in March and are in the middle of wrapping it up now in April. This means every team member can de facto control and change their own salaries.
Self-reviews
Another important topic we started to tackle was the importance of ongoing and regular feedback, even without managers.
We started a pilot program in March where team members could optionally review their own performance and reflect on achievements and challenges. They then invited 3 other team members they worked closely with to offer advice on how they're doing and how they could improve.
More than half the team joined this pilot and without having fully analyzed the outcome, we're excited to bring this or a similar process to the whole team going forward.
Overall, some growing pains of being self-managed
Finding our feet in this fairly new environment has brought us some tough conversations. Often we don't fully know whether the decisions we are making are the right ones.
What we've learned in relation to this is fairly simple: Just keep swimming! We plan on doing that! :)
Team growth
We've made big strides on growing the team in March, with 2 new people already starting their Buffer bootcamp and 3 more starting in April. This brings the team to 34! We're especially excited to focus on hiring Product roles—something we've failed to identify and focus on for some time, but we feel now we're really getting on top of.
We're also keeping our focus on hiring for the Happiness Team to keep our users as happy as possible, since we started to put some strain on people working in those roles with the increased volume of requests through our continuous growth.
Here are the open areas we'd love a hand with right now: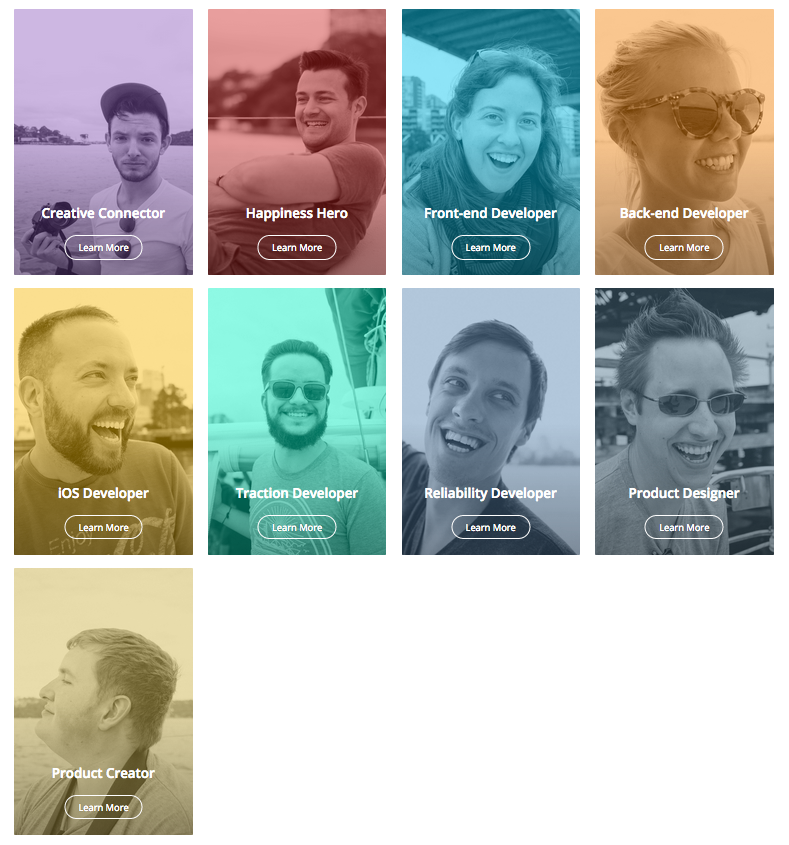 An ask to you
If you know of any founders of self-managed companies that we could speak with (we know first-hand that there are very few companies that operate in that way, e.g. Medium, Valve, Sounds True), it'd be greatly appreciated to hear about them!