Here at Buffer, we strive to track our progress toward our vision of setting the bar for great customer support. And, since we probably have a lot of the same goals and challenges as other customer-facing teams out there, we'd love to share how we're doing each month and what we're trying next. It would be awesome to hear from you, too.
How Support Works at Buffer
Our current set-up includes three members of the Happiness team, some help from the rest of the Buffer team and the following tools, which help us support our amazing customers:
We use Help Scout to answer and archive incoming emails. We get emails from the following three sources:
Replies to our marketing or transactional emails
The "get in touch" form in our app, and of course:
New, fresh emails to hello@bufferapp.com
In Help Scout, we don't "assign" conversations to a specific team member, so one customer can sometimes hear from multiple people throughout the conversation. Since we're globally distributed and span multiple timezones, this allows us to solve problems faster.
We have chosen to provide free and paid users with the same support experience. The reason for this is that we aim to set the bar so high for all people using Buffer, that it wouldn't make sense to try to set the bar even higher for paid customers. The side-effect of this from a team perspective is that it greatly simplifies our workflow, answering emails within a single inbox.
We use a tool called Hively to help us track how happy customers are at the end of each email exchange. Customers can vote "Happy," "Satisfied" or "Unhappy."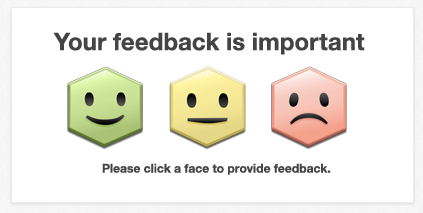 For Twitter, we use an app called TwitSpark. It's a great product and allows us to answer questions rapidly with personalized signatures such as "-Colin" at the end of each Tweet. We'll have more data on our Twitter support in the coming months.
How we did in July
We helped 3,068 customers this month in 3,599 conversations. We completed each conversation with an average of 1.71 replies from a Buffer Happiness Hero or other team member.
Happiness
These are the self-determined customer happiness levels from July after each email conversation, via Hively:
Total: 620
Happy: 589 (and 17 "Wow" experiences)
Satisfied: 20
Unhappy: 11
Percent who chose the happy face: 95%
Speed
Our response time, according to Help Scout:
Percentage of emails that got a reply under 1 hour: 47%
Percentage of emails that got a reply under 6 hours: 75%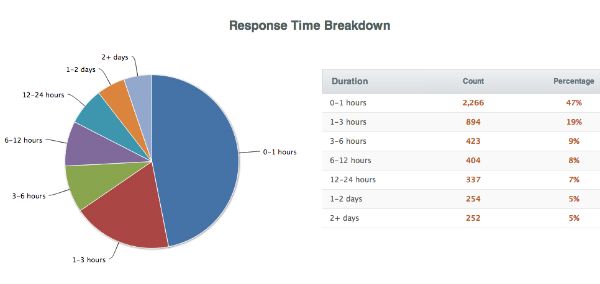 We've hypothesized that customer happiness is implicitly tied to speed of response. We're trying to pick up the pace a little, so next month we'll see how any changes to speed affect our Hively stats.
A key question we're asking ourselves (and you)
Is it a worthwhile goal to try to change the number of customers helped or replies per conversation?
For example, If we try to decrease the number of replies per conversation, it might mean that we're answering the question more efficiently, which makes customers happier. Or, it may mean that people don't feel warm and fuzzy enough to reply again, which isn't good at all. It could also mean that we're cutting off interesting conversations in which people ask about Buffer in general or how we work, which would also not be ideal.
We would love to hear from you on whether you set goals around these numbers (or if you even track them).
Changes we made in July
1. We brought a new team member on board (and we're looking for one more!) This helps us cover more timezones and provide replies faster and with more care. It also gives us some room to experiment with new tools and channels.
2. We're giving new attention to the FAQ. We originally placed a lot of value on a personal interaction via email, and recently started to shift our mindset to also help those who prefer to find the solution without reaching out.
3. We expanded the search terms that we monitor in TwitSpark. We especially noticed recently that some people mention Buffer without using our @handle, and we're happy to now be able to help these people too.
4. Lastly, we moved some customer information out of the email subject line. Previously, we included the customer's plan (i.e. free or paid) in the subject line when they used the support form within our app. This is helpful for us to troubleshoot questions since the plans have different features, but it could be confusing for customers to see this in the subject line. Since we still need this information, we moved it to the customer profile section within Help Scout.
Over to you now. We'd love to hear how support is going in your world, what questions you're asking and what challenges you face! Also, we're totally transparent, so if you have any questions about how we do things here, let us know!