We've talked about how important of a tool video is becoming for marketers.
Every day people watch hundreds of millions of hours on YouTube, Facebook has 8 billion daily video views and Snapchat users watch 6 billion videos daily.
Video views are growing so fast that if you don't jump in now, you might miss out on one of the biggest opportunities for you and/or your company.
And that's why I wanted to talk about Twitter video, which is something not a lot of marketers have embraced yet!
Let's get started.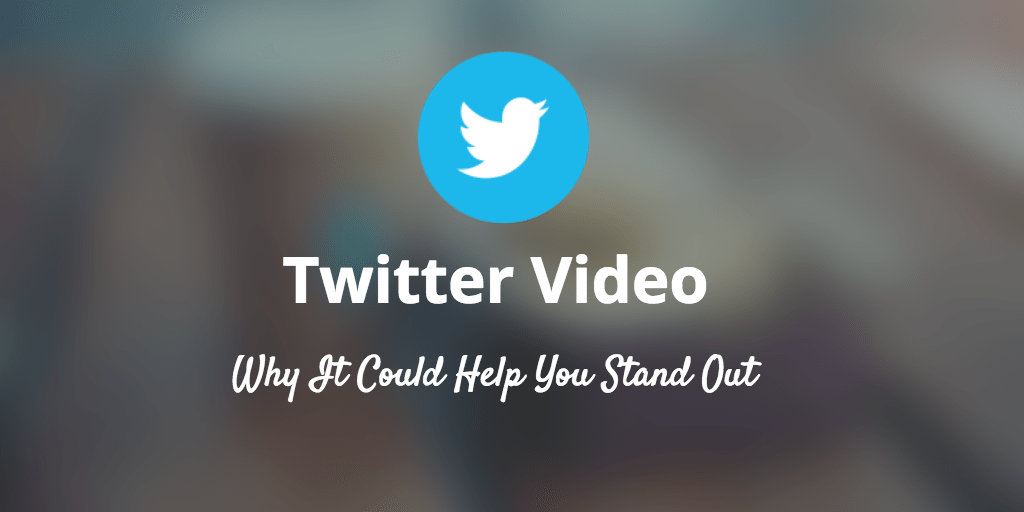 Videos on Twitter
Video on Twitter is still relatively new and that means it's also the perfect time for you to jump on the opportunity and start experimenting with it.
Let's start with the basics and learn everything from how to upload to Twitter and what the videos look like to how to get the most out of Twitter video.
How to Upload
Twitter offers a few different options for you to upload a video:
Record and upload directly from your Android or iOS phone app.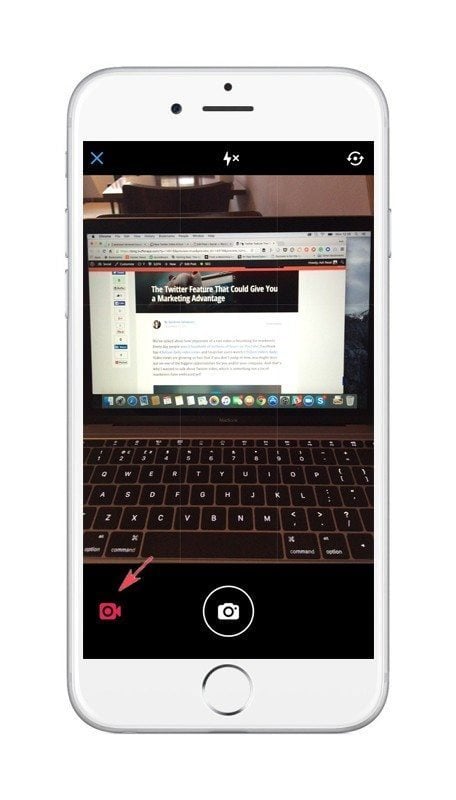 Import a video from your iPhone or iPad (you can add the video the same way you would attach a photo to your tweet and you'll notice videos have a time counter in the bottom left corner of their thumbnail)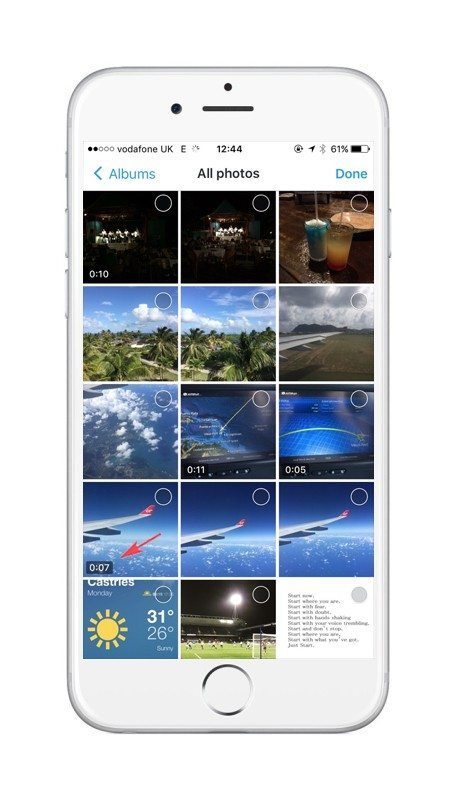 Upload a video from your computer on Twitter.com (similar to how you would attach a photo)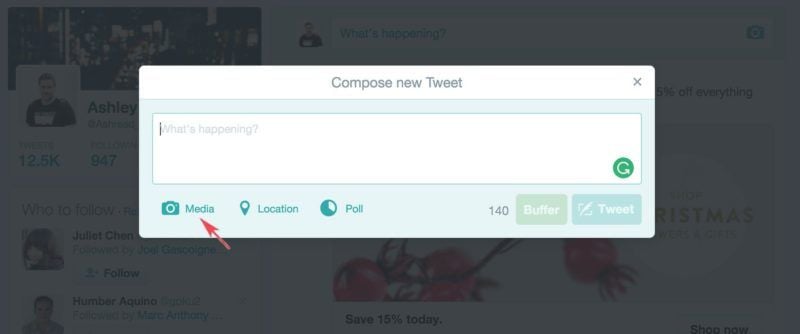 Format/Limitations
Twitter does have some limitations when it comes to videos. Here are some things to keep in mind when sharing one on Twitter:
Videos on Twitter have a maximum video length of 30 seconds (you will be prompted to edit videos to 30 seconds or less in length if you upload on the web)
The video format supported for mobile apps are MP4 and MOV
The video format supported on the web is MP4 with H264 format with AAC audio.
The maximum file size you can upload on the web is 512MB
Here is some more technical information:
Minimum resolution: 32 x 32
Maximum resolution: 1920 x 1200 (and 1200 x 1900)
Aspect ratios: 1:2.39–2.39:1 range (inclusive)
Maximum frame rate: 40 fps
Maximum bitrate: 25 Mbps
Pro Tip: A way to buypass the MP4 limitation on the web upload is to use Buffer to upload and schedule your videos on Twitter. I upload all my MOV files that way on Twitter.
What does it Look Like
Now that you know how to upload a Twitter video. Let's take a look at what it would look like on your profile.
We have used videos to announce new product launches. Here are a couple examples from recent launches for Pablo 2.0 and our Social Media Calendar.
It's been great to be able to use a media that showcases our product announcements in a more in depth way and provides a mini demo too!
Videos on Twitter also autoplay now similarly to videos on Facebook which provides you with even more potential to grab your audience's attention as they scroll through their feed.
Why Twitter Video
Twitter has been a little slow at getting into video, but it seems like things are starting to shift quickly for them. Interestingly enough, Twitter video is not yet something that a lot of people use. Maybe it's because it's still new and people are not used to it, but I see this as an opportunity to stand out from the crowd.
Nowadays, our Twitter feeds are filled with images and GIFs, there is nothing new about them. I feel like it's not about just adding an image/GIF now, but finding the best one! However that is not the case with video, at least not yet!
While I do see some Twitter videos here and there on my feed, it has not yet become mainstream and that's where I think the opportunity lies for you to differentiate yourself! I don't mean abandon other media, but incorporate video as part of your Twitter strategy!
What is the engagement like?
Twitter did share some early information based on the analysis of their internal data. According to the analysis:
"…native video on Twitter drives more overall engagement than third-party videos shared on Twitter: 2.5X replies, 2.8X Retweets and 1.9X Favorites."
Here are some more of their findings from February 2015: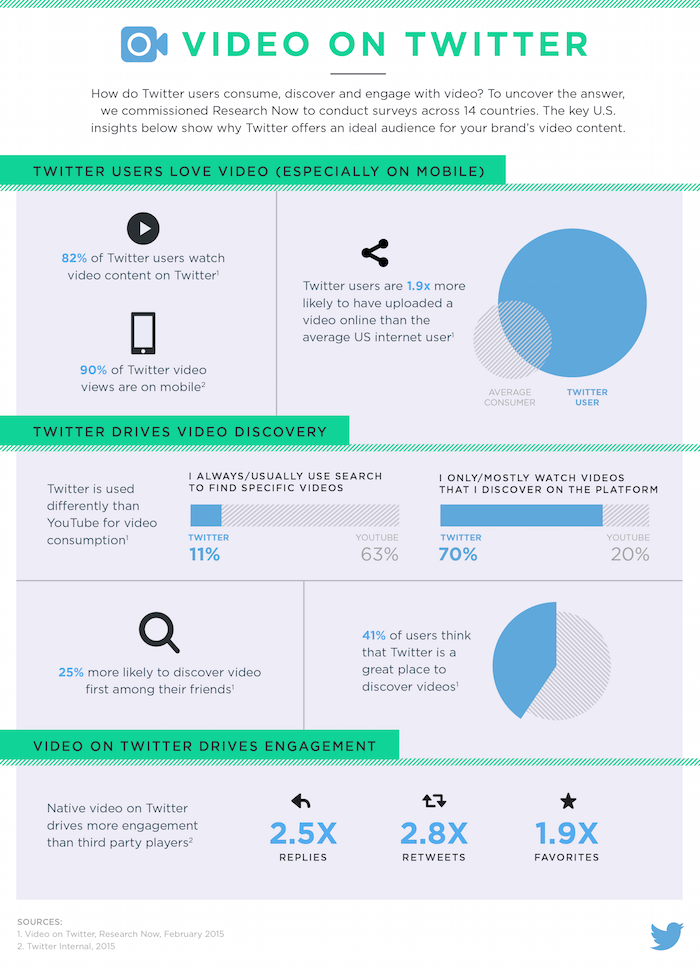 There is however a bit more information in terms of Twitter videos when it comes to Twitter ads using autoplay videos!
Social Times shared some thoughts from Sean O'Neal, president of Adaptly, a company that develops media buying solutions for autonomous platforms like Facebook and Twitter, who ran a Twitter campaign for TV Land's new comedy, The Jim Gaffigan Show, using video Tweets. O'Neal shared that after doing some testing they found that the engagement rates on the video Tweets was "up to seven-times higher than on images."
However, O'Neal did warn that in order to get this kind of engagement, the content had to be fresh and relevant.
Twitter also did a Q&A with Kristin Mirek, vice president of multi-platform marketing at TV Land, to get more detail about their marketing strategy using Twitter videos. Mirek shared that with some smart audience targeting they were able to get "more than a 29% engagement rate," with their cost-per-view "as low as $0.03."
It definitely feels like there is a lot of potential, whether through ads or oragnic sharing.
And if you want more tips to create the best promoted video, here are 5 from Twitter:
Make a human first impression to draw consumers in
Highlight how your product delivers value to increase recall
Structure storytelling to drive purchase intent
Serve up high-energy entertainment to engage
Align with influencers to drive earned media
They even shared an nice infographic to go alongside these Twitter video best practices 🙂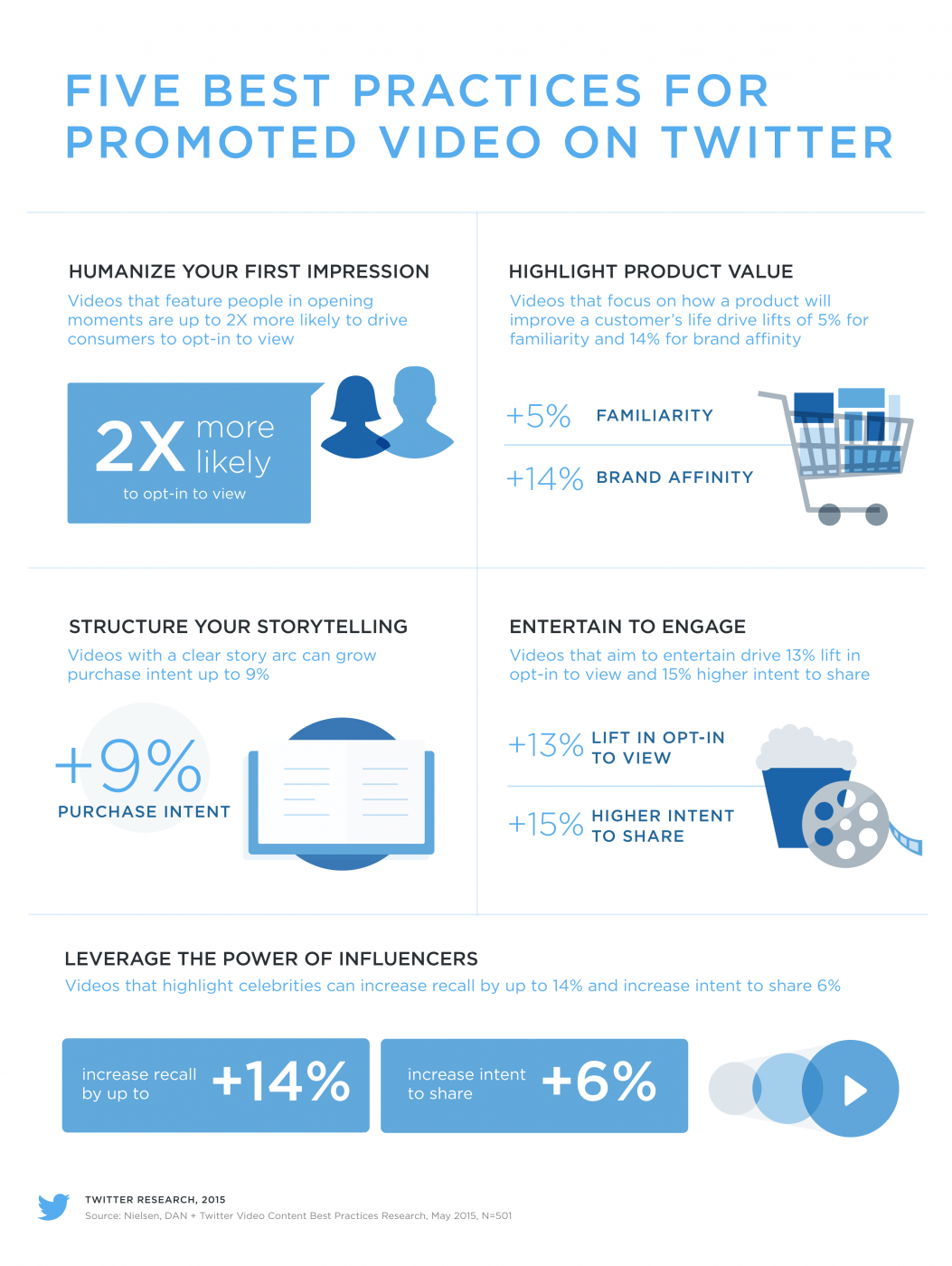 You might have also noticed that select advertisers are able to upload more than 30 seconds videos (up to 10 minutes!) I'm keeping my fingers crossed that Twitter will soon allow everyone to upload longer videos. 🙂
How to use them
The fact that Twitter video is still gaining traction amongst brands, business and individuals means that there's a very unique opportunity to try different things with it and also to stand out from the crowd — maybe even becoming the Christopher Columbus of Twitter video 🙂
Here are a few ideas of video types you could share on Twitter:
Teases
If you are getting ready to make an announcement or launch a big product, why not create a tease video with the launch date included in there to get people excited, similar to what TV Land did with their new show.
If 'Game of Thrones' can do it, so can you 😉
Holiday themed
Bring joy to your customers by offering them beautiful holiday themed videos. Coca-Cola knows how to touch our hearts don't they?! (Yes, there might have been tears as I embedded this tweet…)
Thank you/Responses
A thank you and/or response is always appreciated and going the extra mile with a photo or GIFs is even better. Now imagine sending a personal video! Now that's not something a lot of people do, but it can create an even deeper connection with your audience. Here is Gary Vaynerchuk answering one of his followers with a short, personal video.
Promotion
If you are launching a new product or promoting a new service, sharing a Twitter video can help get your message across. As I've mentioned above, that's what we've been doing at Buffer when launching new features.
Special Videos/Exclusive Content
If you want to give people an extra reason to follow you on Twitter, how about giving them exclusive content they would not find anywhere else?
(Hat tip to Social Media Examiner who gave me the idea for these next two…)
Educate
Using a video to educate your audience and promote your product is a great way to connect with your audience and help them at the same time!
Ask for User-Generated Content
Get your audience engaged and give them the opportunity to share their own video and be highlighted! GoPro is really great at this! They regularly highlight their customers' videos (they have the same approach on YouTube as well!)
If all else fails just post a video of cute doggie because who doesn't love that?!!
BONUS: Upload Twitter Videos on Buffer
I've mentioned above that you can upload your videos using Buffer and I wanted to dig a little more into that.
While Twitter does now allow for you to upload videos from your web browser and/or iOS/Android phone, there are a couple limitations that have made me use Buffer every time I've shared a video on Twitter:
You can upload MP4, MOV or AVI files (Twitter on the web only allows you to upload MP4 files and I don't always feel like going the extra step of converting my video or sending it to my phone to upload from there)
Your file can be up to 1 GB (Twitter allows files up to 512MB)
You can schedule your video tweets! (Twitter doesn't allow scheduling)
Of course, if you're ready to share your MP4 video immediately, sharing it directly on Twitter works perfectly fine, but if you ever want to schedule it for even a little later that day, Buffer is a great alternative to have 🙂
Over to You!
If people could figure out how to make 6 seconds videos on Vine entertaining, I'm sure you'll be able to find something exciting to share on Twitter!
Have you experimented with Twitter videos? How are you liking them so far? Any tips and tricks you can share? I would love to learn from your experiences! 🙂
Brought to you by
Did you find this article helpful? You might also like our all-you-need social media toolkit.
Get started for free now