TikTok's Live feature is a blank canvas that creators have adopted in different ways. There are people who play games, using it like one would use Twitch, as well as people who make personalized acrylic cups.
Going live on TikTok is a great way to increase your engagement and reach new audiences on the app. It's also a great way to increase revenue for both creators and brands. Data.AI estimates that consumers will spend $6.78 billion via social apps this year and that the majority of this spending will be fans sending money to their favorite creators.
But, before you can start going live on TikTok, you'll need to meet some requirements:
Have 1,000 followers; and
be older than 16. If you're over 18, even better! You can get a share of the billions of dollars being spent through livestreams thanks to TikTok's Gifts feature.
Once you have these, then you're ready to start streaming! In this article, we'll explain how you can set up your TikTok Live and start connecting with your audience in a new way.
💡
Schedule your TikTok videos and reach a new audience with Buffer
Plan, create, and schedule content to get more exposure and engagement with Buffer's
TikTok scheduling and analytics tools
.
How to set up TikTok live streaming for your account
To get started, follow these simple steps:
Open the app and tap on the "+" camera icon. Next, select the "LIVE" option from the navigation bar at the bottom of the screen.
Choose an image and write a title for your broadcast (you can change this later). Next, tap "Go LIVE". Your followers will now see a notification that you're going live!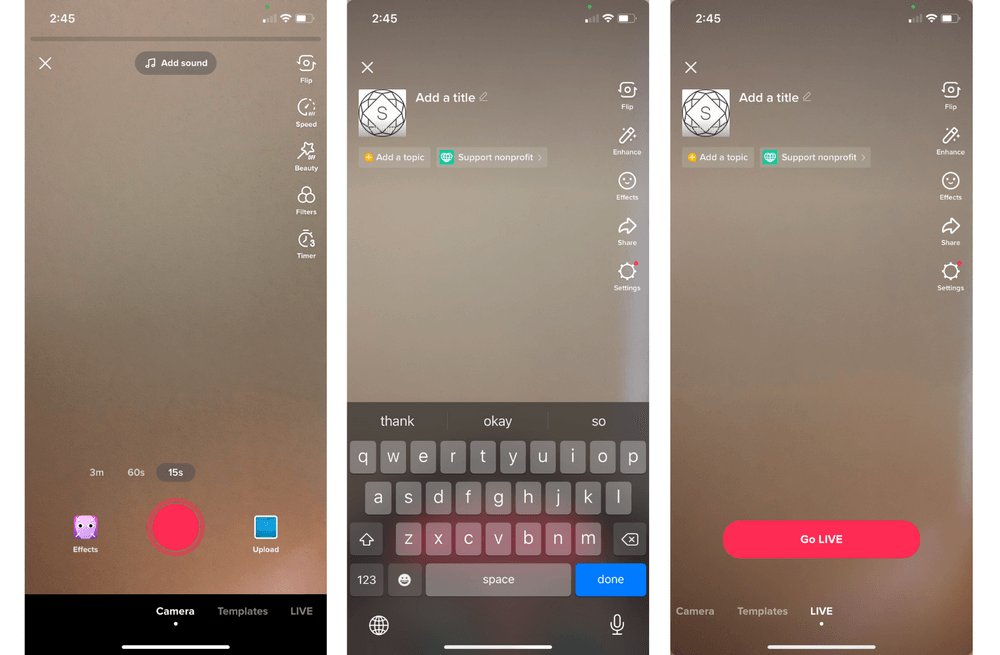 To exit the live stream, press the "X" at the top-left corner of the screen to stop recording.
💡
Once you're Live you can flip the camera, add effects, filter comments, and even add up to 20 moderators to help with community management.
Tips to make the best of TikTok live streams
If you want your content to stand out amongst the thousands of other live streams going on at any given moment, you'll need to be strategic with your Lives. Here are some tips to consider when developing your TikTok Live strategy:
Timeslot: Pick a time when your audience will be most active. TikTok's analytics are pretty robust and help you track follower activity. With this feature, you can see what times and days your followers are most likely to view your content. To view this data, click on Creator tools -> Analytics -> Followers.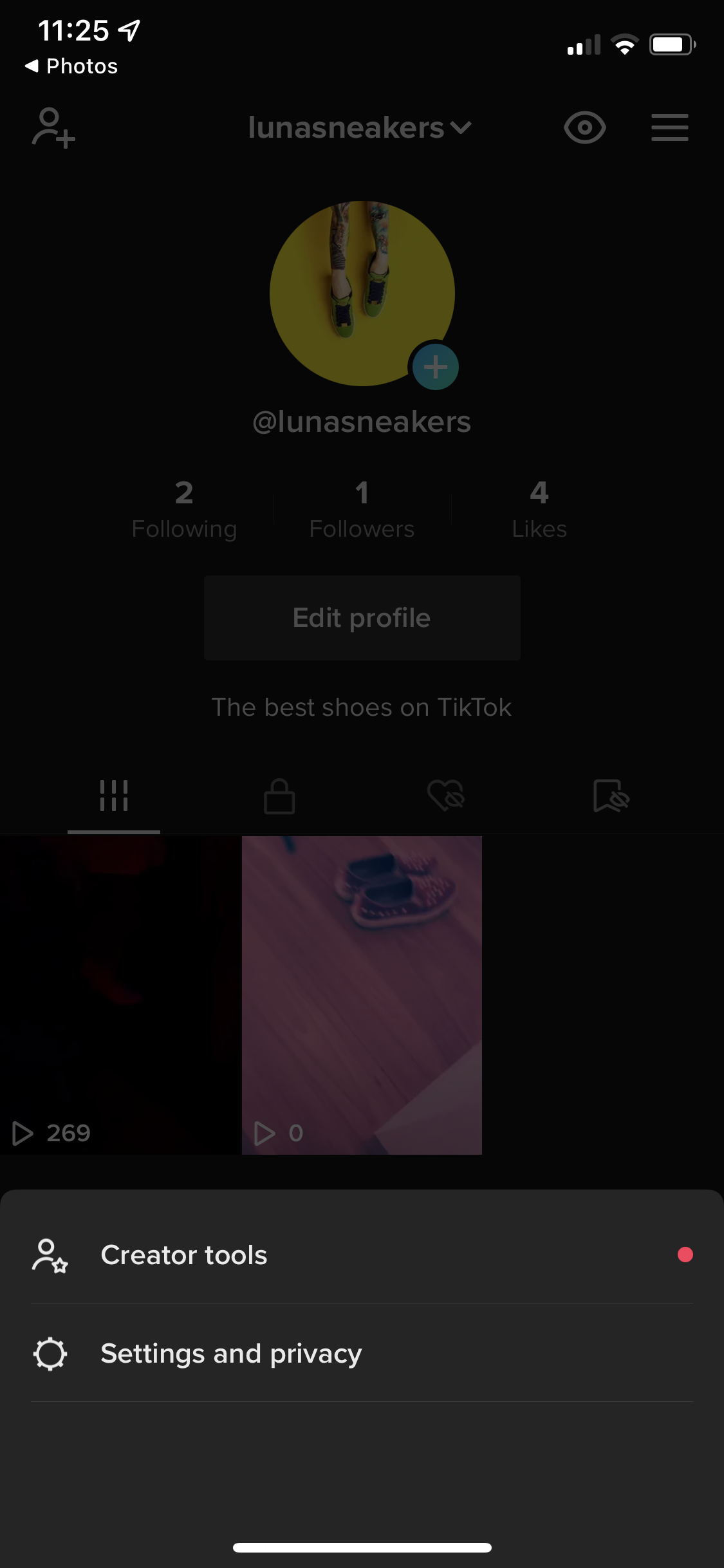 Length: You can go live for about 60 minutes, but TikTok recommends keeping your streams to 30 minutes.
Post consistently: Having a recent video on your followers' For You or Following page means that they will see a special icon that lets them enter your stream directly. Even better if this video is of you telling them when you'll be going Live. Small note here that you can schedule this in Buffer using TikTok Reminders on both mobile and desktop!
Set up good lighting: Film in a well-lit area with natural lighting or consider using a ring light. This helps keep your viewers' attention on you, not distracted by not being able to see well.
Have a good Internet connection: Check your Internet connection beforehand to make sure it's good so you can avoid interruptions to your streaming.
Have a plan or guidelines: While you don't need a script, it is beneficial to have a solid set of guidelines in order to stay focused while streaming.
Engage your audience: The best part of TikTok Live is being able to interact with your followers in real-time. Keep an eye out in the chat and respond to comments, questions, or requests to really connect with your viewers.
Moderate your comments: You have the option to filter comments, mute viewers from commenting, and block someone from their live stream if you need to.
5 ideas for your next TikTok Live
Whether it's through behind-the-scenes content, Q&As, or promoting products — the opportunities for TikTok Lives are endless.
In this (paywalled) Insider article, one of the interviewed marketing agencies said that TikTok Live is a way to reach people that can only be likened to campaigns in a store or mall. From brands to creators, here are some ideas to use for your next Live stream.
1. Answer audience questions
TikTok Live is a great way to engage your audience and answer their questions. If there are questions that come up frequently in the comments, Live is the perfect opportunity to interact in real-time with your followers and give them answers. So, if you're launching a new product or collection, or just want to connect with your audience, opening up for questions in real time can help you build strong relationships with your audience.
2. Host live shopping sessions
Although the feature isn't available to everyone yet, getting acquainted with TikTok Live can give your brand a leg up.
Live shopping will allow brands to integrate the products they share on their TikTok Shopping tab into a live session. This feature connects brands with their audiences in real-time while also helping users buy what they discover while watching a brand's stream. Leverage live shopping to give your audience more opportunities to engage with and shop from your brand.
3. Show people behind-the-scenes
An easy idea to execute for TikTok Live is showing what goes on behind the scenes at your office or in a creative process. It allows you to be more transparent with your audience and give them a peek at what it takes to create content or make a product.
4. Fulfill audience requests in real-time
Taking audience requests for creative projects is also a good way to engage and grow your following. Several creators have taken advantage of this format to create personalized items on camera and ship them to their active followers. You can simultaneously reward your followers while encouraging them to participate in your Lives or buy your products.
5. Collaborate with a brand or creator
TikTok Live allows you to bring someone "on stage" with you, opening the door for multiple opportunities for collaboration. Creators can work with brands and vice versa on Live interviews, sponsored content or takeovers which are popular on Instagram.
Connect with your community in real-time through TikTok Live
Going live can be a great way to increase brand awareness, generate leads, and even drive conversions. But more importantly, it lets you connect with your community and engage with them on a more intimate level.
Want more advice on making the most of TikTok for marketing your products and growing your audience? Check out The Ultimate TikTok Marketing Guide.
Brought to you by
Did you find this article helpful? You might also like our all-you-need social media toolkit.
Get started for free now