Sponsored post
A sponsored post is any type of post that you spend money on to help you reach a wider audience.
What is a sponsored post?
A sponsored post is any type of post that you've put money behind to help you reach a wider audience. As organic reach on social media continues to fall, businesses have started to invest more of their budget in sponsored posts.
The post could be an image, a video, a carousel, or even just text, depending on the social media platform you're sponsoring on.
When people refer to sponsored posts, they're referring to one of the following two types:
Promoted/Boosted posts: Promoted posts are the types of sponsored posts where businesses pay social media platforms, like Facebook, Instagram, or TikTok, to promote their posts to specific target audiences. Boosted posts are different from promoted posts because they are not created in the main ads manager area (i.e. Facebook Meta Ads Manager) and don't have all of the same customization and targeting features. If you value the money you spend boosting your Facebook and Instagram posts, you might enjoy Buffer's boosted post insights feature. Try Buffer for free for 14 days.
Branded content, aka influencer partnerships or brand-sponsored posts: Branded content is the type of sponsored post where businesses pay an influencer to post on their own account on behalf of the business. They'll promo the business and show off the products and/or services. For example, see how influencer @tashimrod promotes Glossier's products on her own Instagram account by showing how to she uses the Cloud Paint and Ultralips products.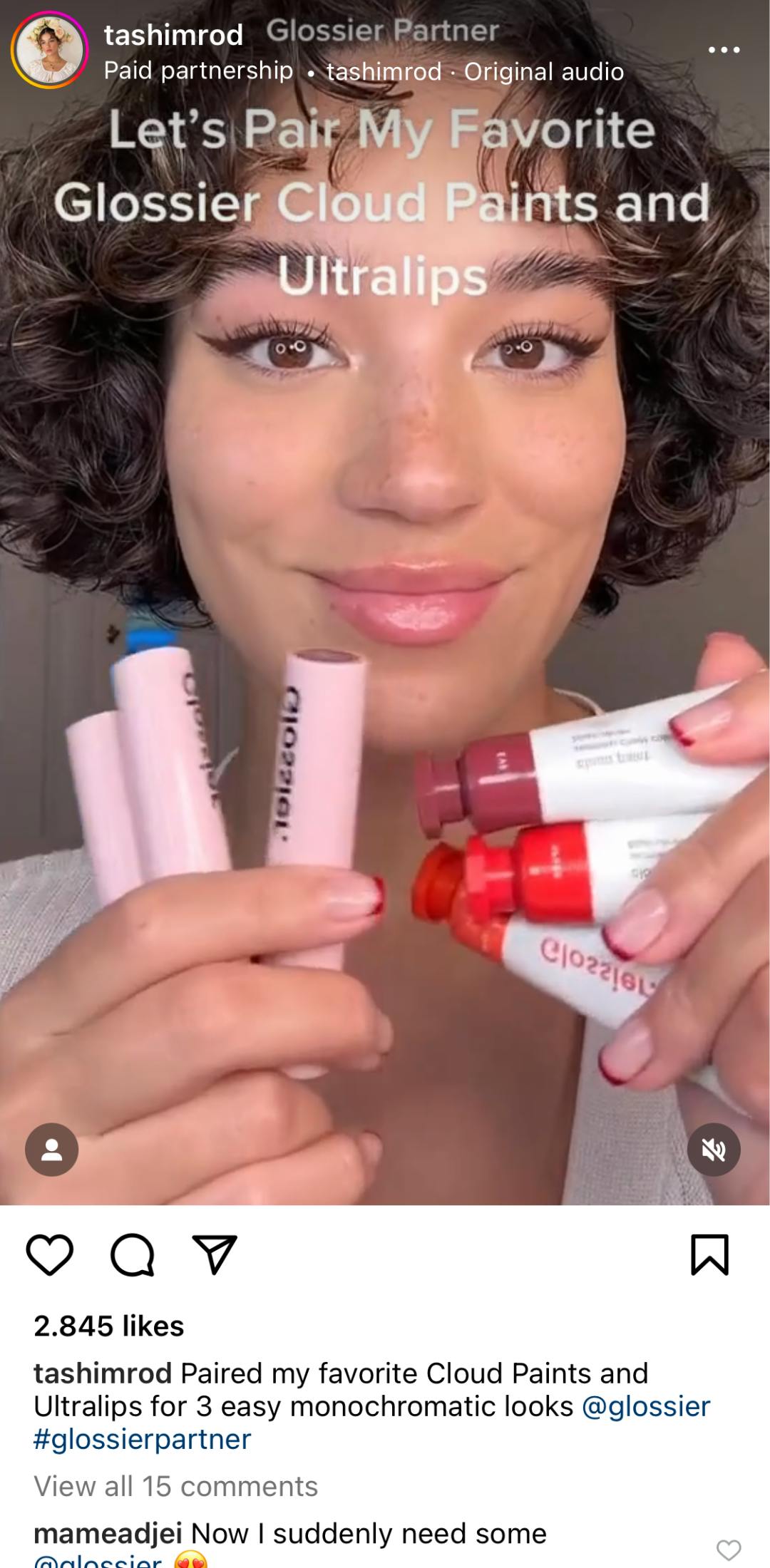 Where can you find sponsored posts?
You can find sponsored posts on any of the major social media platforms: Instagram, Facebook, LinkedIn, TikTok, YouTube, Twitter, Google Business Profile, and Pinterest. You'll know when you run into a sponsored post because they will be clearly labeled to comply with advertising regulations.
How do I know if a post is sponsored on social media?
You can identify whether a post is a sponsored post because it will have a 'Sponsored' label right below the account name in the post and have a "Sign up" or "Learn more" CTA button. 
If it's a sponsored post through an influencer partnership, it's usually indicated with a #ad, #sponsored, or #partner hashtag in the post caption and with a "paid partnership with [brand name]" tag that comes immediately after the user name. 
How do sponsored posts work?
Sponsored posts, as in influencer branded content, are created by partnering with an influencer within your niche or industry and, thus, share a similar audience to yours. Finding the right partner is key because you don't want the post to look inauthentic. 
Keep in mind you don't need to work with an influencer who has millions of followers. Find micro-influencers, or anyone on social media with a niche and highly engaged following, to hype your brand. In the end, the perfect type of partnership is one where the influencer genuinely believes in the brand's mission and would use the products or services regardless of the sponsored post. 
Typically, the brand and influencer will negotiate the terms of the sponsored post, such as the compensation, the number of pieces of content, the type of content, the main message, etc. Once the agreement has been made, you can focus on collaborating with them to develop the content for the sponsored post. The most important thing is to allow them to use their own creativity and personality to create the content, especially because they know their audience best and know what works and what doesn't. For more tips on collaborating with micro-influencers, check out our influencer marketing guide.
How can I create a successful sponsored post?
The first step to ensuring you create a successful sponsored post campaign is to set your goals and the metrics you'll use to measure success. Your goals will affect which influencers you work with and how you collaborate with them, while your selected metrics will help you assess the success of your campaign at the end of it.
Here are some possible goals and metrics you could consider:
Brand awareness – Reach of the campaign, growth in social media following, number of social media mentions, etc.
Increased sales – Growth in sales, amount of sales through a designated coupon code for the influencer, etc.
Engagement and customer retention – Engagement generated during the campaign, number of repeat customers during the campaign, etc.
Increased social media following – Growth in social media following
Once you have selected your metrics, record the current stats just before the start of your campaign, so that you can compare them with the stats at the end of your campaign.
Need a hand growing followers?
Kickstart your social media growth with Buffer!
Get started now
140,000+ people like you use Buffer to build their brand on social media every month