LinkedIn's main purpose is to connect professionals, but it's also a space to make connections with peers and potential employers, particularly in the B2B industry. Despite its popularity as a platform for growing your career, it can be fun too.
People know what to look for on LinkedIn– career and business content – but those topics have layers. You can get a lot out of posting on LinkedIn once you know who you're talking to. Two Social Proof alums mentioned LinkedIn as a great vehicle for growing their brands – so we know it works.
Once you've figured out your niche, you need to understand when to share it. The best time for posting on LinkedIn may vary, but not as much as it does for other platforms. In this guide, we'll share the best practices when posting on LinkedIn.
Is there a best time to post on LinkedIn?
LinkedIn is one of the few platforms with specific times when audiences may need to be more active or engaged. Research shows that it's best to post on weekdays, specifically Tuesdays, Wednesdays, and Thursdays. However, the actual times that are ideal for these days vary.
What are the ideal times to post on LinkedIn ?
Research by Influencer Marketing Hub shows that these are the most ideal times (in EST) to post on LinkedIn.
Wednesday: 8 AM, 9 AM, 10 AM, 12 PM, 3 PM
Thursday: 9 AM, 10 AM, 1 PM, 2 PM
Friday: 9 AM, 11 AM, 12 PM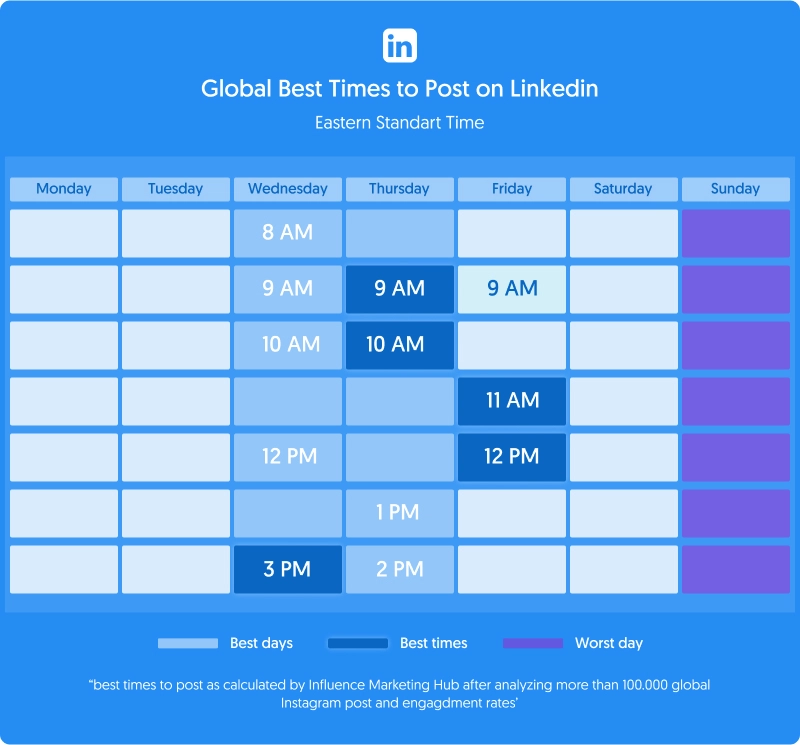 Other platforms give different time windows, but they stay within a reasonable distance from early in the workday to mid-afternoon (EST).
With all this said, LinkedIn, like most social media, is not a monolith. Although it's most heavily used during the workweek, social media users are active all the time and LinkedIn is no exception.
Find the best time to post on your LinkedIn with Buffer
Take Buffer's LinkedIn statistics for example. Through our Analytics feature, you can see an overview of what day, type of post and frequency is best for each of your connected channels. If you've never tried it out, here's how to access yours.
Sign in to Buffer on your desktop
Click 'Analytics' at the top menu
Click 'LinkedIn' under the Channels at the left-side menu
Click 'Answers'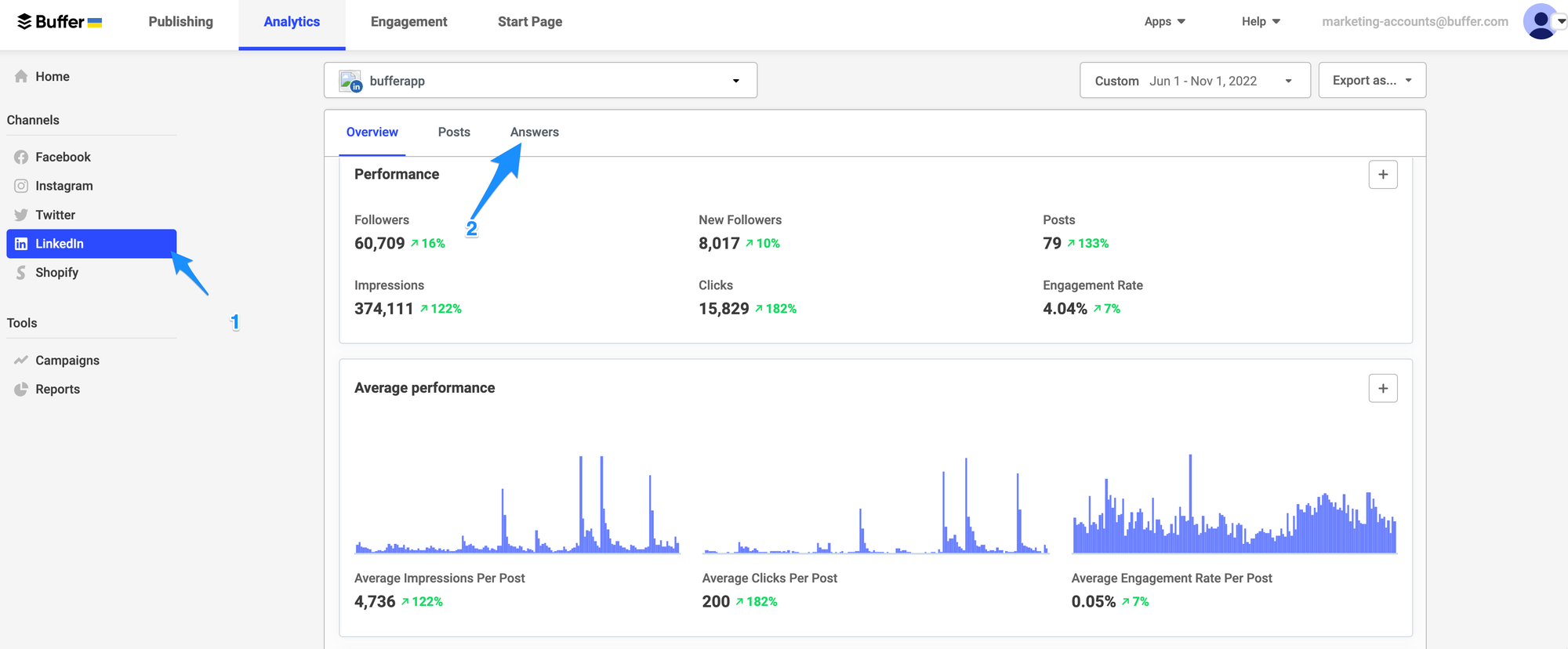 If you've been posting to LinkedIn for at least 30 days, you can track the metrics on all your posts in that time period. For us at Buffer, over a six-month period, our best day to post is on Friday, which is interesting given all the data about keeping to weekdays for posting.

As you can see, our data stands apart from the statistics provided by different reports, and yours just might too.
📈
Our analytics tool is available on all paid plans, and you can
try it for free on our 14-day free trial
. No credit card required, and you can cancel at any time. You'll get in-depth insights, measure your social media performance, and create gorgeous reports.
And along with telling which days to post or the number of times to post, Analytics also tracks metrics like followers, engagement rate per post, clicks, and more. It's a great way to get a holistic overview of your performance on LinkedIn – and any other social media platforms you operate.
Considerations when scheduling LinkedIn content
Different factors affect the best times to post on LinkedIn, especially because it is a niche platform dedicated to professionals, businesses, and the topics they discuss. Here are some things to keep in mind as you schedule your posts on LinkedIn:
Breaks in the workday
LinkedIn is primarily used during traditional business hours, with engagement dropping off markedly after 5 pm and on weekends.
Of course, there are also natural breaks during the workday in which LinkedIn engagement increases. Lunchtime (12 pm) is generally a more active time on the platform, with mornings also getting their share of engagement.
Engagement spikes again towards the end of the workday when professionals are likely to take an afternoon break.
Keep time zones in mind
Consider when the largest segment of your population is likely to be on LinkedIn. For example, if you're based in Europe, your best bet is to post using Central European Time (CET) since that time zone has the largest number of people active in that region. You can use a social media analytics tool to determine where your target audience is primarily located.
Look into how your audience uses LinkedIn
Whatever your core target engages with the most when they're online and most active is most likely the kind of content they like to see.
Posting frequency
The ideal number of times you should be posting is two to five times per week and up to 20 times per month, according to LinkedIn. That adds up to about 1 post a day, which works out great.
Ultimately, you should experiment to find what works best for your account and audience. Anything from where you put your links to using LinkedIn's carousel post feature can affect what happens to your engagement rates, regardless of timing. So you need to prioritize understanding the platform and your audience before technicalities like when to post.
Keep your audience in mind when determining the best time to post on your LinkedIn
According to LinkedIn, more users are logging on during the weekend than ever before. Instead of starting their workday with LinkedIn, they return to it throughout the day and into the evening.
The article LinkedIn shared mentions that, thanks to the rise of Gen Z in the workplace and ever-increasing time spent on social media, people are checking LinkedIn outside of work hours and on the weekend. So although there is general consensus about the ideal times to post on LinkedIn, you also need to consider these new factors.
A great way to be audience-first with your content is to vary what you choose to post. A little TGIF wouldn't be amiss even if you don't create a full-blown post – scheduling content comes in very handy here.
If you're still stumped about which times work best for you, use Buffer's automatic scheduling to start and refine your posting strategy over time. Once you've started posting consistently through Buffer, you will also get all your Analytics in your account's 'Answers' dashboard to see which days and times are best to post.
Brought to you by
Did you find this article helpful? You might also like our all-you-need social media toolkit.
Get started for free now