GIFs are awesome. And they're everywhere. We use them at Buffer in our tweets, our emails, our Slack channel. Anywhere there's a message, there's the chance for a GIF. ‌‌
What is a GIF, you ask? For the uninitiated, GIFs are really just animated image files. GIF stands for graphics interchange format.
While plenty of people have very strong feelings about how to pronounce the word — "giff" vs. "jiff" — the original creator of GIFs, Steve Wilhite, once said: "The Oxford English Dictionary accepts both pronunciations. They are wrong. It is a soft 'G,' pronounced 'jif.' End of story."
Want to know how to create a GIF and when and where to share them? We've collected all the best tools, tips, and tricks for an A+ GIF game.
Become a GIF-making pro in no time
In this article, we'll give you all you need on how to start making the most impact with GIFs, including:
How to make a GIF
Where to find brilliant pre-made GIFs
Examples of how you can use GIFs in your marketing
Let's start with a quick guide on some of the best tools available to create your own GIFs.
8 best apps and tools for making your own GIFs in minutes
Creating your own GIFs is fun and opens up a world of possibilities. These GIF creator tools are easy to use and will turn you into a GIF-making machine in no time.‌
1. Giphy‌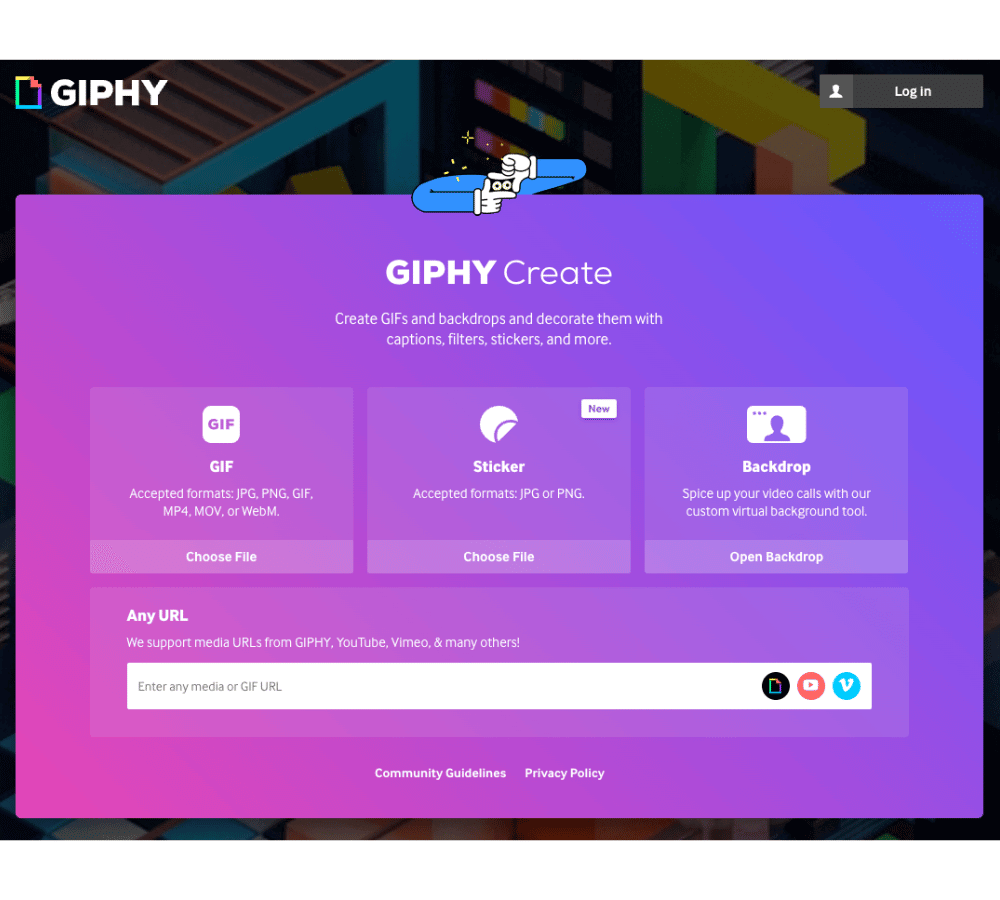 Giphy is home to one of the internet's largest GIF collections (more on that a little later), and it also has some brilliant GIF-making tools. Giphy's GIF Maker enables you to make a GIF directly from a video file or YouTube link.‌
‌‌
‌With GIF Maker, you simply paste a video URL or upload a video file, and Giphy's simple-to-use interface lets you choose the point in the video from which you'd like the GIF to start, choose the duration, and add a caption. ‌
‌‌
‌Once you're happy with your GIF, click 'Create GIF,' and it'll be added to Giphy, ready to share across any social network!‌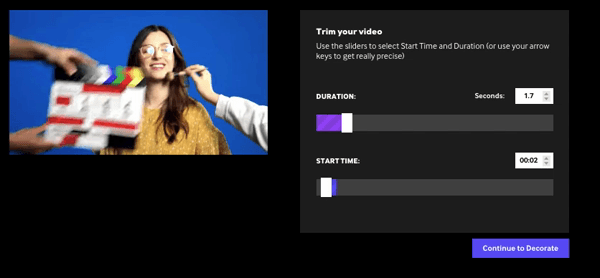 You can also combine your pictures and files in Giphy to create animated GIF slideshows. Simply choose the still images or GIFs you'd like to use, then choose the order and the length of time for images in your slideshow.‌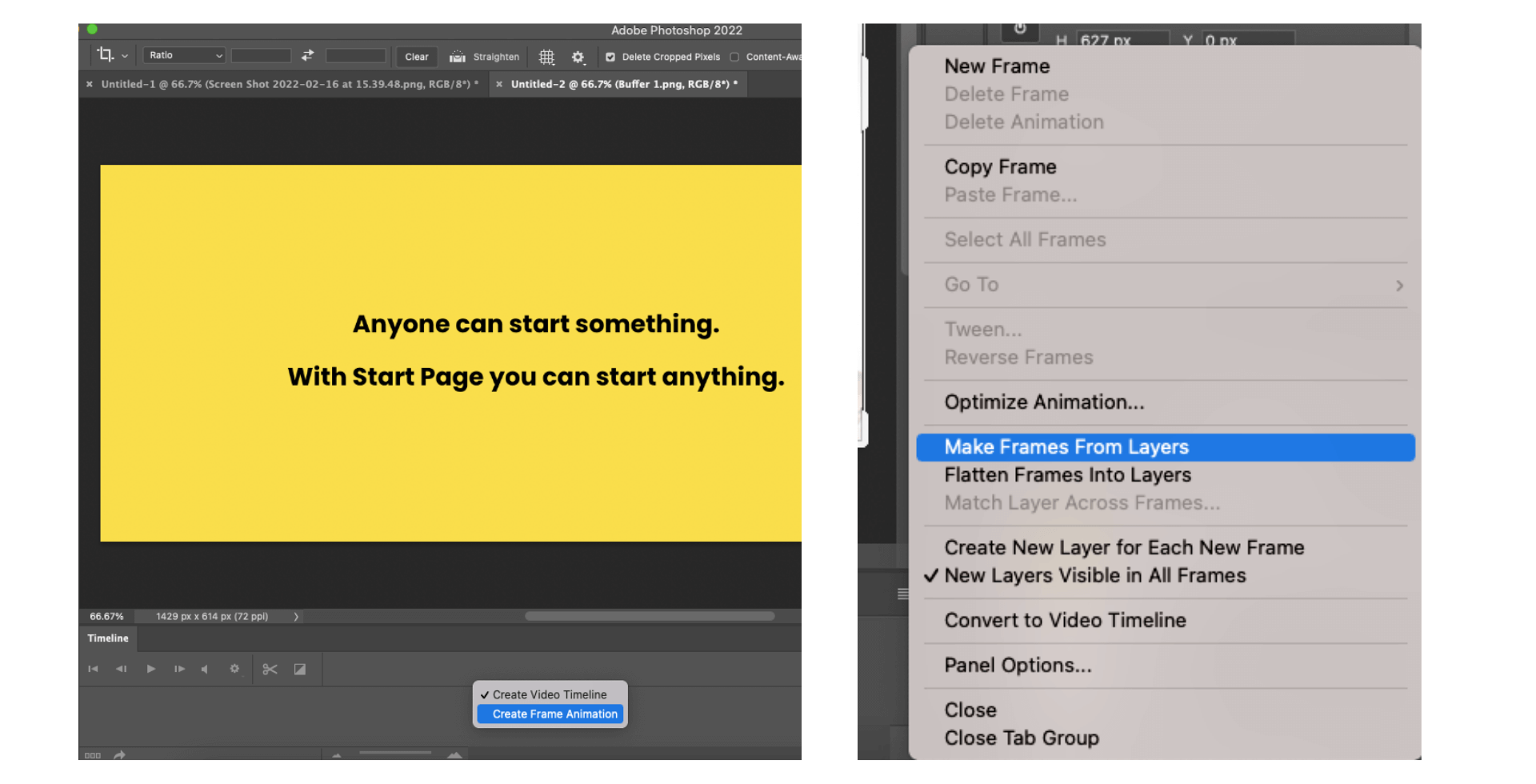 2: GIFs.com‌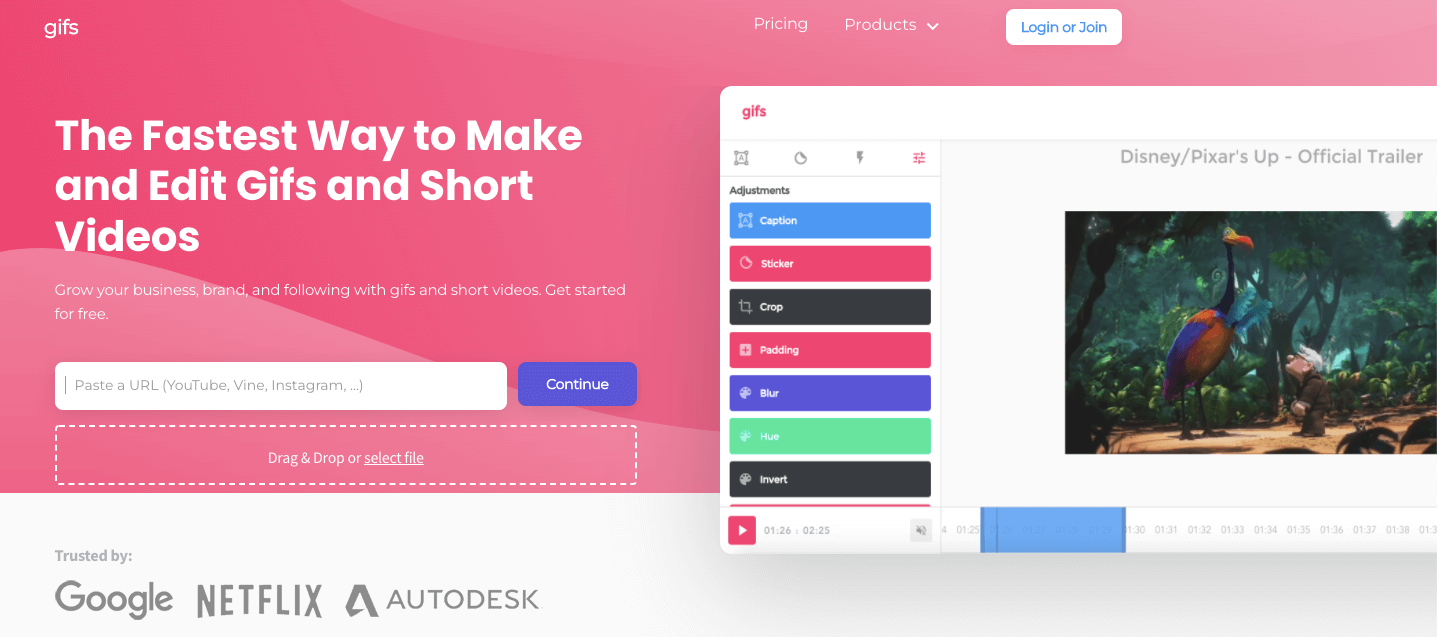 If you want to make a GIF from a YouTube video or Instagram post, GIFs.com is the perfect tool.‌
‌‌
‌With GIFs.com, all you need to do is paste the URL of the video you'd like to convert to a GIF, and you're all set. The app features a range of great editing tools as well, including the ability to add captions with customizable fonts and crop the image.‌

‌3. Gifmaker.me‌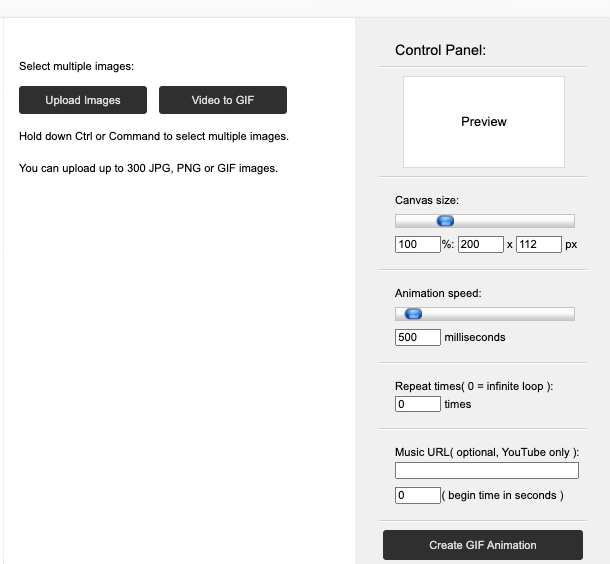 Gifmaker.me is a free tool that allows you to create animated GIFs and slideshows from images. Gifmaker features a simple 'Control Panel' allowing you to customize your GIF by changing the canvas size, speed of transitions, and the number of times the GIF should repeat.‌
‌‌
‌Once you're done creating your GIF, you can resize it, flip it, and reverse it to meet your needs‌.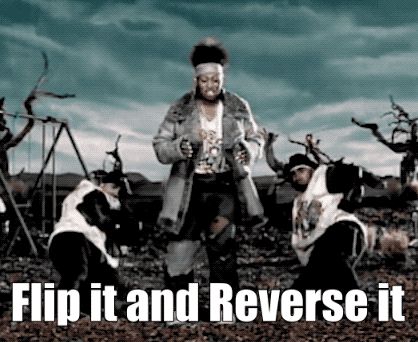 4. Imgflip‌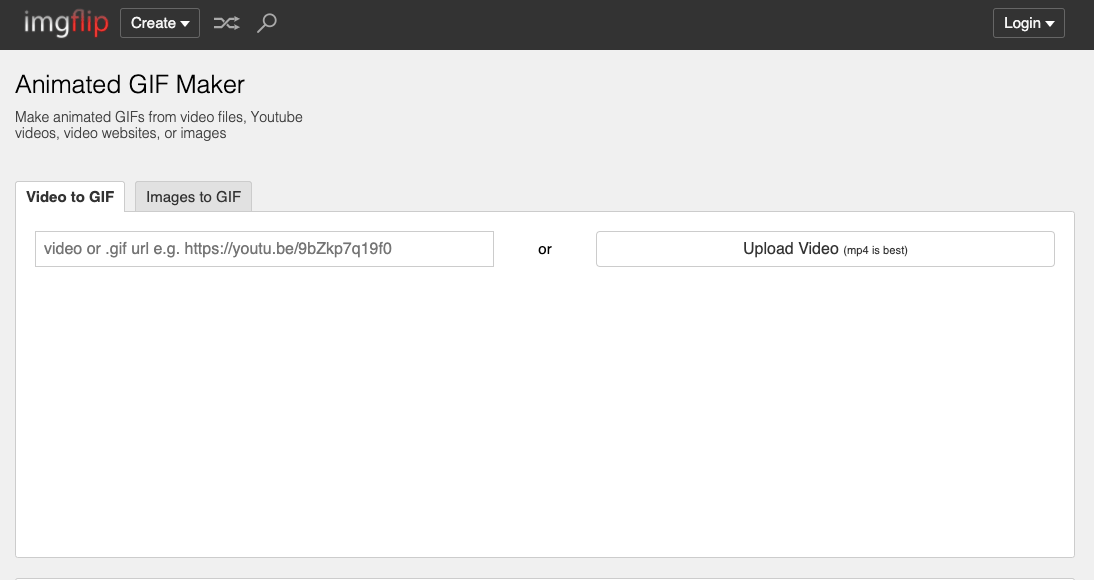 Speaking of flipping, Imgflip enables you to create a GIF from multiple images and also turn a short video clip into a GIF. Imgflip allows you to edit your GIF by adding text, changing the speed, and resizing the image. But if you want to export your final GIF without a watermark, you'll need to become a member of Imgflip Pro ($12.95 per month).
5. Ezgif‌

If you're a GIF hoarder, you'll love Ezgif.com. The site lets you upload up to 2,000 image files (max size 100MB) to the GIF maker. So GIF away!‌
Like most other GIF creators, you can customize your GIFs (resize, crop, reverse, add captions, etc.). Ezgif is proactive about making regular updates to the website based on user suggestions.
6. Canva‌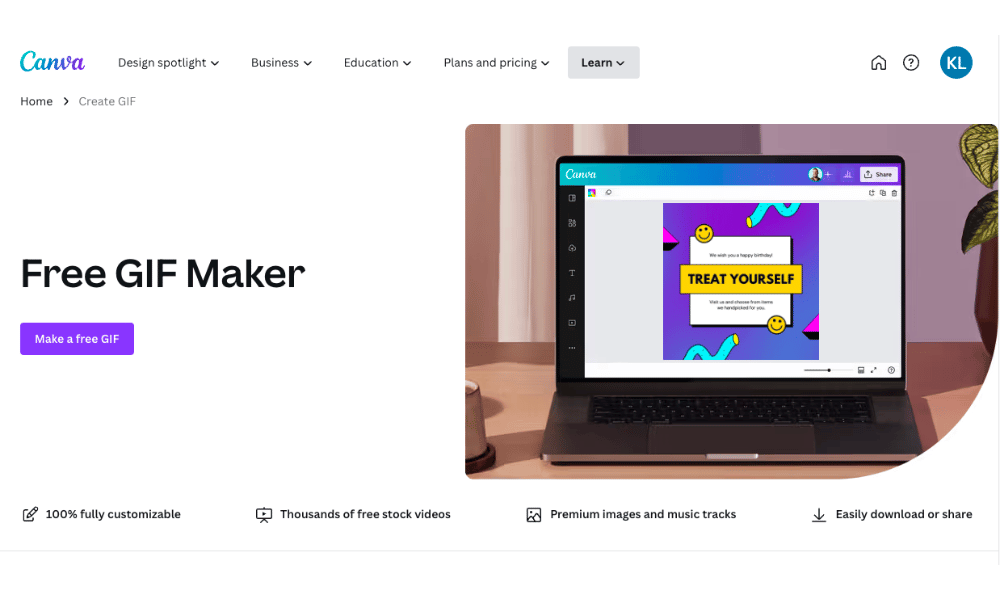 We love Canva! So much so that our Buffer Dashboard has a Canva integration that lets you connect your Canva and Buffer accounts. In just a few clicks, you can quickly create or import your favorite Canva designs and publish them to your social media channel.‌‌‌

‌When creating GIFs on Canva, you can explore the platform's extensive library for premade GIF templates, animate designs and export them as GIFs, or design a GIF from scratch in the GIF maker. You also have options to make a GIF from a video, add text to it, play with different fonts, and apply different effects.
‌7. Zight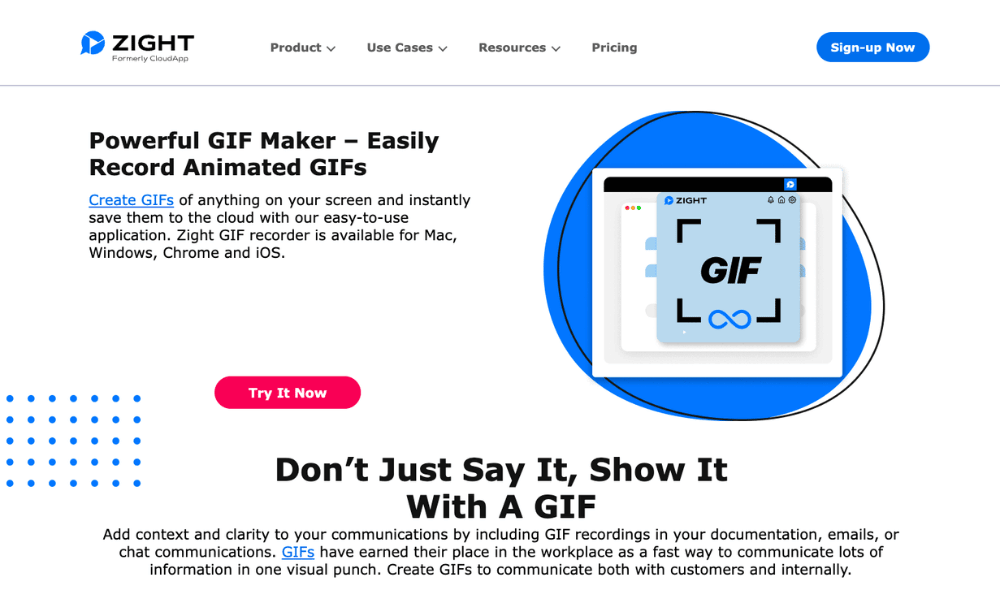 Zight (formerly known as CloudApp) is incredibly useful and amazingly simple for making GIFs directly from your computer screen. It allows you to take screen recordings, annotate images, record webcam videos, and much more.‌
‌‌
‌This app is super-useful for creating GIFs for tutorials or walk-throughs because once you have Zight installed on your computer, you can record screencasts, download them as GIFs, and even share them with a unique URL generated for each recording you make.‌
8. Recordit‌
‌
Like CloudApp, Recordit is a downloadable software (available for Windows and Mac) that allows you to select a section of your screen to record and create a GIF in seconds. You can see from the GIF above how quick and easy it is to use!
How to make GIFs in Photoshop from images
Creating GIFs in Adobe Photoshop takes a little more time than any of the other apps and products we've mentioned so far, but it also gives you the most freedom to create exactly what you're looking for.
Here's an example of a GIF we made in Photoshop using the technique we'll explain below:‌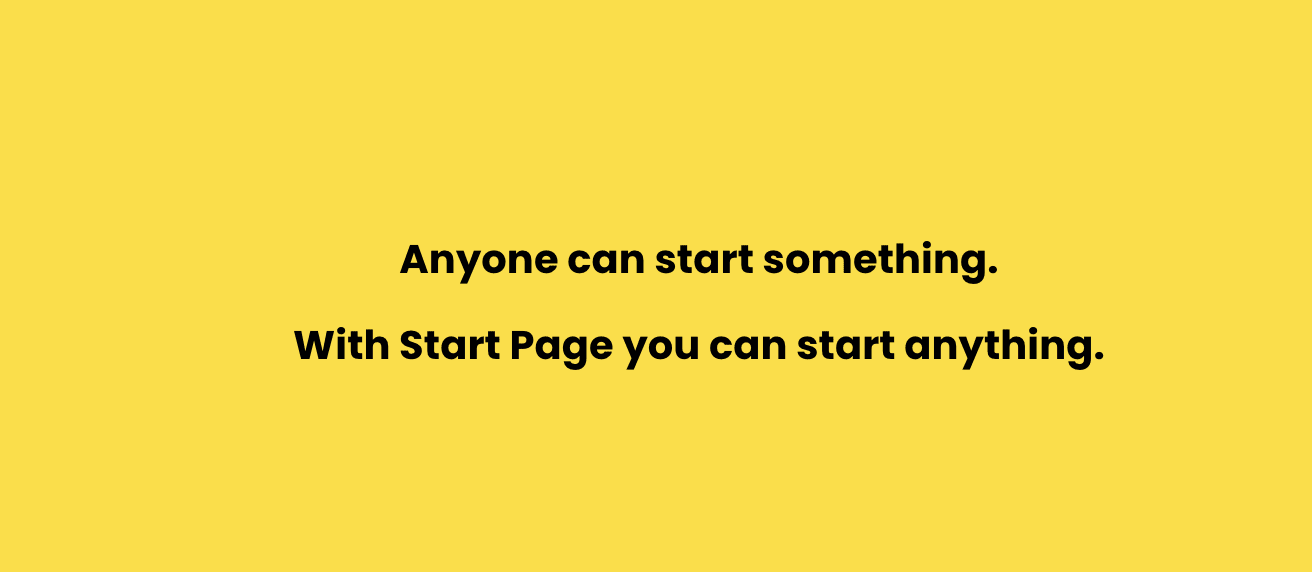 ‌‌
Step 1. Load images into Photoshop
If you already have a sequence of images ready
‌GIFs are made up of a series of images (called frames), and if you already have a bunch of images you'd like to turn into a GIF, open Photoshop, the select File > Scripts > Load Files Into Stack.‌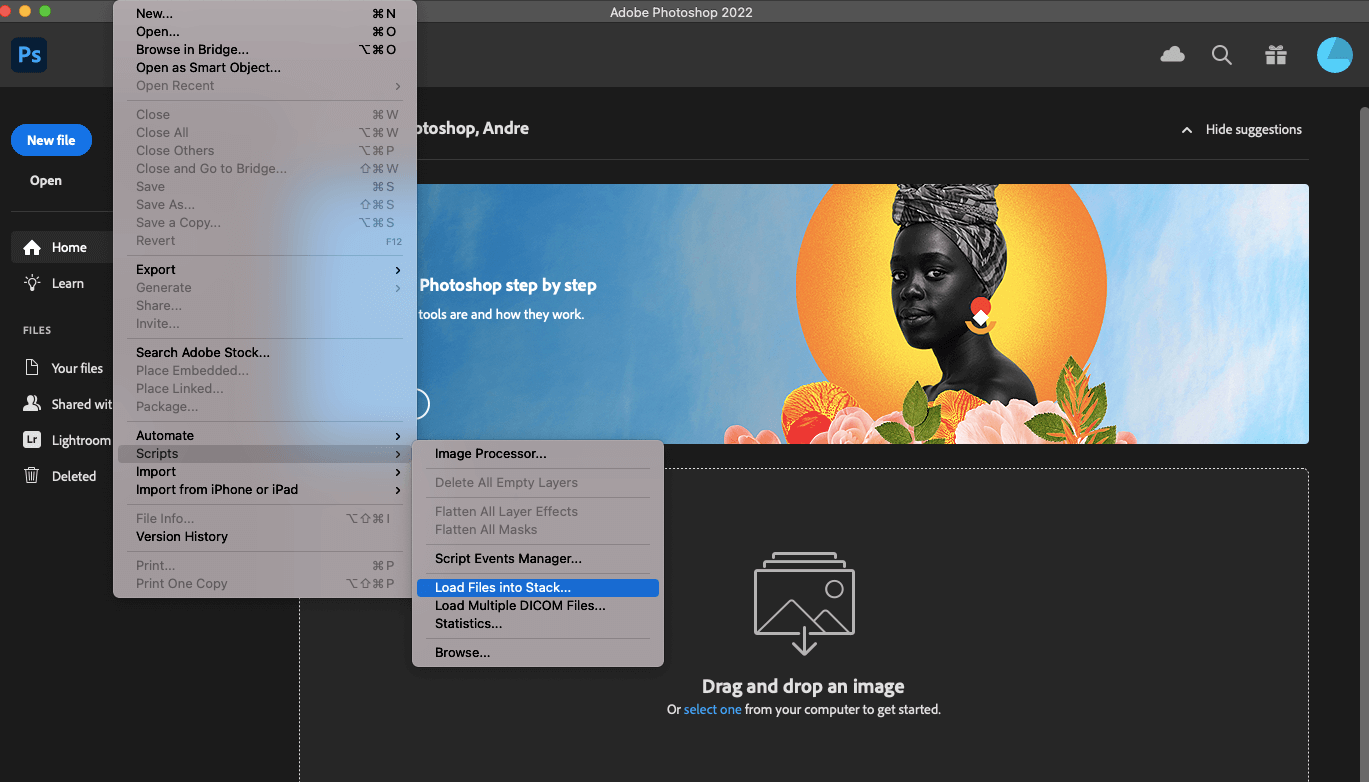 Then select 'Browse' and choose the files you'd like to include in your GIF.‌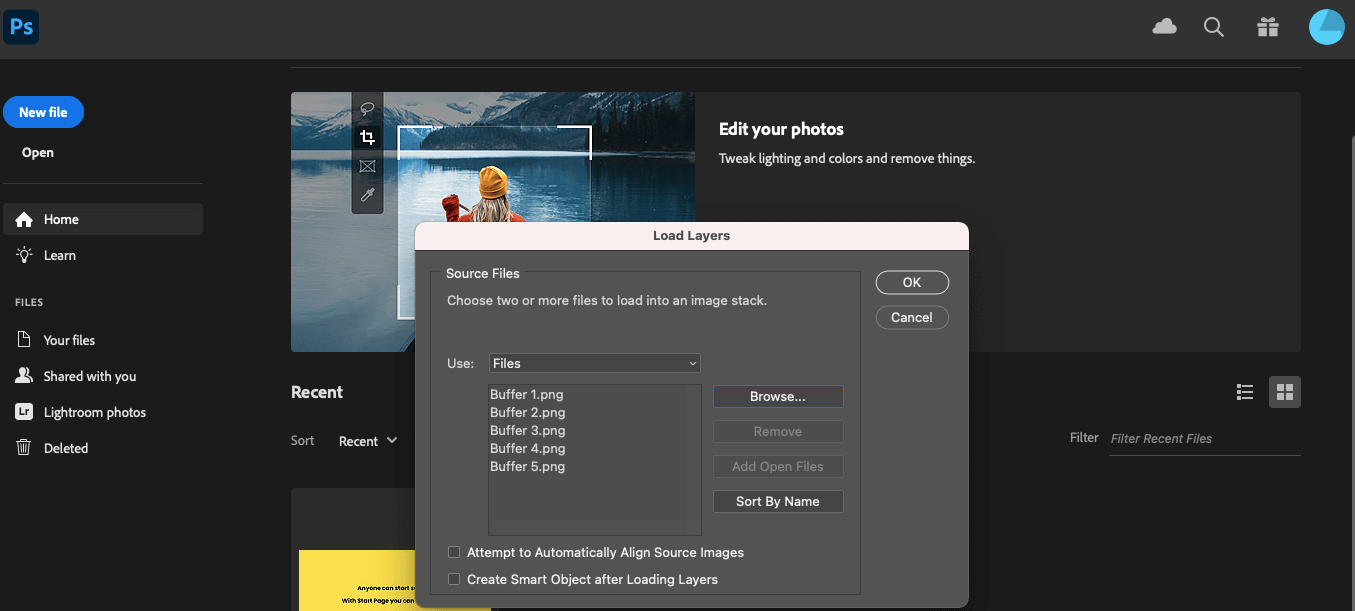 If you don't have an image set ready‌
If you don't have an existing group of images you'd like to use, you can create a set of new layers within Photoshop to act as the frames in your GIF. To add new layers to your Photoshop project, choose Layer > New > Layer until all your frames are included. When all your layers are ready, go to Step 2 and create your animation.
Step 2: Create your animation
To animate a GIF animation, you need to organize your images into a timeline. This will set up the flow of the animation and make your image ready to export as a GIF. To create your Timeline, click Window > Timeline. You'll then see a Timeline appear at the bottom right of your screen.‌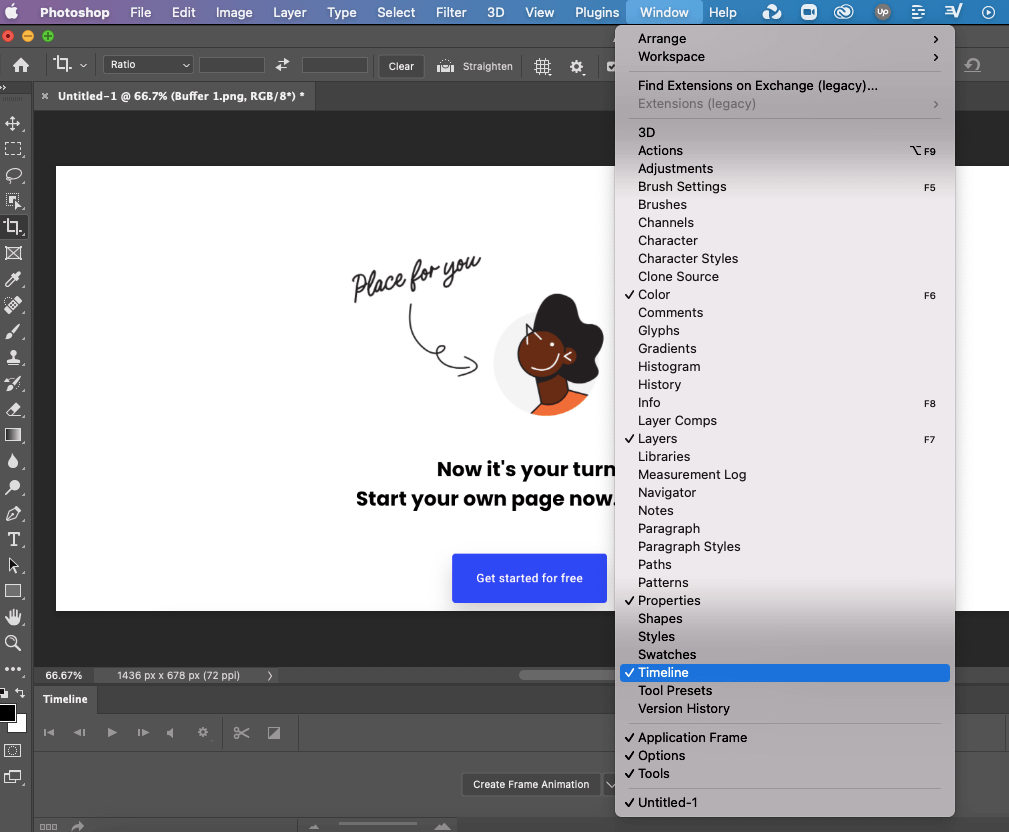 Next, click 'Create Frame Animation' within your Timeline, and then click the menu in the right-hand corner of your Timeline and choose 'Make Frames From Layers.'‌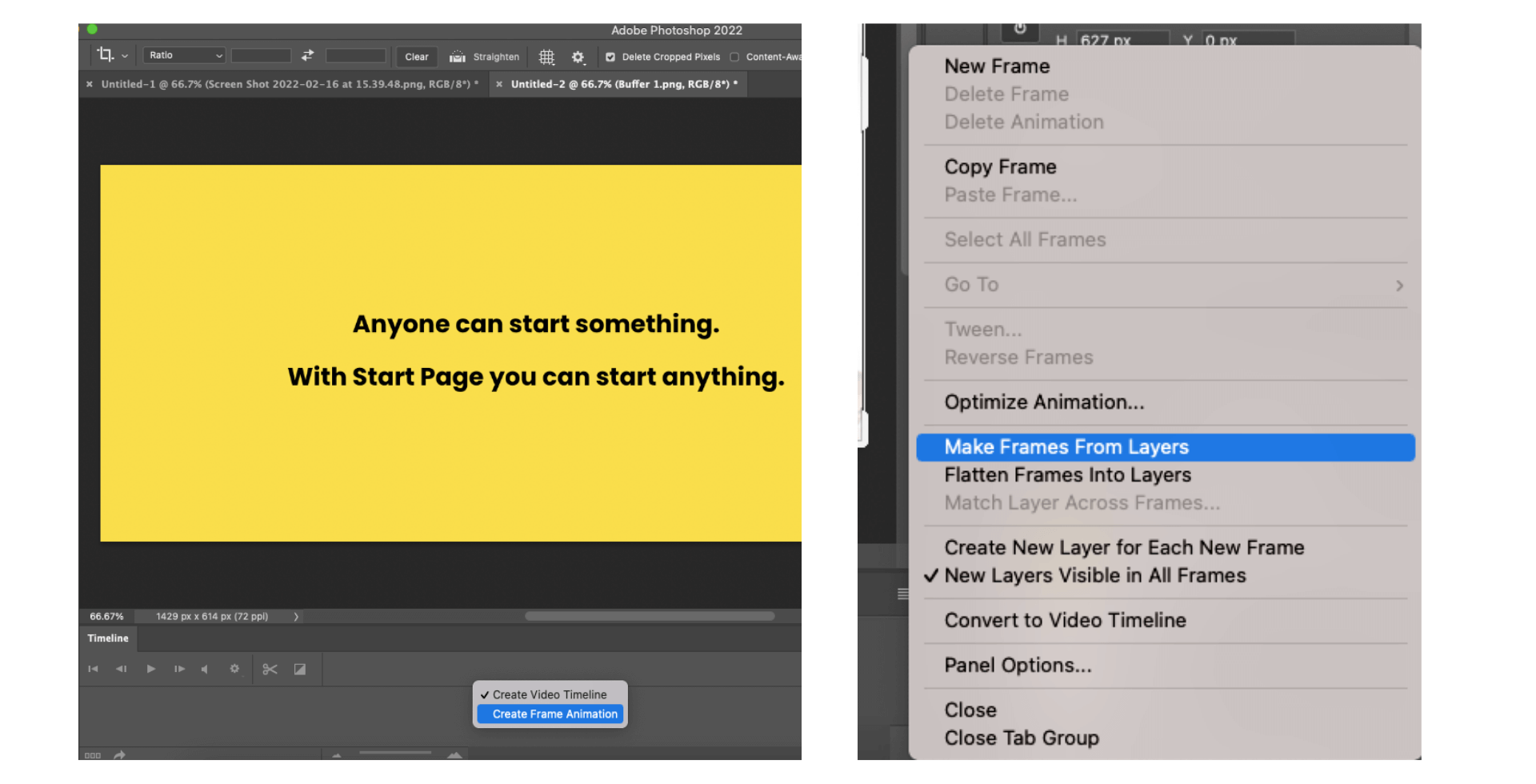 Now that your frames are in place, it's a good idea to preview your animation. Hit the Play button in the bottom left of your Timeline, and check for any frames that are out of place. If they are, simply drag and drop them to a new position in the Timeline.‌

Step 3: Export your GIF
Once you're happy with the way your GIF looks, export it for use on your website, social media profiles, or anywhere you'd like to share it. To export your GIF, click File > Export > Save for Web (Legacy).‌
‌‌
‌You'll now see the 'Save for Web' window, and this is where you can choose the type of GIF you'd like to create. Under the "Preset" menu, select GIF 128 Dithered. The number after the GIF indicates the number of colors that'll be included in your GIF, and including Dither helps to alleviate pixelation from color banding. Then, change the Colors setting to 256 (the maximum number for a GIF).‌
‌‌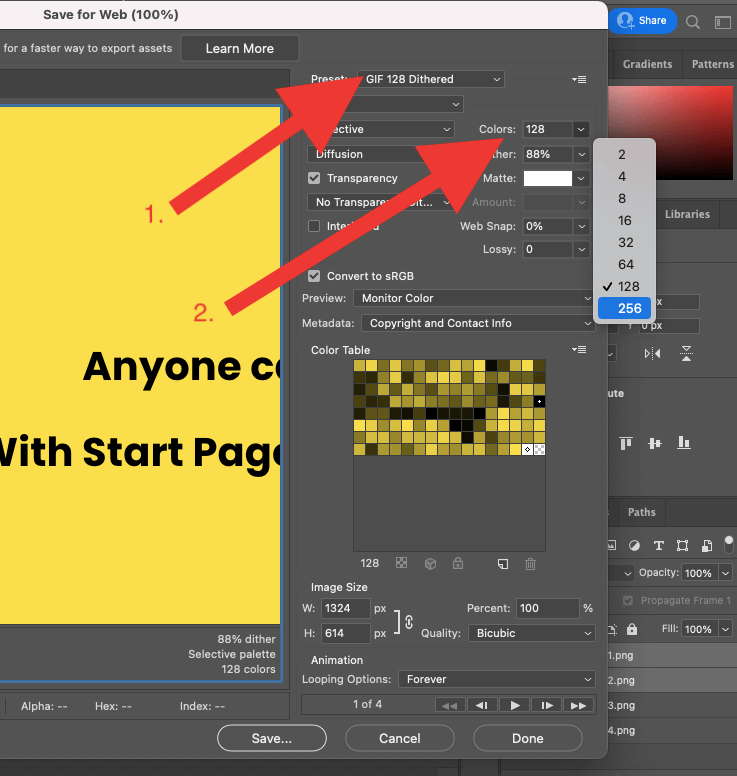 To see how it turned out, hit Preview… in the bottom left corner. It'll open your default web browser and play a looping preview of your GIF.‌

‌‌Finally, click Save as, name your GIF file, and download your masterpiece to your computer.
How to convert a video into a GIF using Photoshop
Photoshop can also help you convert a video into a GIF by transforming each frame of the video into a frame within a GIF. To import a video, click File > Import > Video Frames to Layers.‌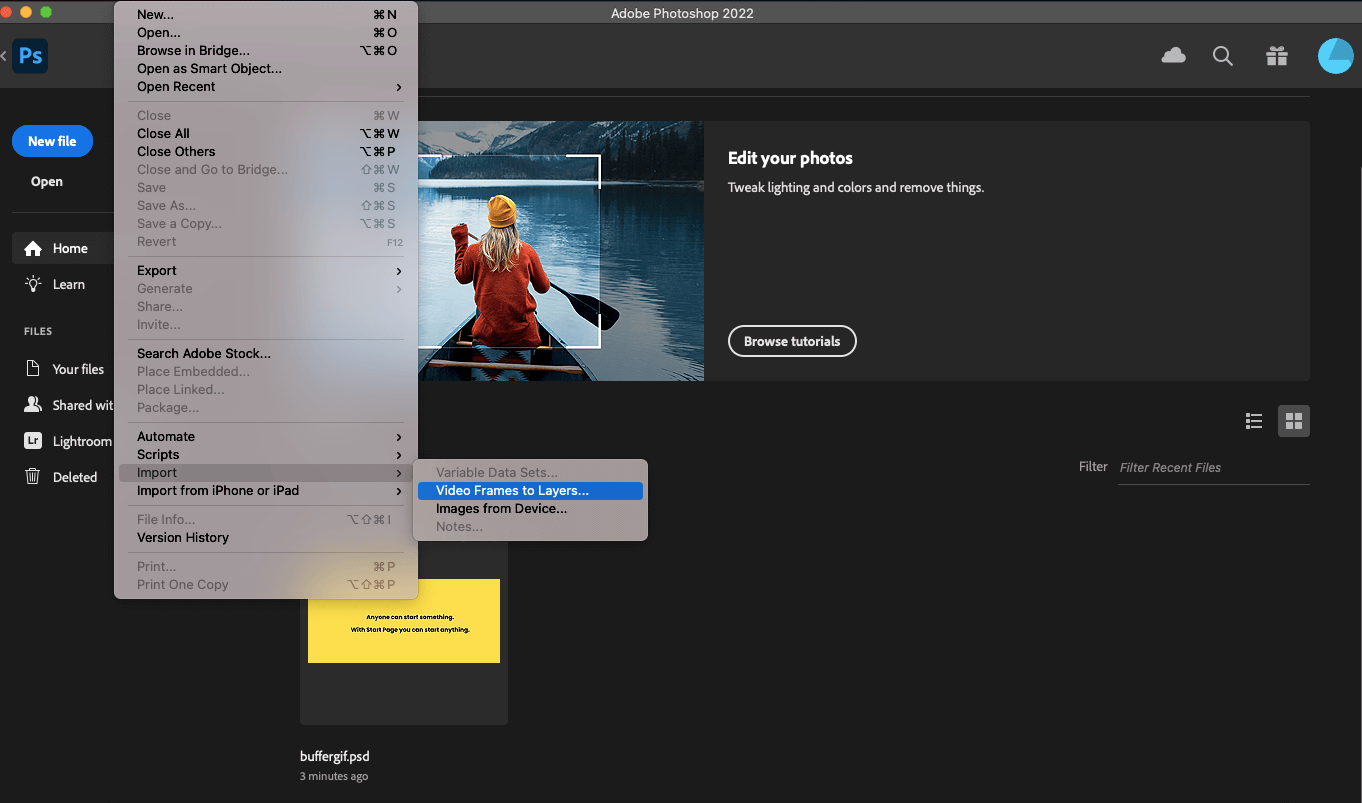 You'll then have the option to choose how much of the video you import and whether you'd like to pull in every frame (for longer GIFs, importing every other frame should be sufficient quality).‌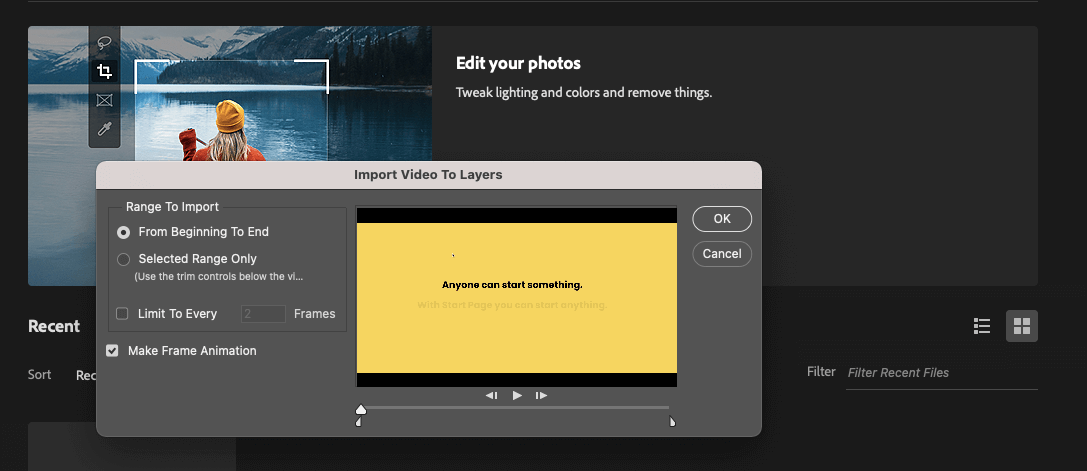 Once you've imported your video, you can add text and captions and make edits within Photoshop, and then follow Step 3 from the previous section to export your GIF.
How to make GIFs on a mobile phone or tablet
Options for making GIFs on your phone vary depending on the software, hardware, and carrier you have. The easiest and quickest option that works across almost all mobile devices is ... (drum roll) Giphy. ‌
‌‌
‌Here's how to make a GIF in the Giphy app using a video on your device:‌
‌‌
1. Download Giphy (iOS, Android) on your phone or tablet and open the app.‌
2. Click Create + in the top-right corner of the screen.‌‌‌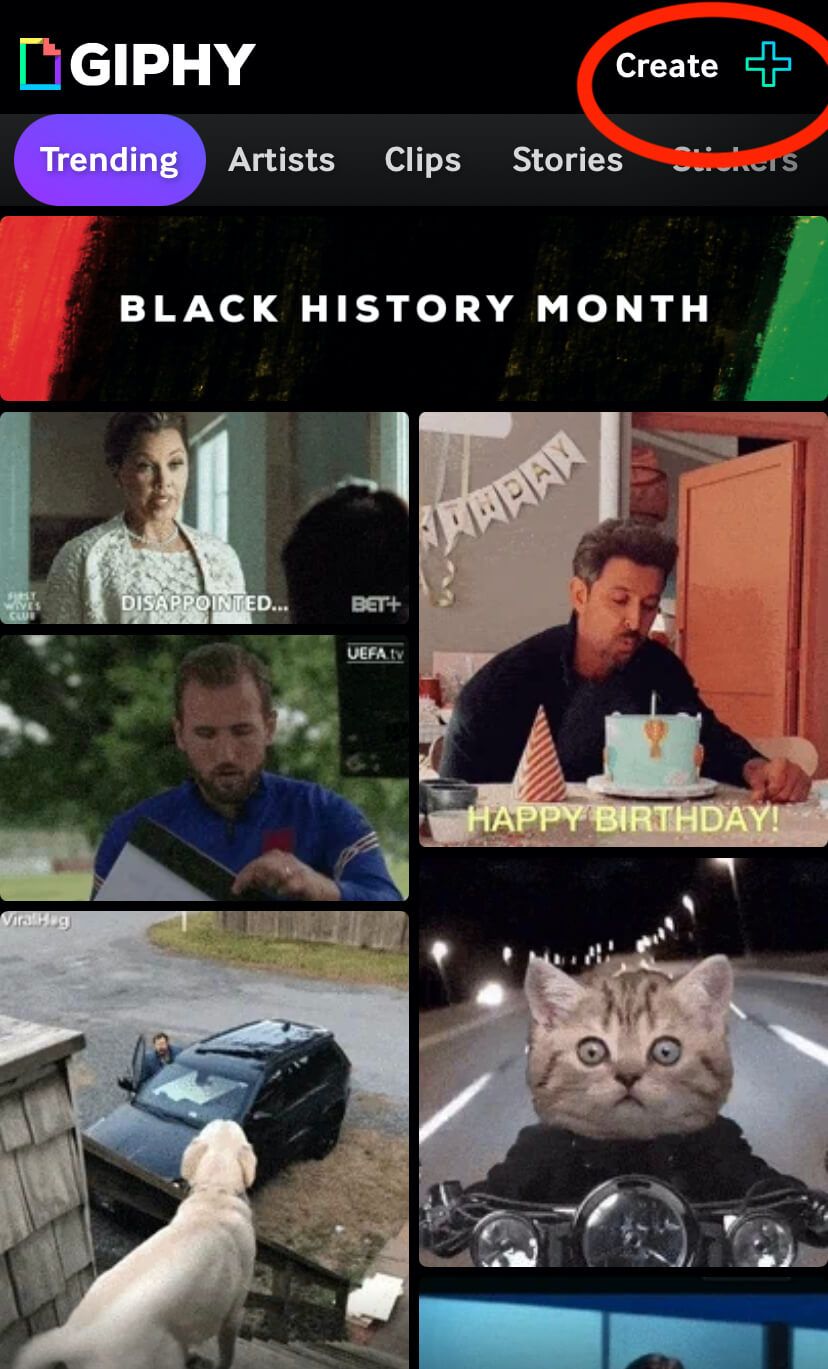 Step 3: Use the camera button to record a video clip or click the library icon next to it to select one from your phone's camera roll.‌‌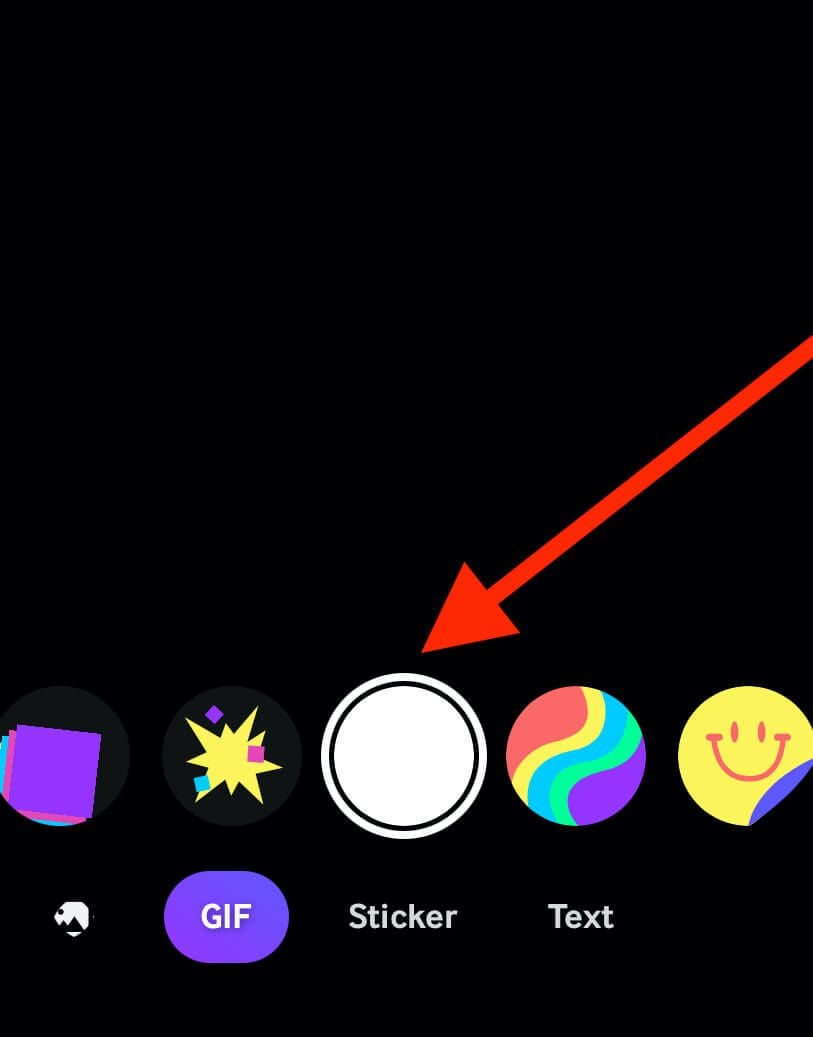 Step 4: Select 'Share GIF' to save your GIF to your device or share it to social media.‌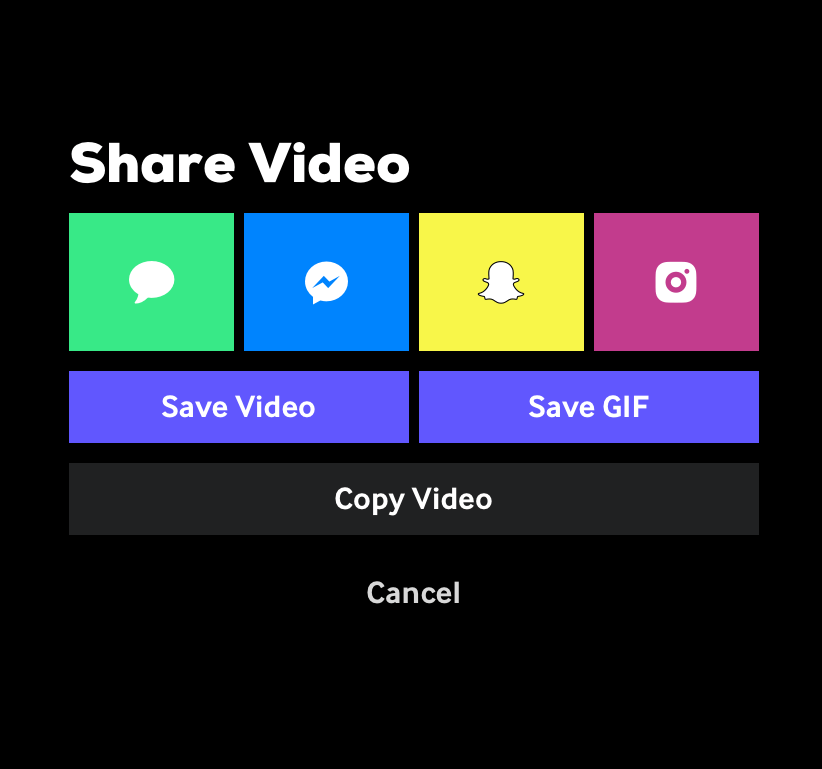 6 must-visit websites to find the perfect pre-made GIF
There are tons of GIF resources out there; here are just a few of our favorites.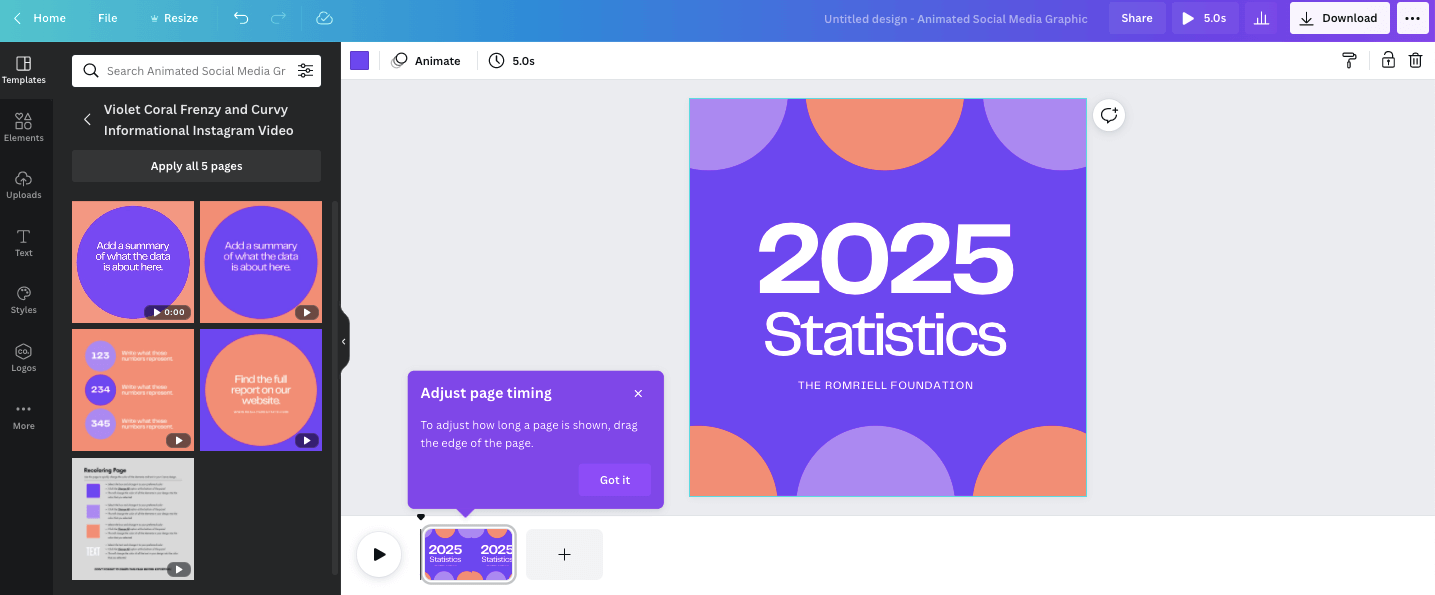 Tap into Canva's vast library of templates to find the perfect GIF for your brand based on the themes, colors, and styles. You can also narrow your quest further by searching based on what you need it for. Do you need a GIF for a presentation or for social media?
2. Giphy‌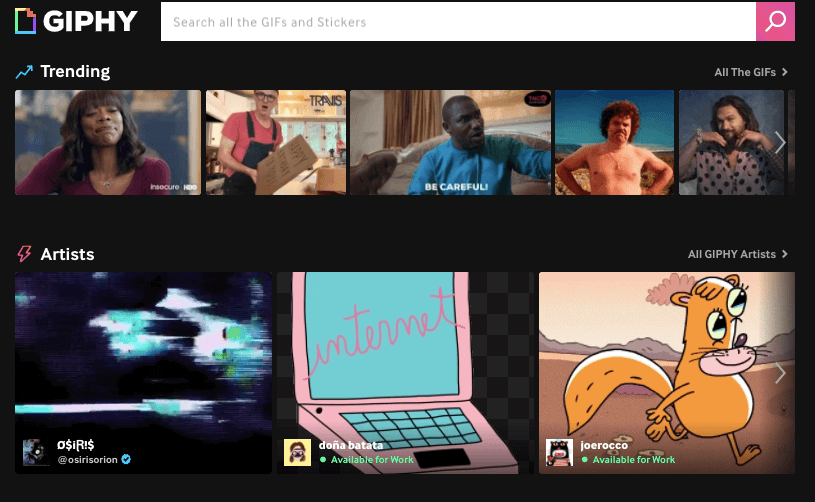 With tons of GIFs, a great search function, and pre-selected categories, Giphy is the gold standard of GIF finding.
3. Tumblr‌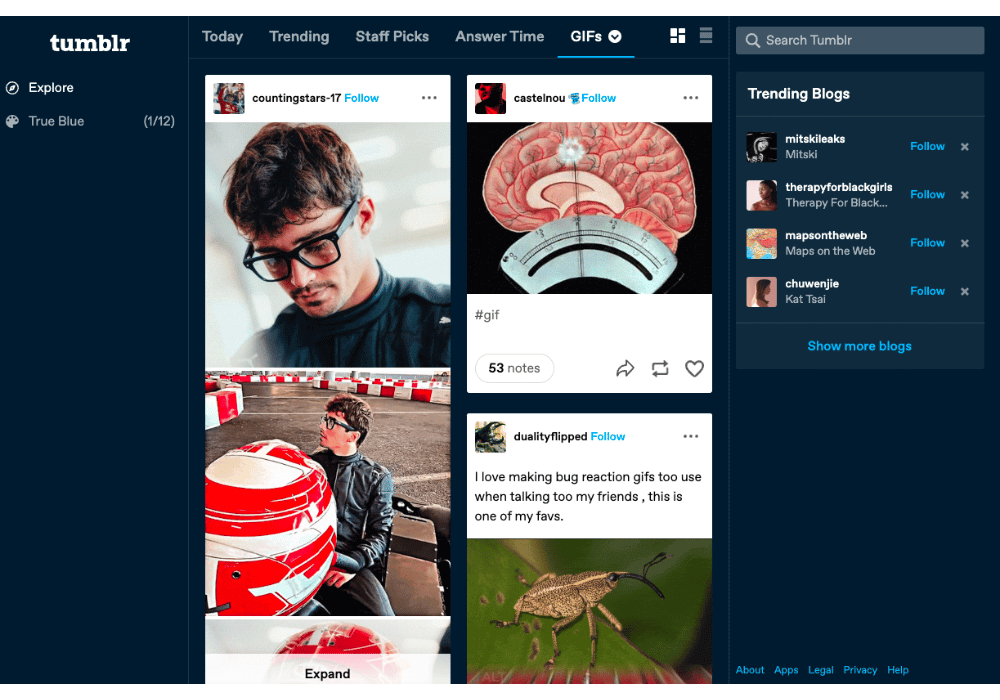 Remember Tumblr? Yep, it's still around and is still useful for GIF culture and finding the memes of tomorrow before they blow up. Explore all GIFs here, or search for a specific GIF type using the Tumblr search bar.
4. Imgur‌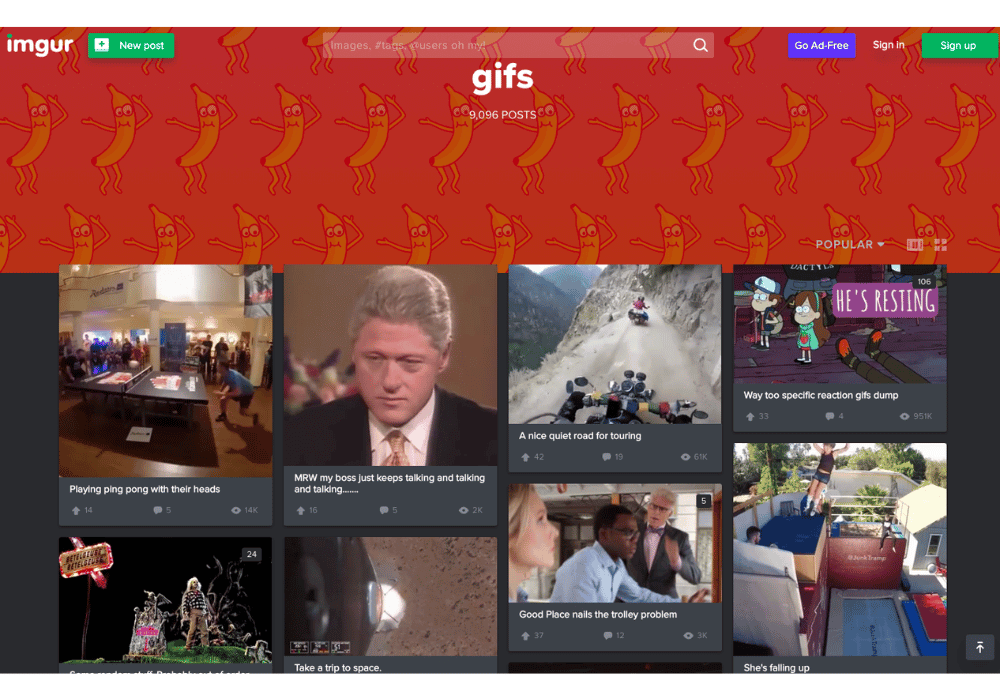 You never quite know what you're going to find on Imgur — it could be a viral photo, video, or GIF. Try your luck with the site's grab bag of new and viral GIFs, or search by topic or activity.
5. Tenor‌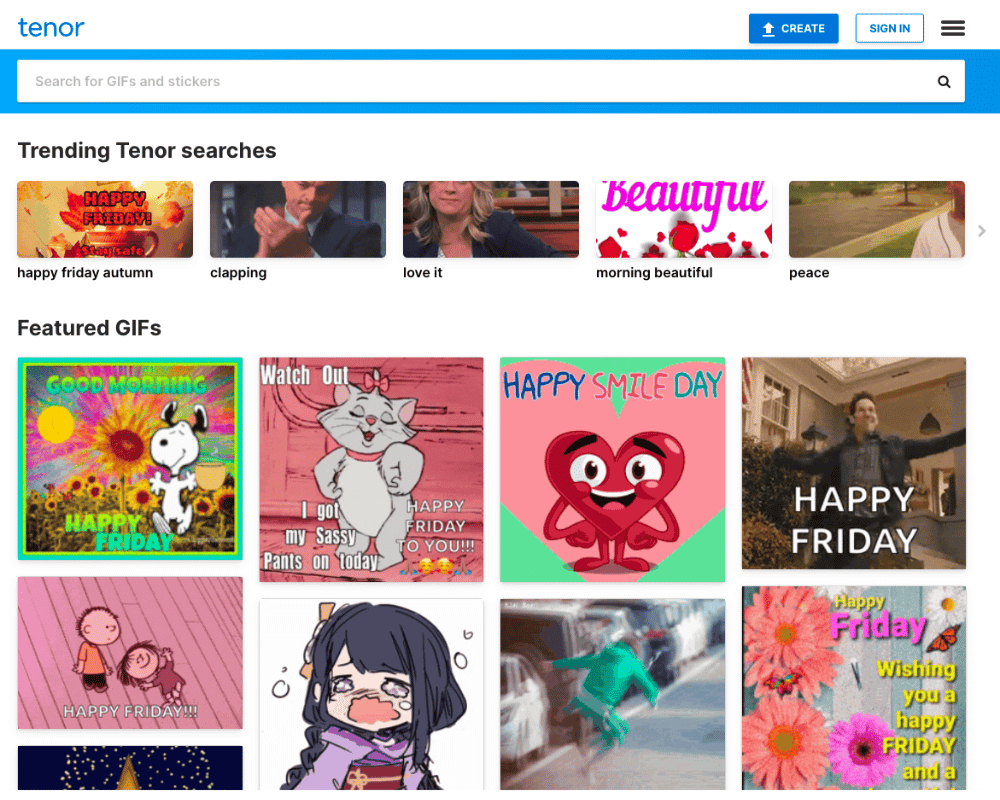 With more than 300 million monthly users, Tenor is GIPHY's biggest competitor, thanks to its simpler interface. So GIFers who want to quickly find what they're looking for without any extra bells and whistles will appreciate Tenor's minimalist dashboard.
6. Google image search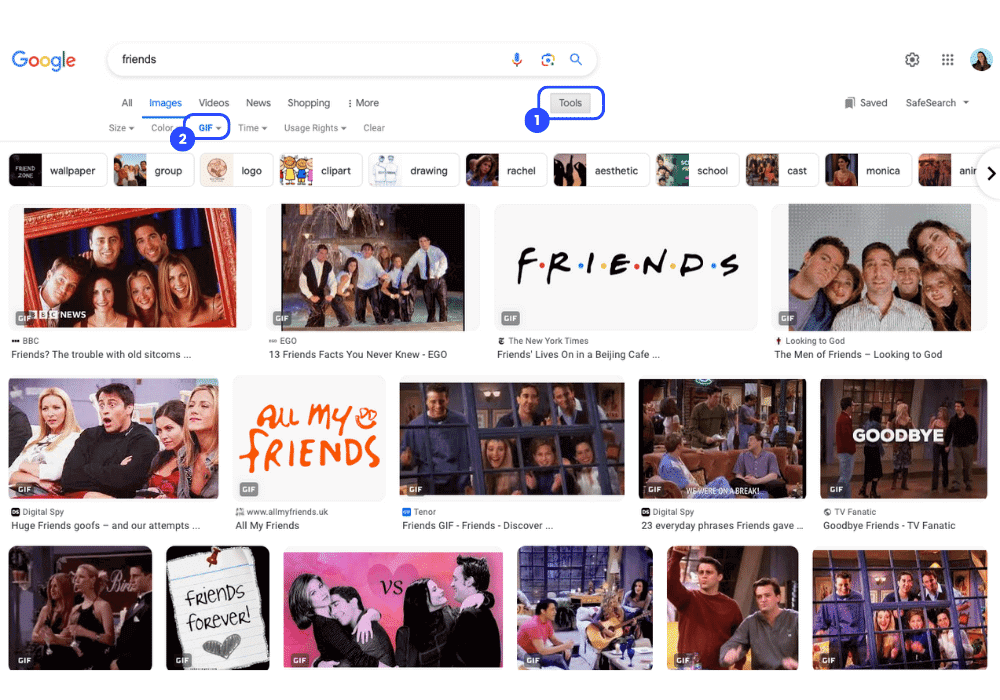 Perhaps the best-known place to search for anything — including GIFs — is Google. To include only GIF images in your search, start with image search, then:
Click 'Tools'
Under 'Type', choose 'GIF'
‌‌‌A quick word of caution: Be wary of using copyrighted work in your social sharing since most GIFs are protected by copyright law. When in doubt, make your own GIFs.
10 ways to use GIFs for your brand
From product promotions to email marketing, GIFS help tell your brand story in creative ways. Level up your marketing with these ten fun tips for GIFs.
1. To show your brand's personality
Brands that appear human and share authentically can create a connection with their audience, and funny/weird/endearing GIFs can be a part of that.‌
‌‌
‌Who does it best? Google is always at the forefront of most technological innovations, so, unsurprisingly, they share some incredibly slick GIFs on social that demonstrate the brand's dedication to aesthetics. ‌
‌‌
‌The example below shows Google's Dino T-Rex going for the gold ahead of the 2021 Tokyo Olympics.‌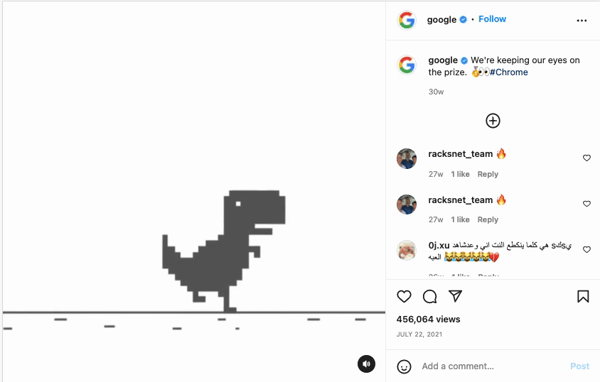 ‌
2. As part of your marketing campaigns
GIFs can be a great way to promote your products or services in fun and unconventional ways.‌
‌‌
‌Who does it best? Rent the Runway is a subscription service that allows people to rent designer fashion for work and events. As part of its The World is Your Runway campaign, the brand created its own GIF stickers its followers can upload to their own stories.‌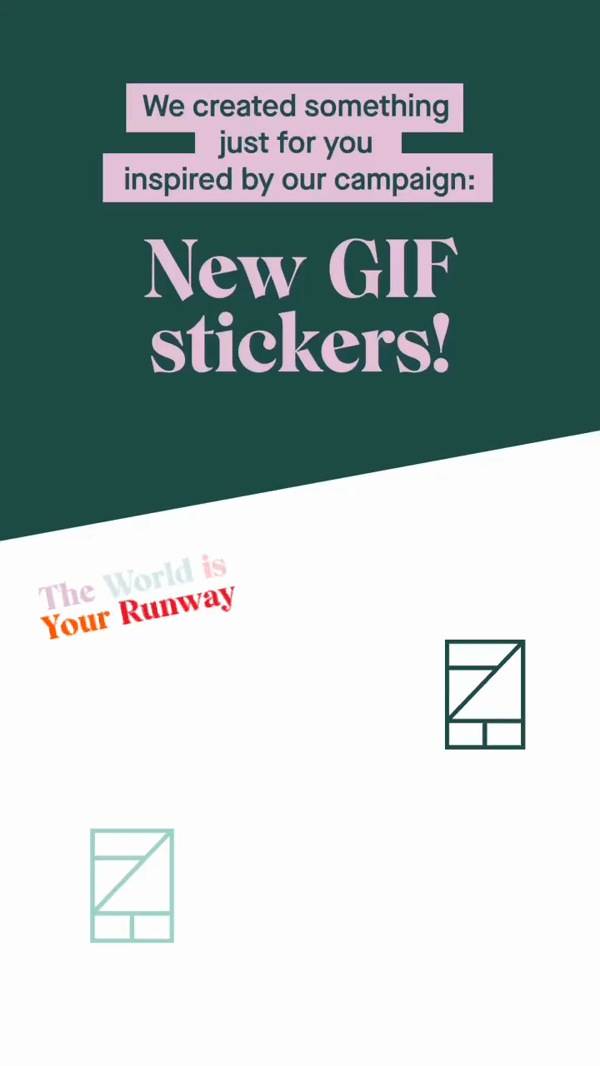 3. To explain a process or a how-to
Sometimes, it's a lot easier to explain something visually than with words. GIFs can help show actual steps for guides, manuals, tutorials, and how-tos.‌
‌‌
‌Who does it best? Netflix uses a GIF to show its members how to remove a title from their 'Continue Watching' category on all devices.‌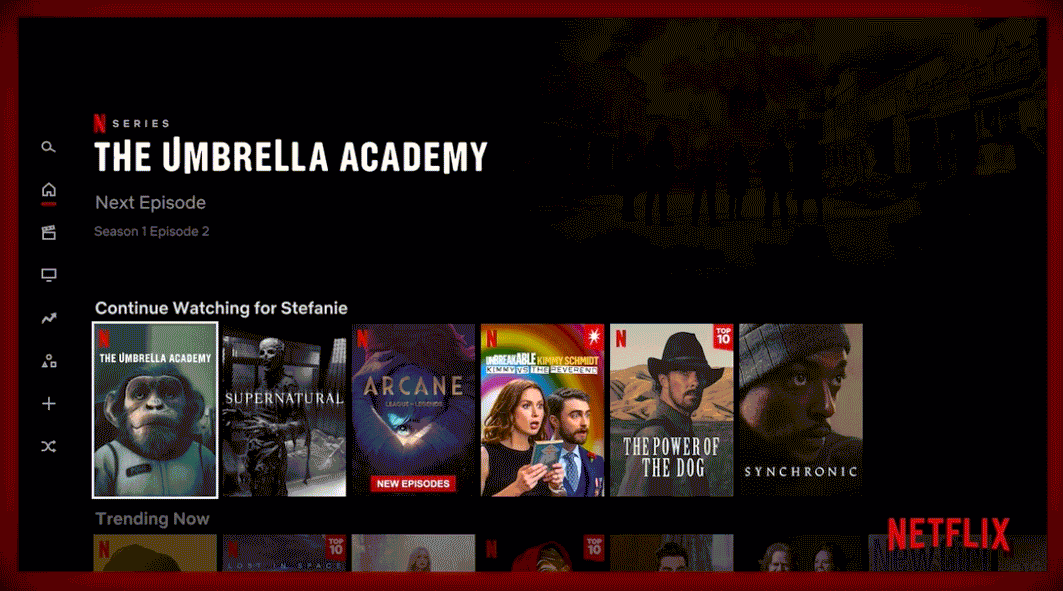 4. For customer service
If a picture says a thousand words, then a GIF can tell a billion. And with more than 10 billion GIFs shared daily on Giphy alone, you're sure to find something that can help you express a particular sentiment to your customers without using words.‌
‌‌
‌Who does it best? Starbucks loves using GIFs on X. They use Starbucks-branded GIFs in their daily interactions with customers.‌
5. To make a big announcement
If you want to stir up excitement for an upcoming sale, tease customers with a sneak peek of a new product, or surprise and delight your fans, GIFs can help you do that. ‌
‌‌
‌Who does it best? Is it a bit much to be tooting our own horn here? Sorry! GIFs are often a part of Buffer's launch announcements as they're a great way to quickly showcase new features. Check out how we shared more about our Beta program in the tweet below.
6. As part of your email marketing
Email is one of the most effective marketing channels. And because GIFs come in small files, they're easy to engage your audience without clogging their emails.‌
‌‌
‌‌Who does it best? Copyhackers provides writing courses and resources for copywriters, startups, and marketers. Even though they're all about copy, they throw GIFs into their emails to help get their point across.‌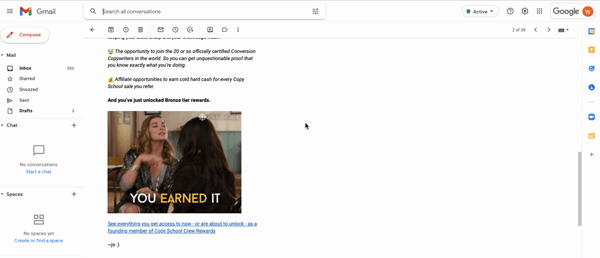 7. Celebrate special occasions
Just in case you needed an extra excuse to share a GIF, a holiday or special occasion would be it. And if you don't want to create your own, you're sure to find a GIF for every occasion online.‌
‌‌
‌Who does it best? Yosushi shows you don't need to overthink or go overboard with your GIF designs. To ring in the New Year, they shared a GIF with plain white "Happy New Year" text over one of their meals.‌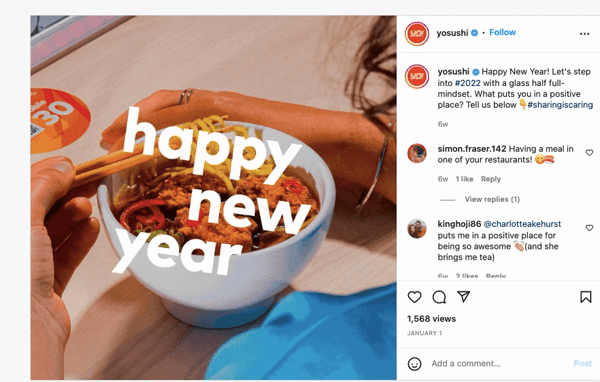 8. To make data fun
GIFs can help turn what could otherwise be boring numbers into something visually stimulating and engaging.‌
‌‌
‌‌Who does it best? Data Scientist Aron Strandberg used a GIF to animate how India is overtaking China as the world's most populous country. The GIF shows a side-by-side historical and future projection of China and India's population from 1992 to 2050.‌
9. To promote content
Whether it's a blog post, article, or newsletter, you can use GIFs as a way to entice people to read, download, or subscribe.‌
‌‌
‌Who does it best? In the tweet below, the television show RuPaul's Drag Race goes all-in with emojis and a GIF to get their followers to "snatch up" and "subscribe" to their newsletter.‌
10. To generate engagement
GIFs are a gift that keeps on giving. And you don't even need to share a GIF to get a GIF!‌
‌‌
‌Who does it best? On X, we found that just asking our followers to share a GIF is a great way to generate a stream of engagement.‌
Show and tell
In this article, we've shown you several ways to make a GIF and places where you can find pre-made ones. We've even shared ten examples of ways that GIFs are used by brands. Now over to you.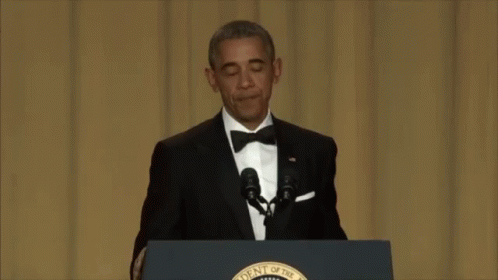 ‌
If you found this guide useful, we'd love to see a GIF of your own or for you to share one of your favorite GIFs with us on X.
Brought to you by
Did you find this article helpful? You might also like our all-you-need social media toolkit.
Get started for free now