I was a bit nervous before writing this post because there are so many possible golden rules for social media managers.
I wondered, how could I ever hone in on the most important ones?
From golden rules like setting proper social media goals to truly understanding consumer behavior and implementing that into your marketing strategy, this post could have taken on a variety of shapes and forms.
But then I realized, social media managers are in the market of verbs. Our entire careers are based on verbs: share, comment, measure, post, create, solve, design, write, Snap, etc. Verbs govern the rules for social media managers and propel us to amazing places.
So without further ado, here are 10 golden rules for social media managers explained through verbs.
Let's go!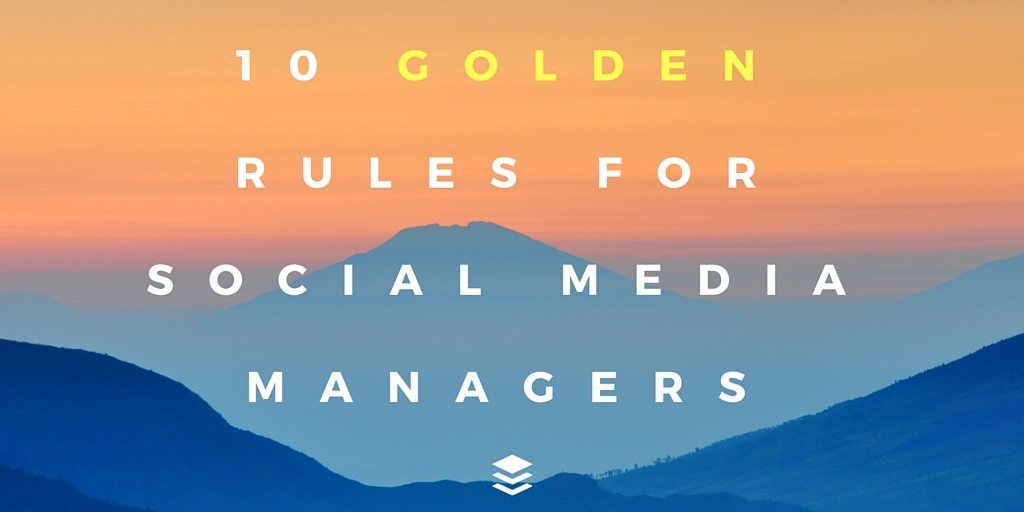 1. Communicate
The word "communicate" comes from the latin word "communis" which is also the origin of the word "community." Communication and community are essential to social media managers' daily tasks as it helps you to build a loyal audience.
The key to the golden rule of communicate is to communicate with your audience and not at your audience. Communicate transparently, honestly, and genuinely with every post and response on social media. Over time, doing so will build trust with your audience. They will look to you as a source of reputable information and guidance.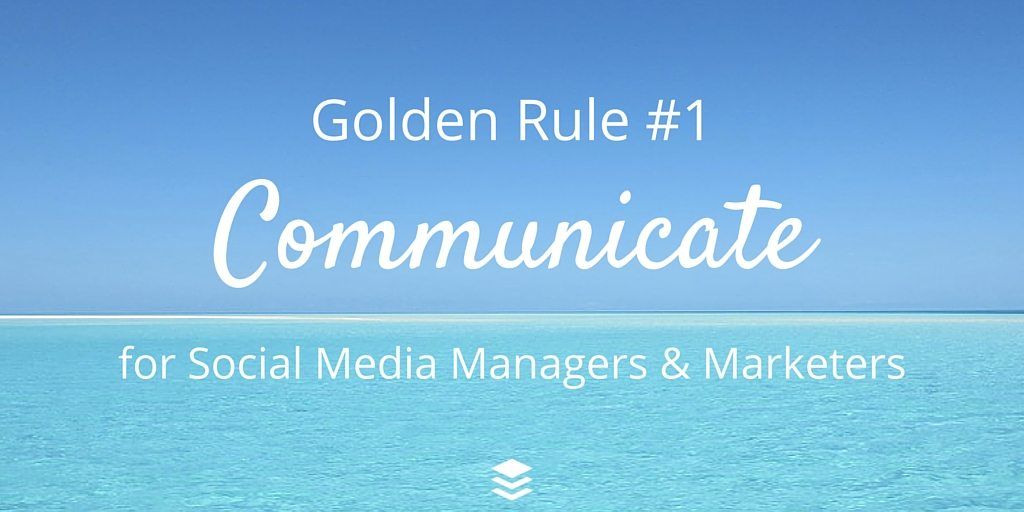 Action point: Give your audience a voice
One thing you can do to work on communication today is to give your audience a voice and allow them to share their opinions openly and candidly. Recently we experimented with an AMA (ask marketing anything) post recently to give our audience the opportunity to do just that. Other brands like Inbound.org have built online communities where audience members can interact and share ideas.
What are ways that you can give your audience a voice?
2. Share
Sharing is caring. Sharing content across social media as a brand is caring because you are providing value to your audience and a potential audience who may not have heard of you yet. Sharing is the way brands amplify the awesome content they've worked so hard on creating.
The key to the golden rule of sharing is to create unique experiences across the various social media platforms. Each piece of content you share should feel native on whichever channel you are sharing it through.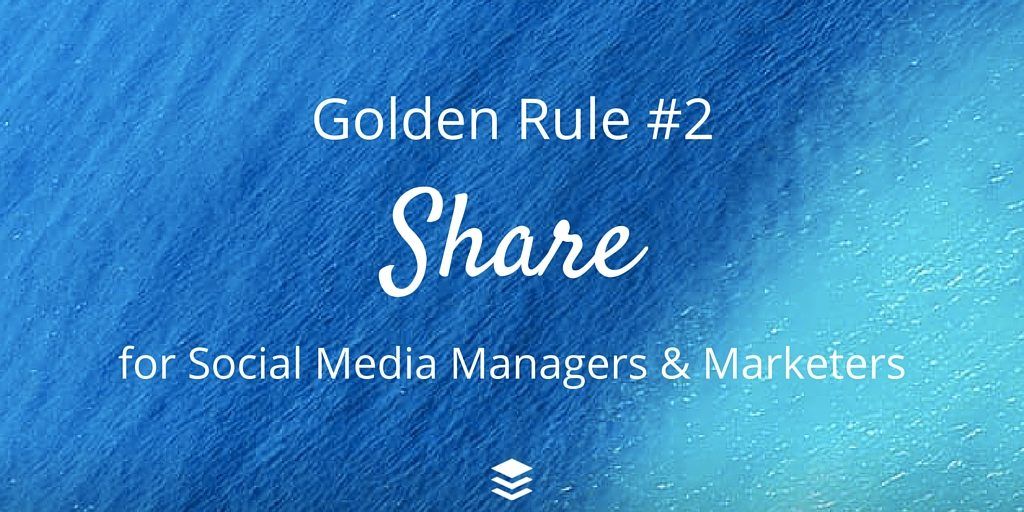 Action point: Experiment with content
Spend some time researching best-practices behind each social media channel and which type of content performs best. What works for Instagram may not work for Facebook and vice versa. Recently, we studied more than 16 million posts on social media and learned that this is especially true for brands that share on multiple social media channels. Spending the extra time on customizing content for each channel will pay off big time in your marketing efforts.
3. Measure
When I first started in marketing four years ago, measuring the successes (and failures) of my social media efforts scared me. At first, I didn't know what to measure and then once I did I worried that the stats wouldn't add up. That if I fell short of my goals I wasn't good at my job. But then I realized I was thinking about it all wrong.
Measuring your social media marketing results isn't the end – it's just the beginning.
Tracking social data allows you as social media managers to get better at your job. It allows for experimentation with confidence knowing that you'll be able to point to exactly what's working and what isn't. Doors open up when you're willing to examine past results and learn from them.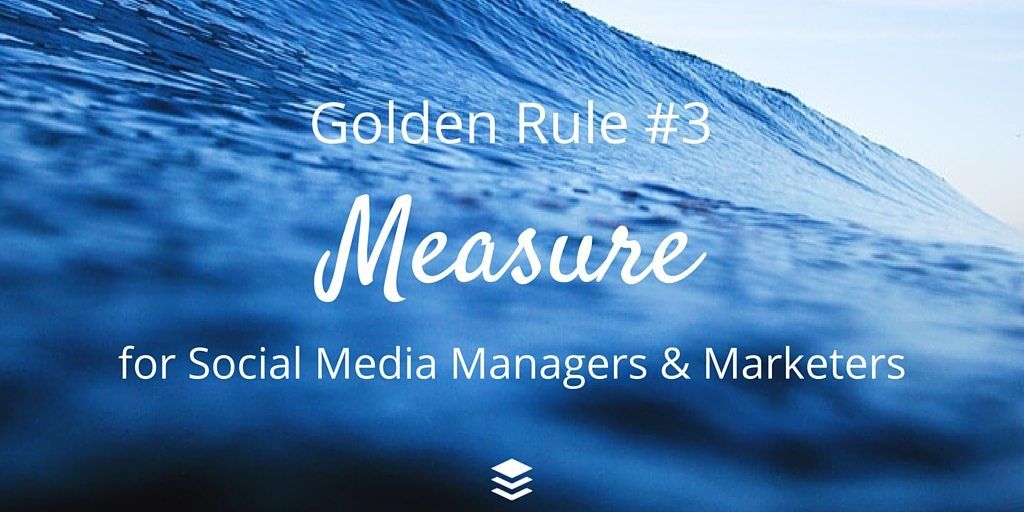 Action point: Measure your social media performance
Start with the "Big 4" when measuring marketing results: Social media metrics (followers, reach etc), channel (how people arrived at your website), consumption (page views, time on page, etc), conversion. Brandwatch put together an awesome guide on the specific stats to measure for each, which is a great place to start. TrustRadius found that demonstrating ROI is the number one challenge among marketers, but it doesn't have to be for you!
4. Create
The two pillars of social media and marketing design: images and video. People are incredible at remembering visual information. Studies have shown that adding an image to a piece of information can increase memory up to 65%. Another study from Adobe found that shoppers who viewed a brand's video are 1.81x more likely to purchase a product than those who did not view the video.
Creating engaging images and video is one of those rules for social media that marketers are constantly striving to live by. And with the way things are going, 2016 is shaping up to be the year of video for many individuals and brands. Now is the perfect time to simply create.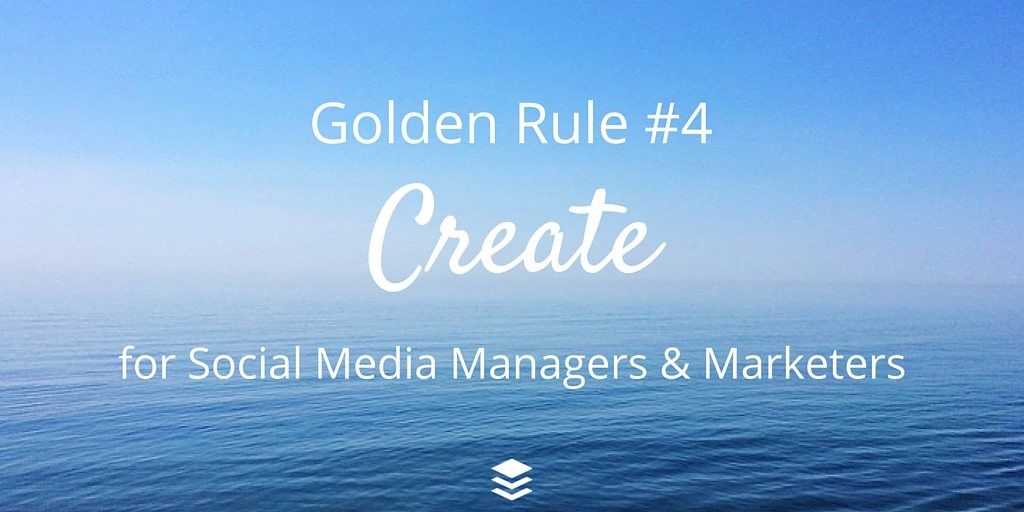 Action point: Don't be afraid to try new tactics (and platforms)
Dive in. Be one of the first movers and shakers on newer platforms like Snapchat and Facebook Live. Don't worry so much about creating the perfect viral video. Experiment with different formats such as Q&As like #AskGaryVee does, or whiteboard sessions such as Whiteboard Friday with Moz. If you're on a budget, Social Media Examiner has a few ideas on creating engaging videos for next to nothing. Creating videos now will help you to stand out and gain a following before the rest of the market catches up.
5. Originate
Mark Twain once said:
"There is no such thing as a new idea. It is impossible. We simply take a lot of old ideas and put them into a sort of mental kaleidoscope."
This is a great quote to remember as marketers when it comes to the golden rules of social media. Many times our most original and successful ideas are a beautiful compilation of several other ideas into one.
You don't necessarily have to reinvent the wheel to put out great content that your audience will love. All you have to do is make the wheel better than it was before.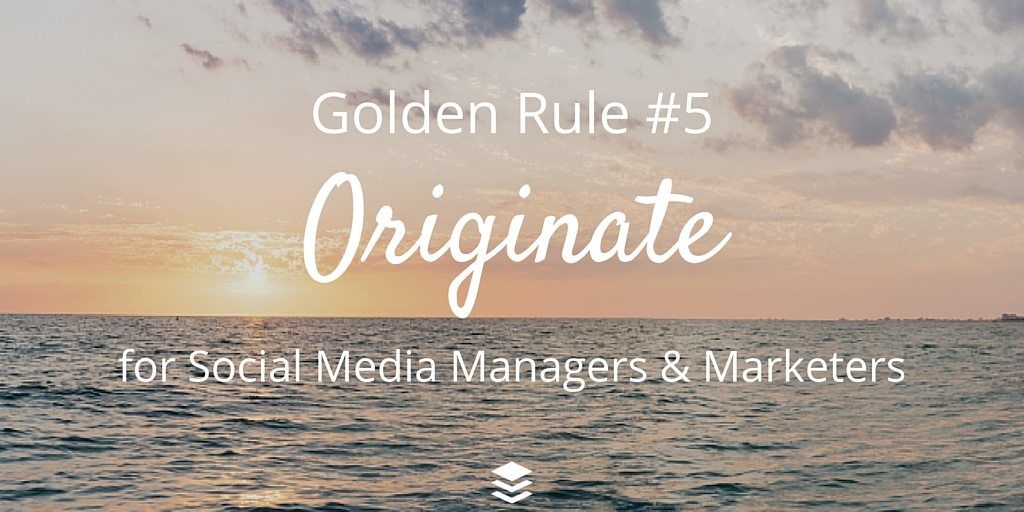 Action point: Become a master of content curation
Use tools like Feedly, Pocket and Flipboard to search and curate the best content from hundreds of blogs around the web. In the Buffer product, you can connect RSS feeds to your profile so that all the latest posts from your favorite blogs are pulled directly into your dashboard. You can also utilize websites like reddit, BuzzFeed, BuzzSumo, Imgur, and Tumblr to get inspiration from today's most popular topics and use that to create content that stays ahead of the curve.
6. Nurture
What is the first word or concept that you think about when you hear the words "social media?" For me, it's relationships. Building and nurturing relationships is one of those rules for social media managers that is often easier said than done. But what exactly does building relationships on social media entail? For many brands, providing an epic customer experience on social media is a top priority.
According to J.D. Power, 67% of consumers have used a company's social media channel for customer service. That's huge! And those numbers are only projected to grow as social media becomes more and more engrained in our lives.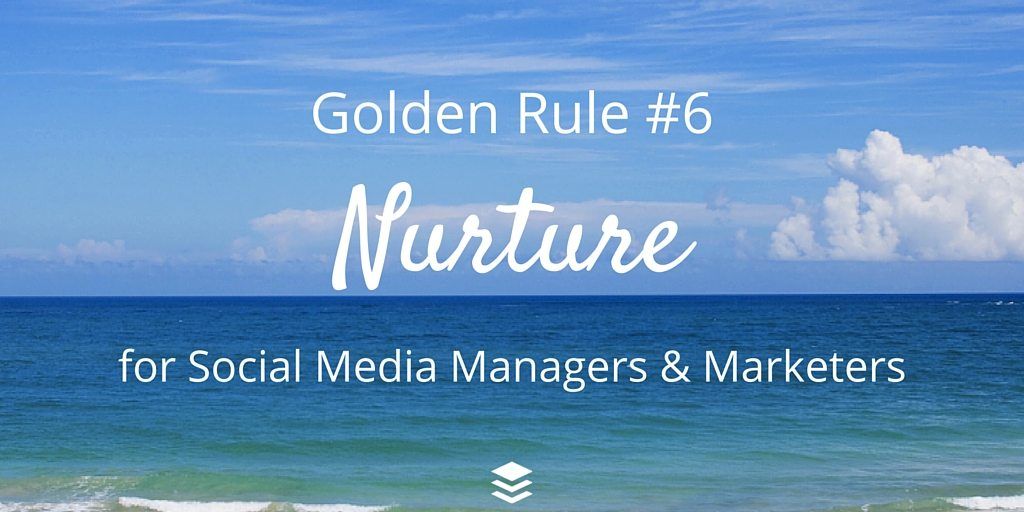 Action point: Listen and respond to your audience
Two great ways to build and nurture relationships on social media listening and responding. Listening always comes first. Take advantage of social monitoring tools like Respond, TweetDeck, and Mention to listen to audience conversations. What are they saying about your brand? What are they saying about a particular topic? Try and answer every single question, comment, and concern that your audience has genuinely and empathetically. Showing that there is a real person behind your brand will help to nurture relationships over time.
7. Solve
There are quite a few things that can be solved by the power of social media. Social media managers and marketers can solve audience questions and curiosity with great content, pain points with stellar customer service, brand awareness challenges with targeted social outreach and so much more.
In order to properly solve all of that as a marketer you must first know what the problem or opportunity is in the first place. Putting your audience's interests first by asking engaging questions, studying audience insights on various platforms and analyzing your most popular content will help to identify areas in which you may grow and expand.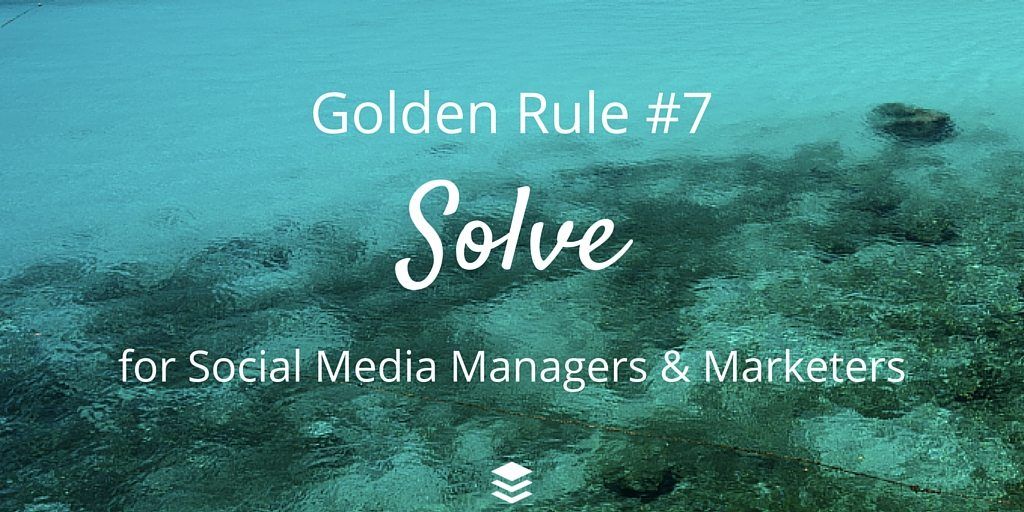 Action point: Identify opportunities using data
One of my favorite ways to identify problems and opportunities to solve through social media is to look at both Google Analytics and social media engagement reports. Whether you get tens of thousands or just tens of visits to your blog and social channels there are always pieces of content that have worked better than others. And instead of guessing which ones those are, take a quick look at the data. Analyze both the themes across top-performing content as well as tactics. How long was your copy? What sort of image did you use? Was it a humorous post or educational? Which channels continually deliver? Are you missing out on opportunities elsewhere?
8. Open
According to Cohn & Wolfe's Authentic Brands Report, 91% of consumers value honesty most when it comes to products, services and brands. Open up to your audience with behind-the-scenes looks into your company, your processes and your team. Some of our most successful and rewarding marketing efforts have come about from our Buffer value of transparency.
Not sure where to start with transparency? That's alright! Take a company that you admire for their openness and transparency and model after them. MailChimp, for example, does a great job on their Facebook page of mixing educational and open content. When people land on your social media channels they should get a good feeling for who you are as a company and what value you can provide.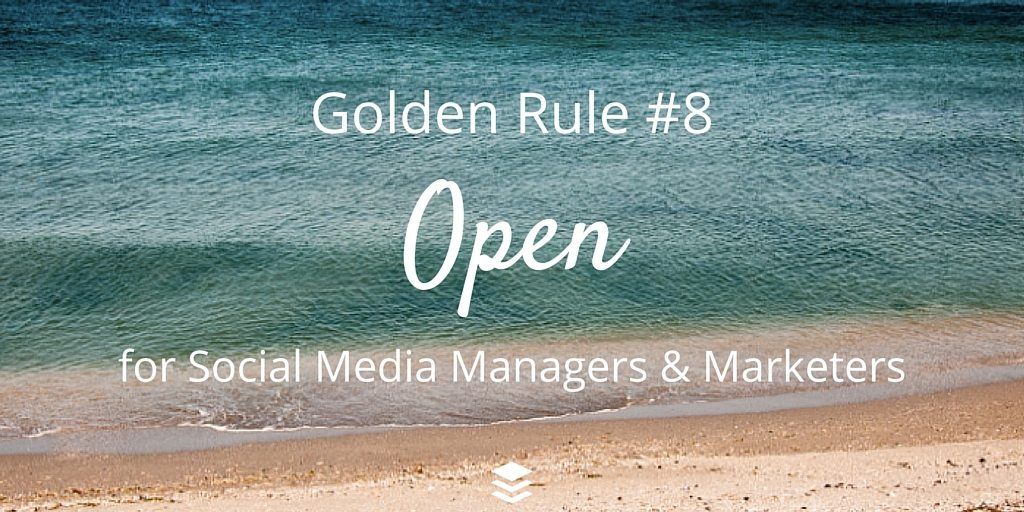 Action point: Experiment with transparency
Starting out is usually the biggest challenge when it comes to being open with your audience, but it gets easier over time. There are so many different aspects of your brand that you can incorporate your audience into. Candid moments, interviews, office culture, and 'a day in the life' are all great options to share with your community. And remember that videos and images are often the best way to help convey "life at your company."
9. Reflect
One thing we as social media managers and marketers often forget is that after all is said and done, it's still social media. Behind every metric and conversion is a real person who uses social media to be informed and entertained.
Our job as marketers is to deliver on that with every single piece of content and it can be great to take a moment to reflect on how you're performing. Looking at the top social media campaigns of 2015 from Adhere Creative, a pattern of emotional and entertaining stories emerge. It's important to keep this in mind as we develop content, formulate posts and interact with audiences across social media.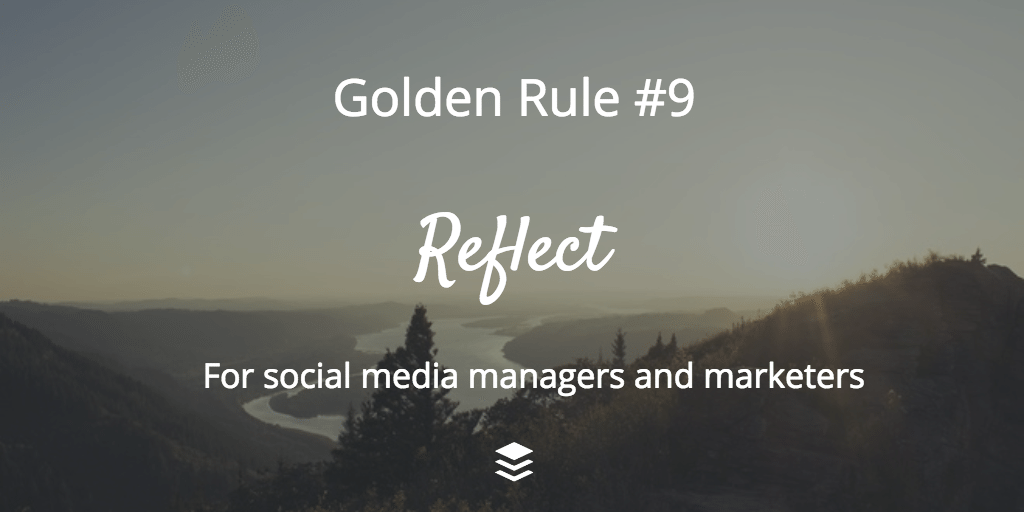 Action point: Take time to look back at what's working for you and others
Looking to other companies for marketing and social media inspiration is one of the most effective ways to generate awesome ideas for your next campaign. Take bits and pieces of your favorite campaigns from around the web and spin them into your own ideas for your brand. Don't be afraid to look outside of your industry as well. You will be pleasantly surprised at how many different types of companies are doing incredible things in marketing.
10. Reciprocate
We saved the best for last with our 10 golden rules for social media managers: reciprocate.
Whether it's giving back to your audience and users with free giveaways or joining an important social cause, reciprocation is an extremely powerful marketing tool.
The examples are endless of brands running highly successful campaigns in which they are involved in a worthy social cause. Giveaways are also a great tool for giving back. We've experienced the awesome effects on social growth through giveaways with items as simple as branded water bottles and stickers.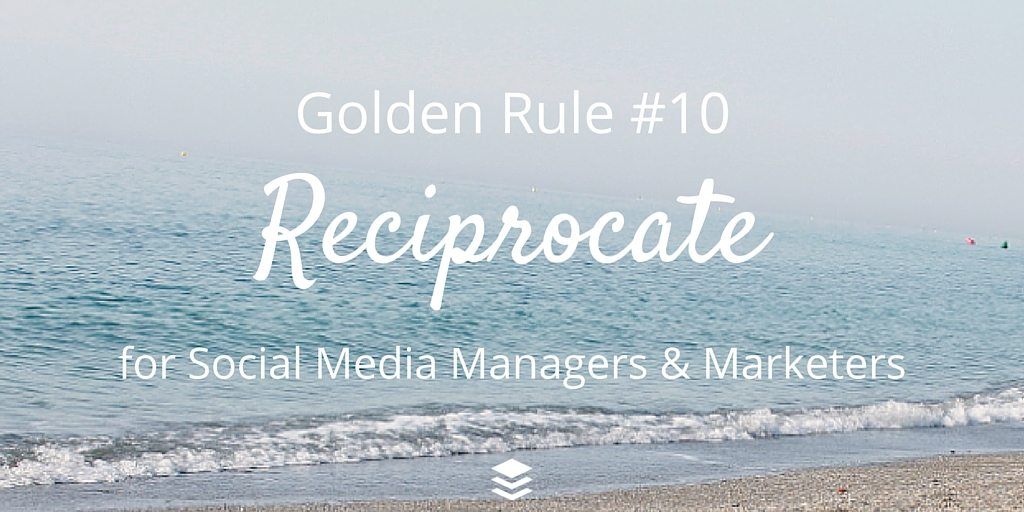 Action point: Give more than you receive
One important lesson to remember with the golden rule of reciprocation is to ensure that the trade-off is fair for both the user and the brand. Well, mainly the user – as Gary Vaynerchuk puts it: "The single best way to win is to provide for 51% of the relationship."
Over to you
Hopefully, these 10 golden rules for social media managers will help spark a little inspiration in your daily routine. Here's a quick recap just in case you'd like to take them with you wherever you go!
Communicate
Share
Measure
Create
Originate
Nurture
Solve
Open
Reflect
Reciprocate
Did we miss any golden rules that you live by as a social media manager? Is there anything you'd like to add?
We would love to hear from you in the comments below!
Brought to you by
Did you find this article helpful? You might also like our all-you-need social media toolkit.
Get started for free now