Social media manager
A social media manager is a person responsible for creating, managing, and publishing content for a brand's social media accounts.
What is a social media manager?
Although from the outside, it may look like social media managers are just having fun scrolling through TikTok all day, they're actually doing lots of different tasks and are an essential part of building a stronger online brand. 
A social media manager is a vital part of a business' marketing team and is responsible for creating, managing, and publishing content for a brand's social media accounts. In practice, this means creating written, video, and visual content, maintaining a content calendar and coordinating across teams, engaging with online social media communities, developing strategies to increase engagement and reach, and much more.
If you're curious about how social media managers split up these tasks during their day, read our latest article that delves into how our very own social media manager breaks up her day to get the most out of social media.
What does a social media manager do?
Social media management is naturally a broad role, with tasks varying slightly from one company to another. Generally, social media managers are responsible for the upkeep of the brand's presence on social media, which includes creating social media content, owning the social media content calendar, developing strategies to increase engagement and reach, and engaging with the online community. 
Here are some of the most common tasks that are expected of a social media manager:
How does a person become a social media manager?
To start building a career as a social media manager, gaining relevant experience is most important. Some will say it requires a combination of education and experience, but it really depends on the company's requirements. Here are a few things you can do to get started on gaining relevant experience in social media:
Show off your skills by creating your personal social media accounts: Work on your personal brand by starting your own social accounts so that you'll have something to show for and can prove you know what you're doing;
Work with people in less popular industries to build a portfolio quickly: A great way to build experience and your portfolio is to work with smaller brands because they'll likely not have as many people knocking on their door to work for them;
Prioritize building a strong network: By connecting with potential employers and other social media managers, you can gain more knowledge about your industry and build trust and a good reputation;
Level up your social media marketing skills: Consider taking online courses and/or reading up on resources that can help you gain relevant experience.
What skills are required for social media managers?
Social media managers are quite skillful in a wide range of areas, from the more analytical type of skills to the more creative ones. Some of the main skills a social media manager should master are: 
Copywriting: To drive engagement and clicks, you must tell a captivating story on your social media accounts, which requires excellent copywriting skills.
Content creation: Taking good photos, filming videos, editing, and designing graphics are just a few skills a successful social media manager needs to have at least a working knowledge of.
Analytics: Social media managers need an understanding of social media-related analytics, which will help them extract insights and learnings to help inform their strategy.
Community management: "A lot of my day is spent checking our notifications and replying to people. I usually do this on Twitter, Instagram, and LinkedIn, with Mastodon and Discord being recent additions," says Mitra, Buffer's social media manager, whose day-to-day routine involves a lot of community management.
Staying up to date on trends and platforms updates: The social media industry is constantly changing, so it's important to stay on top of what's happening, as well as dive into the platforms to understand what's trending.
How much do you pay a social media manager?
The salary of a social media manager varies depending on location, experience, and company size.
As of April 2023, the average salary for a social media manager in the United States is around $73,000 annually, according to BuiltIn.

The above is an average salary, which means that the pay will vary a bit depending on location, years of experience, and title. As an example, the graph below depicts the pay based on time spent working in social media, with social media managers working for over 7 years earning around $90,000 annually in the US.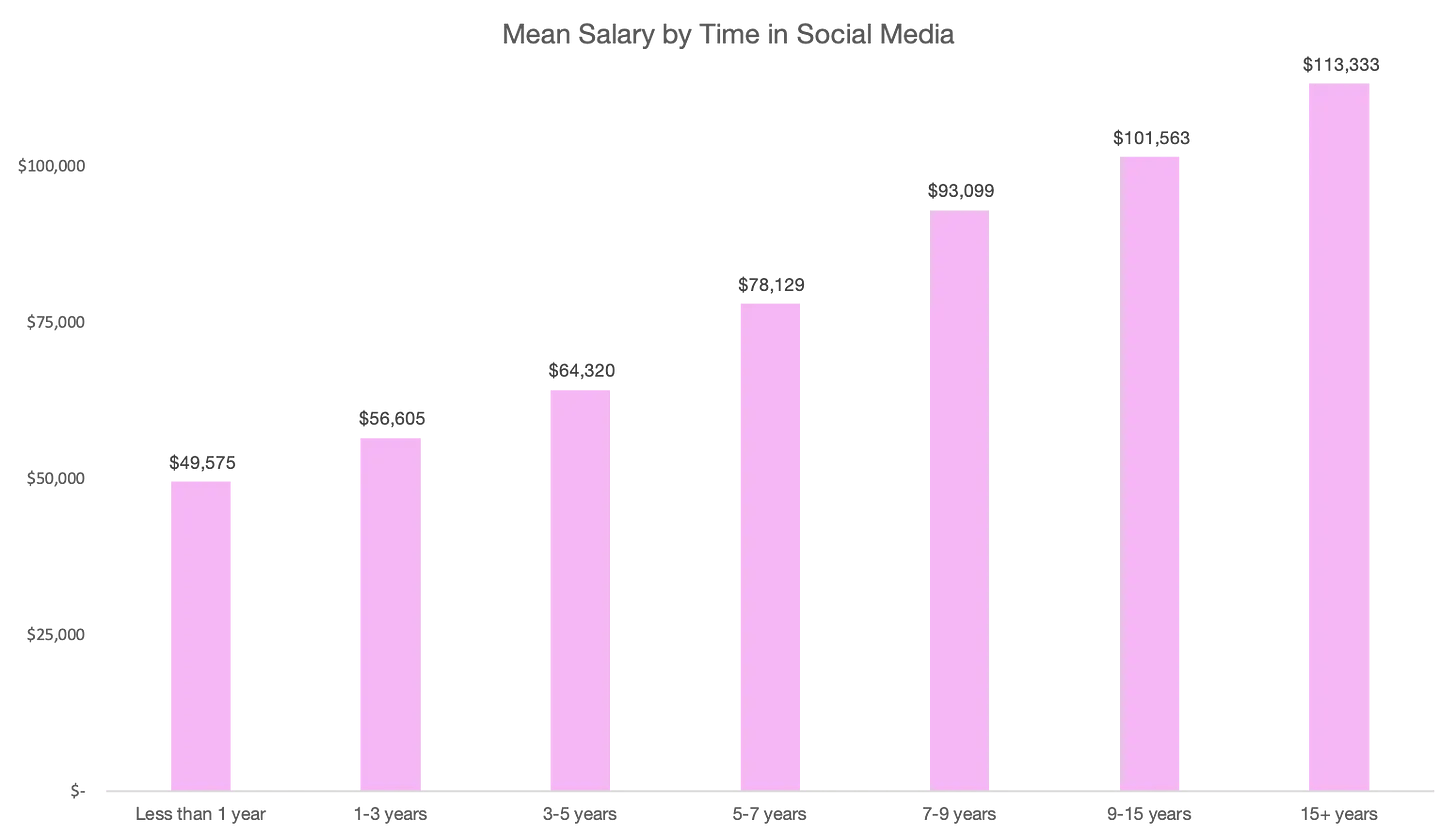 Need a hand growing followers?
Kickstart your social media growth with Buffer!
Get started now
140,000+ people like you use Buffer to build their brand on social media every month