Constantly creating and publishing content on various platforms can be time-consuming and overwhelming. Luckily, with the help of automation tools like Zapier and Buffer, you can streamline your social media and content creation process.
Today, we're excited to share our completely revamped Zapier integration, enabling you to share your content from anywhere to everywhere.
There are thousands of apps that you can connect to Buffer using Zapier. By automating your workflows, you can save time on the manual stuff and open up time for the more important (and fun) creative work.
Here are a few examples:
Google Sheets
If you (or your clients) like to use spreadsheets to manage content, you can connect Google Sheets to Buffer, create a spreadsheet of all your posts, and schedule it to be shared on social media.
Trello
Trello is a project management tool that can help you keep track of your content creation process. By connecting Trello to Buffer, you can automatically share completed content on social media.
RSS Feeds
If you're running a blog or content website, you can use an RSS feed to automatically send your new content to Buffer for social media sharing.
Notion
If you organize your content (or life) in Notion, you can automatically send new database items to Buffer.
Pocket
With Pocket, you can save articles, videos, and other web content to read later. Connecting Pocket to Buffer allows you to automatically share the content you save with your followers on social media.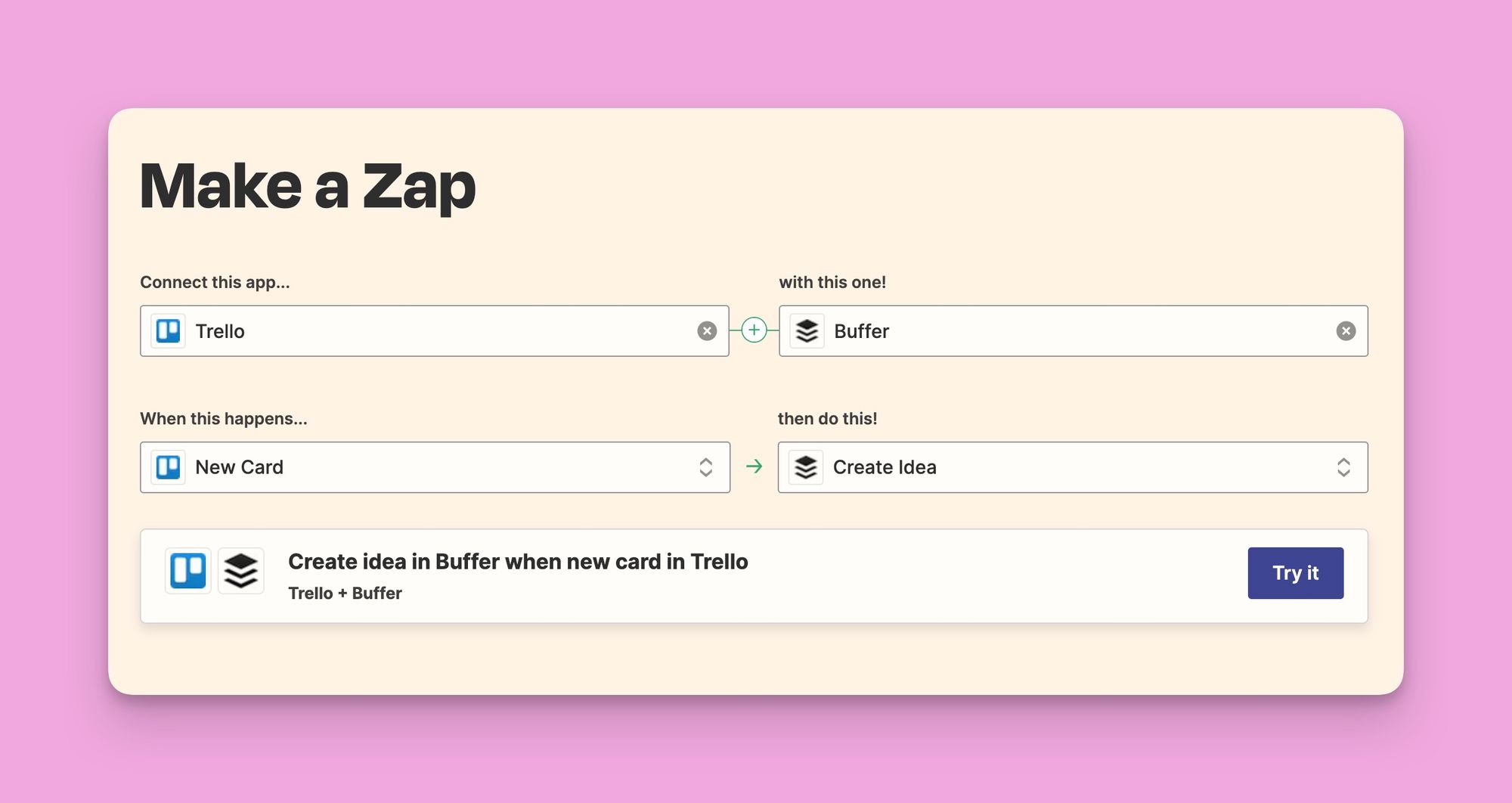 What's new in this release?
A ton of bug fixes, new triggers and actions, and support for more content types!
Support for Pinterest
With more than 450 million active users worldwide, Pinterest is unparalleled for reaching new audiences looking for inspiration and ready to buy. You can now add content to your Pinterest channels in Buffer - one of our most requested Zapier features.
Publish Videos and Multiple Images
You can now schedule videos and carousel images to your social channels in Buffer. You can trigger these from your favorite cloud storage apps or from a link.
Add Ideas and Drafts to Buffer
Got some content, but you aren't quite ready to hit publish? You can now create a workflow to save content as an Idea or a Draft in Buffer.
Add Image Descriptions
You can now give your audience additional context and make your content more widely accessible with alt-text descriptions via Zapier.
A step-by-step guide to getting started with Buffer and Zapier
Zapier offers integrations with over 3,000 different apps, which makes it easy to connect various tools to Buffer and automate your social media publishing process.
Step 1: Sign up for Zapier and Buffer
The first step is to sign up for Zapier and Buffer. They both offer free plans, or you can try a paid plan for 14 days. Once you've signed up, you can connect your social media accounts to Buffer.
Step 2: Create a Zap in Zapier
Next, create a Zap in Zapier. A Zap is an automated workflow that connects two or more apps. For example, you might want a Zap that automatically publishes new blog posts to Buffer. Click the "Make a Zap" button in your Zapier dashboard to create a Zap. Then, select the app that triggers the Zap, such as your blogging platform, a spreadsheet app, or a note-taking app. Next, choose the action that triggers the Zap. In the case of a blog, it might be a "New Post." This means that every time you publish a new blog post, the Zap will be triggered.
Step 3: Connect Zapier and Buffer
Once you've set up the trigger, you'll need to connect Zapier and Buffer. To do this, select Buffer as the action app and sign in to your Buffer account. Then, select the social media profiles to which you want to share the blog post.
Step 4: Map the Data
After connecting Zapier and Buffer, you'll need to map the data from your source to the social media profiles you want to publish it to. For example, you might map the blog post title to the social media post text and the blog post URL to the social media post URL.
Step 5: Test and Activate Your Zap
Once you've mapped the data, test your Zap to ensure it works correctly. If everything looks good, activate your Zap.
And that's it. You're on your way to becoming an automation and productivity hero!
More integrations to help you work smarter
Buffer integrates directly with dozens of other apps and tools, including Canva, Unsplash, and OpenAI. Check out all of our integrations and apps on our extras page.