What is a UGC Creator and How to Become One in 2023 (ft. Advice from Experts)
If you've been wondering what it takes to be a UGC creator and how you can get started, this article is for you. Speaking to people on either side of this unique brand-creator relationship, this guide will answer your questions and put you on track to becoming a UGC creator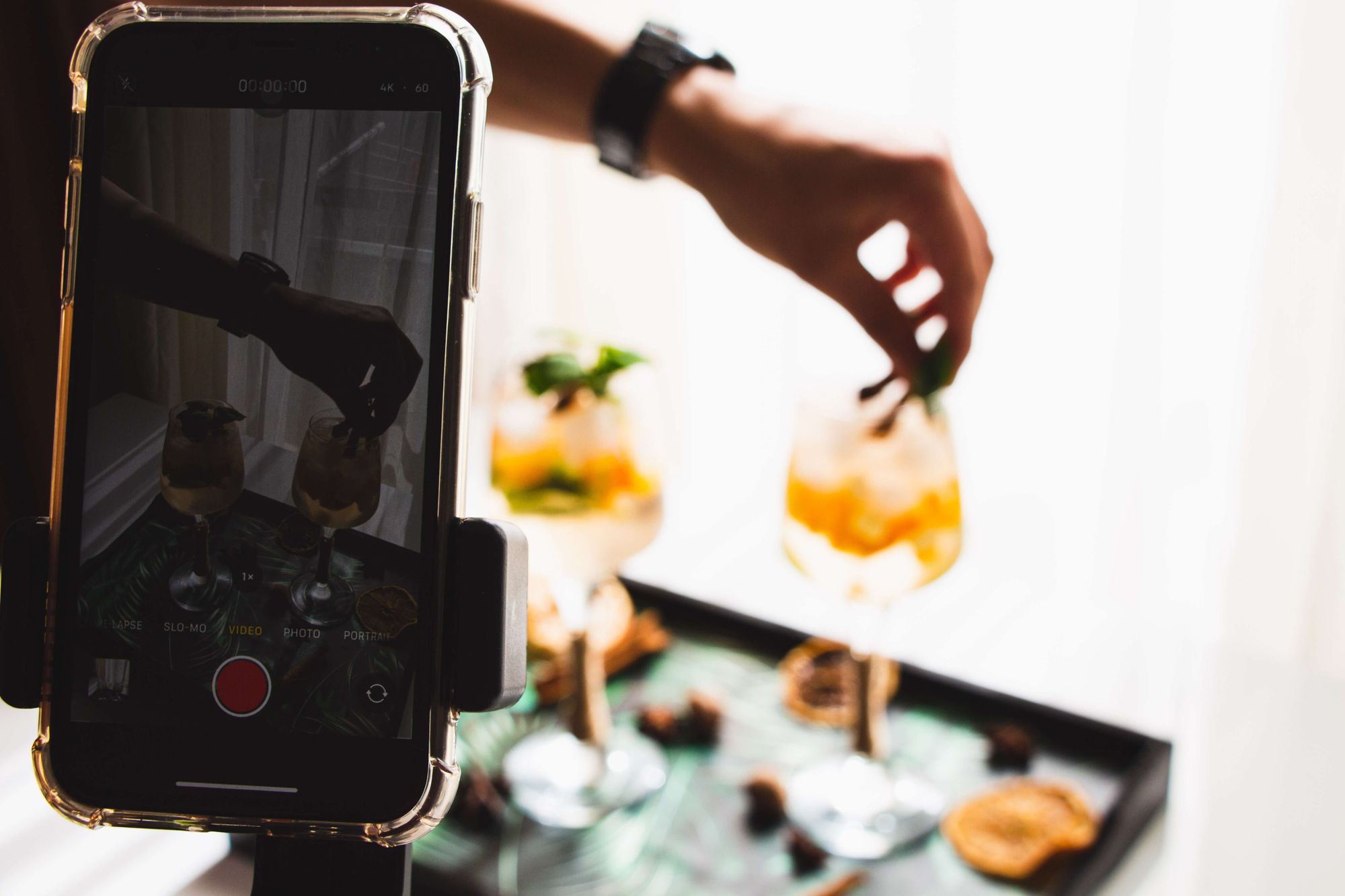 Photo by Encal Media on Unsplash
When Lauren Gates started creating user-generated content (or UGC) in January 2023, she had no experience filming or editing videos. Until that point, her experience had been primarily in writing – for her blog, CamilleLove, and her copywriting clients. Since then, she's worked with several brands and charges up to $125 for one video.
That's the story of many UGC creators – they go in with zero experience but armed with a smartphone and a creative eye, they can start charging brands to talk about their products and services for their social media platforms in no time.
So if you've been wondering what it takes to be a UGC creator and how you can get started, this article is for you. Speaking to people on either side of this unique brand-creator relationship, we put together this guide that'll answer some of your questions and put you on track to turning content creation into a business.
What is UGC?
User-generated content, also known as UGC, is any piece of media created by regular people to help a brand sell its product or service. These are traditionally organic content made without any incentive by a brand's audience.
The most popular types of UGC include:
testimonials
how-to guides
unboxing videos
reviews
Demonstrations
What is a UGC creator?
A UGC creator is a person who uses a product or service and documents that on video or through images or text for a brand. A paid UGC creator is anyone who receives an incentive for creating those assets, whether financial or through free products and services. This is who we're talking about and who brands are seeking to create authentic-looking content consistently.
There are different reasons a brand might go for a professional UGC creator. One might be to capitalize on the image of an influential person within their niche. However, the most prominent reason is due to changing consumption habits in audiences. People now look out for authentic, lo-fi content that doesn't look over-produced because that's what creators they follow are doing – and, thus, what the algorithms on different platforms favor.
However, brands may not be able to create that type of content in-house, so they seek UGC creators who can deliver natural-looking content from people to whom their audience can relate. By partnering with UGC creators, brands can offer more value per post to their audience.
Difference between content creators and UGC creators
You might be thinking, "don't influencers or content creators already do this?" The difference here is best explained by Jennifer Phan, Co-founder and CEO of Passionfroot, a startup that helps creators find and maintain client relationships. She explains, "One difference is that on one hand as a UGC creator, you can have interests in certain areas, but it doesn't matter as much because it's about the brand. Your face may not even show in the content you create. On the other hand, having a sponsor on your own platform means that brand fit is more important because your audience has certain expectations. "
What makes a good UGC creator?
Natalie Sportelli, Head of Content at Thingtesting, a platform for reviewing consumer packaged goods, has a lot of thoughts and advice on this topic.
"We work with UGC creators for our TikTok and I've found that the best creators have enough examples and demos of different styles of videos and photos that make it really easy to see how your brain fits into that grouping," says Natalie, adding that, "A strong narrative portfolio can go a long way to showing you're the right fit for a brand."
I don't think that people think enough about tailoring their pitches like this: Why I would be a really good representative to your brand versus I can do great content. Here's an example she shared of a great pitch:
"I'm a longtime coffee lover and I actually just discovered your brand three months ago. I've been using it and I'd love to share my story and create UGC around my genuine experience."
Natalie also highlights previous work with other brands as being very helpful for understanding how a creator works. Professionalism is also high on her list of what makes creators stand out. "Too often, I clicked on a link in our job portal [when reviewing applications] that didn't work. I always feel really bad because I can't review their portfolio without their links."
Examples of UGC
More often than not, brands won't tag the creators who filmed videos for them, so you can't always tell who made what. Regardless, here are some examples of user-generated content published by brands:
LinkedIn works with creator DeAndre Brown to create comedic content around life in the workplace as a Gen-Zer
Skincare brand Kiehl's also works with creators to publish UGC
Popular tinned fish brand, Fishwife, shares UGC by creators within their niche
From these examples, it's clear that UGC achieves three things:
Shows off the product in use
Uses minimal edits for more relatability
Shows "real people" or creators who are known for publishing in a specific niche
Natalie also shared her thoughts about what makes good UGC. "As a consumer, I want to see something that has had a lot of thought put into it – not just raw for the sake of being raw. Then as a person frequently reviewing UGC, I tend to go for the videos with a strong narrative style," shares Natalie. She also shares that she looks out for the following questions being answered as she looks through content:
Does this person sound like an authority?
Do they sound confident in what they're talking about?
Do they have the expertise or experience with this product to reasonably convince people that they've experienced it and it means something to them?
Finally, Natalie adds that "I find that the partnerships that feel the most authentic and natural between UGC creators and brands are ones that like already exist, because the brand is already part of their lives."
What do you need to become a UGC creator?
A smartphone.
That's it. Of course, there are other things – skills and tools – you can add on as you gain more experience and work with more clients, but UGC creation has a very low barrier to entry.
Once you have your smartphone in hand, you can add on other tools like:
Video editing app like CapCut or iMovie for Mac users
Professional camera
Lapel microphone
Lighting
UGC-specific social media account (optional)
In terms of skills, building prowess in the following can allow you to charge more for your services as a creator:
Understanding platforms and audiences
Sharper editing
Sales and negotiation
Build a portfolio of work
Practice makes perfect, and that applies to UGC creators as well. As you improve your skills and toolkit, you can take on more clients and more income.
5 tips for success as a UGC creator
Here are five tips that will help you improve your chances of success as a UGC creator.
Pick a niche and stick with it
When it comes to user-generated content creation, niches are crucial. This is where it's set apart from creating content for your personal accounts. Natalie says about niches, "The more informed someone is about a particular category makes them like a better creator for other brands in that area."
Natalie acknowledges that it can be risky to pick and stick to one category, "You won't have the same breadth of clients you could be working with. But ultimately, if that creator already has an association with beauty, then work with a beauty brand, they can bring a lot of credibility to whatever they create."
There are enough companies to go around, so getting hyper-specific about who you create content for will only bring positive returns in the long run.
And the decision-makers about who to outsource projects to are also more likely to pick someone with expertise. "The more informed someone is about a particular category makes them a better creator for other brands in that area. So if I don't usually get pitched UGC, creator decks where it's like I'm a beauty specialist or a specialist in food and beverage and I feel like that would make a more compelling case to niche down," says Natalie.
How can you pick a niche? Start by researching popular content categories and identifying gaps in the market. Are there brands that could do with a unique perspective on their product? Make a list of them and start pitching.
Craft a compelling portfolio
Your portfolio is a crucial tool to showcase your expertise and attract potential clients. Showcase a diverse range of work and tailor your portfolio to your target audience. Overloading your portfolio with too many samples makes it difficult to navigate.
If you don't have existing content to add to your portfolio, you can try Lauren's method. She shared with us, "Creating my portfolio was actually easier than I thought it would be. I thought because I didn't have any experience, it would be the toughest thing to get started on. But I'm also a very creative person. So I just used products around my house to record videos or take photos."
Lauren filmed videos with items she already had and created scripts for voiceovers. In no time, she had a portfolio together. Here's an example from a UGC creator of the different ways you can film your sample videos to show a breadth of content types.
Jennifer adds that a portfolio or media kit, as some might call it, also adds credibility to your pitch. When you reach out to a brand, it removes the hurdles you might need to jump through to prove yourself or justify your pricing. She also points out that creators who have success with their Passionfroot media kits show a lot of numbers, typically regarding the reach and engagement of their content.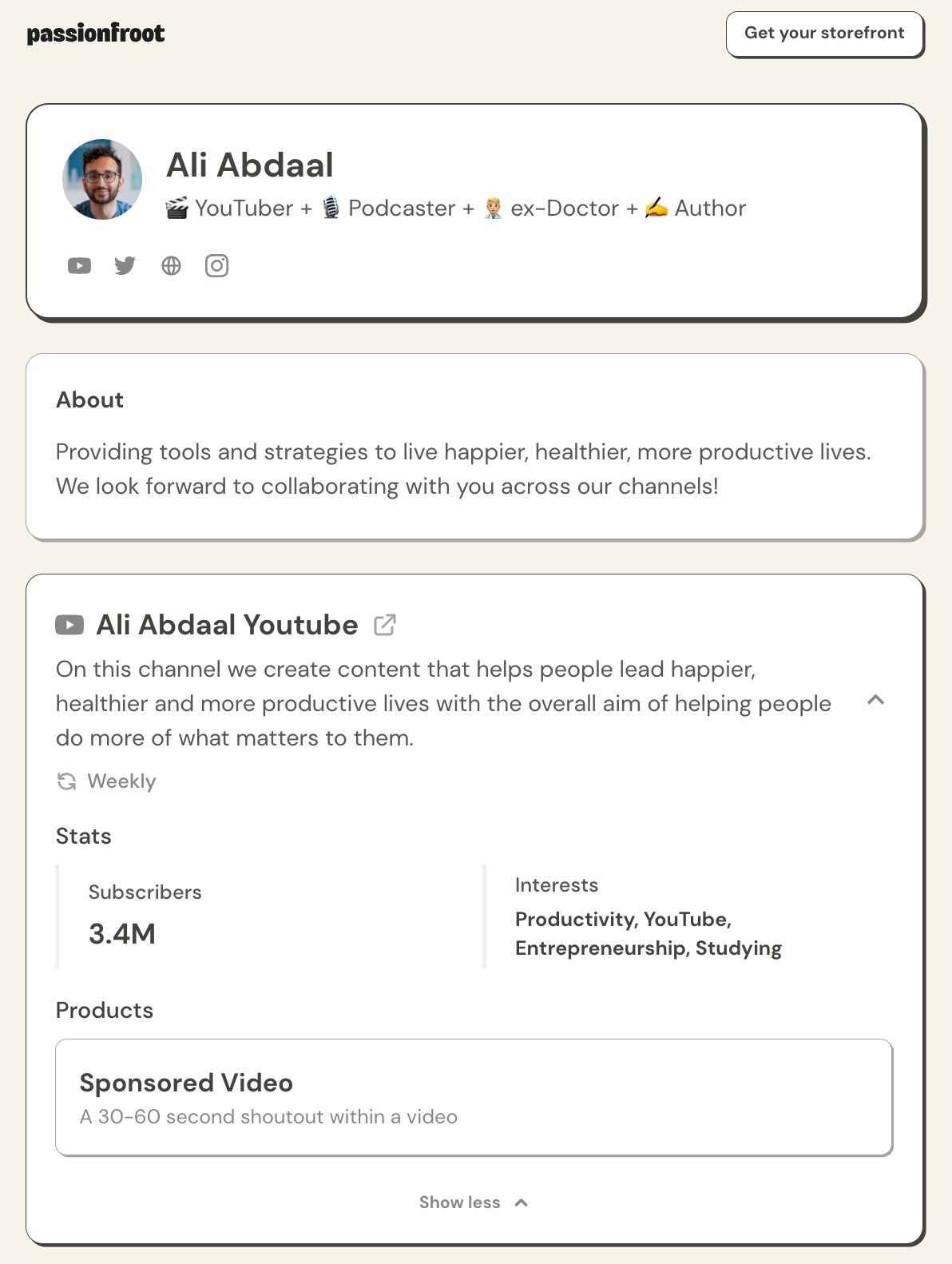 Network with the brands you want to work with
Networking and outreach are key aspects of being a successful UGC creator. Connect with potential clients on the platforms where they are looking for people like you. This is how Lauren Gates finds clients.
When she started creating UGC in January 2023, she had no experience creating videos or pitching to clients. What she did have, was access to a platform called JoinBrands to find brands to work with and pitched them, which allowed her to put actual clients on her portfolio.
Here are similar websites you can use to start looking for clients: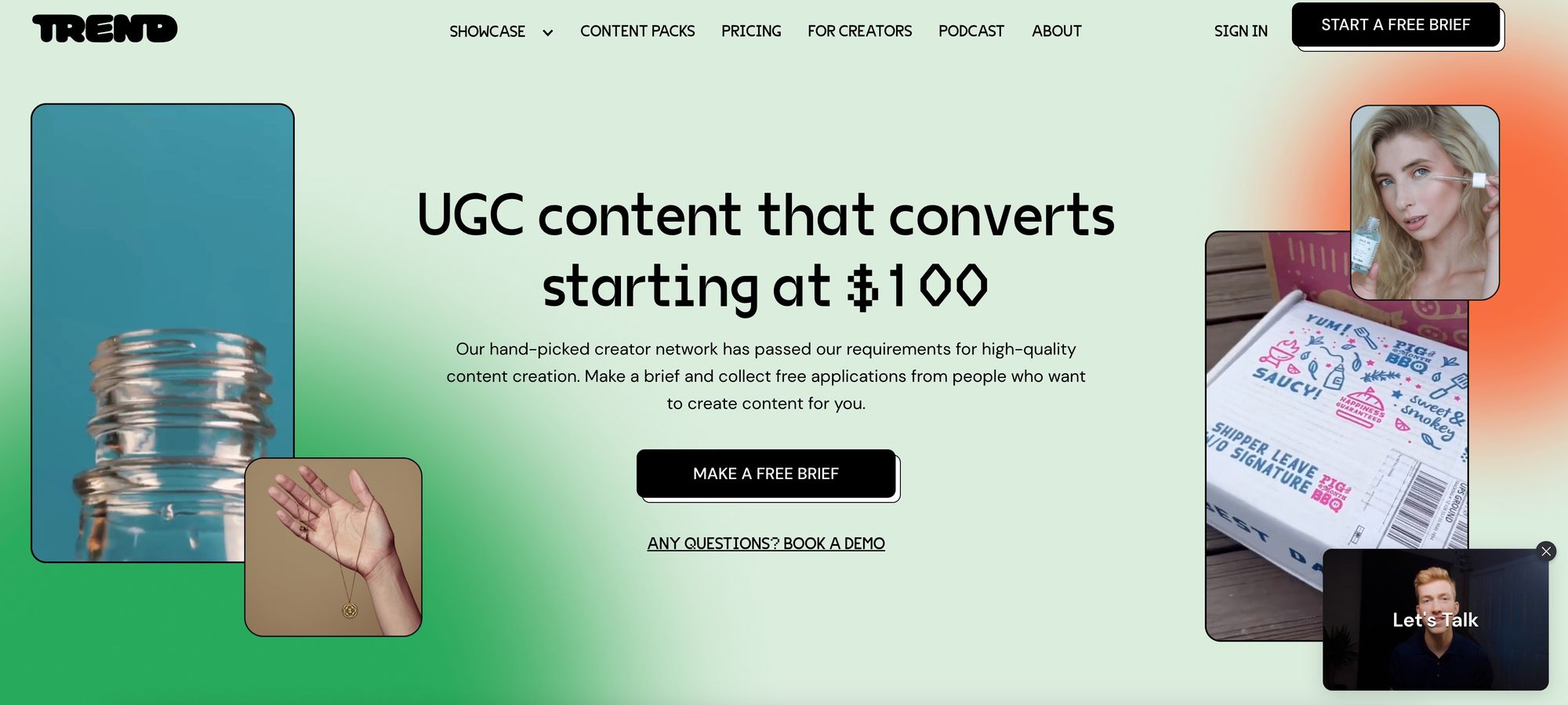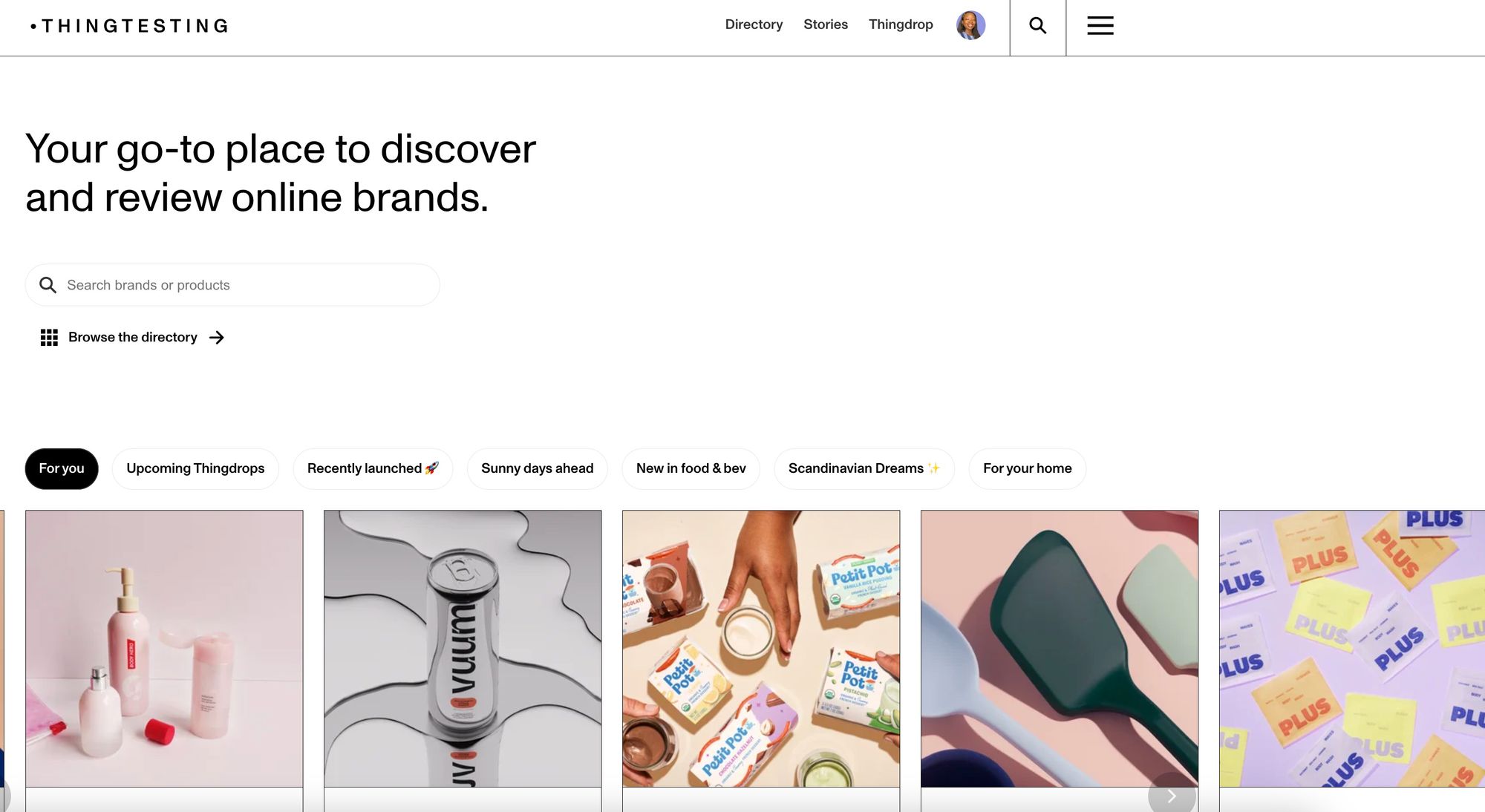 You can also make profiles on freelancer platforms like Fiverr or Upwork to expand your client pool.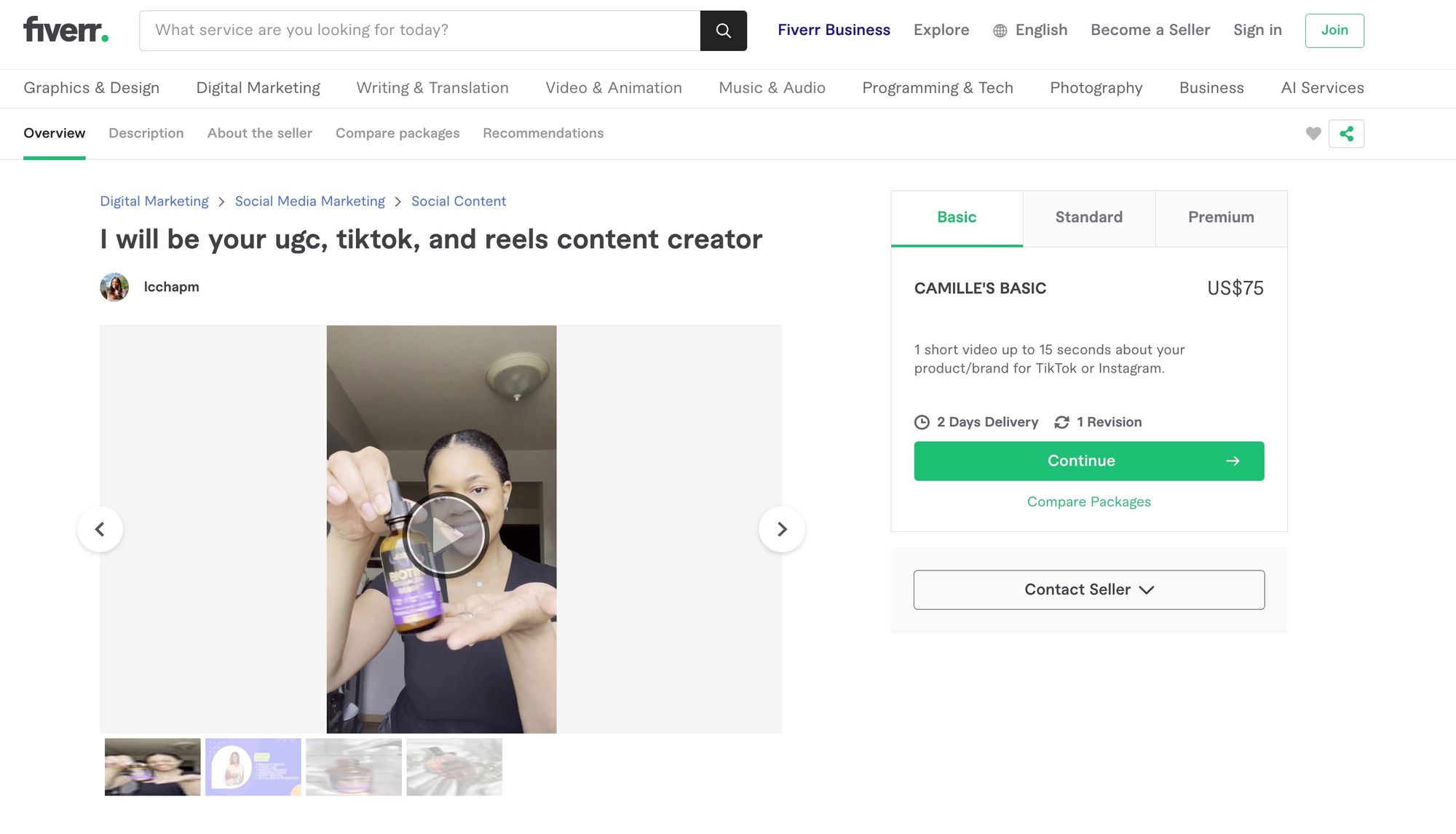 Connecting with brands and other creators through social media and industry events is also a great way to find potential clients. Reach out to that creator on TikTok for advice, or comment on your favorite brand's latest post about how great their content is to build goodwill.
Build an online presence
Having a strong online presence is optional but can be a great path to attracting clients. An active Instagram or TikTok account wouldn't be out of place in a portfolio. And if you double down on a niche, it can also help you attract inbound leads from potential clients.
It's more important than you think for brands and creators to have alignment (that's why our first point is "pick a niche"). As Jennifer Phan says, "If you are a sports or fitness brand reaching out to someone who visibly does something completely different, the content will likely not be the right fit and might end up rejected."
Improve and adapt consistently
Continuous learning is crucial for career success as a UGC creator. Regularly analyze your performance and seek feedback to improve your skills. However, complacency and resistance to change in a rapidly evolving industry can be a mistake.
You can't expect to gain confidence and clients if you don't understand exactly what brands. Jennifer advises implementing the following in your process of looking for and working for clients and creators alike:
Research: For brands, know where the creator's strengths lie (their portfolio and social media will tell you this) and for creators, determine whether the brand is the right fit for your passions and interests.
Campaign goals: For brands, setting goals for each video, even if it's just simple ones like "generating awareness" can help provide clearer direction to creators. For creators, understanding what terms like "driving signups" and "driving engagement" mean can go a long way to strengthening your relationship with a brand. It can also help you know the best way to format your content to achieve set goals.
Clear deliverables: For both brands and creators, it's vital you set expectations and attach deliverables to them. This can be stating that you'll get one TikTok video and Instagram Reel from a creator (brands) or a contract outlining payment terms and usage rights (creators).
Jennifer also added that even with all the formality, allowing creators the creative freedom to execute a brief authentically is important for getting the best out of a creator-brand partnership.
Determine how you want to approach your work as a UGC creator
Phew! That was a lot of information all at once. However, as the famous quote goes, "Whatever's worth doing, is worth doing well."
Think critically about what you want as a UGC creator and what you want to help brands achieve. Then, communicate that in your personal branding to connect with the best clients.  
To conclude, Natalie shares some important considerations for your future as a UGC creator when building your portfolio and online presence.
"You need to ask yourself if you want to work exclusively with one brand or be spread across. If you're known for working with one brand, and constantly show up on their page, you'll inevitably become associated with that brand. What we've done with Thingtesting is we've had one person as our tester at a time, and then that person like becomes just associated with us. Meanwhile, if you create for multiple brands within a niche that may affect how you show up online and for other clients."
Whichever path you choose to pursue, continue honing your skills and improving on your craft. Becoming a UGC creator may not immediately catapult you to thousands of dollars a month, but careful planning and consistent improvement can help you grow and acquire skills that will serve you in any other career path.