Welcome back to Creators Unlocked, a series where we interview creators about their best practices. Today, we've got Ayomi Samaraweera, TikToker and creator economy startup founder, on the docket.
Ayomi's journey as a creator immediately stands out because she didn't start in the creator economy as a TikToker, as many do, but as a TikTok employee (TikTokee, if you will). She's gone on to work at different companies (her own included) that target creators, but the initial experience informed a lot of her approach to the creator economy.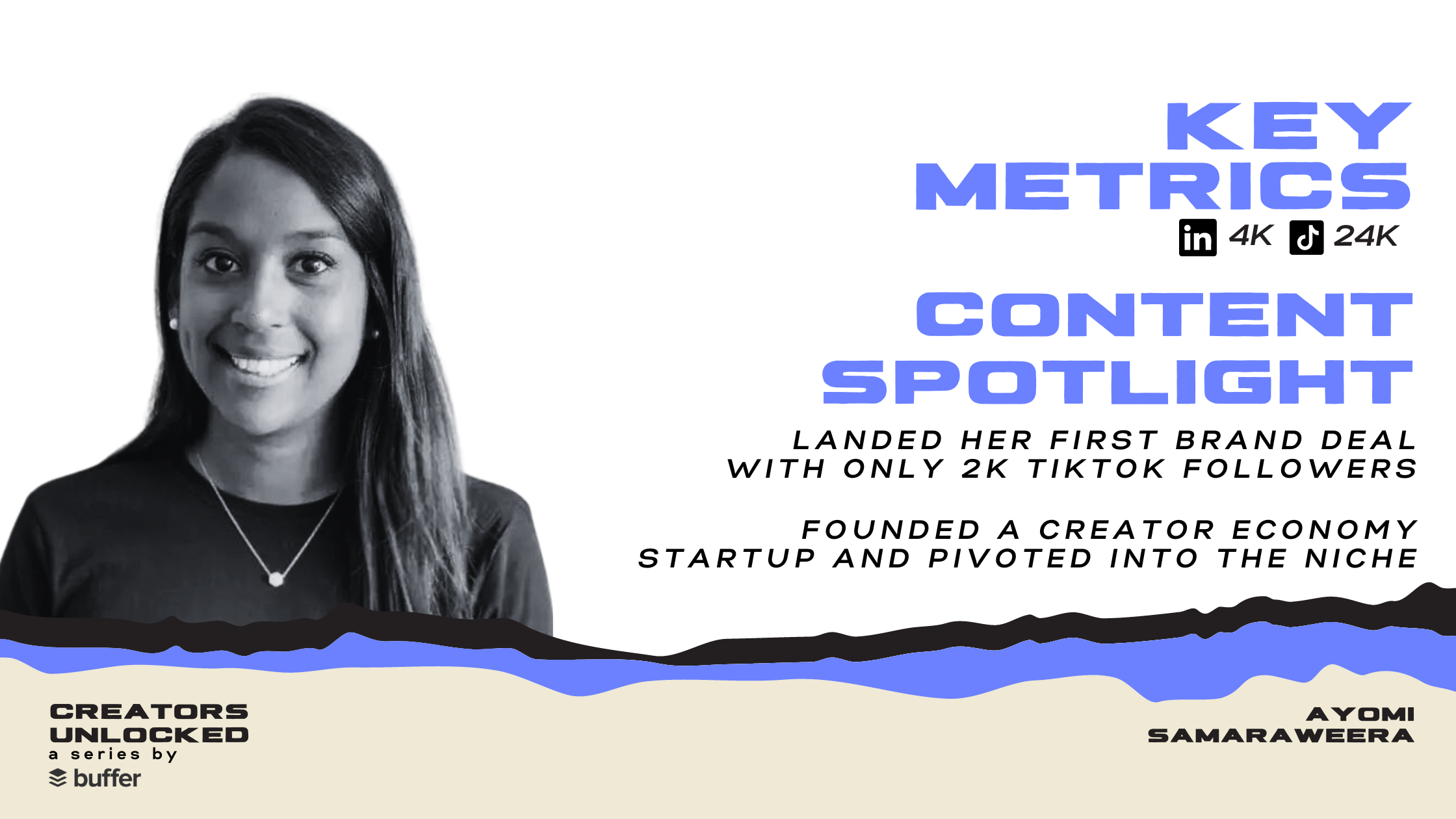 However, despite her history with the company, it wasn't working at TikTok that led to her joining as a creator – that came after. She details these experiences and her top lessons and advice in this article.
Develop a strategy for your content and the platforms you post on
An understanding of any platform you choose to create content for is crucial, but Ayomi's creator journey really highlights why it's so important. Consistent posting was the initial success marker for her TikTok.  
Ayomi shares, "After I started posting content consistently—twice a day for the first 30 to 60 days—I was able to train the algorithm to identify my target audience. Plus, I gathered valuable data on which videos were attracting an audience, converting viewers into followers, and which topics were generating the most engagement." The data she gathered from TikTok's analytics guided her content strategy and provided a roadmap for future content creation.
TikTok's not the only role that gave Ayomi critical insights into what can lead to creator success. Her time at Jellysmack – a startup that assists creators in expanding to multiple platforms – showed her that a presence on multiple platforms is non-negotiable for growth.
The main reason? Relying on one platform can be risky. Ayomi points out that "If the platform disappears or its algorithm changes overnight, creators could be left in a difficult position. Nowadays, multiple platforms for short-form content, such as TikTok, YouTube Shorts, and Reels, offer monetization opportunities. Being multi-platform not only provides a safety net but it can also help reach different audiences, facilitating the growth and diversification of your follower base."
Ayomi's taking her own advice as she evolves in her creator journey. One of her goals is to branch out to multiple platforms. As she explains, "I've started creating content on LinkedIn and am now part of their Creator Program, which is exciting. I also want to build my presence on YouTube Shorts and Instagram Reels, so that's a significant multi-platform goal for me. I've worked for companies that emphasized the importance of such a strategy, so it's time I implemented it myself."
Prioritize your mental health
Creative burnout is the reality of many creators, and there's not enough support from platforms, brands, and agencies. As Ayomi highlights, "It's intense to constantly create content and share aspects of your life." She also mentions that pushing through rough patches doesn't work for her, as her mindset heavily influences her creative process. This means if she's not in a positive headspace, she can't create.
So, how does she stay consistent and keep up with her mental health, you ask? With batched content. "You might notice me wearing the same outfit across four or five videos because I've batch created them while in a creative zone, she explains.
However, she doesn't push herself if there are no backups and she's just not feeling it. "There are times when I may not post for a week, either due to time constraints or the need to feel passionate and mentally prepared to produce quality content for my audience."
For creators, Ayomi's advice for burnout prevention is three-fold:
Talk about what you love so it doesn't feel like a chore. This is part of why she wouldn't recommend sticking to a single niche. "It's beneficial to have multiple interests and discuss different parts of your life." Expanding her content and sharing her genuine passions makes content creation feel less like work and more like sharing the excitement with her audience.
Build in breaks. "Being a creator is a job, and you should treat it as such. Avoid working excessive hours; take time to eat, see friends and family, and take vacations. These principles should apply to content creation, whether you're doing it full or part-time. Every creator needs time to recharge," she recommends.
Setting boundaries – it's perfectly okay to keep parts of your life private. "While I'm happily married, I don't usually discuss my personal relationship. Other than a TikTok I once coerced my husband into (he's not into social media), I've kept that part of my life private." Boundaries around what to share and what to keep private can be instrumental in preventing creator burnout.
In essence, prioritizing mental health is a non-negotiable for creators. Ayomi's story highlights the importance of a positive mental state for sustainable and consistent content creation.
Consider how your expertise can fuel your content
Ayomi started out posting content about her experience from her decade-long career as a management consultant on TikTok. "From the get-go, I knew I wanted to focus on a niche where I felt confident: my experience in management consulting and working in a corporate environment. So, I began posting content in the summer of 2022, offering advice on careers and interviews, insights into being a management consultant, tips for job applications, and speedy promotions, among other things—all based on my personal experiences."
Knowledge from her time at TikTok influenced her approach to content, and she doubled down on a niche early on, which allowed her to grow quickly. Being so specific meant that her audience was immediately drawn to her content, which allowed her to build a fanbase quickly. She also adopted tactics described as "marathon" that led to some of her early success, including posting two videos a day from Monday to Friday for a month.
"My initial strategy was to think back on my early career days as a management consultant. I pondered, "What advice would I have valued then? What do I wish I'd known, and how might that knowledge have altered my decisions?" I aimed my content at myself a decade ago, focusing on lessons learned and actions I'd take differently if given a second chance," she shares.
For Ayomi, the objective of her content at the time was to guide individuals, especially young people new in their careers, who might lack accessible mentors or guidance in their networks. People loved it – she landed her first brand deal with only a few thousand followers and grew to 10,000 in three months of posting.
Despite her early success and deep knowledge of social media, Ayomi's constantly learning. "Even though I worked at TikTok, I don't consider myself an expert. I'm constantly finding new ways to maximize the platform, staying up to date with new features, and trying to extract as much value as I can from the tool," she advises.
She also highlights other creators as a valuable source of knowledge, with one key reflection, "Every day presents a new opportunity for growth."
Lean into opportunities for evolution as a creator
It's natural to evolve as people, and creators are no different. Ayomi's new reality as a startup founder means her content will inevitably change. While the bulk of her audience came from her humorous career content, she'll be posting more creator-focused content and snippets from her experiences as a founder.
The challenge with evolution comes when it affects creators' growth. Niching down can be great but as Ayomi acknowledges, it can be difficult to pivot. "Experimenting with different content sometimes results in lower engagement, which could be viewed as content 'flops'," she explains.
However, she doesn't see lower engagement posts as flops – just more slowly reaching the right audience. She also points out that many of her followers have been supportive and are following her journey, engaging positively in the comments.
So the numbers might be dipping, but Ayomi's shifting her focus from metrics, especially vanity metrics like views. "If we become too fixated on [metrics], it could discourage us from venturing out of our established niche because new content may not always perform as expected," she shares.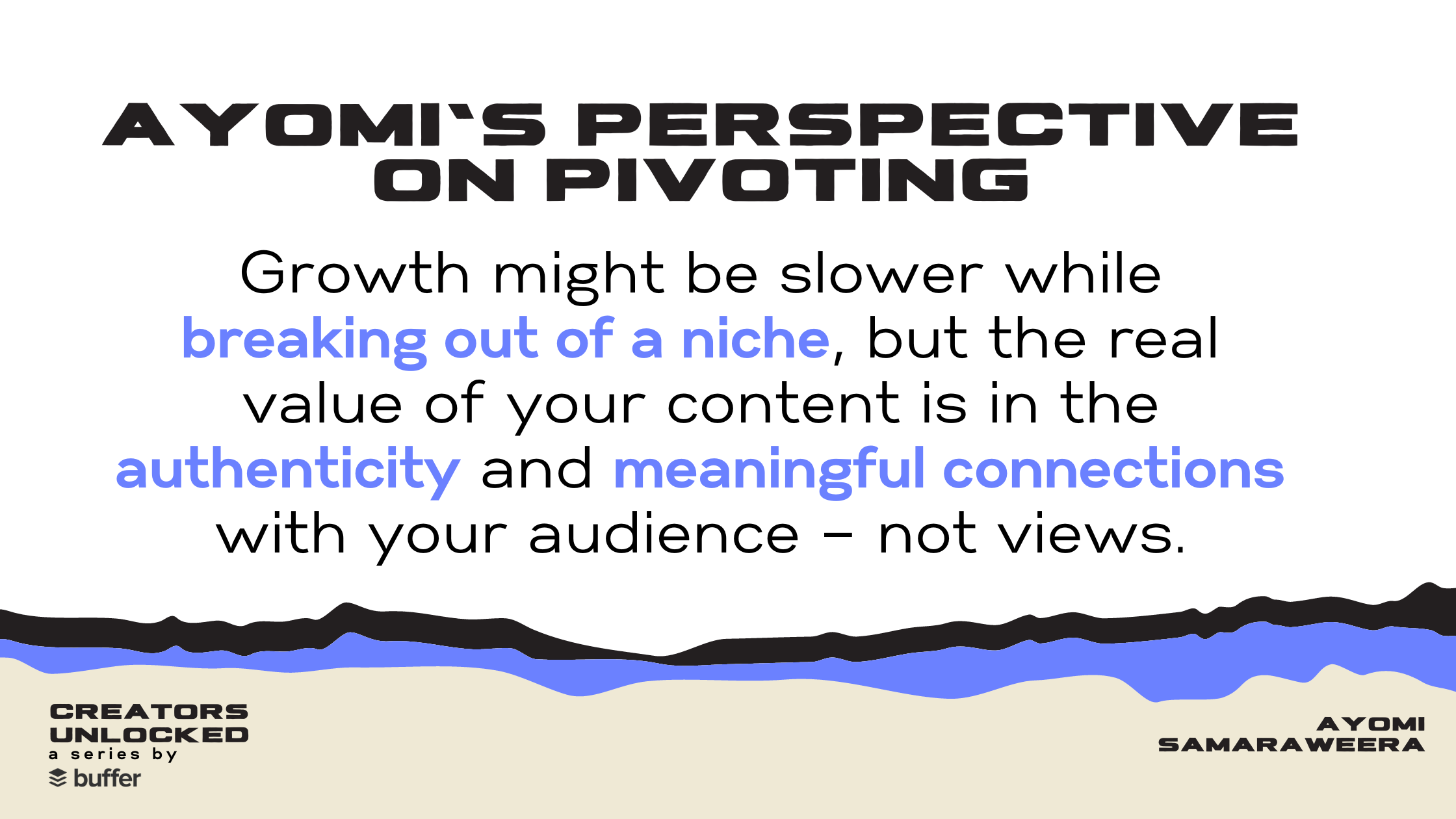 "Ultimately, I enjoy the content I'm creating and will consider myself successful if, by the end of this year, my audience has diversified beyond just those seeking career advice and aiming to break into consulting. If I've reached a broader spectrum of people with my content, that would be a true success for me," she adds. So, although growth might be slower while breaking out of a niche, the true value of Ayomi's content is in the authenticity and meaningful connection with her audience – not views.
Create for your audience – but also for yourself
Ayomi started posting on TikTok to better understand the target audience of her startup, Canopy – creators. "I wanted to gain firsthand experience of the challenges creators encounter and understand their day-to-day realities to serve them better…I also wanted to grow my network of creators. So, I thought becoming a creator myself would offer the best perspective on the hardships creators face and the journey from zero followers to a growing audience," she explains.
When thinking about what she wanted to share, she decided to focus on career content for people new to theirs, especially in management consulting. She fueled a lot of her content with the questions and comments from her audience, explaining, "When a particular comment gathers hundreds or even thousands of likes, I perceive it as a topic of audience interest and often respond with a video, which proves to be a great content idea hack on uninspired days.
Success for me is about building a community – that goes beyond merely accumulating views. Community building and establishing trust takes time – Ayomi Samaraweera, Founder & Creator
However, she clarifies that although she's very strategic about content, she doesn't let the technicalities influence too much of what she creates and how she does it. "Success for me is about building a community – that goes beyond merely accumulating views. Community building and establishing trust takes time. For instance, I posted two videos recently; one garnered 300,000 views, while the other had just 500," she says.
"But I'll continue making content like the lesser-viewed one because it's aimed at a specific audience – those on a startup journey with me. It's not about the numbers but about accompanying those interested in the journey and building a dedicated community."
For Ayomi, her content isn't about catering to her audience but about making sure her advice reaches and resonates with the people who care about the knowledge she shares or her journey.
This approach translates to measuring the success of her content which, as she puts it, is all about Impact. "I define success by the degree to which I'm able to help people. So when I receive a direct message or an email or see a comment from someone saying that one of my videos helped them pass an assessment center or land a job with a Big 4 company, that's success to me." It's not about the views but the tangible difference her advice makes in people's lives.
Takeaways
Here's the TL;DR from Ayomi's story and journey as a creator
Develop a multi-platform content strategy: Ayomi emphasizes the importance of being present on multiple platforms to avoid the risk associated with reliance on a single platform. By being multi-platform, creators can reach different audiences and diversify their follower base.
Prioritize mental health to avoid creator burnout: Ayomi points out the intensity of constantly creating content and shares her strategies for maintaining mental health, including creating batched content, building in breaks, and setting boundaries regarding personal life.
Leverage your expertise in your content: Ayomi's success on TikTok was largely due to her focus on a niche where she was confident—her experience in management consulting and working in a corporate environment. Her strategy of directing content at her younger self resonated with her audience, helping her quickly build a following.
Embrace evolution as a creator: Ayomi's journey shows that it's natural for content to evolve as a creator's life changes. Even though this may result in slower growth or lower engagement, the true value of content lies in authenticity and creating meaningful connections with the audience, not just in high view counts.
Create content that resonates with your audience and fulfills you: Ayomi's strategy is centered around creating content that provides value to her audience while also aligning with her passions and interests. For her, success is defined by the impact her content has on her audience and not just by metrics or view counts.