When it comes to hearing great social media advice, I seem to have a bit of a preference: I quite enjoy finding the advice that fits my questions specifically.
And wouldn't you know, my questions are likely to be different than your questions and yours different than the next person's. Social media is a brilliant puzzle to solve, and we often seem to be working on different parts of the picture.
So what are social media's biggest questions?
To find out, we asked.
We solicited feedback and questions from our list of 40,000 email subscribers, asking each of you to ask us anything. And you did! We received hundreds of questions in response, each of which we're eager to research and reply to. For starters, we grabbed 17 frequent asked questions about social media marketing. Come see how we might answer them.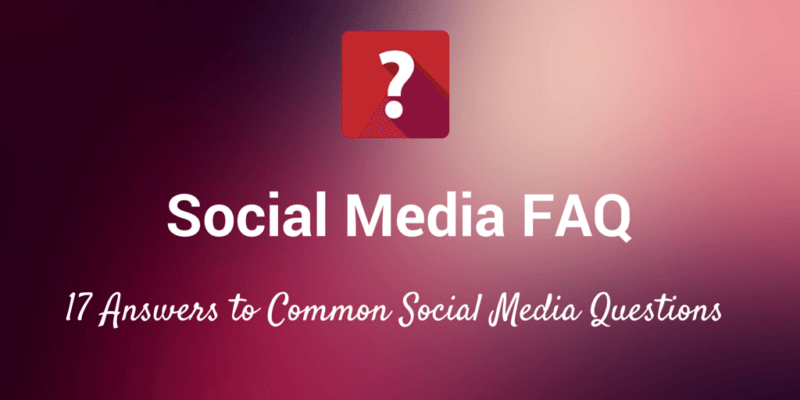 1. How to find content specific to your audience
Help! I work with restaurateurs and am on the hunt for relevant content to share with them. How can I find content more specific to my audience?
We've had the privilege of sharing so much great content via our Buffer app's content suggestions, and we've found a huge number of helpful tools, newsletters, and services to help surface great content.
Some of these tools could be a bit specific toward a digital marketing audience. Still others let you customize the content that's best for you.
1. Tell BuzzSumo the category of content you're looking for, and BuzzSumo returns a list of the most highly-shared articles from the past year, past month, past week, or more.
Here're the results from a quick search for "restaurant."

2. Follow people on Twitter and Facebook who share articles you love, and let Nuzzel email you with the most-shared content from those you follow.
Nuzzel sorts through your friend lists on Facebook and Twitter to find the articles that they're sharing. If you have a finely curated list of influencers or a relevant slice of your audience among those you follow, you can expect some really useful and on-message results.
Tip: If you want to try a variety of following strategies, you can create a separate Twitter account and only follow those who serve the most relevant articles. That way Nuzzel will pull from your select list, and you can follow however you want on your other channels.
3. Try out some of these other great tools.
2. How to spread a tweet beyond your audience
I'd love some advice on tweeting people I don't know or follow with information about our company's campaign. I don't want to spam and annoy!
Getting extra attention to your campaign can be done a couple different ways. If you're open to paying a bit for Twitter advertising, you can opt in to have a new or existing tweet appear in the timeline of other folks. You pay when a user engages with your tweet, and the average bid per engagement tends to be around $1.50 or $2.00. (You can also run campaigns to get more followers, more clicks, and more leads.)
Twitter ads also lets you fine-tune your ad so it reaches a targeted audience based on region, language, device, keywords, interest, and/or related followers.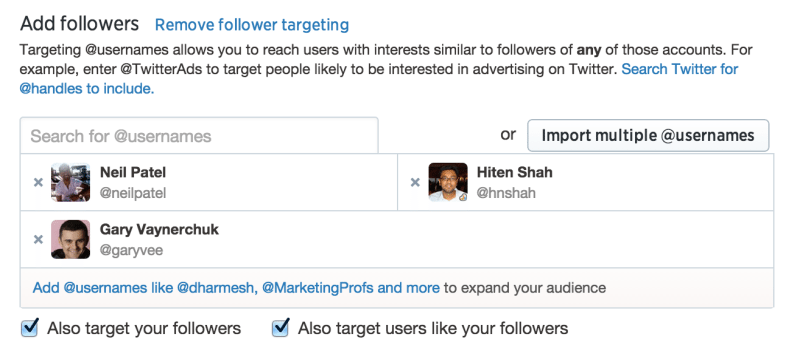 For a free way to help spread your tweet, use hashtags.
Tweets with hashtags receive two times more engagement than those without. Why? One explanation is that hashtags are easily searchable. If you're running a campaign for your nonprofit and include the hashtag #nonprofits, anyone searching for the term—whether they follow you or not—could see your tweet.
Along with adding hashtags to your content, you can also use hashtags to find relevant folks to follow. Searching for "#nonprofits" will show you those who are using the hashtag. Follow these users. When they follow you back, you can start a conversation and intro your campaign.
Tip: To stay on top of your new followers, consider an IFTTT or Zapier recipe that adds all new followers to a spreadsheet.

3. Where to find content when you're light on material
What do you guys do when you're running light on material (activities or products) to market? I have an arts org. that's pushed back their season (so no upcoming events to plug) but still is interested in keeping their Facebook fans engaged and building their Twitter. Similarly, a friend is in the early stages of starting up his own SAAS company and wants to begin some value adding and network building marketing but it's early and he's still sorting out his product and company personality. Thoughts?
Keeping a social media timeline full of great content is a bit of a passion project of ours!
Some of my favorite tips for filling the social media channels at Buffer include:
Hunting down great content using some of the tools and options mentioned above (BuzzSumo, Nuzzel, Digg Deeper, etc.).
Blogging. If you don't yet have a firmly established product or voice, you can share behind-the-scenes with your process or share your thoughts on the industry. Here're 39 blogging tips and tools to get you started.
Sharing stories more than once.
This last point has been a great one for us. Resharing content to social media sounds a bit taboo at face value, yet we've found practically zero downsides to the practice. Sharing the same post more than once allows you to reach people who didn't see the message the first time.
This could be people in different time zones, followers who have arrived since you last shared the article, or users who never quite got to the content the first time. And resharing keeps earning clicks and engagements, too. Here's a quick graphic from Tom Tunguz's experiment with this strategy.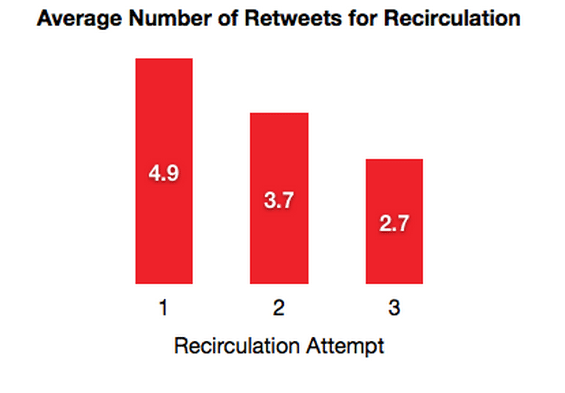 When we practice this strategy, we aim to write a new style of update for each reshare (we've also found that the same text works pretty great, too!).
4. Best practices for tagging people and pages
Tagging people/pages. Any ideas?
The big benefit to tagging people and pages on social media is that you're instantly connected to these users and companies. Your update links directly to their account, and the users and companies get a notification that they've been mentioned. It's a great way to gain a bit more traction and awareness for your update.
Here's a bit about what I've observed on how best to tag:
Add a "via @username" to the end of stories you share on Twitter. Most often, the "via" references the author who wrote the story or the site that published it.
Add a "HT @username" to credit those who turned you onto a story or idea. HT is shorthand for "hat tip," the practice of tipping one's hat toward another person to say thanks.
When referencing a person or company in an update, replace their name with their tag or username.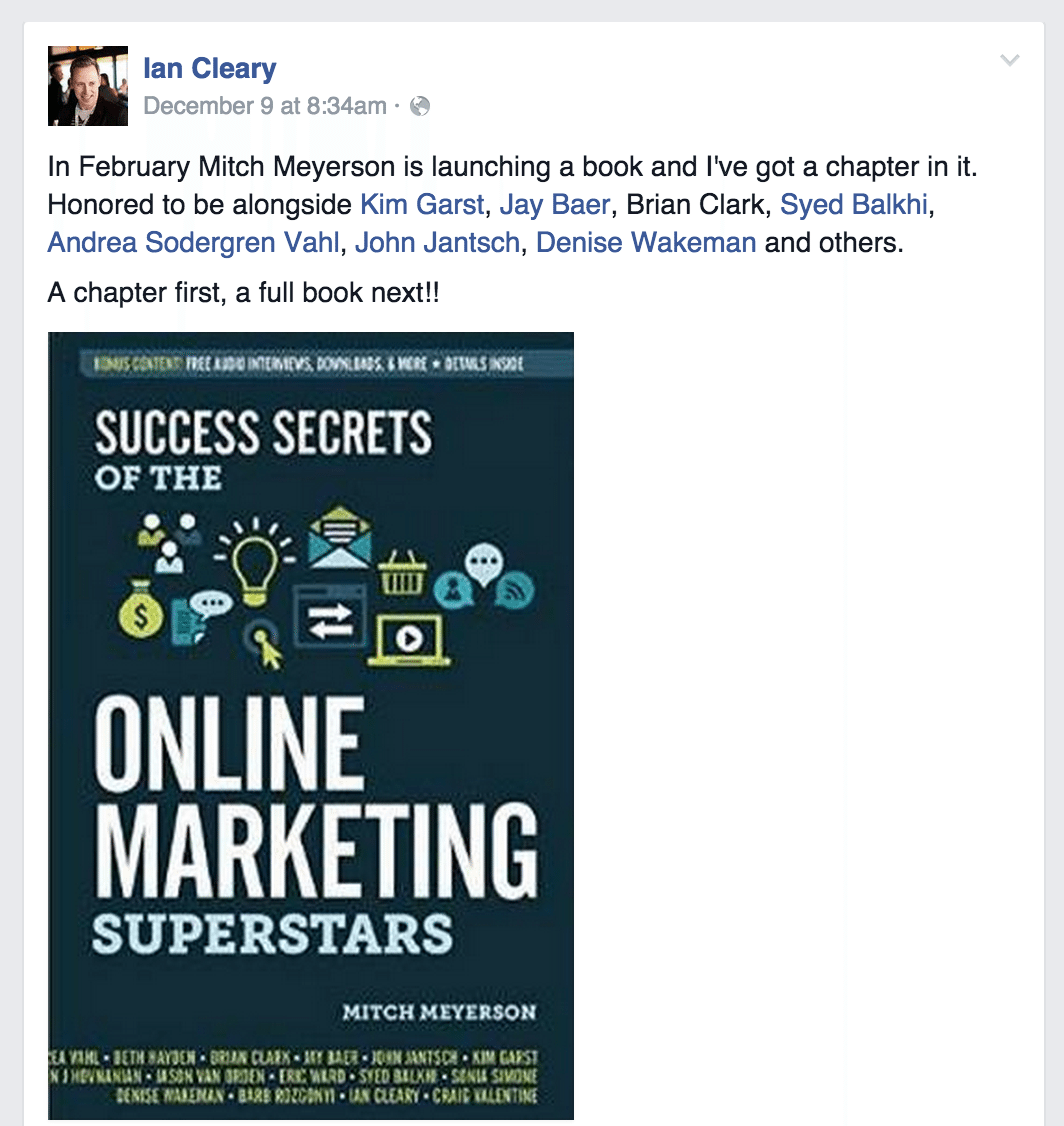 5. How to get your customers involved and engaged
How to get the customer truly involved
Engagement—the sum of reshares, likes, comments, and clicks—is a big signal of social success for many people. How do you get more people talking about and interacting with your brand on social media?
Ask questions
Share behind-the-scenes
Run a contest
Host a chat
6. Can you carry over a social strategy from one channel to the next?
How to integrate/contemplate the strategy from one social media channel to another in a social media marketing plan? For example Facebook or Twitter to Pinterest or Instagram.
In general terms, the social media strategy that you have in place—are you after sales? loyalty? awareness?—is likely going to work great across all your channels.
The biggest changeup will be in the implementation.
For example, your social media posting frequency will look different on Twitter than it will on Instagram. At Buffer, we follow a posting schedule for our new content, publishing updates at different intervals depending on the channel.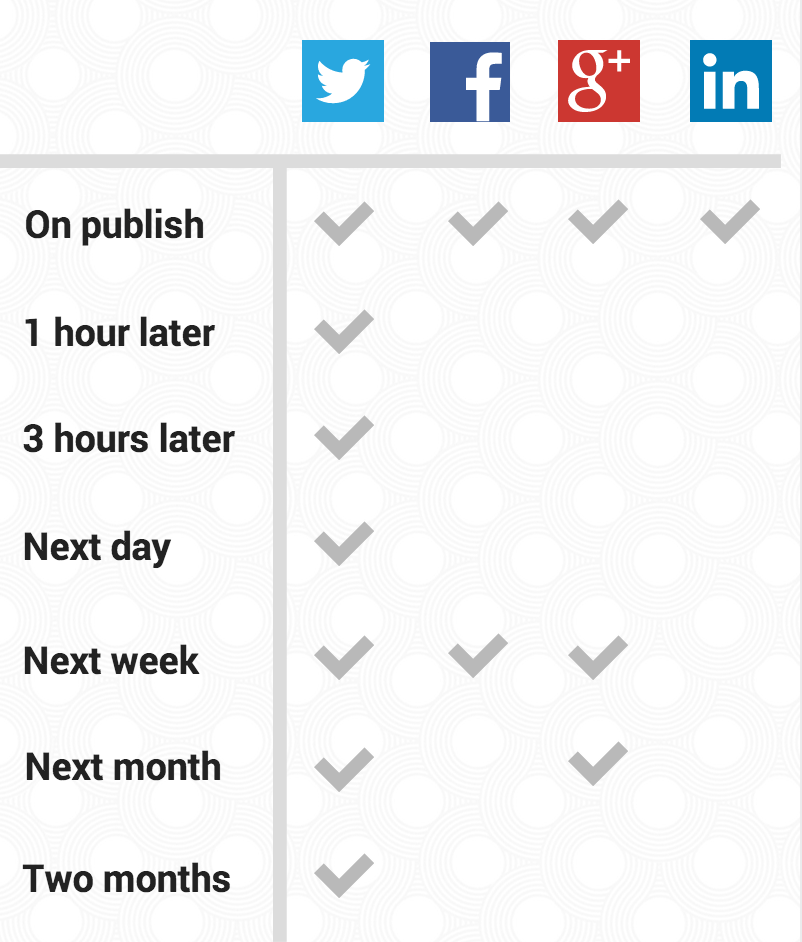 The type of post itself may matter, too, based on the social channels you choose. For instance, on Twitter we rely pretty heavily on visual content, sharing a lot of tweets with images. On Facebook, we share lots of visuals along with several text-only updates in the form of questions and conversation starters.
Another consideration to make is for the ideal image sizes of the content that you share. For instance, horizontal images work best on Twitter whereas long, vertical images work best on Pinterest. Omnicore has a great list of all the image sizes for each network.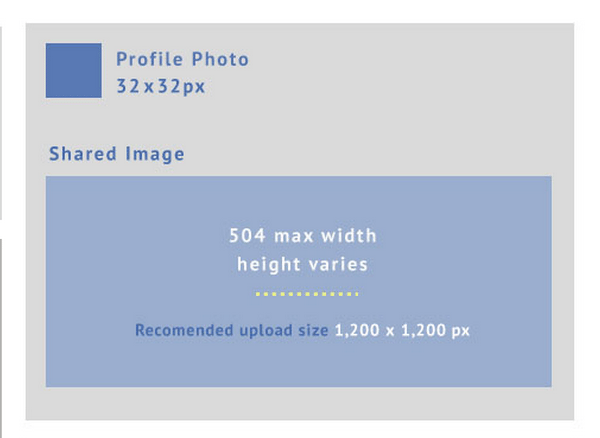 Additionally, along with the image sizes, the text itself is likely to look a bit different. Twitter's 140-character limit will obviously make for a unique message compared to the more open-ended styles on Facebook and Google+. We've covered a bit about ideal lengths of social media updates before, and you can use these best practices as a good starting point.
7. How to get more retweets on Twitter
So few of my tweets are RTed or favorited. I understand this for the promotional ones, which I try to disperse sparingly, but even the ones I feel offer great content have trouble getting traction.
I'd love for there to be one tried-and-true tip to get more retweets on Twitter. I'd use it exclusively!
That being said, I've yet to find a silver bullet for more retweets. Here are a few of the most helpful strategies I've found so far.
Include an image with your tweet. Tweets with images receive 150 percent more retweets than those without.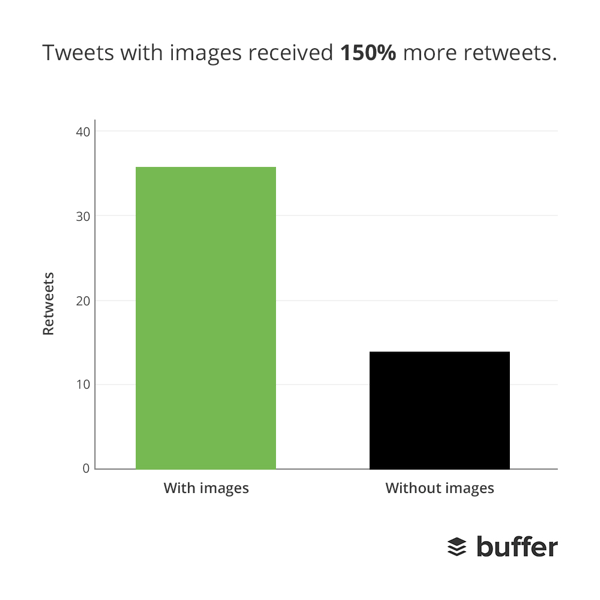 Tweet a maximum of 100 characters. This leaves room for others to add their own message when they retweet.
Tweet at the optimal time. Check your Twitter stats to see if there's a certain time of day when you get the most engagement on your tweets. Many people have found this time to be when their most followers are online; you can use Followerwonk to find these times and implement a schedule directly into Buffer. (Late night might be a great time, too!)
Increase your following. Find relevant users to connect with on Twitter. We put together a guide on how to get your first 1,000.
8. Top 5 reasons why social media is worth the investment
As a social media company about to launch, what are the top 5 things I can tell potential clients that will persuade them that social media works and is worth the time/money to invest in? I can go with the usual build brand awareness, customer engagement etc but even this seems to be met with skepticism – does it make me money? That's what they want to know. How would you answer that question?
Building brand awareness and customer engagement are really great reasons for brands to join social media! Along with those, here are five more that might help convince someone to join.
1. Social media is a key driver of traffic to your website.
If a key goal is to get more people in the proverbial door, then social media is essential. SEO is like the phone book. Social media is like word of mouth. And you can track the effect of this word-of-mouth traffic by digging into your Google Analytics reports.
In Google Analytics, go to Acquisition > Channels to see the high-level breakdown of where your website traffic comes from. Here's a look at the amount of traffic that social media brings our bufferapp.com domain: 15 percent directly from social, and possibly more via word-of-mouth direct traffic and visits from the blog via social media.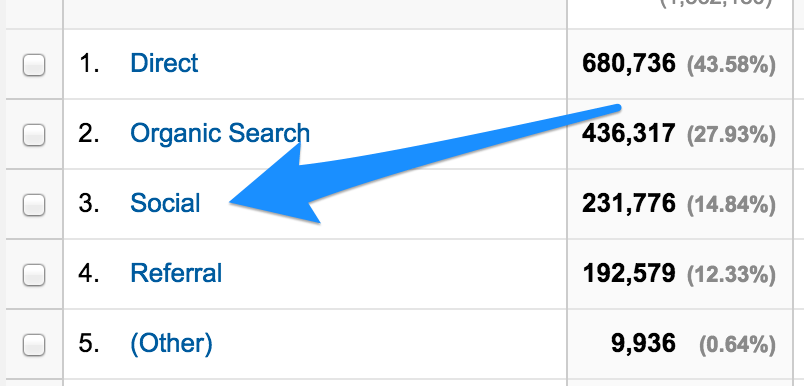 2. Social media influences buying behavior.
This effect is especially true for millenials, according to a Harris Interactive poll.
68% of 18-to-34-year-old social media users surveyed were at least somewhat likely to make a purchase after seeing a friend's post.
3. Customers expect and appreciate support via social media
Not only is social media great for engaging with your customers, it's also really useful for helping them. Customer service on social media is growing more and more essential, and the customers are leading the charge. They expect to find solutions on social media, as this report from Lithium Technologies states:
More than half of Twitter users actively engage with brands via the social networking platform and nearly half prefer Twitter to other forms of communication when they have questions about a company's products or services.
4. People are likely already talking about your brand on social media.
Set up Mention alerts for your brand name or keywords, and you're likely to find that there are conversations happening all the time on social media about your company. You can participate in these conversations if you're on social media.
5. You can measure ROI, however you want.
"Does social media make me money?" That figures to be a key question that a lot of executives might ask. And there are definitely ways of finding out.
You can dig into Google Analytics and set up funnels and goals and conversions. This'll give you one view of ROI. Quick Sprout has a great guide to getting this set up.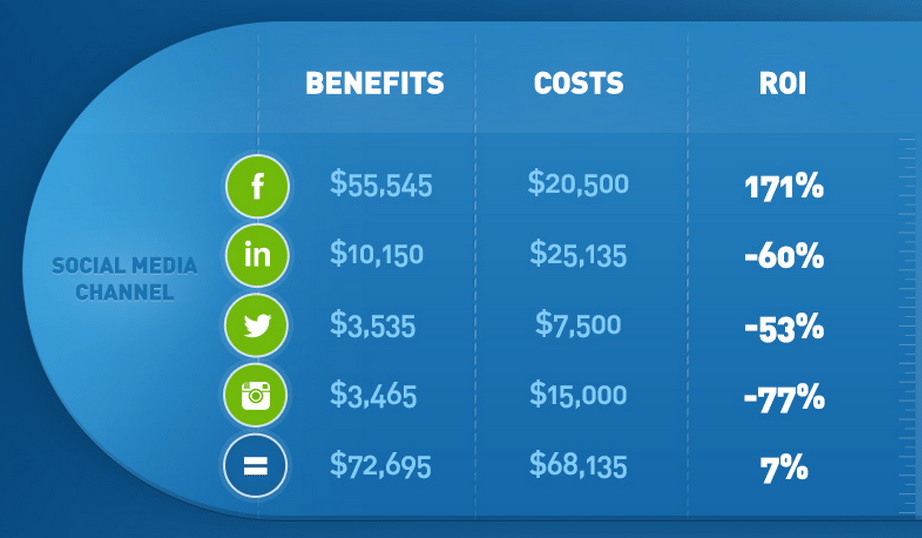 You can also aim to measure return in other ways—market share, mentions, sentiment, followers, etc. And the great thing about social media is that the "investment" part of "return on investment" figures to be minimal. Social media channels are free to join. The main costs you might incur is the time and salary of a social media manager and any advertising or tools you choose to buy. The barrier of entry into social is minimal.
9. Facebook advertising budgets 101
How much budget should be allocated to paid ads on Facebook if you would like to generate 500 likes a month? Is there an approximate value? Also, how important is boosting posts and what does it do for a Facebook page?
We've aimed to try as many different organic Facebook strategies as possible to grow our Facebook reach and land a spot in our fans' Facebook news feeds. We've learned a lot; much of it has worked.
That being said, Facebook advertising seems to be a great option to try for boosting reach and exposure on Facebook.
Working with a small budget, what can you expect to get from Facebook ads?
Moz reports that spending $1 per day on Facebook ads gets you in front of 4,000 new people.
A budget of $5 per day for likes could get your page in front of a targeted group of 700 per day. If you convert at a 10 percent rate, you'll have 500 new followers in one week, having spent $35.

Typically, when it comes to Facebook advertising, the most common uses for brands tend to be boosting posts and promoting one's business page. Facebook's ad center lets you create ads for all these different options:
Boost your posts
Promote your page
Send people to your website
Increase conversions on your website
Get installs of your app
Increase engagement of your app
Reach people near your business
Raise attendance at your event
Get people to claim your offer
Get video views
Boosting posts is so common because Facebook makes it so easy. From your Facebook page, you can click the Boost Post button in the bottom, right corner of any post.
When you click to boost, you have the option of choosing who gets to see the post—people who like your page, those who like your page and their friends, or a targeted group of people. If you choose the targeted group, you can get your content in front of people who may be ideally suited to engage with it. You can also set the budget and the duration of the campaign, then you're set.
Boosting a post can bring extra engagement to the content. It can help raise awareness of your page and increase your page likes. It gets your content in front of more people who may care to see it.
10. How to respond on social media right away
How can I set up automatic reciprocation on social media sites like Twitter & WordPress? There isn't enough time in the day to reciprocate on all the social media sites I'm active on -Twitter. WordPress. Tumbler. Instagram. Stumbleupon. Facebook & Pinterest. I see that some of the folks that follow me reply with a like or tweet as soon as I post – I'd love to know how to do that!!
I've been the recipient of some of those magic-fast replies, too. It's quite amazing!
There are some fully automated ways to do this via IFTTT and Zapier recipes. Basically, you can tell IFTTT or Zapier something like "if a new person follows me, then send a thank you message." I'm not too keen on automation to this great of a degree. I find you're better off doing this type of engagement organically.
A key to quick reciprocation on social is to receive fast notifications. You can do this by keeping by your computer during work hours (one of the busiest times for social media interaction) or by setting up alerts and notifications from a mobile device.
When you're at the computer, you can keep open a social media tool like Tweetdeck or you can pin a browser tab with the web version of the social channel. For instance, if you keep Twitter's "Mentions" tab open, the tab itself will update with a number when a new mention occurs.

Another way of staying on top of notifications is to edit your email settings. The major social channels all allow for instant email notifications when certain events occur—new mentions, new followers, or engagement with any post you've published.
And lastly–and a bit out there—you could have try some neat integrations with the Internet of Things, setting your lights to flicker when you get a new follower, for instance.
Bonus: The best way to share the content you love, automatically
I'd love to know more about the process of finding content from sources I like to track (simple RSS feed) and getting the basic info necessary to write a tweet (outlet and author handles, relevant hashtags) efficiently.
This one sounds like an amazing time saver. I've found a number of strategies that help with various aspects of this—nothing quite yet that does auto-hashtags, auto-handles, and auto-sharing! Here are the solutions I've used.
Strategy #1: Automatically share the items you favorite in Pocket
You can add an IFTTT recipe that automatically adds to your Buffer any article that you favorite in Pocket. There's even a great recipe that includes an image from the article as well.

Strategy #2: Add your favorite articles to a spreadsheet
IFTTT and Zapier also handle automatically moving the content in an RSS feed into a spreadsheet, splitting out the title, url, author, and more. Then from the spreadsheet info, you can compose the social media updates in just the way you want.
Strategy #3: Use the intuitive Feeds inside Buffer
Awesome and Business users of Buffer enjoy 15 feeds per social profile, so you can share directly to your social media queues from any RSS right within the Buffer app. When you click to share a post from a feed, you get the chance to quickly add to the update any handles or hashtags you wish before scheduling the post into your queue.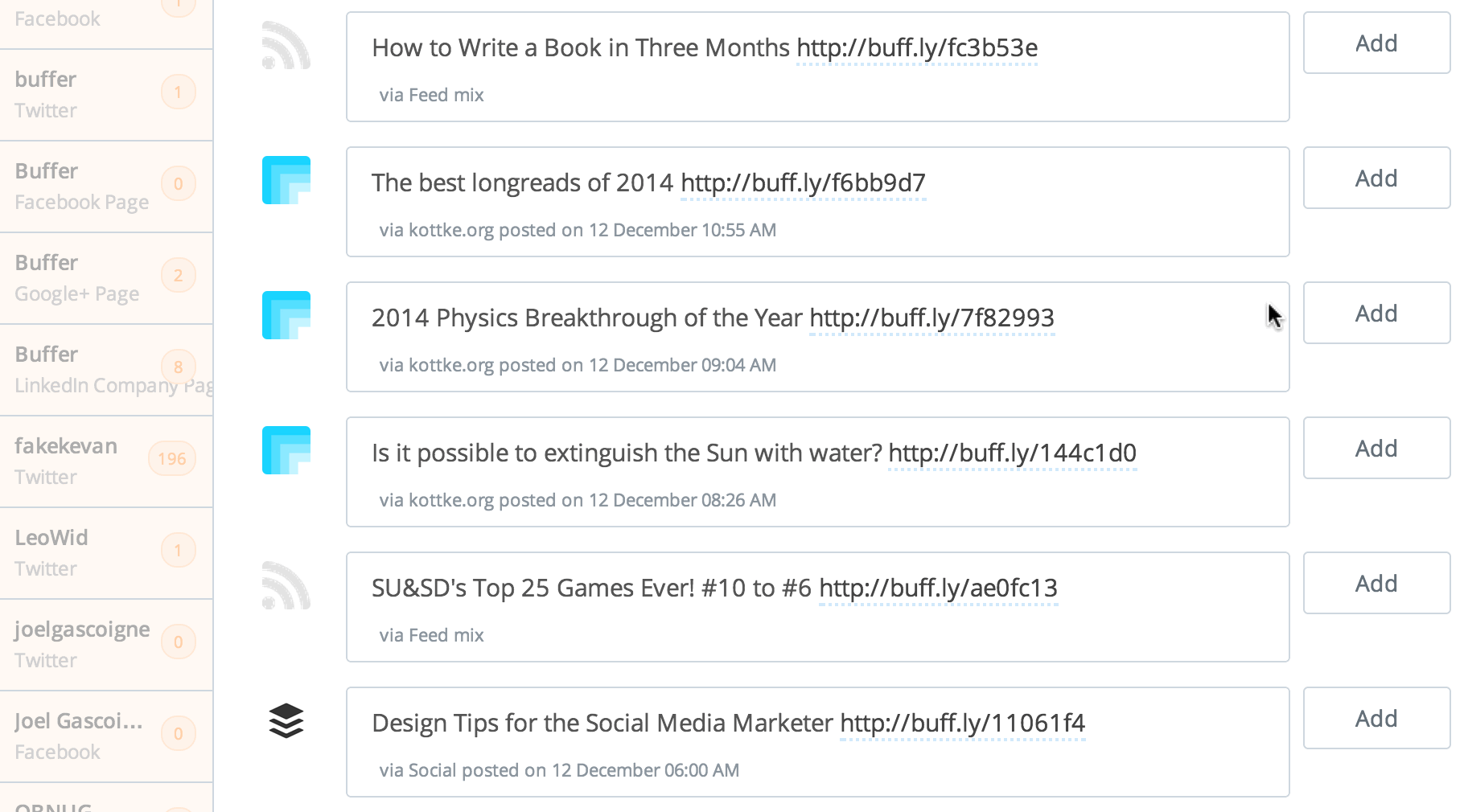 Strategy #4: Use a helpful tool like Twibble
Twibble is an RSS-to-Twitter tool that lets you publish new posts automatically to your Twitter feed, complete with a featured image pulled directly from your article. You can edit the times that new posts go out, the frequency with which they're sent, and the text and attribution on each—including an automatic hashtag or two.
What other questions do you have about social media marketing?
We're always interested in hearing more about the questions you're dealing with each day. Let us know! We'd love to help out however we can.
If there is a question or topic you'd love for us to cover here on the blog, let us know in the comments. And if you've got any thoughts on the answers to these frequently asked questions, feel free to add them. Looking forward to hearing from you!
Image sources: IconFinder, Blurgrounds, Tom Tunguz, Quick Sprout, Startup Stock Photos