Spectacles are the first hardware product from the company formally known as Snapchat. The camera-equipped glasses were announced in September 2016, at the same time as Snapchat became Snap Inc. and rebranded itself as "a camera company."
From the moment they were announced, Snap had the marketing industry, and more importantly, their key 16-24-year-old demographic, clamoring to get their hands on Spectacles. But, in what turned out to be one of the most creative marketing campaigns of 2016, Spectacles are extremely difficult to get hold of and the demand still far outstrips the supply.
Spectacles are only available via Snapbots – yellow vending machines dropped in random (often remote) locations. The first Snapbot was dropped in Venice Beach, not too far from Snap's Los Angles HQ, and the demand was instant. People waited in line for hours in the hope they could scoop up some of the $130 glasses and with demand so high, Spectacles were reselling for much higher prices (well into the thousands) on eBay.
The Venice Beach Snapbot was followed up by releases in Big Sur and a remote area near the Grand Canyon – leaving Spectacle-searchers on a hunt to find their nearest opportunity.
Then, it happened!
Snap dropped a special holiday pop-up Spectacles store in the heart of Manhattan. Being a remote team, we luckily had Buffer teammate and New Yorker, Julian, in the neighborhood to stop by and snag a pair for our experimentation.
I had the privilege of taking the Snap Spectacles for a ride over the past weekend and I must say, I'm hooked.
I'm excited to break down everything there is to know about this nifty tool and even share a few tips on how to take better Snaps with Snapchat Spectacles.
Let's do it!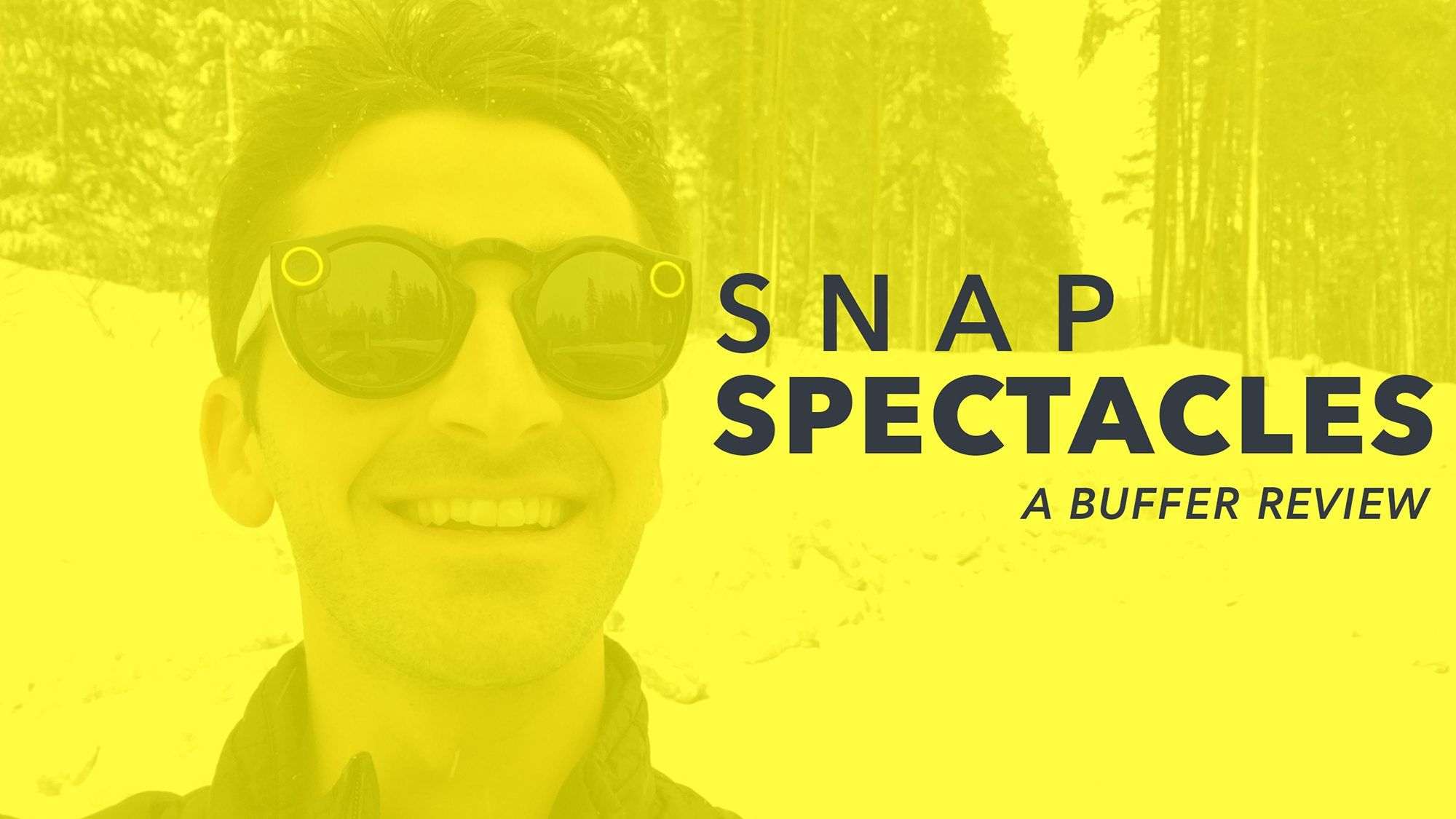 Snapchat Spectacles overview and how they work
For a TLDR version of this review, I put together a quick (1:25) video with some of my favorite moments from the 48 hours with the Spectacles along with a few thoughts on what brands and businesses might use them for. Hope you enjoy!
The packaging
Arriving in a clear tube with a bright yellow box inside, Spectacles had me intrigued right from the start. The process from opening the package to filming my first snap was super easy and straightforward.
The Spectacles kit comes with a yellow carrying case (which also acts as the charger), a USB-powered charging cord, a small instructions booklet, and, of course, the Spectacles.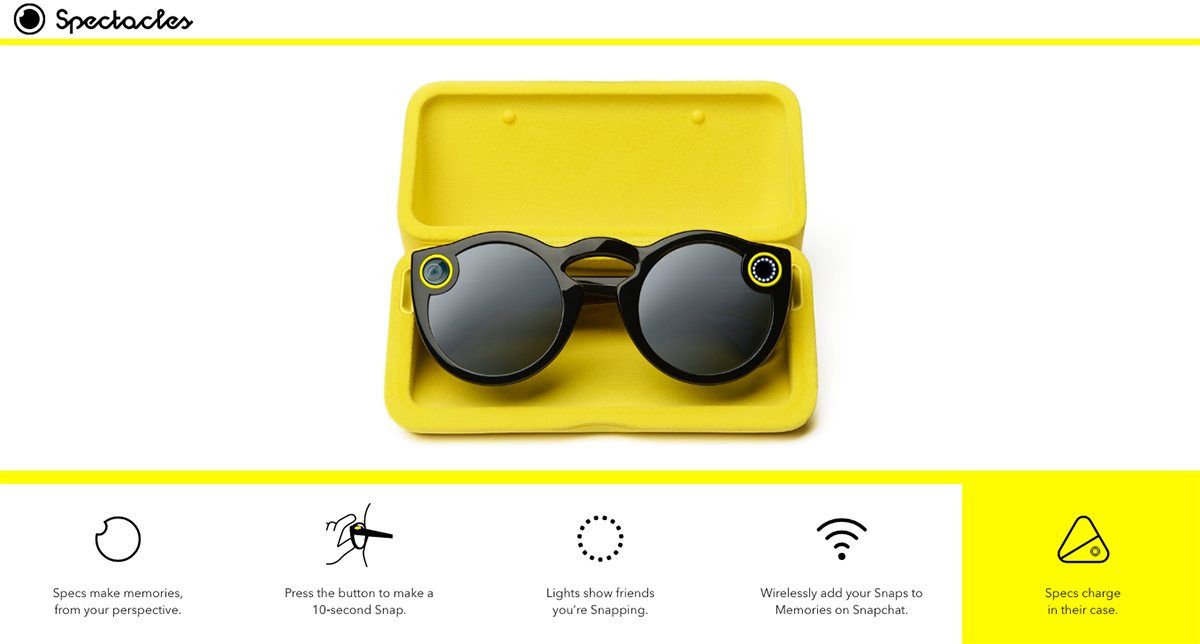 The technology
The Spectacles camera itself is one of the most impressive aspects of this nifty gadget. It features a 115-degree camera lens meant to more closely approximate how humans see.
This awesome technology allows users to fully rotate their phone while watching the video and it remains perfectly "in-frame." Check out the important side note section for a quick GIF on what this looks like in action.
Setting up the Spectacles
Setup was a breeze. To pair the Spectacles with Snapchat via Bluetooth, all I had to do was put on the glasses, open the Snapchat app, look directly at my phone with the glasses on, and then hit the Spectacles record button.
The glasses were paired with my Snapchat account in less than a minute and I was snapping in no time.
Taking a Snap
It takes just a quick tap of the button on the upper left corner of the Spectacles to begin snapping. They automatically record in 10 second increments, but you can extend the recording up to 20 or 30 seconds by tapping the same button twice or three times. You can also stop the recording short by holding down the button before the 10 seconds is up.
Your friends will know the Spectacles are recording with a small, circular LED light around the left camera lens that spins after pressing the record button. Shown here:
You'll know the Spectacles are recording with a inward-facing light on the left-hand side of the glasses.
Battery life
Checking the battery life of your Spectacles is simple and quite fun! You do this by double-tapping the side of the Spectacles, just below the recording button. The circle will light up, indicating how much battery is left.
Battery life is fairly good as well. I was able to get about 100 10-second videos out of a single charge, which for me, is plenty of snaps in one go. And once I ran out I was able to quickly plug the Spectacles case into the nearest USB port and they charged up in about an hour or so.
The only drawback is that they are a battery hog on your iPhone when uploading snaps to the Snapchat app. If you plan on being out all day, I'd recommend bringing the Spectacles case along with you in addition to a portable phone charger.
Syncing videos with your phone
Snap Spectacles work with both Android and iOS devices. If you own an Android, you can transfer the snaps via WiFi, but if you're on iOS, they'll transfer by both Bluetooth and WiFi.
One of the coolest features is that the Spectacles act as a standalone device. They will take snaps and store them until you have access to your phone and can upload them.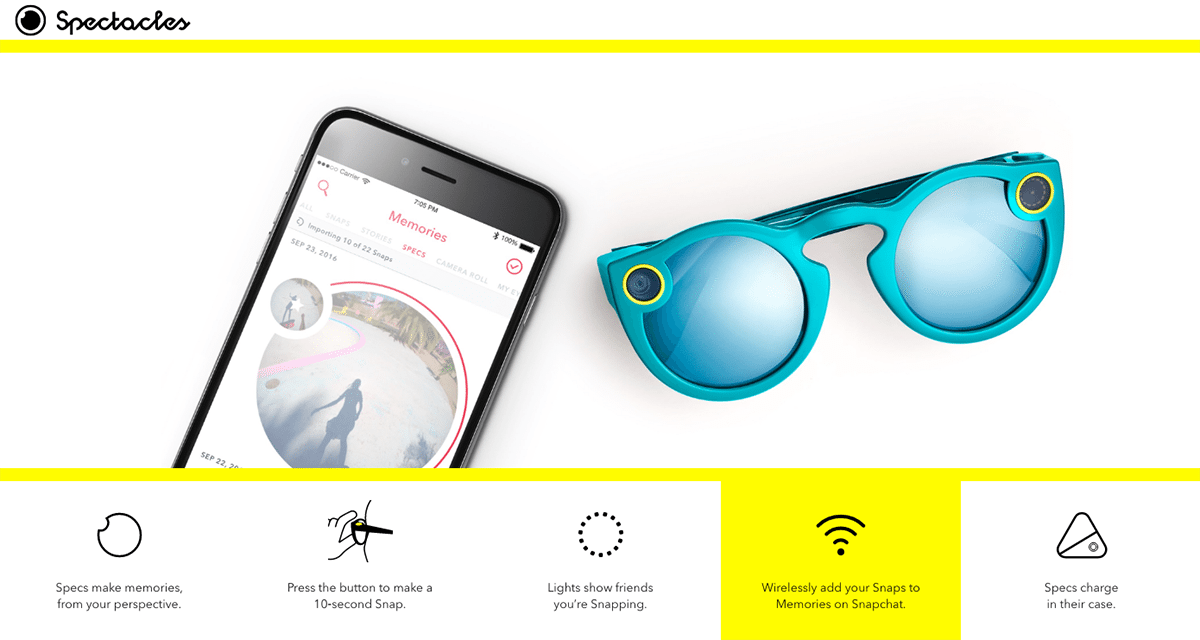 A key thing to remember, though, is that if you are off of a WiFi connection, the Spectacles will default to uploading "non-HD" quality videos to your Snapchat app. To upload the videos in HD, the Spectacles require that you are connected to WiFi. This makes it a bit challenging when you are outdoors and looking to upload the videos on the go.
Sharing with your friends
One of the biggest Snapchat marketing opportunities is the fact that you are able to share the Spectacles with friends and even possibly influencers.
Snapchat recommends that before sharing your Spectacles with someone else, you first import all of the snaps from your glasses onto your phone. Once you hand them over to your friends (or influencers) they can easily pair the Spectacles with their device and snap away.
Imagine sending your top 10 clients or fans a pair of Spectacles for a big event or conference and then having them mail them back to you when they're all done. Oh, the content possibilities!
Important side note on video downloads
There's a pretty significant difference between the Spectacles videos that you're able to download to your phone and the ones that you see within the Snapchat app. Downloading a video to your phone looks like this: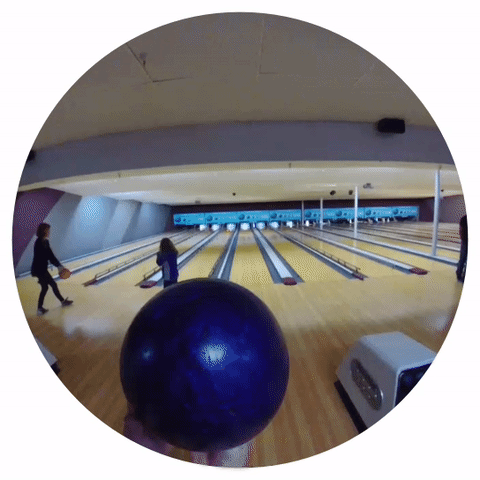 Viewing a video within the Snapchat App comes with full circular capabilities. It's really neat!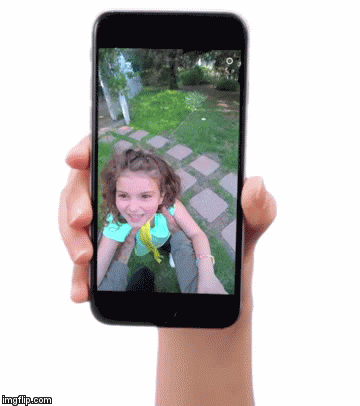 Spectacles settings
From the main screen of your Snapchat app, swipe down and tap the settings icon, then you'll see an option for your Spectacles towards the bottom. In the settings menu you can change the name, view battery status, pair Spectacles, clear stored videos, and restart or reset your device.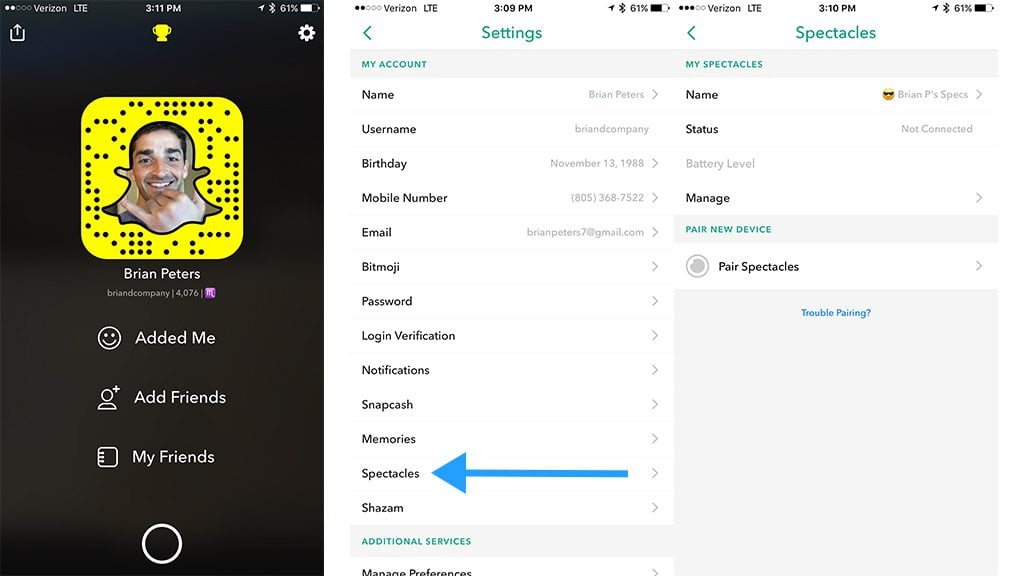 Big kudos to Snapchat co-founder and CEO, Evan Spiegel, for leading the vision (pun intended!) on such a great tool for capturing first-person perspective. These stylish, light, and feel-good glasses are just the start of what is sure to be a neat line of products from Snap in the future.
I'd love to share a few tips on creating great Snapchat Spectacles stories from my own experiences as well as what I've witnessed from lots of other great Snapchatters.
5 Tips for Creating Videos with Snapchat Spectacles
Before my Snapchat Spectacles ever arrived in the mail, I read a Medium article by Karen X. Cheng all about her experience with Spectacles and things she's learned along the way. This article opened up a whole new world for me and so some of these tips are based on what I learned from her. Thanks, Karen!
1. Your hands are key to a great video
The most unique aspect of Snapchat Spectacles is the fact that you're filming hands-free and in first-person perspective.
And what's the one thing you see most from your point of view? Your hands!
It's amazing what a difference having your hands in the shot makes. Even something as simple as driving a car is made dramatically more exciting by adding hands to the footage.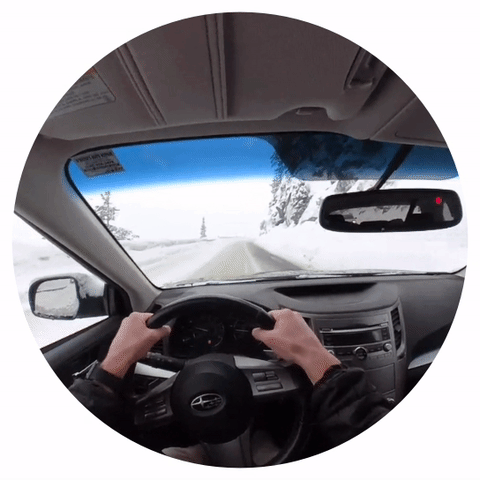 When creating a video, think about the activities that include a lot of hand work and those will make for great snaps.
2. Think entire story, instead of one video at a time
The key to any great Snapchat Spectacles story is the story itself. When you set out on an adventure with your Spectacles, aim to record 10-30 second snaps that fit together within a bigger story.
From travel adventures to hanging at your own house with friends, every great story usually starts with a beginning, middle, and end.
Check out this quick video, for example: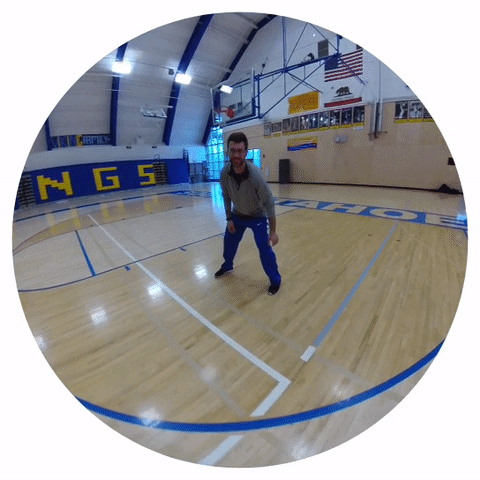 Beginning: Someone is playing defense against me
Middle (climax): I take a step back, shoot, and make the shot
End: I slowly fade back as the person runs to grab the ball to start again
This video acts as a single story, but this might be a part of a larger story I'm telling of my day at the gym or playing basketball with friends.
3. Create a compilation video to make your snaps stand out
Just like the Snapchat Spectacles review video we shared at the beginning of this post, creating a compilation video of some of your favorite snaps, trips, or adventures is a great way to get creative and mix it up. Here's an awesome compilation video created by Karen X. Cheng using Adobe Premier.
She took all of the best snaps from her trip to Japan and put them into one great travel video. And as you can see from the video, she clearly had an final video vision in mind which enabled to create a similar feel while capturing all of the snaps.
4. Create GIFs from your best videos
A super fun way to share your Snapchat Spectacles videos on social media and in your blog content is by creating a .GIF file so that they will play on auto-repeat. Creating a GIF will also allow you to control when the video stops and starts and edit the snap down whatever time frame you would like.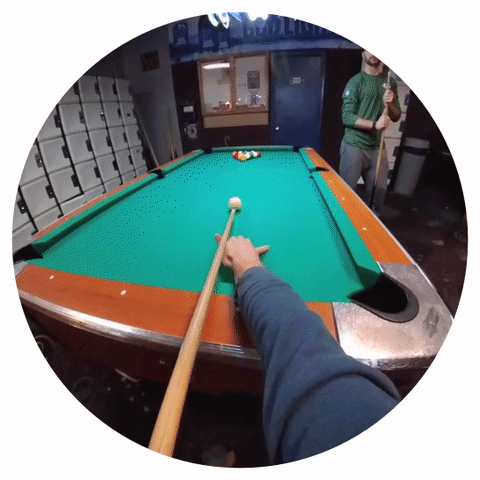 Like the GIF above, it's another engaging way to share your Snapchat content in new and innovative ways across social media and other media assets.
5. Filming outdoors offers better lighting
While indoor filming is still a great option with Snapchat Spectacles, the real opportunity is outdoors where the lighting is much better. Here's a quick look at the difference between what the lighting looks like indoors vs. outdoors: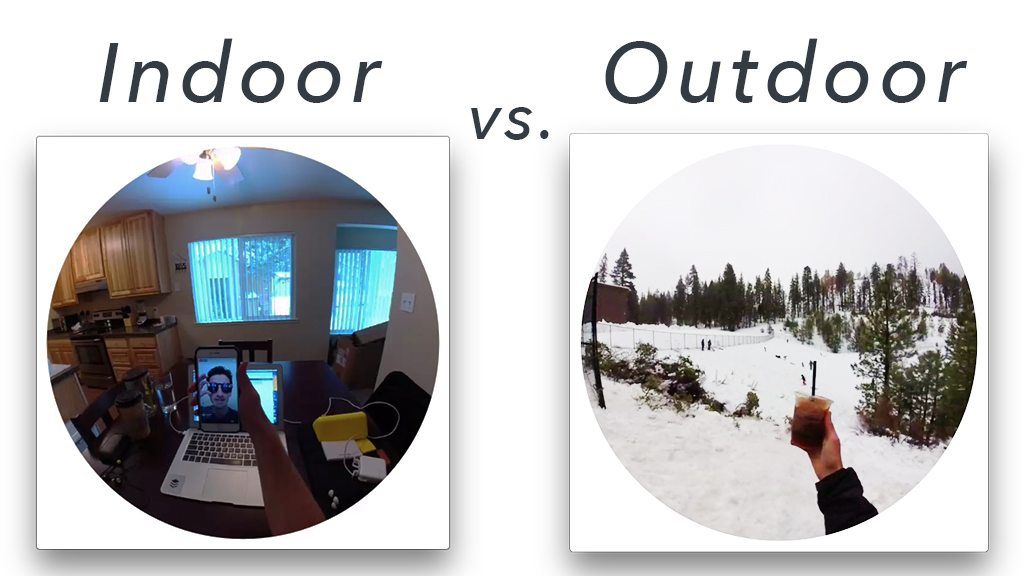 Following best-practices for taking photos with a normal camera is recommended for Spectacles as well. If you're shooting indoors, try to find some natural or white light to capture your snap. When outdoors, avoid filming directly into the sun or in shadows. Other than, that getting creative is the best way to go!
That's a wrap!
Overall, I can't wait to use the Snapchat Spectacles to capture all of the little life moments that we often don't think twice about.
We'll also be implementing some fun, creative campaigns here at Buffer with companies and influencers using our Spectacles. If you'd like to follow along with us, we're on Snapchat at BufferSnaps and on Instagram at Buffer.
I'd love to hear your thoughts on the Snapchat Spectacles and if you're excited to pick up a pair of your own. I'd also love to hear all of your creative ideas on ways we could use our Spectacles.
Please feel free to say hello in the comments below!