This interview is an excerpt from our Complete Guide to Snapchat, originally published on February 23, 2016.
Snapchat is one of the fastest growing and most exciting social networks for marketers at the moment and the app now boasts over 100 million daily active users and 7 billion video views, daily!
But with any growing social media platform, it can be a little hard to figure out where to get started. In order to deliver the best, most actionable Snapchat tips, we teamed up with Everette Taylor, who gave us the lowdown on how to use Snapchat to deliver value for your business.
When it comes to marketing and building communities, it's safe to say Taylor knows a thing or two. He's the founder and CEO of MilliSense and formerly served as Chief Marketing Officer for Sticker Mule where revenue increased by over 40% during his tenure and website traffic more than doubled.
Here are Taylor's top 5 Snapchat tips for brands, businesses, and marketers. Let's dive in!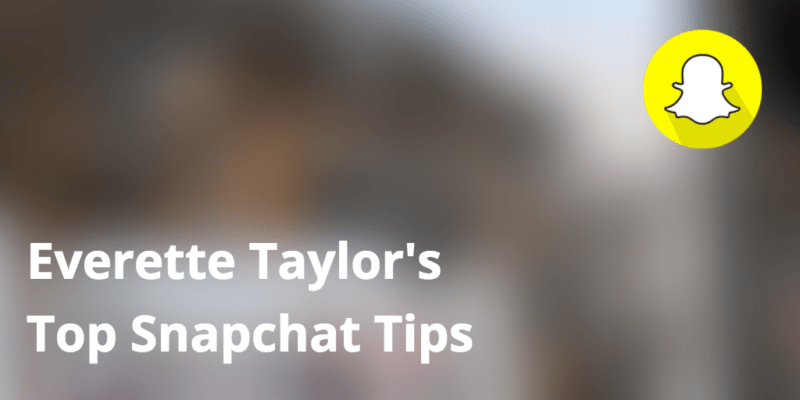 Everette Taylor's Top Snapchat Tips
1. Bring value through variety of content
With Snapchat, you have to bring value with every piece of content you share, Taylor explains:
Take a minute and think about most of the Snapchat stories you see and how similar the content is. The fact is, for most – originality on Snapchat is lacking. That's the case for many social media platforms but can be the most apparent on Snapchat due to the nature of the app. That's the cue to step your game up.

The best way to bring value to users on Snapchat is by providing a variety of content that your users will either find entertaining or helpful information. Don't be afraid to think outside of the box and take risks. Monotony = loss of interest.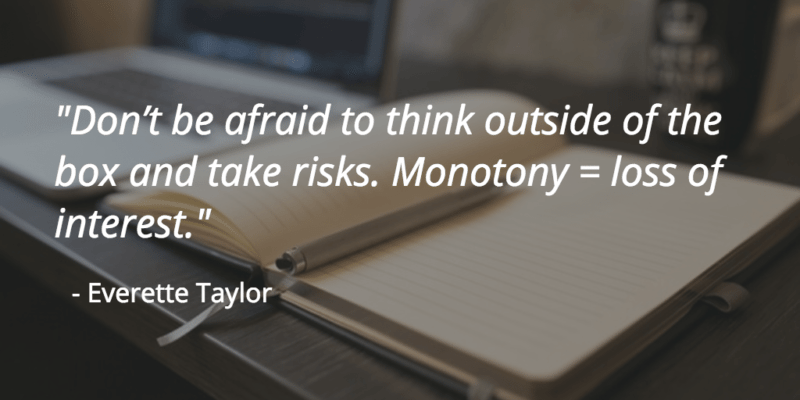 It's also important to keep Snapchat's user base in mind when it comes to content creation – 45% of Snapchat users are under 25.
The point is to be fun, creative and experiment. Remember the audience on Snapchat tends to skew to be a lot younger. If users know what to expect from you, they will be a lot less likely to click on your stories which means less impressions for you or your brand. Take to time to strategize a marketing strategy for your Snapchat like you would any other channel or funnel.
In the early days of TV and Radio, if you missed a show, it wasn't on again. There were no DVRs or on-demand services. Snapchat is much the same, once your story has been live for 24 hours, it's gone forever.
To keep your content interesting and engaging, you could create a schedule to give your audience an expectation of what's coming up:
Create custom content, for example having "Motivation Mondays" where you offer inspirational quotes or highlight inspirational stories/people or "Tasty Tuesdays" where you cook a new recipe or review a new restaurant. Whatever you do, just have fun!
2. Create your own Snapchat KPIs
Measuring your performance on social media can be a tough task at times, especially on some of the newer platforms.  And currently, there aren't any public ways to get analytics or data around your Snapchat account.
So when it comes to measurement on Snapchat, Taylor advises that "a little ingenuity is needed."
First thing you want to figure out is VPS, Views Per Snap. In my opinion, this is the "one metric that matters" when it comes to Snapchat. The best way to do this is to calculate the average views for your Snapchat videos each day and record that number in a spreadsheet. You can then start to track the progress of your views daily and begin to set goals.
Alongside Views Per Snap, Taylor also recommends tracking followers and screenshots:
If you have the time and the patience to manually count, you can calculate new follower metrics and figure out your follow rate – daily, weekly, monthly and even annually. This allows you to set acquisition goals as well.

One of the most useful KPIs I've come up with screenshots. This shows that people found whatever you posted highly entertaining or valuable.
This leads nicely to the next tip…
3. Make Sure Users Anticipate Important Messages
One of the biggest barriers to entry for brands on Snapchat is figuring out how Snapchat can directly have value for their brand. One of the best ways is to give important messages and announcements on your Snapchat.
If you're delivering an important message on Snapchat, for example, sharing a URL you'd like your followers to visit, asking them to screenshot it can be an excellent way to drive action.
When it comes to screenshots, Taylor advises giving your followers some warning of what's coming up:
You have to be smart about how you go about this. You have to make users anticipate something is coming before it comes. Let users know that you're about to announce something important before you do so or prompt them by saying "screenshot the next snap." Yep, it's that simple and can be highly effective.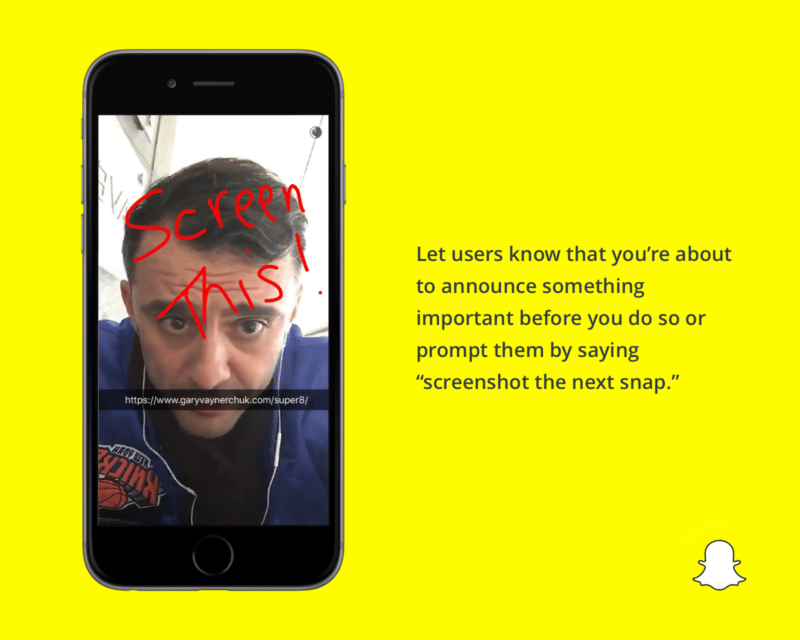 4. Use Other Social Media to Promote Snapchat
Snapchat doesn't have a public friends feed or a mechanic that will show people that their friends are viewing and engaging with your content. As such, a great way to build your audience is through your pre-existing followers on other networks, Taylor explained:
One thing I admire about Vine & YouTube influencers is the way they are able to shift their audience to other social media platforms. It's an impactful tactic if done well. It requires you to be using other social media platforms to promote your Snapchat.

One of the most effective ways to do this is by scheduling posts on Buffer to promote your Snapchat throughout the week. Some platform-specific tips include: making your profile picture of Facebook and Twitter your Snapchat QR code, setting up a pinned tweet on Twitter and pinned post on Facebook promoting your Snapchat, and setting up automated direct messages on Twitter along with a value proposition for people to follow you on Snapchat, etc.
Taylor also recommends taking screenshots from your Snapchat pictures and videos and sharing these on other social networks:
Taking your interesting Snapchat pictures/videos and posting them on other social media platforms with your Snapchat handle is super effective. I've found this the most effective on Twitter and Instagram. Also if you're doing something fun or exciting, you can tell people to follow you to see more. For example, "I'm at *insert event* – follow my Snapchat to check out my adventures."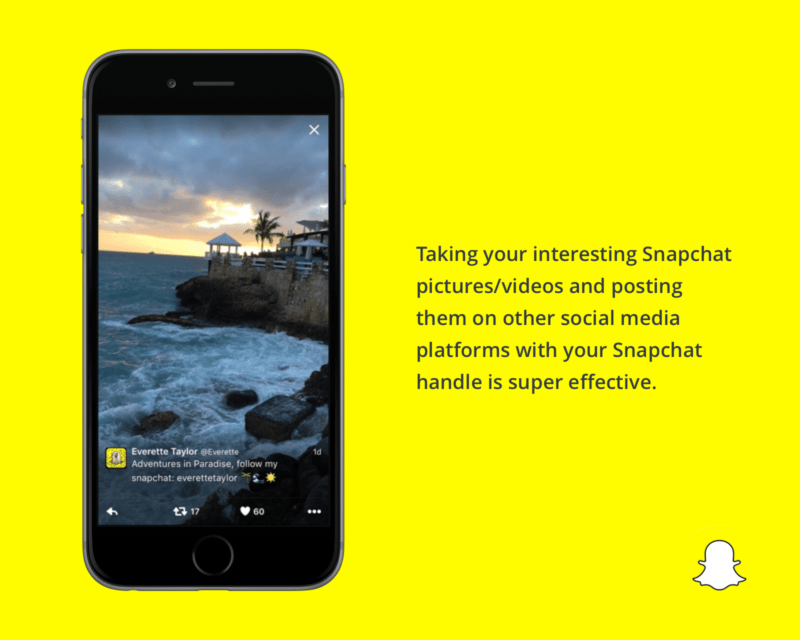 Here's another example of Pepsi promoting their Snapchat lens on facebook:
Get a mind blowing taste of #PepsiMaxCherry with our Snapchat lens for today only! Send us your snaps to PepsiMaxUK to feature on our story! ?

Posted by Pepsi Max on Saturday, 13 February 2016
5. Create your own content to promote your Snapchat
Creating Snapchat-focused content outside of Snapchat is a great way to promote your account:
Many people such as growth expert Morgan Brown and others have realized that one of the best ways to promote your Snapchat brand is to create your own content about Snapchat. This can be lists of best people to follow, best practices and tips, case studies, etc.

If the content is solid, people will share it, and there will be a lot more brand awareness for your Snapchat. Making lists is probably the best way to go about it, this will give you a distribution by influencers who will promote your content in reciprocation.
You can also use your Snapcode, Snapchat username, and profile URL within your content as a way to drive new followers:
A bonus tip with this that I haven't seen any brands using….yet. That is the use of a Snapchat icon on their content, websites and emails. Snapchat now has a new feature where you can copy a link where people can add you on Snapchat. Including these icons on your content, emails, website and other forms of content could be helpful in building your audience.
Over to you
Thanks for reading! If you'd like to connect with Everette Taylor on Snapchat, his username is 'everettetaylor' or click this link from a mobile device to add him directly.
I'd love to hear from you in the comments, too. How have you been using Snapchat? Any tips you'd like to share? Thanks a million.