You've probably never envisioned yourself as a blogger. After all, you're a small business owner, and probably not a trained writer. But you don't have to be the perfect wordsmith to write compelling and engaging posts. Creating a successful blog really just requires being passionate about a certain topic — a characteristic you already possess as an ambitious entrepreneur! A blog can also be a low-cost way to elevate your small business's reach and also build credibility with your followers, making it a win-win situation.
Another benefit of blogging is your posts are "owned content," meaning you have complete freedom to create your blog as you please without relying on third parties. All the material on the site will be within your control, ensuring the tone and style of your blog are consistent with your brand values. Building a blog from scratch takes some work, but this article will help you get set up with the basics, while also providing insight into the various ways other businesses blog.
Why start a blog for your small business?
When thinking about the content you want to include on your blog, the 80/20 social media rule is useful to reference.This popular social media tenet dictates that while it's acceptable for businesses to devote up to 20 percent of their marketing strategy explicitly promoting their products, the remaining 80 percent of posts should be entertaining and helpful for your audience.
The idea is that instead of bombarding customers with promotional ads, you should enrich their experience through interesting, edifying, or educational content. You probably want to add value to your customers' lives in some way, and a blog is a perfect channel to do just that! Sharing this content will not only attract more customers, but it can also open a dialogue with your existing followers, creating a stronger online community. Blog posts can also be repurposed on social media — generating more content for your business.
Here are some reasons blogging is a good investment:
Highlight your knowledge
Customers want to know that the brands they're buying from are dependable and trustworthy, and blogging can be a great way to relay your expertise in your field. Through blogging, CEOs, founders, and other employees can also dive deep into thought leadership by expressing their learnings from their own career journeys.
Expand on your brand's values and goals
Oftentimes, Twitter threads or Instagram Stories may not feel like the right platform for when you want to write a deep dive into your company's mission. Blog posts, however, are the perfect medium for an in-depth look into your company's principles as you can expand about your goals and aspirations as an entrepreneur.
Document and share transparently
Running a business is no easy feat, and recording the ups and downs of the journey can be a beneficial experience for both business owners and customers alike. Sharing some useful content to include would be a timeline of company milestones, quarterly reviews, and a post honestly depicting the obstacles in running your business and how you overcame them. Individuals who are building in public have seen many positive returns, like finding community and gaining brand exposure. Readers will also appreciate this candidness and it may even help them see the humanity behind your brand instead of just viewing it as another company.
Include keywords in your post
By writing blog posts that contain keywords relating to your products and services, you can start driving more traffic to your site. This is an efficient way to build up the organic search for your brand. Just know that it will take some time for your posts to rank high for SEO. Still, if you consistently generate solid content that is crafted with search engines in mind, your articles can eventually start ranking higher on Google and similar sites. If you are interested in learning more, here are some SEO tools that can help.
How to start blogging
Setting up a blog is fairly simple, but there are some logistics to figure out before you begin writing.
Choose a Content Management System
There are a ton of content management systems you can pick from for your blog. Here are just a few options:
WordPress —  WordPress is used in 41 percent of websites, and for good reason. The platform is simple to use while also offering more advanced features for those who need it. The basic version of WordPress is free, but most brands and businesses will probably require a plaid plan.
Tumblr — While Tumblr may be known as a social media platform, the user-friendly interface is perfect for writing blog posts. It's also a great choice if you want to infuse your posts with trending memes and a more casual tone. Best of all, Tumblr is free.
Blogger — A free Google product, Blogger has been around since 1999 and has been credited as being a game-changer in the online publishing space. Blogger provides simplicity, easy-to-use templates, and can be linked with all of your Google accounts. A plus? Google Adsense can also be integrated into your site.
Ghost — At Buffer, we use Ghost for our blog and appreciate its intuitive dashboard, built-in SEO features, and the platform's commitment to centering content at the forefront. Ghost Open-Source is a free version of the site, while the more advanced Ghost Pro starts at $9 per month.
Make editing easier
A blog post that is filled with typos and grammatical errors can be jarring for readers, which is why it's important to ensure your content has been reviewed. Grammarly is a great editing tool to use, especially if you're an ambitious team of one. While there is a premium version, a free Grammarly account should take care of most major grammar and spelling errors.
Implement a content calendar
Similar to how one would set up a social media calendar, you can also make use of a content calendar for your blog. The calendar would include pitches and blog post ideas, the timeline for completing each post factoring in the outlining, drafting, and editing process, and the publish dates for each piece. This will give you an organized look into your blog and ensure you're staying up to date with your posts.
Generate Ideas
You may have a few top-of-mind ideas for your blog, but are wondering how to churn out content on a regular basis. Feeling unsure of what to post is common, but there are several ways to develop new topics to write about. Getting your followers' input on the content they'd like to see is always a good option as they can bring up important customer pain points they'd like addressed. Asking the rest of your team for pitches – even if their role isn't directly tied to marketing or communications – can also provide an insider's perspective on the blog. And finally, creating a mindmap of relevant topics and doing other brainstorming exercises can allow you to think outside of the box.
Running a blog can feel like juggling multiple tasks at once, but eventually, you'll settle into a good rhythm of creating content. Getting started is the most important part, and remember, you can always adjust your blogging strategy along the way.
How other small businesses approach their blogs
The great part about writing a blog is that you can be flexible in the type of content you share. If you want more ideas for getting started, these examples from other small businesses can give you a jumping start.
Documenting their journey
Blogs offer the perfect medium for customers to catch up with important news and updates from brands.
Scotch Porter
Scotch Porter —  a black-owned business that makes hair care products for men — has a variety of posts on their blog aka The Scotch Porter Journal. But their core focus seems to be sharing company milestones like announcing their launches in both Target and CVS. And when they were featured on Nick Cannon's talk show in late 2021, they dropped the exciting news via their journal.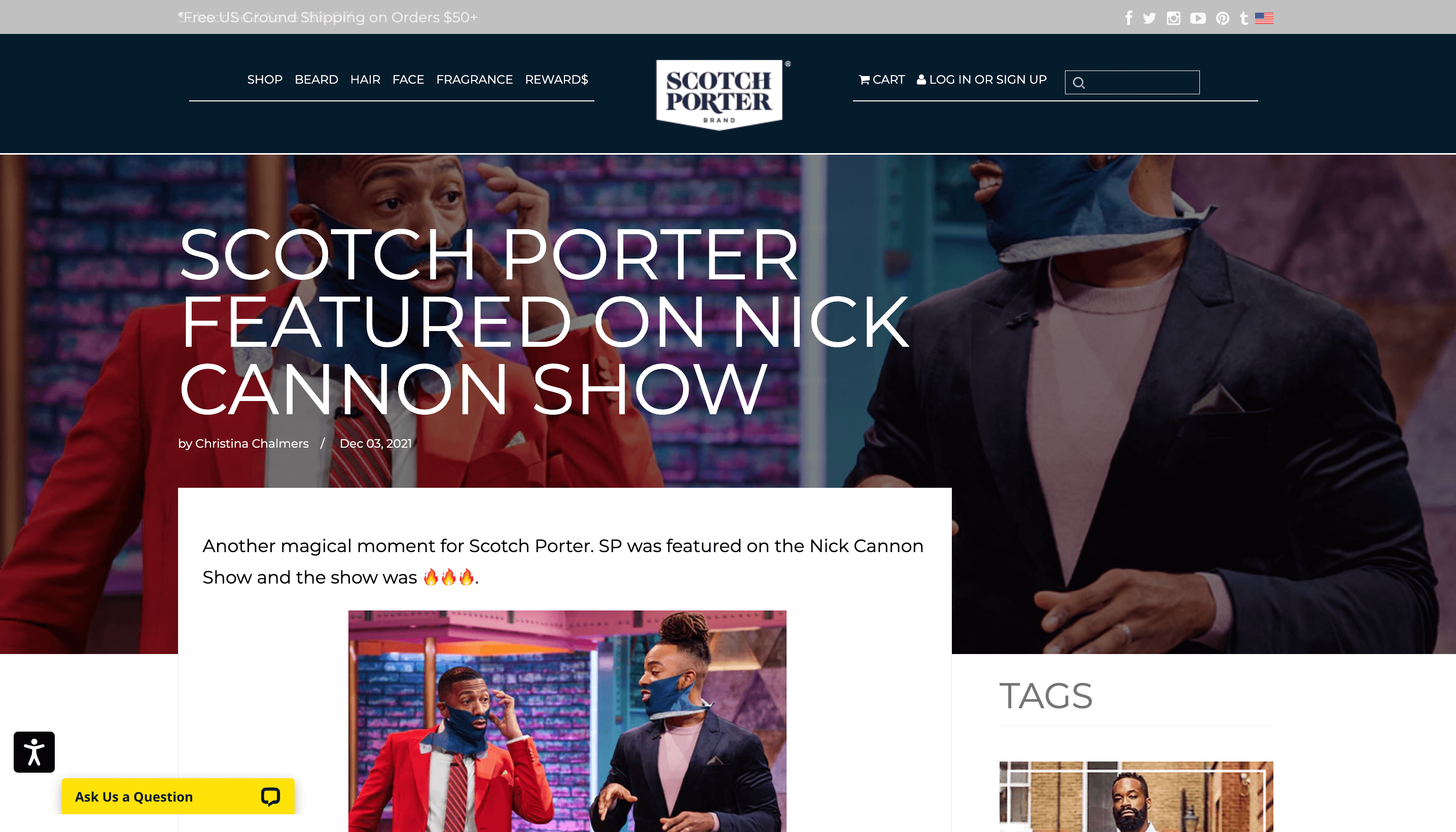 Buffer
While it's always nice to highlight your accomplishments, it can be just as rewarding to open up about the challenges and obstacles your business has faced. At Buffer, one of our core values is defaulting to transparency, which is why we document important learnings on our Open blog. In these posts, we don't shy away from difficult topics but instead, get candid about areas we need to improve on and the steps we're taking to do just that.
We've written about cultivating a better sense of community within our remote team, the challenges our engineering team has faced, and security breaches at Buffer. Our hope is that by sharing things transparently, we can inspire and help others on their small business journeys.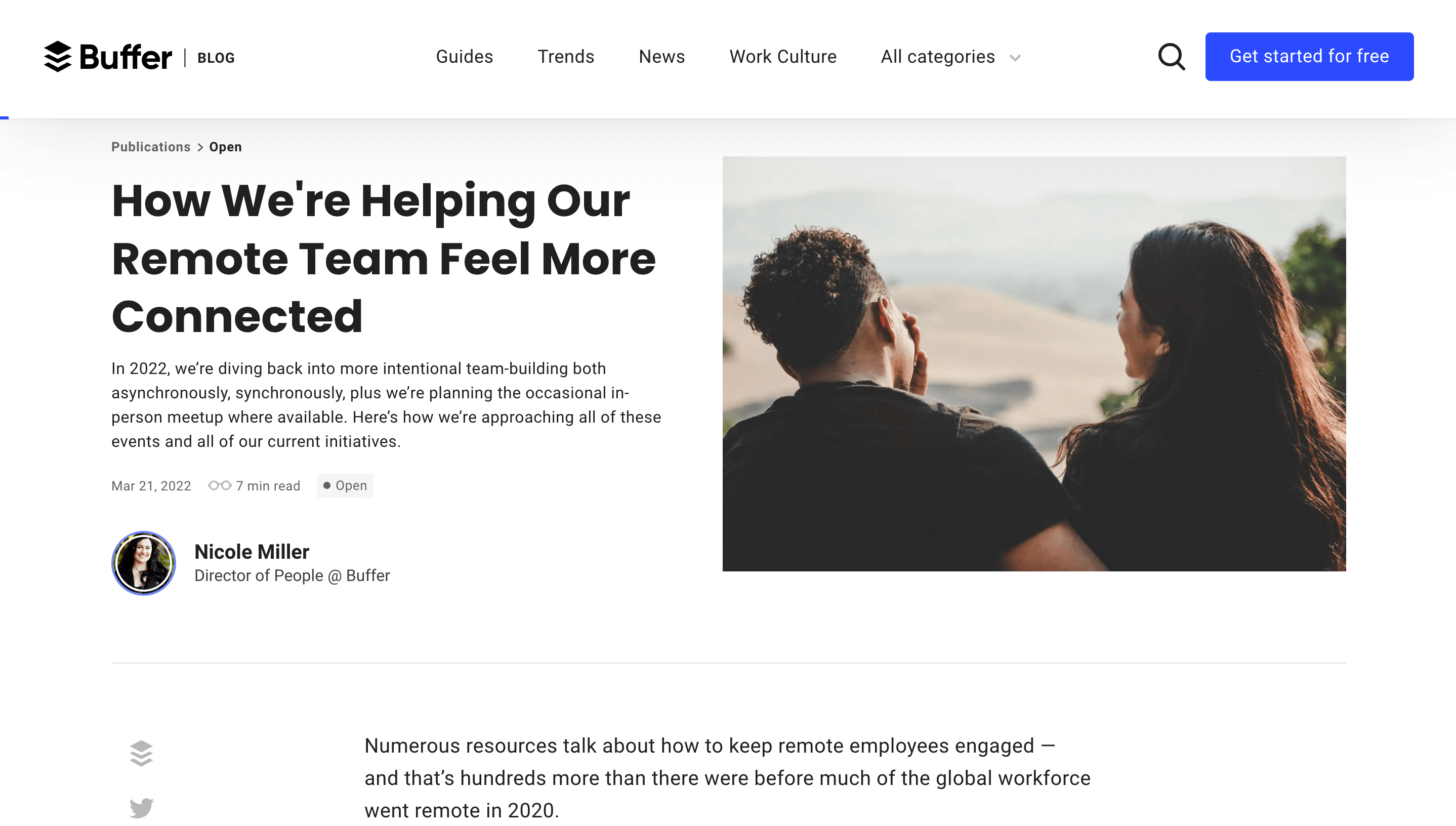 Highlighting products
While you may be used to advertising your products mostly through social media, a blog is a creative way to promote your products.
Glamnetic
Glamnetic, a beauty brand that sells press on nails and magnetic lashes, spotlights their products often on their blog but keeps it fun by connecting back to other trending topics including TikTok, celebrity culture, and popular beauty trends. Some of their articles include Want nails like Kylie Jenner?, How to remove press on nails — TikTok viral hack, and 2022 spring beauty trends you need to know about.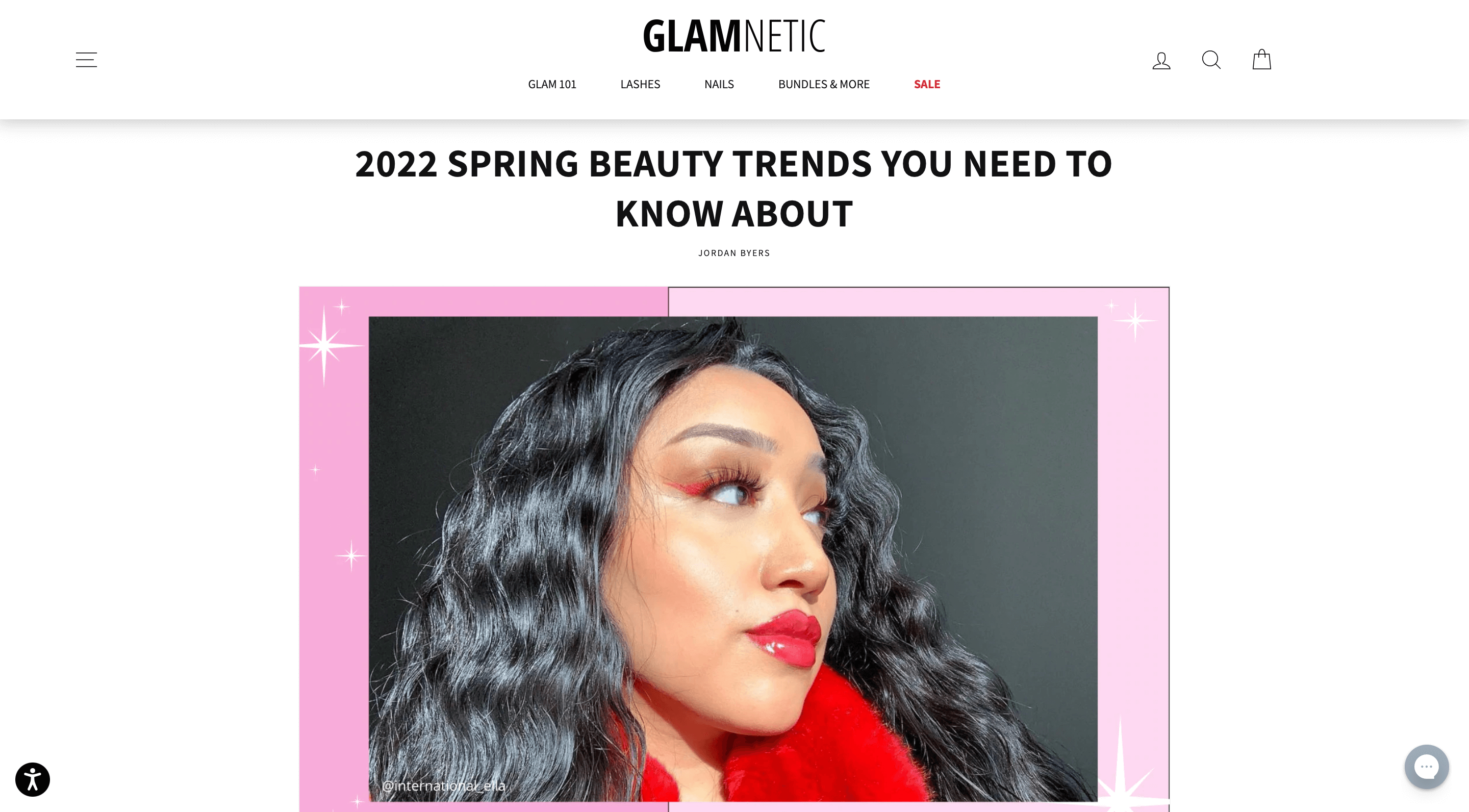 Passion Planner
Passion Planner similarly writes blog posts that tie back to their main products: journals. Their blog includes tons of ideas for customers who're interested in journaling, like 42 planner ideas to give your schedule the glow up it deserves and The 7-day self-love challenge. Instead of focusing specifically on their passion planners, however, the tips in the blog posts could work for any journal or agenda. This makes Passion Planner's blog feel less like another marketing ploy but instead a solid resource for readers.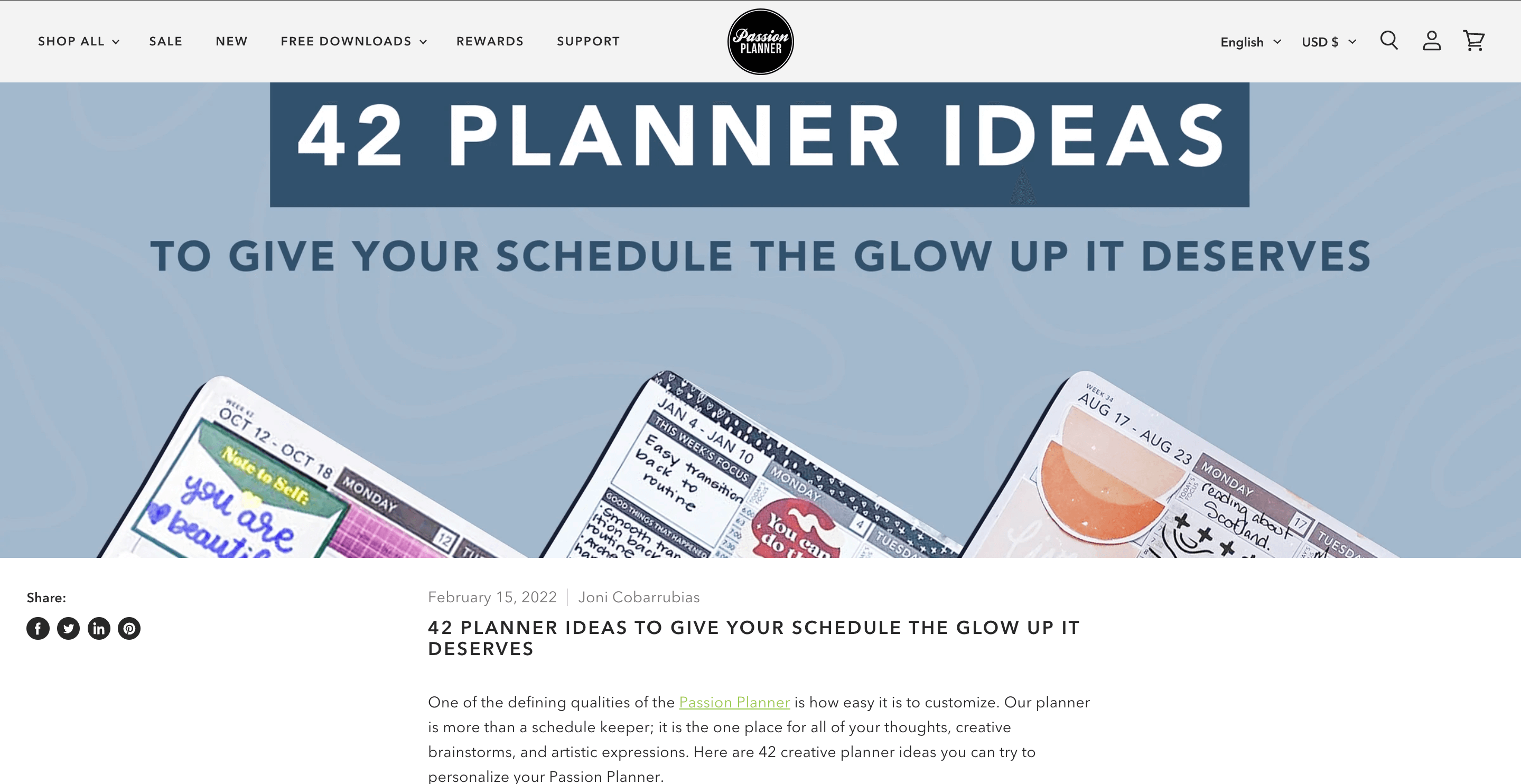 Flow Club
Flow Club, a virtual coworking space, highlights their product a little differently by including user testimonials on their blog. In this article entitled, "How Hustle Fund co-founder Elizabeth Yin beats procrastination with Flow Club," they hone in on one customer's experience with their product, providing direct quotes and personalizing the service a bit more for readers.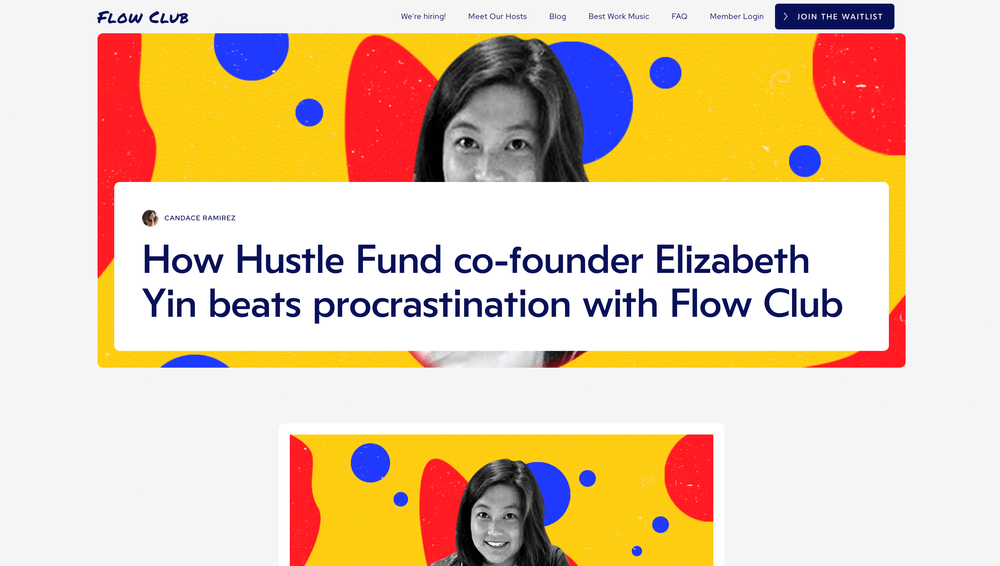 Demonstrating expertise
You know your stuff, and blogging about your experiences and knowledge is a perfect way to educate your readers about interesting topics related to your business!
Birthdate Co.
Birthdate Co. crafts their products with astrology, numerology, and tarot in mind, creating a unique candle for every birthdate. Naturally, their blog includes tons of resources about horoscopes and astrology, like: Gemini Guide: What Are the Traits of a Gemini?, Taurus Season Horoscopes, and What Are the Best Astrology Books To Learn Everything About Your Sign?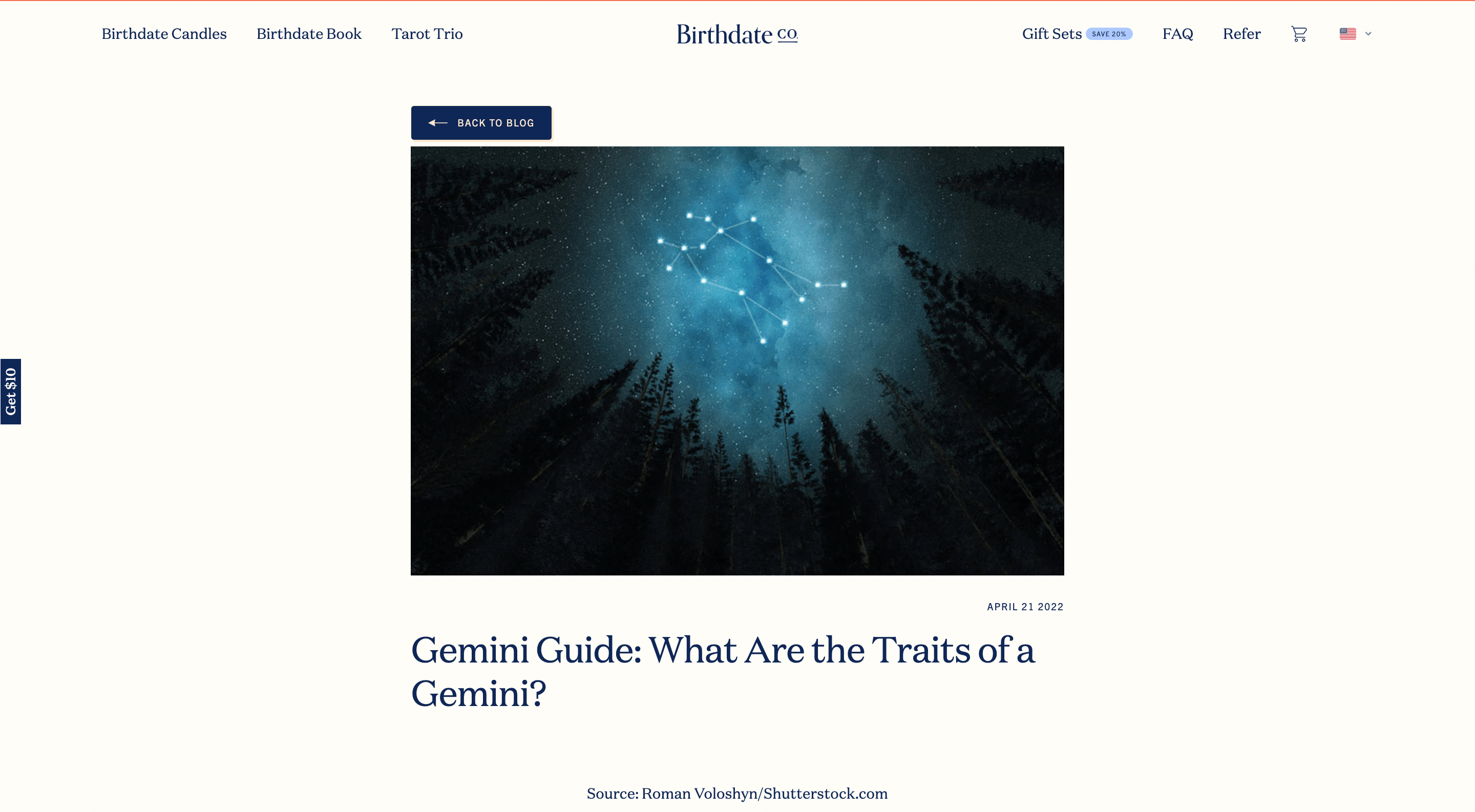 Pacific Cookie Company
A family-owned business, Pacific Cookie Company keeps it simple by centering their blog around all things cookies. Their articles include posts about the best cookie and coffee pairings, recipes for air-fryer cookies, and other baking topics like making cookies without butter.
Passion Planner
Along with writing posts revolving around journaling, Passion Planner also blogs about self-care and empathy. These principles directly relate back to their company's mission statement as part of their business's goal is centered around helping people fulfill their dreams and feel their best.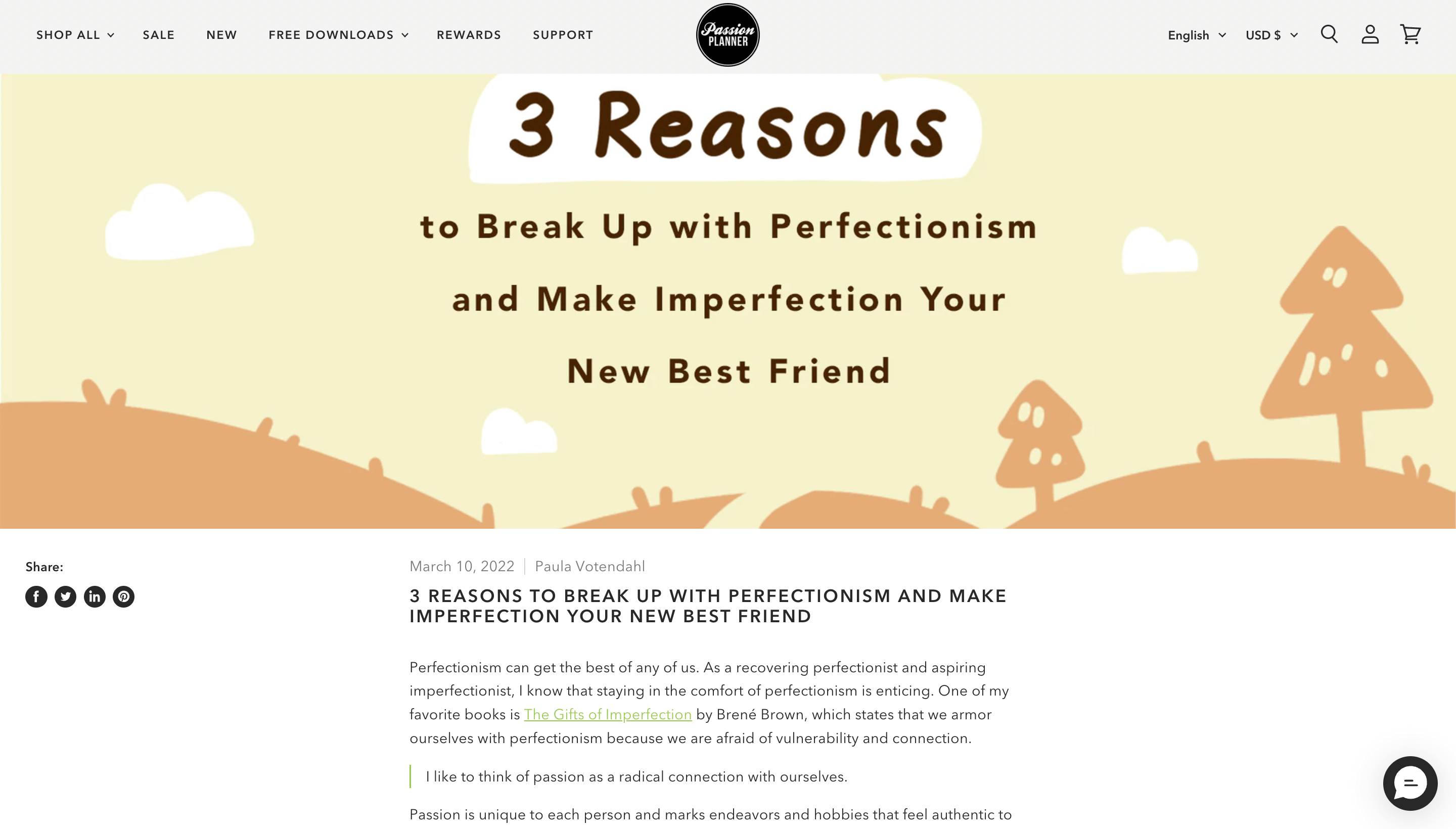 We hope this article gave you insights into how blogging can add all kinds of value to your brand, like connecting with your audience on a deeper level. Once you have your first few posts under your belt, the writing process should become smoother, and running your blog will become a part of your regular routine!
Do you already have a blog for your small business? Share it with us on Twitter or Instagram!