Many social media platforms are rethinking the way they reward their top creators.
A blue tick or badge on social media used to mean you were someone to watch — whether that meant a creator with a growing following or a recognized public figure. But with Meta's new verification subscription and X Premium, getting the social stamp of approval requires a lot less by way of expertise (if you're willing to spend a bit of money every month, that is).
LinkedIn, however, has gone the other way. The networking platform is doubling down on skills, experience, and a bit of leg work in the Top Voices program. This is especially true of its newly minted Top Community Voices tier — a badge a whole lot easier to nab and just as impressive.
Here's everything you need to know about LinkedIn Top Voices and how to become one.
What is a LinkedIn 'Top Voice'?
LinkedIn's Top Voices badges are awarded to top creators "to make it easier for our members to identify and follow valued and quality content on LinkedIn from experts around the world," the platform says.
You may have heard of the LinkedIn Influencer program — an elite group of LinkedIn creators handpicked by the platform as the preeminent thought leaders in their industry. The Influencer program has evolved into Top Voices, but still functions similarly.
Now, however, there are two different 'tiers' of Top Voice badges: Top Voice (1) and Community Top Voice (2).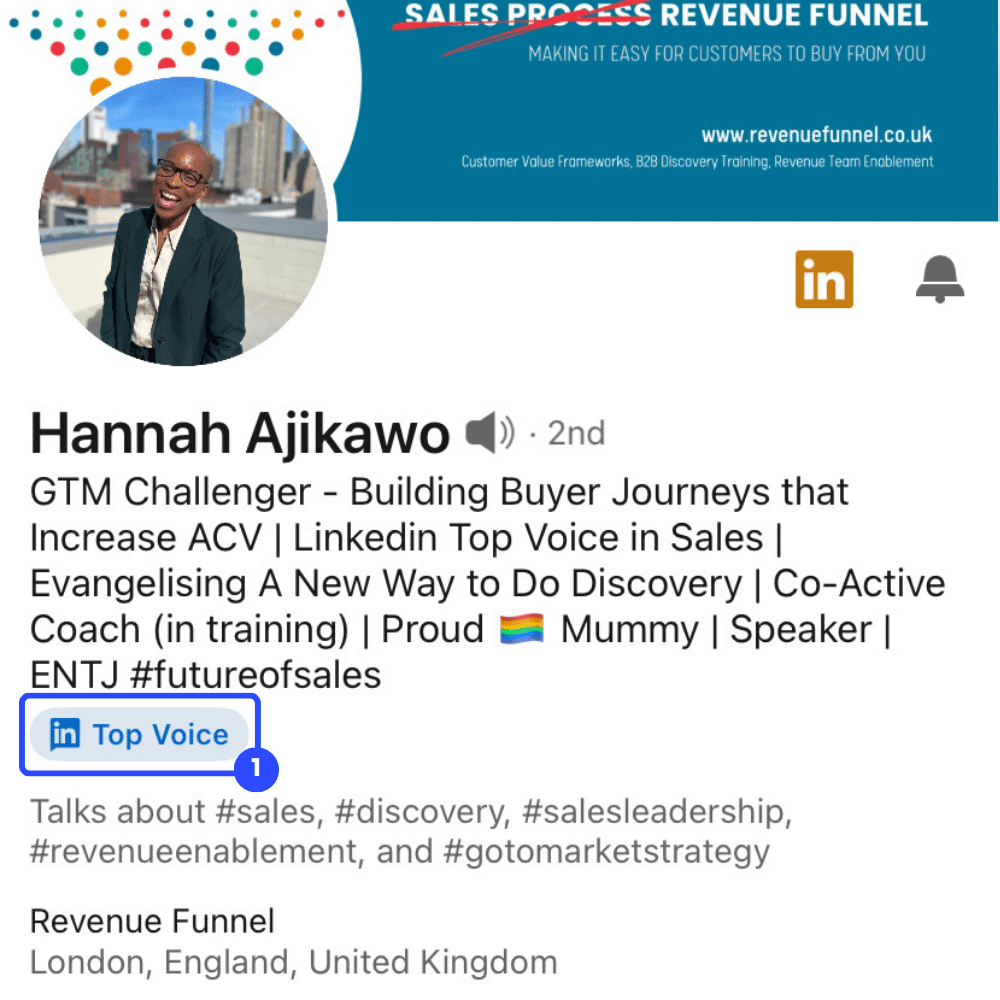 While these badges are not quite the same as verification (LinkedIn has a simple, separate process for making sure users are who they say they are), the prestige is similar to that which used to be attached to a blue tick on Twitter or Instagram. It tells other users that you are a top creator on the platform, and LinkedIn values your contribution enough to give you their stamp of approval.
"It helped me grow by 300 followers in the past one to two weeks," Christina Garnett, Principal Marketing Manager, Offline Community and Advocacy at HubSpout, says of her Community Top Voice badge. "So it is valuable — it's great for helping people find you."
In a nutshell: LinkedIn's Top Voice and Community Top Voice badges are well worth having if you're serious about building a personal brand and cementing yourself as a thought leader in your industry.
Here's a run-down of each badge, plus how to earn them:
LinkedIn Top Voice badge
The top tier badge on LinkedIn is the blue Top Voice badge. This level is reserved for "senior-level experts and leaders". They're handpicked by the LinkedIn Editorial team, who vet new creators regularly, the platform says.
Unlike the Community Top Voice Badge, this one is not specific to a particular niche or area of expertise. The badge will simply say 'Top Voice'.
How to become a LinkedIn Top Voice
Earning your LinkedIn Top Voice badge may well happen as a result of successfully building your brand and a following on the platform with high-quality content.
We have several articles that take a deep dive into the world of personal brand building and growing on LinkedIn. Here's my recommended reading, in order:
If you're itching to get started, here's a quick-start guide to building a personal brand on LinkedIn (and hopefully attracting the notice of the LinkedIn Editorial Team).
Define your audience
Pinpoint who you're talking to and what problems you can help them solve with your particular set of skills and experience. These are the building blocks of all your work on LinkedIn and are crucial in setting yourself up for success.
Make sure your LinkedIn profile is complete
This is perhaps the easiest part of the process. Here's your LinkedIn profile checklist:
Turn on Creator Mode. Switch to Creator Mode to get access to a host of useful features, like the 'Follow' button and analytics.
Use a professional photo. Make sure your face is clearly visible. Pro tip: Use a tool like Canva to remove the background of your image and replace it with a solid color so your profile really stands out in other users' feeds.
Write a catchy headline that shows off more than just your current role. Don't be afraid to get detailed here — you have over 200 characters to play with.
Create a cover photo that highlights your areas of expertise. Rather than going with a generic cover, include a call-to-action (CTA) or tagline on your background photo. Step 1 in this process (defining your audience) will be really helpful in crystallizing your CTA.
Create high-quality content
Perhaps the most important piece of the puzzle when it comes to building a brand — and earning a LinkedIn Top Voice badge — is consistently producing helpful, engaging content. Again, step 1 in this list, defining your audience and the problems you can help them solve, is an important springboard in helping you build out a content strategy.
Along with your knowledge, don't forget to share your own experiences and even mistakes you have made in your career in some of your content. Building trust with your followers on LinkedIn, as is the case on any social platform, means being transparent and authentic.
It's also worth playing around with different post formats to find your sweet spot. I've seen great success in posts that included photos and videos, like the one below.
On Buffer's LinkedIn page, PDF carousels that break down content into bite-size chunks seem to really resonate with our audience, too. Experiment to find what format your audience is most receptive to.
Engage with other LinkedIn creators
Growing an engaged following doesn't just mean, as they say in the classics, 'posting and ghosting'. It requires engagement with comments on your own posts and, crucially, on content posted by other users as well. Thoughtful, helpful comments will attract other followers to your profile and help you earn a spot in their feeds.
💡
Save these comments and use them to inspire your own posts. I keep all mine in
Buffer's Ideas
to spin up into full posts when I have the time. You'd be amazed at how much this simplifies the process.
LinkedIn Community Top Voice badge
In 2023, LinkedIn introduced its collaborative articles and, with them, the gold Community Top Voice badge.
The latter is awarded to creators who make "noteworthy contributions to collaborative articles" in specific areas, no matter their seniority in the field. LinkedIn's team still vets users who qualify for these badges, but it's not as much of a long game as their Top Voice badge.
While some level of experience is required, seniority and industry leadership aren't as essential as they are for the Top Voices badge.
How to become a LinkedIn Community Top Voice
The key to becoming a LinkedIn Community Top Voice is relatively simple, albeit a bit of work: contribute to collaborative articles.
LinkedIn's collaborative articles are a rather clever campaign on their part, as Olga Andrienko, VP of Brand Marketing at Semrush, points out in this post. The campaign has resulted in a spike in both user-generated content (UGC) and traffic for the platform.
The base of the articles is what LinkedIn calls "AI-powered conversation starters, developed with our editorial team". These are then augmented with comments from users with experience in that topic.
According to LinkedIn, not everyone can contribute. "LinkedIn identifies members who are likely to be experts in a certain topic based on their work experience, skills proficiency, and prior engagement on the platform."
The platform invites specific users to contribute to articles within their areas (these invitations will show up in your notifications).
Even if you haven't received an invite, it's still possible you'll be able to add your two cents. I've found that articles even outside my scope of practice (for example, HR and Engineering) are open for me to contribute to.
Here's how to find LinkedIn collaborative articles in your niche and contribute to them:
1. Head over to this list of collaborative articles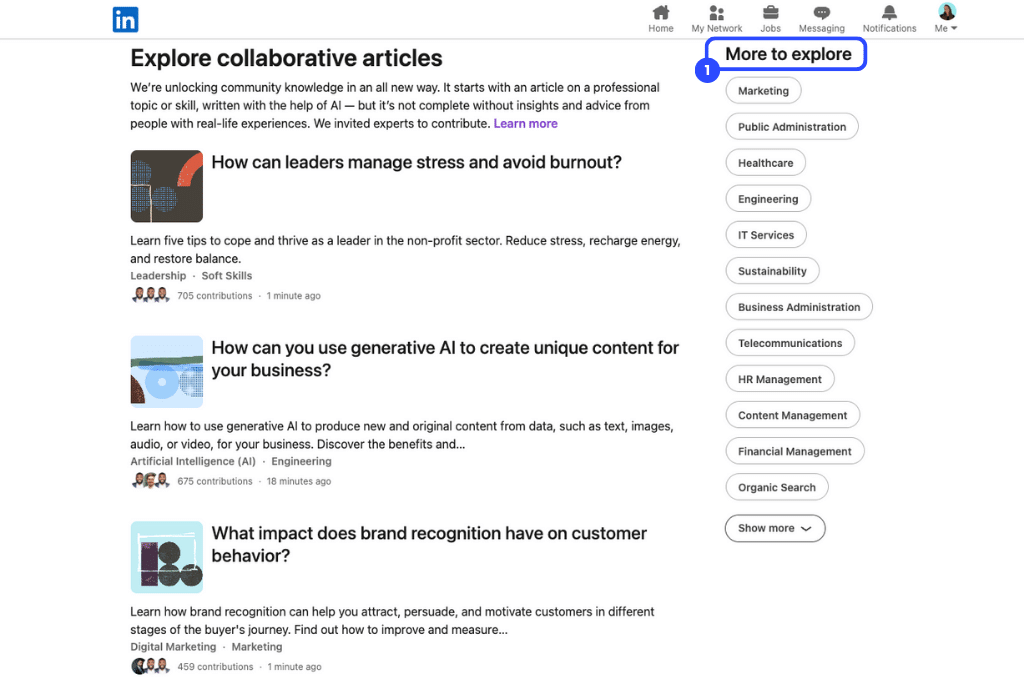 On the right-hand side of the page, under 'More to explore', choose the topics that are relevant to you. If there's not a specific topic that piques your interest, choose the one closest to your area of expertise. This will narrow down your options even further to topics related to the one you chose.
2. Choose an article you want to contribute to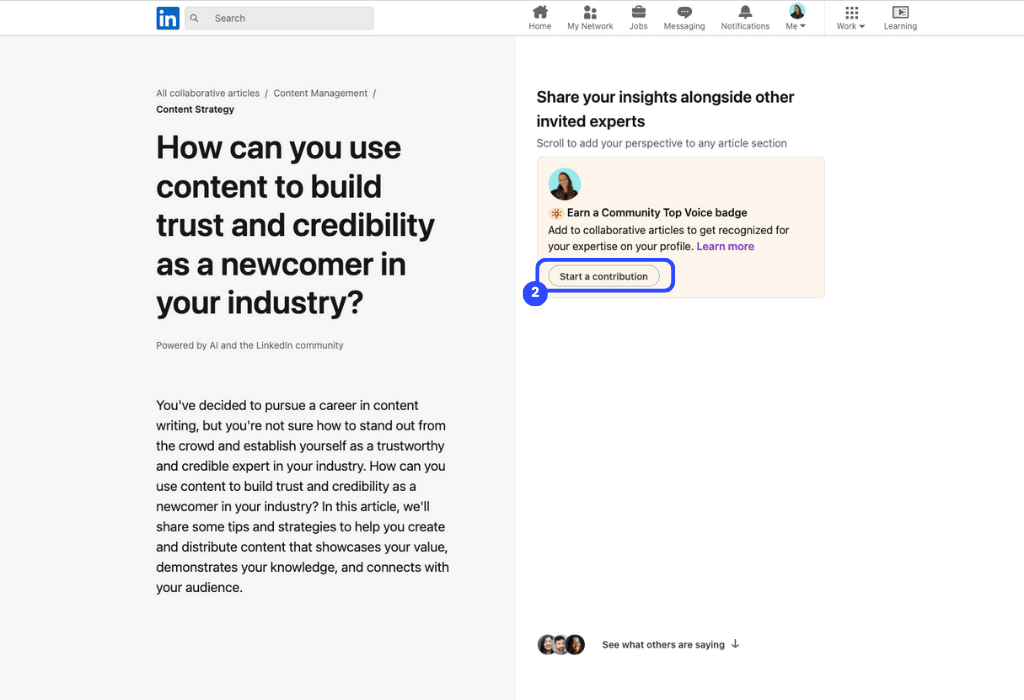 Click on the article you want to weigh in on in the list on the left-hand side. From there, choose 'Start a contribution', or scroll down through the various subheadings to find one that relates to what you want to say.
If what you'd like to add doesn't fit into one of the AI-generated subheadings, scroll right down to the bottom to find a section called 'Here's what else to consider' — a useful space for something more out-of-the-box.
3. Weigh in with your own thoughts and experiences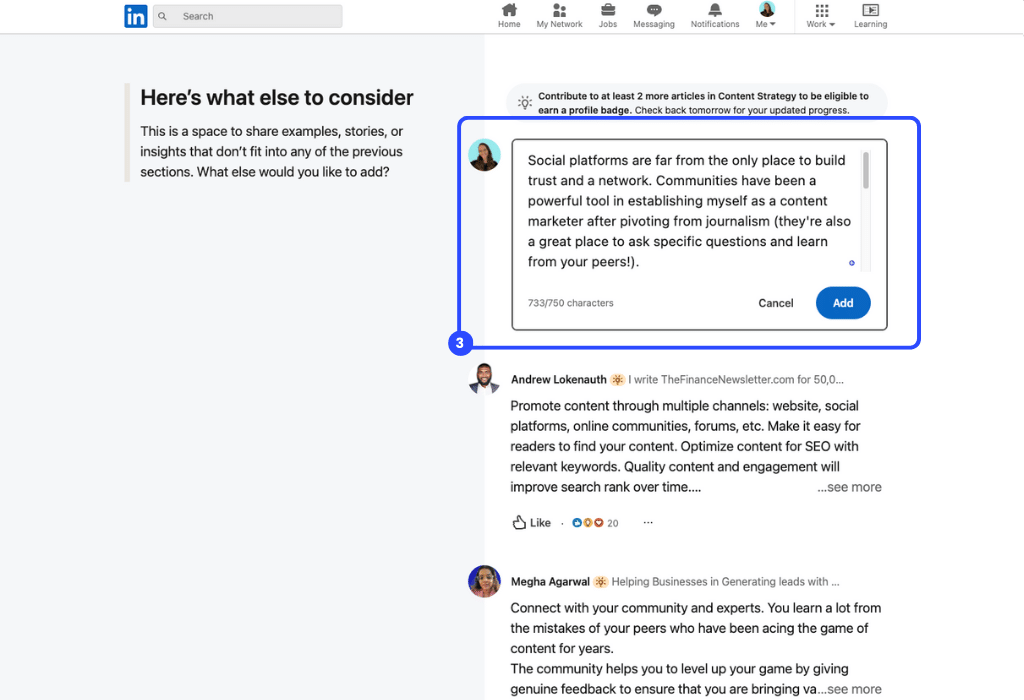 Add a meaningful, valuable contribution to the article. There are hundreds of contributions to many of the collaborative articles, so it's worth spending some time weaving your own stories and experiences into your contribution to make it stand out from the crowd. Bear in mind you'll have to cap your input at 750 characters, though.
As you dig into contributing to collaborative articles, you'll find the range of input varies — the quality of comments from other users is hit-and-miss, to say the least. For what it's worth, I've yet to find any commenter of a sub-par addition with a Top Community Voice badge. It's clear the contributions are vetted, and badges are not automatically given out when users hit a certain number.
💡
Pro tip: I also save all these contributions in
Buffer's Ideas
. I'll absolutely be turning them into full posts when I have time — half the work is already done!
Community Top Voices FAQ
How much do I need to contribute to earn a Community Top Voice badge?
LinkedIn hasn't been explicit about exactly how many contributions are required to be eligible for a Community Top Voice badge. While a message along the lines of the one below will appear when you contribute, I've found these to be a bit unclear.
I've weighed in on several articles in relevant categories, and the message didn't change.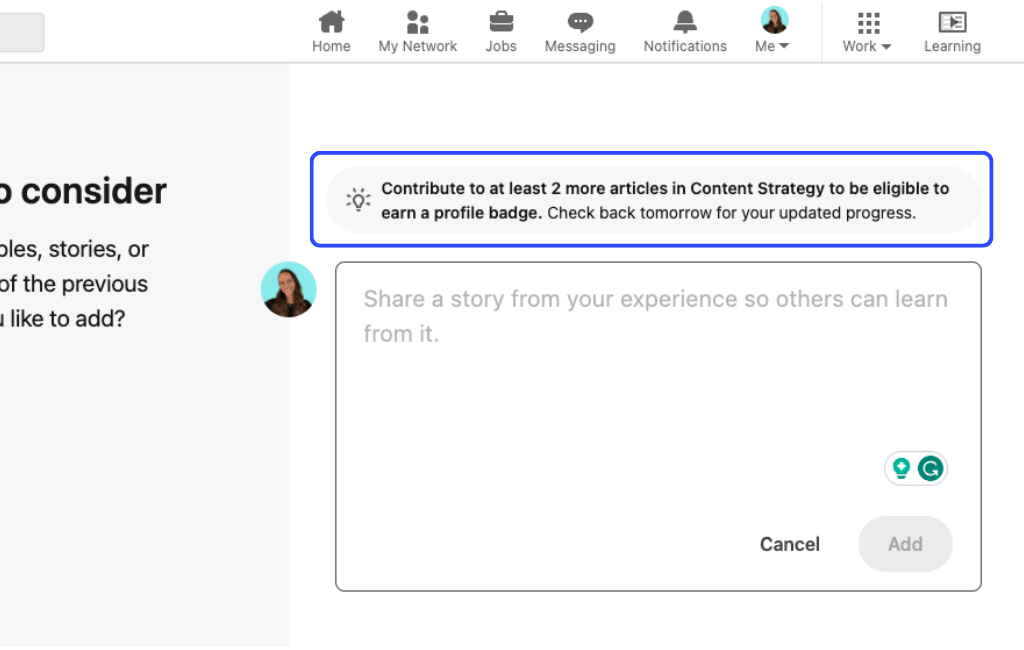 However, a 'Top Web Content Writing Voice' badge appeared on my profile about a week after I started contributing. Interestingly, the web content writing category wasn't the one I contributed to the most, though my comments on those articles did generate more reactions.
Christina had a more targeted approach than my hap-hazard commenting. "I set aside time and was just very strategic about what questions I wanted to answer," she said.
Christina contributed to four or five articles every day and earned several Top Community Voice badges within two weeks, she says. Here's how it looks on her profile, where she's able to choose which badge appears on her profile (you can only have one.)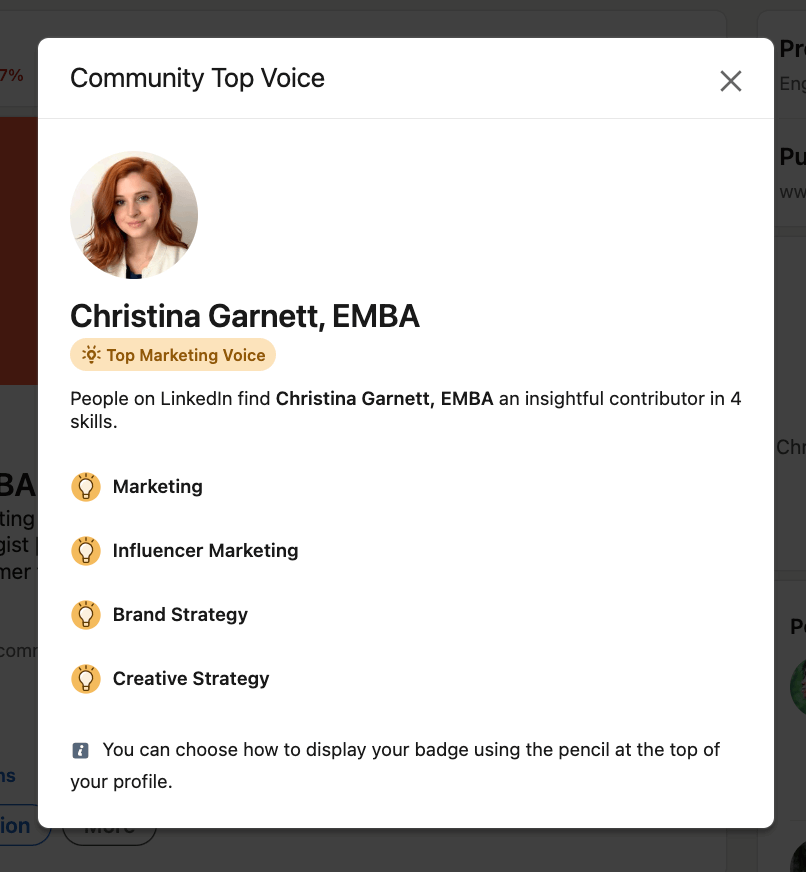 How many Community Top Voices badges can I earn?
The limit does not exist. While you can only display one badge on your profile at a time, you can earn as many as you want.
How long does a Community Top Voices badge last?
Earning a Community Top Voices badge is, unfortunately, not a one-and-done thing. All badges you earn will disappear after 60 days.
"In order to keep the badge beyond 60 days, your contributions must remain relevant, original, and additive," LinkedIn says. "Members must continue to find your contributions within that particular skill set noteworthy; and you continue to abide by our Professional Community Policies."
Will earning a Community Top Voices badge help me get my Top Voices badge?
LinkedIn is explicit about the fact the programs are separate and the Top Voices badge is judged according to a different set of criteria — so it seems unlikely that users will 'graduate' or progress from Community Top Voice to Top Voice with enough contributions.
How do I know if I can contribute to the collaborative articles?
Head over to this list of collaborative articles, and choose one that applies to you. If you see the 'Start a contribution' or 'Share your perspective' buttons, you're able to contribute.
How can I become eligible to contribute to collaborative articles?
If you're not yet able to weigh in on collaborative articles, LinkedIn recommends "engaging with the articles by liking or reacting to them" to be considered. In the FAQs, they shared: "There is no set timeline for receiving an invite to contribute."
Do you have any more questions about LinkedIn's Top Voices program? If so, I'd love to hear them and help where I can! Find @buffer on LinkedIn or Twitter, or comment below.