I wanted to nail my personal brand on LinkedIn — but I had no idea where to start.
Over the past few years, I've watched as the platform evolved from a job seekers' hub to a playground for entrepreneurs and creators looking to become industry authorities and drive sales.
There's no doubt doing so is incredibly powerful. LinkedIn is 277 percent more effective at generating leads than Facebook and Twitter. Plus, 82 percent of consumers are more likely to trust a company whose leadership team engages on LinkedIn — and 77 percent are more likely to buy from them.
But why is building a personal brand important to me, given I'm an in-house writer without a personal product or service to sell? There are a couple of reasons. I love learning new things on LinkedIn — it's been an incredible resource for me after pivoting from journalism to marketing back in 2021. After years spent absorbing knowledge, it feels right to give back.
Of course, my motivations aren't entirely altruistic. I'm pretty ambitious, and I love the idea of being an industry thought leader. I see my LinkedIn content as a living portfolio of sorts, something that will only benefit my career in the long term.
The problem: everyone seems to have realized this. It's getting harder and harder to cut through the noise on the platform.
So rather than going it alone, I asked for help. I reached out to some of my favorite LinkedIn creators for their number-one, game-changing tip on personal branding.
And then I tried them all.
Meet the LinkedIn personal brand experts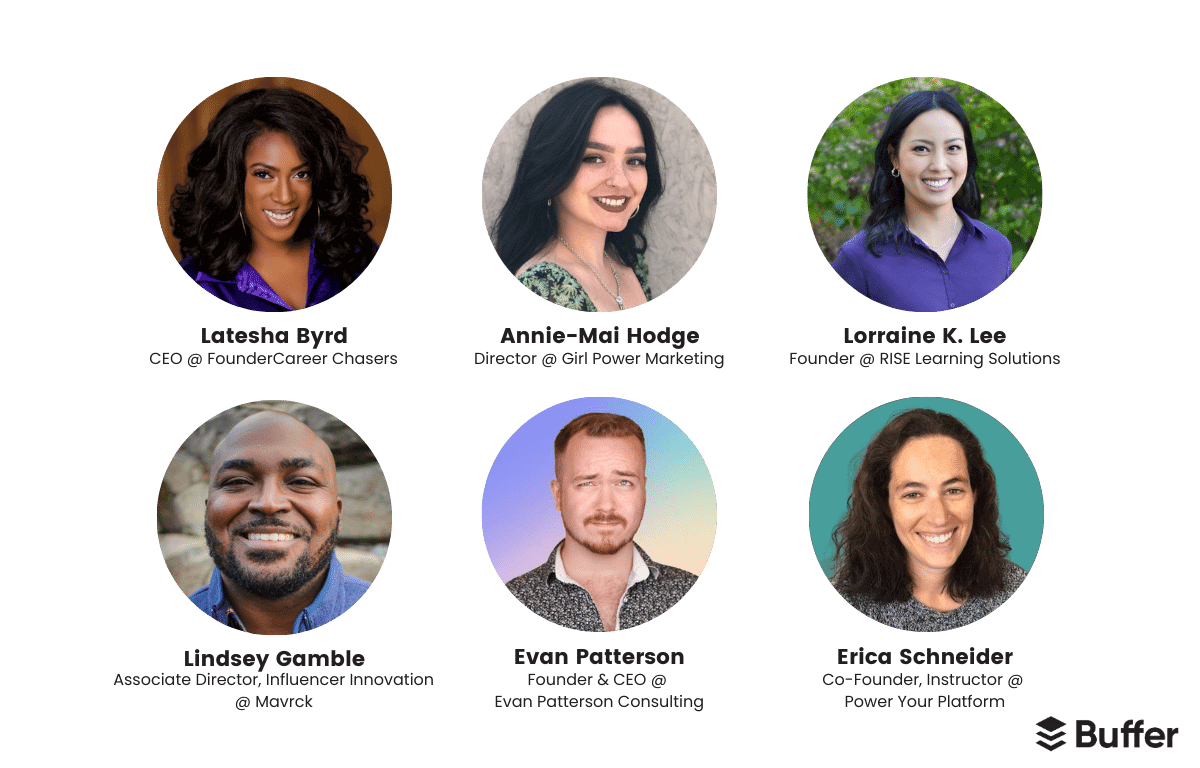 1. Understand your audience and their pain points — Latesha & Annie-Mai
Both Latesha Byrd and Annie-Mai Hodge gave me similar words of wisdom: figure out who you're talking to and what their problems are.
"This will shape what you want to be known for and everything you create," Latesha said. "When you understand your audience's pain points, you can start drafting content topics, building relationships with people who can benefit from your content, and grow an authentic following."
Annie-Mai's guidance was perfectly aligned. "Think about what problem you are solving," she advised me. "So for me, the reason my personal brand grew is because I realized I was filling in a gap. My audience, mostly being business owners and social media managers) wanted social media updates but all in one place."
Given my broad range of interests and the things I like to post about, the idea of choosing a  niche was a little daunting. Thankfully, Latesha gave this caveat to her advice: "This doesn't mean you can't post lifestyle content or share resources unrelated to your niche."
How I put it into practice
I'd always thought churning out enough content would be the toughest part of building a personal brand on LinkedIn. Turns out, it's pinpointing what kind of content you should be creating and for whom that was the uphill battle.
It's something I'd never really considered in my previous LinkedIn posting — I'd shared everything from links to achievements without any sense of who I was talking to. But Latesha's guidance really unlocked something for me here: "People are looking for solutions to their problems and actionable steps on how to make that happen. When you can develop and share these processes in a clear, tangible way, your brand will grow with ease."
Tami Oladipo's personal brand framework also proved really helpful. After some soul-searching, furious writing, and proverbial paper scrunching and over-the-shoulder tossing, here's what I landed on:
My audience: Ambitious content writers + marketers looking to level up, both in terms of their actual work and climbing the career ladder (or landing at a well-known company with a great culture, like Buffer).
Their pain points:
They have big workloads and are on small teams.
They're often expected to be generalists in their roles (i.e., marketers who handle content creation, content creators who handle social media).
They're not sure how to get noticed by prominent companies.
I wanted to make sure I had this front-and-center in my mind as I mapped out content and wrote my posts — so I created a personal brand content calendar in Notion, with the above emblazoned across the top of the page.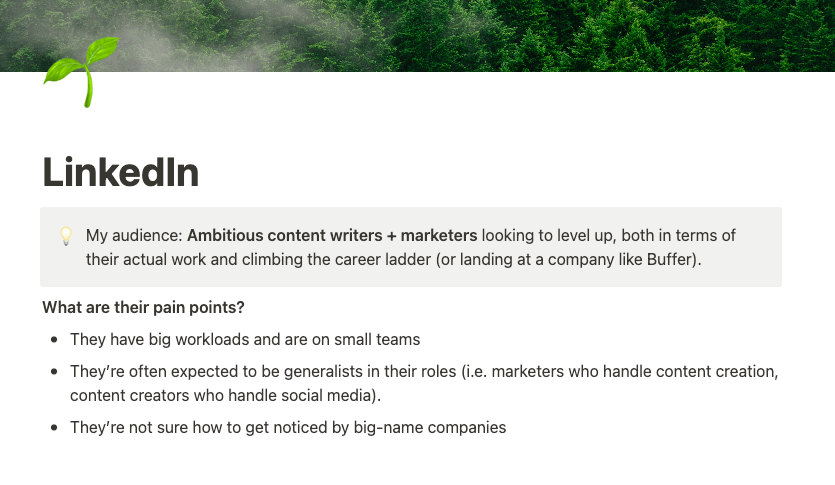 2. Make sure your profile is complete — Lorraine
Having a "complete" LinkedIn profile is Lorraine K. Lee's top piece of advice (and thankfully, didn't involve quite as much soul-searching as the first tip on this list).
What does a complete profile mean? "Write a headline that includes keywords beyond your current role, create a background photo that highlights your areas of expertise, and turn on Creator Mode so people can see your areas of expertise."
How I put it into practice
This was a relatively easy fix, as my profile was already in fairly good shape. I had turned on Creator Mode when I first started dabbling in LinkedIn content creation in early 2023, and I can't recommend it enough. It's what turns your 'Connect' button into a 'Follow' button, allowing you to start building your audience. It also gives you access to LinkedIn's analytics tools, which are essential in figuring out whether your content is hitting the mark. Here's a peek at mine: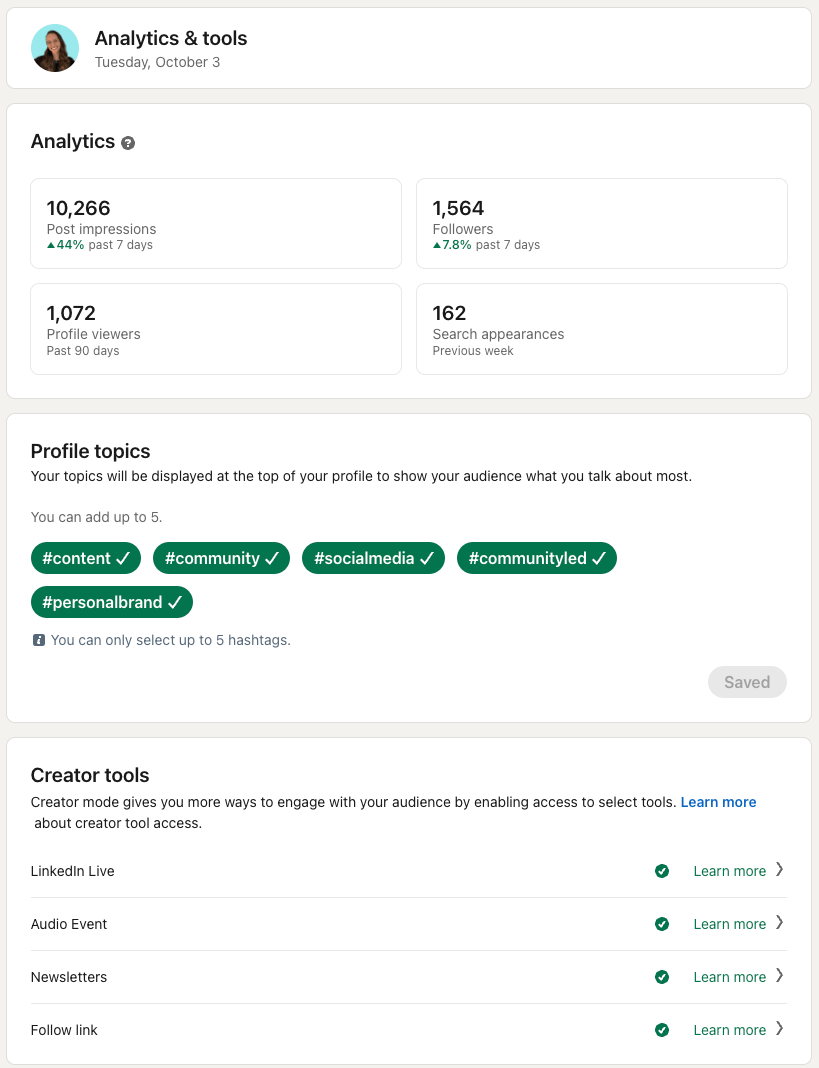 Rather than just 'Content Writer @ Buffer' for my headline, I went with '⚡️ Content Writer @ Buffer | Strategist, Journalist, Community Builder'. The emoji was my own addition — it's a device I've seen several creators using on the platform, and I love the way it makes your headline stand out in the feed and post comments.
I had switched up my LinkedIn cover image to a Buffer-branded one when I joined the team in August 2023, but Lorraine suggested I try one with a personal call-to-action (CTA). Thankfully, I had my audience and their pain points to lean on here. It took me a matter of minutes to spin up a clean, simple graphic with a template in Canva.
As a final touch, I added a link to my Start Page so I could direct people to more than a single link — the Buffer blog, I podcast I'd once hosted, my articles as a journalist, as well as my other social platforms — with the custom button text 'Find my work'.
Here's how my profile looked after the tweaks I implemented: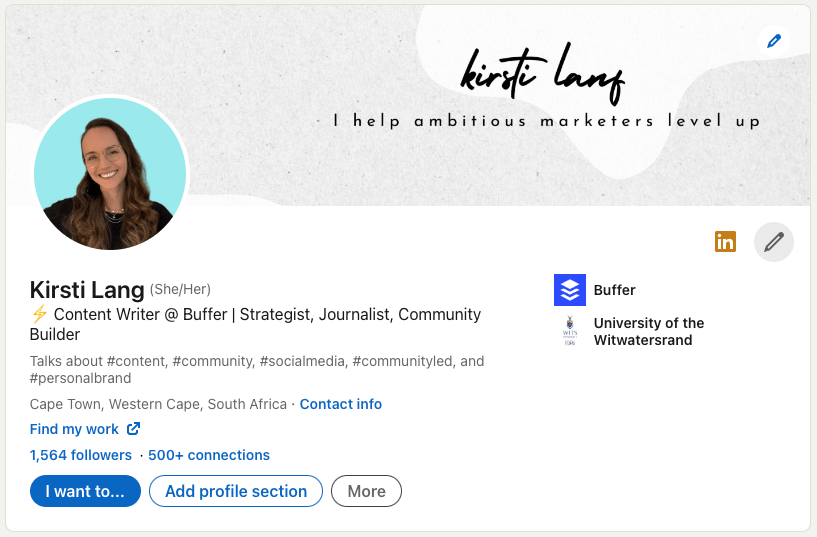 3. Build a consistent posting schedule — Lindsey
Lindsey Gamble's advice was something our experts have often shared about growing an audience on social media, no matter which platform it is: consistency.
"I believe that consistency is key in all aspects of life, but it is especially important when it comes to building a personal brand," he said. "It takes time and effort to cultivate a strong personal brand, and being consistent is the best way to achieve that."
His advice was to post something every other day around the topic you know best. "I make an effort to share thoughtful and insightful content on LinkedIn at least three to four times a week, focusing on topics related to the creator economy."
How I put it into practice
Having posted rather erratically in the past, this was a huge change of pace. Again, having a defined audience and pain points was immensely helpful in maintaining consistency in the ideas I was pulling together for posts. The next piece of this puzzle was trickier: a consistent posting schedule.
Suddenly, going from ~one post a week to four or five seemed unattainable for me, at least at the point I was at when I embarked on this experiment. So, I set myself a slightly more realistic goal of three posts a week.
Again, my Notion content calendar was a really helpful resource. I created a Kanban view of my Notion database where I split ideas into three categories: to-do, in progress, and complete.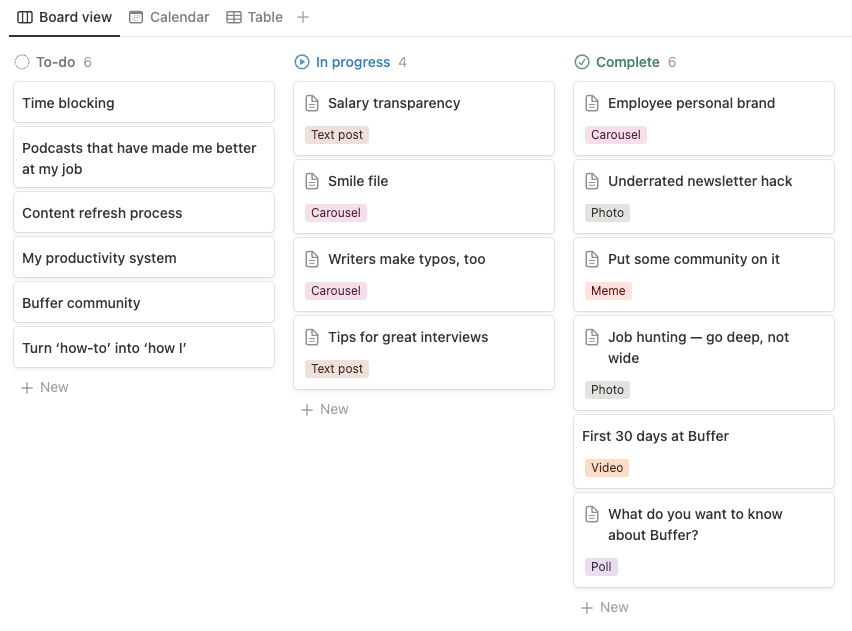 Once my posts moved into my in-progress category, I added a date, which automatically shifted them into the calendar, which I dragged and dropped around as needed. Once they were ready to go, I copied and pasted them into Buffer and scheduled them for a specific time (more on that below).
4. Time block chunks of your day to plan, post, and engage — Evan
Building a personal brand takes time and effort — how on earth do you fit this work into an already busy schedule?
Evan Patterson offered a solution here: time blocking. "At the beginning, your number one hurdle is more than likely going to be simply building the habit and staying consistent. Block time to post and engage with at least ten other peoples' content with thoughtful comments," he said.
Posting and engaging are not the only things you should be earmarking time for, he added. "During that time, stockpile ideas, obsessively. Note down every phrase, blog, video, etc., that you run into during your life for a month that you might want to write about in the future. You will get writer's block eventually, so you might as well prepare for it."
How I put it into practice
I was still learning the ropes in my new role — I embarked on The Great LinkedIn Experiment ™ before I'd even hit my first 30 days at Buffer — so squeezing my LinkedIn work into my days was tough.
Time blocking is something I've done in the past to ensure I didn't task-switch, and leaning into this tactic again proved really helpful. I'd recently discovered a task management and time-blocking app called Ellie, which worked super well for this.
At the outset of each day, I'd plan all my tasks (in the orange 'Settling in' recurring task you can see below), during which I'd make sure I dedicated a chunk of time to LinkedIn work (the pinkish tasks).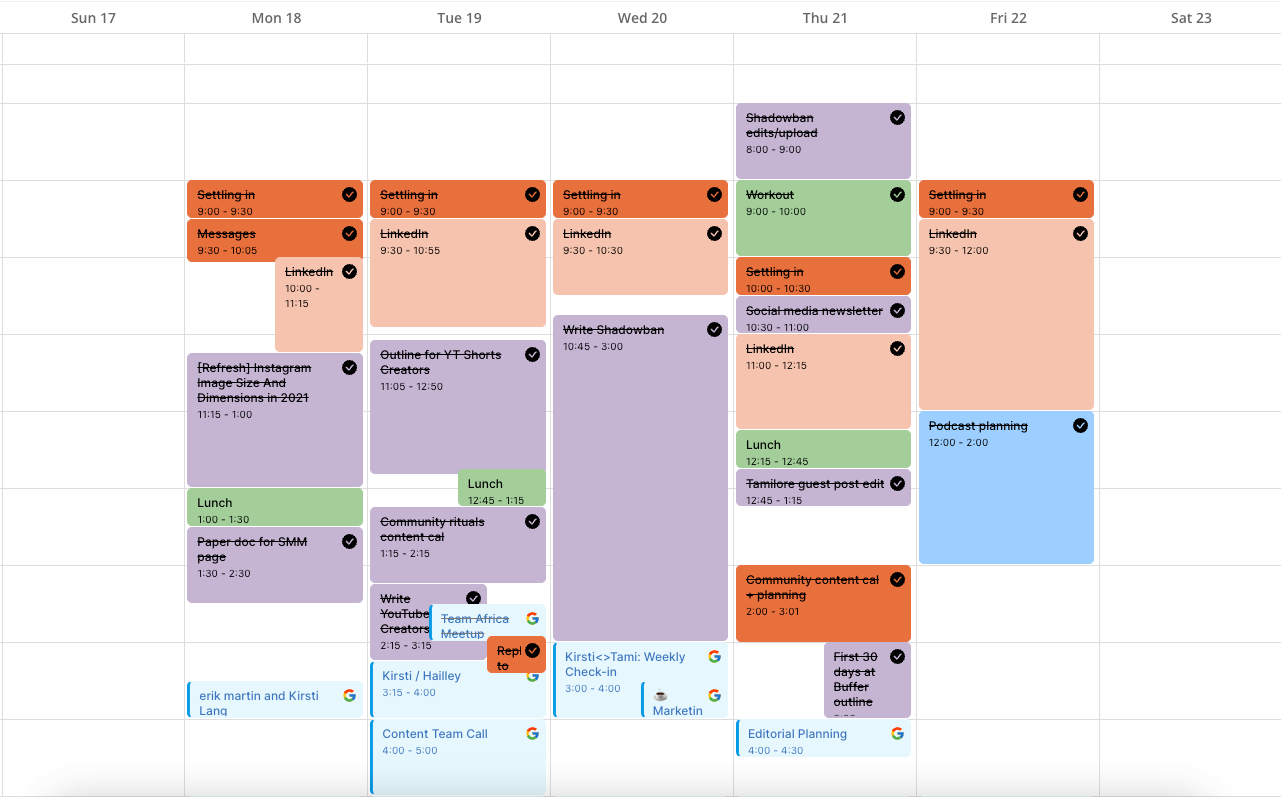 There were three primary tasks I completed during these time blocks:
Content ideation (as Evan put it, "obsessive idea stockpiling").
Content creation and scheduling.
Engagement with other users (on my own posts and theirs).
I'm biased, of course, but Buffer proved to be a powerful tool in my personal brand tool stack too. When I had time — like on Fridays, since we work a four-day work week — I created a batch of posts and scheduled a couple for the week to take the pressure off. I also found myself frequenting the 'Content' section, especially in the mobile app version of Buffer. It's a great place to store half-baked post ideas when you're on the go.
Another really useful hack I discovered was saving comments I left on other people's content. You'd be surprised by how often you're able to turn those into posts! The idea on the top left of the screenshot below (from the Buffer app) inspired this really fun post that got some great engagement.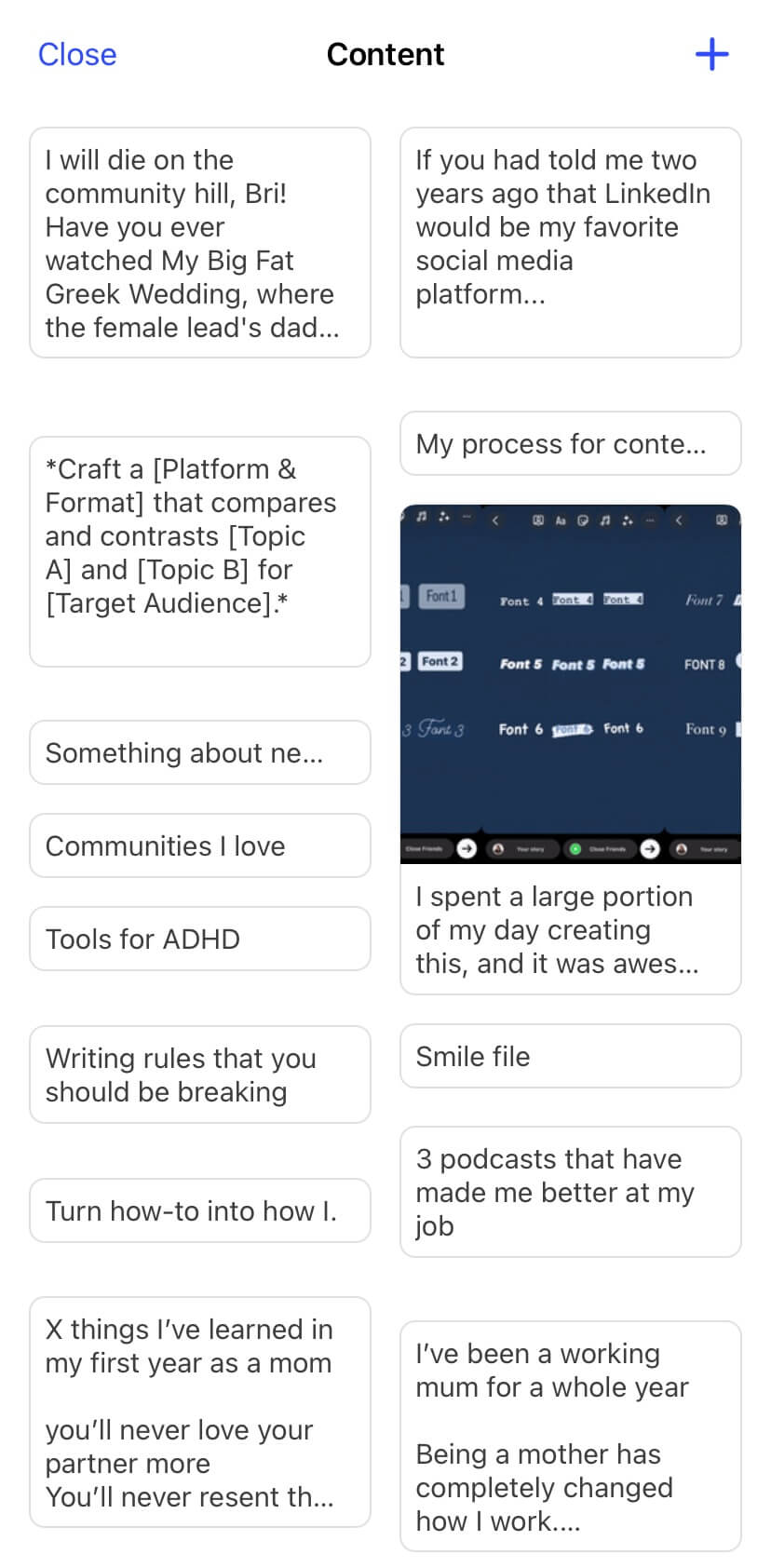 5. Learn how to write for LinkedIn — Erica
You'll have noticed that people whose content resonates on LinkedIn follow a similar style and format. Even as a writer, I've found it difficult to adapt to — it's completely unlike anything I've ever done before. Thankfully, Erica Schneider offered a really simple framework for building this new muscle.
This is it in a nutshell:
Hook readers in above the fold. "On LinkedIn, that's four lines on desktop and 2 on mobile. I don't mean sentences, I mean actual lines," Erica said. "White space counts as a line." The goal? Get readers to click 'See more' on your posts. "Get them to click that button so they invest emotional energy and stay."
Follow these four principles to write a great hook: 1. Poke the pain. 2. Add credibility. 3. Get specific. 4. Build intrigue. I'll direct you to Erica's great post for more info on this.
Make sure your body delivers on your hook's promise: "A great hook without a strong body is a waste," Erica said. "To do that, make sure you answer WHAT + WHY + HOW. Ideally, you're focused on one big idea. Simplicity wins."
Focus on format. "Format is everything," she said. "Keep your sentences short. Use tons of white space. End with a takeaway that acts as a CTA."
Play with post styles. "There are tons of post formats you can choose from, just like with blogs," Erica said. "How-to, storytelling, rant, observation, X vs. Y, etc."
Add your personality. "I've always added little intonations that are ME. For example, instead of saying, 'Cut it out' I'll say 'Cutty Mc' Cut it out.' It's stupid, it's dorky, and it's me."
How I put it into practice
I honestly can't thank Erica enough for this post format — it unlocked so many great new ideas and offered a formula that made content creation so much faster.
"Poke the pain" is something that has really stuck with me. I rewrote the post below to fit this format, and it's been one of my most engaging posts ever, with over 11k impressions! Not bad for someone with my following. (I suspect the photo I included in the post helped a lot, too.)
I found that not every single post is easy to fit into this mold, however, and that was OK. Sometimes, I had something to say and what I felt was a good way to say it, and I didn't want to stifle that creativity by being too wedded to a specific style.
The video below is a good example of something I just felt like rolling with, and I'm glad I did. It generated almost 5,000 impressions and 1,200 video views.
One month later…
At the risk of sounding cliche — the numbers really do speak for themselves. About a month after I put all of the above into practice, my LinkedIn following had grown by 20 percent. Sure, 300 followers are probably none too impressive for LinkedIn's top creators, but that level of growth in a mere four weeks? I'll take it.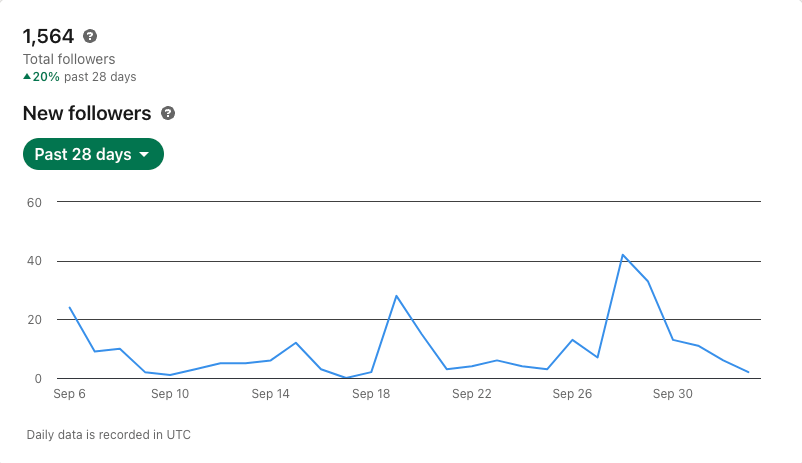 Perhaps even more impressive was my content performance. An increase of over 70 percent certainly felt worth all the effort I'd put into this experiment.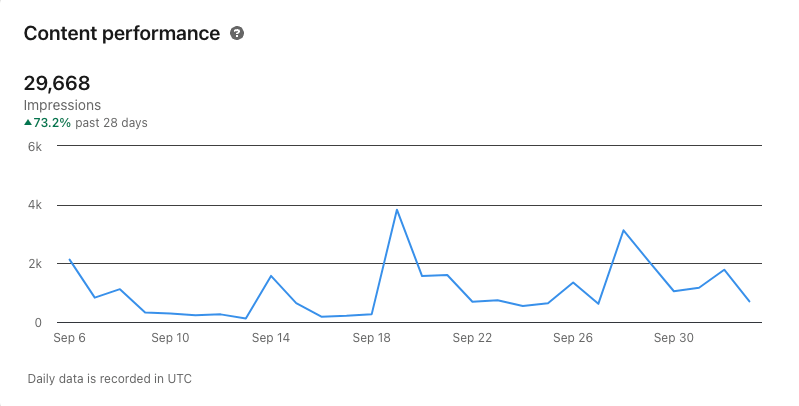 Some other really useful lessons I uncovered in my four weeks as a LinkedIn creator:
Engaging with other users is really a superpowered tactic, both in terms of follower growth and new content ideas.
Experimenting with different post types really paid off. A video (cringey as I felt it was) was really well received, and a candid photo of myself even more so.
On that note, Carousels do seem to resonate on LinkedIn, but they're a pretty high-lift content piece. In the future, I'll likely lean into text-based posts paired with photos rather than create carousels.
Batch post creation and scheduling was a timesaving game-changer.
So (insert drumroll here), will I be sticking to all of the above tactics?
When I initially outlined this article, I envisioned sharing which of them I'd continue doing and which I'd scrap — but the truth is that I found they all played really well together.
For example, I'd never have been able to achieve the level of consistency required without timeblocking. And creating content was so much easier thanks to both Erica's writing template, and Latesha and Annie-Mai's guidance on pinpointing my audience and their pain points. So the verdict? I'm going to do my best to stick to every single one.
With any luck, the well-oiled machine I've built over the past month will be able to chug along even more efficiently in the coming weeks, helping me build up momentum — and you'll be seeing a lot more from me on the platform.