LinkedIn now has more than 500 million users and if you want to reach business decision-makers, it could be the perfect place for you to market your business — especially with the addition of a new, personalized ad format.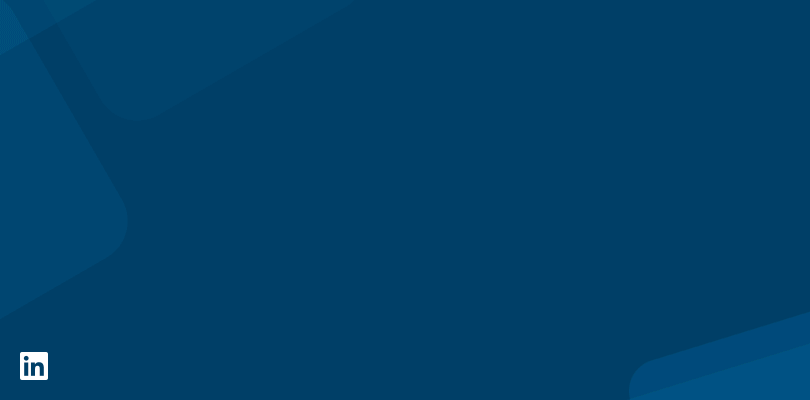 Introducing Dynamic Ads
LinkedIn has released a new ad-type called Dynamic Ads. In the Dynamic Ads launch blog post, LinkedIn's Ayusman Sarangi explains:
"Dynamic Ads help you build deeper relationships with your audience by automatically customizing your ad creative with the publicly available information from LinkedIn member profiles. With this added visibility and scale, you can create more memorable experiences with the people that matter most to your business."
With Dynamic Ads you can personalize the ad creative to feature member profile details such as their photo, first name, company, and job title. LinkedIn says this will "capture your audience's attention in a way that standard display ads can't."
Early results sound promising too as LinkedIn has shared that Dynamic Ads have shown up to 2X the click-through rate of traditional display ads.
Here's an example of how LinkedIn Dynamic Ads look on its website: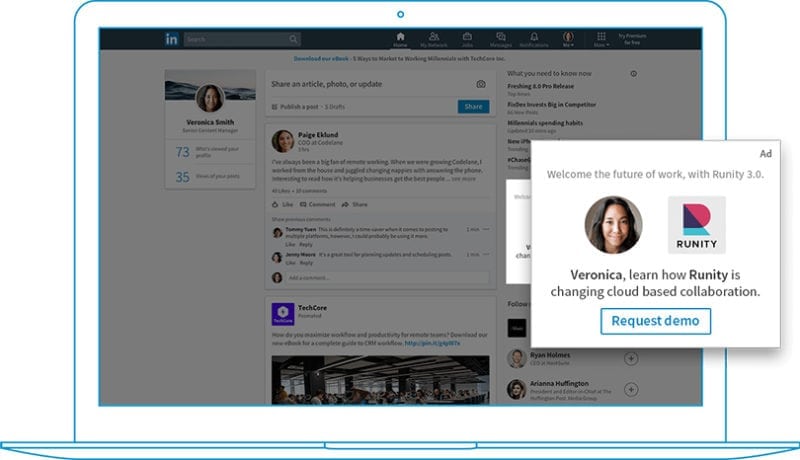 Using Dynamic Ads across your customer journey
With Dynamic Ads, you just need to write your ad copy, set up the creative and then LinkedIn will automatically personalize your campaign for each person you target.
Dynamic ads are available in three different formats — Follower ads, Spotlight ads and Content ads — and can be used across your marketing funnel to connect with prospects at different stages of their journey.
At the top of your funnel, you could use Follower ads to build brand awareness, engagement and convert target audience members into engaged Company Page followers.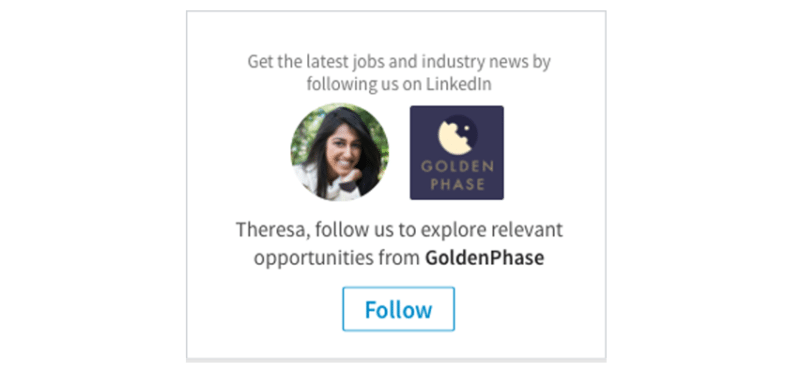 Procore Technologies has used Dynamic Ads for brand awareness as it expands its presence across the globe and the brand's Social Media Marketing Specialist, Heather Barnhart, explained to LinkedIn:
"Our need for brand awareness in each region was imperative. LinkedIn Dynamic Ads were a great way to quickly create personalized follower ads targeting the exact audience we are looking to attract."
With middle and bottom of funnel prospects, you could use "Spotlight" or "Content" ad formats.
Spotlight ads allow advertisers to showcase products, services, events, and more. And when members click on your Spotlight ad, they'll instantly go to your website or landing page.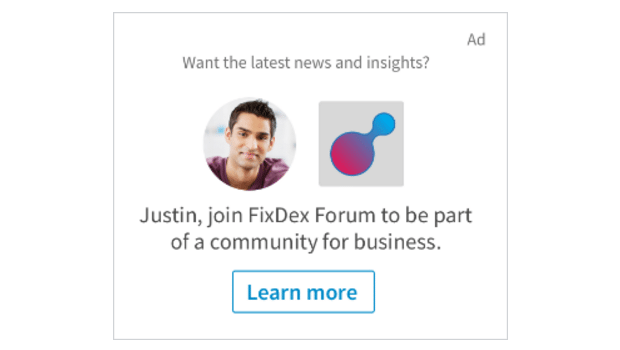 The third Linkedin ad-type, Content ads, can be used to generate leads or drive content download conversions.
LinkedIn says that Content ads can be used to "bring a relatable touch to content promotion." In its own ads, LinkedIn likes to place the author's picture in the creative to humanize the ad and show that there are real people behind every piece of content it creates: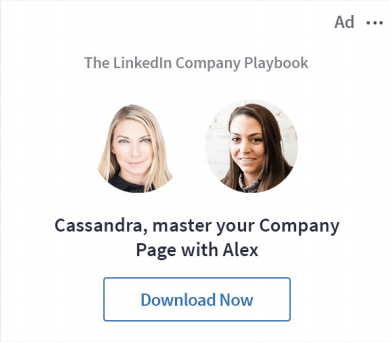 Note: Content ads are currently only available to businesses with managed LinkedIn advertising accounts.
Will you be using Dynamic Ads?
LinkedIn Dynamic Ads are now available directly in Campaign Manager and within Campaign Manager, you can also leverage A/B testing to optimize the performance of your ads.
What do you think about this new advertising format from LinkedIn? Is it something you'll be experimenting with? Let us know in the comments.

Want to learn more about growing your business on LinkedIn? Check out our recent episode of The Science of Social Media on growing your LinkedIn Company Page: