We're quite keen to always be learning new things at Buffer—new social media strategies, new languages, new skills and experiments. And we love learning together—with each other and with you.
One area that we've been fortunate to gain some knowledge and experience is with social media sharing, which can be a big one for those who are eager to get involved but not quite sure where to start.
We'd love to help people get started with social media.
We'd love to help with social media marketing, from square one.
Our newest idea: A seven-day email course that you can subscribe to for a lesson each day—each one just two or three minutes to read—on the very basics of social media marketing.
We'd love for you to join, try, and learn with us!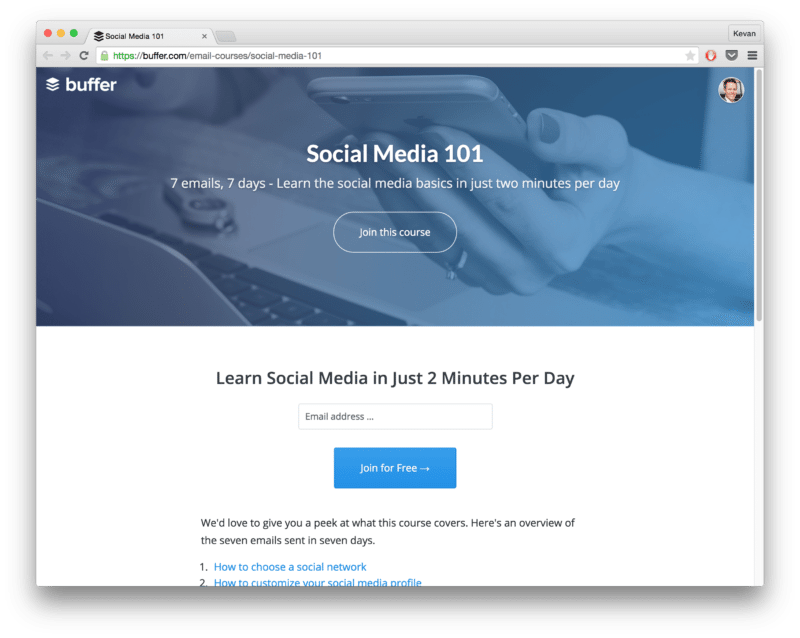 Learn Social Media in 2 Minutes Per Day
It's been so fun sharing social media content with you all here at the Buffer blog and learning what might be most valuable for you.
We've put together our best tips for getting started with social media.
7 emails, 7 days, 7 short lessons about all the basics of social media marketing.
Each email is a two- or three-minute read at most (with some easy options to dive deeper into full blog posts and resources).
You can sign up for the Social Media 101 course for free and send the link along to friends, coworkers, or clients.

The email course is free for everyone. If you're a current Buffer user (thanks!), you can go there to sign up now. If you're not yet a Buffer user, we'd love to have you join us, too.
Subscribe for free.
Seven days of social media: What you'll receive
We'd love to give you a peek at what this course covers. Here's an overview of the seven emails sent in seven days.
A sample email: What to expect
We count it as quite the privilege to be invited to your inbox, and we'd love to give you as much info as necessary to help you choose whether this email course is right for you. Sometimes, it's quite nice to get a sample of what you might be subscribing for.
Here's a look at the email for Day Six of the Social Media 101 course.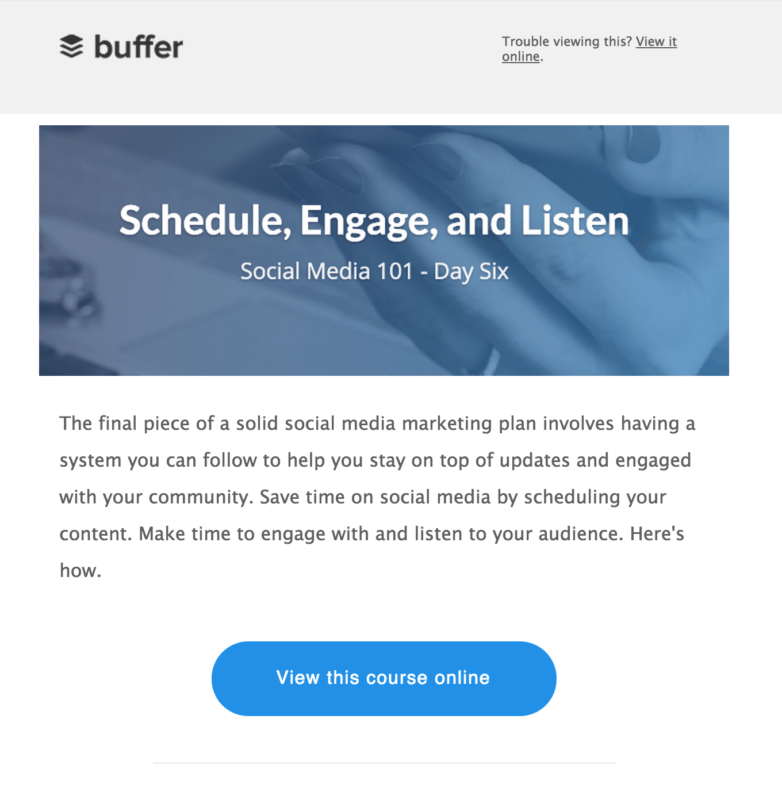 Full transcript:

Reading time: 2 minutes

So many social media channels. So little time.

This is one of the chief improvements we aim to tackle with the way we experiment with workflows and strategies.

We'd love to get the most out of the time we spend on social media. Our best tip for doing so is to schedule your posts and to work in batches.





There are so many different social media platforms. You can and should post the same content on each platform, but it takes a long time! Plus, the content needs to be customized for each platform.

You could go to each site, one-by-one and post each update, pulling away from what you may be currently doing in order to post at the best time — a double whammy on your time and productivity!

Scheduling is the secret weapon for consistent, excellent sharing, day after day.

Tools like Buffer allow you to create all the content and updates that you want to, all at once, and then place everything into a queue to be sent out according to whatever schedule you choose.

One thing that goes hand-in-hand with scheduling is engagement – jumping into the social media channel directly to interact and share with the audience.

Engagement is a great balance for automation.

When people talk to you, talk back. Set aside time during your day to followup with conversations that are happening on social media. These are conversations with potential customers, references, friends, and colleagues. They're too important to ignore.

One way to stay up on all the conversations that are happening around you and your company is to create a system for listening. Tools likeMention will send you an alert every time you're mentioned online, and you can rely on custom searches and email alerts for mentions on specific networks, too.

Further reading: What's the best way to spend 30 minutes of your time on social media?

These are the next-level tips that the social media pros use! If you've made it this far, you're rocking your social media strategy. ?

Today's action item: Sign up for a social media management tool. Create mention alerts via email or Mention.

Tomorrow's email: A free social media marketing kit!
---
Grateful to be sharing with you!
We're excited to try out this new experiment with email courses and to provide as much value as possible to you and your team.

Is there anything we can do to make this course a  more worthwhile experience for you?
Add any thoughts to the comments here, or feel free to email me directly also. I'd love to hear your ideas. And I'm grateful for the opportunity to be sharing with you!
Image sources: Pablo, IconFinder, UnSplash