Summary
Creating attractive Instagram Stories can be challenging and time-consuming. We'd love to help with that! Get to know Stories Creator and the five free Stories templates we recommend.
You will learn
Time-saving tools for creating beautiful Instagram Stories
How to design your Instagram Stories in 10 minutes or less
The best templates and ideas for engaging Stories for your brand
More than 25 million businesses use Instagram worldwide, and over half of those businesses are creating Stories every month.
Stories are an incredible way to connect with your audience in fresh and authentic ways. Who knows, maybe they'll even become the new News Feed.
But creating attractive Instagram Stories can be challenging and time-consuming.
We'd love to help with that!
We've launched Stories Creator, a free, lightweight tool that enables you to create thumb-stopping content for Instagram Stories. Here are five free Instagram Stories templates that we provide with the tool and how to use them. (We're excited to add more templates to the tool. Let us know your suggestions in the comments below!)
---
5 free Instagram Stories templates (and how to use them)
There are so many different ways to use Instagram Stories.
At Buffer, we use Stories to:
Discuss our latest blog posts
Take our community behind the scenes
Share social media stats and data
And much more
To help you get the most out of Instagram Stories, we've created five easy-to-edit Instagram Stories templates that you can use right away with Stories Creator.
1. Limited time offers and promotions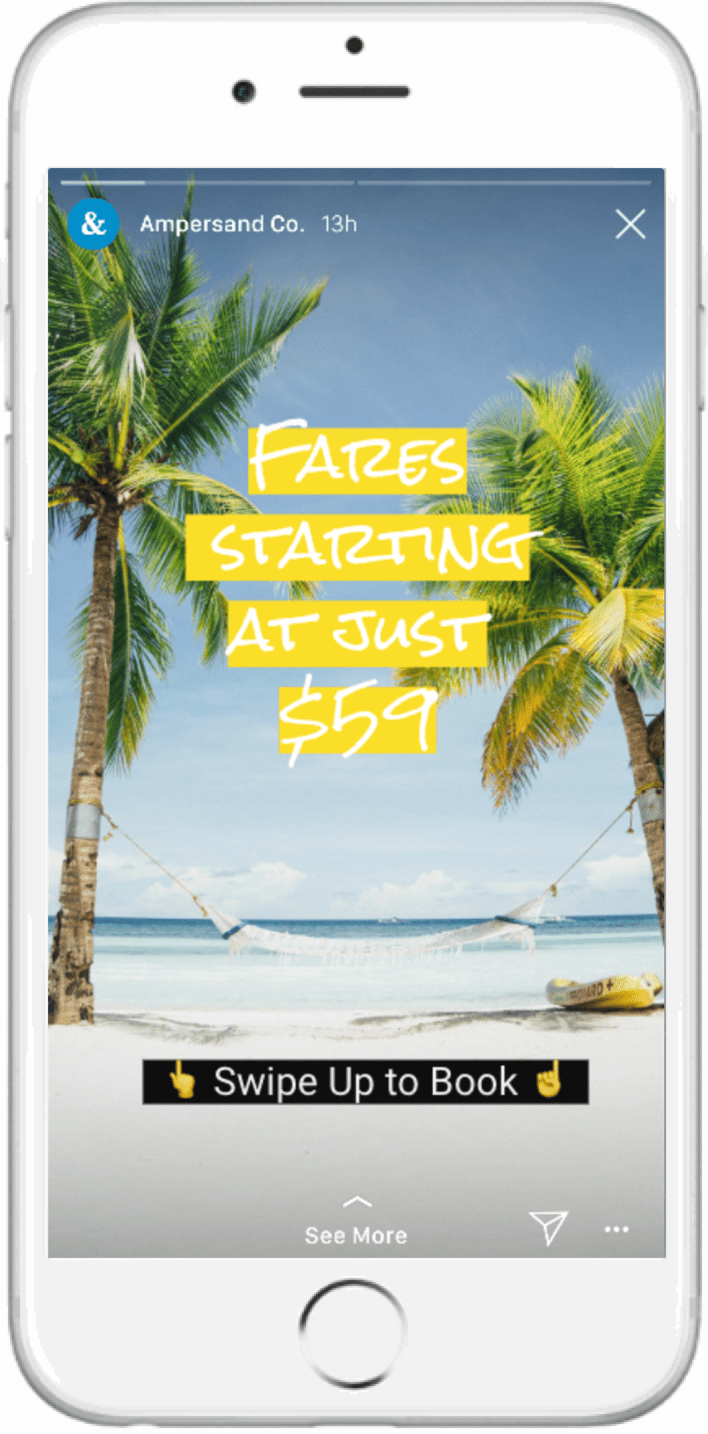 Instagram Stories last for only 24 hours, making it a great way to promote time-limited sales. This is a strategy often used by online clothing retailers.
For example, Black Sheep Cycling launched their new limited edition cycling kit through Instagram Stories and sold them out in 30 minutes.
You could use this template to share your offers with your followers.
2. Giveaways and discount coupons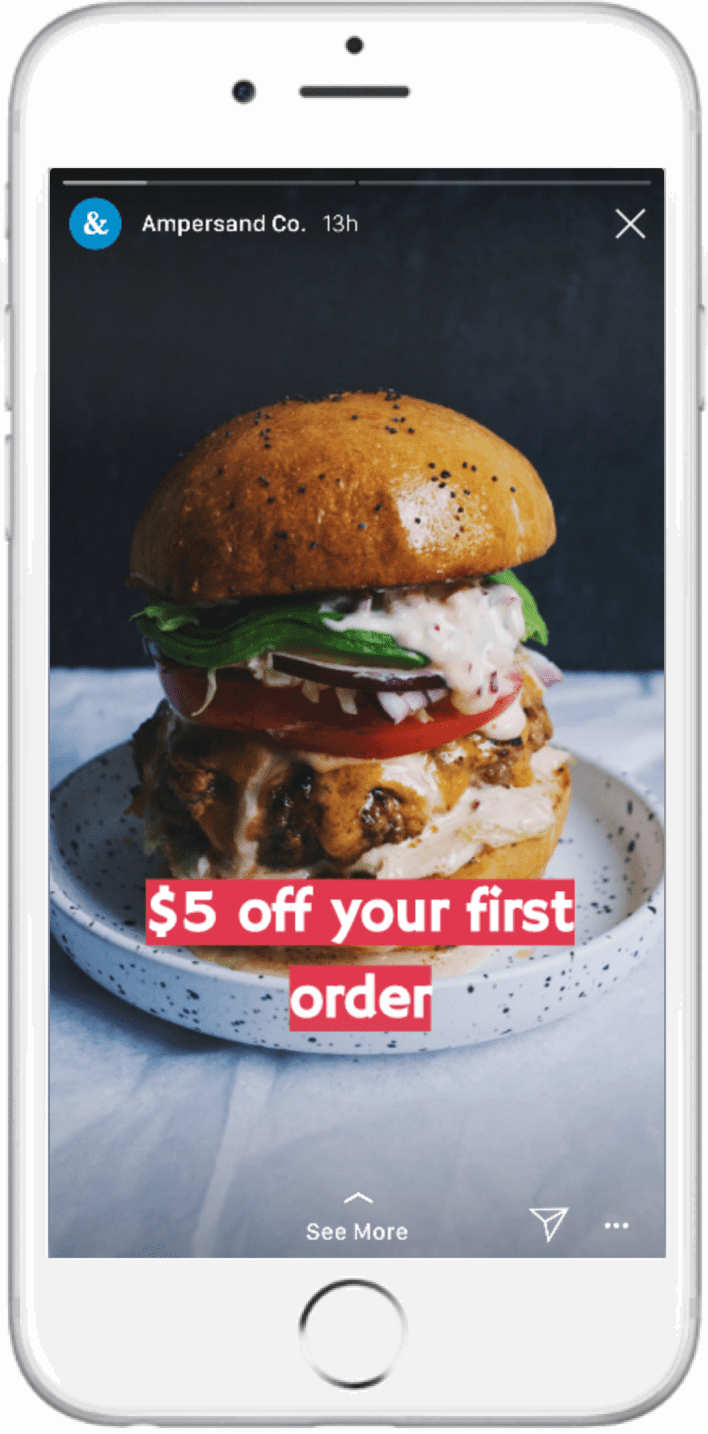 To entice followers to watch their Instagram Stories, brands sometimes host exclusive giveaways or give out discount coupons in their Instagram Stories.
Again, this is great for online retailers who drive sales through social media promotions. You could use a unique discount code specifically for your Instagram Stories to track how much sales your Instagram Stories generate.
At Buffer, we've used this technique to help encourage reviews to our podcast.
First, we thanked all of our weekly listeners for being a part of the show and then we showed a picture of Buffer socks and shirts.
Next, we asked people to respond to our Stories with a ? if they have listened to our podcast or a ⭐ if they've reviewed our podcast.
Everyone was entered for a chance to win swag!
3. Lists and countdowns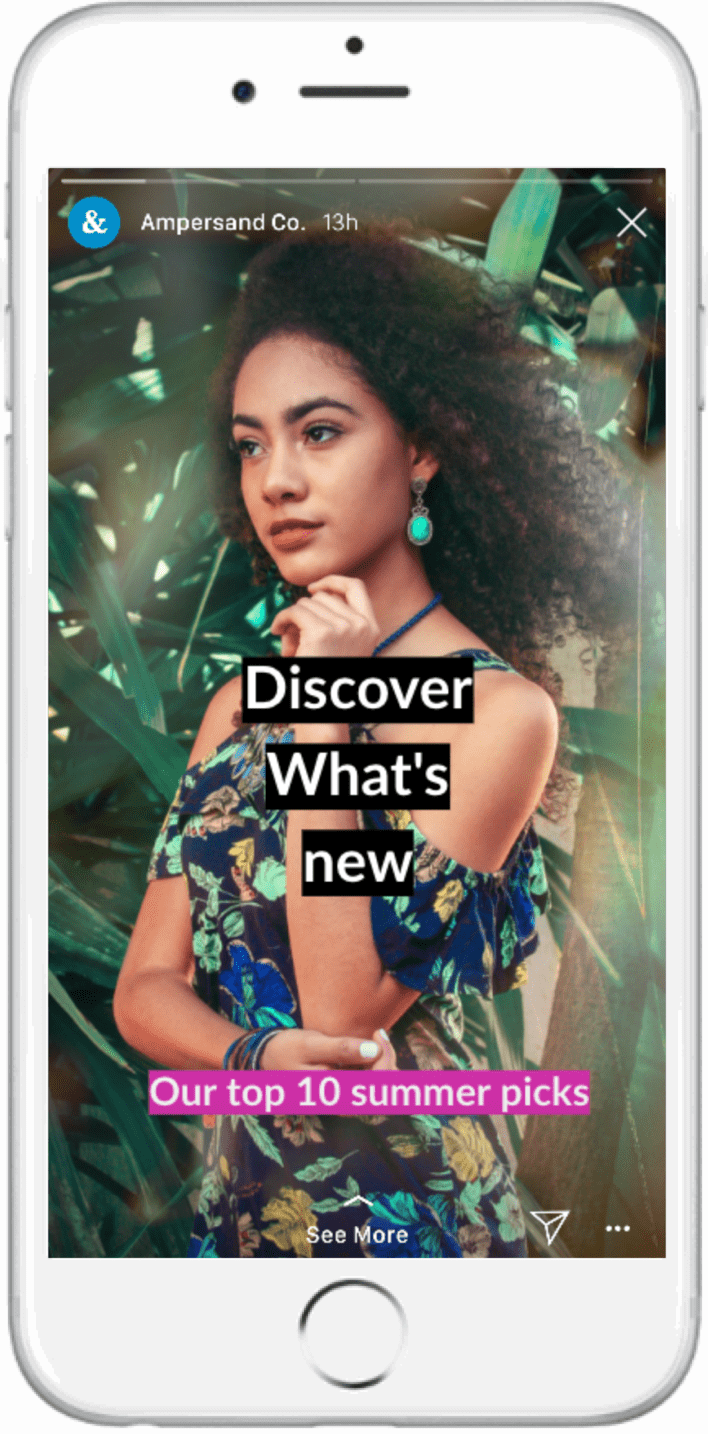 I learned this strategy from Airbnb. I've seen them share lists of the best places to live, workspaces in Airbnb homes, and more.
You might be interested in sharing:
Various ways to use your product
Surprising stats and facts about your industry
User-generated content
You can also try fun and entertaining lists such as "top books for marketers" or "top things we learned in social media this month." People love a good list!
4. News, updates, and announcements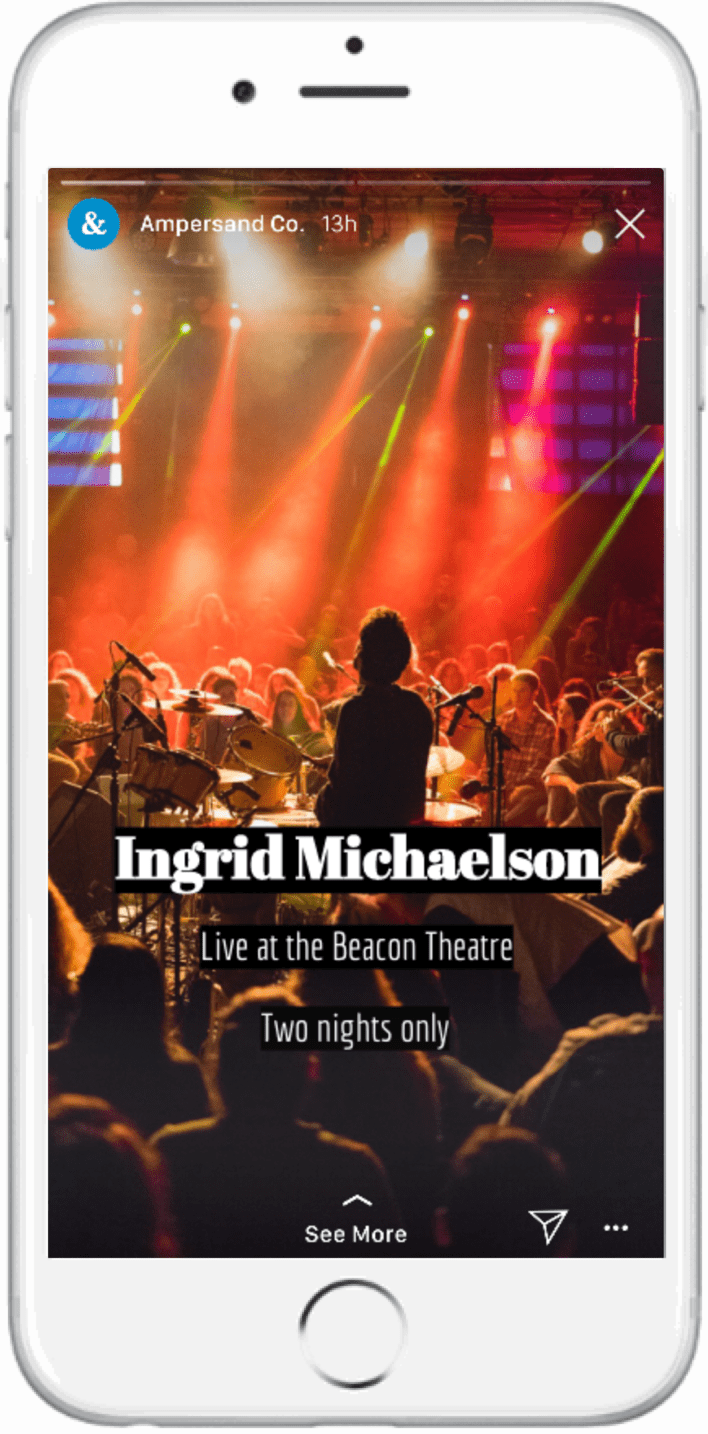 We have shared several fun announcements using Instagram Stories: the launch of our podcast, the launch of our online social media strategy class, our celebrations for Social Media Day, and more.
You could use this template to build up the anticipation for your announcements and then to reveal the surprise through a subsequent Story.
5. Blog post promotion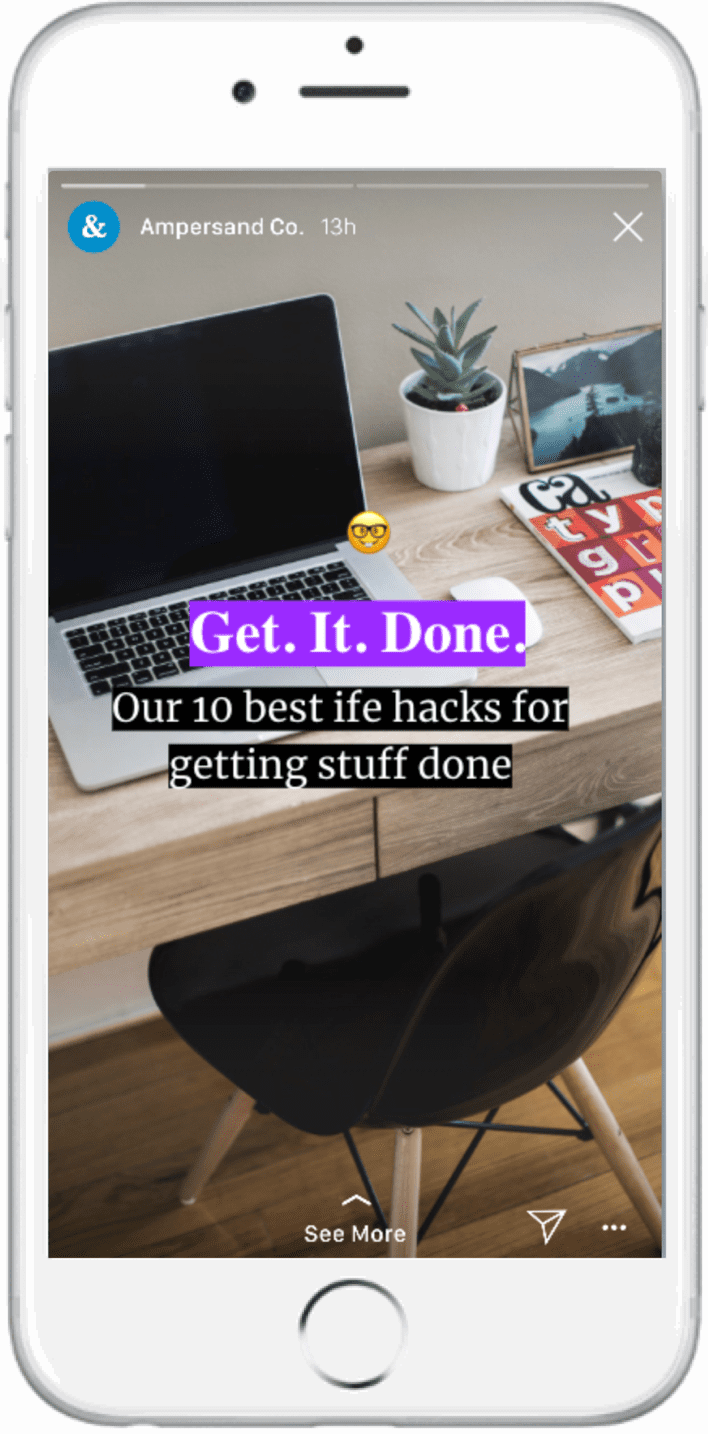 Blog post promotion is something we often do with Instagram Stories.
Instead of simply asking people to visit our blog, we like to highlight the key points via Stories. Repurposing content across channels is a great way to ensure it reaches as much of your audience as possible.
5 more Instagram Stories ideas
While we have only five templates at the moment, I would love to share more ideas for connecting with your audience through Instagram Stories. We'll be thrilled if you want to use Stories Creator to turn these ideas into reality!
6. Storytelling
One common use case for Instagram Stories is to show behind-the-scenes content. For example:
Restaurants show how their dishes are prepared
Musicians show how their music is recorded in their studio
Sports teams share training sessions with fans
Fashion experts demonstrate how to put together the perfect outfit
SaaS platforms could provide an inside look at their company hack-day
Use Instagram Stories to tell your company's stories. If you want a bit of inspiration, here are 11 storytelling formulas you can refer to.
7. How-to tutorials
This is our favorite way of using Instagram Stories — to educate. We've used Instagram Stories to share how to curate content, set benchmarks, and much more.
Try using Instagram Stories to share some tips or teach your followers how to do something, such as how to use your product.
For example, we often get questions about the perfect size for Instagram Stories (1080px X 1920px) or how to advertise on Facebook. We'll take these questions and turn them into short Stories tutorials.
8. Data, research, and statistics
Do you know any interesting (or surprising) statistics about your industry that your followers might be interested in?
Mentioning a cool stat can be a great way to get the attention of your followers before you share something important (such as an announcement or a blog post).
9. Quotes and inspiration
Several social media influencers such as Gary Vaynerchuk often share motivational quotes on their Instagram Stories.
It doesn't only have to be a motivational quote. You could share a quote from your most recent blog post or a quote from your CEO — if it's relevant to your followers, it's often worth sharing.
10. Introduction for an Instagram takeover
An Instagram Stories takeover has a nice advantage over a traditional Instagram post takeover. Your guest can post as many Stories as they like without filling up your nicely-curated gallery.
Before you let your guest post on your account, you might want to promote the takeover or introduce the guest.
You could also host a question and answer session with your followers through Instagram Stories. Let your followers know what the session is about and invite them to DM you questions.
How to design your own Instagram Stories in under 10 mins
Stories Creator is our favorite tool for creating Instagram Stories (we're biased!) With the tool, I managed to create this image in just three simple steps: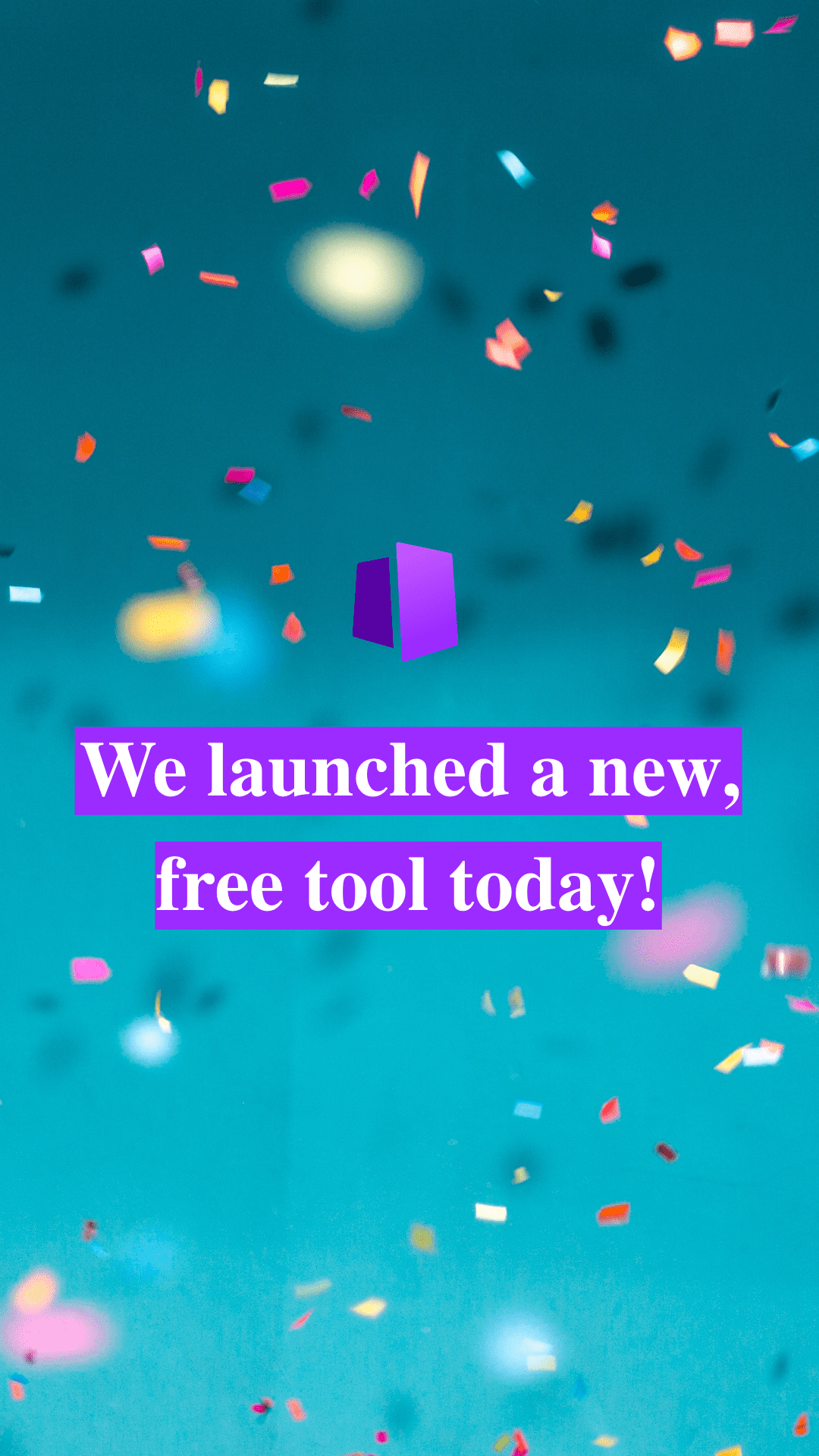 Here's how I did it.
(Feel free to open up Stories Creator in a new tab to follow along!)
Step 1. Add a background image or color
Every Stories image you create with Stories Creator is perfectly sized for Instagram Stories. So there's no need to search the web for the ideal dimensions.
First, add a background image, or if you like to keep things simple, add a background color. (Here are some free image sources for you.)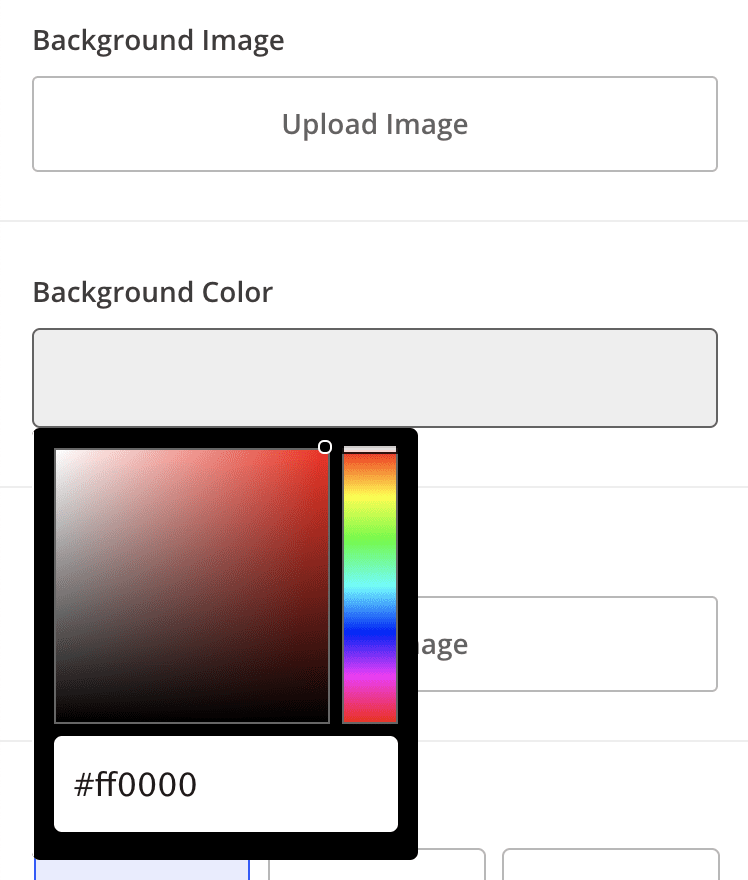 You could also select one of our templates to get a quick start.
Step 2: Add your text and graphics
Next, add up to three blocks of copy to your Instagram Stories image. You can choose from over 25 fonts, edit text size, change the font color, adjust alignment, and even add a background highlight, just like on Instagram.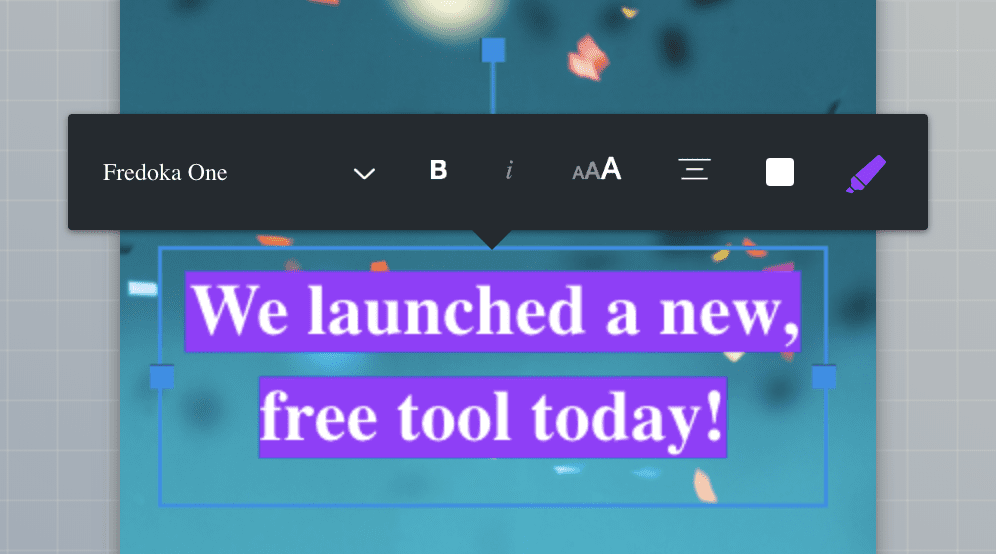 You can also add your logo or additional graphics to give your design an extra flair.

Step 3: Download and share
In Stories Creator, we show you the Instagram Stories interface so that you know exactly how your post will look when it's posted to Instagram. This means you can check that none of the important content will be blocked by the interface (such as your account's profile image) when you post it.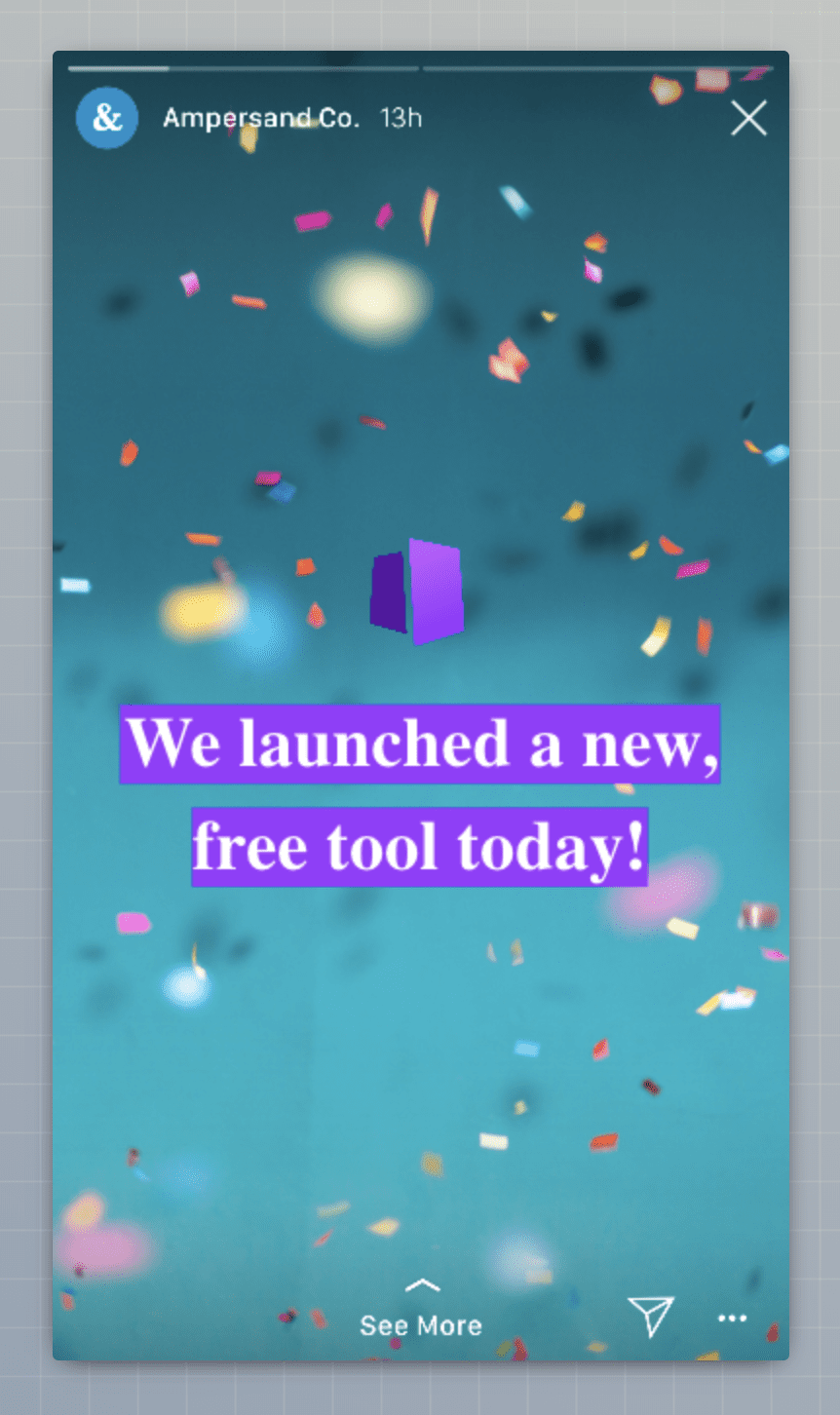 When all looks good, hit "Download Image" and you're ready to share on Instagram. Great work!
Optional: Draw, add stickers, and more
If you like, you could also add more details to your Stories image using the Instagram app before posting it. Draw, add stickers, add hashtags, and more to make it look more fun.
Also, adding hashtags and location tag helps people who aren't following you discover your Instagram stories.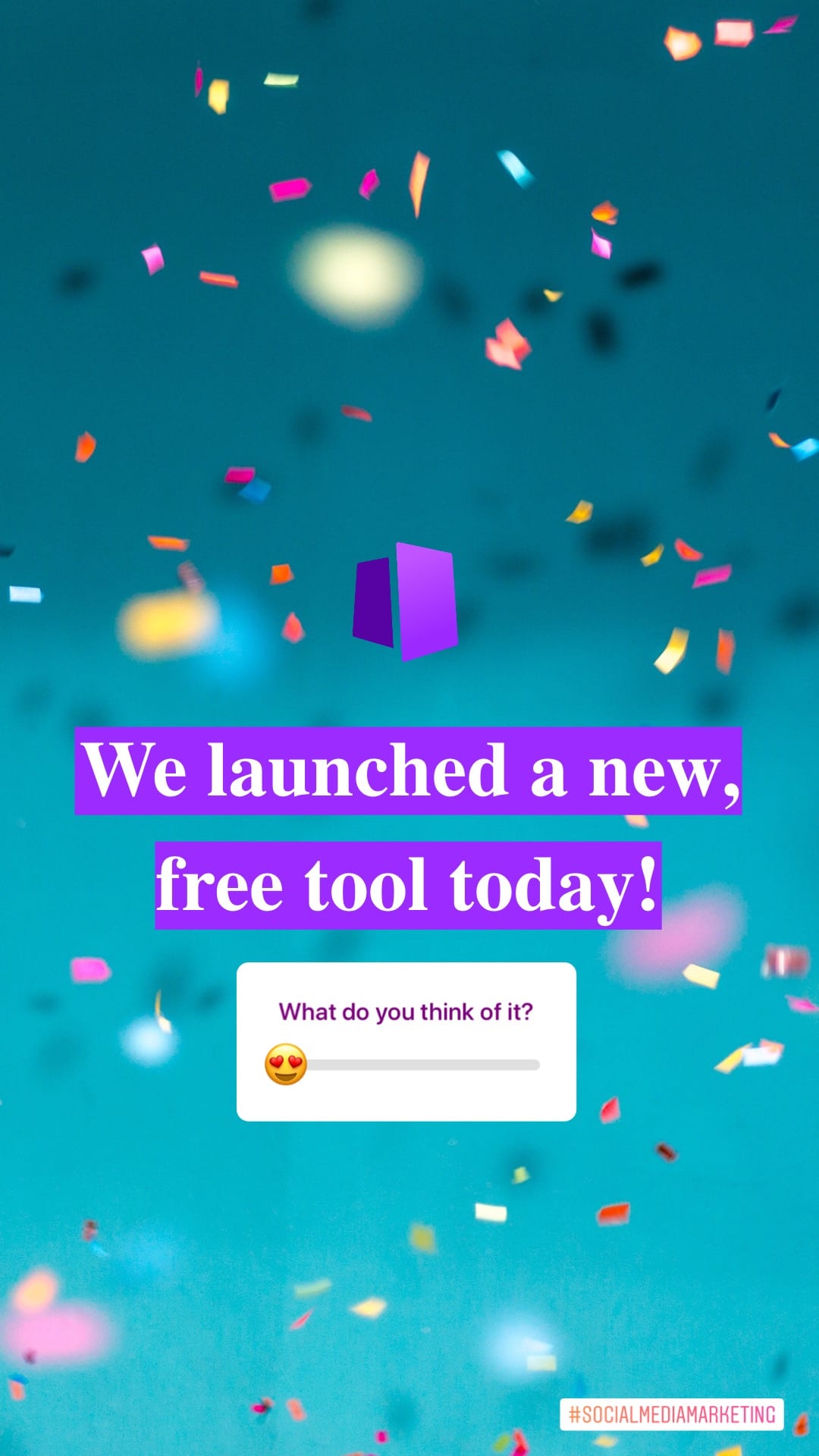 Additional tools and resources
There are many other great design tools and resources available if you wish to create Instagram Stories videos or customize your Instagram Stories graphics further.
Here are a few options:
1. Video tools: Stories Ad
Stories Ad is a free tool for creating "stunning Stories in less than 2 minutes". It provides 12 professionally-produced video templates you can use to create Instagram Stories videos.
Follow the instructions on the web editor, and it will send your video to your email inbox.
Other video tools: Flyr, Animaker, and After Effects
2. Mobile apps: Storeo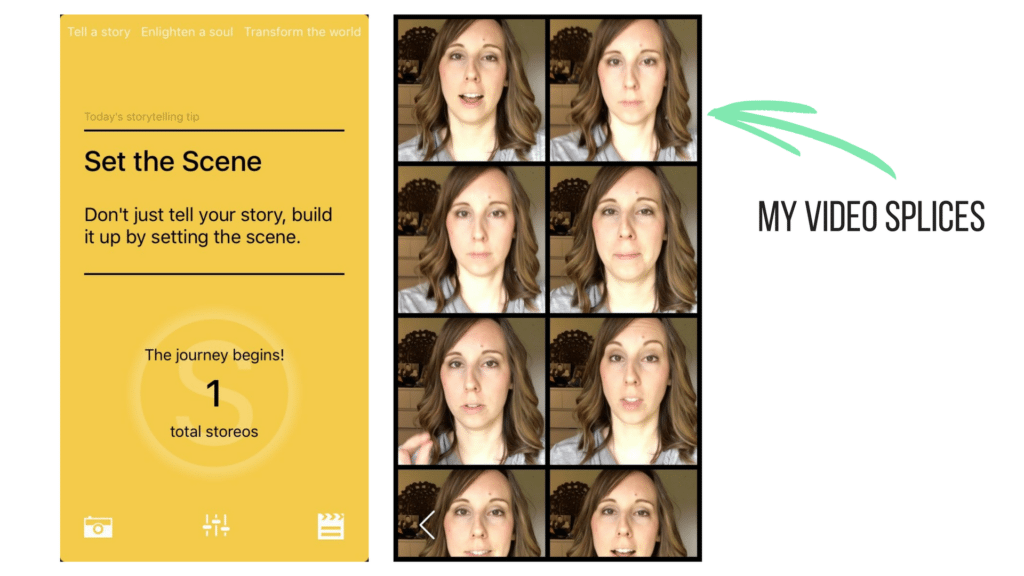 (Image from Molly Marshall Marketing)
If you like use long videos for your Instagram stories, you might love Storeo. Storeo is a mobile app that slices your videos into clips of 15 seconds — the maximum length of an Instagram Stories video. It will save you lots of time from manually editing your videos into 15-second clips yourself.
For $9, you can remove the watermark on the clips.
Other mobile apps: Flyr, Over, and Flipagram (Hat-tip to Molly Marshall for these app recommendations.)
3. Marketplaces: Creative Market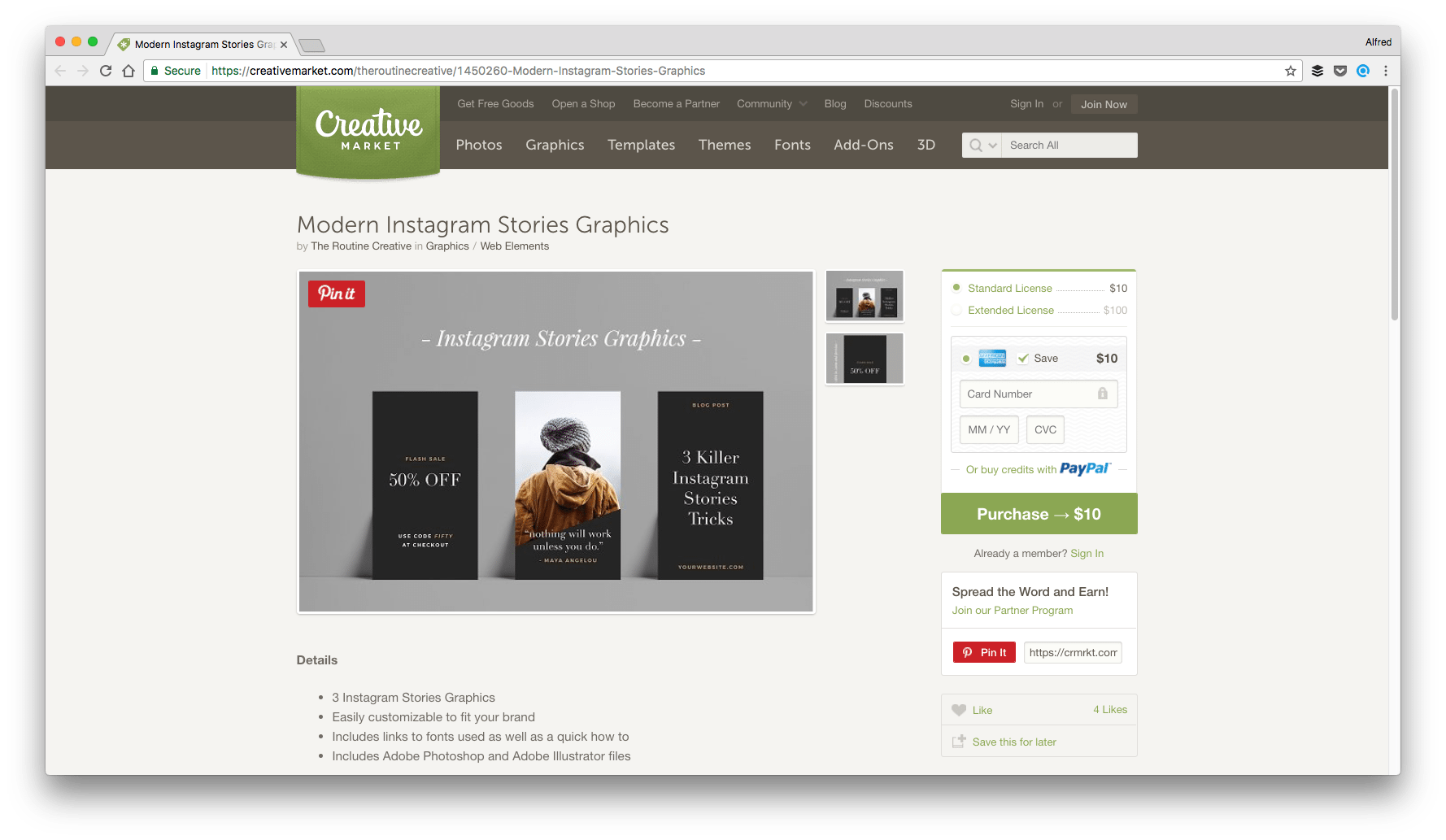 You can also get Instagram Stories templates designed by talented creators for about $10 to $20 on Creative Market. Many of these templates are Photoshop files so you'll need a basic knowledge of Photoshop to customize the template for your purpose.
Other marketplaces: 99designs and TopTal
What's your favorite Instagram Stories tip?
Using templates can be a great, easy way to create amazing Instagram stories in minutes. I'm sure it is just one of the many ways to save time while creating Instagram stories. Do you know of any other tips for creating Instagram stories quickly?
If you are going to use any of these templates, we would love for you to share any one of your graphics in the comments below!
Brought to you by
Did you find this article helpful? You might also like our all-you-need social media toolkit.
Get started for free now