Question: I've recently started an email newsletter but haven't been receiving as many subscribers as I hoped. Do you have any tips on how I can drive up awareness and get more people to subscribe?
Newsletters have made quite the comeback. While it's true that email marketing has always been an important tool for business growth, in recent years the popularity of platforms like Substack has made it clear that this medium is in demand.
In fact, the newsletter company recently hit over 1 million paid subscribers and is still growing five years later.
The appeal of newsletters is understandable given that email is an owned channel which makes it an incredibly powerful medium, as it's one of the most direct and reliable channels to reach your audience.
You may have your very own newsletter and are hoping to grow it. In this #AskBuffer, we'll cover the best practices for gaining more subscribers and also give examples from successful newsletters.
As a bonus, we'll provide a glimpse into our social media newsletter here at Buffer and take a look at how we recently revamped it.
7 ways to grow your newsletter subscribers
Newsletters are one way to reach your audience directly in a format that has worked for a long time now. Growing an email newsletter can be challenging, though, so here are some tactics you can use to grow your newsletter subscribers.
1. Create great content that people are interested in
This may sound a bit obvious, but to get more email subscribers you need to be creating content that your followers want to see. Most people already have jam-packed inboxes, so you need to incentivize them and prove that your newsletter is worth them receiving one extra email.
When you're brainstorming topics for your newsletter, make sure to hit the key topics that interest your audience the most. We've talked about content pillars on the blog before, and they're basically core themes that you always revolve your content around. Establish content pillars for your newsletters that you know will resonate with your community. If you already have a following on social media, you can just pull from your prior posts.
Influencer and small business owner Alison Wu recently told her Instagram community that she will be pulling back from the platform and focusing more of her attention on her new Stubstack email newsletter. In a post announcing the news, Alison detailed the exact content she'll be releasing, including:
Self-care and health
Spirituality, mindfulness, and personal growth
Travel, place, and spaces
Style, objects, and visuals
In her caption, the influencer advertises her newsletter as a way to connect with her, "away from the white noise of Instagram." This establishes her newsletter as a more intimate environment where followers can connect with her. It also differentiates Alison's Substack from her Instagram – which can give some people the extra push to subscribe to her on another platform.
Make sure your newsletter content is relatable, entertaining, and valuable to your followers. And consider giving your audience a more detailed preview of what to expect.
The Morning Brew, a business newsletter, sends all of their subscribers this summary once they've opted in, along with providing other resources readers would be interested in. You could also distribute this information on social media before your followers subscribe, as a way to drum up some interest for your newsletter.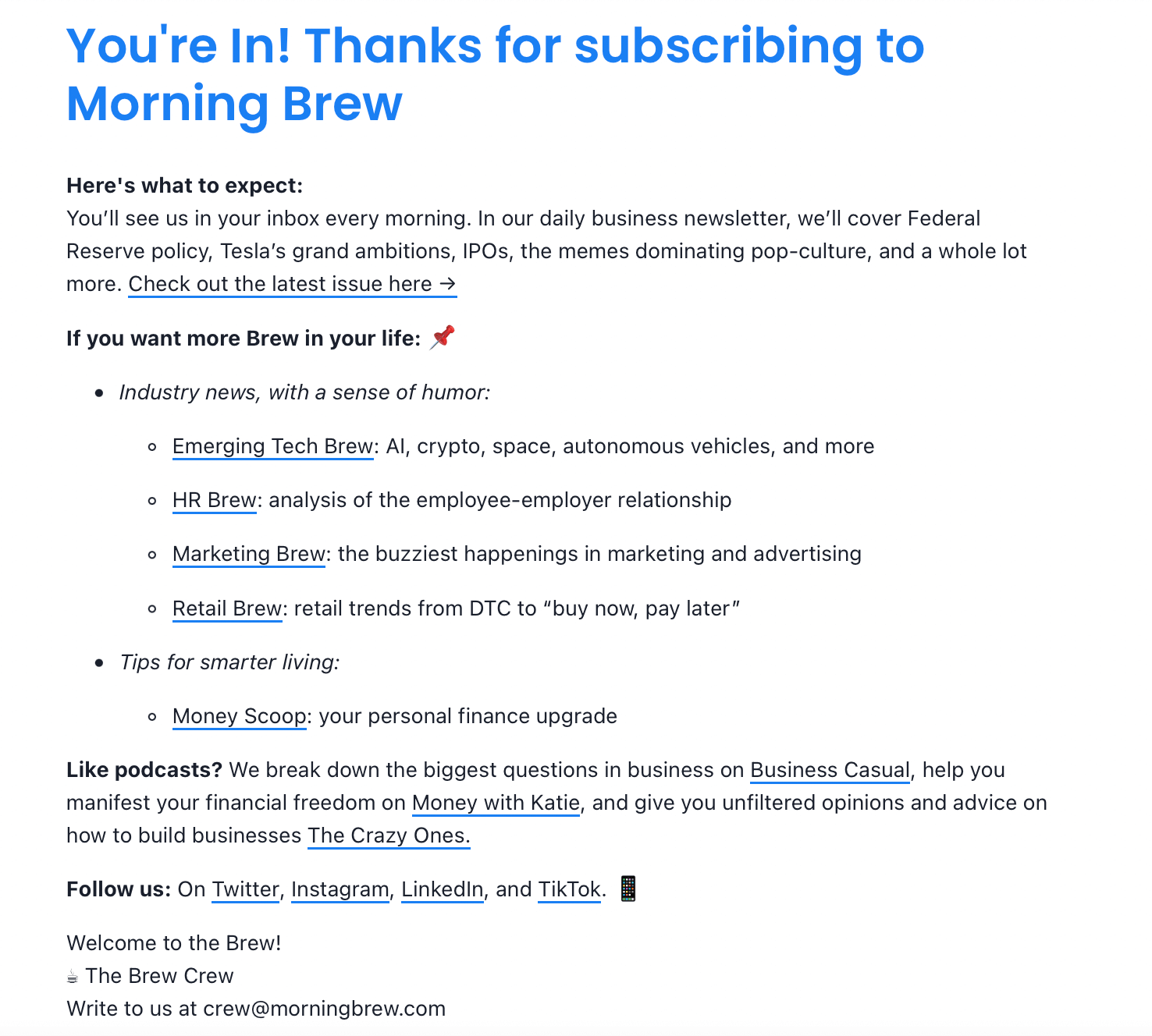 2. Cover timely topics
Some of the most successful newsletters are not only sent out regularly but also make sure to cover news and trends promptly. After all, if you are hoping to be a newsletter that people are excited about, you should be offering the latest coverage on what's happening in your industry.
We've found at Buffer that whenever we cover timely topics – like this Mastodon article we published after Elon Musk took over Twitter – we get more traffic than usual on our blog. The same can happen for your newsletter if you're discussing trending topics.
Here are a few examples of popular newsletters written by individuals who have their fingers on the pulse in their fields of expertise.
Geekout Newsletter covers trending tech news
Marketer Matt Navarra is always breaking down the latest tech and marketing news – like his timely newsletter about ChatGPT and the potential it has to disrupt the job market. He is also covering the latest social media news and was quick to cover Twitter when Elon Musk became CEO.
ChatGPT has been dominating the headlines recently, and Matt made sure to include the topic in his newsletter and addressed all of the hype around it.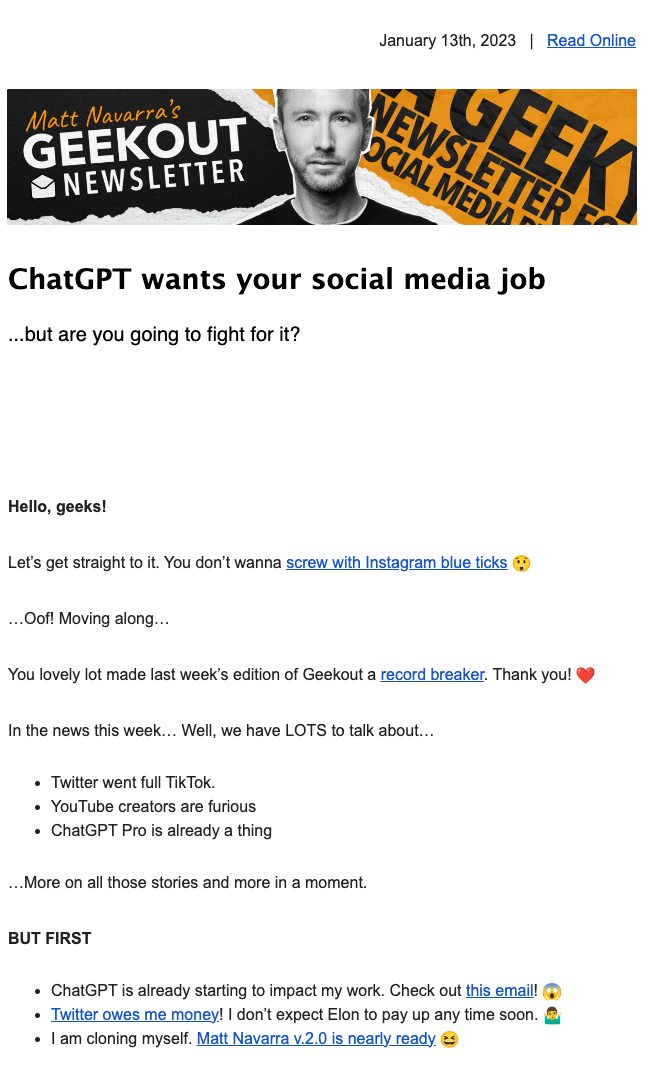 Culture Study covers the latest happening in today's culture
Journalist and culture writer Anne Helen Petersen runs a popular newsletter Culture Study where she discusses the latest cultural news. Anne writes about a variety of topics, covering social, political, and economic matters.
Her most recent newsletter discusses the recent tech and media layoffs – a topic relevant for many Americans who were impacted or feared they may soon be laid off.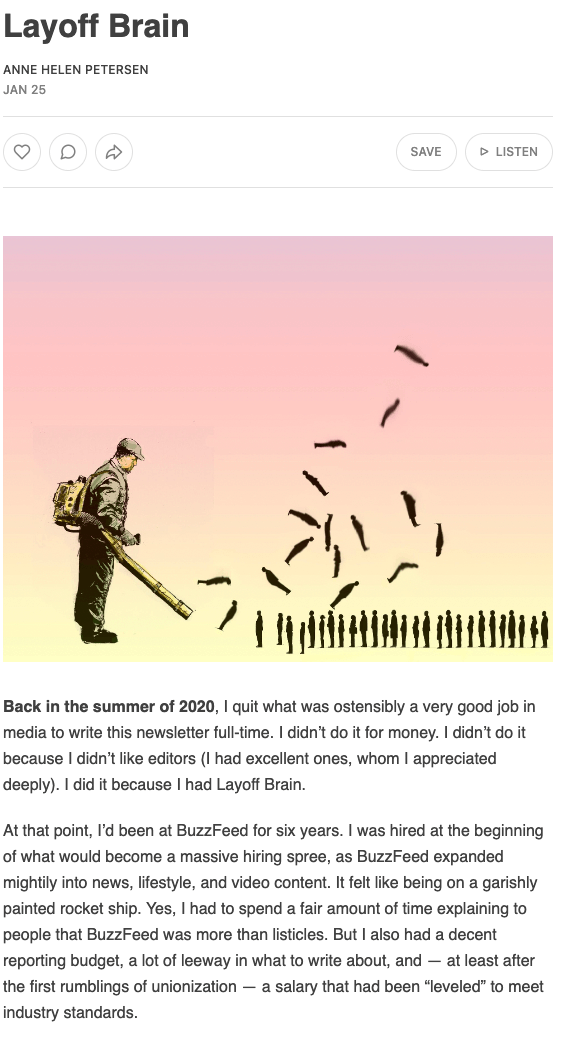 Hung Up covers the latest pop culture news
Hunter Harris's popular newsletter Hung Up covers the latest in entertainment news. While Hunter usually sends out a newsletter every Friday, she sent out an extra email the day after the Academy Awards nominations were announced.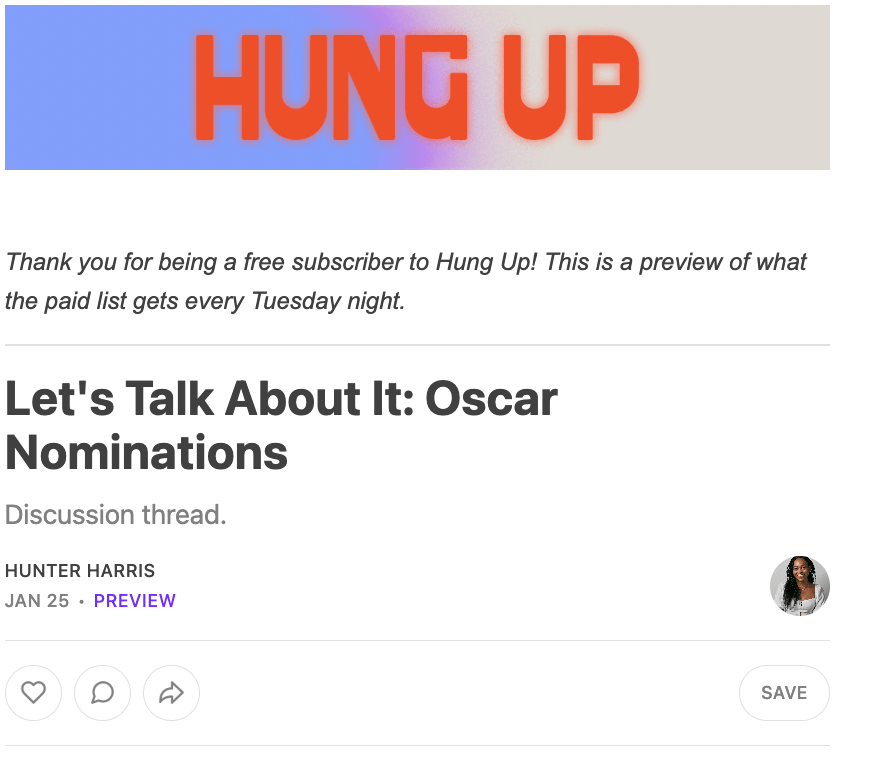 Including the latest discourse in your newsletter will ensure that you're talking about topics that will resonate with your readers.
3. Promote your newsletter across other channels
Once you've packed your newsletter with the latest and greatest info, it's time to promote it to make sure readers are aware of it. Here are a few ways to highlight your newsletter.
Include a CTA on your website
Include a clear CTA (call to action) for readers to subscribe to your newsletter on your website. Our newsletter CTA appears in the middle of our blog homepage.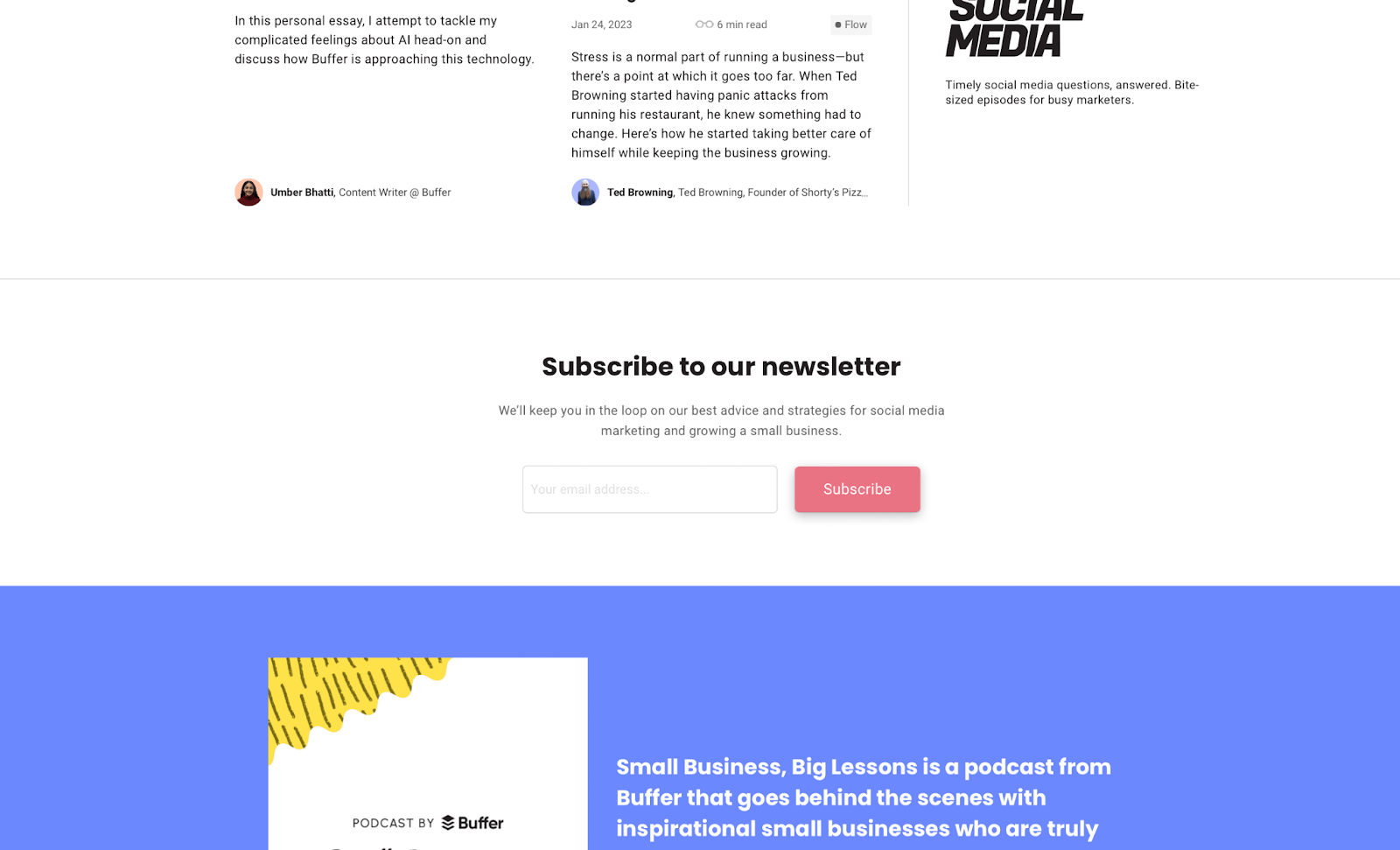 There are a few different options you can play with when placing your CTA. Writer and entrepreneur Kat Boogard includes her newsletter CTA at the bottom of her website's homepage.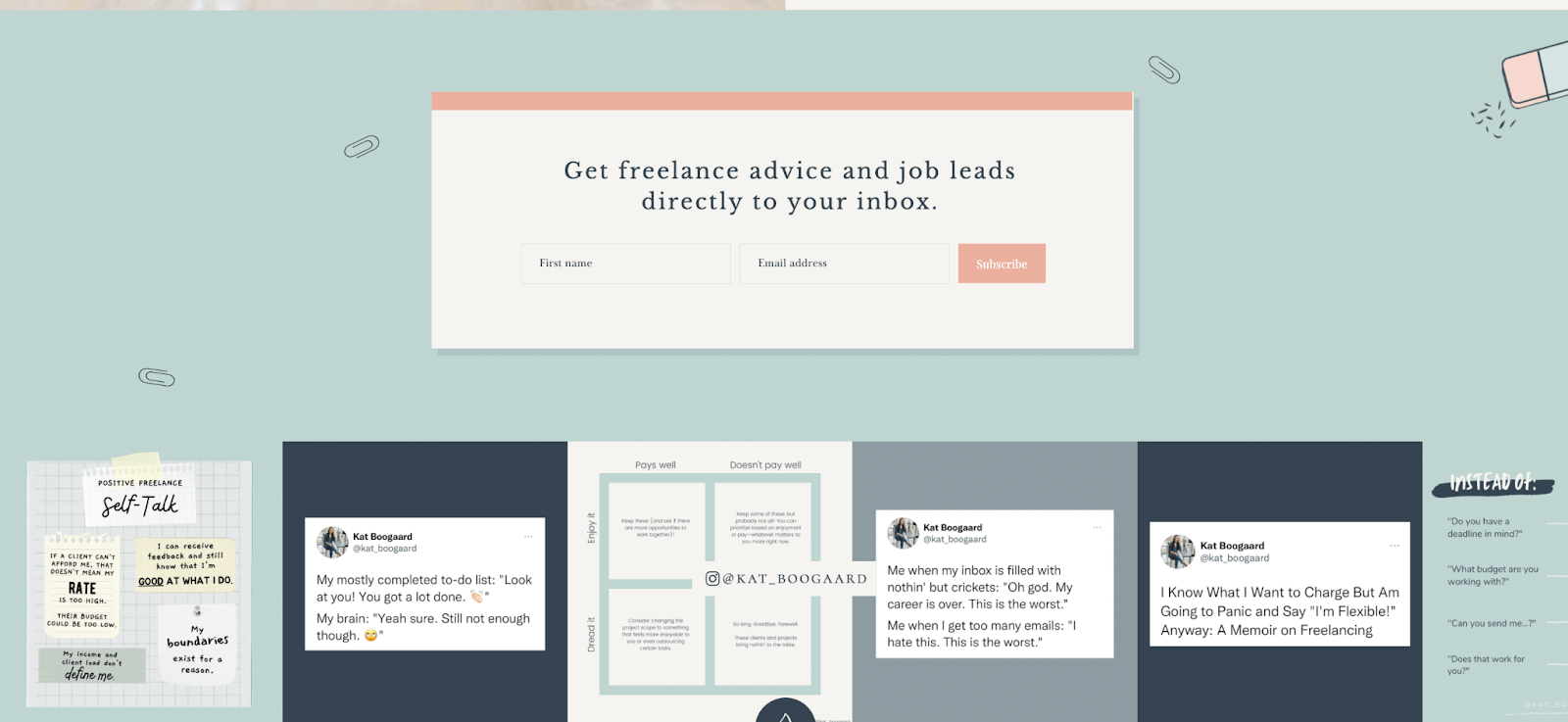 Her CTA is clear and appealing: "Get freelance advice and job leads directly to your inbox." In one quick sentence, Kat tells her subscribers exactly what they'll receive.
Some websites have a pop-up that advertises their newsletters. While popups can be successful, users may find some of them a bit jarring, so make sure yours isn't too big or too difficult to close out.
Sri Lankan tea brand Kola Goodies' website includes a pop-up for their newsletter. Their CTA offers an incentive as well: 15 percent off for users who subscribe.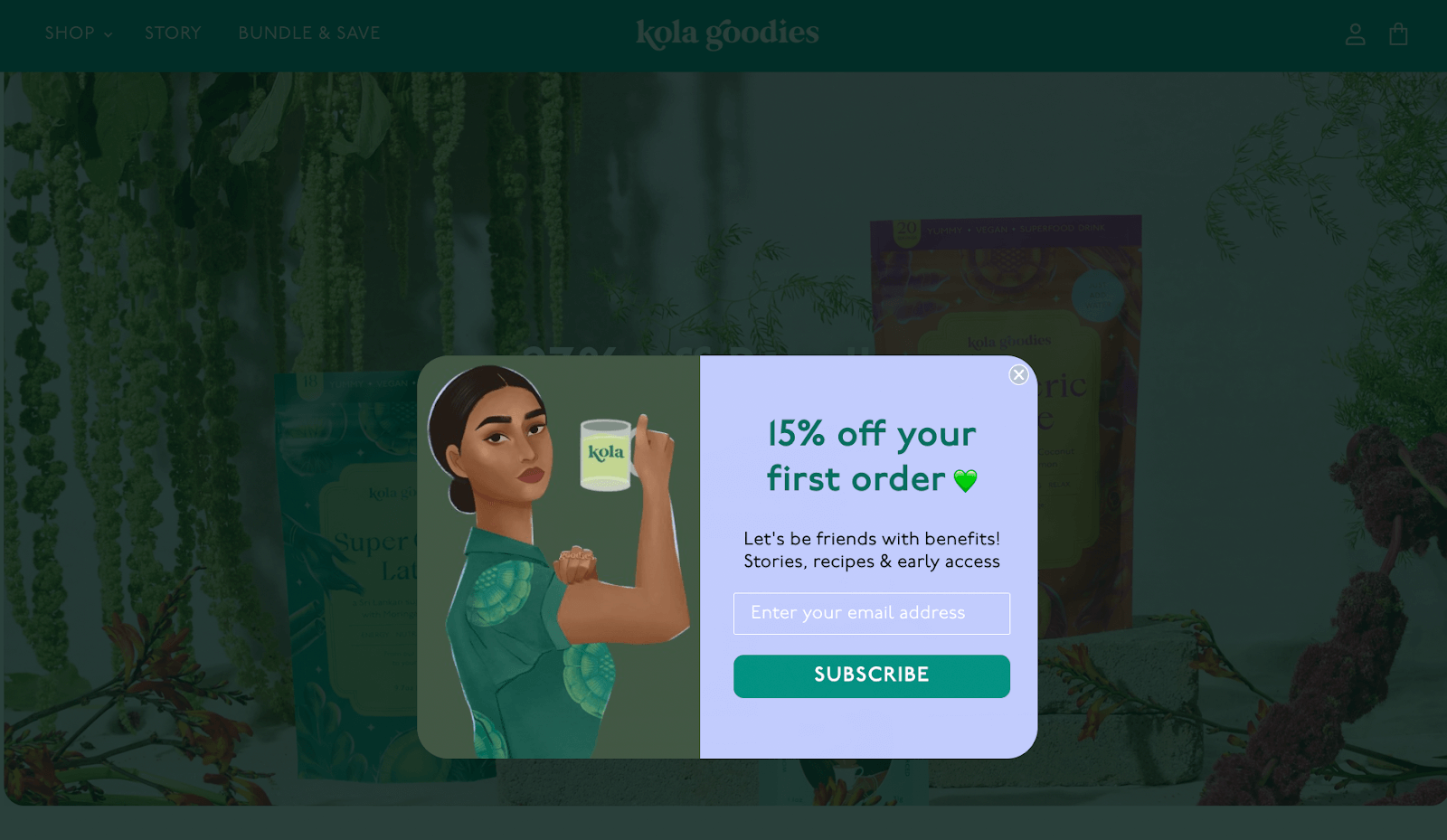 Include your newsletter in your social media bios and links-in-bio tools
Don't forget to add your newsletter in your social media bios or as the main link in your profile. This way you're spreading the word about your newsletter to all of your online community, wherever they happen to be.

If you're a Buffer Start Page user with a Mailchimp newsletter, your new subscribers can sign up directly on your Start Page. By using this integration, you're removing the friction of signing up to maximize your chances of gaining a new subscriber. Here's how to use it.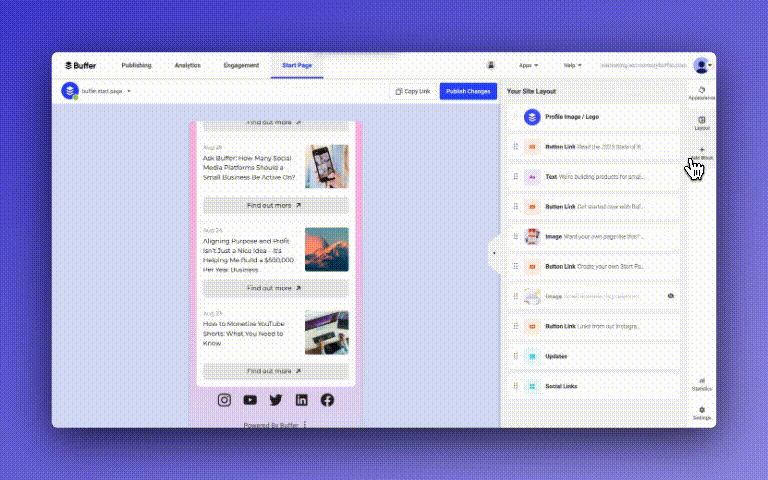 💡
Start Page is the perfect link-in-bio tool for your online brand or small business.
Make yours for free
.
Post snippets of your newsletter on your Instagram Stories, Twitter, and LinkedIn
We recommend repurposing your newsletter into other content – like a LinkedIn post, tweet, or blog post. Repurposing content allows you to extend the life of a certain work and is a great way to get more eyes on your posts. Instead of just sending out your newsletter to email subscribers, teasing snippets of it onto your social media channels will increase brand awareness.
Once you do this, you can link back to your newsletter and include a CTA for your followers to subscribe. In a Twitter thread, Jack Appleby discussed why brands should be utilizing both Instagram and TikTok. At the end of the thread, he shared that this information is all in his newsletter, Future Social, and linked back to it.
If done properly, posting about your newsletter on social media can definitely increase the number of your subscribers.
Phil, Buffer's Senior Product Marketer, wrote a blog post on how one of our users, Dave, increased his newsletter traffic by 2.5x just by using Buffer to schedule his social media posts. Learn how he was able to grow his newsletter here.
4. Offer bonuses to subscribers
Creating a newsletter that is entertaining and informative for your readers is your best bet to gaining subscribers, but it doesn't hurt to offer some bonuses that'll provide some extra value for your online community.
Many brands provide exclusive perks to their email subscriber lists, including discounts and early access to certain products. Here, lifestyle brand Janet Gwen gives their email subscribers an extra 25 percent off on their website.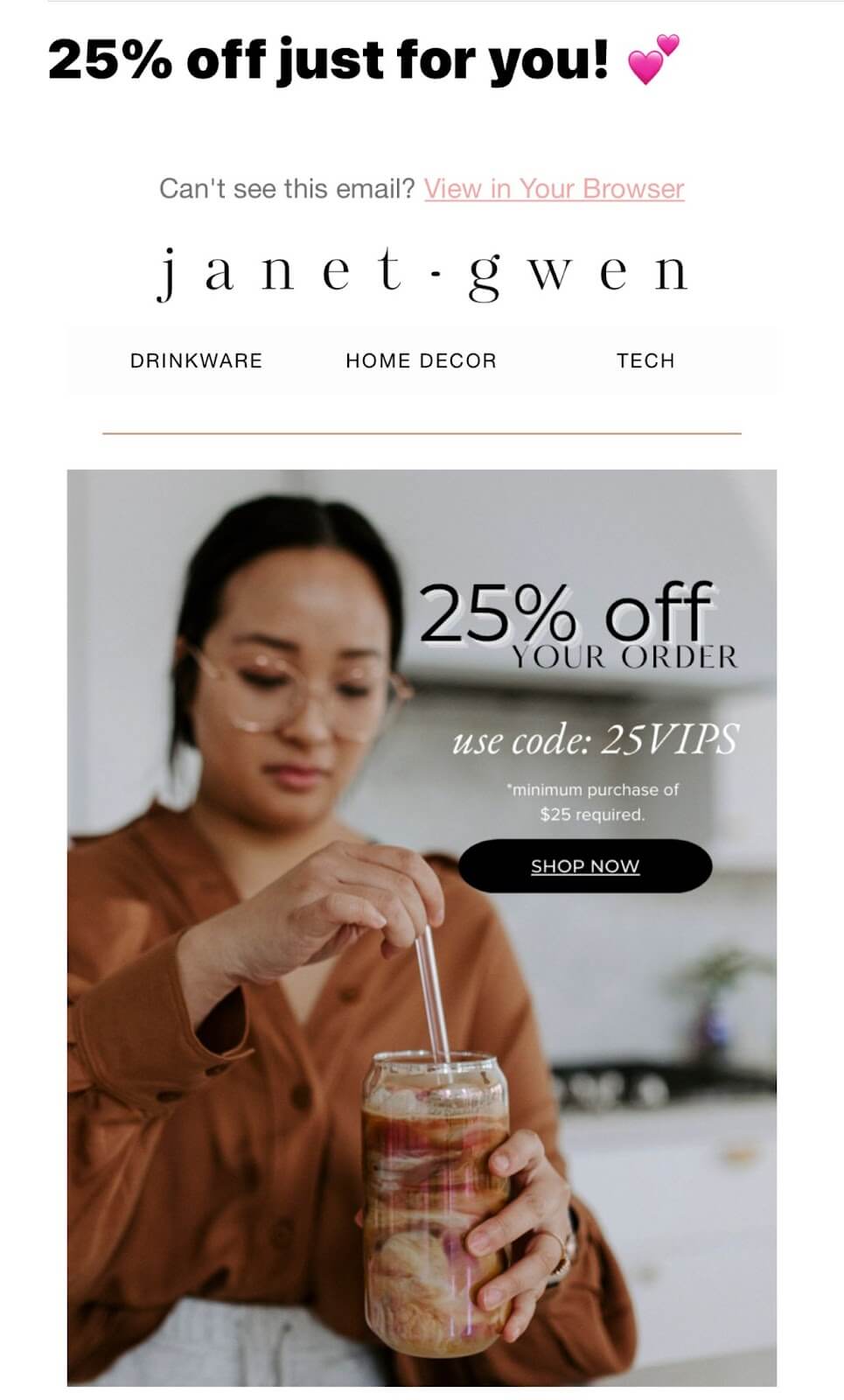 You can also offer your subscribers other worthwhile items, including an e-book filled with your top tips. Hailley, Buffer's Head of Communications and Content, provides each of her newsletter subscribers with two valuable resources: a cold email for knowledge-sharing requests and a media spreadsheet example.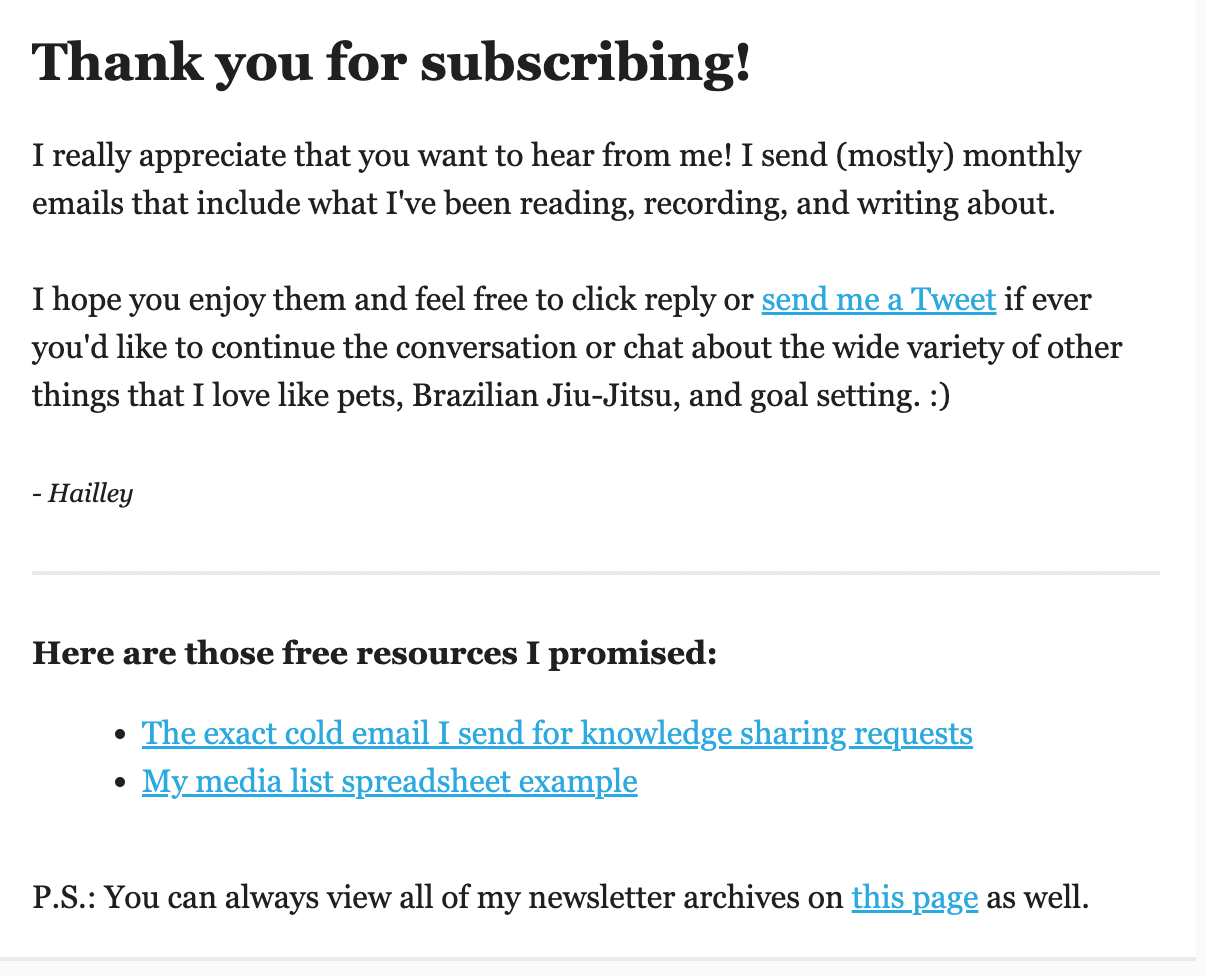 6. Collaborate with other newsletters on promotions
Consider collaborating with other newsletter writers to see if they're interested in newsletter cross-promotion. This is where you promote someone's newsletter in exchange for them doing the same and sharing yours.
While some of this marketing will happen organically, you can always reach out to another newsletter writer and pitch an idea for other ways to collaborate, like authoring a guest post for their newsletter.
Substack also has a cool feature that also allows writers to recommend other newsletters to their subscribers. I personally subscribe to a few writers on Substack and receive these emails occasionally and I've found them to be a great resource for learning about new newsletters to follow.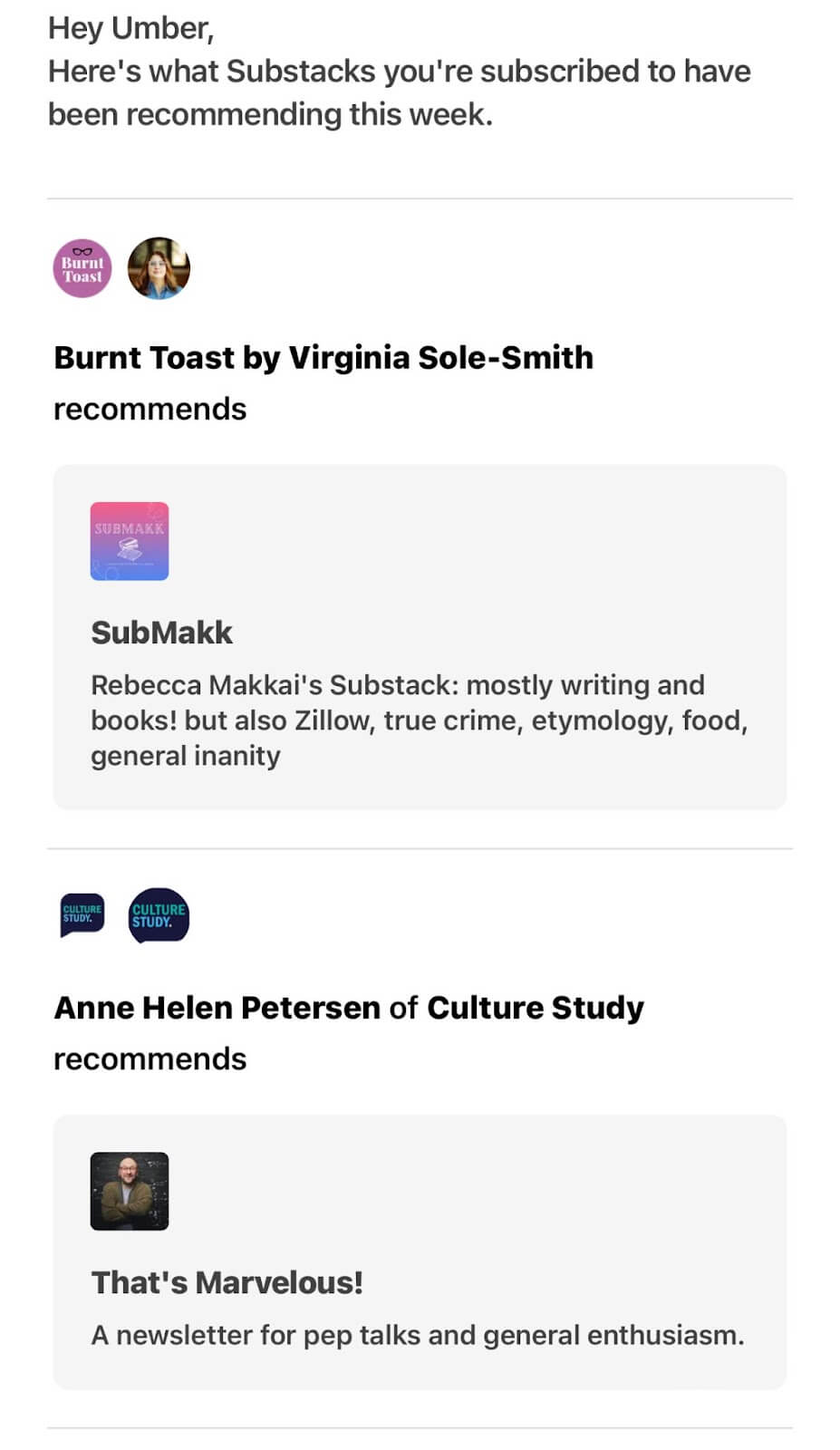 6. Monitor performance
Most newsletter platforms will give you a ton of useful data about each edition. Your open and clickthrough rates (how many people actually opened your email in their inbox and how many people clicked on a link in the newsletter, respectively) offer a good bird's-eye view of whether or not a specific issue was a success.
In terms of growing your subscriber list, your newsletter stats aren't the only analytics you should be keeping an eye on.
Track the performance of each social media post you use to promote your newsletter. Which generated the most engagement? Which ones lead to a spike in subscribers? If you have a CTA on your website, trying switching up the wording and seeing whether it performs better.
Even the smallest tweaks can make a huge difference, so don't be afraid to experiment!
💡
Want to go deeper on post performance? Buffer's analytics will help you measure social media performance, create gorgeous reports, and give you recommendations to help you grow reach and engagement.
7. Talk to your subscribers
How do you know you're providing the best experience for your current subscribers (and hopefully attract more like them)? Just ask.
Run a simple survey with a tool like Typeform or SurveyMonkey to gather qualitative data about what kind of content they love, and what they could do without. Subscribers that love your newseltter are so much more likely to recommend it to their friends and colleagues.
Here's an example from The Community Club Weekly that Buffer Content Writer Kirsti Lang set up during her time there. Let's be honest, no one loves filling out a survey — so she incentivized subscribers to fill it out with the promise of a swag giveaway.
You could even go the extra mile and set up so quick interviews with your most engaged subscribers to gather qualitative data, too.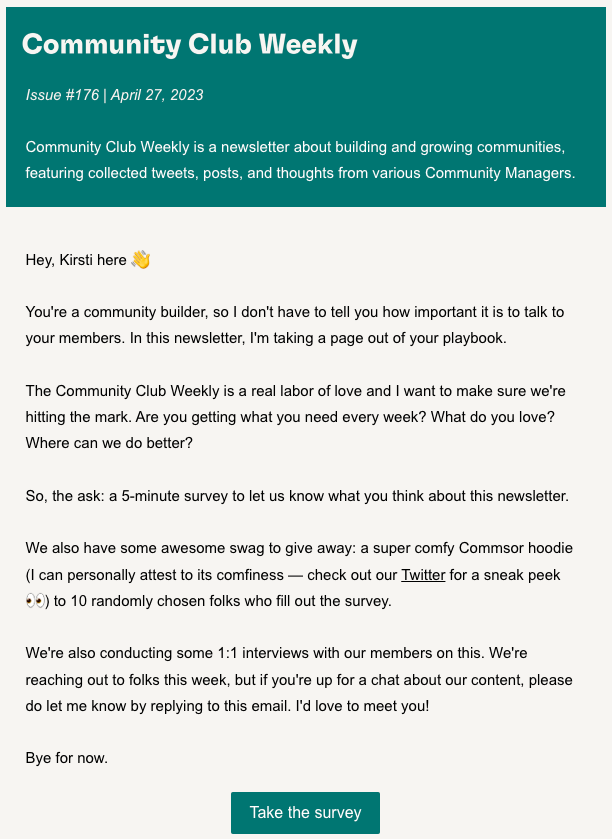 Bonus tips for newsletter performance and improvement
Once you do get more subscribers, you want to make sure your readers are engaged with your newsletter. Here are a couple of extra items to consider to make your newsletter a pleasant reading experience for your audience.
Optimize the format of your newsletter
You want your newsletter to be easy on the eyes of your readers. This means that the format is aesthetically pleasing and the content is readable. Influencer Arielle Lorre's newsletter has an easy-to-follow design that also makes it quick and easy for readers to find information.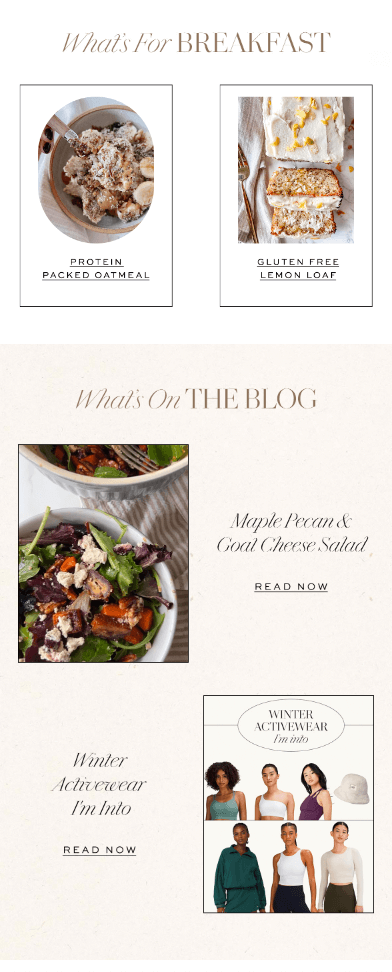 While your newsletter can be text heavy, make sure you're playing with spacing, bolding, and adding bullet points to your text to ensure it doesn't feel too clunky or cluttered. Breaking up text and adding spacing can make a huge difference, and make your content feel less overwhelming to your readers as they scroll through the newsletter.
Canva has a ton of free email templates if you're wanting to have a more polished newsletter.
By the way, this doesn't mean your newsletter has to look fancy – a more minimalist look can work great as well. Content creator Emily Mariko has a super simple layout for her newsletter. The reason it works so well is that all of the information is laid out clearly.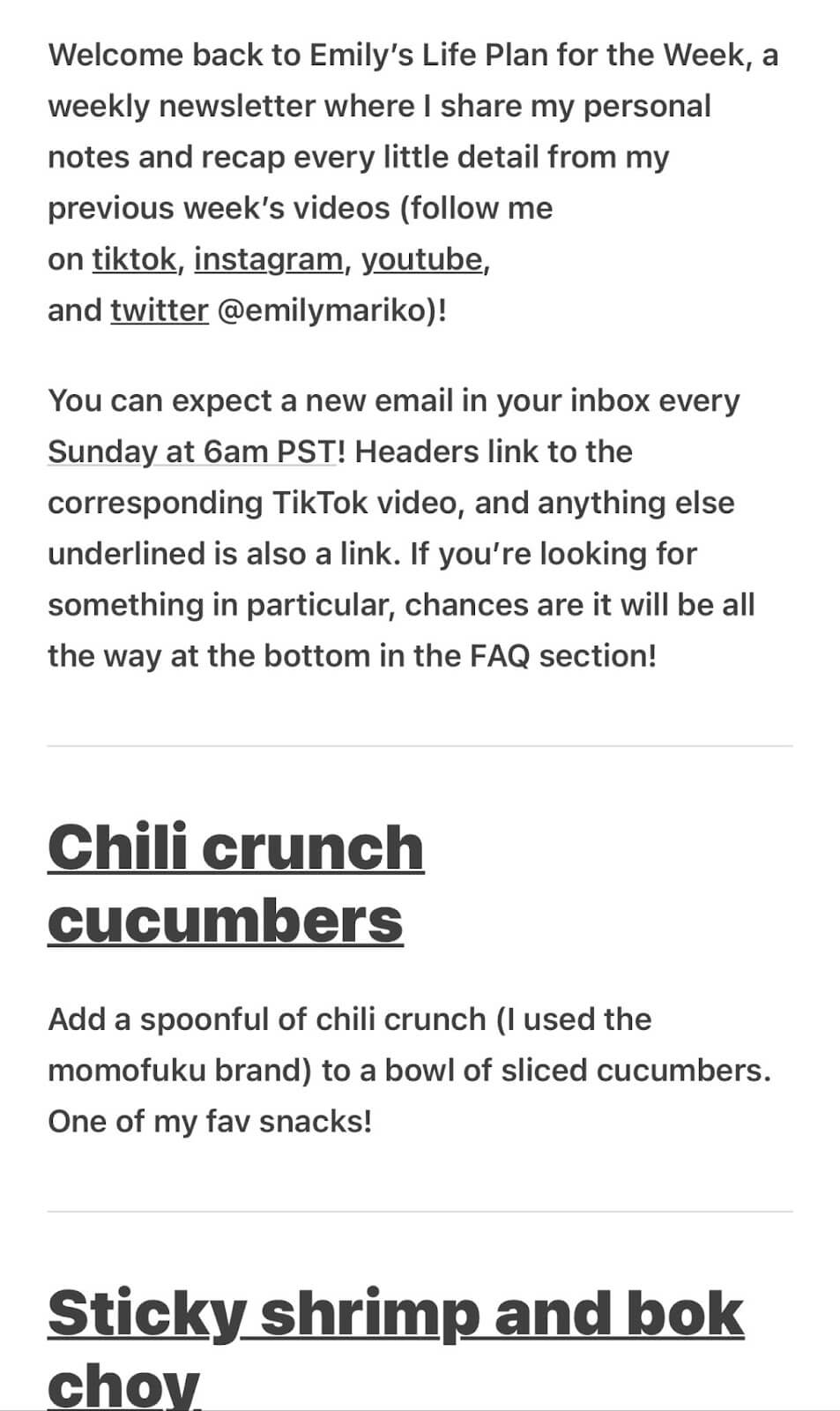 Make sure your emails are not going to spam
Nothing is worse than creating and sending out your newsletter to only find out that your subscribers aren't receiving it. Oftentimes, emails get sent into the junk folder in an inbox because spam filters will pick up on a few things that make them assume your email isn't legit.
Here's how to make sure your newsletters aren't going to spam:
Ask subscribers to opt-in and save your email addresses. Saving your email will ensure that your email never goes to spam.
Don't write spammy subject lines. Subject lines that start with questions, use phrases like "completely free," or have too many keywords can be mistaken for spam. Learn more here.
Edit and proofread your emails. If your email has a ton of grammar mistakes, not only is it off-putting for your readers, but it will also come off as spam.
Use one consistent email address. You may have multiple people working on your newsletter but stick to using one consistent email.
Audit your email list to ensure you're sending your newsletter to active users. It's good practice to regularly check your email list and
Send your newsletter regularly but not too frequently. If you start sending too many emails it can be annoying for your subscribers and also feel spammy.
Make it easy for followers to find the unsubscribe button. make it quick and easy for people to unfollow your newsletter.
How we recently revamped our social media newsletter at Buffer
Tami has recently spearheaded an effort to revamp Buffer's weekly social media newsletter to make it more valuable for our readers. In doing so, we've adjusted a few things.
We were able to make these changes after getting feedback from our subscribers through a survey Tami added to our newsletter. Asking your followers for their thoughts is a great way to ensure you're creating content that is beneficial for them. Here's what's different:
We shortened our intro and gave a preview of what's to come
it's beneficial for our readers if we get to the point right away in our newsletter, which is why we've shortened our intro. Now, we also include a brief summary of what's to come in the email so our readers know what to expect right away.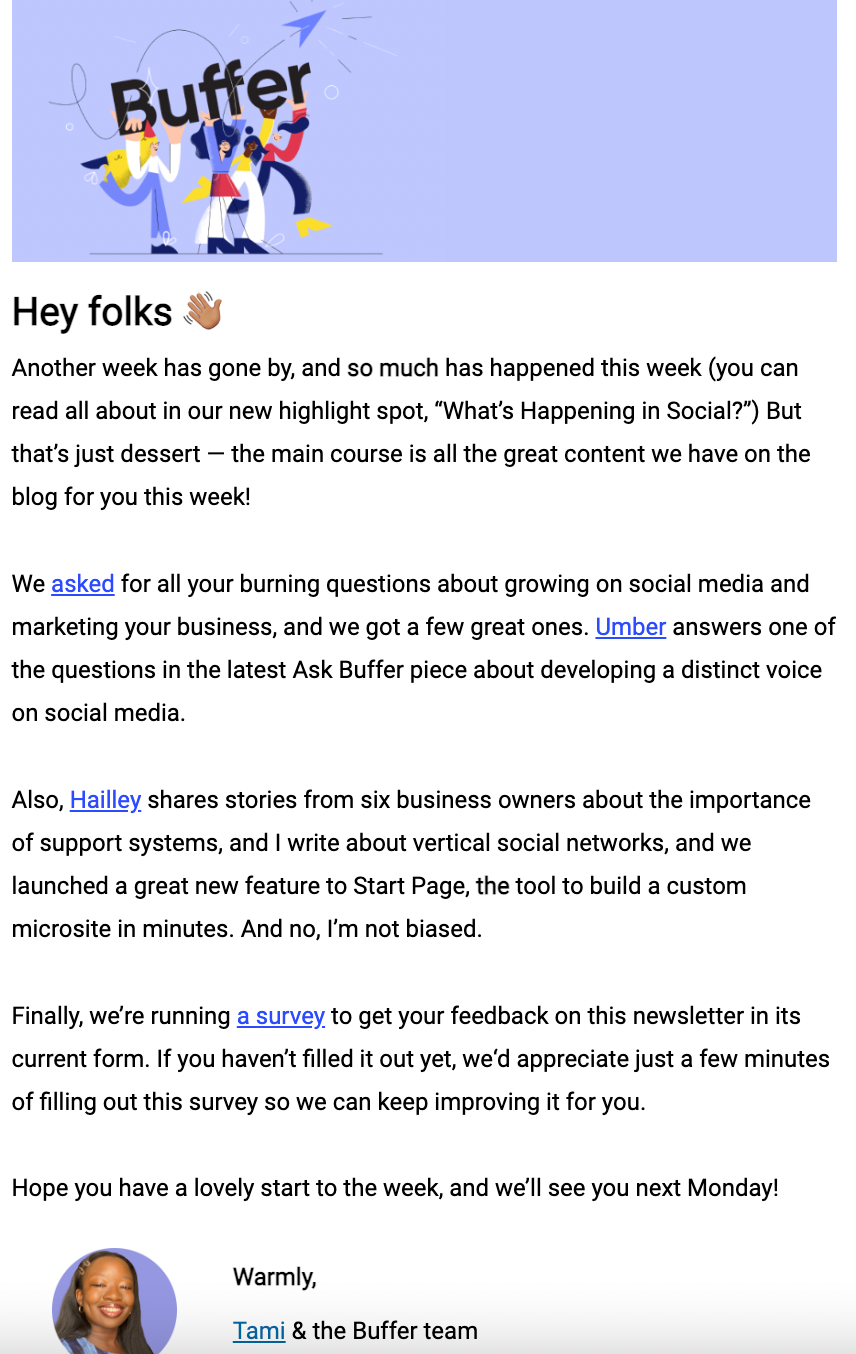 We've added a "deep dives" section
In the spirit of zero-click content, we now do a deep dive into one particular blog post, instead of summarizing all of them. This way, our readers can gain valuable insight from the newsletter instantly.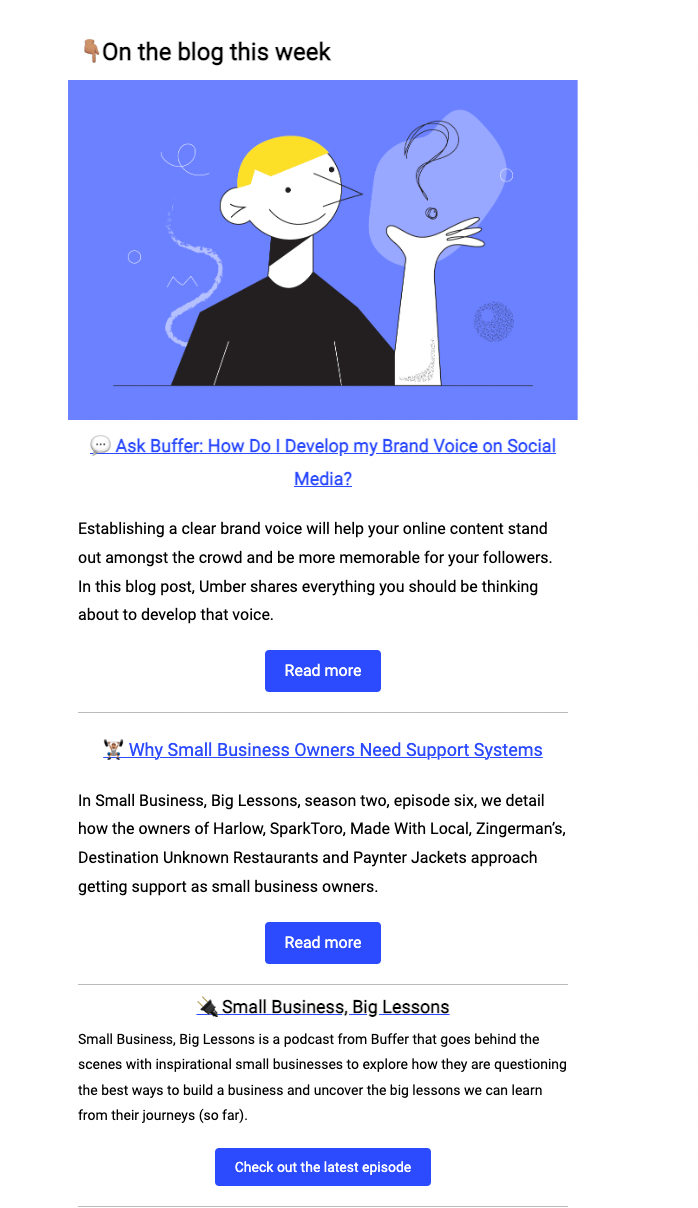 We now incorporate social media industry news
Before, our newsletter revolved around our weekly blog posts. Now, we include a section dedicated to social media related news because we found that's what our readers were interested in. We also share a social media tip from our social media manager Mitra every week which provides readers with an actionable tip they can incorporate into their own social media.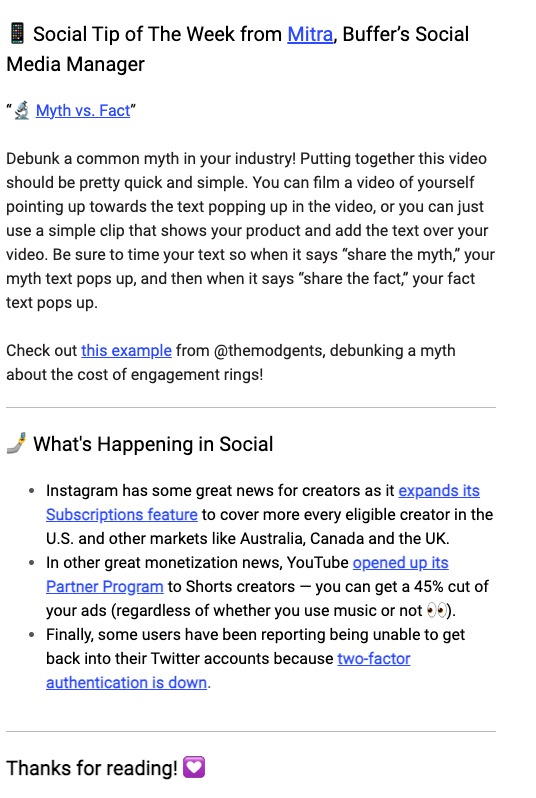 Hopefully, you can incorporate these tips and notice an increase in your subscribers!