In Antler's 2023 Creator Economy report, 24 percent of creators surveyed highlighted longevity as a major concern — and for good reason. Even though it's common to come across creators who are making enough income to go full-time, it's just as common for creators to fade into oblivion.
YouTuber Matt Koval puts the average creator career span at five to seven years (and that's for the really persistent ones). And it doesn't help that it takes an average of 18.4 months for a content entrepreneur to support themselves (even longer for some). So what separates the masses from the really successful creators?
In this article, we'll cover some things that ensure creators can build a lifelong career out of content and practical advice for ensuring longevity.
Building a protective runway
Part of what puts creators off going all-in on content is the fear of instability – and that's completely valid. Not everyone has the six to 18 months it takes to start making enough income from content to support them.
Here's the thing; you don't have to give up your income to be a successful creator. Many creators hold a job along with content creation. Eve Arnold of Part-Time Creator Club has built her platform around the idea that you can find a balance between growing as a creator even when you can't give it all your focus.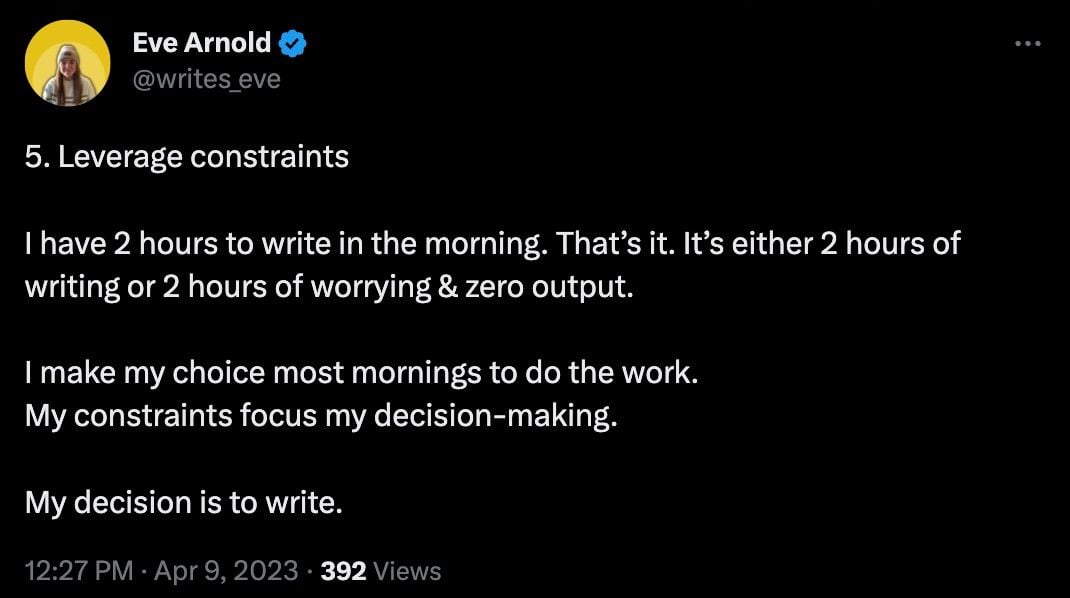 One key insight Eve shares is simple but effective: "Constraints force productivity." When you know you have limited time to create, you're forced to put out what you have when you have it instead of overthinking.
If you think going all-in is the best approach, prioritize building a financial runway to support you in the months you might not be making any money. For an idea of how much you need, this report shared that content creators spend $10,700 on average to start their business, and 66 percent rely on savings to fund their new venture.
The report also states that technology expenses cost about $1,000 per year during the first three years and $2,000 per year after that. These tools include everything from content production tools to business management software.
Protecting yourself proactively can help keep you going and increase your chances of lasting a long time instead of burning out halfway through.
Growing beyond your first platform
Many creators start out with one or two platforms they prioritize for growth. The ones that last a long time expand beyond those platforms.
Natalie Barbu started posting YouTube videos in high school and is now the CEO of creator economy startup Rella. Thomas Frank started as a blogger, expanded into YouTube, and now sells Notion templates and courses that make his company over $1M a year.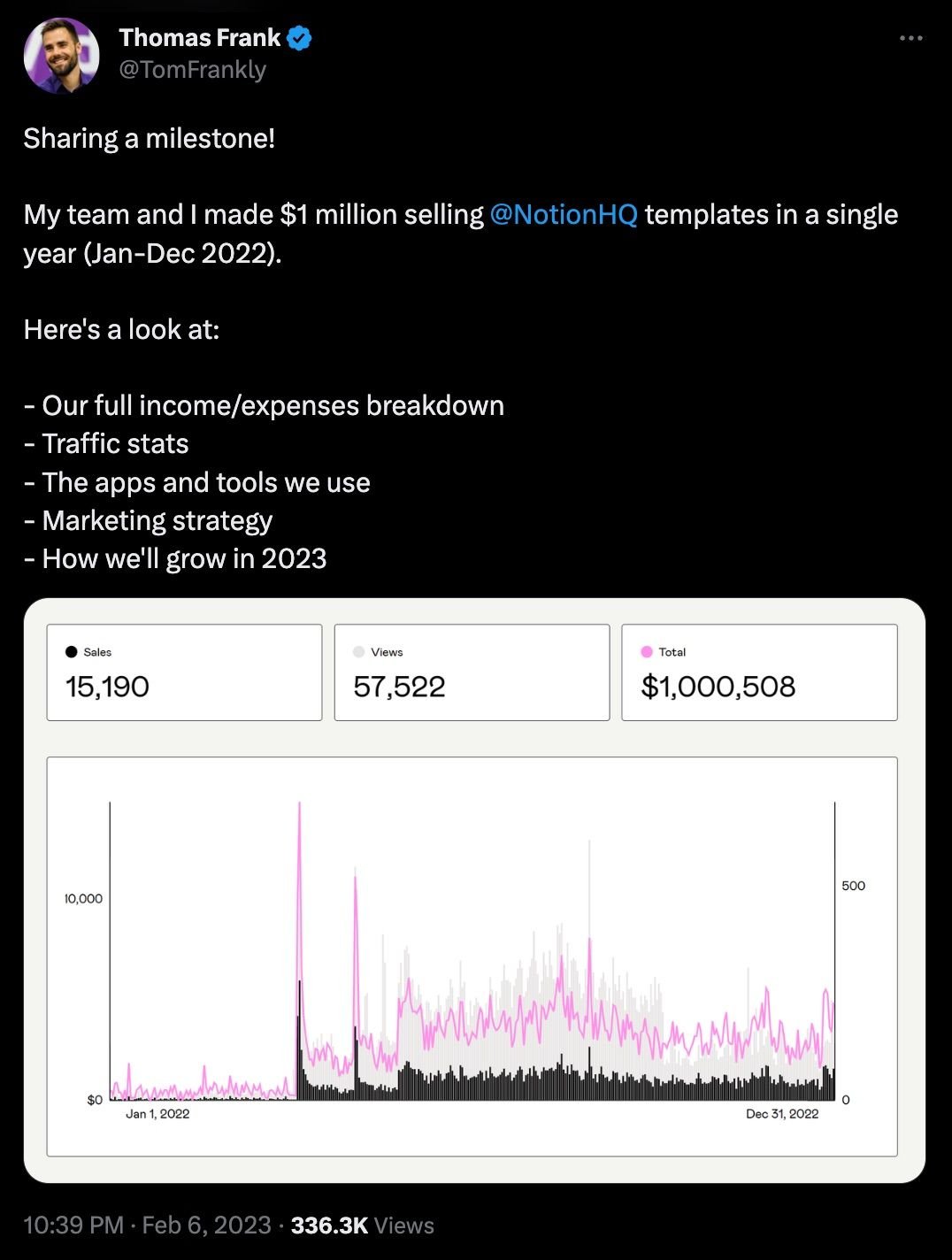 Trying something new can be scary, but much like their business counterparts, content entrepreneurs need to be willing to take big leaps. Here are some tips to help you take that leap:
Take it easy — start by repurposing content you're already making for one platform, like posting your TikToks to Reels
Think beyond social media — some creators start newsletters, while others go from short-form to long-form content. Do what works for you and your audience
Bring your audience along with you – invite advice from experienced members and stories of others going through similar experiences
Taking control of your audience
If your making goal is to monetize your content, then you need to have ownership of your communication channels to really have power over how you reach your audience.
Newsletters are an obvious, low-barrier choice that helps you collect the email addresses of people who want to hear from you beyond your posts. TikToker maybetamsin started with skits and lifestyle videos, then expanded into a newsletter that she charges about four pounds a month for premium access.
Starting a community is a more complex but worthwhile step you can take, especially if there's a clear benefit for people to be able to have direct access to you. You decide who can come in, and you decide what can/cannot be said within your community. Ryan Broderick of Garbage Day started with a newsletter and now hosts a Discord community for 1,300 paying members.
Experiment with content styles and formats
When Jenelle Eliana first posted on YouTube, she went viral, amassing millions of views with only two videos. Nowadays, Jenelle has settled down after buying a home and posts videos of her renovating or gardening on her property to her audience of nearly 2.5 million on YouTube alone. The content she's posting now isn't what led to her initial success, but her videos still get a decent number of views.
Experimentation is a natural part of the creative process and a philosophy that all creators should embody. Some creators take a Challenge approach to content (tweet every day for a month; publish a vlog once a day for 800 days). This method can help you build your creative muscle and improve consistency but it might become very draining very quickly.
Another method to try is to identify what's working with your content already and double down on it for a period of time. That's what Jessica Stansberry did when she went viral with a video about monetizing digital products. She went on to create more videos breaking down the process and tools that supported the creation of her products.
Thinking up new experiments is a great way to build your creative muscle as well and step outside your creative comfort zone.
Pivot when you identify a need to
Some creators start with a niche and stick to it throughout their careers — tech reviewers Marques Brownlee and iJustine come to mind. However, people grow and evolve, and so does their content, so it's not unusual to want to pivot
Consider whether you want a soft or hard pivot. A soft pivot could be changing your editing style or slowly expanding to share more perspectives. YouTuber D'Angelo Wallace is known for his commentary videos that draw millions of views, but he actually started out sharing art content. His witty commentary led him to expand from art to pop culture.
Meanwhile, a hard pivot could be switching topics from what you've come to be known for. TikToker Ayomi Samaraweera is in the middle of this approach, as she switches from posting career-focused content to creator economy content to support her startup, The Canopy.
Whatever approach you choose, ensure you have audience buy-in, especially if you want to keep most of them through your transition. Ease your audience into whatever it is and let them know what to expect going forward. You'll probably still lose some of them, but you'd be surprised how many people are there for you, not your category
Mitigate burnout by setting boundaries and working consciously
While pursuing longevity as a creator is all good and well, we're all too familiar with its connection to creator burnout. This report found that 61 percent of creators are facing burnout – and it doesn't discriminate.
No career is worth your physical and mental health; the same goes for content creation. Treat content creation like a job and set hours for creating. Give yourself vacation time. Do what it takes to set boundaries, even with yourself, to mitigate burnout