Did you know: Some bloggers recommend you spend as much time promoting your content as you do writing it.
(Derek Halpern of Social Triggers has an 80/20 split: 80 percent promotion, 20 percent writing.)
Wow, this is an area I fall well short on. I'm so impressed by those who hustle to get their content out there and in front of as many people as possible who can gain value from it.
Over the past few months, I've learned a lot from content promotion experts and am starting (slowly) to work some of these practices into sharing the blog posts I write here at Buffer. I'd love to pass along a few of the strategies I've tried already and the ones I'm excited to experiment with. I'm hopeful you'll find some insights here that can work no matter the size of your blog or audience.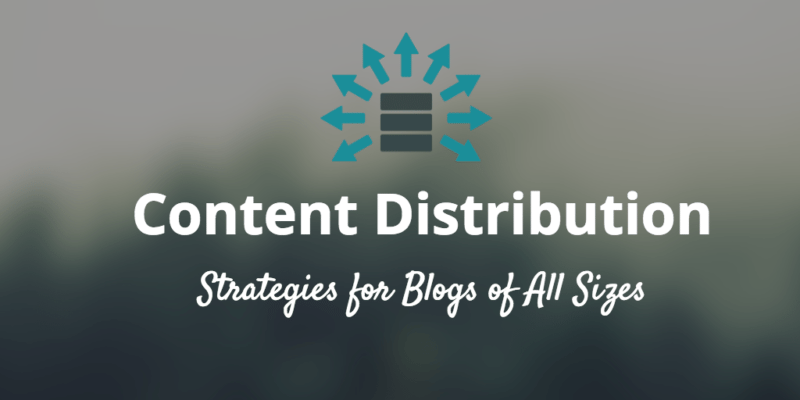 Content Promotion Strategies for Blogs Big and Small
1. Send new content to your email list
One of the best things you can do for your blog or brand is to build an email list. It's one of the best channels for reaching the largest percentage of your followers. People have opted in to hear from you; they're primed and ready to open, click, and engage with what you send.
For an example of the power of email, we send each new Buffer blog post to 40,000 people (thanks, everyone, and if you want to sign up, you can do so here.)
Of those 40,000 people, 7,500 open the email and read what's inside, and 1,800 people click through to the full article.

By comparison, an average Facebook post for us is seen by 1,800 people and clicked 51 times (all our latest social media stats are here).
The takeaway: Grow an email list.
We were fortunate to be able to double our email list growth in one month by focusing on a few key strategies. We did this without an email popup, which is a great strategy for lots of blogs but just didn't quite feel right for us. Our most successful CTAs are:
Slideup CTA that comes up from the right corner of the page after a user scrolls 60% down
HelloBar (pinned to the top)
Feature signup box on the main blog domain (blog.buffer.com but no other article pages)
2. Share multiple times to social media
We're grateful for the chance to share with large audiences on Twitter, Facebook, Google+, and LinkedIn. Sharing once to these networks let us get a new post in front of 1,000s of readers who then have the potential to share it with thousands of their readers, and so on and so on.
Jeremy Waite shared this amazing stat in a post about social media rules:
1 active user is a BIG deal. They have 140 friends. And their friends have 140 friends each. Therefore 1 piece of great content has the chops to reach 2.7m people within just 4 generations.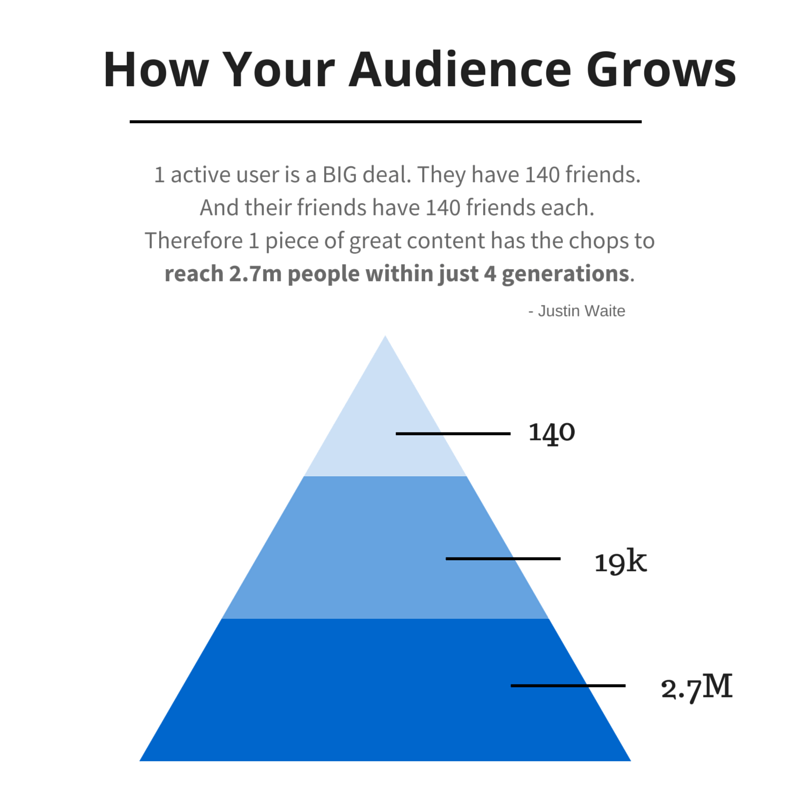 And we share each blog post more than once, according to a promotion schedule that spreads the promotion across a week or more (often stretching out to a month).
3. Syndication
Over a year-and-a-half ago, we shifted focus on Buffer blog outreach from guest post opportunities to syndication. We started pitching our best-performing blog posts to other blogs in case they'd be interested in republishing.
This was super useful for us because it
a) allowed our content to help a new audience
b) provided great value and fast content for websites we admire
c) was a bit of a minting machine for our content—instead of spending 8 hours writing a new guest post that would be published one time, we spent 8 hours writing a great post for our blog and another hour or two helping get the same post published on a number of other sites.
We shared a bit about this process in our post "How to Become a Columnist." At a very high level, these are a few of the techniques that were most helpful as we got started.
Start with guest posting. The more, the better. Buffer's co-founder, Leo, wrote around 150 guest posts in a nine-month period.
Refine and improve the content on your own site. Writing tons of articles, on your own site and on sites of others, can only help but improve the work you publish and promote. This process led to a couple big hits on the Buffer blog.
Submit your top-performing posts. These often come with built-in validation (in terms of social shares, comments, views) that make it an easier decision for the potential publisher to say yes.
Expect some no's along the way. We didn't get into all our top choice blogs right away.
4. Send an outreach email
I'm really excited to share this one.
This strategy had a 66 percent success rate for us.
Two-thirds of the people we reached out to regarding a post of ours responded and shared with their social media crowds. For our post 10 Time-Saving Tools, I wrote a greeting to each of the brands that were mentioned, more of a "thanks for creating an awesome tool" rather than "please share this post."
Here's the exact email I sent.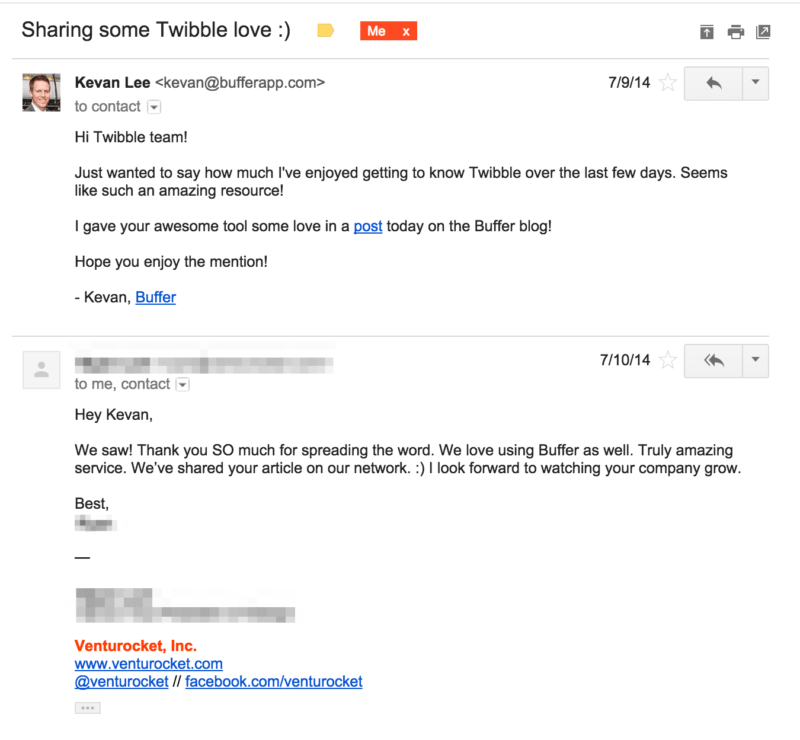 I'm quite new to this strategy, so there's likely a lot of ways I could improve here. The tone and message, for instance, is somewhat in line with the How to Win Friends values that guide our actions here at Buffer. (And I imagine you could possibly get away with being a bit more direct with the ask.)
One assumption I've made: People love hearing good things about themselves.
Sharing these positive mentions seems like a natural outcome.
I've found that we do this at Buffer, sharing links on Twitter that mention us in a list of tools or cool work cultures.
And here's a neat tip if you're interested in this strategy: You can use a tool like contentmarketer.io to scan your post and get you the names and contact info for anyone you've mentioned. Lickety-split.
5. Mention an influencer (then mention that you've mentioned him or her)
If you need a reason to reach out to a big name in your industry, include the person in your post. Then give them a heads up.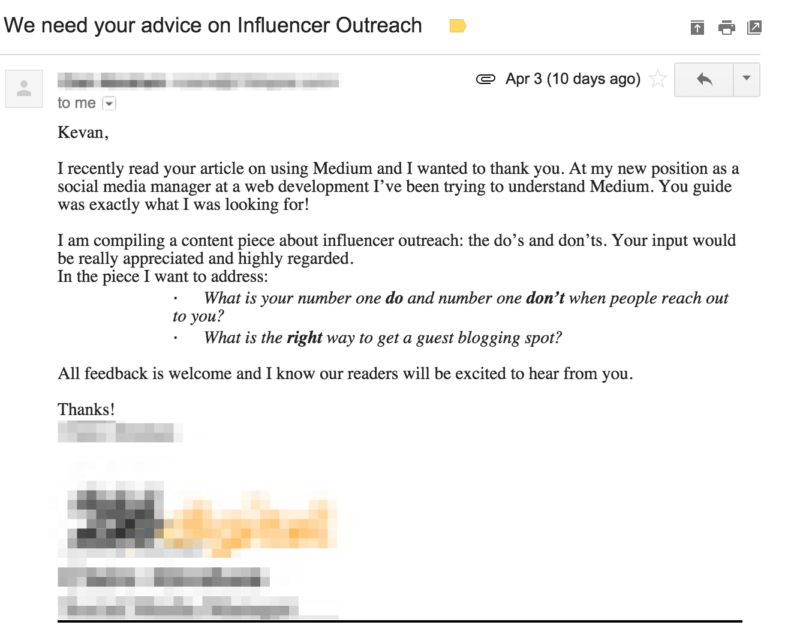 One of the quickest ways to do this is with a quote. You can ask ahead of time to see if they'd be willing to share something for your story, or you can pull from an article or interview they've done elsewhere and cite the source. Either way, it gets your foot in the door for reaching out later on, once the post is published, and you then have the potential big bump from their audience if they choose to share.
Adam Connell of BloggingWizard wrote about the value of a roundup post—a piece of content where a number of influencers are asked to contribute, e.g. "40 Experts Share Their Favorite…", that sort of thing.
One of the reasons why these posts are so effective is because influencers have contributed content that they have written themselves. This makes them far more invested in the success of the content and the fact that appear next to other extremely influential people within their market sector makes them even more willing to show off the content to their following.
(And if I so choose, I could now reach out to Adam, letting him know I mentioned him here!)
6. Submit the post to a content community
Here're a few that are specific to our niche:
To be honest, this is one strategy I wish I was better at. I don't submit any Buffer blog posts to these places; any mentions come organically from those submitting our posts on their own (thanks, all!).
From what I've studied, there are a couple of unwritten rules at play here:
Focus on more than just self-promotion. Don't join the community and solely share your own stuff. Share other articles, comment and vote on other stories, be part of the community.
Share your best stuff. Don't share every single article you write.
So perhaps the best way to go about sharing is to focus first on spending time with the community. Bookmark the site. Pin it to your browser. Put it on your home screen. Engage and interact regularly for a week or more before you submit your first self-promotional post and keep on engaging afterward.
7. Connect with a mentoring/peer group
I'm part of this really cool group of marketing friends who drop by a Slack chat room. Every so often when a new piece of content gets published, the writer hops onto the group and asks others to take a look and provide any feedback. And to share it, if we'd like.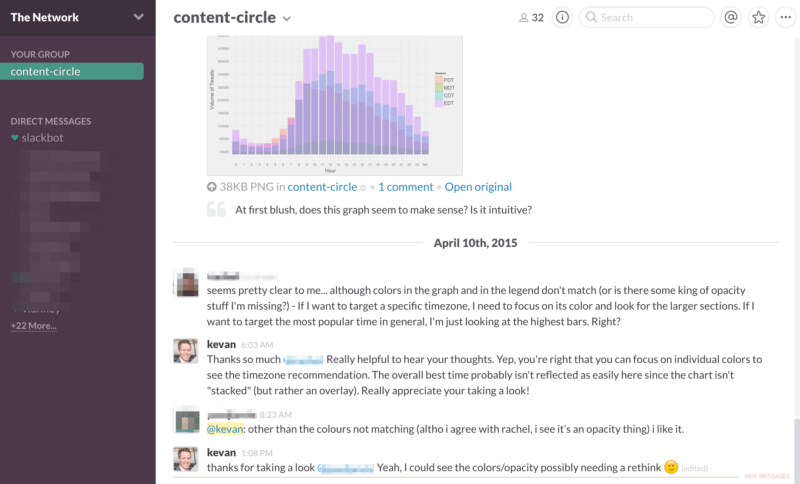 If you've got a similar set of like-minded friends or colleagues, you can combine forces and creative energy into a group like this. Slack is a wonderful way to organize. Not only can groups like these help you become better at what you do, they can be a great source for helping with promotion and growth of your content.
8. Make it easy for readers to share your content
One of your best content promotion sources is the people reading your content.
Make it easy for readers to share your story by adding social media buttons in strategic places. Here are a few of my favorite tools and tips on how:
1. Click to Tweet. Grab quotable snippets from your story and include them as Tweetable blurbs. With a tool like Click to Tweet, you can turn the quote into a shareable sound bite that a reader can send to Twitter with one click.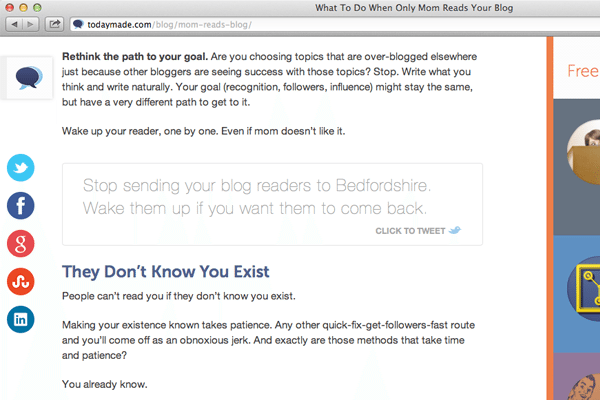 2. Pin it button. For the visuals and infographics you create for the post, add a Pin It button so that readers can easily share to Pinterest. You can grab the code from Pinterest's webiste. We use a WordPress plugin that gives us a bit more control; for instance, we have the Pin It button turned off by default and we can add it manually to any image we want by simply adding an image class of "pinthis."
3. Image Sharer. Similar to the Pin It button, SumoMe has a really great website add-on that creates a social share button overlay onto your images. You can choose networks like Pinterest, Twitter, Facebook, and (yes!) Buffer, and you can control where on the image the buttons appear when a user hovers.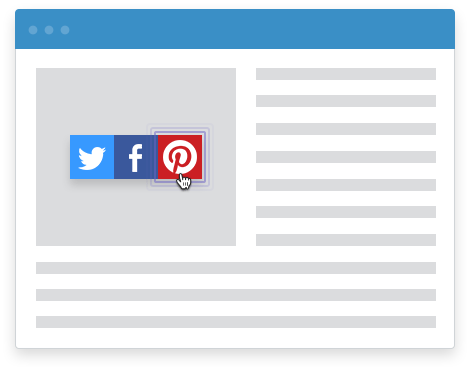 9. Focus on the places that get the best results
One of the best posts I've read on content promotion strategies is by Shannon Byrne on KISSmetrics. She shares all the strategies she's used at Mention, which is super helpful to see how to put a plan in place.
She's got this one section in particular that shows how to go about finding the distribution channels that work best (and focusing on those places moving forward).
Looking at referral sources in Google Analytics
Monitoring keywords to discover what conversations are happening, where
Looking at what content is trending on the forums our audience is on
Take a look at the forums and groups you've identified as relevant distribution channels. Which posts are being discussed the most? Which are seeing the most upvotes? Use these are inspiration during topic ideation, then write a post (or webinar, or podcast) from your unique perspective.
One report in particular, related to the referral sources in Google Analytics, has been really insightful for us on the Buffer blog. Shannon recommends pulling the referral sources report (going to Acquisition > All Traffic > Referrals) and noting the bounce rate for each channel.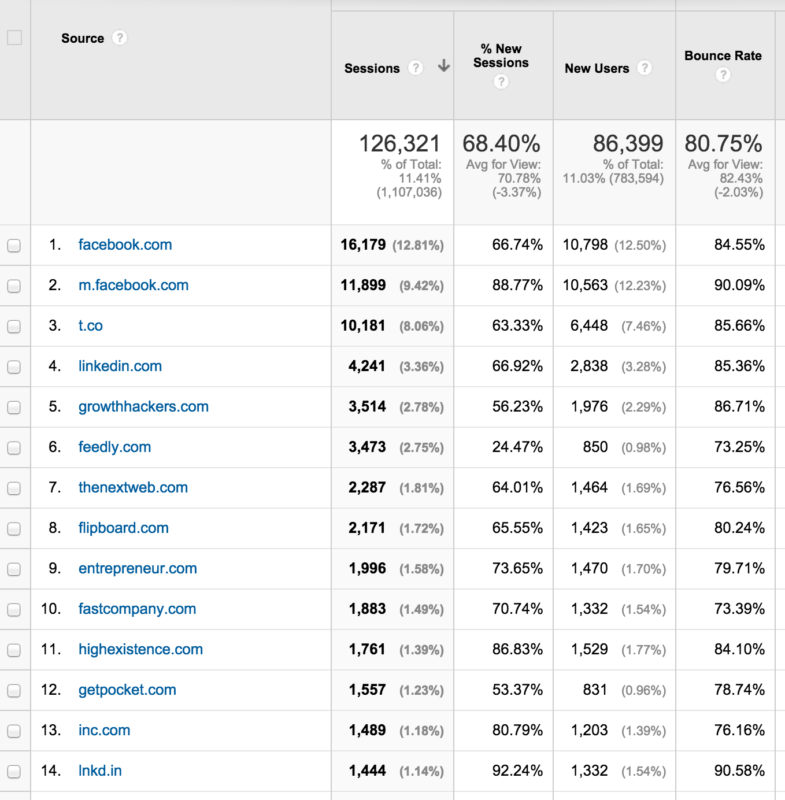 The average bounce rate for our referrals is 80 percent. From this report, I can see that Feedly and Fast Company are good sources for us and that it might make sense not to focus too much on additional reach at Growth Hackers.
10. Paid ads and remarketing
Of course, you can always go the paid route, spending money on social media advertising or pay-per-click ads on search engines.
Robin Burton of SEO Site Checkup even recommends a look into remarketing, the process of setting a cookie on site visitors that then shows your ads to these folks when they're on other sites.
You can chase your audience across the Google Display Network with image ads by using the cookies you obtained when they read your content. You can reach up to 84% of your visitors across 5-10 different sites between 10-18 days a month, which is well worth the effort for a strong brand campaign!
11. Repurposing
This tip stretches a bit into ways to get more out of existing content. Distribution is often just about getting your new content as wide of reach as possible. So with repurposing, it's important to make sure the original content shines as brightly as can be.
So one of the ways to work with repurposing is to grab snippets and excerpts and repost them to websites like Quora and LinkedIn that have their own publishing tools.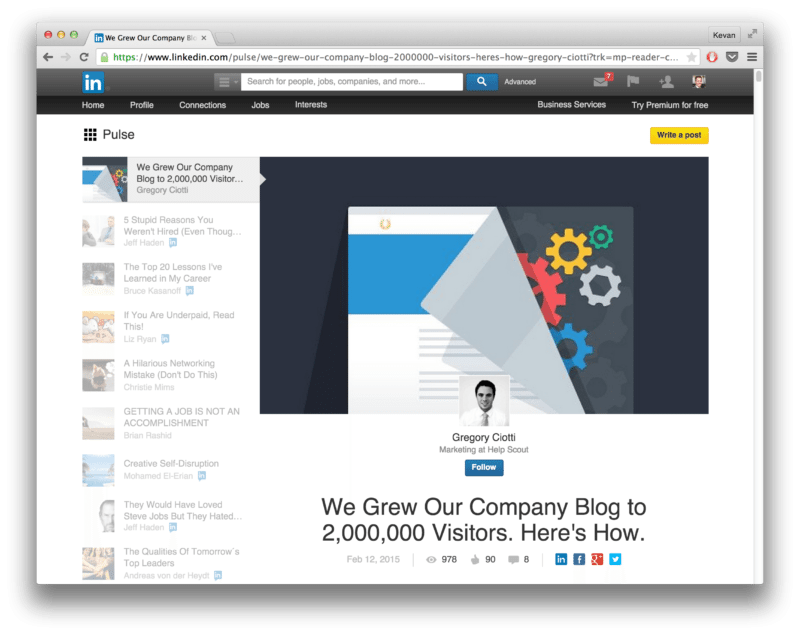 Medium's recent announcement of dashboard-writing also is a sleek option for getting bits and pieces of your article out there (and linking back to the original to read the rest).
Summary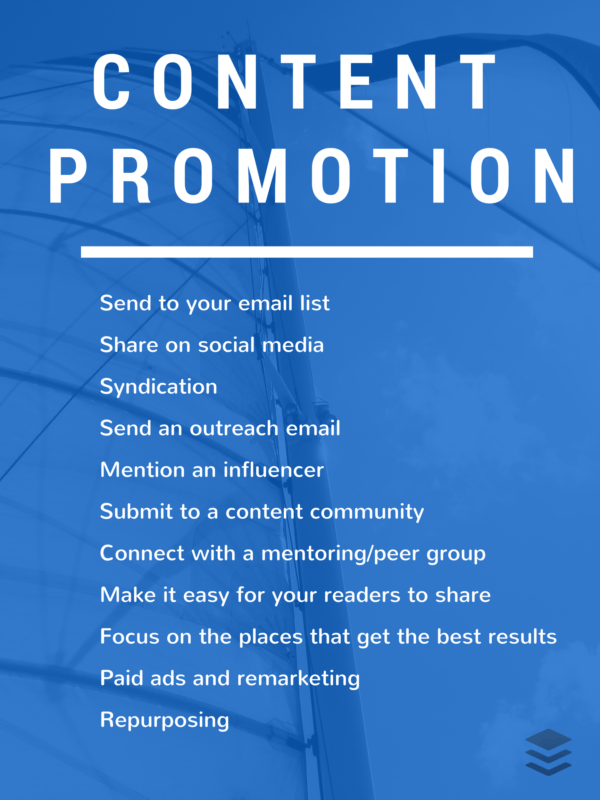 There are tons of great strategies to try for getting your content seen by the most people possible. This list touches on a few. Are there any of your favorites that you don't see here?
Send to your email list
Share on social media
Syndication
Send an outreach email
Mention an influencer
Submit to a content community
Connect with a mentoring/peer group
Make it easy for your readers to share
Focus on the places that get the best results
Paid ads and remarketing
Repurposing
Which of these promotion strategies have you tried? It'd be great to hear your thoughts on the topic! I'd love to hear any of your comments below.