How do you get more clicks from Facebook?
We've thought about this question lots before. It's come up in our monthly reports and audits. Facebook marketing is one of the most exciting social media areas we're eager to improve.
And this month, we may have hit on a strategy that works.
We're happy to share with you all our latest social media stats and strategies from the last month—including what we're trying with Facebook—in hopes that it may encourage or inspire some thoughts from you as well! Join us for a look at our trials and errors, experiments and mistakes. And feel free to share any thoughts that come up!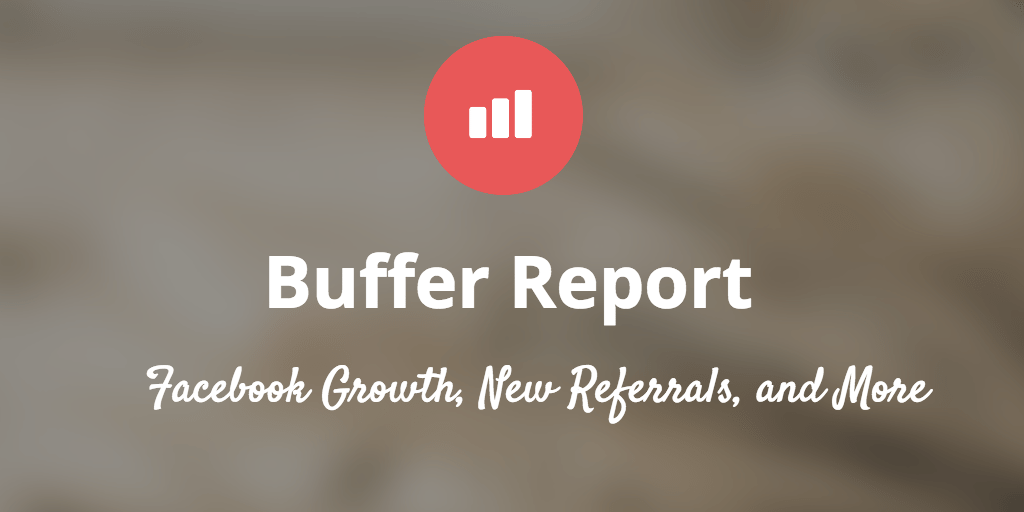 Inside Buffer's social media marketing stats
Here're our complete stats from March for each of Buffer's four major social media profiles. We're hopeful that the context and background is helpful as you build and analyze your social media strategies. Feel free to shout with any questions!
(All stats are from the past 28 days, and comparisons are made to the 28 days prior.)
Twitter
We gained 15,288 new followers for a total of 302,183 followers. (Last month, we gained 12,006 new followers.)
We shared 379 tweets (not including #bufferchat and customer happiness) that earned a total of 60,050 total interactions. This was an increase of about 31 interactions per tweet compared to last month.
Out of everyone who saw a tweet, 2 percent of users engaged with the tweet by clicking, retweeting, replying, favoriting, or following the Buffer account.
Engagement rate – 2.0% (2.1% last month)
Average impressions per tweet – 12,604 (12,769 last month)
Average total engagement per tweet – 291 (clicks, retweets, replies, follows, and favorites) (311 last month)
Average clicks per tweet – 121 (101 last month)
Average retweets per tweet – 26 (28 last month)
If you're interested in digging deeper into any of these stats, I'm happy to share our .csv of exported Twitter analytics.
Facebook
We gained 829 new page Likes for a total of 35,023 Likes. (We gained 836 new page Likes last month.)
We shared 60 posts that earned 3,946 interactions. This was an increase of 25 interactions per post compared to last month.
An average Facebook post reached 1,825 (1,200 last month). Of these, 1,134 people were fans of our page (700 last month), so each post reached an average of 3.2 percent of our total number of fans (was 2.1 percent last month).
Average clicks per post – 51 (+30 from last month)
Average likes per post – 10 (-3 from last month)
Average comments per post – 1 (-3 from last month)
If you're interested in digging deeper into any of these stats, I'm happy to share our .csv of exported Facebook analytics.
LinkedIn
We gained 399 new followers for a total of 4,459 followers. (We gained 236 new followers last month.)
We shared 34 posts that earned a total of 334 interactions. (Very nearly the same interaction/post from last month.)
Engagement rate – 1.8%
Interactions per post – 10
Google+
We gained 43,211 new followers for a total of 735,895 followers. (We gained 51,142 new followers last month.)
We shared 52 posts that earned a total of 1,256 interactions.
Interactions per post – 24 (37 last month)
Clicks per post – 6 (14 last month)
Reshares per post – 4 (same)
Plus Ones per post – 13 (17 last month)
Referral traffic to the Buffer blog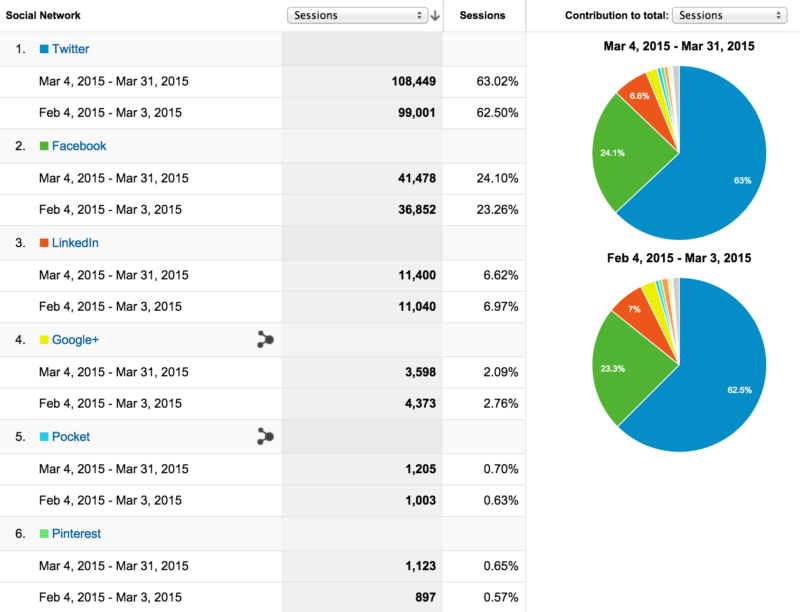 The above chart shows the top six social referrers to the Buffer Social blog. Not pictured: StumbleUpon, which dropped to number seven after being number four last month. (Pocket and Pinterest each rose compared to last month.)
Referral traffic to the Buffer app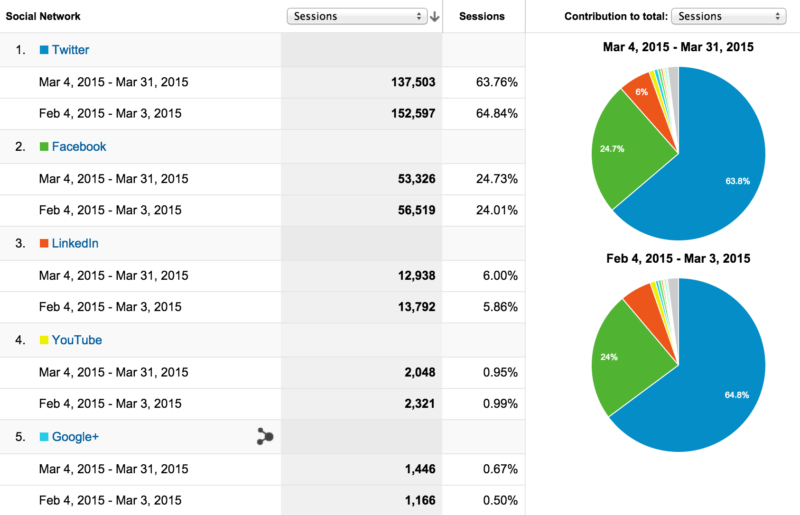 The above chart shows the social referrer traffic to the Buffer app itself. Blogger (1,215), Scoop.it (800), Quora (725), reddit (688), and WordPress (611) rounded out the top ten.
Inside Buffer's social media strategies
Along with the stats, I'd love to share a bit about the strategies we're testing on different social networks. It'd be awesome if you find this helpful or if this sparks any ideas for you. And it'd be great to get your thoughts in the comments on ways we could improve or grow, too!
New style of Facebook messages
We're excited for the chance to keep pushing ahead with different ways of growing our Facebook reach and engagement.
This month, we found a bit of success on the engagement front, growing our clicks per post on Facebook by more than double—21 clicks to 51 clicks.
Here are a few of the things we've done a bit different lately:
1. Share links instead of photos
It just so happens that our greater number of clicks also correlates to a slight uptick in organic reach. More people are seeing our posts, so more people have the potential to click on them.
Lately, the trends on Facebook have been pointing toward video, statuses, and links, and pointing away from posting photos. Here's an interesting bit of research from Socialbakers on the best types of posts for organic reach: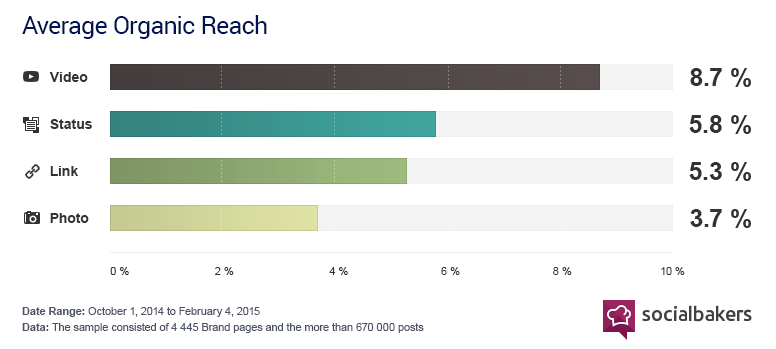 2. Use hashtags in the posts
Do hashtags work on Facebook? Some studies say no. Others have found that they work in moderation or in specific industries.
We've added hashtags to several of our posts this past month, and they've been among the most-clicked and most-viewed out of all our updates (see below). If you've yet to experiment with hashtags for yourself, it might be worth testing to see what works.
3. Write in a conversational tone—sentence case capitalization, less headline-y text
There is a dizzying array of ways to write a social media update (we counted 71 here). For Facebook, we've traditionally taken a headline approach, matching the update text to the posts's headline or subheads.
This month has been a little different. We've tried some more conversational messaging in the updates, using sentence case instead of title case (e.g., "Social media is rad" vs. "Social Media Is Rad").
Here's the post that did the best for us in the past 30 days in terms of clicks.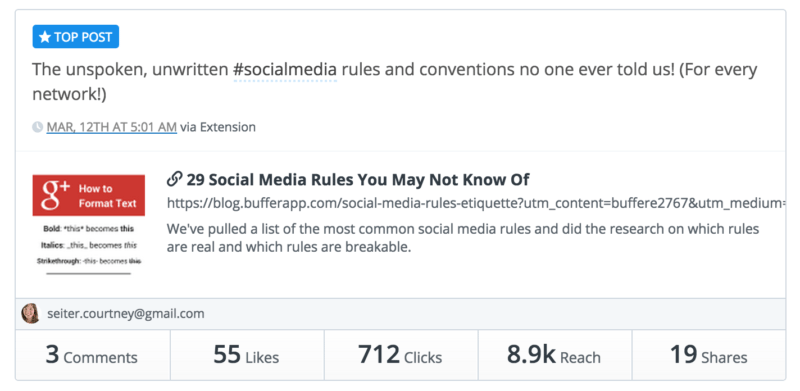 Courtney has done a great job at identifying some top areas where we can experiment on Facebook, including video and posting frequency. We'd love to keep you updated on what we find out this month.
Sortable analytics
One of my favorite ways to keep our Buffer queue full is to discover the posts that have done best in the past.
And there's a super easy way to do this in the Buffer dashboard.
Using the new sortable analytics, I can sort all the posts that have been shared to the Buffer queues, sorting by metrics like clicks and retweets, then filtering by date (past 7 days, past 30 days, or even a custom timeframe).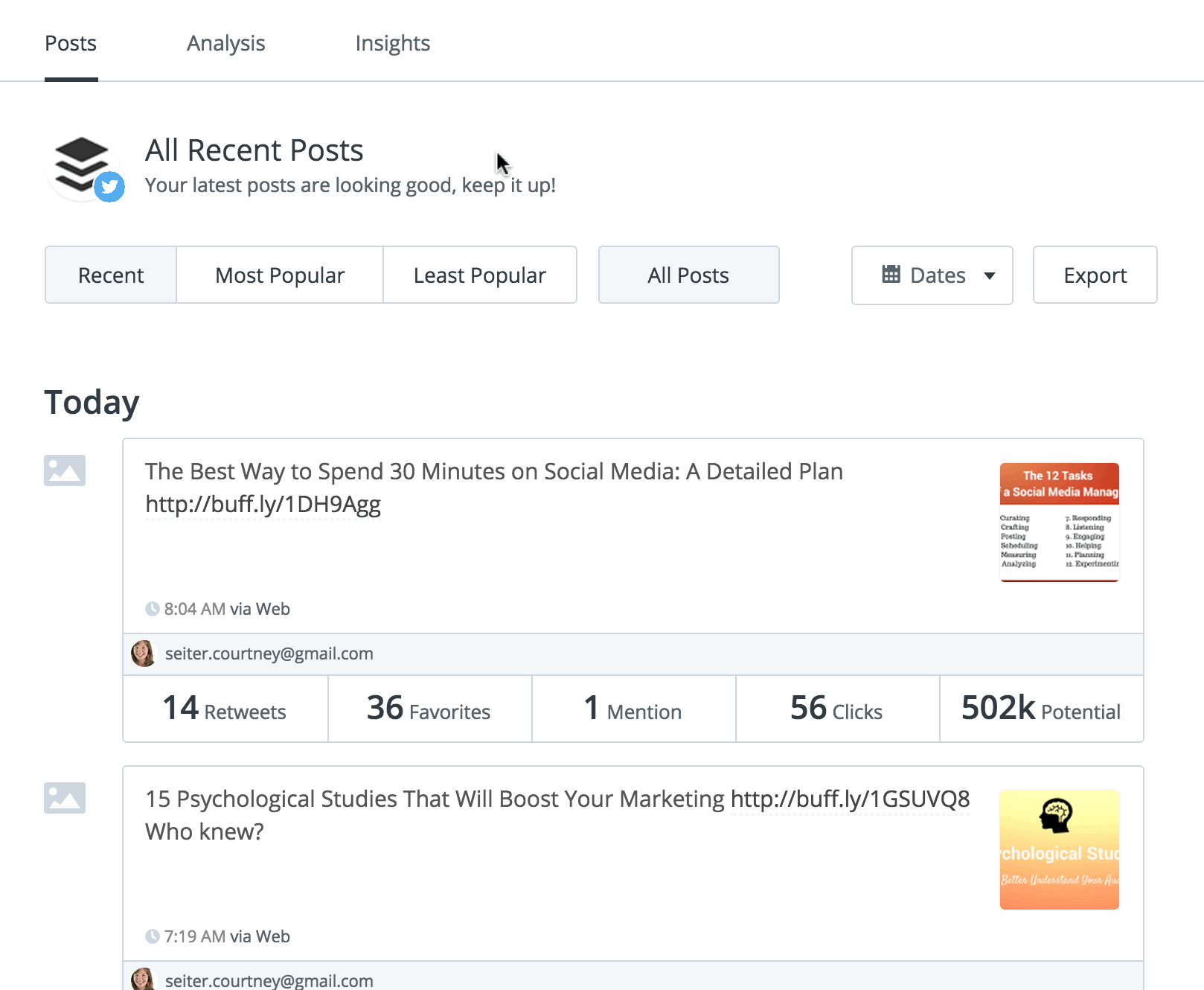 We then grab the ones that have resonated most with our audience and re-Buffer them to our queues, tweaking the message slightly or reworking the images or calls-to-action.
Facebook likes drop
Here's quite the eye-catching chart: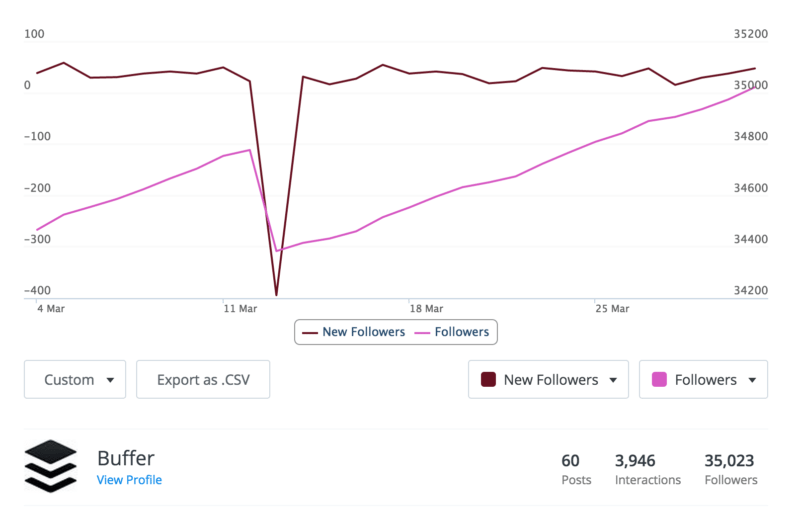 This shows our Facebook likes for the past 30 days—with a noticeable dip on March 13.
Has anyone else noticed a drop like this in your Facebook stats?
The drop is quite precipitous, losing nearly 400 of our 35,000 likes in one day. This likely can be traced to Facebook's removing a host of fake and expired accounts this past month. The removal didn't figure to impact any of the engagement metrics for our page or others: in theory, these are all inactive accounts that weren't contributing to metrics like clicks and reach.
How to show your boss or client the value of social media
We talked a bit last month about creating social media reports that you can share with others. And I wanted to quickly mention one way that we've noticed the positive effect of social media and its impact for the Buffer product.
If you go into Google Analytics and click on Acquisition > All Traffic > Channels, you can see a breakdown of the different sources that send visits to your site.
Here's what things look like for traffic to our main site at buffer.com.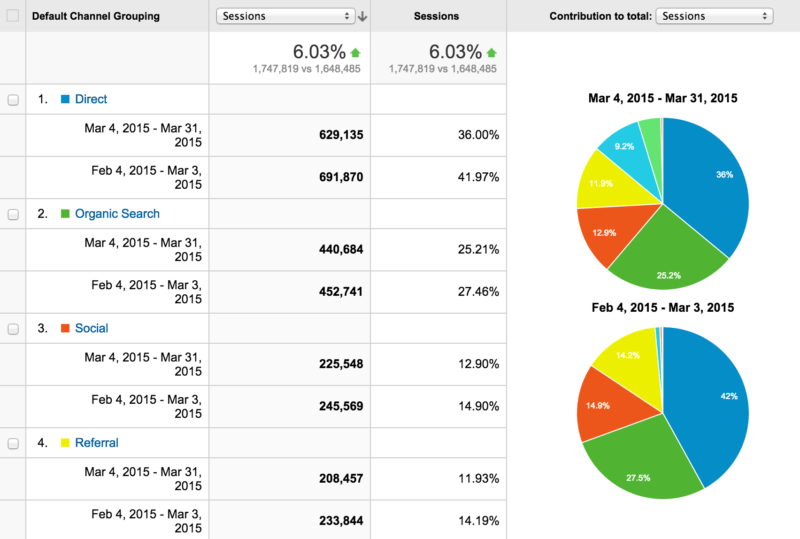 Typically between 10 and 15 percent of Buffer visits come via social media. The raw numbers are quite telling also—200,000+ visits per month from social.
Regardless of the size and scale of your social traffic, the impact of social can often be clearly seen in charts like these.
What percentage of traffic does social media send to your site?
New visions and ideas for social media marketing
We feel grateful for the chance to work on so many amazing and fun social media strategies, and we've got even more that we'd love to try out. Here are a few that we're thinking over.
Pinterest tips
We're excited to forge ahead in some neat ways for our Pinterest marketing. As Pinterest sends us the 6th-most traffic from social, we're keen to focus a bit more on the specific ways that we can best help our audience on Pinterest.
Some of our potential experiments include:
Creating Pinterest-optimized images for each blog post (aspect ratio of 2:3 or 1:3.5)
Trying out different captions (keyword-rich, long or short, etc)
Create a Pin-it-for-later link from your Pin and share that link in social media updates
Use multiple images within a pin
Create pins with text in them
Build Pinterest boards for your blog posts
We'll of course be happy to report back with anything that we find here!
Sniply experiments
We're grateful for a lot of wonderful information on growth hacks for social media. One of the ones that catches my eye most often is for Snip.ly, a call-to-action tool that adds a custom CTA to every link you share.
Here's a bit about what the Sniply process might look like for our social accounts:
Find a piece of awesome content to share.
Write a great headline for the article.
Go into Sniply to create the URL.

Add the article's URL.
Customize a call-to-action message and button specific to your blog or brand.
Grab the new, customized Sniply URL to add to the update.

Share the update to social media
When your audience clicks on the link, they'll see a custom CTA that you've created, hovering at the bottom of the page.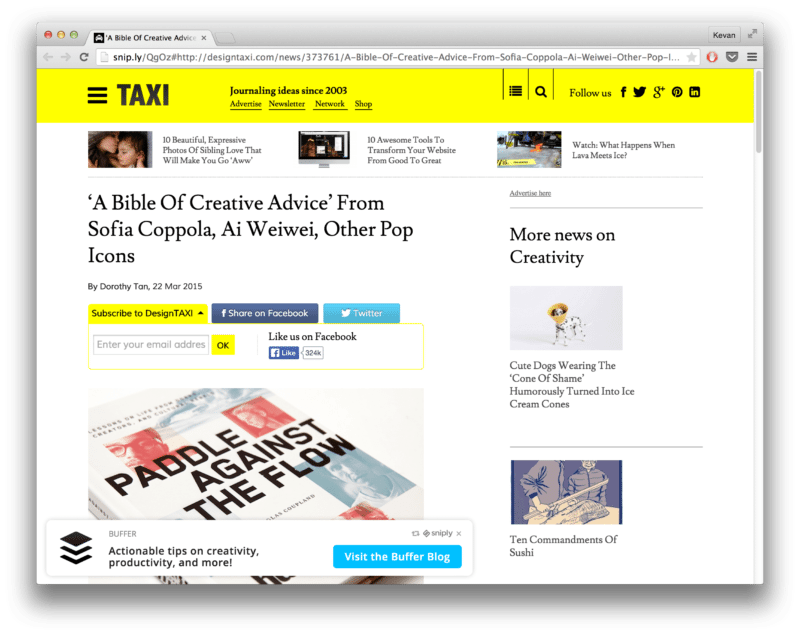 Has anyone here tried Sniply with their social media sharing? I'd love to hear your thoughts and experience!
Livecasting
Some of the most buzzworthy apps we're chatting about at Buffer involve livecasting—the broadcasting of real-time footage of what we're doing.
Specifically, what might this look like for sharing our work processes with a live audience?
Two of the trending livecast products are Meerkat and Periscope. I tried out Periscope by sharing a livecast of my writing process. The first day I tried it out, a livecast caught 120 viewers—and it took little more than my setting my device in front of my computer screen and pressing Go.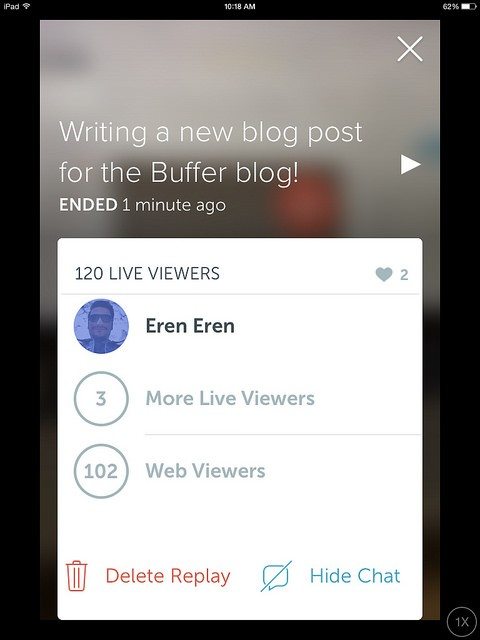 Social media content we'd love to write about (any thoughts?)
And finally, I'd love to share a few of the social media blog post ideas we're considering for the next few weeks. If any of these topics jump out at you, I'd love to hear your votes!
The Time It Takes to Write a Buffer Blog Post (And How We Spend Every Minute)
You Have $100 to Spend on Social Media Marketing. Here's One Way to Spend It.
How to Turn Things Off in Social Media
Should You Be On Snapchat, Ello, or Vine?
How to Learn Social Media Marketing in 2 Minutes a Day
The Great Guide to 100+ Words to Use or Avoid in Your Email Subject Lines
Over to you
I hope this look into our Buffer social media stats and strategies holds some insights or ideas for you as you build out your own strategies. I'd love to expand on anything here—and hear from you on any thoughts that come up.
What are you working on this month on social media?
Do any stats or strategies stand out here for you?
It'd be amazing to hear your thoughts in the comments.
Image sources: Pablo, Unsplash, Iconfinder