Welcome back to Creators Unlocked, a series where we interview creators about their best practices and advice for other creators.
Jahleane Dolne started creating content a year after college graduation in 2020, but it was the $20 she spent on a LinkedIn optimization course that really changed her life. That course allowed her to pivot into a sales role in the tech industry, serving as the foundation for her entrepreneurial career. She has since gone on to speak on panels, host workshops, and launch The PostGrad Playbook.
Her efforts have led to an audience of over 40,000 people she brings along in her life experiences. In this article, learn from Jahleane's experiences and her advice for creators.
Embrace authenticity in your content
No one can share your story like you.
This statement is a common refrain across Jahleane's social media. She's found success in creating content that reflects her personal experiences, challenges, and aspirations, resonating deeply with her audience.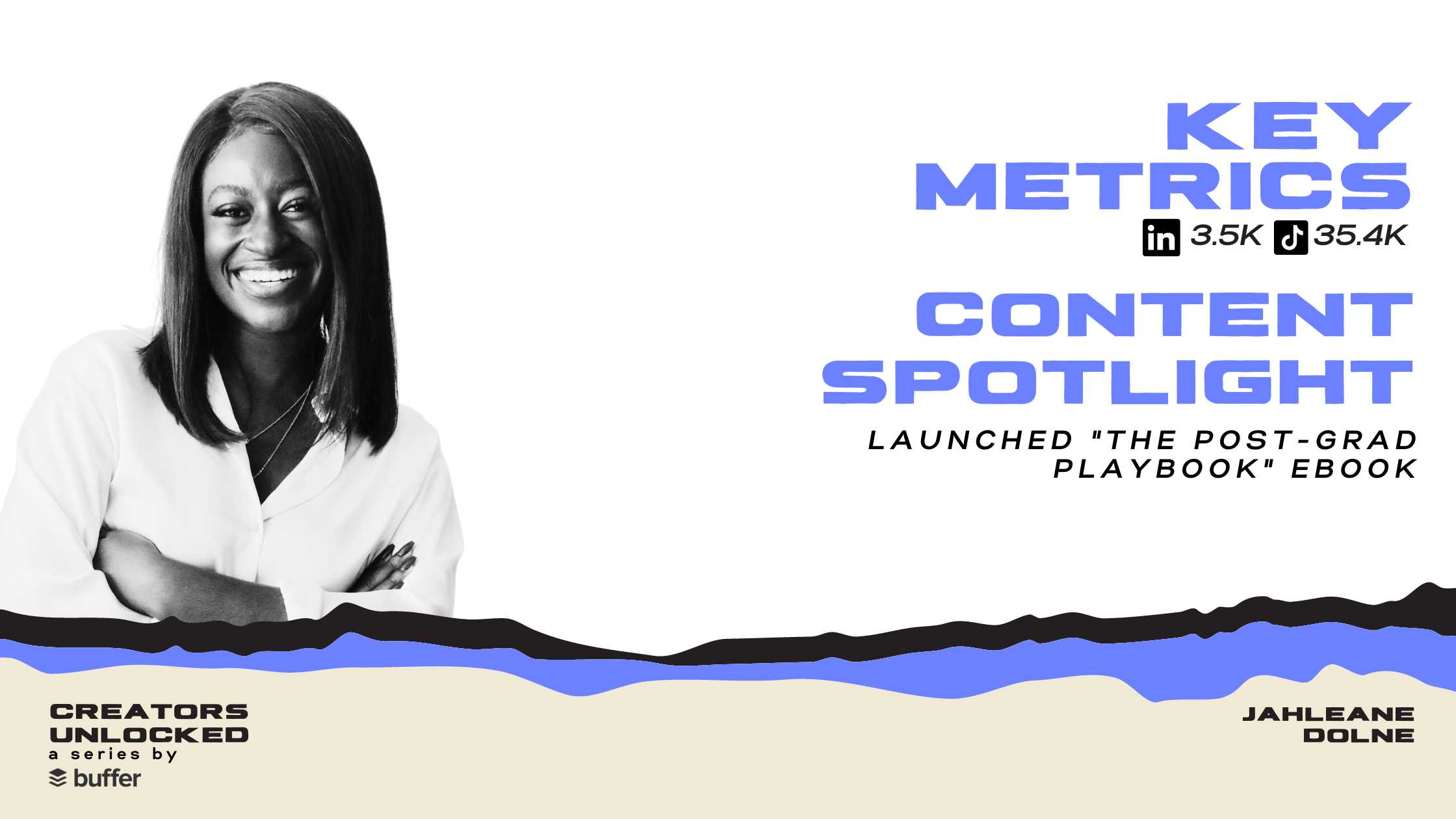 As someone who shares transparent content about her career journey, it might be difficult to strike a balance between who you really are and the image that is deemed professional in your industry. However, as Jahleane shared, "Most event organizers appreciate the content I share on my social media."
She's able to remain authentic to her content while maintaining a professional demeanor, and there aren't many discrepancies, indicating the alignment of her authentic voice and professionalism.
Authenticity is especially relevant when copycat content is ubiquitous. It's common to see a dozen Twitter accounts posting in the same cadence or most TikTok trends that build on each other without any unique spins. Luckily, it's easier for creators who want to stand out – tell your story or share your knowledge from your perspective and target it towards the person who might be in the place you used to be.
Pull from your experiences to create
From sharing her story to bringing her viewers along to speaking engagements, Jahleane's content is rooted in personal experience. Her content may seem more lifestyle-oriented initially, but it's broader than that. As she describes it, she creates "personal growth and career content showing others it's possible to pave your own way".
She talks to her audience during her skincare routine or shares what happened during her day. It just so happens that her life embodies the lessons and advice she shares, so she can connect with her audience of 20-somethings seeking to grow their career.
Jahleane didn't always have this clarity, although she's now confident in her approach to content, "Identifying my niche took some time, mainly because I discovered that my niche is essentially 'me'."
She highlights that she was able to pin down a niche because her life has had a common theme since she entered her 20s – building a career and self-improvement. "I think people follow someone in their early 20s because they understand that person is likely going through many of the same experiences," she explains why people are drawn to her.
Pulling from her life also helps with ideation – she draws inspiration from her experiences when looking for ideas. A recent example she shared was a LinkedIn post after being laid off from her job in tech sales due to company restructuring.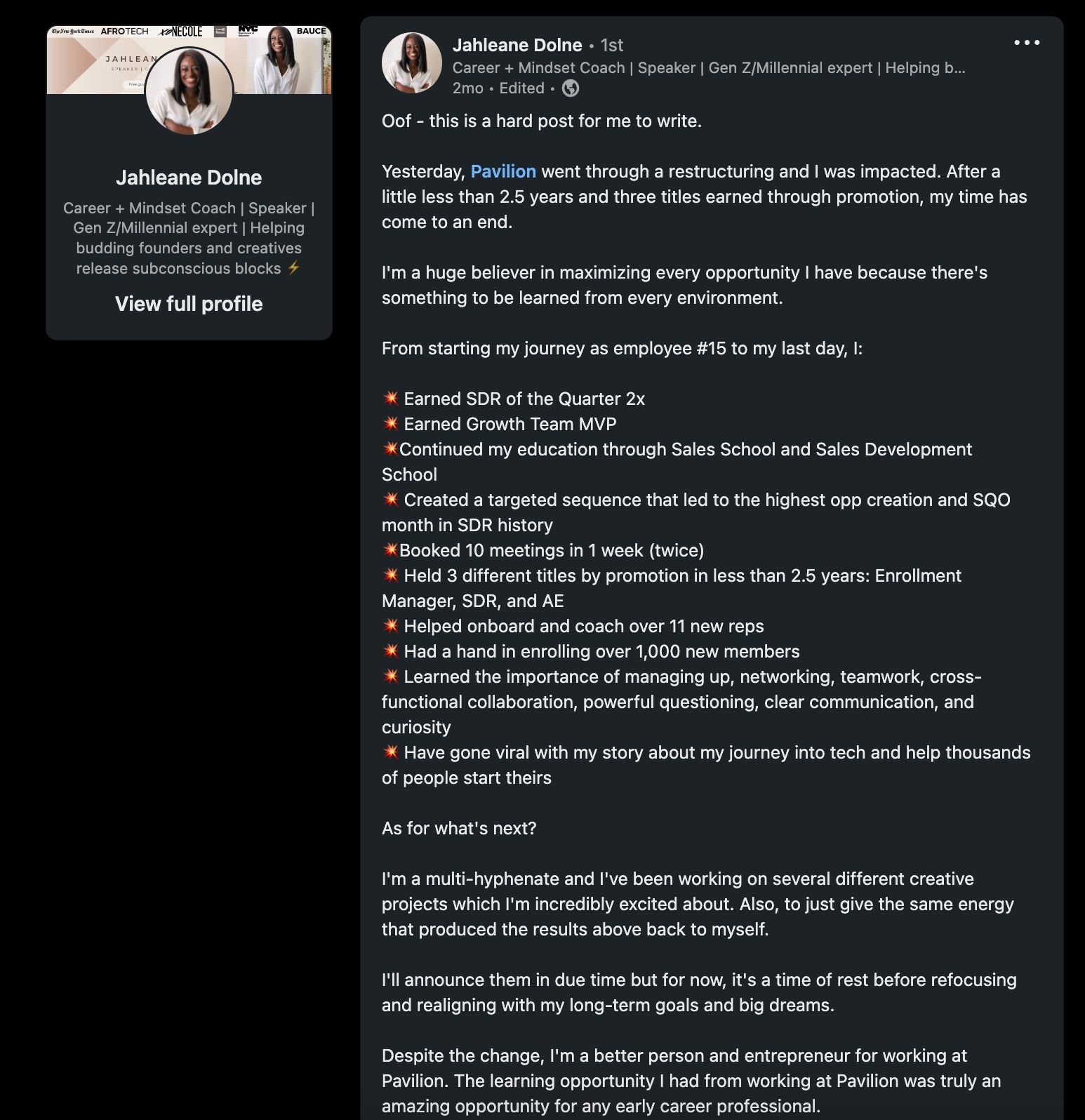 "I used to work in tech, and many of my followers are interested in tech sales, just like I was. However, the reality is that many tech companies are currently laying off their employees. I felt it was important to talk about this reality, so that's how I've been generating content in these daily bursts," she shares. Although it's not pretty, the transparency is part of what draws Jahleane's audience.
The lesson for creators here is: Your personal experiences have value as a source of inspiration and connection with an audience. A lot of people will be in the same phase of life as you or learning something that you're ahead of them in, even if it's just by one step. If you're looking for ideas, start by sharing what you know.
Diversify your platforms in anticipation of change
The Internet is always changing, and staying ahead of the curve is a must for any creator. For example, the news of a potential TikTok ban got Jahleane thinking about how to diversify her platform presence.
"To prepare for [the ban], I've begun diversifying my platform presence. For instance, I've started posting on YouTube Shorts and working on building my mailing list. Driving people to my website has also been a key part of my strategy," she says.
It's not just words – Jahleane has been proactive in diversifying. Along with sharing on TikTok, she also:
Has a website and blog where she shares written content
Creates a steady stream of content on LinkedIn
Cross posts to YouTube Shorts, where she specifically mentions a lot of opportunities for creators
In addition, she developed an ebook called The Post-Grad Playbook, which her audience can buy as a package with her LinkedIn auditing service. This Playbook really helped her owned content take off, as she received speaking engagements – a major monetization opportunity – from the tips mentioned in the playbook stemming from her corporate sales career.
She emphasizes the importance of owning your content and controlling whatever you can of your digital presence, saying, "It's super important to have something that you can call your own in the digital world. For instance, no one can take away my mailing list or my website. These are things I own. People have willingly given me their emails, and the content on my website is mine. On the other hand, I don't own Instagram or TikTok. It's unnerving to have much of your hard work at the mercy of other platforms and people."
"Always remember your community, your values, your platform, and the business you're building. Make sure any revenue generation aligns with these elements."
Jahleane also diversifies her income as a creator beyond her digital product and speaking engagements with affiliate and brand partnerships. She prioritizes partnerships that align with her mission and content. Her advice to creators about generating revenue is, "Always remember your community, your values, your platform, and the business you're building. Make sure any revenue generation aligns with these elements."
Ultimately creators who want to diversify their platforms and income should be thinking about how much value their audience will get from their efforts. "Understand the challenges your community faces. From this understanding, develop a solution to their problems. Whether that takes the form of an ebook or another product, dive deep into it and give it your best shot," Jahleane recommends.
Navigating identity and bias in content creation
Identity is a core part of Jahleane's work as her primary audience is made up of BIPOC (Black, Indigenous, and People of Color) women. She focuses on creating personal development and career-focused content for them because they're a historically underserved group, and she didn't have many of those resources in her early career. "My goal is to empower these individuals to confidently take up space in whatever situations they find themselves in."
With her and her audience's shared identity come issues of bias. She's highlighted that there have been no outward, aggressive displays of bias but has speculated, and she wouldn't be wrong to do so. Black creators often get the short end of the stick in the creator economy.
"Historically, Black creators have faced hurdles in terms of growth on certain platforms, obtaining deserved recognition, or receiving equitable payment. So in certain instances, I can't help but wonder if a deal resulted in lower pay or didn't go through because of this bias," she says.
Her advice to creators in a similar position is to remain aware of the standards for creators in general and creators who share your identity. Make a note of the disparities so you can stand up for yourself.
Community is crucial to how many BIPOC creators navigate the creator economy. "It's crucial to be aware of these disparities – perhaps your videos aren't getting as many views, or you're not earning the same rate as your peers. That's why transparency within the creator community is essential. Joining networks where information about pay is openly shared allows us to ensure we're being compensated fairly," advises Jahleane.
Toni Bravo, a Black lifestyle creator, shares the same sentiment. "If we were all working on a project we would negotiate offers together. We would pop on calls and be like, 'here's what they're offering you. This is what they're offering me.' Let's all come back to them with this number," Toni said. "We would all just be like, 'yo, like, let's demand this.' And we'd get it every time."
Jahleane's experience underlines the possible challenges that content creators may face, particularly those from marginalized communities. Remain aware of potential disparities and seek transparency within the creator community to ensure fair treatment and compensation.
Seize the present and start creating
Jahleane grew up during a time when YouTube was on the rise and considered creating a YouTube channel around 2016 when YouTube was turning its creators into celebrities. But starting seemed intimidating, and she felt she missed the initial wave.
So, when 2020 rolled around, and she found herself at home and out of work, she decided it was time to share her voice with the world.
"Don't be the first person to tell yourself "No." Often, the only thing holding you back is yourself."
The thing is, many creators started around that time and are now pretty big on YouTube (like Jay Clouse in 2017 and even popular creator Mr Beast). And many people only started posting to TikTok in 2020. As she reflects on this time, Jahleane shares, "You shouldn't dwell on what could have been. Instead, focus on the present moment because that's what you have control over. You're the architect of your future, and right now is a good time to start building."
This highlights to anyone that feels like they might have missed the train on content creation to simply start – there's no 'too late' in content creation. "The landscape is continuously evolving - new apps will come into existence, and the skills you acquire from consistently creating and learning how to craft good content now will carry over and serve you well in the future, regardless of the platform," says Jahleane. "Don't be the first person to tell yourself "No." Often, the only thing holding you back is yourself."