We're officially halfway through the year. Very excited to share the latest update for Buffer:
Key metrics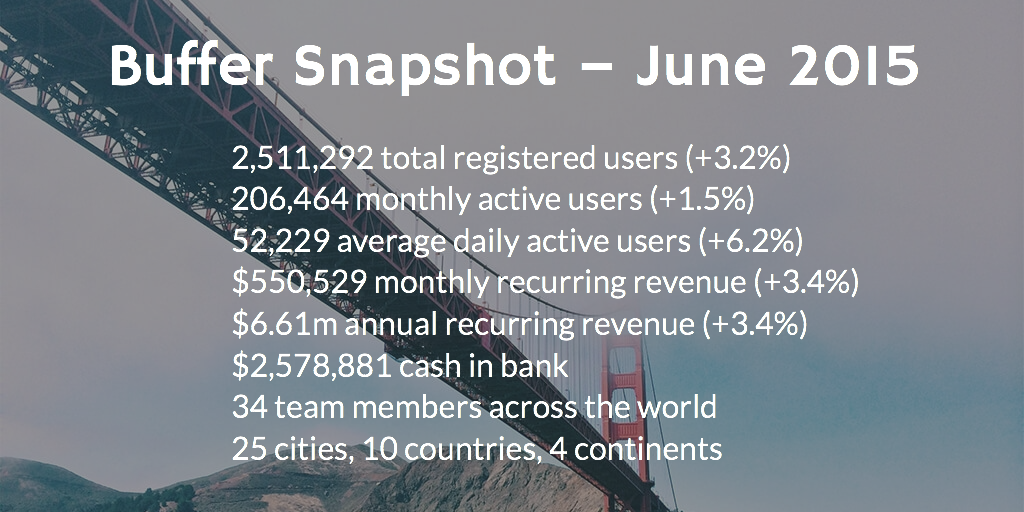 2,511,292 total registered users (+3.2%)
206,464 monthly active users (+1.5%)
52,229 average daily active users (+6.2%)
$550,529 monthly recurring revenue (+3.4%)
$6.61m annual recurring revenue (+3.4%)
$2,578,881 cash in bank
34 team members across the world
25 cities, 10 countries, 4 continents
Here's a graph of our MRR growth over the last 3.5 years: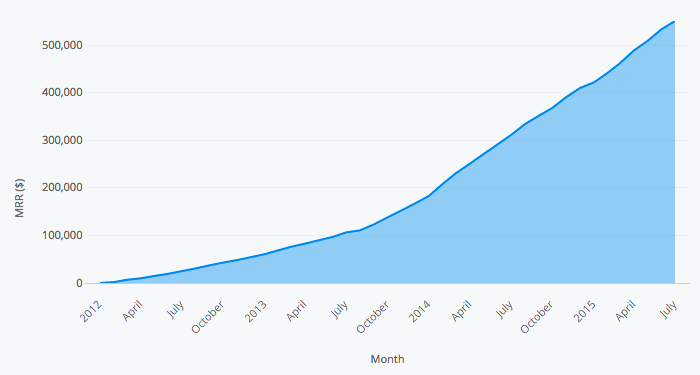 The change in trajectory around October 2013 is most likely attributable to us launching Buffer for Business.
This is exciting as recently we've started discussions within the team of doubling down further on Buffer for Business and creating a dedicated product/engineering team to serve those customer problems even better.
Asks: Learning more about product structure
I'm trying to learn how companies structure product, design and front-end development (CSS). These seem like overlapping areas, and could easily be 3 people, or could be one person who has ability in all areas. With 1 person rather than 3, it feels possible to move much faster.
I'm keen to learn how other companies balance expertise and specialization vs speed. If you have any thoughts here or know someone who might have thoughts (maybe a founder, CPO or product people), I'd love to hear from you! Thanks.
Team: Fastest-ever growth and hiring push
34 fully on board team members.
2 new people finished bootcamp and fully joined the team: Kat (Engineer) and Danny (Happiness Hero).
6 people have accepted offers to join the team in the coming weeks/months (3 Product Creators, 2 Engineers, 1 Community Champion). This will make us 40 people.
We're hiring for 14 (!) different positions
Product: Pinterest, Pablo improvements
We soft-launched improvements to our Pinterest scheduling capabilities, including letting you pick an image from the page.
We made improvements to Pablo, our super-fast image creation tool. A key one is that you can select text from a page and right click > Create Image with Pablo in order to create an image with the selected quote over the top like so:

We're very close to rolling out the ability to schedule new 'Retweet with Comment' Tweets using Buffer.
Key changes to self-management at Buffer
Building on our self-management learnings, we have started to make some key changes to how we view self-management and work together.
We're moving away from self-management being synonymous with 'no structure'. We've realized that hierarchy and structure are very different things, and structure is key to working efficiently. Some the the changes that have resulted include:
A bias towards small teams with clear roles. Small teams can feel more ownership and move fast.
Embracing the idea of higher level work as a separate task carried out by people, rather than spread across everyone.
Starting up mentorship again, through regular 1:1s. 1:1s are a great way to maintain help and guidance, without managers.
To tie all this together, we have started to develop our own internal tool to help us organize ourselves and create visibility to the roles people have. Here are a few screenshots (still very much a work in progress):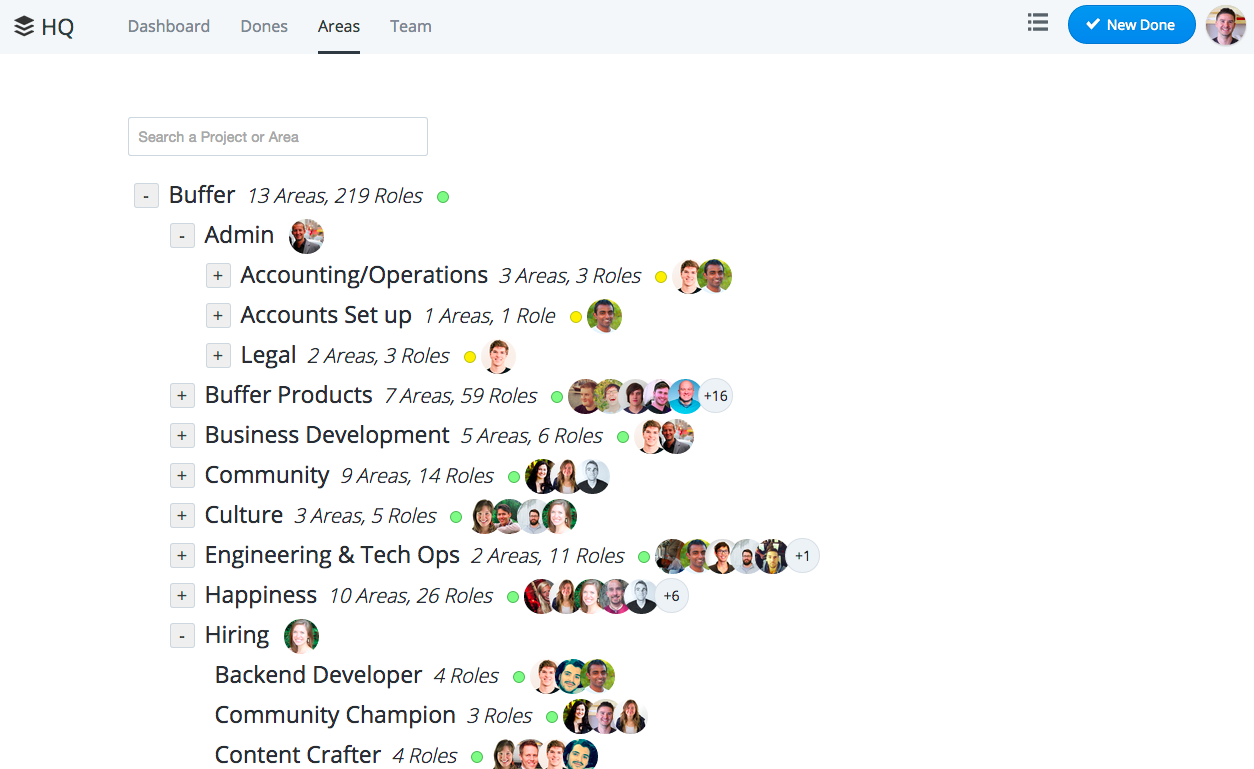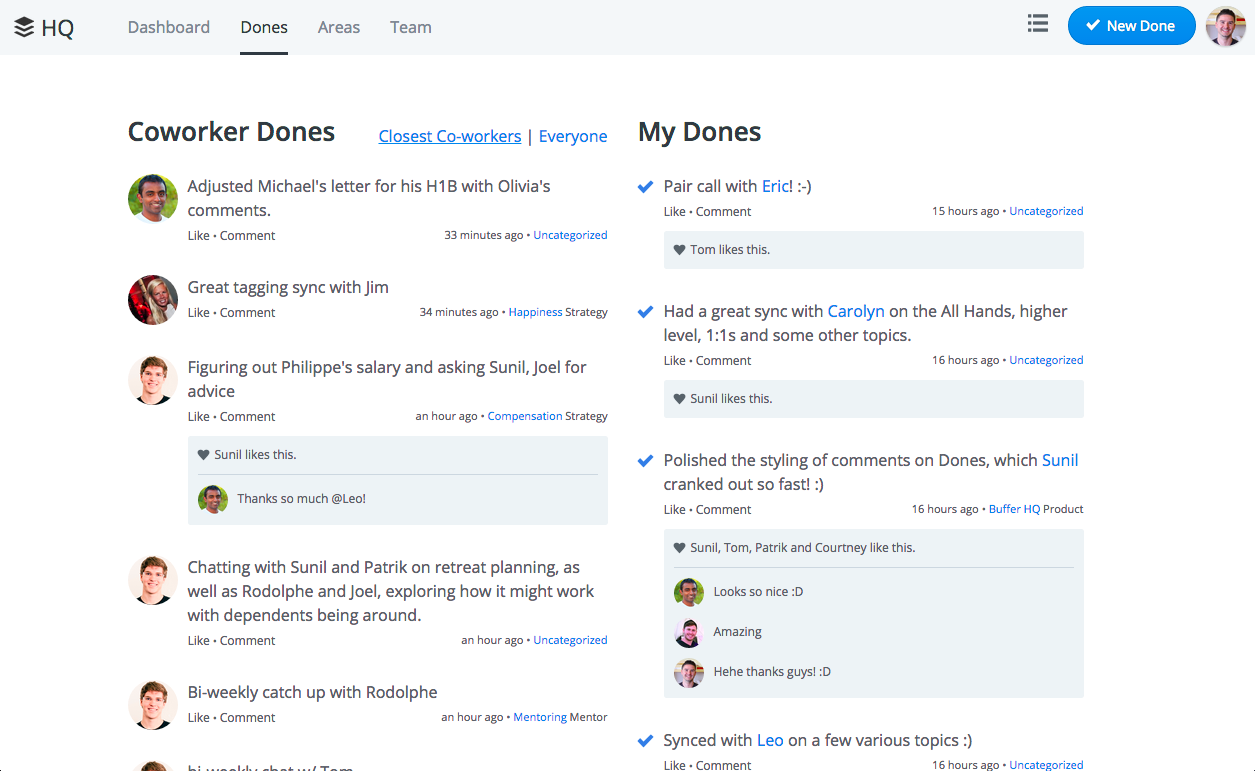 Over to you
Thanks for being part of our journey. If you have any questions or thoughts, I'd be keen to hear them in the comments!