I'm delighted to share a strong update for our first month of the new year. I wanted to take a second and publish the email I just sent to our investors this morning. I hope you enjoy the insights into what we've been working on at Buffer in the last month and the results we're seeing. I'd love to hear from you in the comments if you have any thoughts or questions about what we're up to!
If you want to read about how December went, you can take a look here.
Traction update
New users: 71,777 (Total: 1320813, from 1249036: +5.7%)
Daily active users: 34,671 (up from 28,720: +20.7%)
Overall Revenue: $325,000 (Annual: $3,900,000 up from $2,819,000: +38.3%)
Awesome Plan ($10/mo) revenue: $236,000 (up from $179,000: +31.8%)
Buffer for Business ($50+/mo) revenue: $85,000 (up from $56,000: +51.8%)
Cash in bank: $361,000 (last month: $359,000)
Team size: 16 people, distributed across 12 cities.
Note: Cash in Bank was counted before payroll last month and after payroll this month. We reached a high of $417,000 Cash in Bank in January prior to payroll.
January has been our highest month over month revenue growth in 24 months. We're extremely happy about the success of both our new product, Buffer for Business, as well as the growth of the Awesome Plan.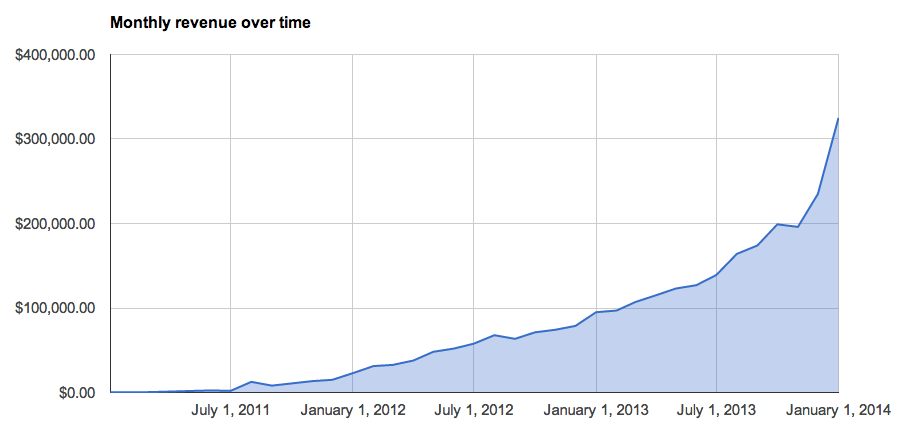 Parting ways with a few people and welcoming others
In January we said goodbye to three team members, two of which we worked with and found the alignment with our culture was not to the level we felt was ideal. The other team member left of their own accord, and we've spent a little time learning from that experience in our most recent biweekly executive "caretakers" meeting.
At the same time, we've had two new team members hop onto the Buffer rocket ship and we're growing the team at a faster pace than ever. In addition we have another two team members who have started in the first week of February. We've been very lucky to receive 3,864 job applications in January for our various roles. It seems that our transparency has helped us a lot with hiring.
Continued focus and development of our Growth team
Leo has continued the charge this month in building out our Growth team with help from Hiten. We did more A/B tests than ever before (8 this month) and had some great success with our new content recommendations feature improving retention and proving to be a much loved feature.
Our key challenge with Growth is in building out the dashboard itself with our key business metrics. We have a new team member who has started in February and we're excited about focusing more here.
Some changes to how Product is run
My key task alongside CEO duties during most of 2013 was to also run Product. I never did as good a job of that as I would have liked, although I learned a huge amount about the role and started to understand how Product could ideally be run. During January our designer Brian quickly took increasingly more Product responsibilities and we have recently officially made him our first Product Manager, and we're now looking for another designer so he can fully transition into the PM role.
I'm very excited about this change as I can much more easily oversee the whole business and help with all areas, rather than having my focus skewed greatly towards Product. I am working very closely with Brian on running Product and he is working day-to-day with engineers.
This month we worked on the Weekly Digest as a key new feature for users and it has been very well received. We also launched some key improvements for Buffer for Business including support for Google Analytics. We're in the middle of preparing a new Business feature of grouping accounts for users with large number of social accounts.
Continuing our goal to WOW as many customers as we can
In December we identified a key need in the Happiness team. We found that the key times where we had gaps in being able to respond to customers were: 1) the weekend and 2) the Europe time zone. We started aggressively hiring for these two roles so we can move towards our goal of responding to 95% of user and customer emails within 1 hour by the end of the year. We found a great person who started in the final weekend of January as our first Weekend Warrior and we are seeing the positive impact of this already. We're still looking for Happiness Heroes and Weekend Warriors. We're bullish about growing the Happiness team and having incredible service that positively surprises people.
A strong month for Marketing at Buffer
We had one of our best ever months on the Buffer blog with 654,126 unique visitors. Belle has continued to crush it with great content. We were very humbled to see Feedly say "we are looking for our Belle Beth Cooper" in their latest hiring push. We also have someone who has just joined us at the beginning of February as our second writer and we're excited about where we can take content and marketing overall. Finally, we also started a push towards paid acquisition and are working with Soso from Growth Pilots to explore this area.
Building an Engineering Culture
This month we have our first Engineering Report alongside our other monthly updates. We're excited about this, living up to our value of transparency in a key area. In addition, it helps us to set some monthly goals and keep pushing towards building a solid engineering culture at Buffer. Sunil has some great updates this time including our continued focus and progress on making Buffer super secure, as well as engineering team growth and move to open source more projects.
I couldn't be more excited about the potential that lies ahead for Buffer. We've started 2014 off better than we could have hoped and we see even more growth ahead as we fully establish Buffer for Business and continue to optimize the Free and Awesome plans. Thanks again for all your support which allowed us to get to this point.
Let me know any questions you have on our progress, we'd love to answer them.