83 teammates flew or drove to sunny San Diego for a week of work with plenty of team bonding and activities thrown in.
We treat everything like an experiment at Buffer, so each team retreat is an opportunity for us to reflect and decide what to keep, what to discard, what to introduce, and what to iterate on.
Here are some highlights of the decisions we made around Retreat 2019 in our quest to keep making our Buffer retreats better every year.
Validated: The 'resort model' experience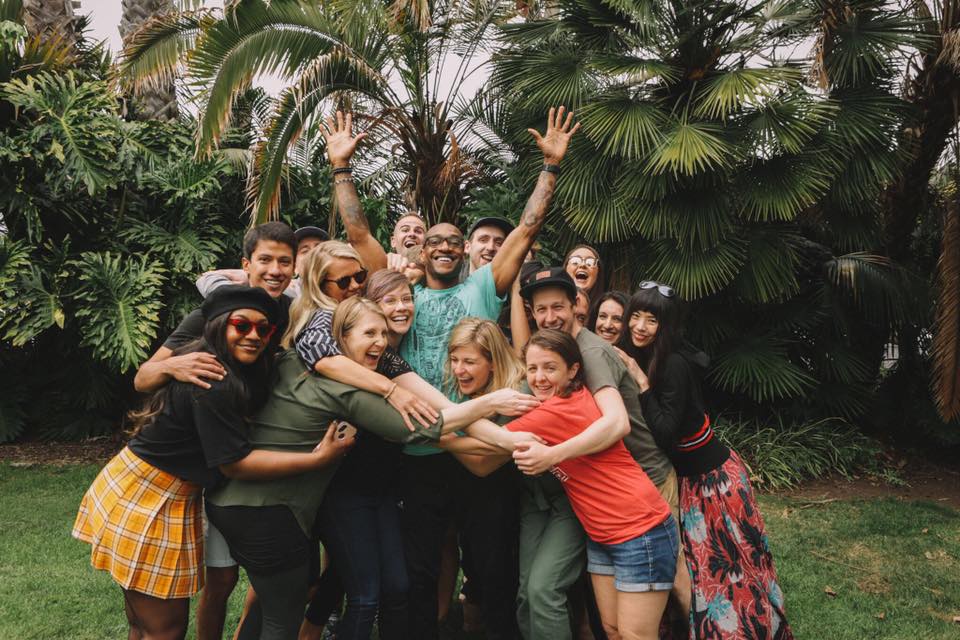 We've tried two different models of retreat work style in the past: One model situates our work space and stay space on the same site, and in the other we travel from the hotel to a separate coworking space for working together.
Our 9th retreat in Singapore validated our intuition that having work facilities on-site works best for our team. With that validation, we specifically looked for properties in San Diego (and our other destination options) that fulfilled this criteria.
Paradise Point in San Diego ended up being a wonderful fit. It was located on a little islet in San Diego, with extensive conference facilities that met our needs for both general sessions and smaller area meetings. The hotel had a few different restaurants on-site to provide variety for the team, and there was a lot of natural space with gardens and ponds for relaxing and organic team bonding.
Paradise Point also offered bungalow-style rooms that were a bit more secluded than a typical hotel, giving us all ample space and breathing room to unwind at the end of the day. We were close enough to bump into each other on the way to breakfast, but not so close to compromise alone time.
New experiment: Outsourcing retreat-planning help
We often receive offers from potential vendors to help plan our retreats, but we've hesitated in the past because planning a retreat with a highly personal touch has always been a top priority for the People Team.
But as our team grows and the logistic challenges of retreat planning increase, we decided to looking for professional help that would allow us to remain deeply involved in the design of the retreat and overall experience, while offloading administrative steps like sending out requests for proposals, managing communication with potential properties, and coordinating contractual negotiations.
To plan our 10th retreat, we connected with HelmsBriscoe, a meetings procurement and site selection service. Their involvement helped us offload much of the coordination in the early stages of retreat planning, while we retained full ownership in the crucial elements of the retreat experience.
These were some aspects of working with HelmsBriscoe that made a world of difference:
Since site selection is what they're best at, we leaned heavily on their expert knowledge here, and they opened up some options we hadn't thought of before!
Our contact, Lyndee, was at the forefront of working with the hotels. Instead of sifting through 20-30 giant PDFs of proposals from hotels, we received a tidy spreadsheet with all the relevant details so we could easily compare them.
Instead of having to plan scouting trips on my own,  HelmsBriscoe set up all the meetings with hotels and visitors bureaus for my visits, so all I had to do was get a feel of what a retreat experience might look like in each location.
Lyndee put us in contact with the local visitors bureaus, which saved us heaps of time researching team activity options. Some bureaus were kind enough to offer complimentary or discounted entry to local sights.
Since HelmsBriscoe's compensation comes from the property we choose, there is no out-of-pocket expense on Buffer. We're excited to keep collaborating with them to craft intentional and well-designed Buffer meet-ups!
Validated: The Buffer Retreat App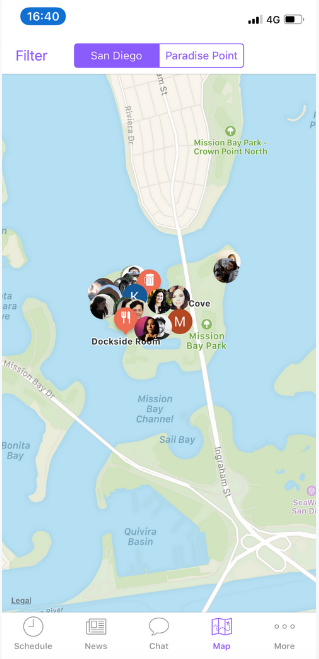 Communication during retreat week is something we're constantly trying to improve. Although we rely on Slack on a day-to-day basis for work, retreat communication also includes dinner plans, team bonding activities, and other fun.
Further, since many Bufferoos bring their partners on retreat, we've had to find a communication solution that includes both Bufferoos and their partners, with room for work and non-work retreat items.
Enter: The Buffer Retreat App, designed to house all key information and communication in one spot. Made by our incredible Mobile team, the app's key features are a view of the week's schedule, a spot to chat, and a section to share news. (One of the handiest features is the ability to send a push notification to the team!)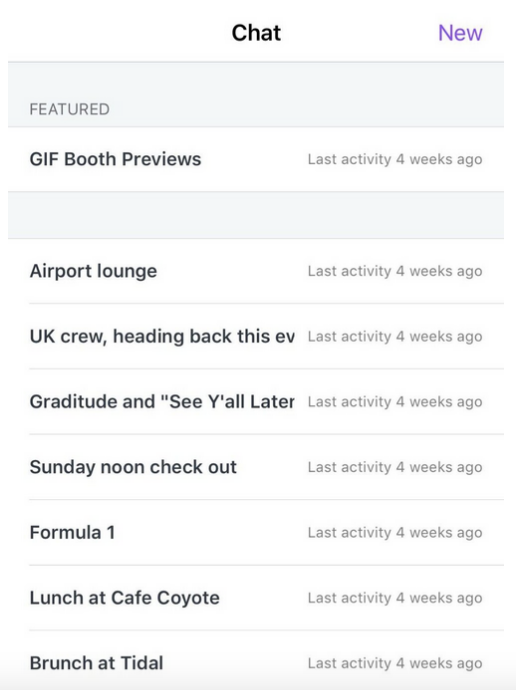 With three prior versions of the app under our belt, this version was the most stable and intuitive, and provided a smooth experience for the team. Huge props to our Mobile team for building such a stellar app in addition to all the work they've been doing on the main Buffer products!
New experiment: Cultural exchange through food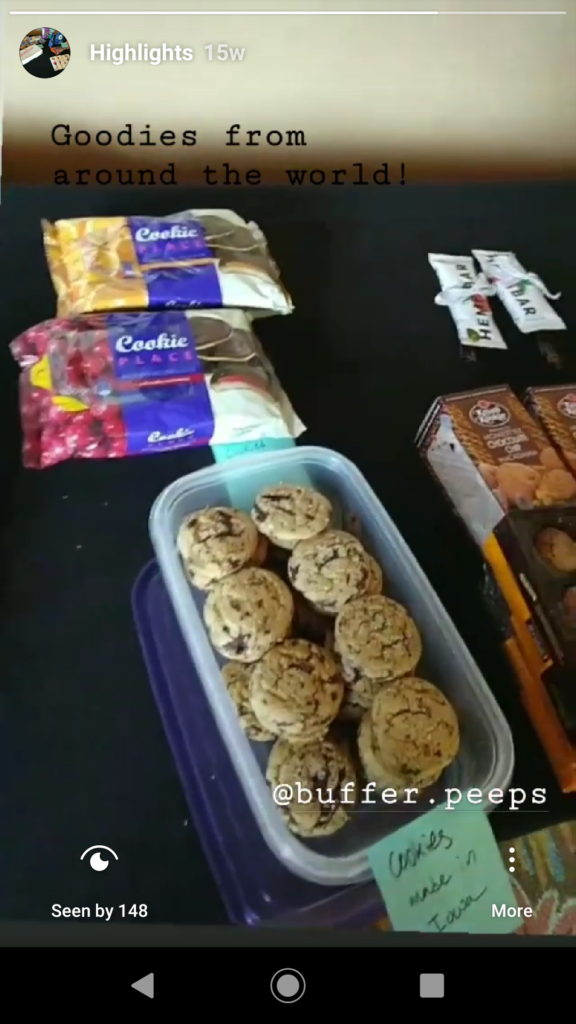 With Buffer's internationally distributed team, this retreat saw 17 different countries and 45 different cities represented. What a great opportunity to celebrate and learn more about each other's cultures – and what better way to do that than through food?
So we invited the team to participate in a "cultural exchange" experiment ahead of the retreat. Anyone on the team who wanted to participate was encouraged to bring a few small, inexpensive food items from their area. Bufferoos brought British chocolate, Dutch cheese, Taiwanese seaweed snacks, and other snacks from all over the world – including some lovingly homemade treats!
In our work room, we piled all the goods onto a big table and opened them up for exchanging with everyone who participated. Everyone got a neat opportunity to sample some local foods! This was such a small but fun way to celebrate our diversity.
Iteration: Retreat week schedule
Every year is a new opportunity to think about the rhythm of the work day.
Last year we experimented with mornings for general sessions and afternoons for smaller, area breakout sessions. That worked OK, but heads-down time after lunch meant that energy levels and focus weren't always at their peak.
This time around, we experimented with a bookended week: Monday and Friday were solely focused on high-level general sessions, while Tuesday and Wednesday were dedicated to breakout sessions for departments and cross-functional teams to meet. Thursday was a full day off for rest and team-bonding activities.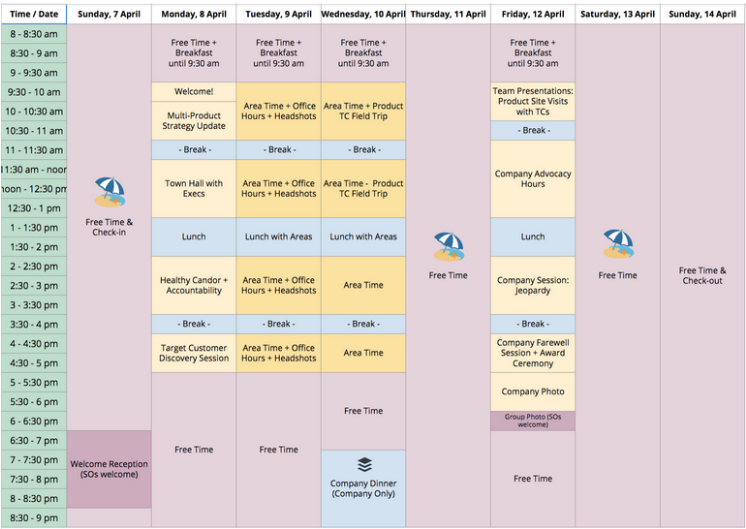 This approach gave us ample time Monday to set the tone for the week, with key sessions that informed the smaller meetings on Tuesday and Wednesday. Friday gave us the opportunity to reunite in the main conference area to spend time in the inbox together and bond as a team with games and gratitude.
Now that we have the rhythm of the workday mostly figured out, the next retreat will be our opportunity to review when to schedule our day off. We've taken Thursdays off for several retreats now, but there's no reason why that can't be reviewed and revamped too!
New experiment: Instagram for team communication and fun
Getting information out is one of the trickiest aspects of retreat planning. It's important to be able to highlight urgent details, but as communication ramps up, key info can get lost in the noise.
This year, we explored a multi-pronged communication approach. We used official our work platforms of Slack and Threads to communicate updates, and we introduced a private, company-only Instagram account as a fun, lighthearted way to reiterate important news.
In the week leading up to the retreat, we shared reminders, countdowns and polls. When the People team arrived early to get things set up, we shared mini-vlogs and room tours to show everyone a peek at what was in store.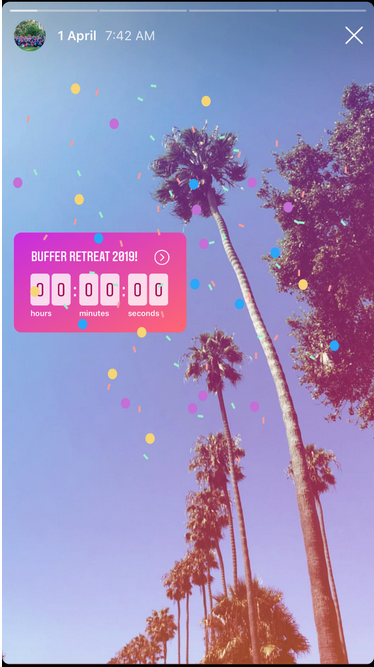 During the retreat, we re-posted teammate Stories – it was especially fun to see what all the different groups were up to in the evenings. Keeping the account private meant that we could repost wacky Stories while still respecting everyone's privacy.
Instagram allowed us to share information in a low-friction environment and build excitement. It also became a way for us to quickly respond to the teammate questions!
Iteration: Retreat-From-Home Experience
Four teammates could not join us in person in San Diego during retreat week, so we worked hard to make sure the retreat-from-home experience made them feel they were included from afar.
Beyond watching session via Zoom, they also had the option to follow along with more informal and casual interactions through our Instagram Stories.
We kept our usual at-home treats such as covering a nice dinner out with family, a rest day for a fun activity, and an adapted work schedule for retreat week, and we also added new elements to work towards a more inclusive experience:
Work buddies who ensured that all streaming of meetings were reliably set up for teammates calling in
Volunteers who made calls to at-home attendees to chat and help them feel connected
Life-sized headshots of them that we carried around during photo-taking sessions!
Care packages with a retreat T-shirt and other goodies
So, how did we do?
Given that our company retreats generally cost around $400,000 to execute, we take them seriously.
The People team conducts a team engagement survey every quarter, and to try to capture and quantify the value retreats bring to Buffer, we compared the results of our post-retreat survey with those of our Q1 Company Engagement survey.
We found that the retreat had a positive impact on overall engagement (↑5%), company alignment & recognition (↑8%), and team connectedness (↑11%).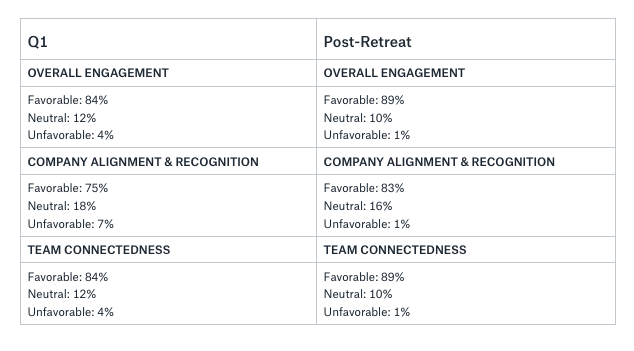 We also had an overwhelmingly favorable response to the retreat in general:

Over to you!
We're already hard at work planning our next retreat, and as we do so we continue to reflect on how we can keep elevating the overall retreat experience.
Have you planned a company retreat or offsite event? I'd love to learn how that went and what you plan to change for the next one!