Well, most of us. We usually have anywhere from 3-6 teammates who can't make it to retreat due to pre-existing plans, family obligations, health issues, or other reasons. For those folks, the retreat can be a disheartening time full of FOMO (fear of missing out).
Personally, I missed one of our largest team retreats — and what would have been the retreat where I would have met the three teammates I hired on to Buffer! – when I was out on family leave with my firstborn.
I was so busy and exhausted, I hardly noticed all I was missing out on. While some moments were tough, looking back I now have the clarity to know that it wasn't the end of the world like I sometimes thought it might be.
Inclusion matters a lot to us, so a big  part of our retreat planning and effort goes into creating a thoughtful way for those at home to feel as included and connected as possible.
Here's a look at how we try to fight back against FOMO with a unique "retreat from home experience," and some fun ideas we've tried to keep making it better every year.
Before the Retreat
Send goodies!

Part of the retreat fun is all the new swag and goodies we provide! Our retreat-from-home teammates get their goodies in advance, which we hope is a nice surprise and extra little perk.
Plan ahead to keep in touch
So teammates at home would know what to expect on retreat week, we created a document (PDF) that outlines the full retreat "program" we set up for those at home.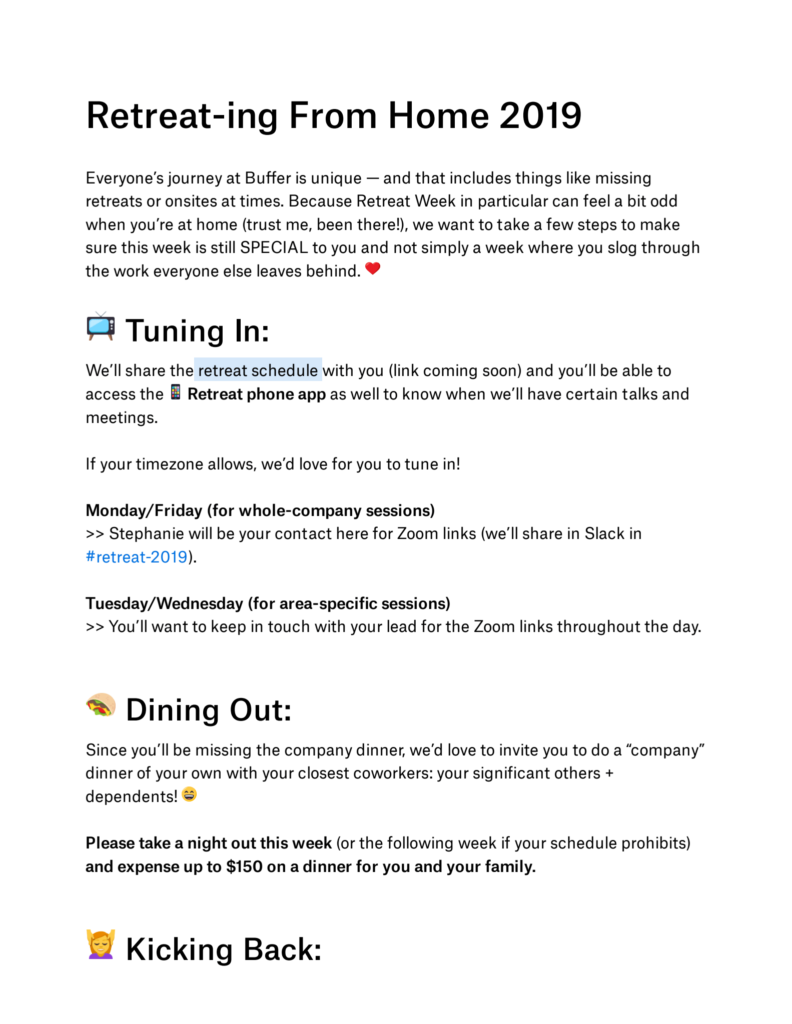 We also set up a "Retreat from Home" Slack channel so our at-home teammates can send Zoom links and photos and chat amongst themselves. Several jumped on calls with each other during the week to keep connected!
Work with leads to smooth communication
As soon as retreat plans are under way and the head count begins to come into focus, we talk with the leads of any teammates who can't attend to ensure there's a common understanding and expectation about their experience. For each role and area, this might look different.
Their work week should look a bit different than usual, and we also ensure they're able to take a day to disconnect the same way we do on retreat (yes, it's a pretty great perk!).
"I think the key to helping get over the sadness of missing out was to share with my lead and the team how much or how little I wanted to be 'in the mix' remotely," shared Jess, one of our Customer Advocates. "Having a plan ahead of time was really essential."
Additionally, we pair at-home folks with a "buddy" at the retreat, who is specially focused on keeping the at-home teammate in the loop and engaging them through messages, Zoom calls and photos.
"I had a 'buddy' who helped keep me in the loop, and I could embrace both the synchronous and asynchronous ways to be part of the retreat," Jess continued. "I absolutely loved being included in the live sessions over video and I also enjoyed reading notes and recaps from the team."
During the Retreat
Stream everything!
Once the retreat schedule is ready (or even tentative), we share it with those who will be at home, so they can plan to tune in for as much "live" content as possible. For those not able to catch a live-stream, we record and post it for watching later as soon as we can.
We are very fortunate to have a team of knowledgeable tech aficionados to pull this off! One of our iOS developers, Andy, has taken the lead to make sure our company-wide sessions stream to those at home and are recorded and shared in a timely manner.
The setup we use:
Macbook
Blackmagic UltraStudio Mini (Used to connect Sony DSLR to Mac as a webcam)
Sony Alpha a7riii
Conference Microphone, near speaker from PA system.
Zoom using multi camera sharing for audience and speaker views. (Mac pointed at audience, DSLR at speaker)
Tripod
We use Zoom to record all of the sessions and store them to their cloud for easy access and sharing. (In the past, we recorded to a DSLR camera and SD card, but this required editing, storing the files and uploading, which was quite labor-intensive.)
Other options for a simpler setup include:
Laptop or tablet (anything with a webcam)
Laptop microphone or external microphone (Pro tip: You can mute the audio on the laptop and call in via cell phone to have a "portable" microphone for those at home to hear things a bit clearer and still keep the laptop stationary.)
Zoom using the "multi camera sharing" setting for audience and speaker views. (Mac pointed at audience, webcam at speaker)
Table/stand instead of a tripod
Many times, we need to experiment a bit to find the right setup for each room and the size of each meeting! When we break into smaller groups, we assign a team member within each group to help stream to any individuals who aren't present.
Heads up!
Our Director of People, Courtney, came up with the brilliant idea to have our folks at home still "be" there in some manner: With life-sized photos of their heads!
We ordered them from this site (which had a great turnaround time!) "The heads," as we lovingly called them, traveled around the retreat with individual teams, went on a variety of adventures and starred in lots of silly photos we sent to the folks at home.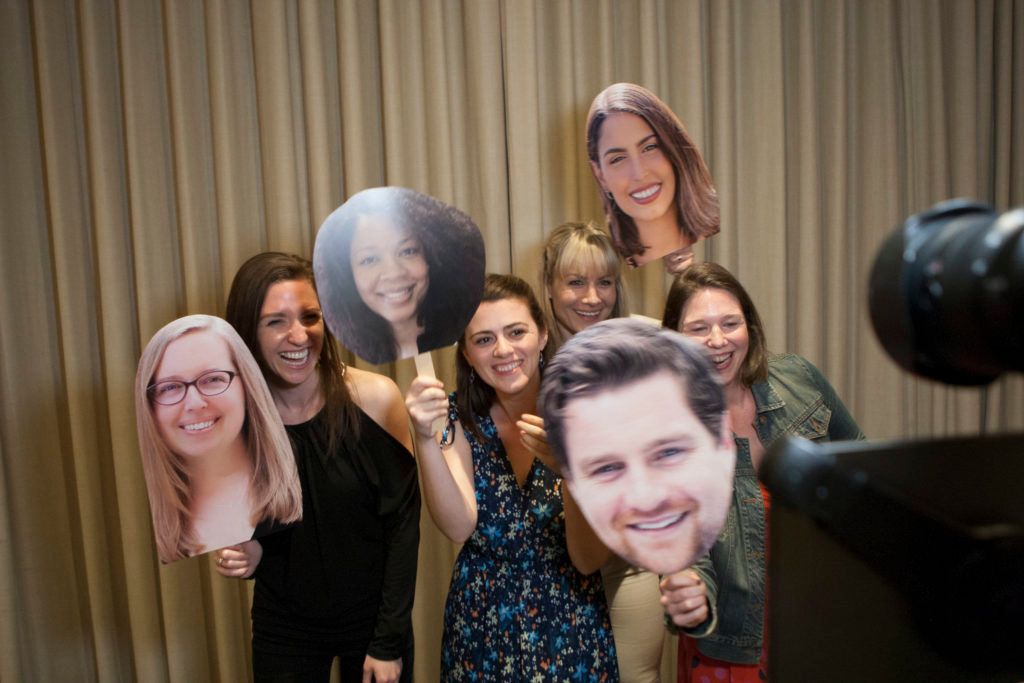 "Seeing everyone posting pictures together was definitely bittersweet. However, I was also very moved and pleasantly surprised when I saw the team carrying around a picture of me, which they took to their meetings, team pictures and shared in social media," said Maya, one of our engineers. "It was both hilarious and amazing."
"I also received constant messages from the team asking how I was doing and to remember to take care of myself," she continued. "That's the type of details that makes Buffer such a valuable place to work. Although I wasn't there, I felt like a valuable member of the team."
Chiming In
We also ensured folks from home could participate in the group sessions as much as possible. During our farewell session, we were able to stream Keisha on the big screen so she could speak to the whole company (and goodness, we all got a little teary!)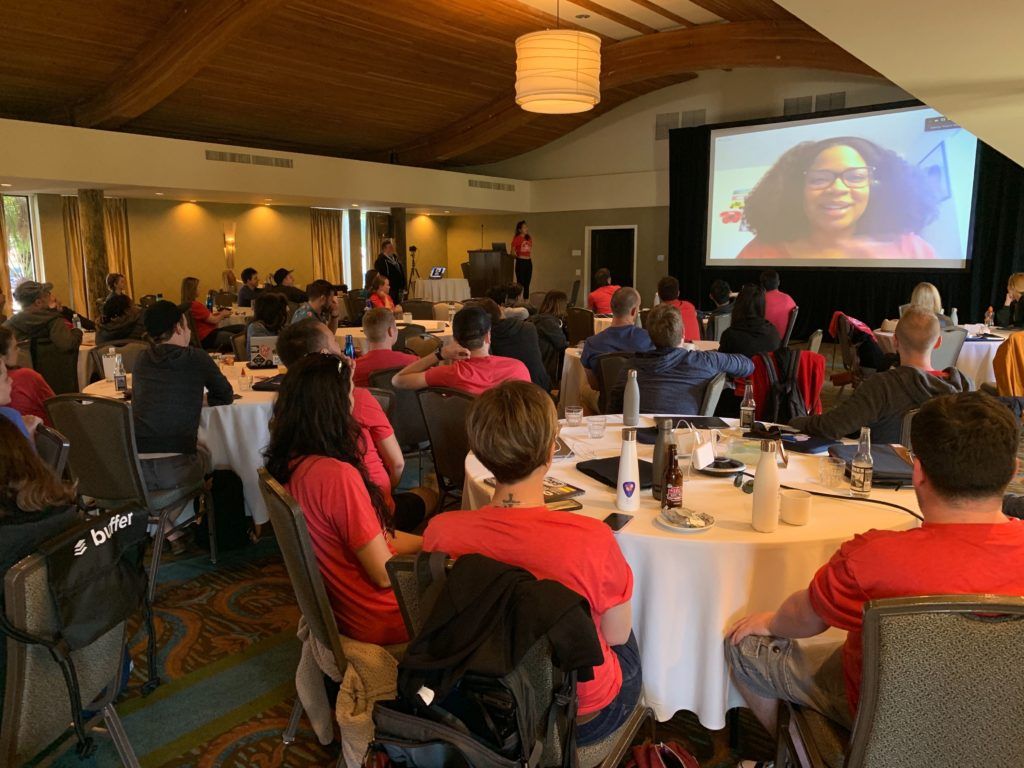 "Missing my first Buffer retreat was both disappointing and surprisingly delightful," Keisha said. "I was so looking forward to meeting my teammates in person. However, I was pleasantly surprised and delighted by how much I truly felt included. Of course nothing compares to attending a Buffer retreat in person, but I'm grateful for a company and People team that care enough to design an awesome home retreat experience as well."
Over to You!
There's no doubt about it — missing the company retreat is hard. But with some planning and attention to detail, we believe folks at home can still feel included.
Have you ever felt FOMO at work or missed on a key event? How did you make the best of it?
Do you have any ideas on how we can help folks feel included when they're not with us in person? Leave a note in the comments!