The phrase "link in bio" has become a standard sign-off in Instagram captions. It's so commonplace that it appears in music, art,  and GIFs. The phrase even has its own set of Instagram Stickers.

Since launching the app, Instagram has limited all accounts to a single clickable link, which lives in your Instagram bio. So, it's unsurprising that anyone looking to drive traffic outside the app directs people to their Instagram bio link.

But how do you make the most of that precious real estate? Should you add your homepage and call it a day? Or switch it up every so often to keep your content fresh? With link in bio tools, you can get the best of both worlds.
💡
Schedule your Instagram posts, carousels, stories, and reels with Buffer
Visually plan your content calendar and make your profile a "must-follow" with Buffer's suite of
Instagram scheduling and analytics tools
.
How to put a link in an Instagram bio
Every type of Instagram account—personal, business, and creator—can use Instagram bio links.

To put a link in an Instagram bio:
Go to your Instagram profile
Tap "Edit Profile"
Scroll down to the "Website" field
Add the URL to your desired landing page or Instagram link in bio tool
Save changes (On mobile, tap "Done," On desktop, click "Submit")
Once you've updated the link in bio, make sure you test on both desktop and mobile to ensure the linked page works well on both devices.
5 Instagram link in bio tools
There are so many links in bio tools available that it can be hard to choose, so we narrowed it down to our five favorites.
1. Start Page
Buffer's Start Page turns your single Instagram bio link into a beautiful, flexible, mobile-friendly landing page. We don't mean to brag, but our grid-inspired landing page is a pretty big deal. Unlike some other link in bio tools that just show a bunch of rectangle button links, Start Page is fully customizable. It's made for showcasing your brand first, which is why it's extra cool to see that you can pick your own URL.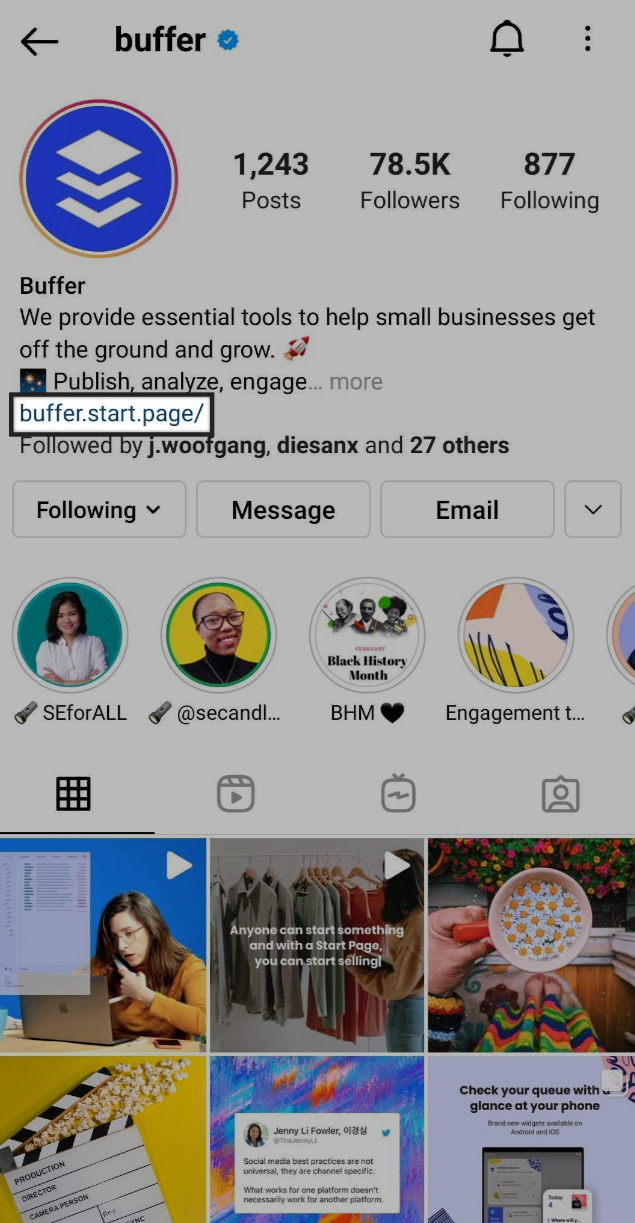 With Start Page, you can add images and videos to showcase your brand, and customize the background and button colors. It is so sleek that it could be used as a standalone mobile-website replacement across the web. Ease and time-saving are definitely top words that come to mind here.
2. Linktree
Linktree lets you create a single link to use across social media platforms. Once you create your custom URL, you can use the drag-and-drop editor to quickly create your landing page.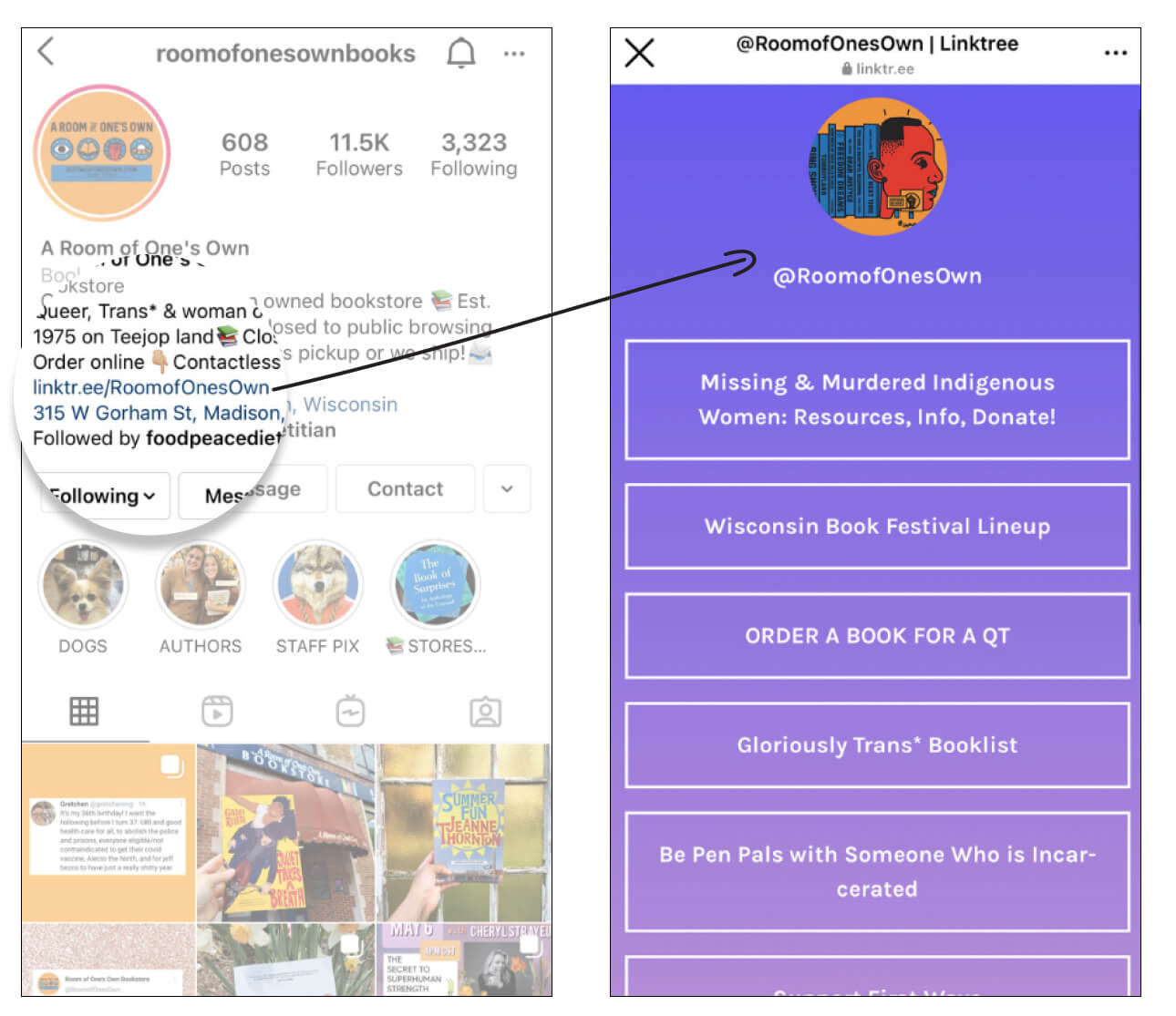 Linktree's free plan is straightforward and simple—you get core features such as unlimited links, social media icons, and very basic analytics. Upgrading to the paid plan gives you access to a lot more customization options and detailed analytics.
3. Mona
Mona's link in bio tool is aimed at brands and individuals who want a simple way to charge for services through Instagram. You can build a custom landing page with Mona's built-in elements or use a template. Then, you designate which services you offer and name your prices.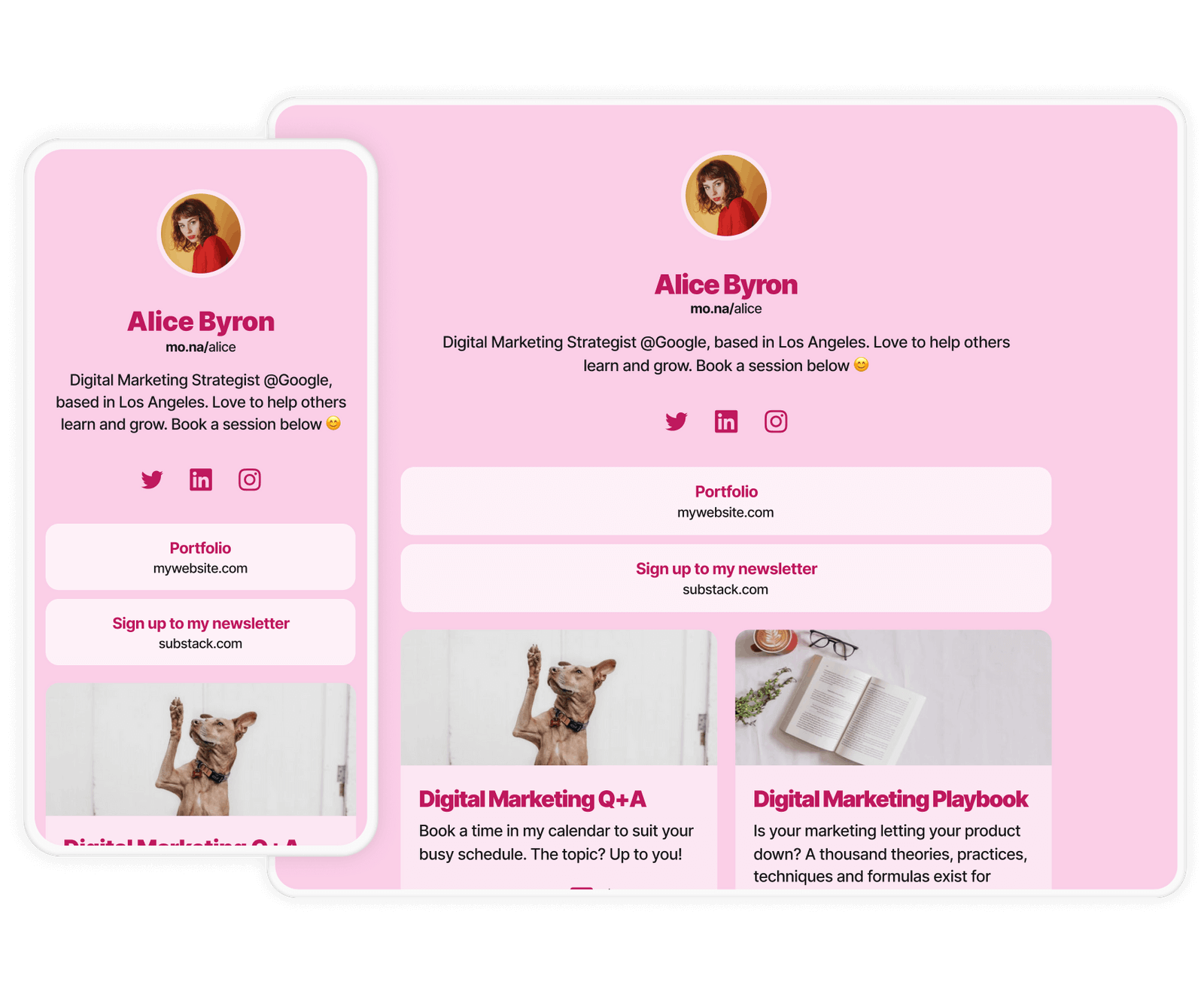 Mona is a great link in bio option for individuals selling online services such as video sessions and consultations. You set your own prices, and Mona processes the payments through Stripe. Keep in mind that while Mona itself is free, Stripe has payment processing fees, and Mona takes a 4% cut of your revenue. Be sure to account for those charges when you set your prices.
4. Campsite
With Campsite, you can create a simple landing page that pairs photos with a short headline. Landing pages have static links for important pages such as other social media profiles, your website, and email. Below those clickable buttons, you'll add a list of links with titles and images. Campsite even has a Canva integration that lets you design custom images.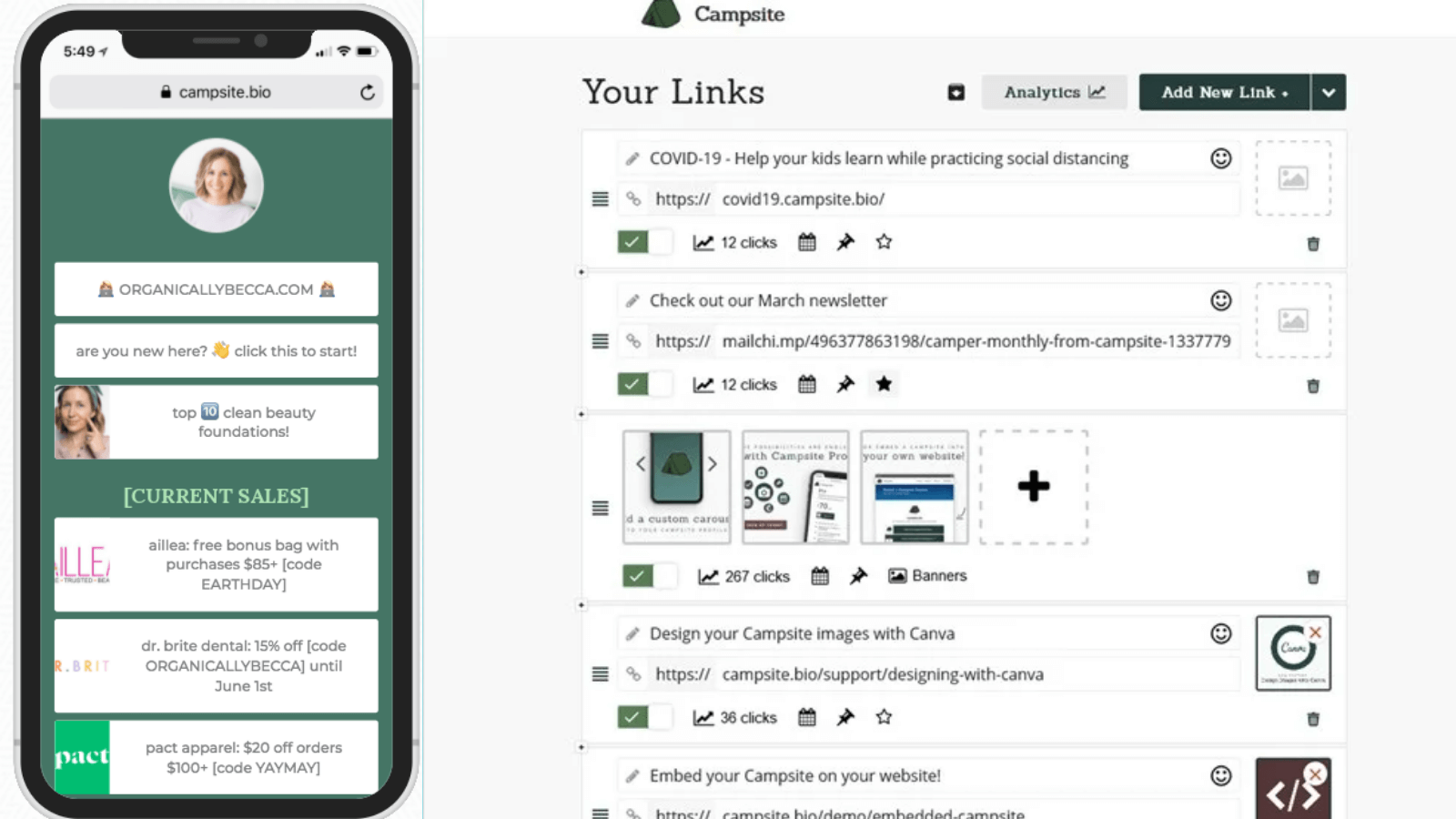 The free account includes key features such as unlimited links, font and color customization options, and basic analytics. However, you'll need a paid plan to use your own domain, remove Campsite branding, upload your own images, and many other advanced features.
5. Milkshake
Imagine a cross between Instagram Stories and a website, and you'll have Milkshake. Instead of a list of links or a grid, Milkshake has individual "cards" that take up the entire screen, and Instagram users have to keep swiping through to see more content.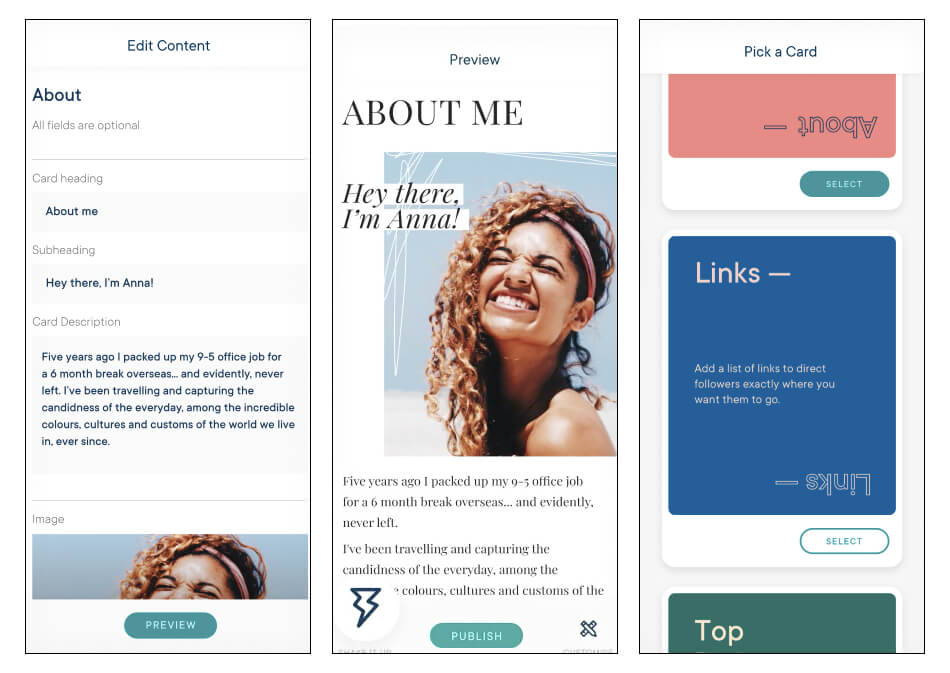 Milkshake websites are built entirely on your phone by selecting cards from templates which you can then customize to match your brand colors and fonts. The app even has a "shake it up" feature that cycles through different looks so you can choose the best one for each card.
This free link in bio tool is unique because it lets you create a series of mini landing pages. Each card can have multiple visuals, links, and text boxes. The content-focused design is a major plus, but it also relies on users swiping through to see more. So if you want to get eyes on that content, you'll need to make your Milkshake worth drinking until the last drop (or in this case, last card).
Are you using your Instagram link in bio to its full advantage?
Before you add "link in bio" to an Instagram post, ask yourself—will that link take my Instagram followers to what they're looking for? Make it easy for your fans by turning that single link into a collection.

You can manage Instagram posts, Stories, and analytics with Buffer. Get started with a free plan to see how Buffer's platform can streamline your social media management efforts.

Brought to you by
Did you find this article helpful? You might also like our all-you-need social media toolkit.
Get started for free now