You've probably spotted the magnifying glass on Instagram before — that's Instagram's Explore Page. The feature allows users to discover new content and accounts to follow. Instagram uses this space to curate content including photos, videos, Reels, and Stories based on a person's activity on Instagram. Instagram uses an algorithm that goes through accounts people follow, what kinds of posts they like, and their search history to make the Instagram Explore Page as custom and exciting as possible for each person who lands there.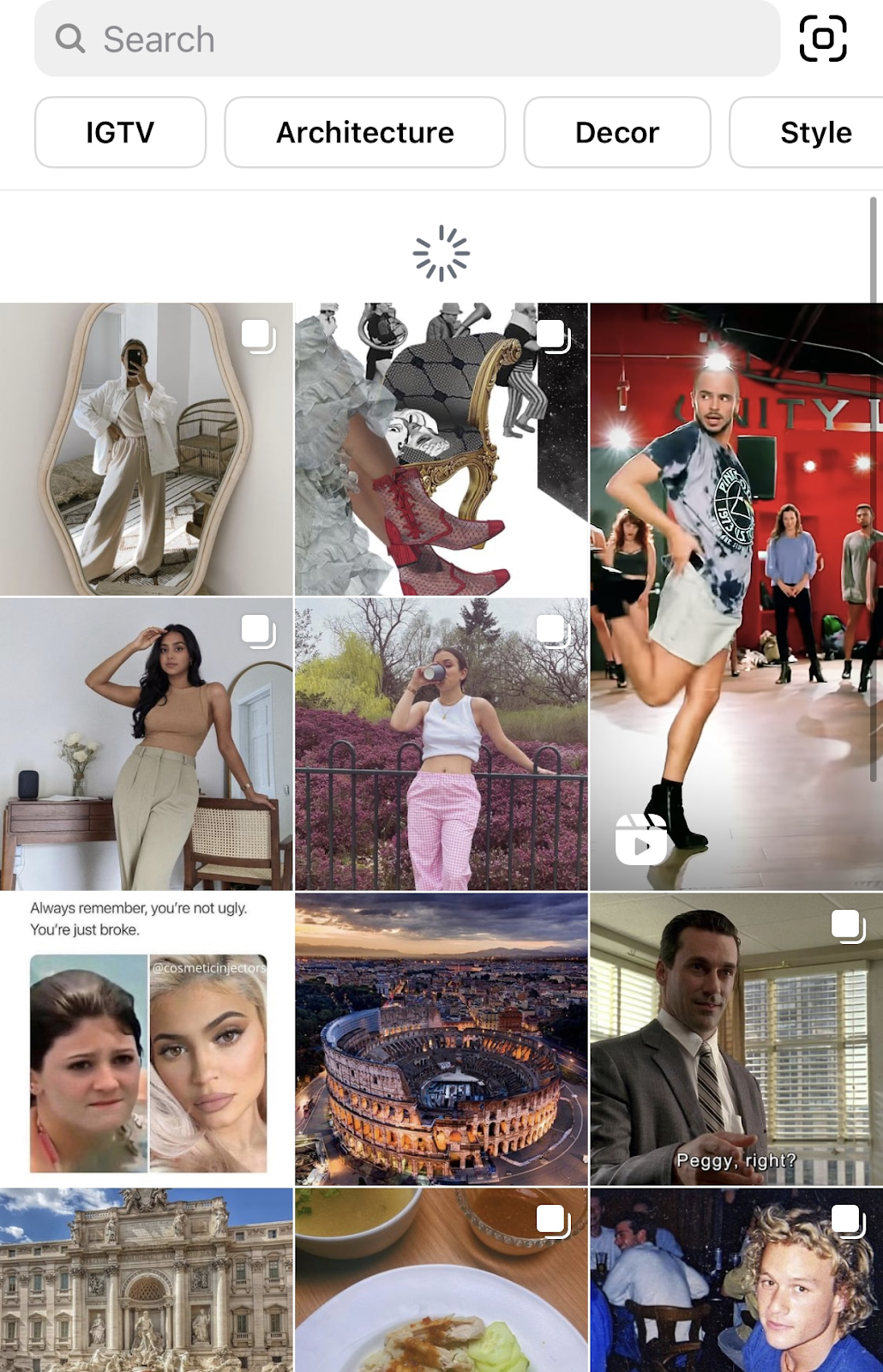 Whether you're a small business owner, influencer, or just someone who wants to share their creative vision with the world, appearing on the Explore Page can help you increase your reach on Instagram and achieve your goals on the platform.
However, appearing on the Instagram Explore Page requires much more than just creating content. The algorithm that drives the Instagram Explore feed is complex and constantly changing. According to Instagram, so far, posts are selected to appear in the Explore page based on several factors:
Instagram accounts a user follows: Content created by these accounts is more likely to appear in the same user's Instagram Explore page.
The photos or videos a user likes: Content the user likes is more likely to appear in their Instagram Explore page.
The accounts a user is connected to on Instagram: The content of accounts similar to the accounts a user follows is more likely to appear in that user's Instagram Explore page.
Then there are other things to consider, too. For instance, the more engagement a post has, the higher the chances it can appear in the Instagram Explore page. Videos are also more likely to appear in the Instagram Explore page than image posts.
That said, here are some things you can do to increase your chances of appearing in the Instagram Explore page:
1. Optimize your Instagram profile
Make sure your Instagram profile is complete. This will help the social network understand the kinds of content you produce. It will also make it easier for users to discover you and follow you when they look for specific accounts or content in the search bar.
Begin with choosing the right name for your profile and the proper handle to go with it. Make sure to use a keyword that best describes your niche. For example, if your account is based around baking, include a keyword like "bakery," "pastry," "cake," "sweet," or something similar.
You should also add keywords to your bio to further describe your profile and what your target audience can find there. Blue Star Donuts, for instance, uses the keywords "donuts" and "coffee" in its Instagram bio.

Like Blue Star Donuts, add other relevant information like you website, blog, or online store, a location where you're based, or contact details.
Your post description should also include relevant keywords. The keywords used in the post descriptions could be more specific than the ones in your bio or profile name.
It seems like a simple step, but if your profile isn't optimized you're less likely to land on the Explore Page.
2. Use hashtags
Adding relevant hashtags is essential as they tip off the Instagram Explore Page algorithm about what your content is about. People can search by hashtag or topic on the Explore page. So, by adding relevant tags, you can also significantly extend your content's reach.
On Instagram, you can share up to 30 hashtags. To choose relevant ones, think about keywords that best describe the content.
You can also search for hashtags others use. For example, if your account is focused on travel, just search for the #travel hashtag. You'll get a list of posts you can each check for hashtags: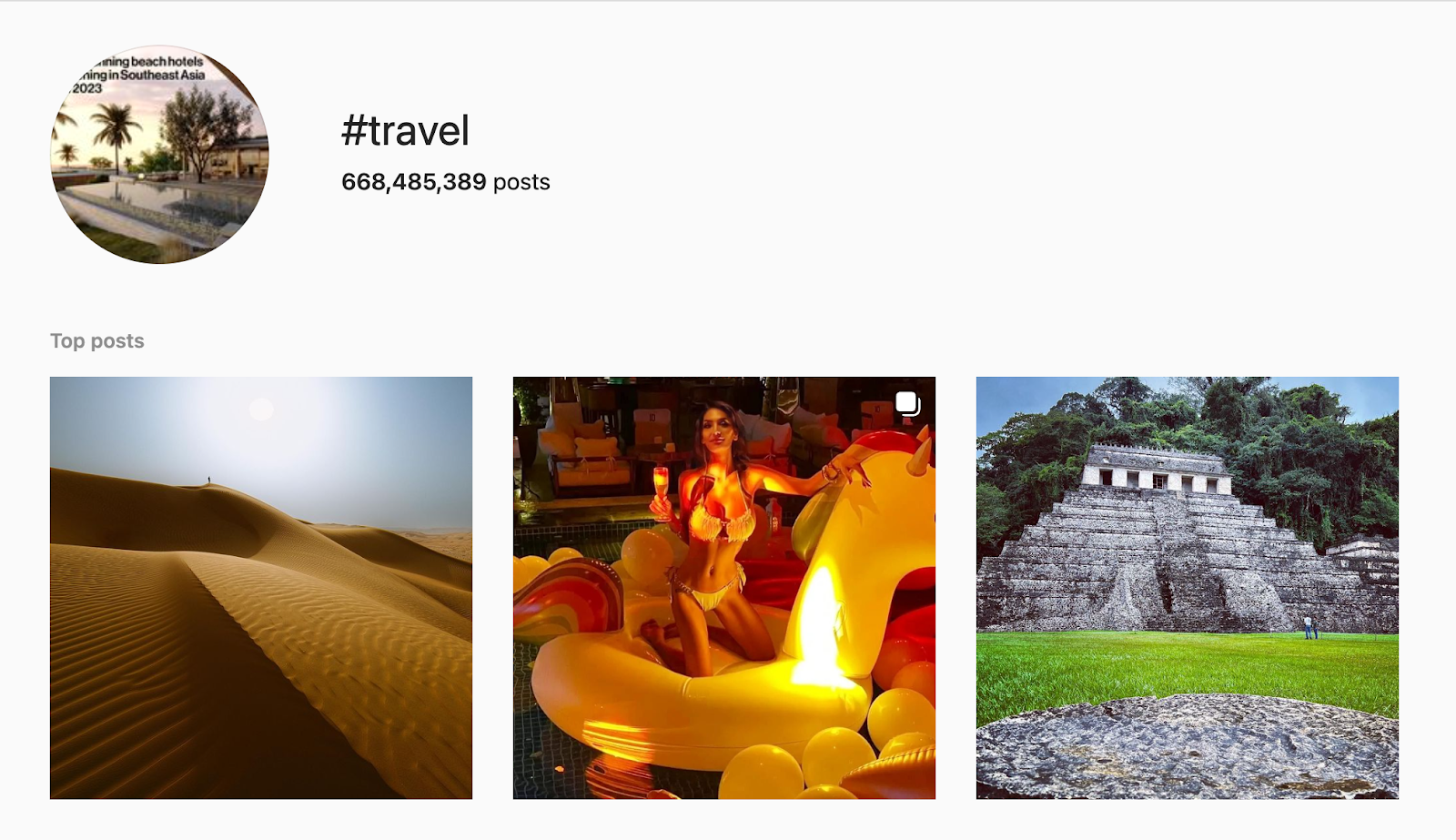 Don't forget to check the hashtags that similar accounts use as inspiration. You can also find the hashtags your followers use with tools like BrandMentions or Keyhole or you can use a hashtag generator tool.
3. Post content consistently
The Instagram algorithm is ultimately what suggests relevant posts to appear on the Explore Page. Algorithms learn based on our routines and don't work well with randomized data.
That's why it's essential to be consistent with how you use Instagram. Here are a few ways you can be consistent:
Post consistently at the right time. When there are peaks in engagement right after you publish a post, Instagram's Explore algorithm concludes your content is worth sharing with a wider audience.
But how do you know when the right time to post is? If you have an Instagram business account, look at Instagram Insights. There, you can see when your followers are the most active. You can even schedule your Instagram posts for the optimal time according to Instagram.
In different countries, the best posting times are based on how people use social media there. So, if you want to increase your reach beyond your current audience, you can also use industry research to schedule Instagram posts at these times.
Be consistent in your Instagram post topics as well. Topical relevance should be emphasized in your Instagram marketing strategy since it will also help the Instagram algorithm know what your account is about.
If you stay on topic, you're more likely to boost engagement, too. This is because you attract specific people interested in that topic and encourage them to come back. This, again, becomes a positive sign for the Instagram Explore page algorithm to introduce you to a broader group of users who have similar interests.
However, don't just aim for topical relevance. When publishing Instagram content, make sure you still classify posts according to their subtopics, too.
Think about it, when you organize your website posts into content hubs, you make it easy for users to navigate your site. The same goes for your Instagram account. When you organize your content on Instagram, you make it easy for your audience to explore it. The result? These users are more likely to engage with your posts.
4. Make use of Instagram Stories
Instagram Stories are short videos available to watch only 24 hours after publication. Instagram Explore Page didn't use to include Stories. People mainly used them for behind-the-scenes content.
Instagram Stories are eligible to show up on the Explore Page, giving creators another way to get discovered. Since now users can also like Instagram Stories, the algorithm bases a user's Instagram Explore content on the Stories content they liked before.
Bottom line, if you want to increase your chances of appearing in users' Instagram Explore pages, create content based on their preferences. Do your research. Does your audience like quizzes on Instagram Stories? Or maybe they prefer content on product launches?
For instance, Minimalist Baker creates Stories on its recipes. It then includes the ingredient list for a recipe as a Swipe Up: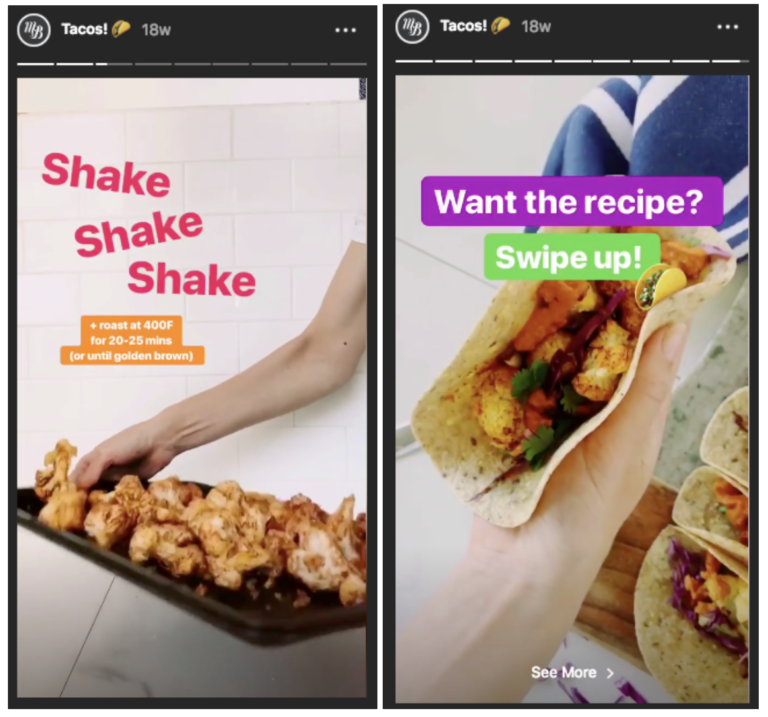 5. Leverage Instagram Live
As the name suggests, Instagram Live is a live transmission. It appears in the form of an Instagram Story which users can save after the broadcast has ended.
Instagram Live appears on the Explore Page based on similar accounts people might follow. These videos can also appear in users' Instagram Explore feed if these users liked those videos in the first place.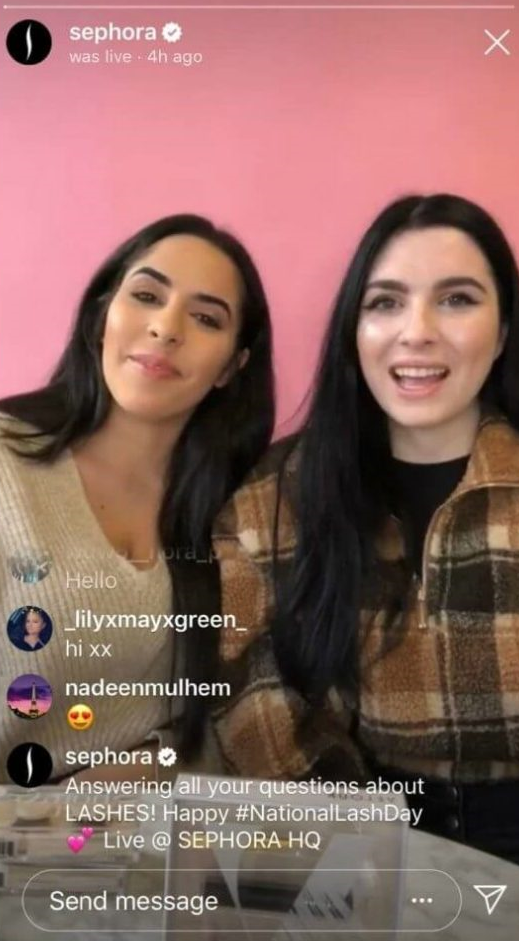 So, the important thing is to create Instagram Live videos users will engage with.
A great thing about Instagram Live is that people can comment on it in real-time and ask questions. Like Sephora in the example above, you can set up a Q&A session related to your niche and boost your audience engagement.
6. Engage with influencers or celebrities
Collaborating with influencers or celebrities is a great way to increase your reach and gain new audiences. The more people interact with your post, the higher the chances you'll appear in the Instagram Explore page of other users who don't necessarily follow you.
There are several ways you can leverage networking in your content creation process, but the most popular is to use Instagram Collab. It's a feature that lets two users share the same Instagram feed posts or Reels. You can see it on the top of the post, where your handle is. You'll share views, likes, and comments — allowing you to leverage and engage with each other's communities.
You can see below how Apple and Rhianna, collaborated on this Instagram post, leveraging their communities to boost engagement.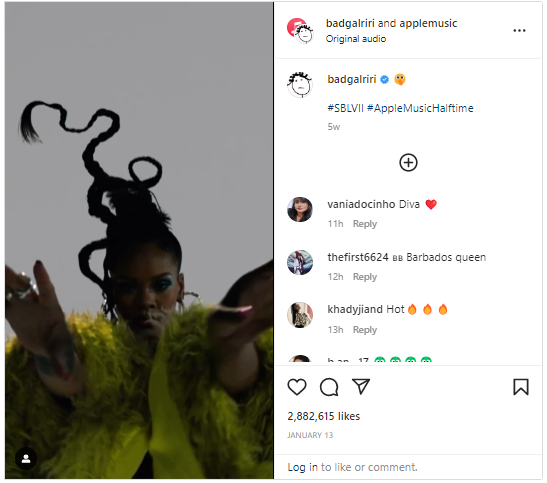 You can create Instagram Live videos with other content creators, too. Check out the example below: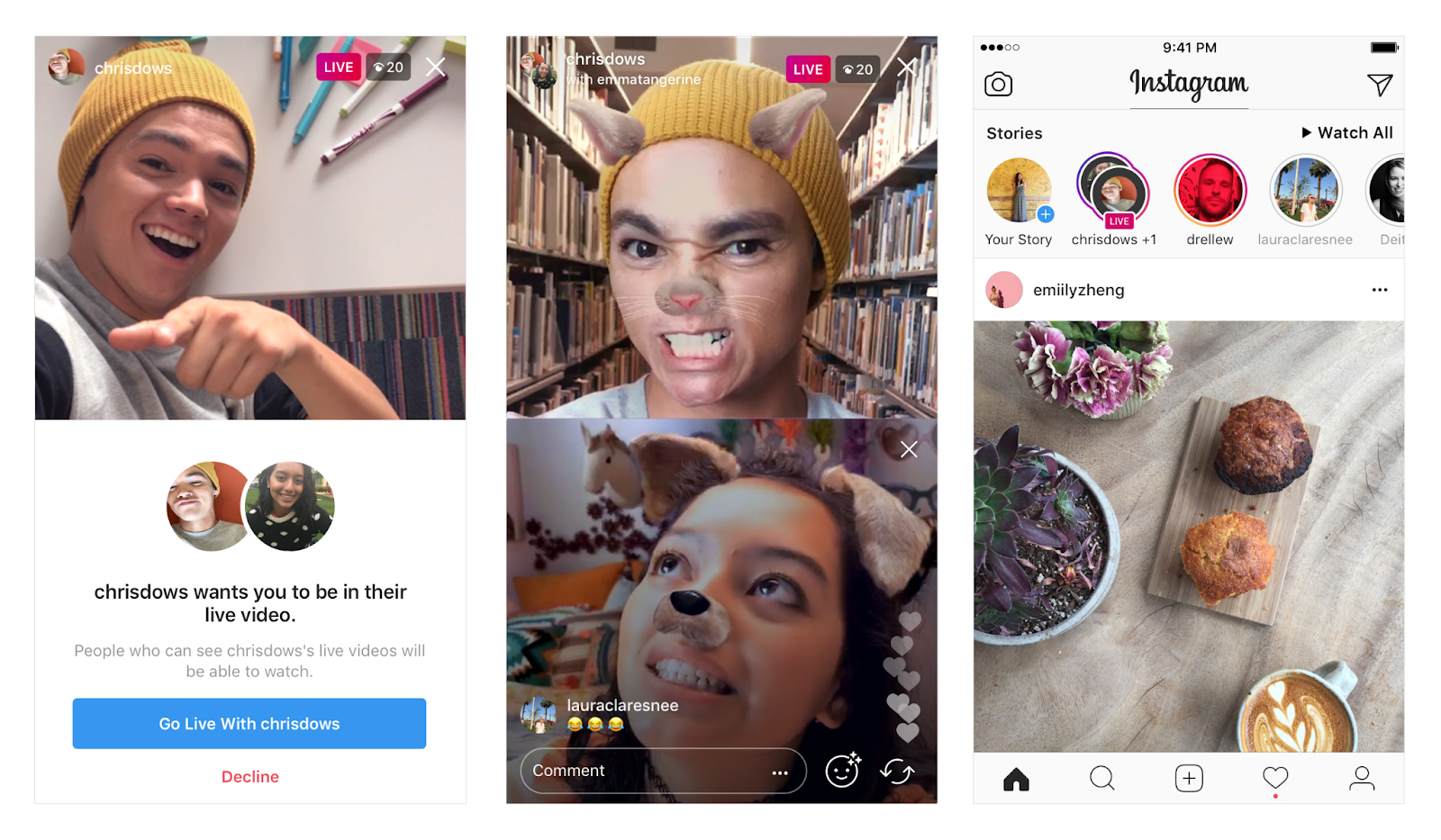 The point is, collaborations give you the benefit of exposure to a bigger audience.
Ultimately, appearing on the Instagram Explore Page can significantly benefit your brand, increasing your visibility and attracting more followers. To increase your chances of appearing on the page, focus on posting quality content regularly, using the right hashtags, engaging with other users, optimizing your profile for search, and utilizing the Instagram Stories feature.
Remember that the algorithm is constantly changing, so it's crucial to stay up-to-date on best practices.
Be true to yourself and your brand and focus on creating content that resonates with your audience. You'll reap the best results. Good luck!
Brought to you by
Did you find this article helpful? You might also like our all-you-need social media toolkit.
Get started for free now