Pinterest is a one-stop-shop for inspiration and discovering new products and ideas. Even when Pinterest users don't make a purchase while browsing the platform, they're over 7x more likely to purchase products they've saved, and Pinners have outspent non-Pinners by 2x every month.

Pinterest is an important platform for small businesses to use because it can attract new attention for your brand, translate to plenty of sales, and create strong relationships with your target audience. This article will show you how to use Pinterest effectively to make it easier for your audience to find and purchase your products.
Optimize your Pinterest Business account for search

Pinterest is more of a visual search engine than a social media platform. That's because, like Google, Pinterest uses algorithms to decide what content to show its users. Therefore, optimizing your Pinterest Business account for search, which includes using relevant keywords, helps people find your account when searching for words related to your product(s). This will lead to more people seeing your brand and its products, more follows, and eventually, more sales.

If you don't have a Pinterest Business account yet, go ahead and create one. Once it's up and running, you can fill your Pinterest board descriptions, profile descriptions, and pin descriptions with keywords to help shoppers find your account. The first step is to determine which keywords your target audience uses.

Pinterest's search recommendations are a great place to find keywords. For example, if you're a DIY small business owner that makes homemade candles, you can type "Candles" into the Pinterest search bar, and it will pull up a list of related search terms like "candle aesthetics," "candlesticks," and "candles DIY" that you can use in the descriptions of your Pinterest profile, in your board descriptions, and in the titles of your Pins.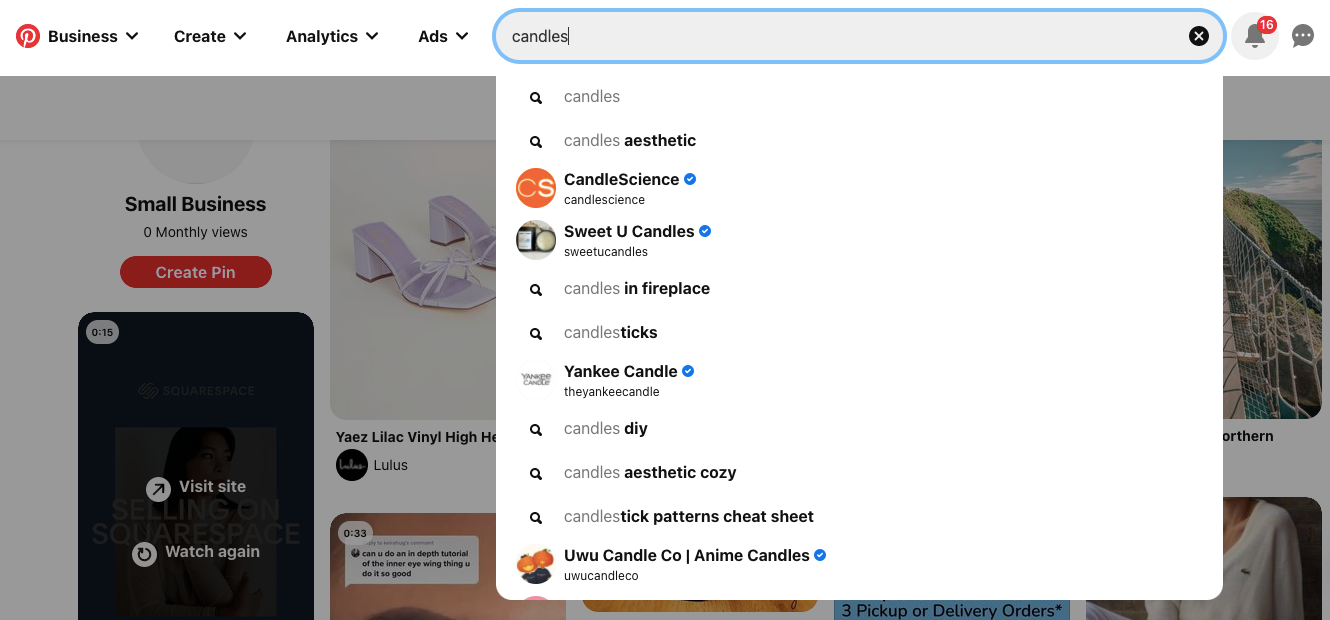 Pinterest's keywords research tool is another place you can find keywords to optimize for. This tool is available in Pinterest's ad manager, but you don't need to launch an ad or pay for an ad to use it. For example, if you insert a keyword like "home decor" into the tool, Pinterest will pull up a list of related topics, along with their search volume.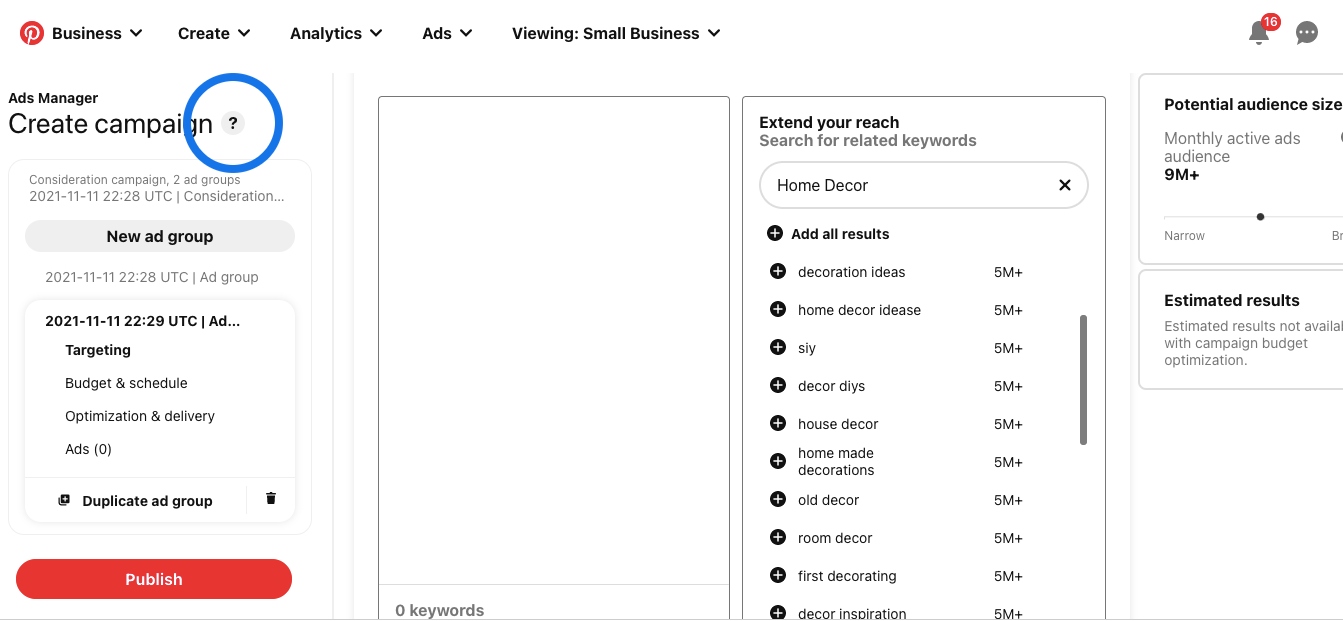 Go ahead and populate your Pinterest account with the keywords you find in Pinterest's keyword tool so your business gets discovered more easily. In addition, check out these 5 tips from the Pinterest team on writing better and keyword-rich Pins.
Make your content shoppable
7 in 10 Pinners say they go to Pinterest to find new products, ideas, or services they can trust. You can increase your odds of turning those visitors into customers by making sure all of your Pinterest content is shoppable by using Product Pins.

Product Pins are Rich Pins that automatically pull product descriptions, prices, and availability directly from your website. Once a user finds a product they like, they can click the visit button and be sent directly to your website's product page. If your products are listed on an e-commerce platform like Etsy or Shopify, then you can also use Product Pins to drive website traffic to them.

Once you've set up your Product Pins, you can create Pinterest Catalogs that turn your entire catalog into browsable Product Pins. Once you load up and organize your catalog, consider adding it to theShop Tab on your profile. It will act as a visually-appealing storefront that makes it even easier for consumers to find and purchase your products.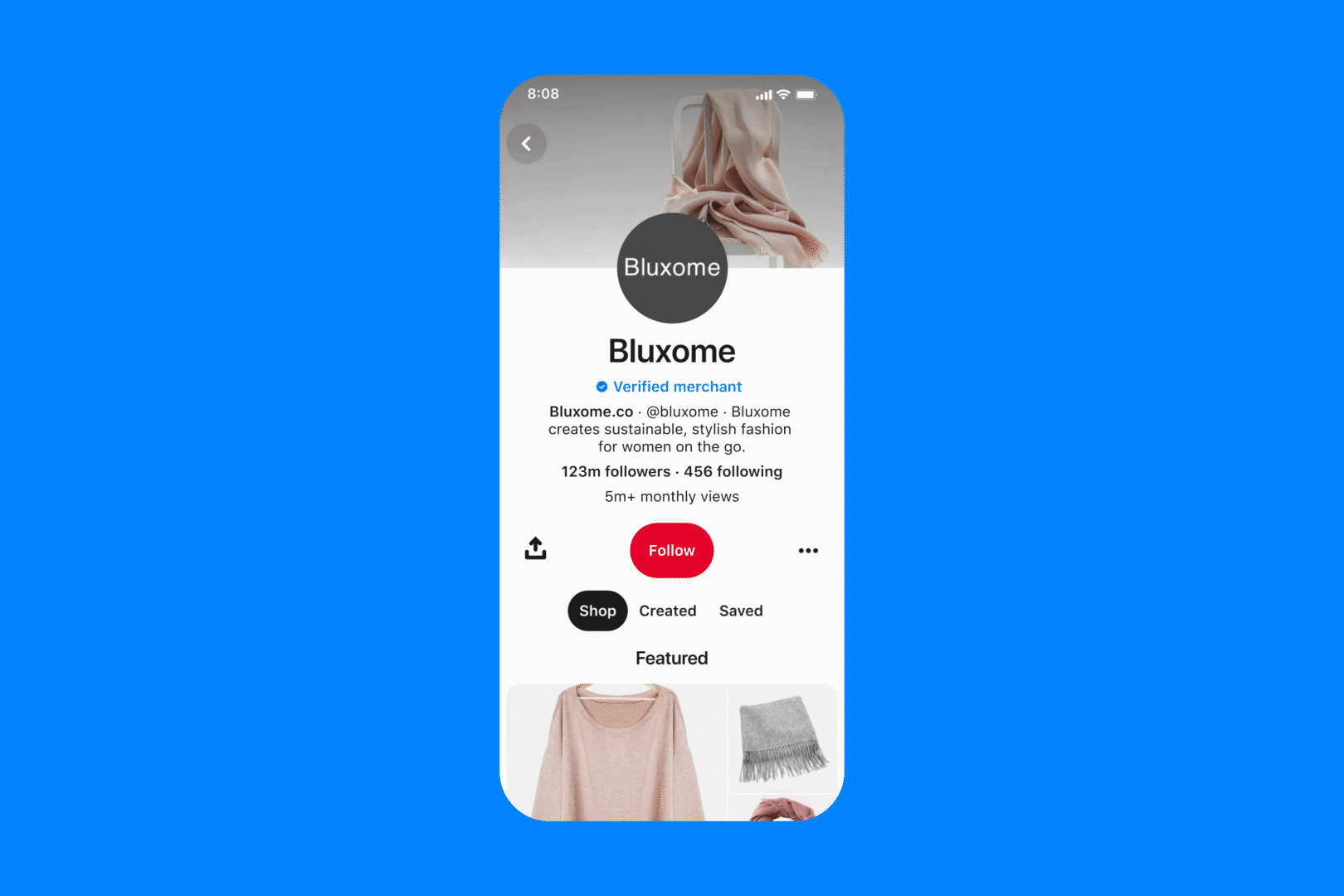 Pinterest recently rolled out a new Shopping List feature that allows Pinners to easily save and access all their Product Pins on Pinterest in one place and receive notifications about price changes.

The platform also recently announced new features that give shoppers the option to explore or shop at the beginning of their search. The Explore tab directs them to the regular feed, while the Shop tab takes purchase-minded Pinners directly to a feed of Product Pins.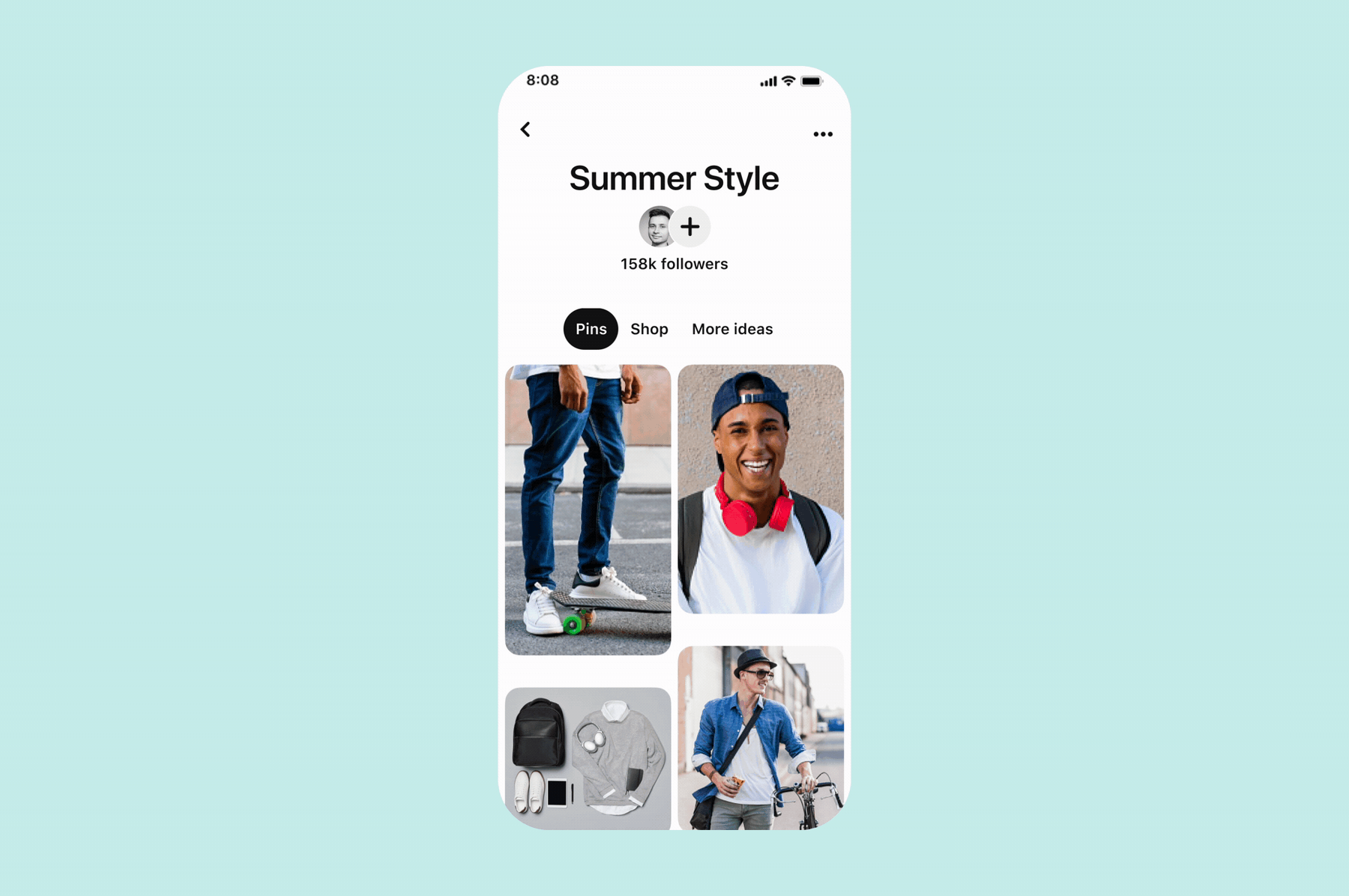 Pinterest is clearly putting a great deal of emphasis on improving the shopping experience for customers on its platform. And brands that optimize their products and make them more shoppable will have an edge over other businesses in converting pins into purchases.
Create a variety of visually compelling content
Because Pinterest is a visual platform, it's essential to create thumb-stopping visual content that stands out in Pinterest's feed. Here are some ways to grab attention:
Only use high quality images and videos. Nobody — especially potential customers — wants to see grainy or pixelated images of your products.  Follow this spec guide that has image dimensions and file sizes for Pinterest to ensure your Pins look stunning (and have the best chance of spurring sales).
Put your product front and center in your images and avoid abstract ideas or lifestyle imagery. This is important if you want your Pins to stand out and be seen.
Create Video Pins. Videos are dynamic and really stand out in a feed full of images. Plus, Pinners are 54% more likely to say that videos on Pinterest inspire them to take action.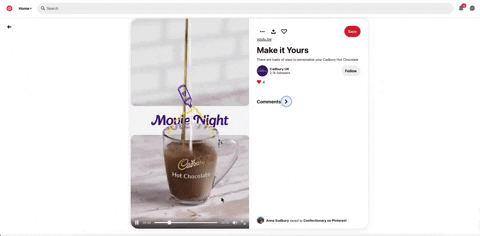 Inspire your followers with Idea Pins. These are Pins in which you can record multiple videos, add images, lists, and custom text in a single Pin. Idea Pins allow businesses to create more inspiring content, lead to better interaction with audiences, and create more engaged and active users directly on Pinterest.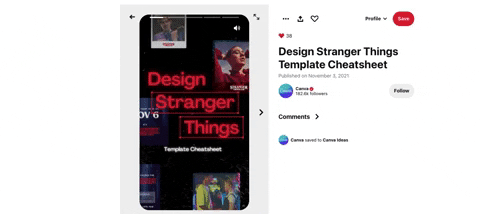 Become a Verified Merchant
Pinterest places products from verified merchants in dedicated shopping experiences like related Pins, which helps Pinterest users find products similar to what they're currently searching for.

For example, if your business is a soap brand, Pinterest would prioritize showing a potential customer your Product Pins if they're already searching for or looking at Pins of soap bars. Being a Verified Pinterest Merchant helps put your products in front of people looking for new brands.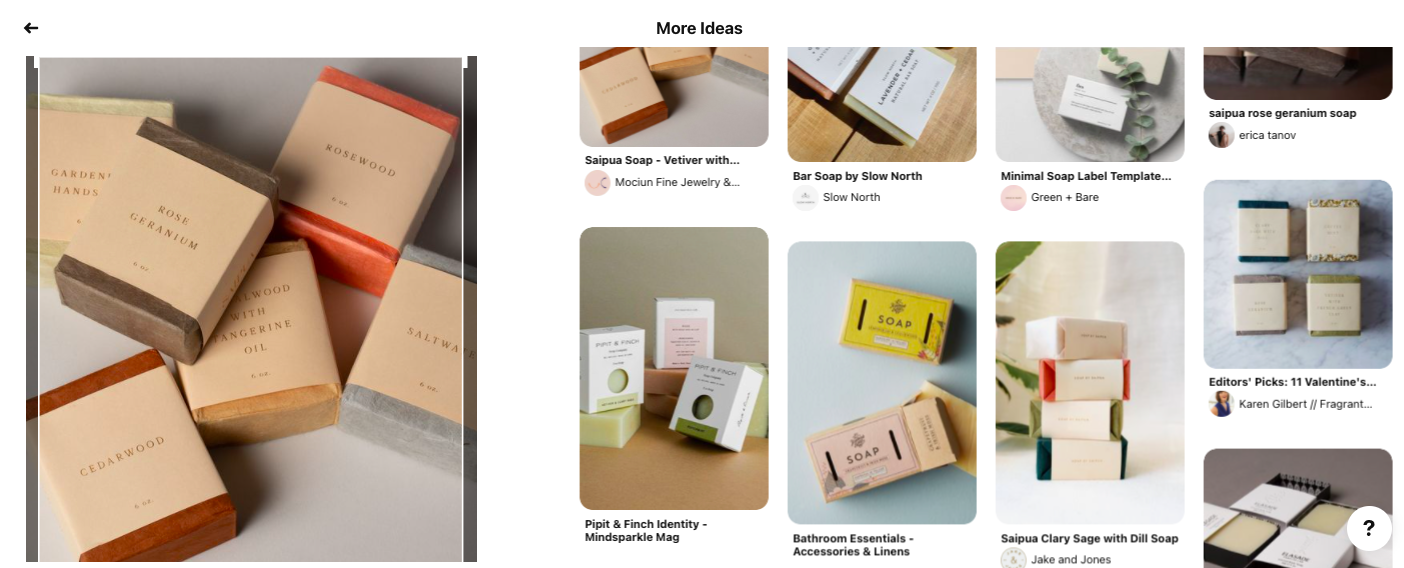 It's free to become a verified merchant, and once you have met Pinterest's guidelines, you get a "verified" badge that appears on your profile and pins to indicate that Pinterest has vetted your business. This is important because nearly 90 percent of consumers are willing to pay more for something when it comes from a brand they trust.

Another perk of being a verified merchant is that merchant details will appear on your profile to showcase the brand values and communities you represent. Five brand values verified merchants can showcase on their profiles are:

Eco-friendly
Inclusive
Invested in good
Personal touch
Responsibly sourced

In addition, a business can self-identify as part of an under-represented community if a member of that group owns at least 51% of the business. The seven communities on Pinterest include:

Black-owned
Latinx-owned
API-owned
Indigenous-owned
Woman-owned
LGBTQ+ owned
Disability-owned

83% of Millennials say it's important for the companies they buy from to align with their values. Therefore, being a verified merchant and clearly showcasing what you and your business stand for will help attract like-minded customers within your demographic.
Reach your Pinterest marketing goals faster with Pinterest Ads

Whether your goal is to increase brand awareness or drive conversions and sales, Pinterest advertising can help you reach your goals faster. Here are several different types of ad formats you can add to your Pinterest strategy:

Standard ads: These look like regular Pins but reach far more people. They're primarily used to increase brand awareness, and they appear on the platform like any other pin. They usually contain a brand image, short, catchy copy, and a click-through link to send users to the brand's website.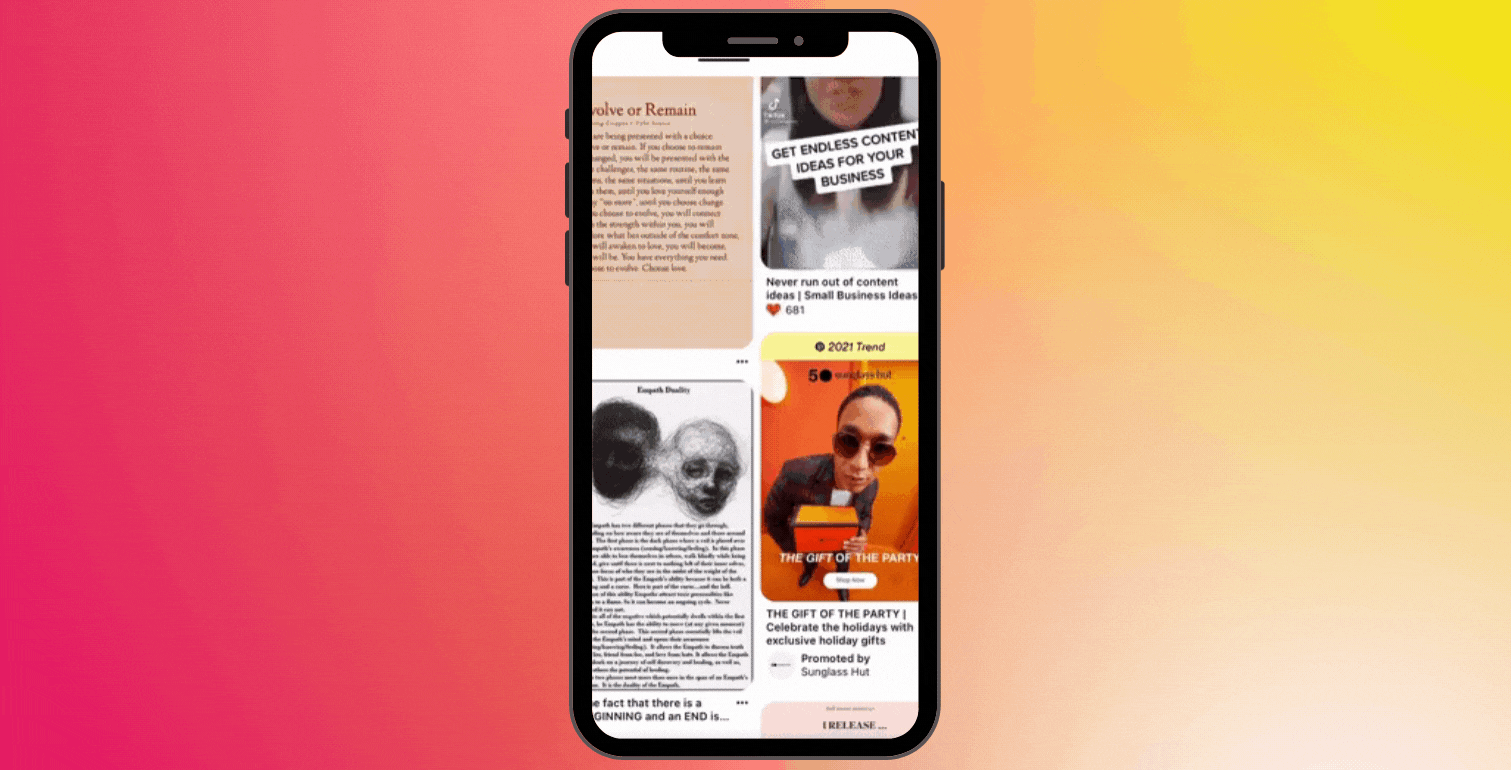 Video ads: These are 6 to 15-second clips that play when they appear in a person's home feed. They're a great way to increase conversions because tapping on the video will load your destination site.
Shopping ads: These are Product Pins that have been turned into ads. They can appear in users' feeds as a single image or within a collection. Shopping ads help you engage with potential customers early while they're still looking for inspiration on Pinterest. Once you've set up your Pinterest catalogs, you can promote them as shopping ads that surface while users are scrolling through their feeds.
Carousel ads: A carousel is a Pin with multiple images users can swipe through. Carousels are a great way to highlight different product features, advertise various products at once, or tell your brand story in chapters.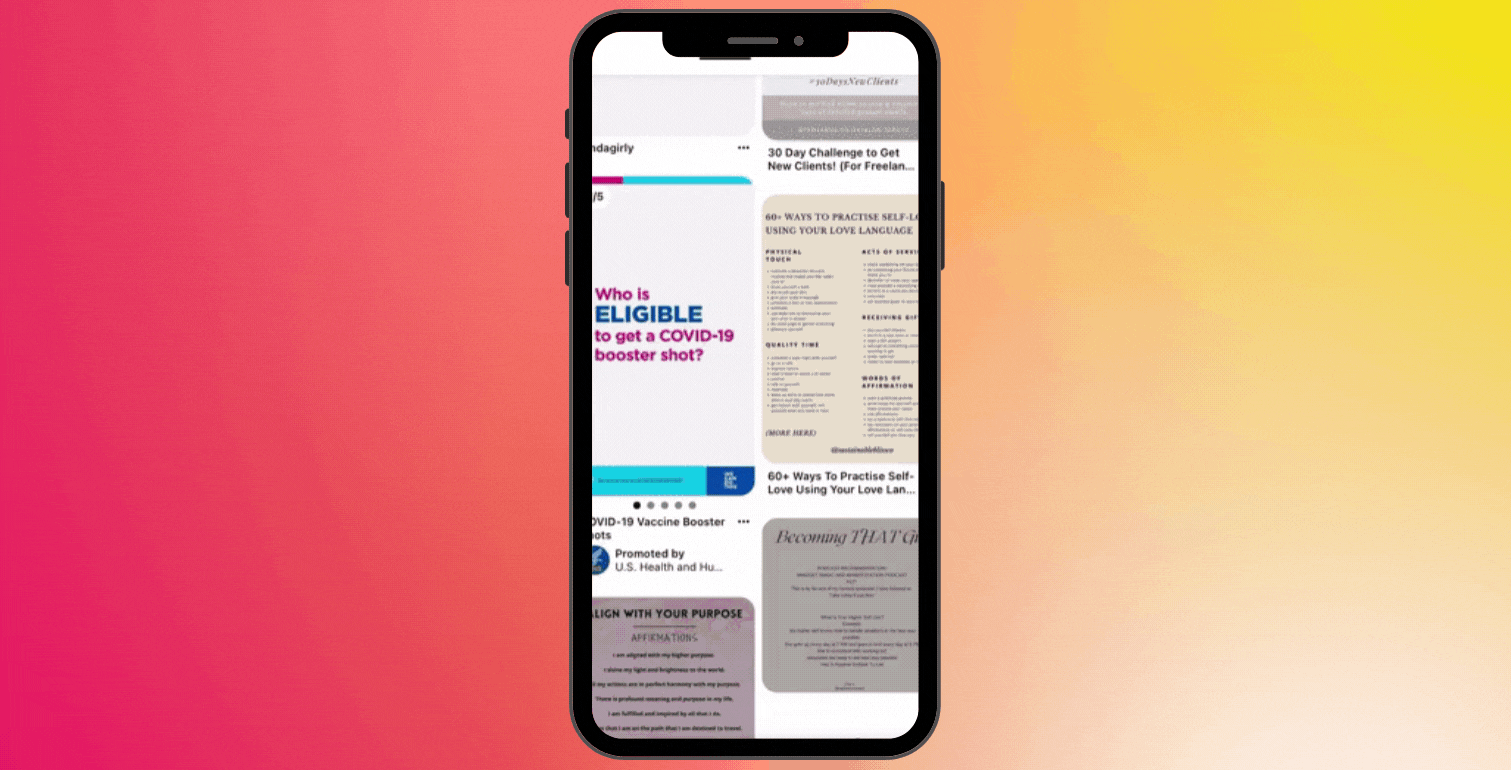 Idea ads:  Are a great way for businesses and influencers to create and promote sponsored content. Creators can tag a brand that sponsors them to create an Idea Pin, and then the brand can promote the Pin via an Idea ad. These ads help build brand awareness because you expose your business to a new audience when you partner with a creator.

See examples of how businesses of all sizes have succeeded with Pinterest ads here. And then, once you're ready to create Promoted Pins of your own, you can use this guide to help you get started.
Manage your Pinterest marketing strategy with Buffer
Buffer is an official Pinterest partner, and you can use our all-you-need social media kit as part of your Pinterest content marketing plan to:

Create, publish, and schedule Pins
Track the performance of your Pins through Pinterest analytics
Integrate Buffer with Canva to help you quickly and easily create new content for Pinterest from a wide range of free templates

Also, boost your small business Pinterest marketing efforts by checking out these time-saving Pinterest marketing tools and this comprehensive guide on how to use Pinterest for business: it includes tips on how to best incorporate hashtags, optimize Pinterest SEO, and more!


Brought to you by
Did you find this article helpful? You might also like our all-you-need social media toolkit.
Get started for free now