YouTube joined the short-form video race with Shorts, its answer to the vertical video format popularized by TikTok. Now, creators are encouraged to publish short-form content, whether adapting their longer videos or creating exclusively shorter videos.
Part of growing on any platform is figuring out ways to ease the content creation process so you can focus on the creative side, and Shorts is no exception. In this article, we'll walk you through one aspect of easing your process: scheduling.
How to schedule YouTube Shorts (in Buffer)
Buffer now supports scheduling for YouTube Shorts — yay! It's really easy and free. Follow these simple steps to share your videos.
Step 1: Connect your YouTube account to your Buffer account
Open up your Buffer account on a desktop or your app to get started – and if you don't have one, sign up here.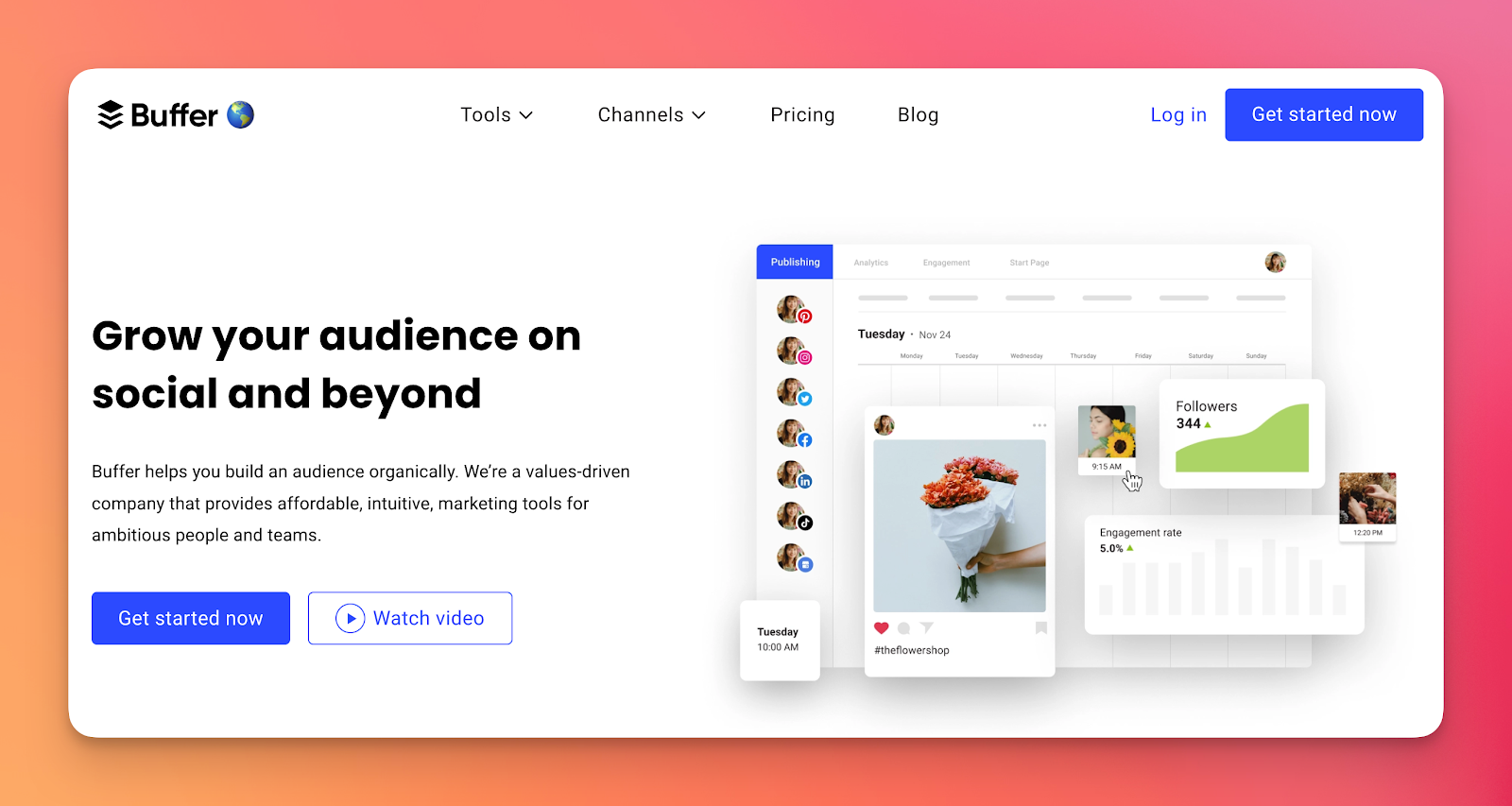 Step 2: Select the "Add Channels" button on the bottom left-hand side of your dashboard.
You have the option to connect to a variety of social platforms and marketing channels within Buffer.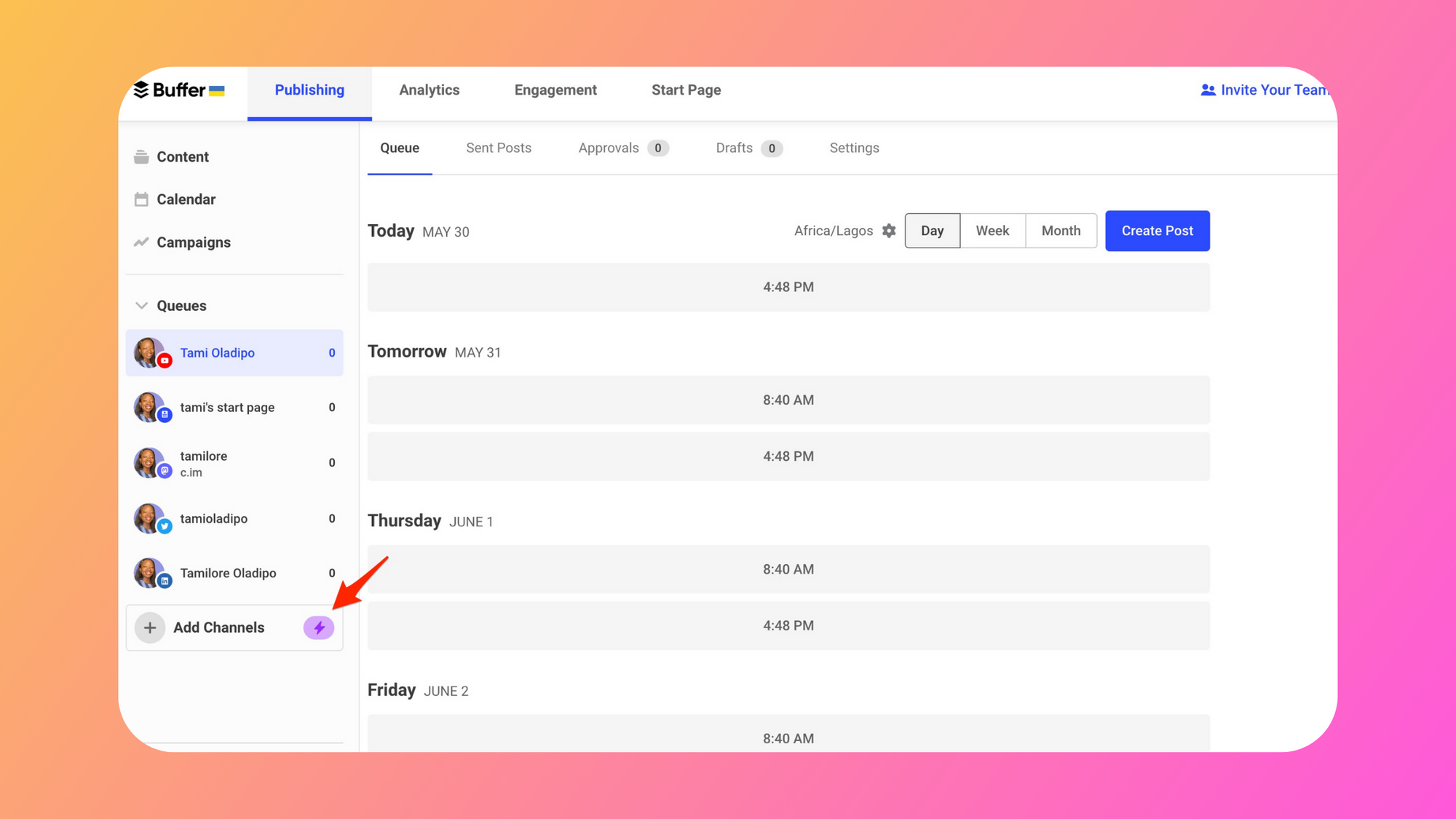 Step 3: Choose Youtube from the options
Clicking on YouTube will take you to your YouTube account, where you need to permit Buffer to post on your behalf.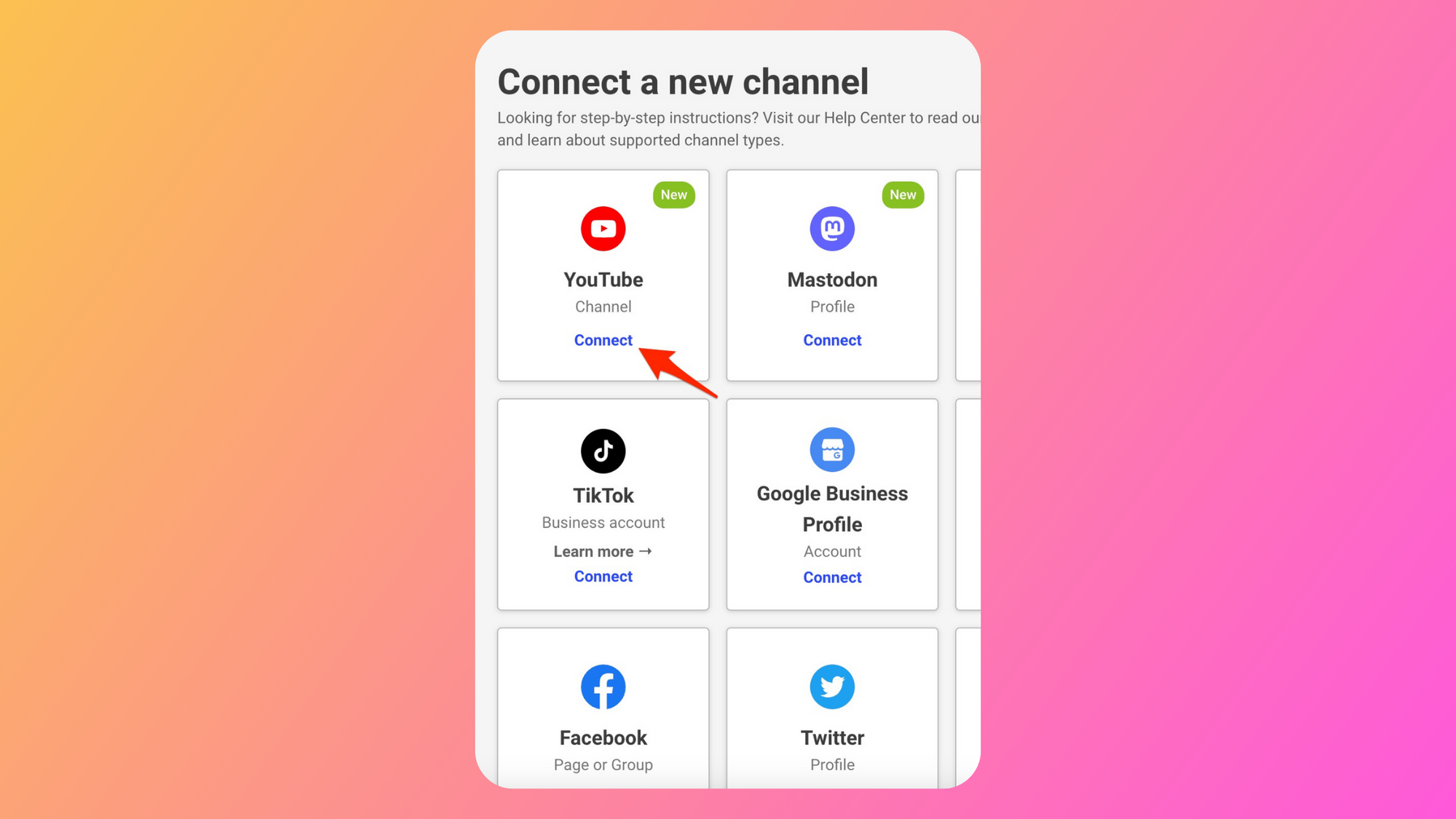 Step 4: Authorize Buffer to connect to your Youtube Channel
Once you do that, you've officially connected YouTube as a channel.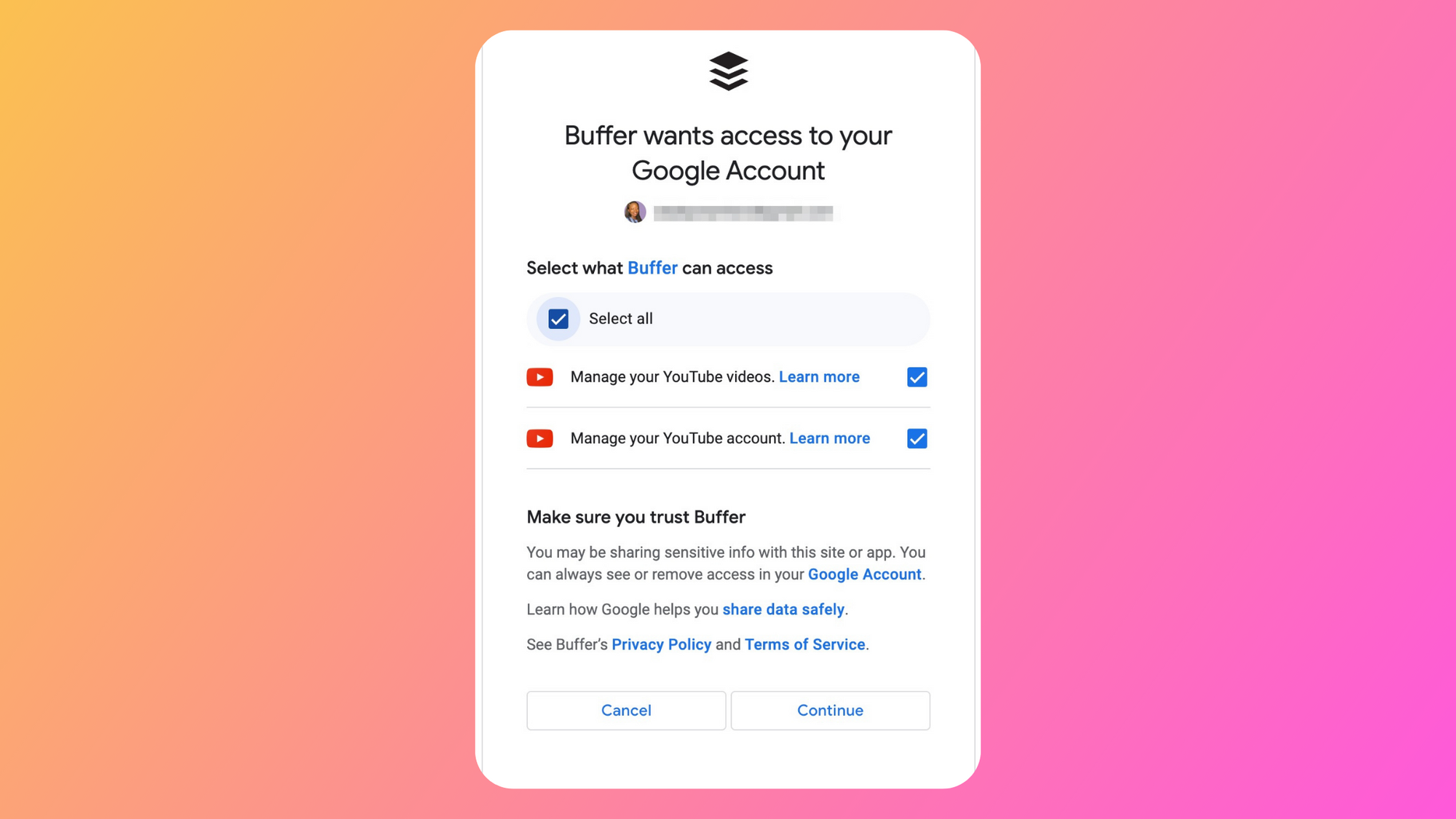 And that's it! You're ready to start scheduling Youtube Shorts.
Step 5: Upload and schedule your YouTube Shorts
Once you've connected your YouTube account, you can start sharing your Shorts. In your Buffer account, select your profile picture with the YouTube logo in the left corner, then click 'Create Post' or choose one of the pre-populated time slots.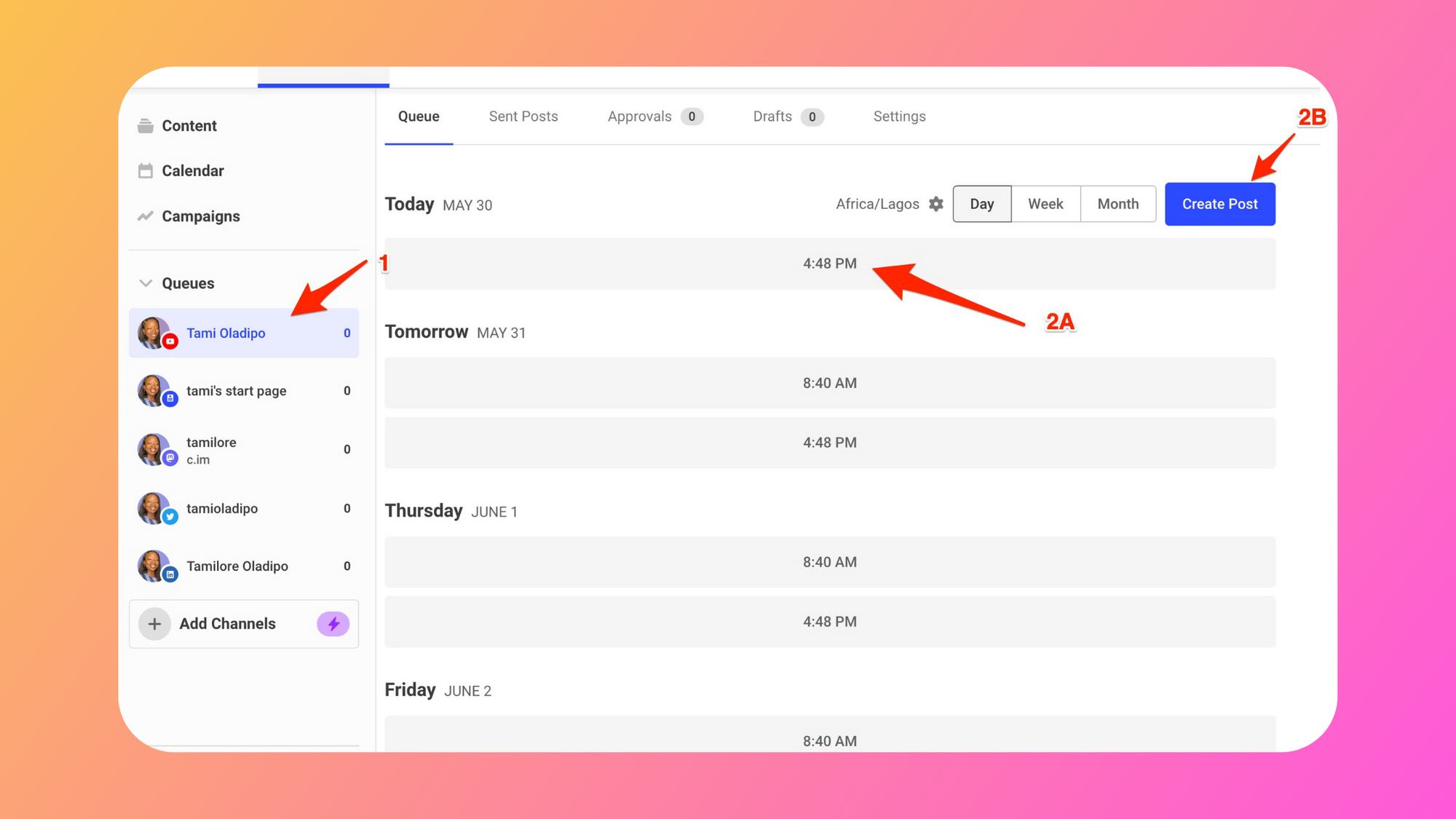 This will open up the Composer, where you can drag and drop your video from your desktop into the Composer.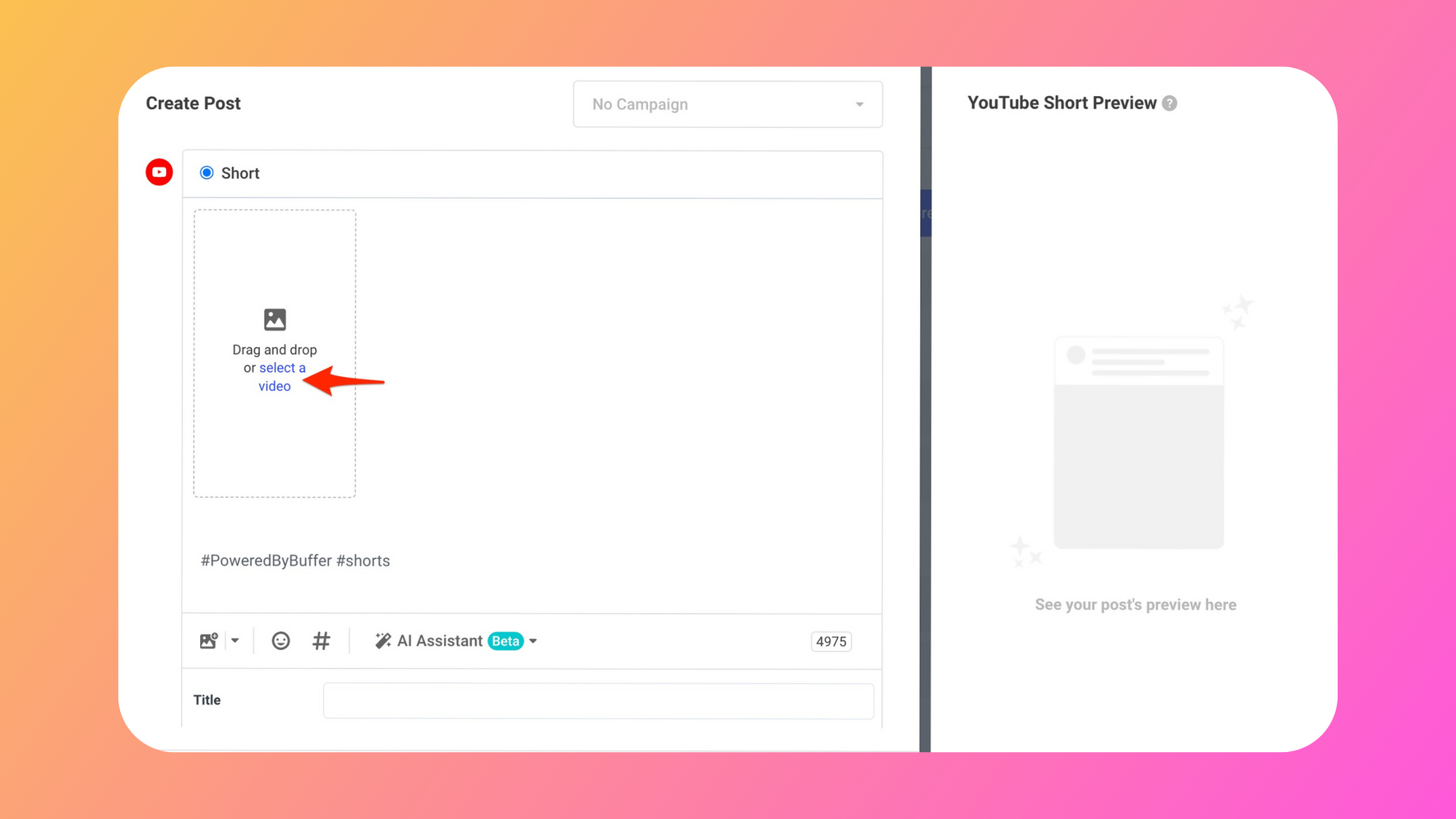 Buffer will show you all the details you typically need to add for YouTube videos – title, age restrictions, category, visibility, and so on.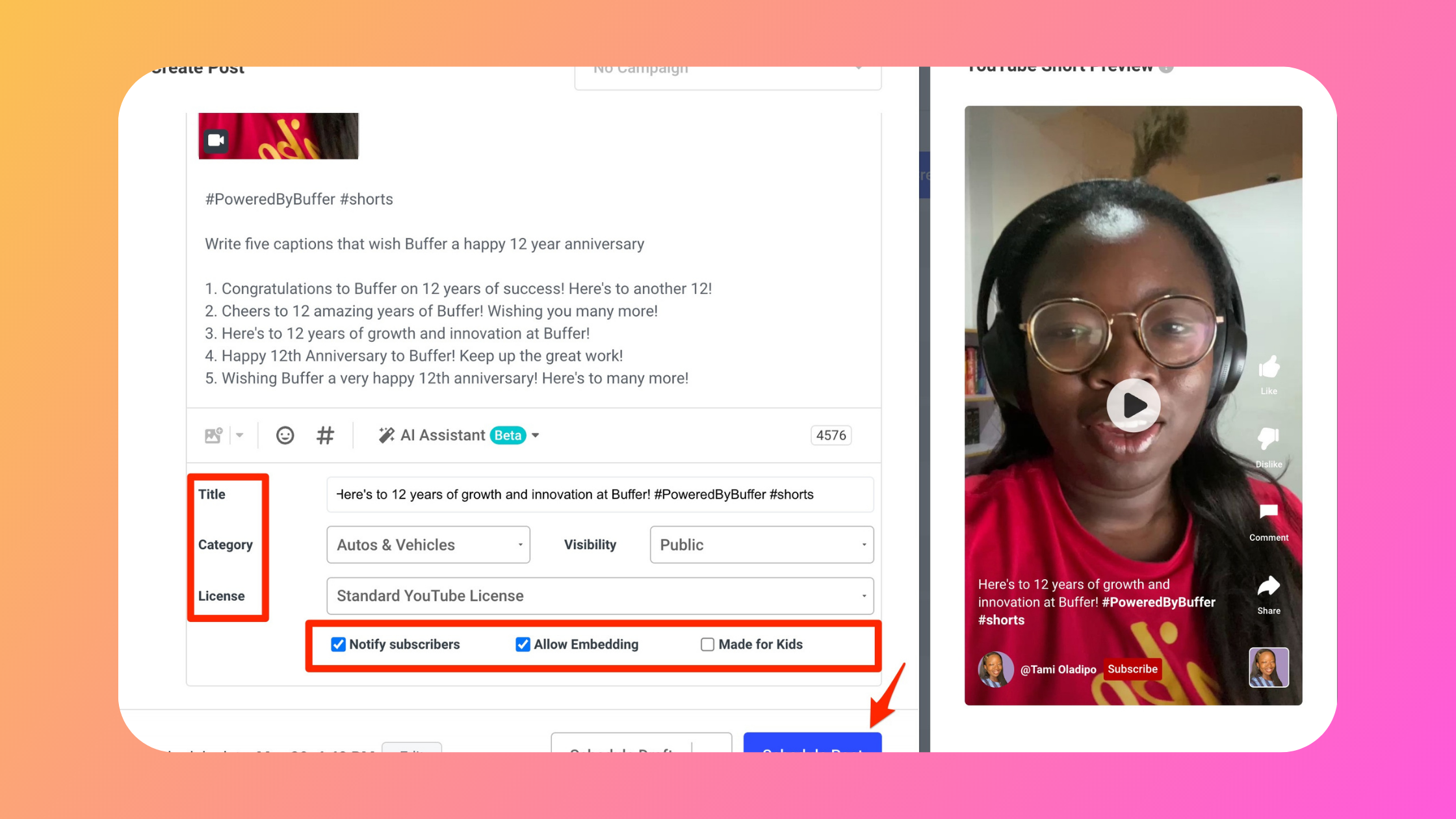 After you've uploaded your video and added all the details, you have several scheduling options.
If you want to publish it immediately, you can share your video instantly. If you already have other content queued up, you can add it to the start or the end of your queue. Or, you can schedule it for a custom time outside your regular posting schedule.
Alternatively, you can save it as a draft if you want one of your teammates to review it first or if you want to come back and work on it later.
Why schedule in Buffer vs. directly on YouTube?
You might be wondering what gives Buffer an edge over native scheduling. Scheduling in Buffer allows you:
See all your content in one place, no matter what platforms you publish on
Plan campaigns holistically
See an overview of your upcoming content laid out in a calendar
Reschedule your content when needed with ease
Best of all, you can share the same video to other connected channels that have short-form video available – Reels and TikTok!
How to schedule to YouTube (on YouTube)
Here's how to schedule your YouTube Shorts directly on the YouTube platform.
Step 1: Sign in to your account
To start scheduling from YouTube, sign in to your YouTube Studio account. In the top-right, click CREATE > Upload videos > Select Files.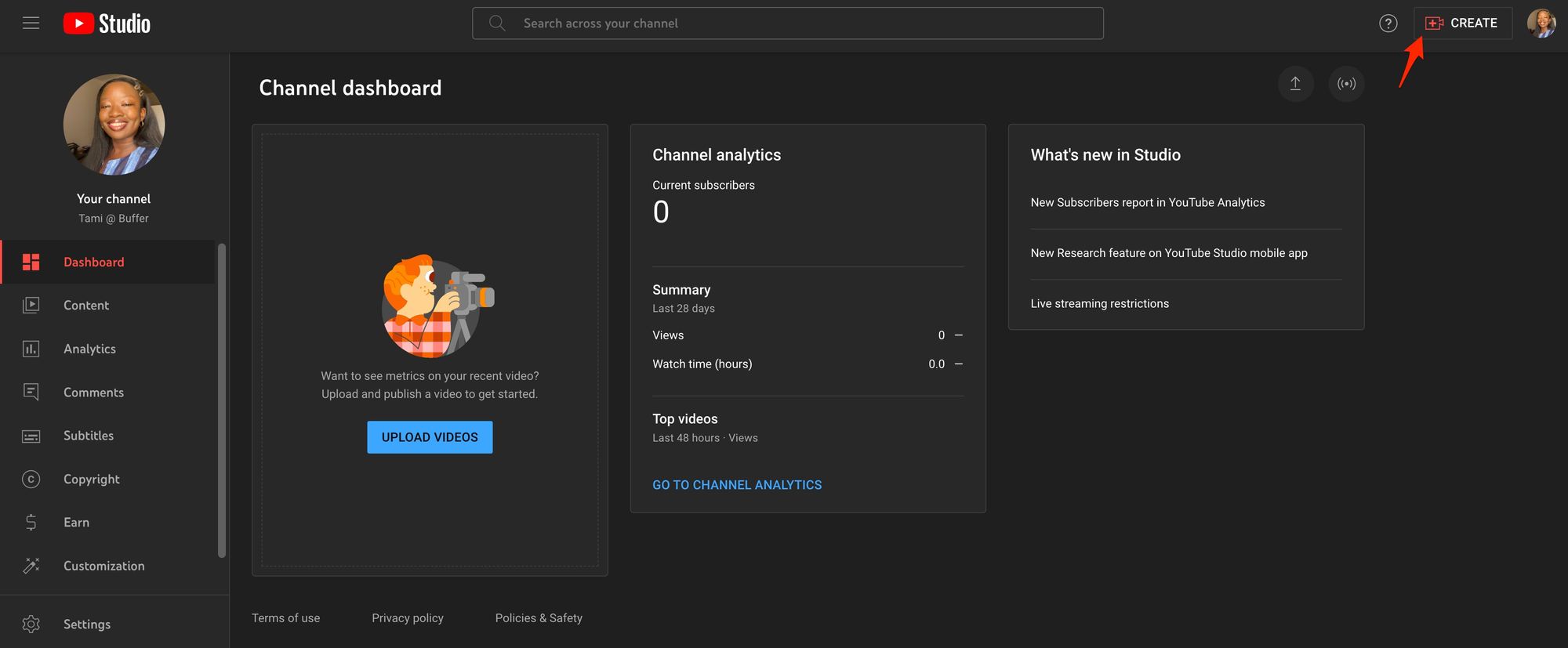 To schedule a video's publication time, you have to first set the video as "scheduled" or "private" on the upload page.
Step 2: Select your video and enter the details
Select the file you want to upload and enter your video details.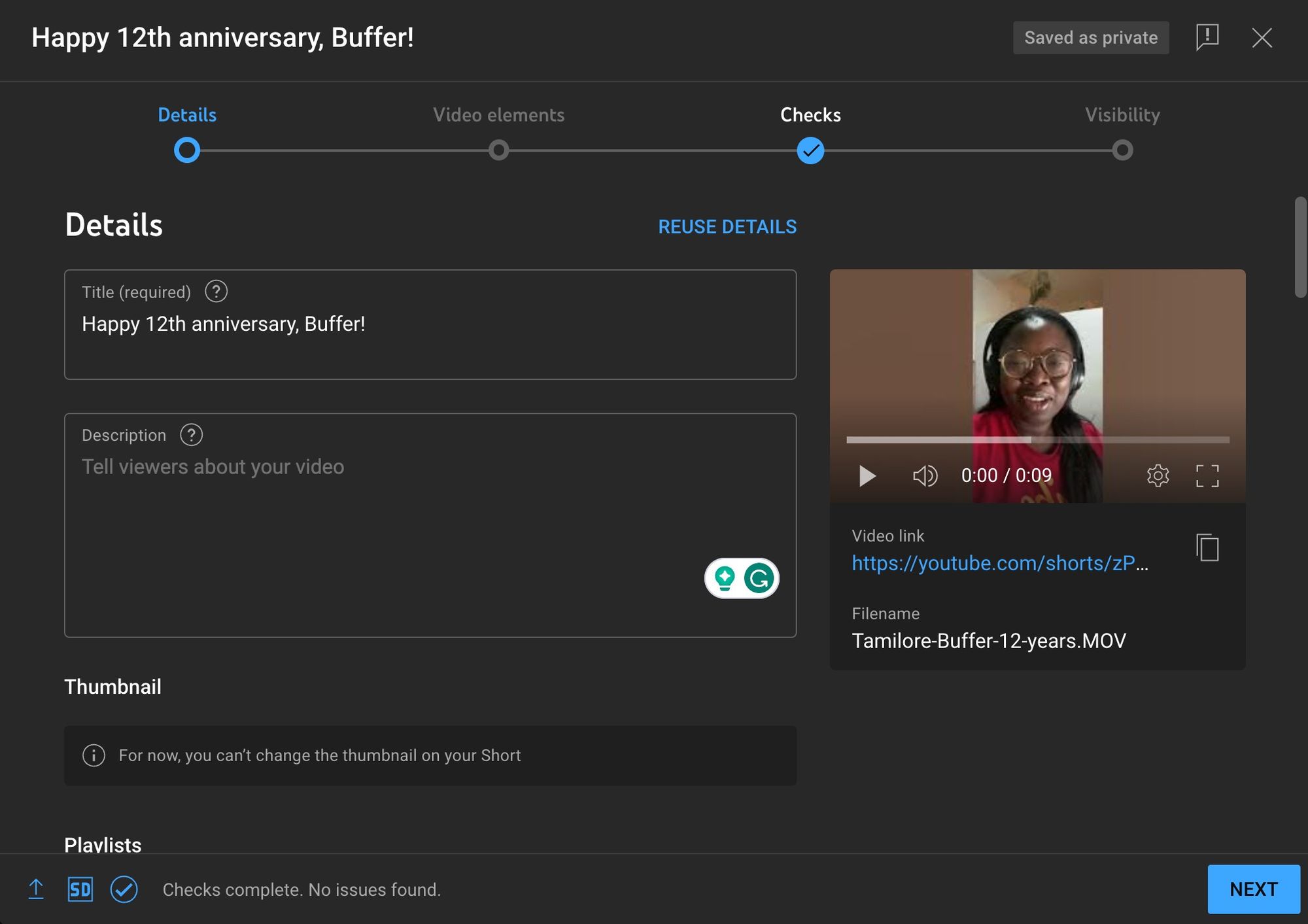 Step 3: Schedule your video
On the "Visibility" tab, select Schedule.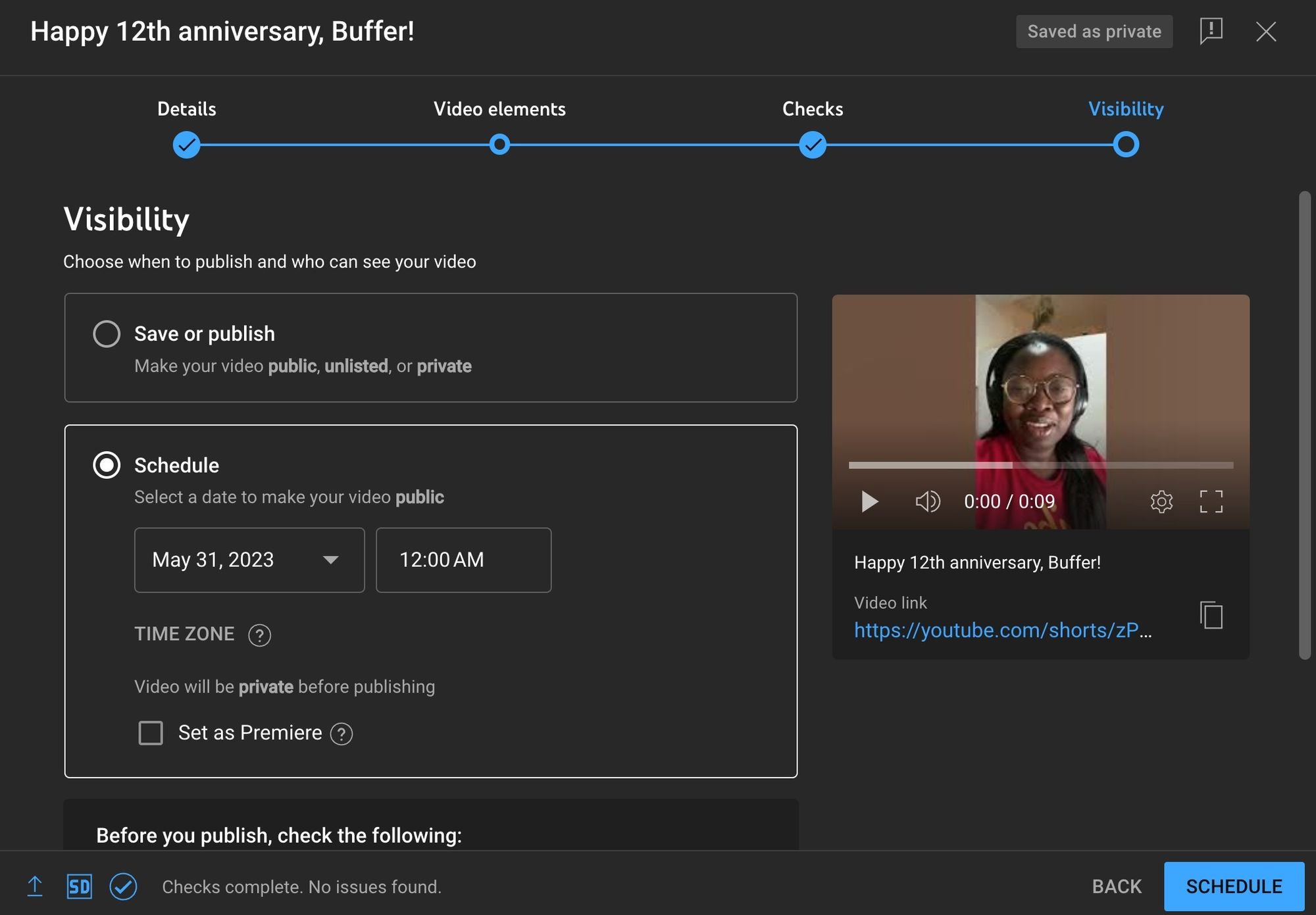 Set the date, time, and time zone where your video will be published.
Then, click Schedule.
Optional: Change your YouTube Shorts schedule anytime
You can edit your schedule any time you want by following these steps:
Select Content from the left Menu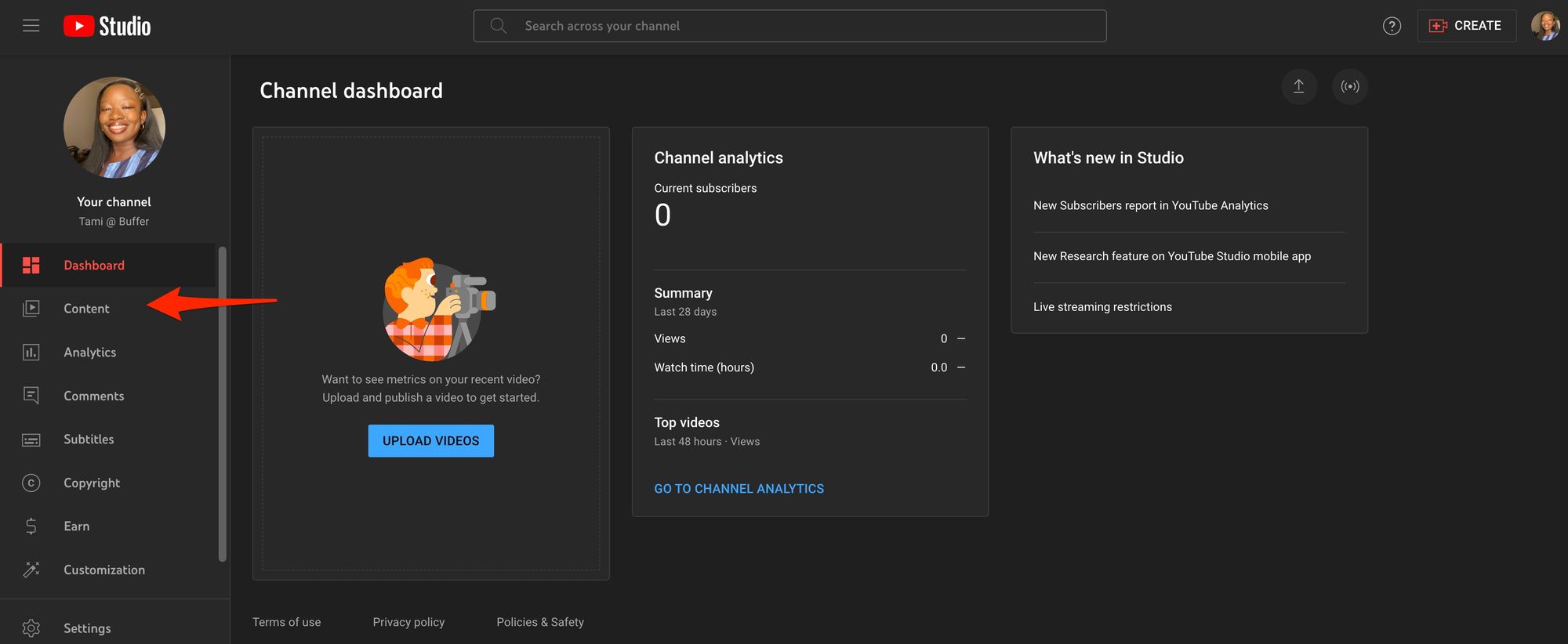 Select the drop-down on the video you want to edit in the "Visibility" column. To change the scheduled publish time, ensure the visibility is Private, choose the new time under "Schedule", then Schedule.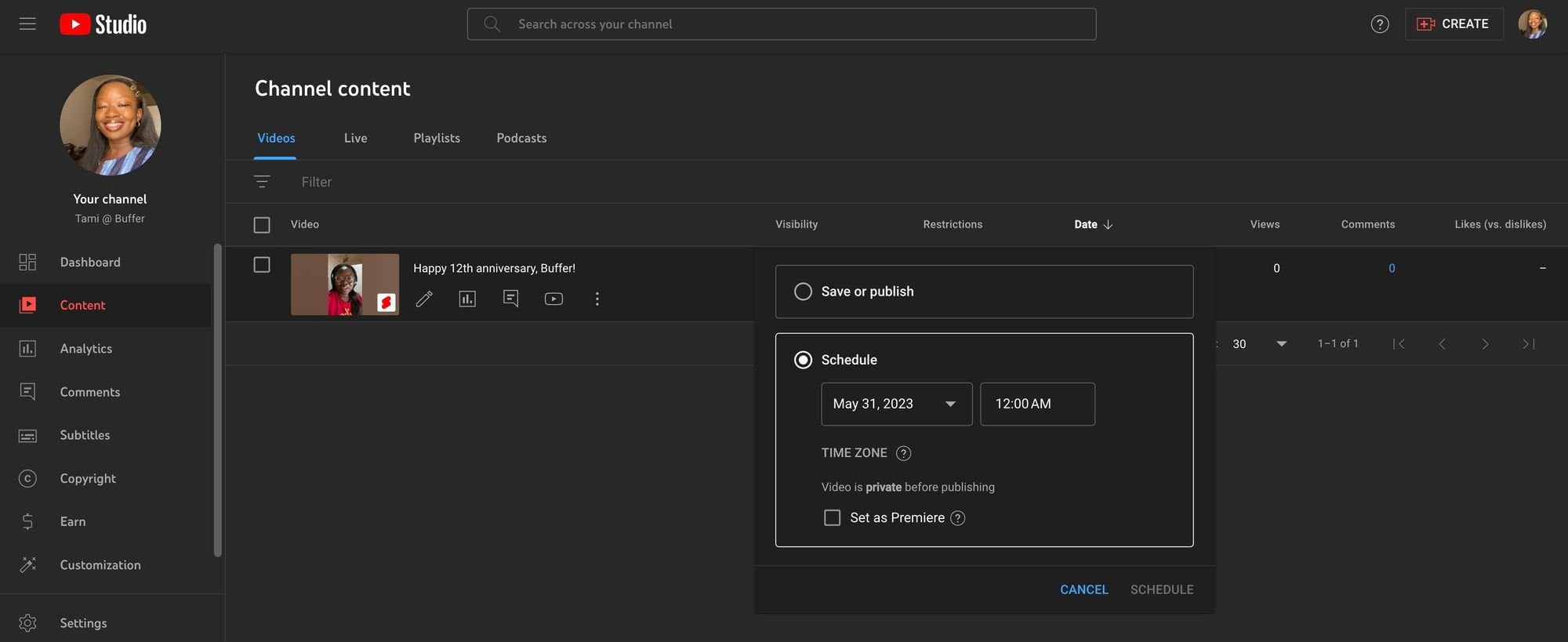 To publish the video immediately, select Save or publish and set the visibility to Public.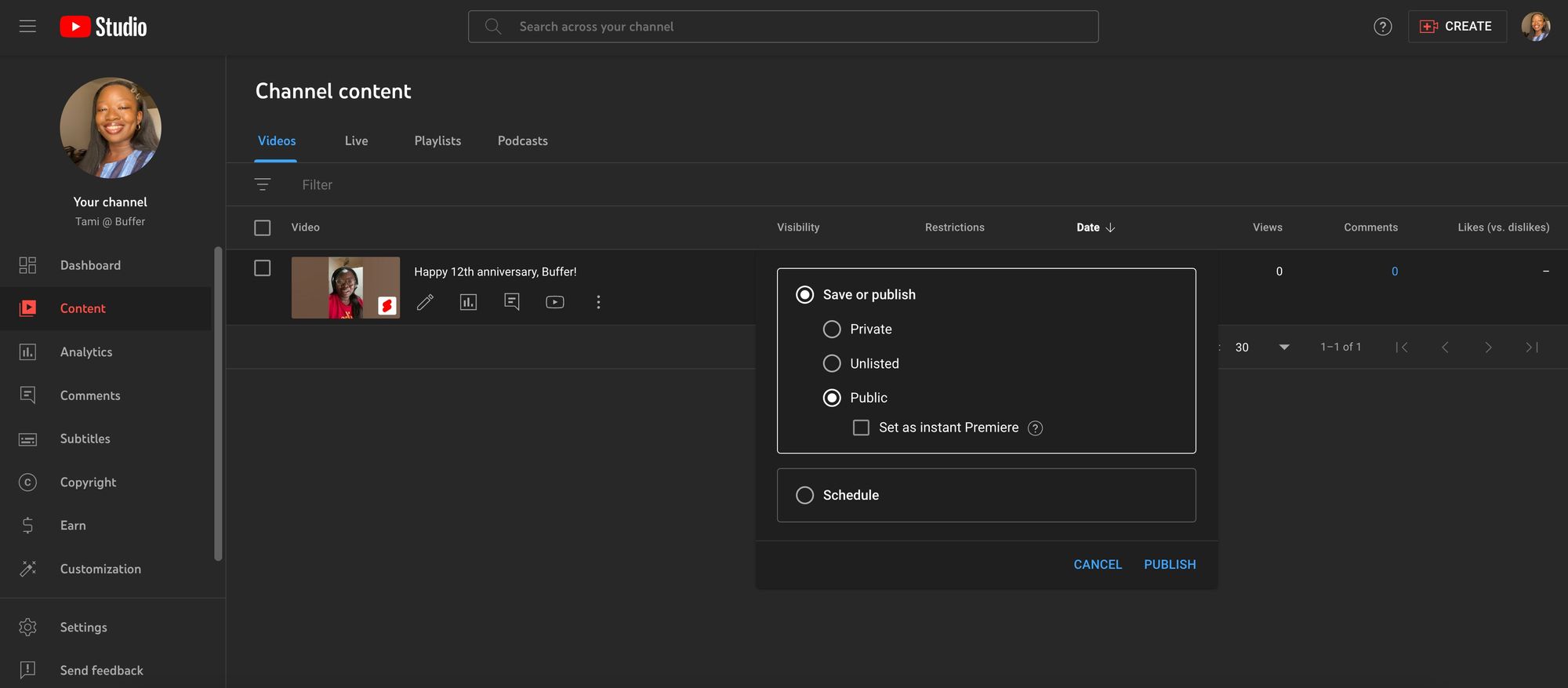 Click PUBLISH and you're set!
Why should you schedule your YouTube content?
YouTube is another platform to distribute video content that you create elsewhere and reach another audience — by scheduling, you can plan out this kind of repurposing.
Scheduling is also a good strategy if you're batch-creating content. And if you're short on time. Plus, to post at optimal times when people are online.
Here are the top three reasons you should be scheduling your YouTube content.
More than any other reason, scheduling allows you to build consistency with content creation, which can be powerful for growing an audience.
Scheduling allows you to focus on planning and having content ready in advance – even for days when you can't get to creating.
YouTube scheduling helps you stay organized with your posting, so you can focus on what matters most – growing your platform.
Whether you've been creating YouTube videos or just considering the platform, there's no better time than now to start publishing.
What should you schedule on YouTube Shorts?
Worried you don't have anything to post on YouTube Shorts? Don't be! There are many ways to get over the initial bump of content ideas.
You can use Buffer's inbuilt AI Assistant if you find yourself stuck in a creative rut and unable to come up with ideas at any stage of scheduling. Use it to generate:
Ideas tailored to your account, as long as you provide it basic information about your business and target audience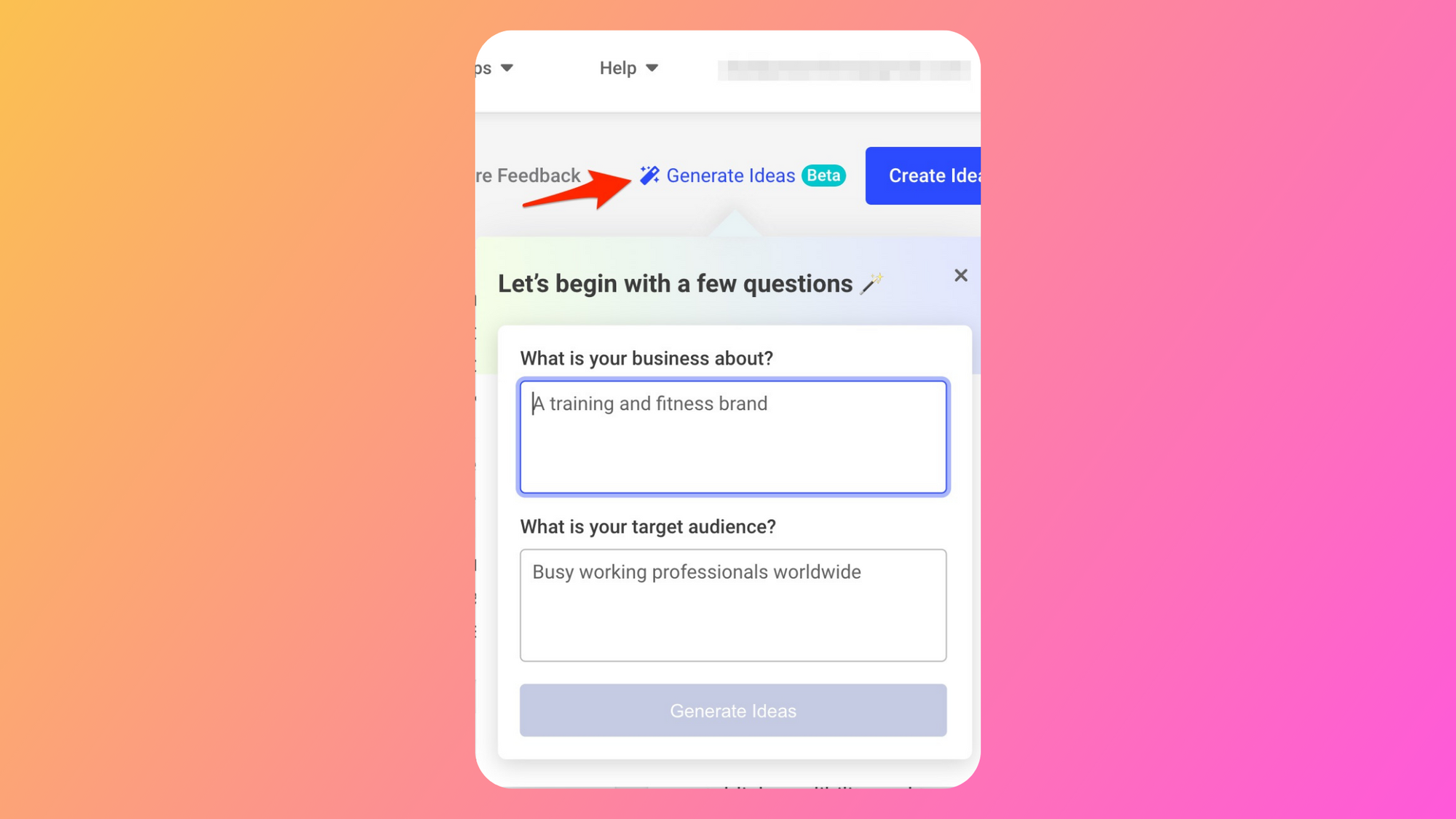 Titles based on your description of your finished video and fresh video ideas that are tailored to your account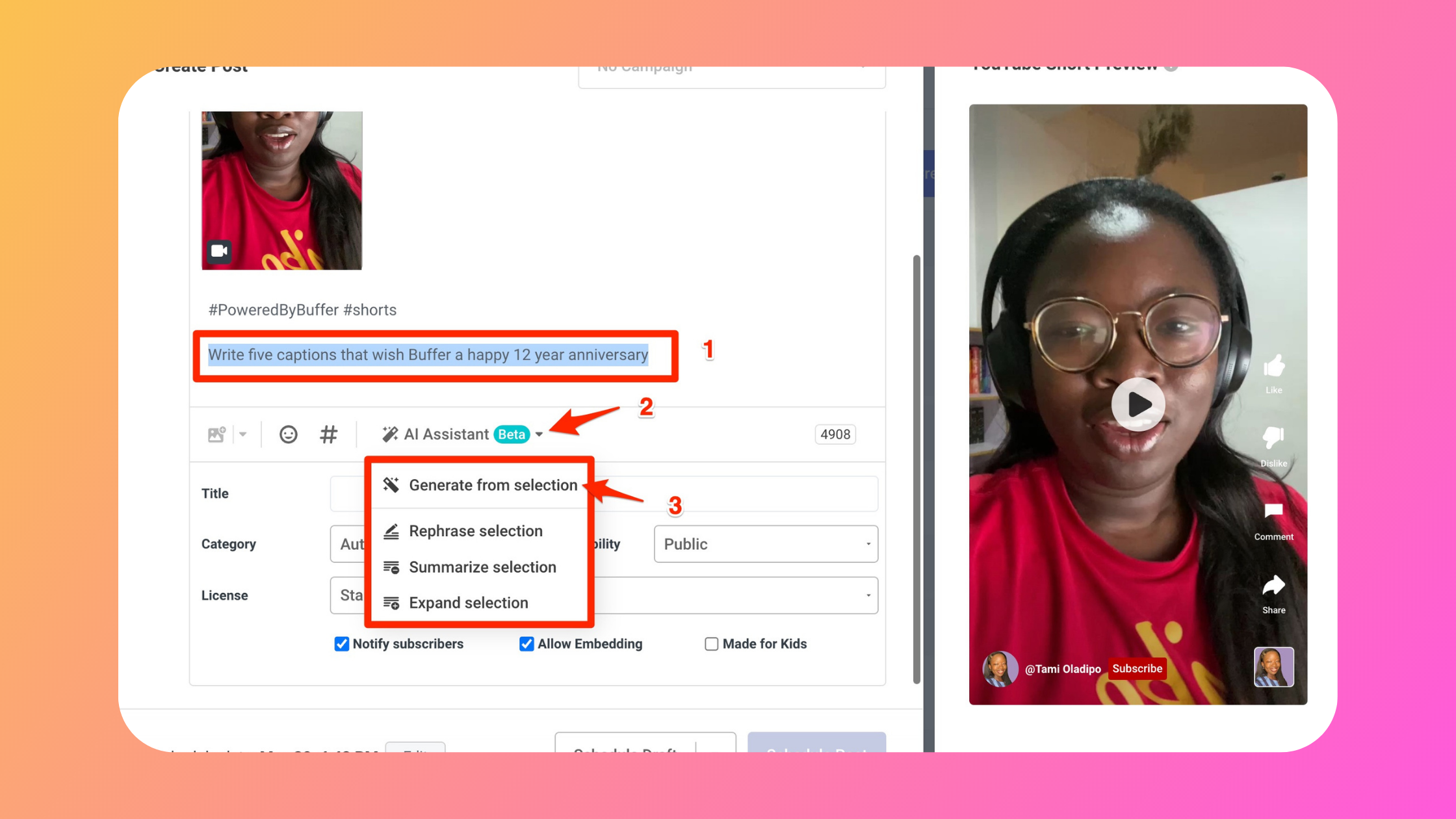 Video caption ideas and hashtag suggestions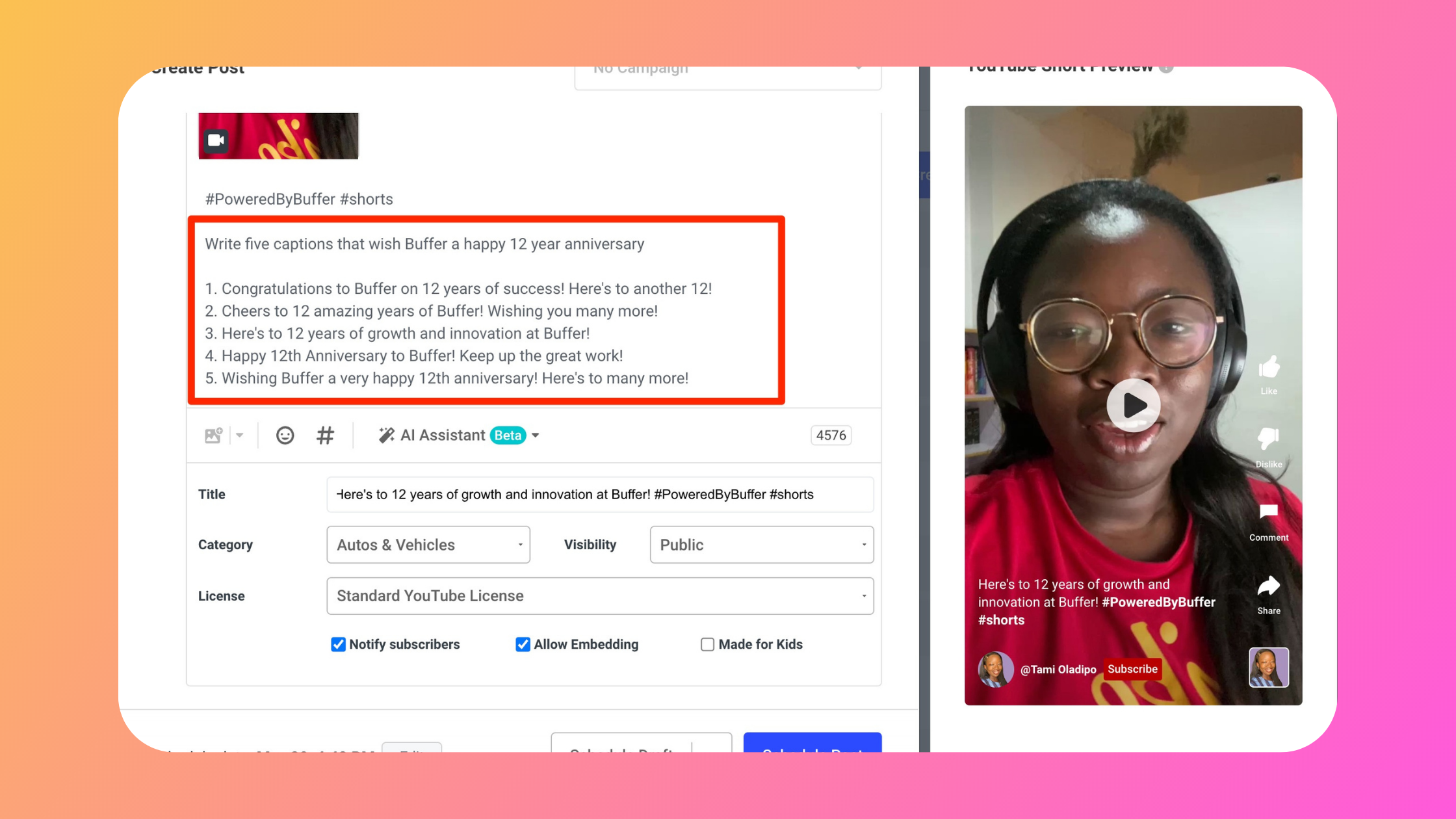 You can also repurpose existing content to populate your YouTube Shorts page by reposting your best Reels and TikToks. Repurposing in this way allows you take content that you already know has performed well or resonated with your audience, and putting in front of a new group.
As long as you've created content somewhere, anywhere, you have content ready to go live.
Consistency is key to your growth as a creator
There's no better partner than Buffer as you explore and create for YouTube Shorts. Thanks to the interconnectedness offered on our platform, you can easily manage all your short-form content from one place and any other social platforms you might be active on. This way, you stay consistent and focus on your goals while your hard work goes out to your audience.