As a social media manager, you spend your day juggling various hats: capturing ideas, recording content, designing aesthetic visuals, writing compelling captions, monitoring post performance…I could go on.
But, many tasks on your to-do list are tedious, repetitive, and time-consuming. These jobs are a necessary evil — they need to get done, but they barely move the needle for your social media marketing strategy.
What if I told you you could do many of those tasks in half the time or less? Here are 17 Chrome extensions that'll make the manual work quicker — and by extension (see what I did there?) your job more enjoyable.
17 best Chrome extensions for social media marketers
The browser extensions on this list fit a wide array of tasks — some are for scheduling posts, some are for making your life easier, and some are for making things more efficient. You're balancing a wide array of tasks daily — so I've ensured the browser extensions I chose reflect that.
If you like the job a browser extension does but don't like the extension itself, I've also shared alternatives wherever available. There's something on this list for everyone.
Note: While all of these extensions are available on the Chrome web store, you can also install them on another web browser like Firefox, Safari, or Brave. Many extensions are also available on other iOS devices (like iPhone) and other operating systems like Android.
1: Buffer
Best for scheduling your social media posts
Price: Free plan available for up to three social media channels. Paid plans begin at $6/month for one channel.
Buffer's Chrome extension lets you create posts or save an idea for later without opening your Buffer web app in another tab.
Let's say you just published a new article and would like to share it on your LinkedIn profile. If you have installed Buffer's browser extension, you just have to:
1. Click on the Buffer icon
2. Select if you want to create a post or save the link as an idea
3. A new browser will open with the content from your selected webpage
And you're done!
How easy (and quick!) was that? You can also save images and text the same way. Right-click on the selected text or the image and hover over the "Buffer" option.
2: Evernote Web Clipper
Best for storing interesting stuff you find on the internet
Price: Free plan available. Paid plans begin at $14.99/month.

If you want a separate browser extension for storing interesting articles, Evernote Web Clipper is perfect. It lets you bookmark webpages, PDFs, articles, and screenshots to your Evernote account. You can even use it as a screen capture tool and annotate screenshots however you like.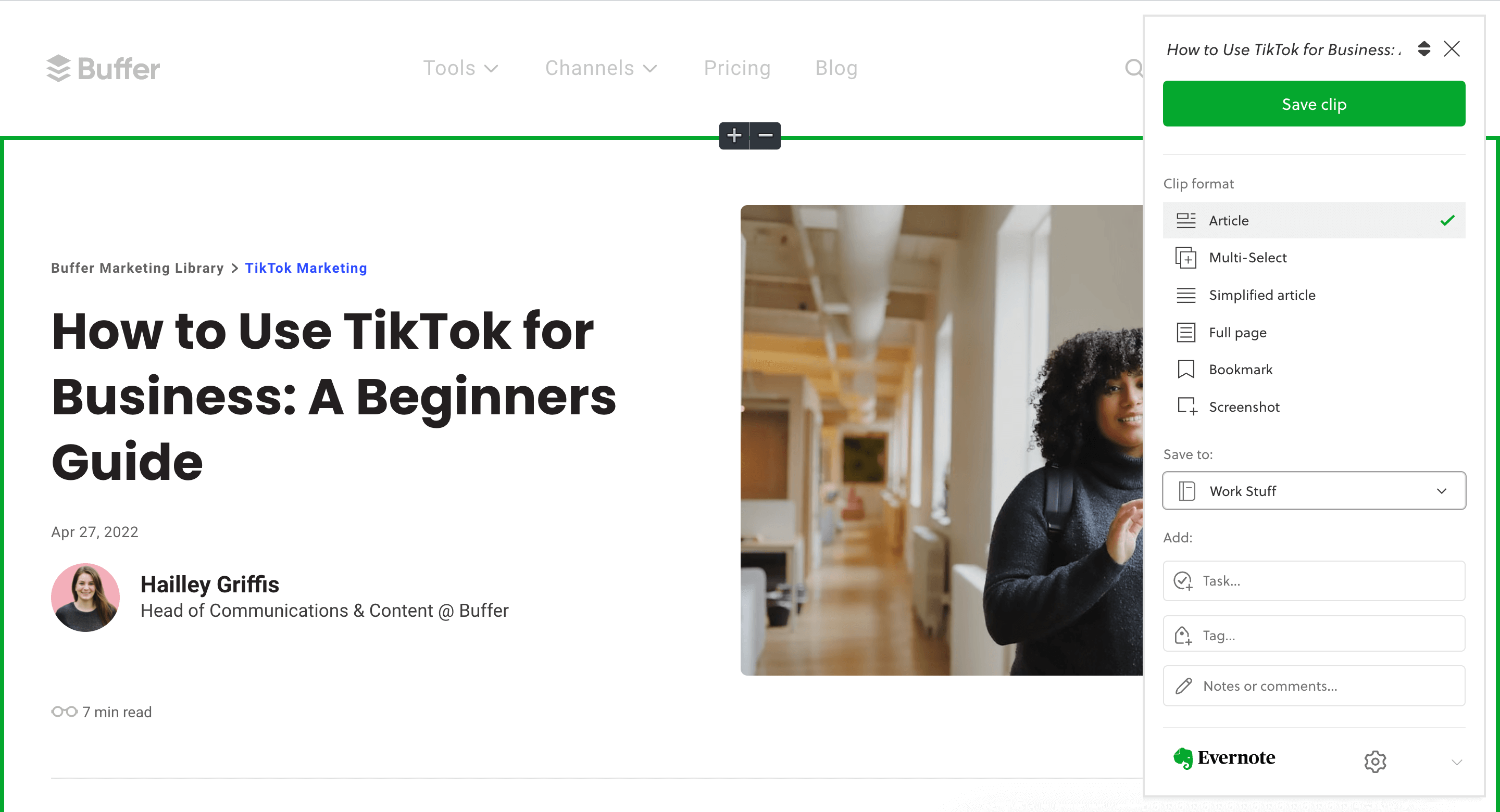 I love how flexible Evernote's Web Clipper is. There are a variety of functionality. You can:
store any link as a simplified article
save only certain sections of a webpage
add notes or comments to go with your clip
categorize what you're clipping into your choice of notebook
Evernote is also a note-taking app. I often use it to capture all my ideas and take meeting notes. If you'd like a browser extension that only bookmarks and organizes interesting stuff for you — and does nothing else — try Pocket.
3: Grammarly
Best for proofreading your social media posts
Price: Free plan available. Paid plans begin at $30/month.
Raise your hand if you've ever published a social media post with a typo and then wished you could bury your head into the ground. 🙋

Typos here and there are no big deal. We're all human. But we'd all also love to avoid them at all costs. Grammarly's browser extension helps you do just that — without any hassle. Install the extension, and the plugin will proofread text on almost every website — social media, blogs, Google Docs, or Gmail.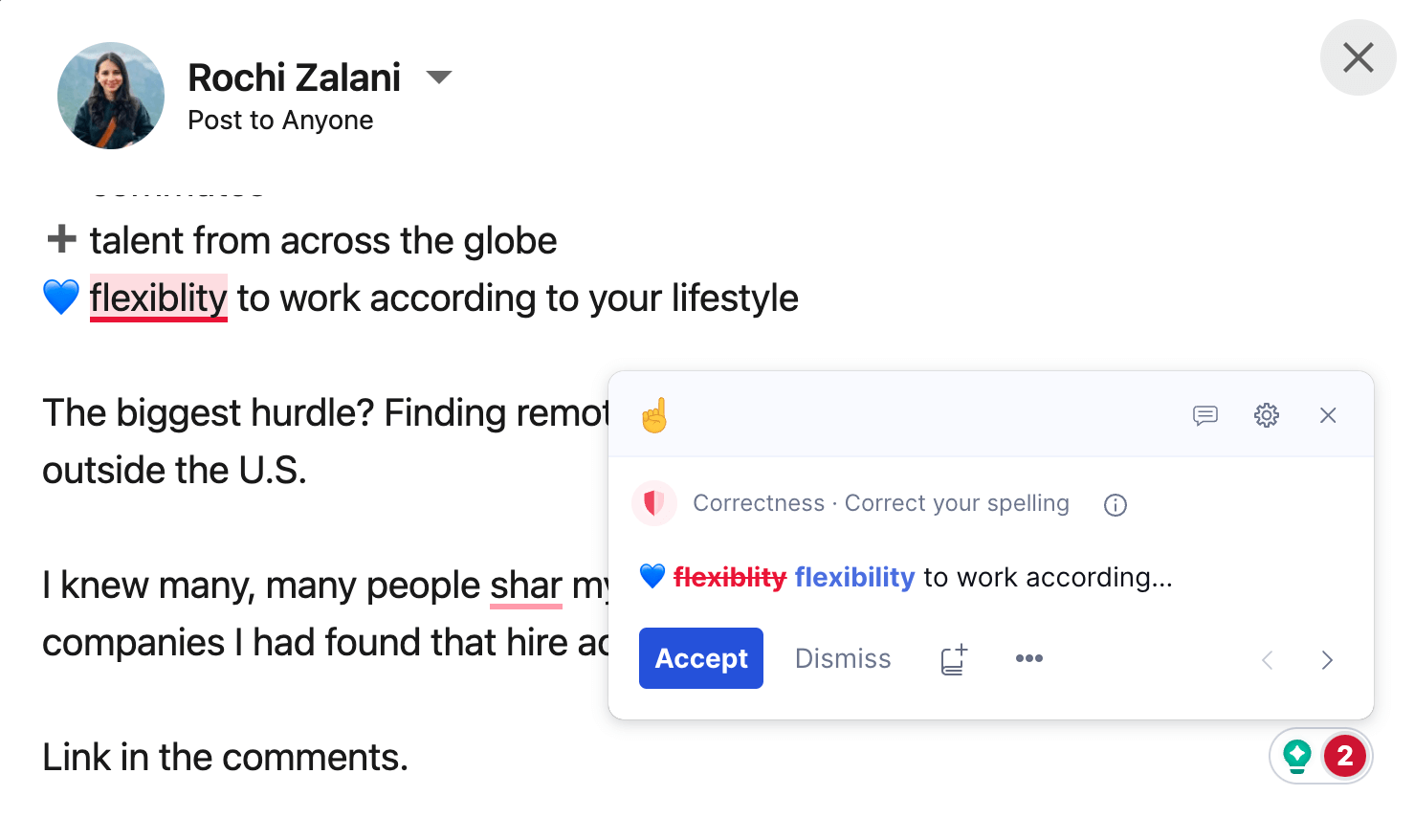 Grammarly goes beyond spell-checking — it also provides suggestions on tone, word choice, and unclear sentences. It's like having a foolproof proofreader helping you perfect your social media captions at the click of a button.
If you're not a Grammarly fan, ProWritingAid is also a top-notch grammar checker. If you want more AI suggestions to improve your captions, try Wordtune.
4: Bitly
Best for shortening links
Price: Free plan available with ten links per month. Paid plans begin at $8/month (charged annually).
URL shorteners are essential to make your links short, neat, and trackable. And Bitly is a household name for shortening long links to short ones.
Bitly's browser extension shrinks your long links into short ones at the click of a button — without needing to open Bitly in a new tab.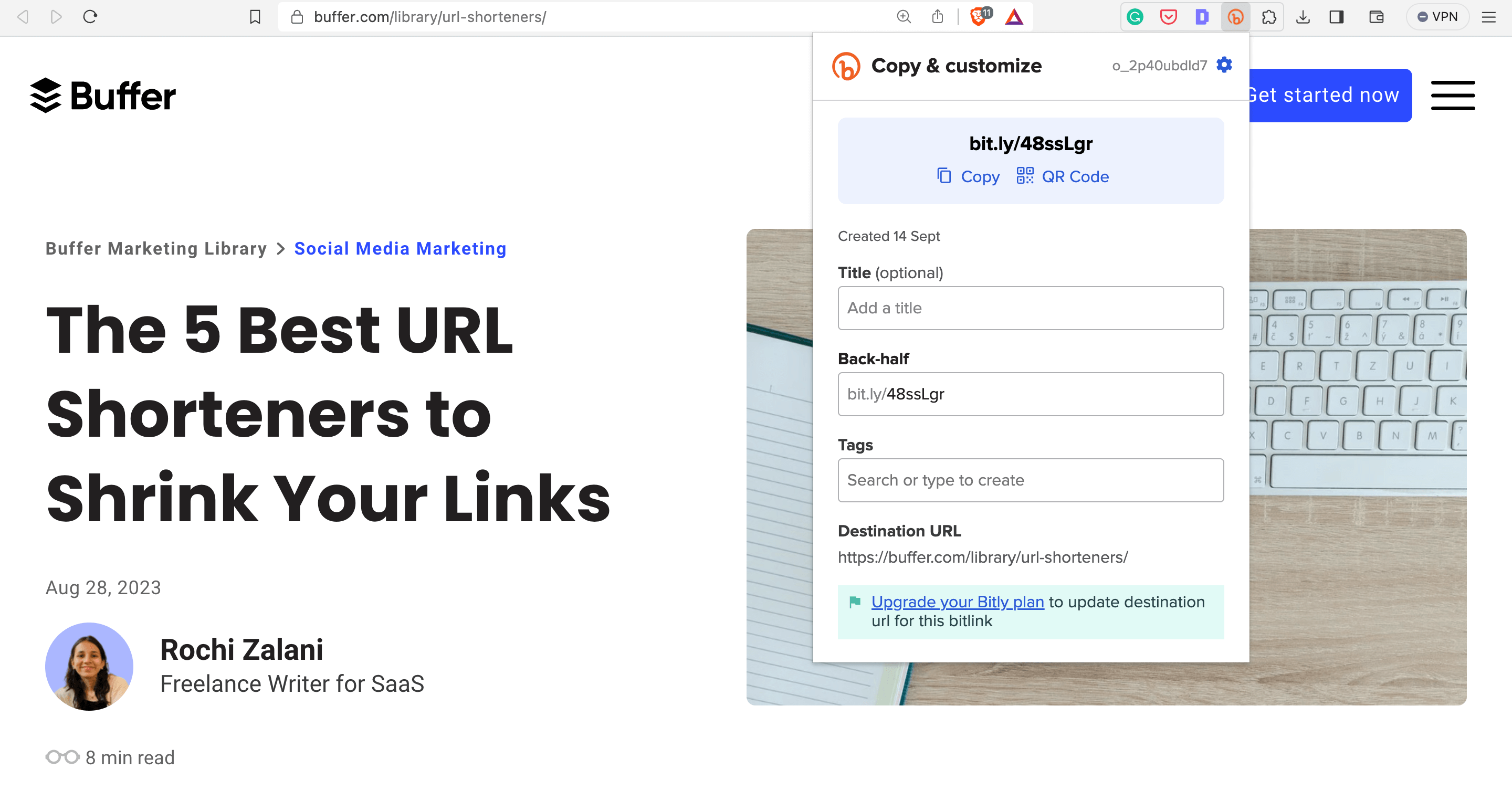 As an add-on, you can also create QR codes for your link and add UTM codes, tags, & a title to categorize your URL using the browser extension itself. On your personal dashboard, you can see how your links are performing.
If you want something simpler because you don't need to track your links, use the T.LY URL Shortener extension. If you need something with more bells and whistles — like adding a custom call-to-action to your shortened links — Sniply is a useful Chrome extension.
5: Pinterest
Best for saving ideas to Pinterest from anywhere
Price: Free.

Whether you're using the social media site Pinterest to gain exposure for your small business, store interesting post ideas, or multiply your audience, it's a pain to save ideas from the internet to your boards manually. Enter: The Pinterest browser extension.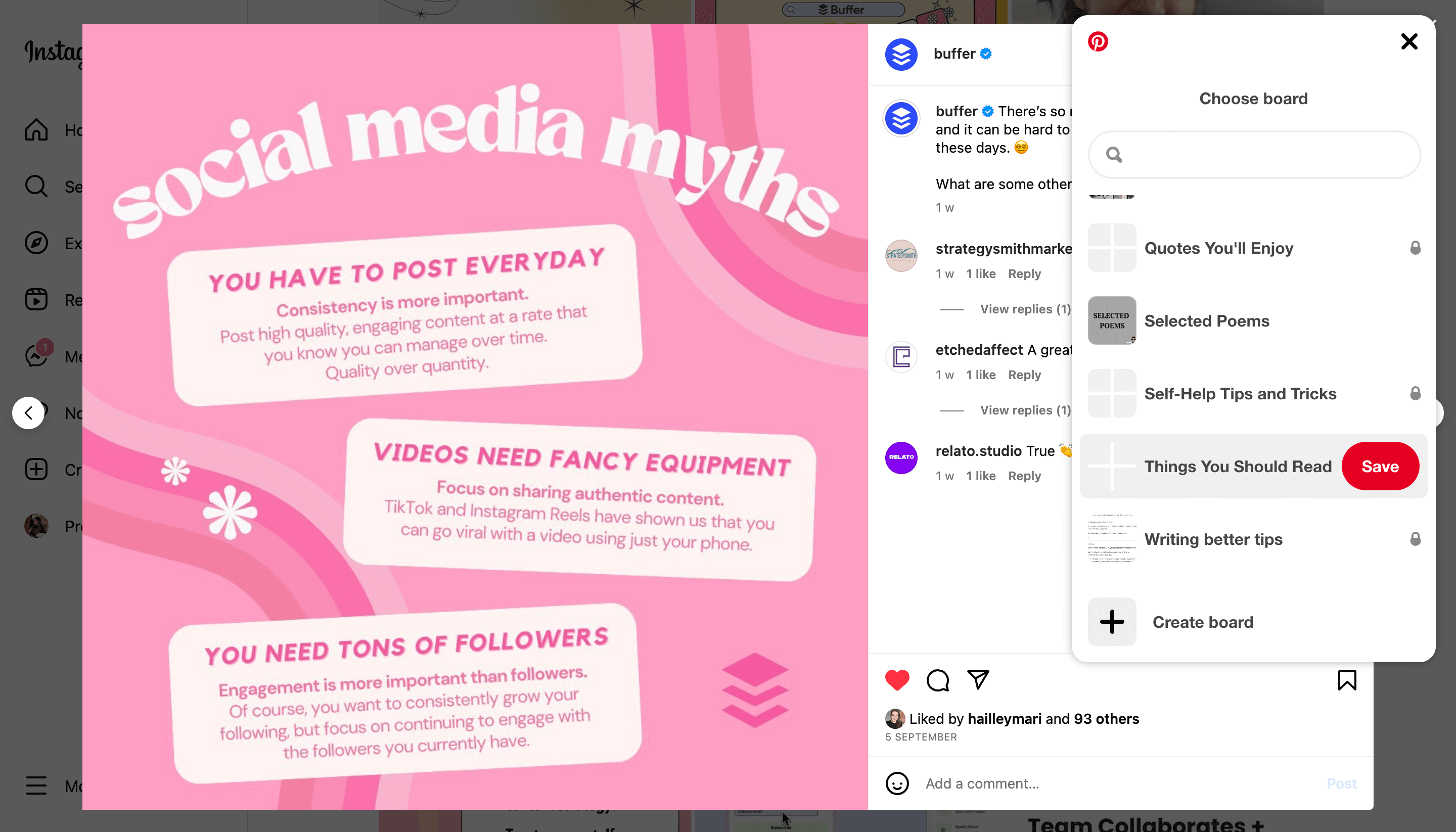 Install it, and with a single click, you can save any idea to your public or private boards.
💡 You might like reading: How to Use Pinterest — The Insider Guide for Businesses (With Strategies From the Pinterest Team)
6: Figure It Out
Best for seeing time zones together at a glance
Price: Free plan available for three locations. Paid plans begin at $3/month for unlimited locations.
If you're a social media marketer with clients across the globe, you're likely required to post content in different time zones. Figure It Out (FIO) is a browser extension that does the legwork of answering, "What time is it in the U.K.?" without Googling it every time.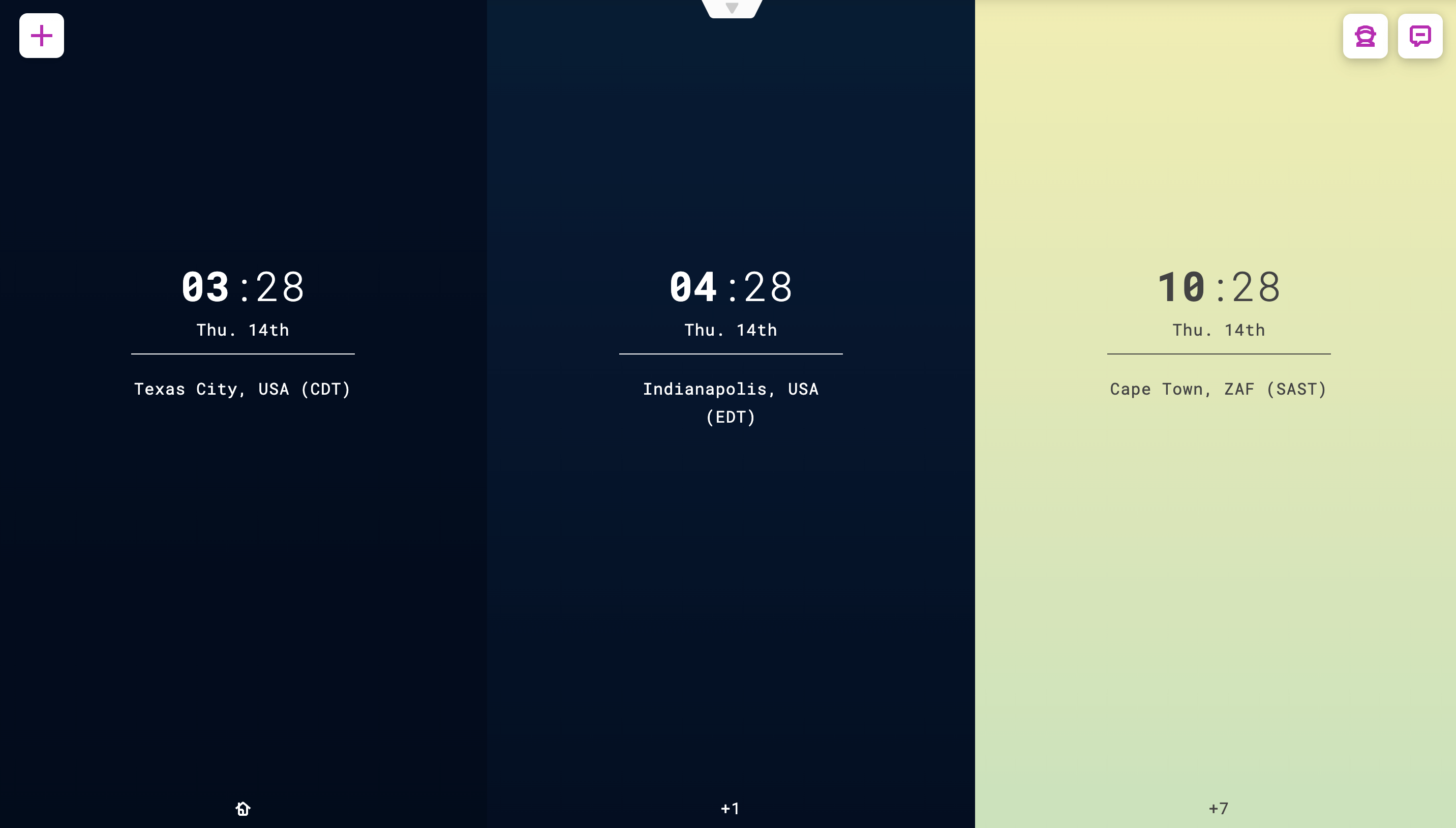 Whenever you open your new tab screen, the different time zones you've added to FIO will display — making the tedious job of Googling the time in another state or country much quicker.
💡 You might enjoy reading: It's Time to Reconsider 'Best Time to Post on Social Media' Studies. Here's What to Do Instead.
7: OneTab
Best for cutting down tab clutter
Price: Free.
How many open tabs do you have on your screen right now? If you're anything like me, it's no less than ten. One for work, another for research, another for designing posts, the list goes on. All these tabs open at once can feel overwhelming and bite at the focus you need to do deep work.

OneTab browser extension turns all your tabs into a list on a new tab page. You can access these tabs individually or simultaneously as and when you need them.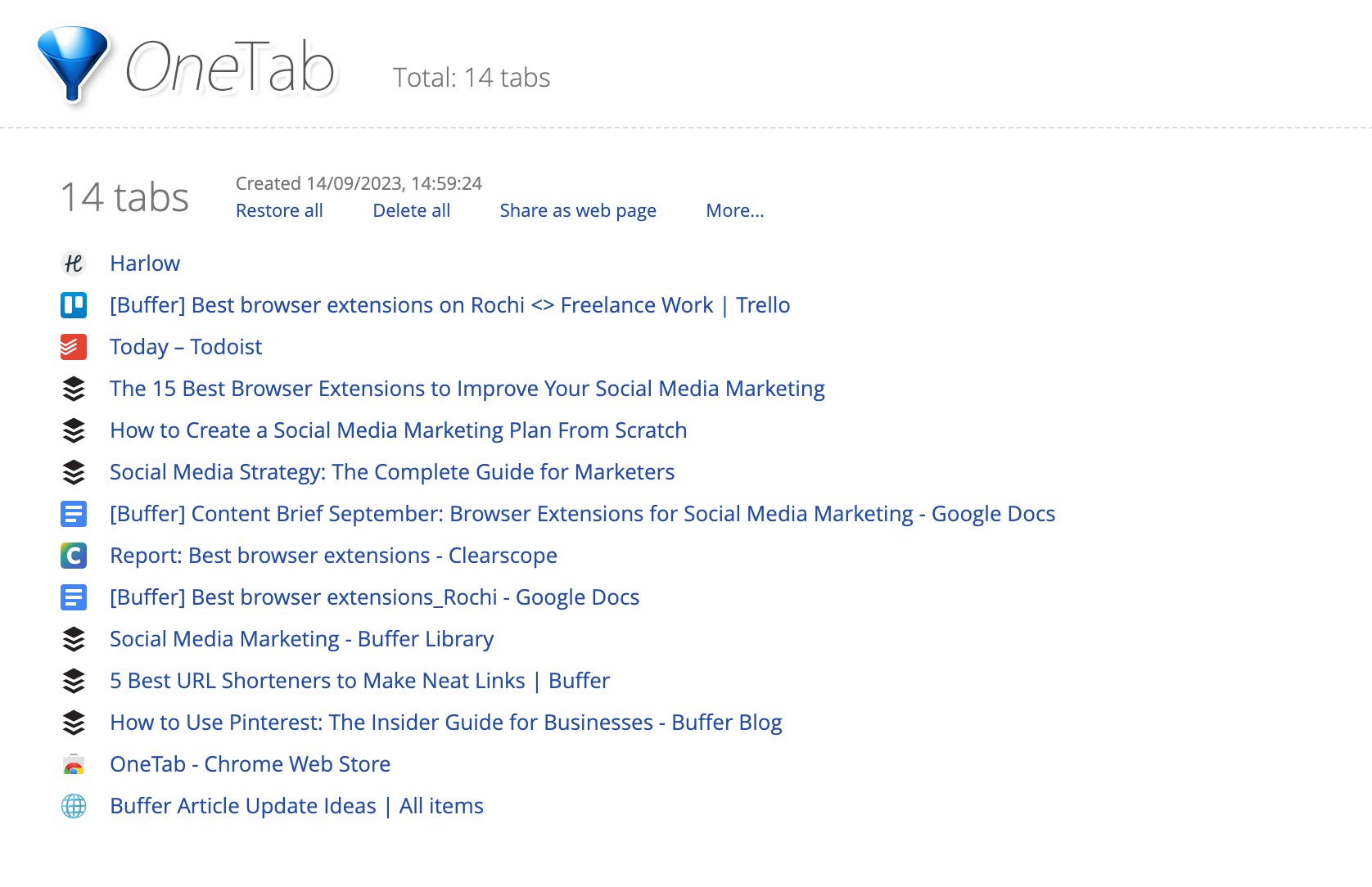 OneTab also reduces your CPU load — making your computer run faster. Not to mention: Subtracting the tab clutter will significantly enhance your browsing experience.
If you have too many open tabs, you can also use the Tab Wrangler browser extension to close inactive tabs (which are all stored, never lost completely) or The Great Suspender Chrome extension to close them permanently.
What if your problem is organizing your tabs instead of tab overload? Toby and Workona are excellent browser extensions that can double as productivity tools — they bookmark and organize all your tabs.
8: Ghostery
Best for adblock and avoiding getting tracked
Price: Core features are free, but you can always become a contributor at $4.99/month.
A social media marketing plan involves research left and right: Competitive analysis, design inspiration, social media monitoring, and more. But if you're working with multiple clients or enjoy scrolling on social media for your downtime, a plethora of different ads (that aren't catered to your interests) will target you. It can be annoying — especially from websites taking your data without the right permissions.

Ghostery is one of the many Google Chrome extensions that protects your privacy by blocking ads, pop-ups, cookies, and trackers.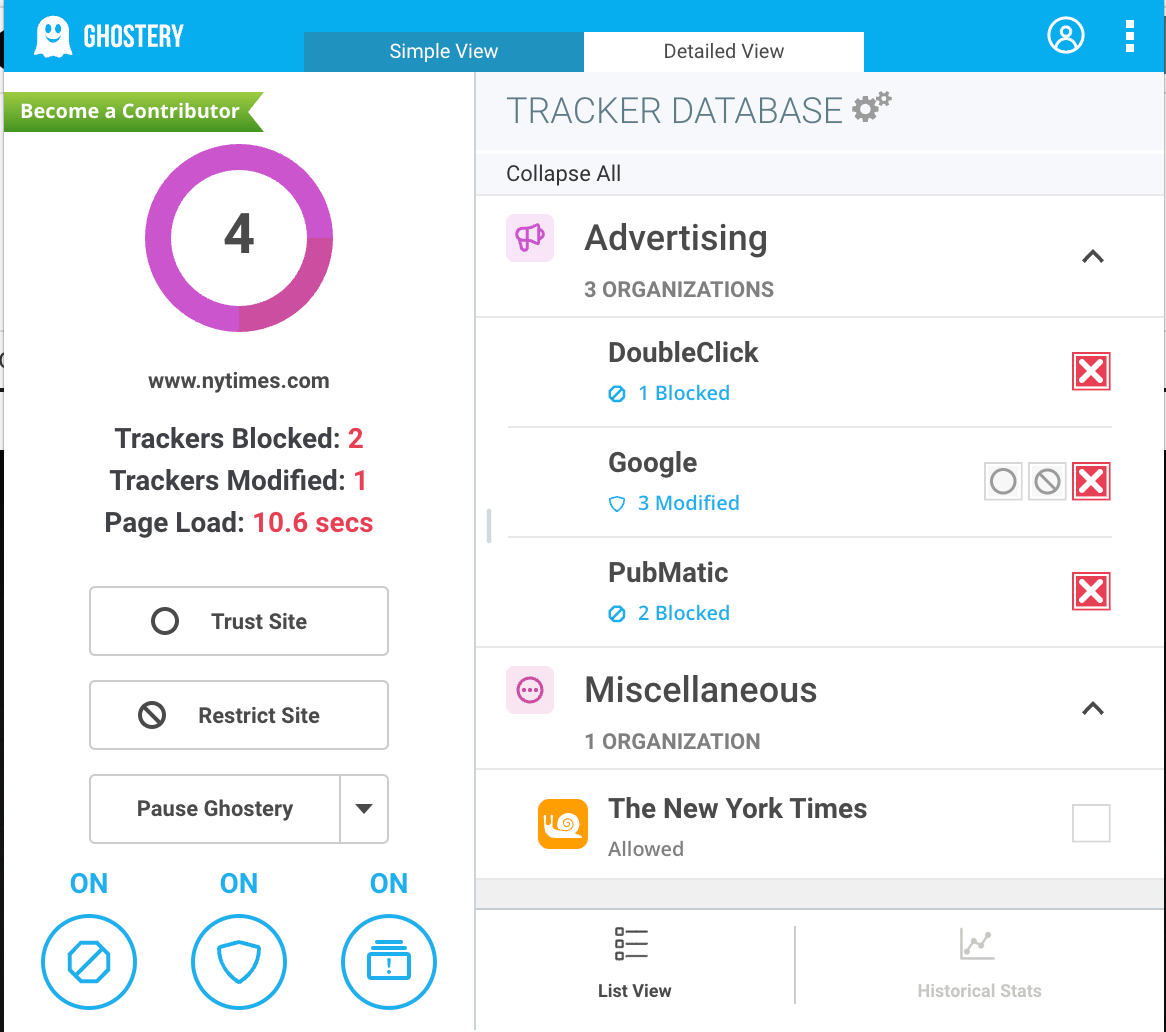 Since Ghostery has automation to ensure you don't consent to any cookies, no website tracks your browsing data, and you aren't targeted with ads related to work. But it goes beyond adblock: You can also use Ghostery to find who is advertising in your competitor's organization because this extension shows the advertisers on a webpage.
If you don't want to adblock, use the Click and Clean Chrome extension to delete all your browsing data in one click — including cookies, databases, and websites' caches. It has keyboard shortcuts, too, so you don't even have to do a single click.
9: Nimbus Capture
Best for taking screenshots or screen recording
Price: Free basic plan. Paid plans begin at $5/month.

Nimbus' browser extension lets you capture screenshots from any webpage. Whether you want the full page or only a certain section, Nimbus has you covered. It also enables you to annotate your screenshots and use its editing features like changing background color.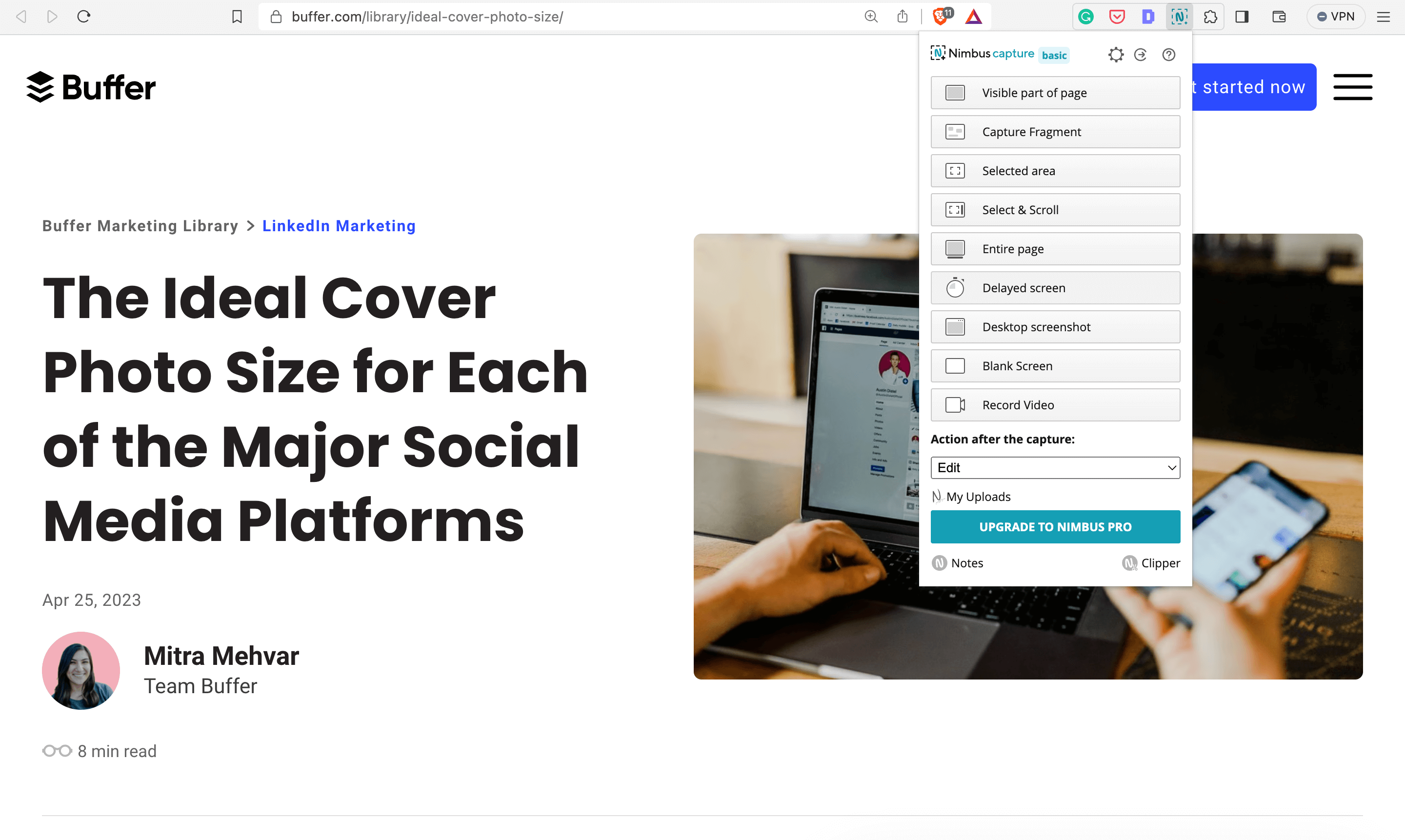 The toolbar lets you save screenshots in your Google Drive or Dropbox folder or even upload them to Slack.
Nimbus also has a screen recorder — you can record your screen (whether one tab or webcam only) and annotate the video recording. It's great for recording a video of your screen for a social media post or collaborating with your colleagues.
If Nimbus isn't your thing, Awesome Screenshot & Screen Recorder is another useful Chrome extension that does the same thing Nimbus does. For video recording specifically, you can also try Loom or Vidyard.
10: GIPHY
Best for finding GIFs quickly
Price: Free.
As a social media marketer, GIFs are your best friends to express emotions visually. GIFs have found an irreplaceable place on the internet in sassy replies, inside jokes, and hilarious memes. Finding the right GIF has become an art in itself.

Instead of going to GIPHY to scroll through your options, install GIPHY's browser extension to have GIFs at your fingertips in a few clicks.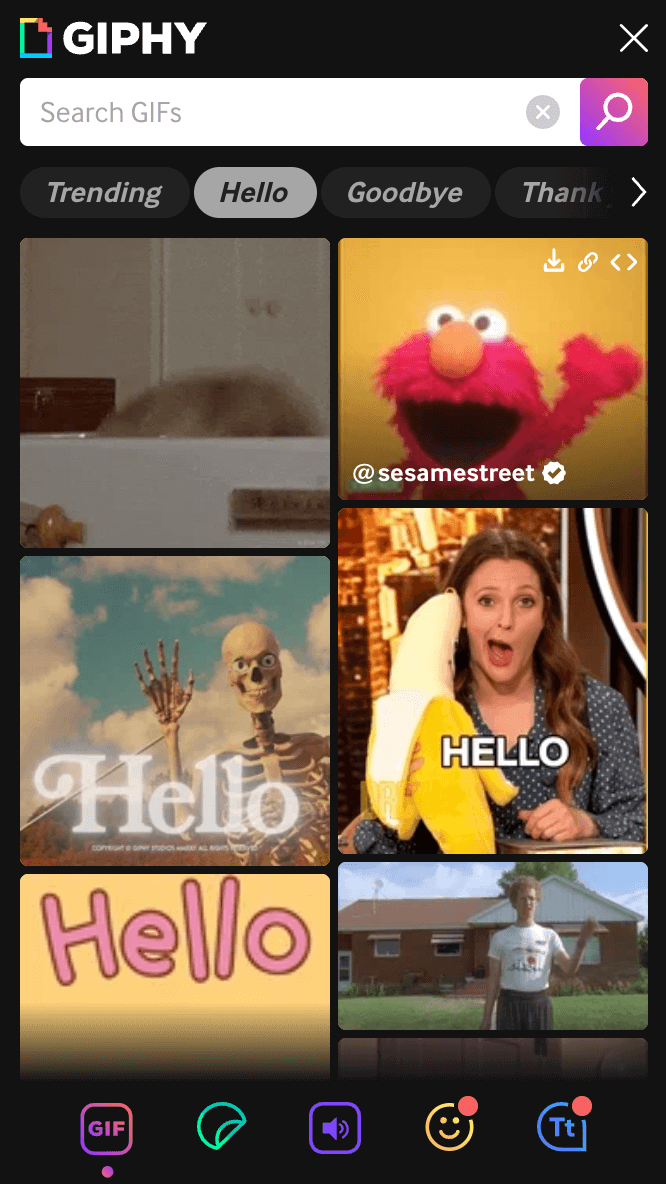 Not just this: GIPHY's extension also has stickers, clips, emojis, and GIPHY text in its browser extension. You can download the media, link to it, or copy its embed code. For websites that allow it, you can also drag and drop GIFs from the extension directly.
11: Eye Dropper
Best for finding the right color code of any webpage
Price: Free.
How many times have you wanted to create a design using brand colors but forgotten the hex code? Or how many times did you love the color on a website and broke a sweat trying to find the exact shade? Been there, done that.

Eye Dropper is one of the best Google Chrome extensions to find out the exact color code of any website in one click. You just have to click on the Eye Dropper icon after installing it and pick any color from the web page to get the exact color code.

If you're looking for an alternative, ColorZilla is another great browser extension that does the same thing.
12: WhatFont
Best for finding the fonts used in any webpage
Price: Free.
WhatFont is for fonts what Eye Dropper is for colors. Use the WhatFont browser extension to get the exact font name on any webpage.
1. Go to any webpage of your choice
2. Click the WhatFont icon
3. Hover over the text to get the font name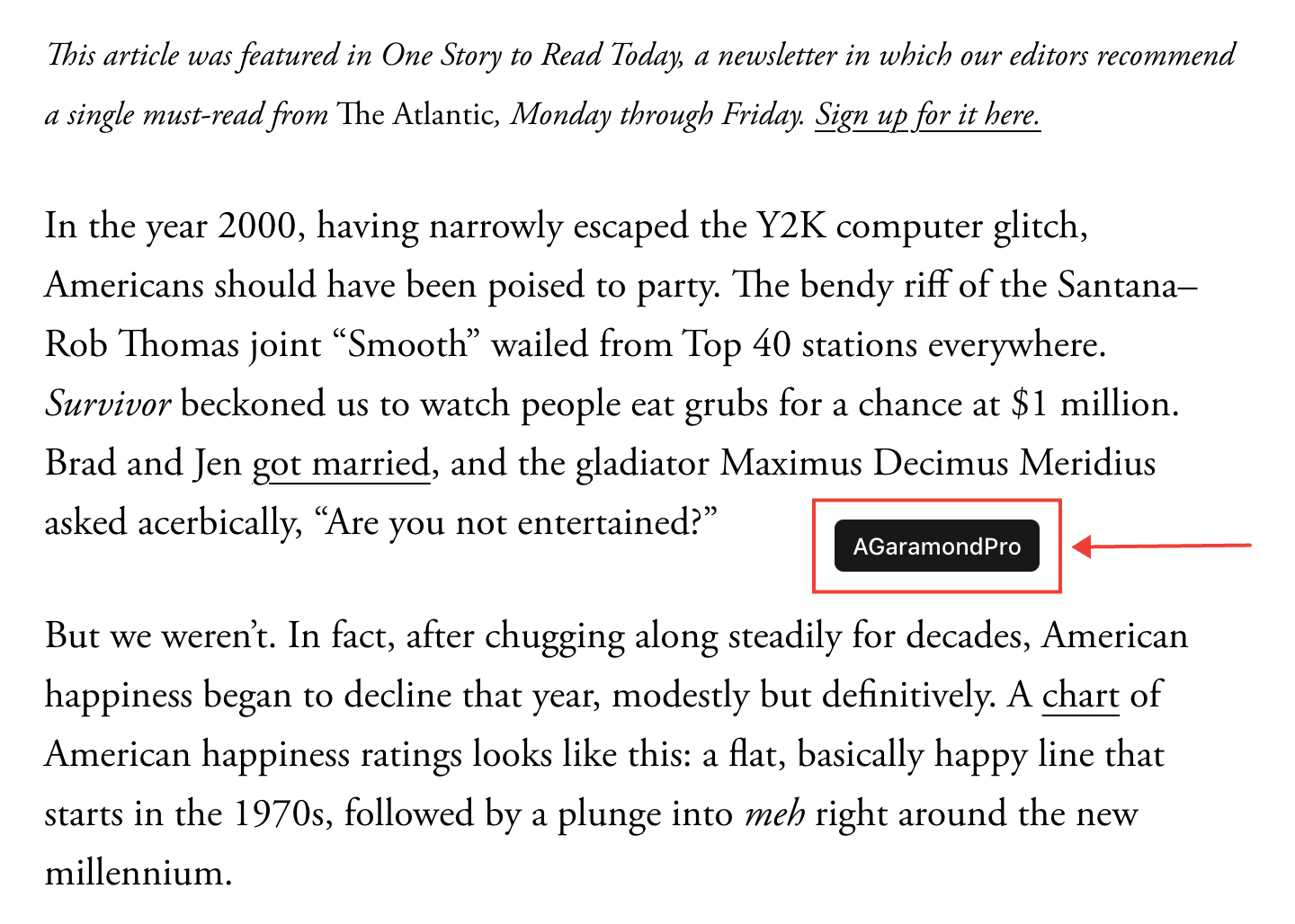 Fonts and colors are tiny things that need to be consistent across websites, social media, and any marketing asset to give a cohesive feeling to your brand. Using these browser extensions means you don't have to hunt for the right font or color — enabling you to focus on more important aspects of your job.
If WhatFont isn't cutting it for you, try the Font Finder Chrome extension.
13: Dashlane
Best for storing all your passwords securely
Price: Free plan available. Paid plans begin at $3.99/month.
Storing all your passwords on a sticky note, secret notebook, or Notes app isn't the safest thing for the health of your social media accounts (sorry). But you can't possibly remember the password to every account. That's where password managers come in.

Dashlane's browser extension stores all your passwords safely and auto-fills them whenever you try to log in.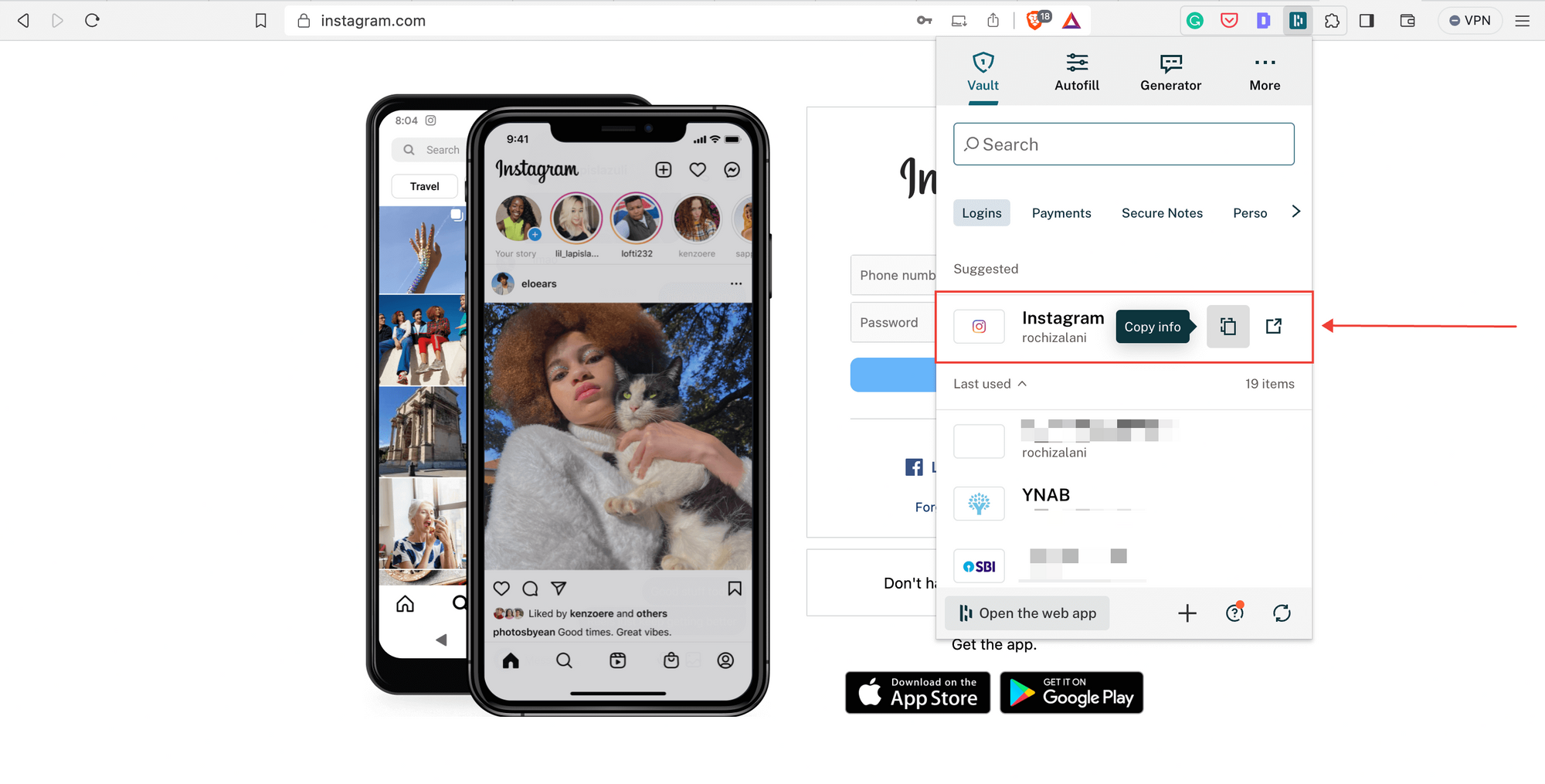 You can also generate strong passwords, store secure notes, and get notifications when malware affects your data. The only thing you have to keep handy is the master password you use to log in to Dashlane.
Remember: Syncing passwords across devices is only available in premium accounts.
If Dashlane isn't your favorite choice, LastPass is also an A+ password manager with a Chrome extension. You can do all the things in LastPass that you can do in Dashlane, but I liked the latter's user experience better.
14: Unsplash
Best for finding images for your social media posts
Price: Free.

Nothing gives a social media feed more edge than aesthetic designs. Unsplash has one of the best collections of all kinds of images. With Unsplash's browser extension, you can access all its media much faster.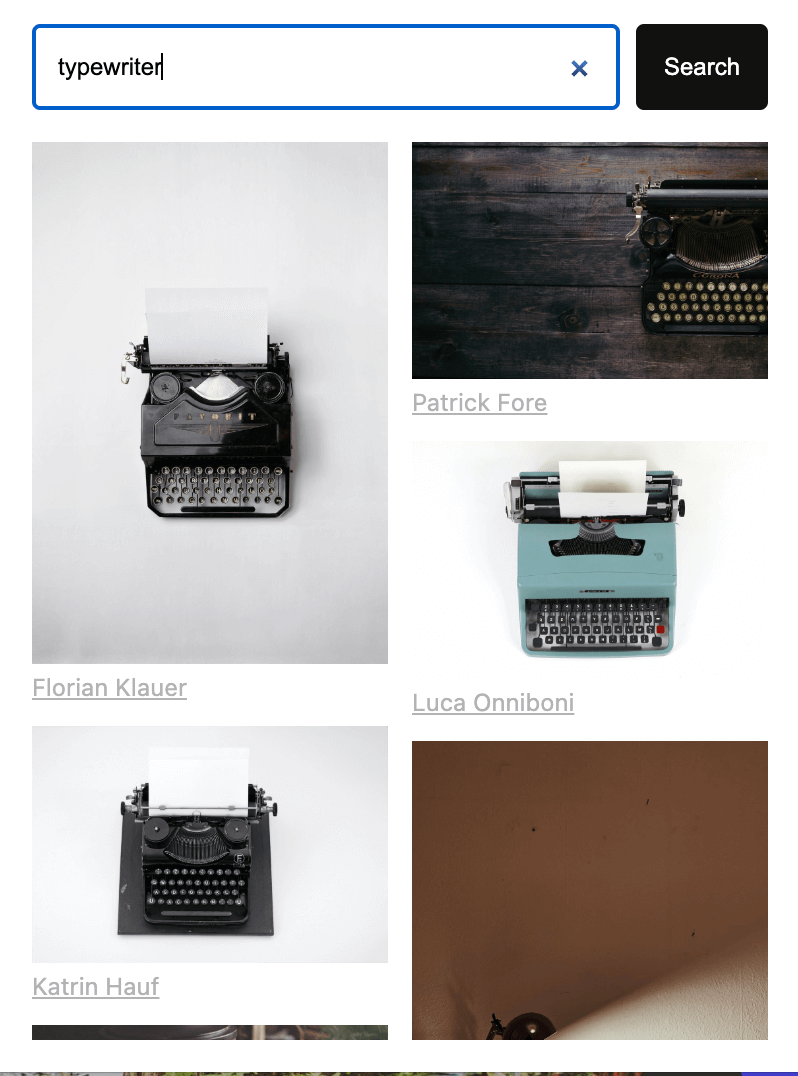 All you have to do is click on the Unsplash icon and search for your desired image using keywords.
15: vidIQ Vision
Best for analyzing your competitors' YouTube videos
Price: Free plan available. Paid plans start at $7.50/month.

If you have created a YouTube channel, it's essential to understand and monitor competitors' metrics like SEO score, views per hour, and more. vidIQ is a browser extension that gives you all that and every other data that you could possibly need.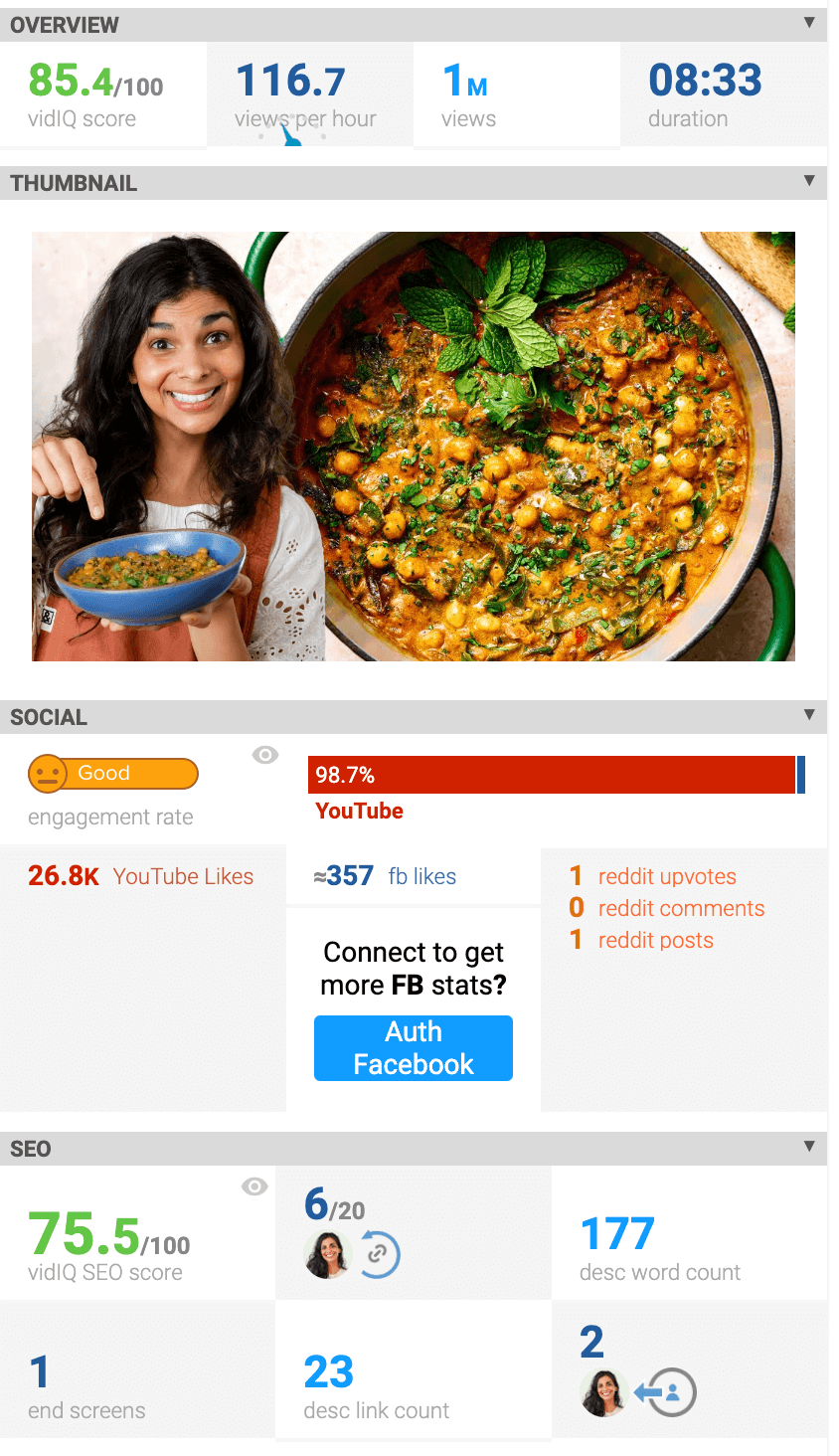 All you have to do is install it, and it'll work its magic for every YouTube video you watch. It also does a channel audit to help you understand what's working in your strategy and what might need your attention. Its competitive analysis data can also help you improve your YouTube optimization and subscriber engagement.
💡 You might find this helpful: A Comprehensive Glossary of by Social Media Terms
16: Upfluence
Best for analyzing influencer profiles
Price: Free to analyze ten profiles daily. The tool's pricing is custom-quoted.

If you're a creator or a social media marketer who also manages influencers, you need Upfluence's browser extension. It gives you the deets on a creator's audience demographics, engagement rate, and average likes & comments.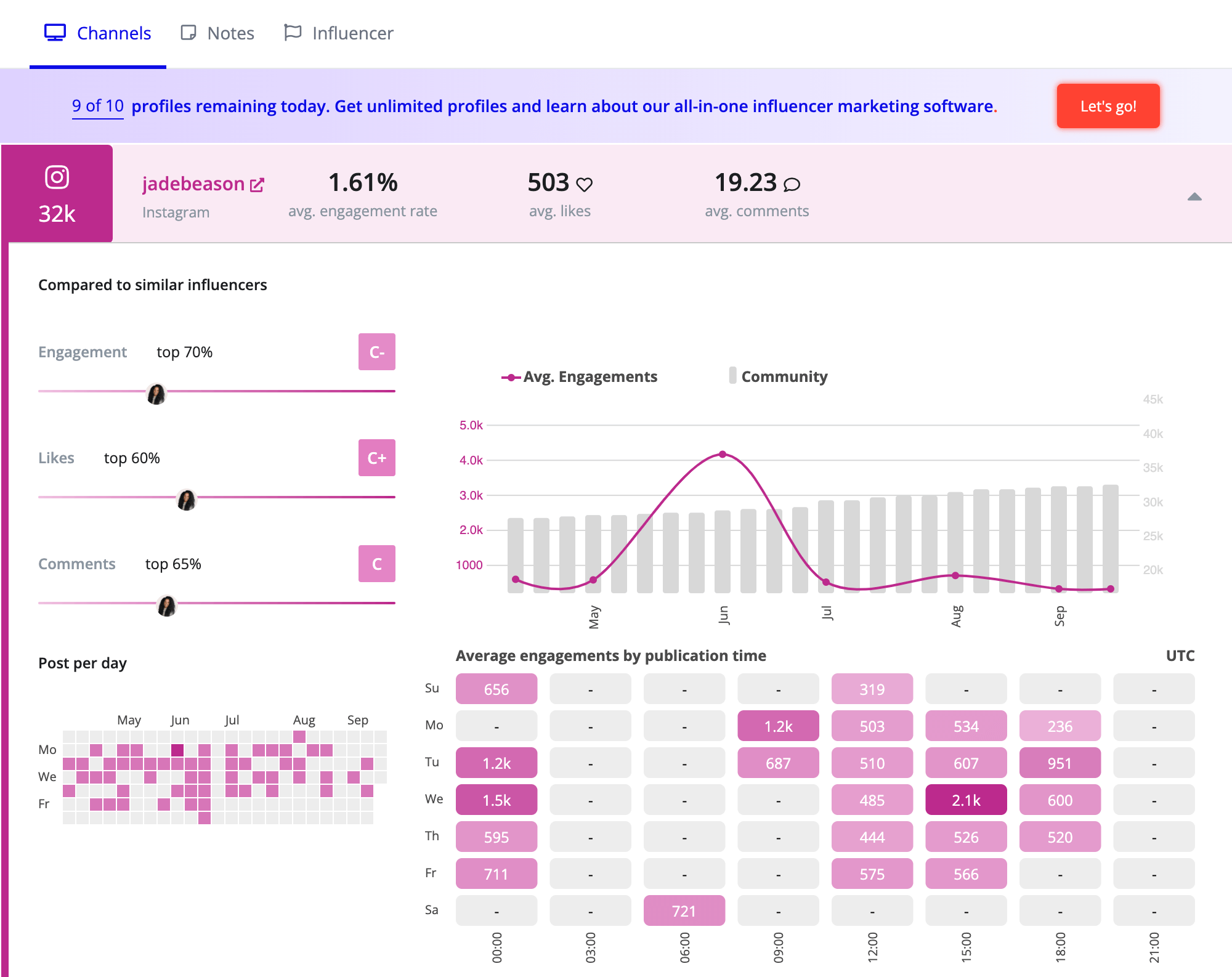 Upfluence's extension is excellent for quickly evaluating creators for your influencer marketing strategy. If you purchase the tool, you can also save influencers to your lists with your notes.
My favorite alternative for Upfluence is Aspire.
17: One Click Extensions Manager
Best for managing all your extensions
Price: Free.
Extensions can definitely improve your efficiency, but there's a point where they become too much to manage. The solution? Another extension manager to manage all browser extensions. (How meta.)

One Click Extensions Manager is a simple browser extension that shows all your extensions in a list when you click on it. You can enable, disable, or remove your browser extensions from here.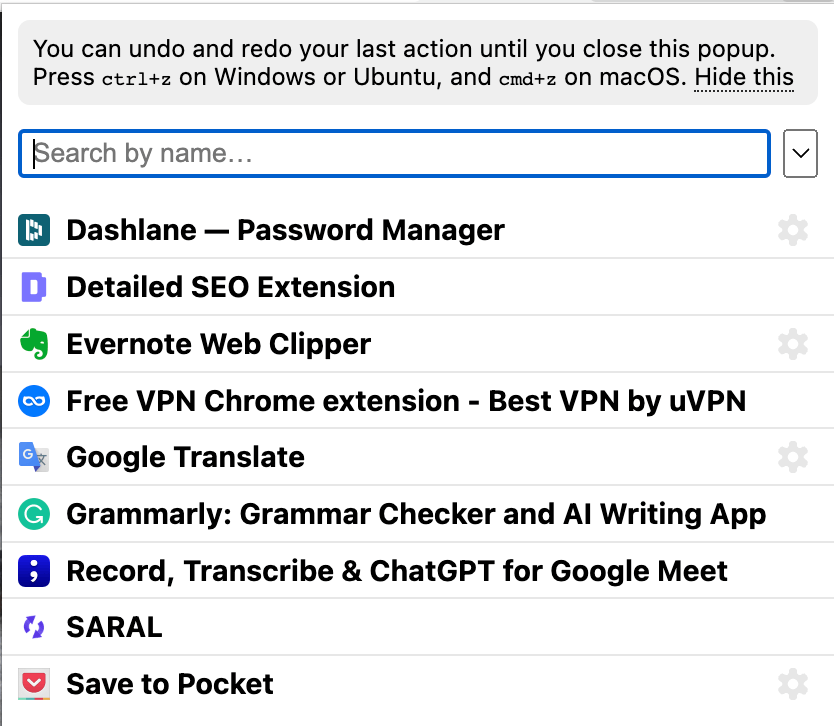 Extension Manager is also a good alternative if you need it.
Extend your efficiency with browser extensions
The best part about any Google Chrome browser extension is it increases your efficiency and quickens manual tasks. But make sure you don't install so many extensions that you forget you have them at all. This will nullify their functionality.

Start slow and install extensions for the most repetitive tasks in your workflow. As you become habitual to using them, keep adding more to your arsenal.
Brought to you by
Did you find this article helpful? You might also like our all-you-need social media toolkit.
Get started for free now