I have a link to Facebook in my bookmarks bar, so I can visit it with just the click of button, but the link doesn't go to facebook.com.
It's actually a link to one of my closest friends' profiles. So my Facebook landing page is actually her profile page. It's been this way for about a year now.
Here's why: I stopped spending a lot of time on my Facebook News Feed, because I found that the posts I was seeing weren't too interesting, and I thought I didn't have any control over that. But it turns out, I do.
You've probably heard about Facebook's algorithm for sorting posts in users' News Feeds. It's called EdgeRank. If you're a marketer, it pays to understand how this works, so you know how it affects the reach of your posts—especially considering that Facebook users spend up to 40% of their time in the News Feed.
If you're a user, it pays to understand how you can affect it so that you don't end up skipping your News Feed altogether like I was doing.
I didn't know how the algorithm worked, so I did some digging around to work it out. Hopefully this will make it easy to understand and you'll be able to implement the knowledge next time you're using Facebook—as a user or a marketer.
EdgeRank is made of three parts – marketers control two of them
So there are three main parts to EdgeRank called affinity, weight and time decay. Here's what they mean if you're managing a Facebook Page: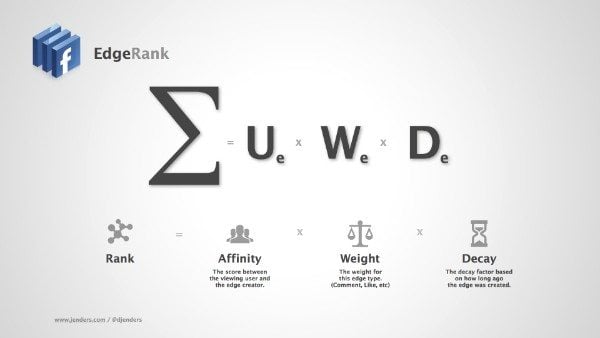 Affinity is your relationship with users. It means that the amount a user has interacted with your Page in the past affects how likely they are to see your posts. So if they've clicked your links, liked or commented on your posts in the past, EdgeRank assumes they're pretty keen to see more of your stuff, and gives it higher priority in that user's News Feed.
Recently Facebook released an update to the News Feed algorithm called Last Actor. This update takes note of the last 50 interactions you've had on Facebook and gives content from those same users or Pages more prevalence in your feed. So if a user interacts with your Page in the morning, your content that afternoon or the next day will be more likely to show up in their feed (assuming they haven't had another 50 interactions already).
Weight is how much priority EdgeRank gives to your post, based on the post type. Facebook has a hierarchy of post types, since some types garner more engagement than others. Photos and videos take top priority. Links are second, and plain text status updates are at the bottom end. Weight doesn't end there, though.
Interaction from other users can also affect this. For instance, comments are more weighty than likes, but both affect the overall weight of the post. So a text-based status update with 50 likes and 10 comments will be more likely to show up in the Newsfeed than a photo with no engagement at all.
Time decay simply means how old is your post? The longer your post has been on Facebook, the less likely it will be to show up in a user's News Feed. Again, this one's not quite cut-and-dried, though. For users who only drop-in to Facebook once or twice a week, your post will be relevant for longer than it would for those users who check in twice a day.
Plus, in this month's News Feed algorithm update, Facebook included something called Story Bumping. How this works is that if a story is relevant to the user (i.e. it comes from a user or Page they interact with often, or have interacted with recently), it will be bumped to the top of their timeline, regardless of its time decay. So relevance to the user is really the most important aspect of your content.
EdgeRank checks four things every time you post
Although there are those three main areas of the EdgeRank algorithm, there are actually four specific action-points that are used by EdgeRank each time you post. These aren't necessarily fool-proof guarantees that your post will hit the News Feeds of your fans, but they're all good indicators of the likelihood of that. The four specific points are these:
user's past interactions with the author
user's past interactions with that post type
reactions from other users for that particular post
amount of complaints or negative feedback on that post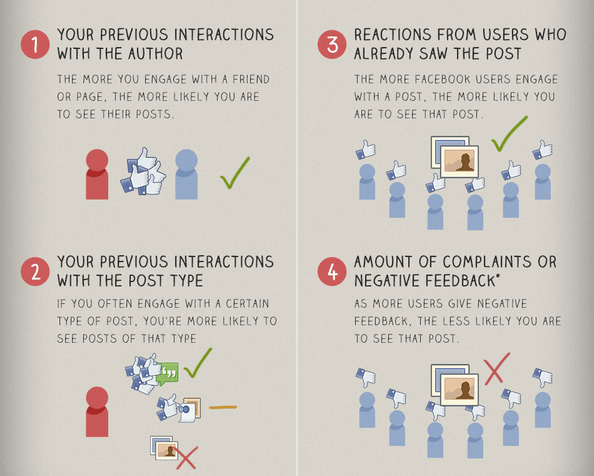 The image above is from an excellent infographic by PostRocket using my favorite superhero, Batman, to illustrate how these work. But like I said, these aren't guaranteed to get your post into the News Feed. Every time you post something new, you're competing with hundreds of others posts from each user's liked Pages and friends, all of which want to show up in the News Feed. Plus, the user's past interactions with those Pages or friends could give their posts more weight over yours.
3 common myths about Facebook Edgerank
With something as obscure as Facebook Edgerank, there is of course no doubt that countless rumours will come out about how and how it doesn't work. Some of the most common myths about Edegrank that you might have already come across are the following.
Every user has a Facebook Edgerank score
At some point a few years back a crazy hunt began for the ominous Facebook Edgerank score that apparently every users has. The reason that it's not possible for such an individual Edgerank score to exist is put very well by Jeff Widman, one of the top Facebook experts I know:
"there is no "general EdgeRank score" because each fan has a different affinity score with the page."
On the second note that Jeff makes, Facebook, similar to Google, is constantly tweaking and changing its algorithm. So whatever we might discover today as a "score" will be different again tomorrow.
Third party tools harm your Edgerank
This is something that has been in circulation for a very long time. First there was a study from Edgerank checker and then another research case from HubSpot, claiming "proof" that 3rd party tools will have you appear less in the newsfeed.
Whilst we've personally reached out to Facebook before on this and they confirmed that "there is no difference between posting with 3rd party apps or directly", there have also been lots of other great news studies recently. One of the best ones comes from Jon Loomer and here is what he did: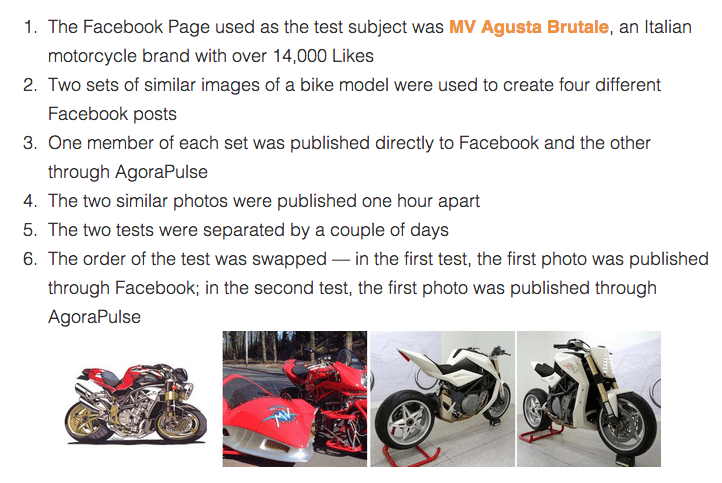 The clear results of this for him, showed that there is virtually no difference between posting with a third party tool or directly to Facebook:
"The goal was to prove that there is not this significant punishment (67% as reported in April) when publishing from a third party app."
The new Facebook Edgerank shows less of your posts in the news feed
The last and also very sticky myth is that Facebook recently (towards the end of 2012) has changed the Edgerank algorithm so that less posts, especially less posts from  Pages will show up in your newsfeed. Of course, this was followed by a big uproar from Brands who spend tons of hours and money to get people to like their pages in the first place.
However there is no hard evidence that this has happened, on the contrary, as Facebook matured, the cause for a certain drop can be explained  naturally. The average number of friends has been growing steadily according to Pew Research, which naturally explains why over time less content will come into your newsfeed – simply because there are more posts you are competing with.
How to get into the Newsfeed – the 5 most important elements
Brian Solis has a great comment about Facebook marketing on his blog:
Businesses confuse Facebook as a utility or service that's there to help broadcast messages much in the same way businesses pay wire services to distribute press releases or brands buy advertisements on TV or radio to reach as many people as possible. Facebook is a social network to help people communicate, share, and discover. Therefore, businesses must learn that relationships are earned and earned again and communities are built upon a foundation of mutual value, entertainment, and empowerment.
This is a great point that comes back to the core of Facebook marketing—offering something of value to your fans. These five points should help you get that valuable content into their News Feeds where they can interact with it:
1. Post regularly (especially on weekdays)
The time decay part of EdgeRank is based on how long it's been since you posted it, so posting new content on a regular basis is a good way to ensure your new posts replace the older ones as they slip off the News Feed. One way I do this is by using Buffer's social media management tools to create a schedule that posts one or two times per day to make sure my updates go out consistently.
2. Post photos (that are self-explanatory)
If you want users to interact with your content, you're going to have a better chance with photo and video-based posts. In fact, photo-based posts actually get 39% more engagement than any other post type. Links can also work well, but plain text updates are your longest shot, so keep these to a minimum.
When it comes to photos, we've done some research and found that those images, that can tell a story without the need of any further text, spread the farthest by far.
More on this in How to write great headlines on Facebook, Twitter and LinkedIn.
3. Encourage engagement
Questions, contests and fill-in-the-blank statements gain more engagement than other types of posts. Try using these to boost engagement with your fans, and increase your affinity score with them. This will give your future posts a higher chance of reaching their News Feeds.
4. Keep it clean (1 bad post can harm you more than you think)
Unsurprisingly, the number of complaints for your posts has an effect on how likely they are to hit the News Feed. Keep a check on anything that could be seen as spam, or against Facebook's guidelines so you can avoid negative feedback.
5. Focus on quality
Like Brian said in his quote above, Facebook is a social medium where users interact with each other and form or strengthen connections. Brand Pages can use this to their advantage, if they do it well. Focus on providing high-quality content to your fans consistently, and you'll be more likely to receive engagement that will push your posts into the News Feed on a regular basis.
Why all Facebook newsfeed algorithm research might not matter – The importance of doing your own research
Here is something quite obvious that I'm personally often forgetting when analysing all the data and studies on the Facebook news feed algorithm: No one has the same fans or friends like you personally do. This means that the combination of the different weighted elements will give you personally a very unique mix of how your posts and those of others will perform in your newsfeed.
The best way I've found to learn more is to simply experiment lots. Post photos, then just text, then just a link – see which one performs the best for you. Of course, it's great to follow advice, at the same time, focusing on your own experience can lead you down a path where you could potentially learn much more – especially when it comes to Facebook's news algorithm.
If you want to chat about this post you can leave a comment below, email me or find me on Twitter at @BelleBethCooper.
Oh and before I forget, we've recently launched new social media management tools for business: the Buffer for Business plan! Take a look, it's the most powerful Buffer yet to help you better manage your social media everywhere.
Image credits: Findability, PostRocket, misterbisson, Dennis Jenders