We are excited to share our third, very special bonus podcast episode with you on important social media trends and stats going into 2017!
Our bonus episodes offer a fun change of pace from our traditional "interview-style" episodes on The Science of Social Media. Get to know the hosts Hailley, Kevan, & Brian a bit better as they share thoughts on the future of social media – complete with actionable takeaways and useful insights.
This week we're chatting all about our brand new State of Social Media 2016 Report! 3 major trends emerge from the study, including the peak of video marketing, Facebook remaining atop the pack, and the importance of customer service on social media.
A huge thank you to all of you for joining us every week for brand new episodes. We appreciate you taking the time to listen and for your amazing support over the last few weeks. We'd love to hear from you on iTunes or using the hashtag #bufferpodcast on Twitter.
This episode is available on:
Here's what we chat about in this episode:
Three key findings and takeaways from our State of Social Media 2016 Report
The future of Twitter and how it will evolve in the coming year
How marketers can take advantage of the video marketing trend
More surprising social media trends actionable takeaways from our report
3 themes that stood out to us from the survey from Hailley, Brian and Kevan
Quotes pulled from the show!
Theme #1
The first takeaway is that video is on the rise and about to hit the peak. If you ever wanted to get into video marketing, now is the time to do so! We found that there are some inherent challenges that people are experiencing that are keeping them from fully joining.
Theme #2
No one has really left Facebook like everyone was saying might happen once organic reach dipped. From our study, about 9 out of every 10 marketers use Facebook and 9 out of 10 use Facebook Ads. I think some of the response to the dip in organic reach is people moving to Facebook Ads. So, marketers finding a way to make the most of that giant network.
Theme #3
Only 1 in 5 survey respondents – so 1 in 5 brands, 1 in 5 marketers – use social media for customer support. And that was shockingly low for me. At Buffer customer support has been very key to us and it has been key for a lot of the brands that we admire. That feels like a really neat opportunity for brands to stand out.
Show Notes and Other Memorable Moments
Thanks a million for checking out this episode! Below are the websites and other tidbits that were mentioned in today's podcast about personal branding on social media. If you have any questions for us, feel free to drop us a line in the comments and we'll respond right away!
Awesome Mentions in the Show
Favorite Moment
"That's what I see social media in 2017 being – Understanding why you're there and then creating something awesome for the people that you're hoping to reach on that channel."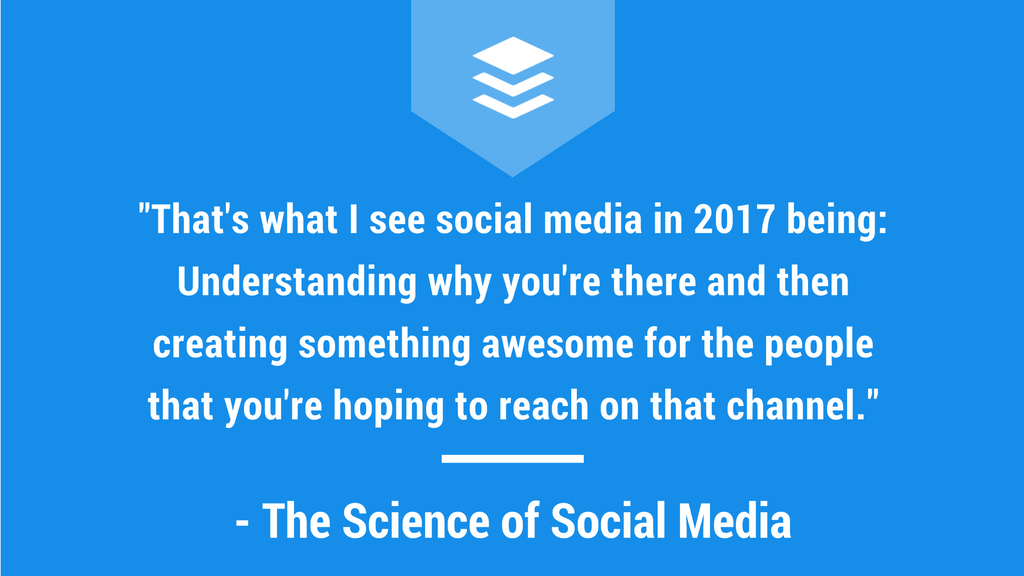 More Great Quotes
"83% of marketers said that they would like to create more video if they didn't have restraints such as time and resources. Video is top of mind for a lot of marketers, but we're all still having trouble figuring out what to create and how to do it."
"Twitter is a really great resource for customer support. And as a consumer, if I am having a hard time getting in touch with a brand, Twitter is the way that I take to connect with a brand."
"Keep your videos in the 1-2 minute range because those are the ones that are getting the most engagement. Viewer attention span with videos seems to be anywhere between 20-40 seconds. And so don't worry about producing a 5-minute feature film. If you keep your videos short you can experiment with more."
"I believe that people don't want to do Live video on Facebook, they want to get their content seen on Facebook and they recognize that Live video as the way to do that currently."
"If you're looking to get into video and you're not sure how you will be on camera, give Snapchat or Instagram Stories a try because those disappear within 24 hours."
"We're getting to a point this year where generations of content consumers and social media natives are not on Twitter. It will be very interesting to see where and how Twitter evolves in 2017."
How to Say Hello to Us
We would all love to say hello to you on social media – especially Twitter!
Thanks for listening! We'd love to connect with you at @buffer on Twitter or with the hashtag #bufferpodcast.
Enjoy the show? It'd mean the world to us if you'd be up for giving us a
rating and review on iTunes
!
—
About the Show
The Science of Social Media is a podcast for marketers and social media managers looking for inspiration, ideas, and results for their social media strategies. Each week, we interview one of the very best in social media marketing from brands in every industry. You will learn the latest tactics on social media, the best tools to use, the smartest workflows, and the best goal-setting advice. It is our hope that each episode you'll find one or two gems to use with your social media marketing!
The Science of Social Media is proudly made by the Buffer team. Feel free to get in touch with us for any thoughts, ideas, or feedback.