Looking to catch up on the latest social media news, but short on time? We have you covered!
Join 17,000+ weekly listeners for the Buffer podcast, The Science of Social Media, where we bring you the latest and greatest in social media marketing news, updates, stories, insights, and actionable takeaways.
This week we have a super interesting episode lined up for you, starting with specific details around Facebook's plan to redesign business Pages from top to bottom for "utility." We're also chatting about some interesting social media facts about Generation Z in 2018, the return on investment (ROI) on meme accounts, and lots more.
Let's dive in!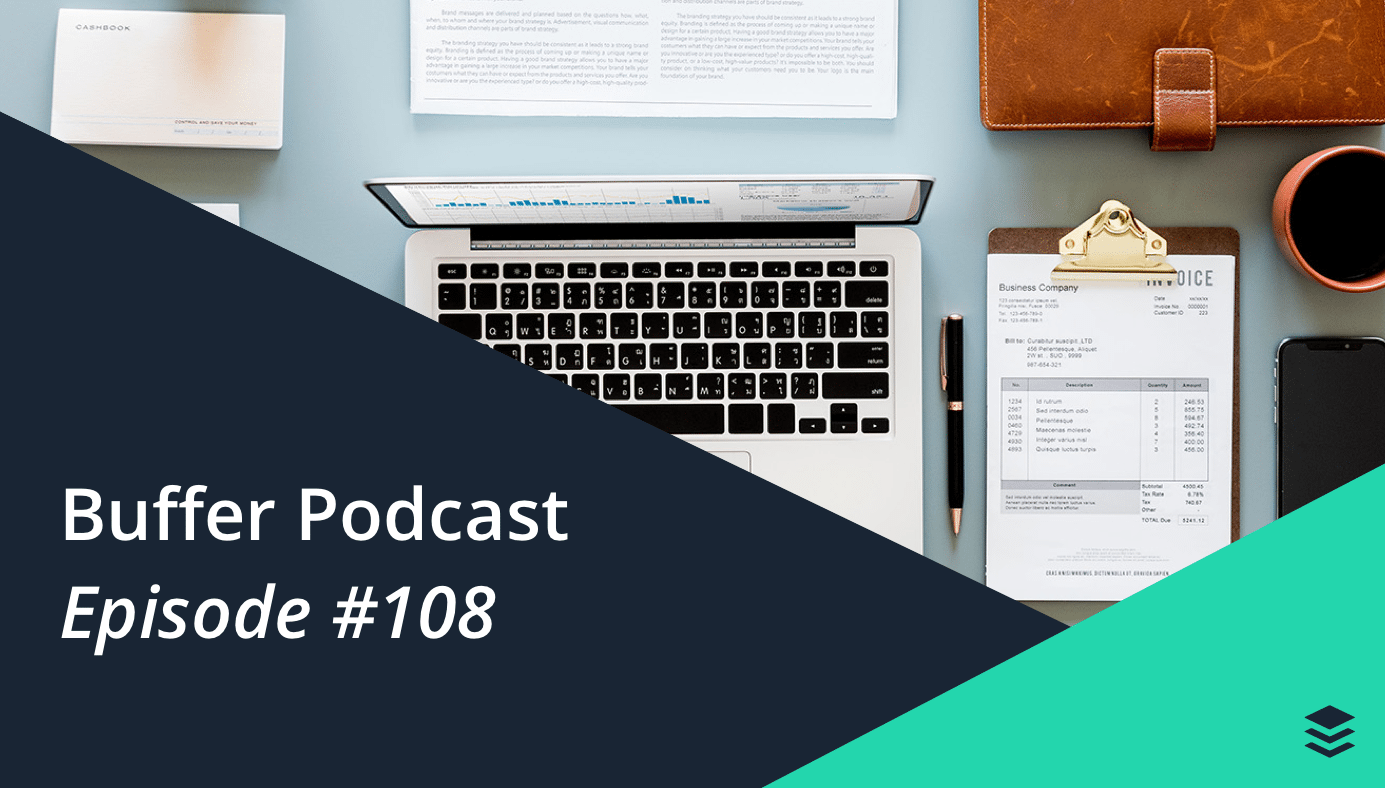 What you'll learn in this episode
What follows is a lightly edited transcript of the conversation between Hailley Griffis and Brian Peters. Short on time? No worries! Here are four quick takeaways:
Facebook is attempting to redefine Business Pages not as just a broadcasting tool for marketing through News Feed, but a destination for customers.
Instagram, Snapchat, and YouTube are among the top social media platforms for Generation Z, though Facebook is still a daily habit for most teens for passively consuming content from friends and family.
Many agencies and brands are switching their attention from influencers to meme accounts to run native advertisements on platforms like Facebook and Instagram.
LinkedIn is now encouraging people and pages to use hashtags in their content so that they can increase the visibility of that content in the news feed.
Facebook Redesigns Pages as Reach Declines, 5 Fascinating Facts About Gen Z, the ROI of Meme Accounts, and More! [complete podcast transcript]
Brian: Hi everyone! I'm Brian Peters and this is The Science of Social Media, a podcast by Buffer. Your weekly sandbox for social media stories, insights, experimentation, and learning.
Hailley: Welcome to episode #108! I'm Hailley Griffis and this week we've got a super interesting episode on tap for you starting with the fact that Facebook essentially redesigned business Pages from top to bottom. We're also chatting about some interesting social media facts about Gen Z in 2018, ROI on meme accounts, and more!
Brian: You know I just realized that I don't think we've ever talked about meme accounts here on the show, but I'd venture to say that they're one of the biggest players on social media over the last few year. This should be fun!
Let's kick off the show.

Part I: Facebook redesigns Business Pages as reach declines
Resource: Why the News Feed is Becoming Less Important for Facebook Pages
Hailley: An unescapable fact of Facebook's unbelievable growth over the past few years is that as more Pages and people compete for limited News Feed attention, the percentage of a business' followers who see their posts reach decline will increase. Naturally.
And as we're going to talk about in next week's episode (so stay tuned!), reach for Pages has dropped more than 50% on average over the last year and a half.
We've seemingly hit a point of no return on Facebook with a combination of increased content and decreased space in the Feed.
Brian: That's why Facebook is attempting to redefine business Pages not as just a broadcasting tool for marketing through News Feed, but a destination for customers. Think Yelp, Google, TripAdvisor and other destination-based websites.
In short, Facebook is redesigning the Pages of the 80 million small businesses on its platform and the 1.6 billion people around the world connected to them.
Hailley: First, Pages will emphasize what many are calling "utility" related to the business. Utility might mean making an appointment or a calling option for salons, or reservations and menus for restaurants.
They'll also be focusing on recommendations and reviews.
The recommendations users can give friends through Facebook's special News Feed post format, which is triggered when people ask for suggestions, will now appear on Pages. And to improve the quality of reviews left on Pages, there's now a 25 character minimum.
Brian: But one potentially controversial change is that Facebook will start showing a "Related Pages" on other Pages.
Facebook's VP of Local Alex Himel told TechCrunch that "there's no easy way to discover new businesses on Facebook and the focus is to make it easy to discover new businesses which we think any business will be excited about."
Which from a consumer standpoint will be super useful. It's like searching for a restaurant on Yelp and seeing all of the other similar restaurants on the list.
For businesses, though, that will present a challenge. Which is why providing detailed information about your business along with recommendations and review will be extremely important moving forward.
Hailley: Finally, a few smaller but still important changes.
To provide promotional options beyond the feed, all small business Pages can now post Stories to Facebook, which is an interesting play from a discovery standpoint.
Facebook is also rolling out its job applications tab worldwide so small businesses can easily find staffing. According to TechCrunch, both of these could blossom into advertising opportunities at a time when Facebook's revenue is declining and it needs more income streams.
Alex Himel did note that 2/3s of businesses say Facebook has helped them increase sales and that Facebook will be talking more soon about how local businesses can stay relevant and visible in the News Feed.
Brian: All in all and intriguing move from Facebook that will keep a close eye on in the coming months here on the show so that you can continue to thrive as a business on the platform.
We recommend dedicated resources to ensuring that all customer inquiries via direct message, Messenger, or comments, are handled in a timely manner and that you are actively cultivating positive reviews for your business on Facebook. If you haven't already, check out our tool Buffer Reply which can help you do that and more.

Part II: 5 fascinating marketing facts about Gen Z
Resource: It's Lit: A Google Guide to What Teens (Gen Z) Think is Cool
Hailley: Social media usage continues to grow, with social media global penetration set to hit three billion people worldwide by 2021. And one of the fastest growing, quickest adopting generations on social media is Generation Z (or teenagers) as we know them. Gen Z is estimated to make up more than a quarter, roughly 26%, of the US population.
This week we stumbled on a really interesting report from Google titled "It's Lit: What Teens Think is Cool" showing key demographic, marketing, and social media stats around this up and coming generation.
Some of the findings were pretty insightful and so we thought we'd share them with you today.
Brian: First of all, that title Google is just amazing. I can just see their team sitting around trying to figure out what to name the report until someone finally says "It's Lit" haha they're like that's it – we got it!
So the first thing I thought was interesting is that Gen Z reported, and I quote,
"Snapchat, and Instagram are the coolest platforms."
Facebook is still a daily habit for most teens for consumption and passively viewing content from friends and family, but they rarely post and it's not seen as cool.
Hailley: In the report, one 17 year old was asked why she loves Snapchat and she said,
"Snapchat gives us a place to connect with friends in a fun way, without having to worry about them sharing your thoughts (unless they screenshot!)."
Which I think gives us an interesting look into the psychology of teens on social media.
Brian: Agreed. Yeah it seems like Gen Z is a lot more focused on the private or more "closed" networks that allow them to message and share with friends without everyone seeing it publicly.
Like WhatsApp, Telegram, and other chat services for example growing in popularity over the past few years.
Hailley: Breaking the stats down even further, here's how each social platform compares to the other in terms of Gen Z and usage:
As you might have guessed, Instagram and Snapchat are in a tight race for the top, with 59% of Gen Z'ers using Instagram and 57% of them using Snapchat.
After that it's Facebook at 53%, Twitter at 36% and Pinterest at 26%.
Brian: Yeah I thought that part was interesting because Google didn't count YouTube as a social media network like we often do here on the show. But they do talk about it later in the report as a streaming service.
Teens report that the top 4 coolest streaming services, in order, are YouTube, Netflix, Spotify, and Hulu. And if you were to compare those with usage on social media networks like Instagram and Snapchat they're right up there with them.
So in other words, just a ton of content consumption across the board for Gen Z.
Hailley: Another part of the study which I though was interesting was which companies Gen Z rated as their favorite. And I think this gives us insights to the type of brand marketing campaigns Gen Z finds engaging and how we might learn from those.
So at the top of the list are brands like Oreo, Playstation, Doritos, Xbox, Apple, Nike, Amazon, Chik-Fil-A, and Go Pro
and as their least favorite brands they listed Patagonia, Zara, Lululemon, Quicksilver, Oakley, Nordstrom and Sunglass Hut.
It goes to show that brands should think about the future of marketing if they want to thrive 5 or 10 years from now when Gen Z has purchasing power.
Brian: Totally, and one last thought here is that Gen Z never knew the world before the internet – before everything you could ever want or need was one click away.
As a result, Gen Z is one of the most informed generations. They value information, stimulation, and connection and they also have high hopes for the brands they choose.
As Google writes at the end of their report, "As professionals, we should see this as our challenge—to live up to the standard Gen Z has set for us and to continue to inform, inspire, and create products and marketing that facilitate the world in which they want to live."

Part III: The ROI of meme accounts and what marketers should know
Resource: Better ROI than Influencers – Meme Accounts Attract Growing Interest
Hailley: Let's talk meme accounts.
Meme accounts have been flooding our social feeds for several years now, each offering their own brand of witty, relatable posts.
If you're not sure what we're talking about, you've likely seen a meme in your feed at one time or another. Essentially it's a photo or video with text around it describing the photo or video in some funny way.
Brian: From sports, to celebrities, and everything in-between, meme accounts produce some of the most popular content on social media today.
And according to Digiday, with the peak of influencer marketing slowly setting in, meme accounts offer attractive partnerships for brands and publishers.
Supposedly, some agencies and brands are now switching their attention from influencers to meme accounts to run native advertisements on platforms like Facebook and Instagram.
Hailley: Digiday reported that meme accounts get a high return on investment because it is extremely hard for a brand to create the kind of wit and humor that seems comes naturally to the content creators behind these meme accounts.
They are super relatable, so they get amazing engagement.
Brian: It's also interesting to read about the difference in cost and ROI as well. Since meme accounts are just starting to be utilized as ad platforms, they don't know their value yet and so they're cheaper, at least for now.
Hailley: Tim Armoo, CEO of influencer platform Fanbytes, reported that "for 1 million followers, you could be paying $15,000 to a human influencer, and for 1 million followers on a meme account you'd be paying about $1,000.
Brian: Wow, that's pretty incredible.
But obviously meme accounts won't work for every brand or industry.
Meme accounts are really good for driving brand awareness in certain industries like fashion, food, entertainment, publishing, eCommerce, etc., but I'd imagine it might be tough if you're a brand in a more traditional industry like education, finance, banking, and real estate.
Hailley: I totally agree.
But you know I do think there is an opportunity for brands to great creative here even if you are in a traditional industry.
Either way, it'll be interesting to see how this grows and play out in the near future.
I'm curious to watch how meme accounts go from really organic and authentic to a network that accepts advertising revenue. Will they become less authentic? Only time will tell!
Brian: Yes, indeed, Hailley. As with most things in social media, right?

Part IV: Using LinkedIn hashtags to maximize content exposure
Resource: How to Maximize Your Expose with LinkedIn Hashtags
Brian: Alright, last but not least, some bonus content for you today and this one went sort of under the radar, we certainly missed it on this podcast, is that LinkedIn launched a new version of hashtags and they're actually great for spreading and finding content on the platform.
Hailley: So before I'm pretty sure we were all unclear on if hashtags actually worked on LinkedIn and if company pages found them valuable.
Until now.
LinkedIn is now encouraging people and pages to use hashtags in their content so that they can increase the visibility of that content in the news feed.
Brian: Similar to Instagram, you can now follow and search hashtags on LinkedIn using a feature they're calling Your Communities.
You can even pin the hashtags that are most relevant to you so that they appear first in your feed every time you login.
AND you can use a new discover feature to search hashtags that shows the amount of people following each hashtag – a sort of social proof move by LinkedIn which is cool.
Hailley: Yeah so before you begin adding hashtags to your LinkedIn posts and articles, you'll need to find hashtags that align with your LinkedIn strategy and the interests of your ideal audience.
A good place to start is to see which hashtags the influencers in your niche are using on LinkedIn, as well as on sites such as Twitter and Instagram. Pay attention to who is using the hashtag and how they use it in tandem with their content.
Then, before adding any hashtag to your own strategy, it's important to verify the hashtag's popularity and contextual meaning.
Brian: Right now LinkedIn doesn't limit the number of hashtags you can add to your articles, but they do encourage users to use hashtags that are relevant.
And while you can edit an article after it's published, you can't edit or remove hashtags. So just a heads-up there.
Finally, for all of you using LinkedIn for business, we had the opportunity to get some inside LinkedIn marketing tips directly from the LinkedIn team which we'll be talking about in an episode in the very near future. So check back soon!
Hailley: Thank you so much for tuning in to the Science of Social Media today. The show notes for this episode are now available on the Buffer Blog at blog.buffer.com with a complete transcript and links to all of the resources mentioned today.
If you ever want to get in touch with me or Brian, we're always here for your on social media using the hashtag #bufferpodcast. You can also say hi to us anytime and hello@bufferapp.com
Brian: As always, thank you so much for your iTunes reviews! We know we say this every single show, but honestly, those mean a ton to us and it's one of the main factors that helps our show to grow.
More great episodes coming up including a massive 43 million facebook post analysis, how to discover irresistible content, LinkedIn marketing, and more.
Until next Monday, everyone!
How to say hello to us
We would all love to say hello to you on social media – especially Twitter!
Thanks for listening! Feel free to connect with our team at Buffer on Twitter, Buffer on Facebook, our Podcast homepage, or with the hashtag #bufferpodcast.
—
About The Science of Social Media podcast
The Science of Social Media is your weekly sandbox for social media stories, insights, experimentation, and inspiration. Every Monday (and sometimes more) we share the most cutting-edge social media marketing tactics from brands and influencers in every industry. If you're a social media team of one, business owner, marketer, or someone simply interested in social media marketing, you're sure to find something useful in each and every episode.  It's our hope that you'll join our 17,000+ weekly iTunes listeners and rock your social media channels as a result!
The Science of Social Media is proudly made by the Buffer team. Feel free to get in touch with us for any thoughts, ideas, or feedback.