---
What's coming to social media in 2020?
It can be hard to predict the future, especially for something as fast-changing as social media. But if you look to today's trends and the latest buzz, you'll start to see the signs.
Social commerce is one of the hottest trends in social media today, and it looks to have an even bigger impact in 2020.
Continue reading to find out the latest on what social commerce is, what it looks like, and how you can make the most of this buzzworthy new channel to further your brand and your business.
---
What is social commerce?
Social commerce is selling products directly within social media platforms.

This is different than social media marketing, where you might try to drive referral traffic from social media to a website or online store. With social commerce, the store — the entire shopping experience — happens without the customer ever leaving the social media site.
How does social commerce work?

There are a ton of benefits to this, as you might imagine. It's a far more streamlined process, especially when you can enjoy things like chatbot checkouts, and autofill payments and delivery details. There are fewer clicks and taps with social commerce than with traditional e-commerce through a web store.

The efficiency of the social commerce purchase journey far outdoes the typical e-commerce purchase. There's a really great blog post on BigCommerce about this. Basically, the math goes like this:

If you have a traditional website and store, let's say you get 10,000 visitors to the site.
Of that group, 25% give you their email address
When you send that group an email, 25% of them open it.
Then 5% of those who open the email click on the link in the email.
And three percent of those clicks end up buying something.
That's a grand total of 1 purchase, after starting with 10,000 visitors.
Now, compare that to a hypothetical social commerce journey. Let's take a messenger chatbot for instance.
Start with 10,000 chatbot visitors.
Of that group, you can message 99% of them
Open rates are quite high for chatbots, around 75%.
So from the group that sees your message and opens it, let's say that 48% click through
And then 1% purchase something.
That's a total of 35 purchases, compared to the one (1) purchase in the website example.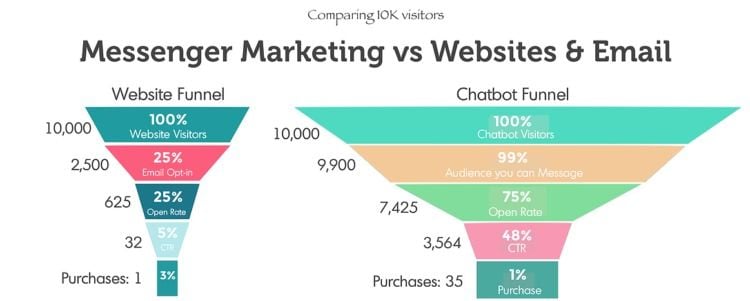 Now, it obviously goes without saying that your mileage may vary here.
These are just example numbers. But hopefully they highlight some of the advantages of the ease and efficiency of social commerce.

There's also a strong case to be made on the qualitative side of things. Andrew Waber of Teikametrics, writing on Marketing Land, points out that there are really four separate stages of shopping experience. These are:

Convenience
Shopping as play
Shopping as exploration
Shopping as entertainment

Today's e-commerce channels mainly fulfill items 1 and 2, while 3 and 4 are more future-looking trends to build towards. Social commerce delivers on both of them much more readily than traditional e-commerce channels because it is a much more natural extension of existing consumer behavior.
Speaking of existing consumer behavior, it's become widely known just how much consumers are shifting to social and mobile as primary means of content consumption and product discovery.
Now, let's talk about the state of social commerce today.
What does social commerce look like on Instagram, Facebook, and Pinterest?
The primary players in social commerce are Instagram, Pinterest, and Facebook. We'll touch on each of them quickly, starting with Instagram.

Facebook data says that 70% of shoppers look to Instagram for product discovery. Perhaps because of this, Instagram's roadmap has been taking on a decidedly strong shopping feel. The biggest development is Instagram Checkout, which is a fully contained shopping experience within the Instagram app. It's currently only available to select brands like Nike and Kylie Cosmetics. With Instagram Checkout, you can see a product that you like in the Instagram feed and then complete the entire purchase without ever leaving Instagram.

This goes one step further than Instagram Shopping, another new feature that Instagram has come out with recently. Unlike Checkout, Instagram Shopping is available to businesses in over 70 countries so long as you sell physical goods and have an Instagram business account.
With Instagram Shopping, you can tag your images and stories with the products that are featured in your posts. Then your audience can tap to go straight to your store to make the purchase.
For Facebook, they've already taken some really huge strides toward social commerce with Facebook Page Shops and Messenger. First, let's talk about Facebook Page Shops.

Businesses can create an entire store within Facebook, quite easily and smoothly. To get started, make sure your Facebook page has the Shopping template selected, then click the Shop tab on your Page, then click Go to Commerce Manager. Here is where you complete a few sign up steps and then upload your product catalog to your Facebook shop.

There's a ton you can do from here, like:
Add new products and update product information
Sell directly from your page
Manage orders and shipping, and
Run Facebook ads to promote these products.
The website ConversionXL has a neat case study on a brand that has experimented with a Facebook Shop. The watch seller, MVMT, added a selection of products from its catalog to Facebook.
Within 90 days, approximately 60,000 users visited the store.
These visitors converted at a 0.5% conversion rate, resulting in more than $15,000 in revenue.
Pinterest also has some really powerful social commerce features for businesses, with new features coming out all the time. Buyable pins were released four years ago now, in 2015, and had over 60 million buyable pins in its first six months. We've seen more and more commerce features since. Most recently,
Shop the Look, which highlights the items in a photo that are available for purchase. And
Catalogs, which allow you to upload an entire product catalog to feature on Pinterest
---
How to get started with social commerce in 2020
1. Focus on your best, lowest-cost products
It makes sense that lowest-cost products might sell best on social media. You're capturing people at a certain place in their buyer journey where they're eager to buy, not eager to weigh the pros and cons of a major purchase.

That's why we recommend using a strategic approach to what you list for sale on social media. If you start with your best products, you're selling the items that appeal to the widest audience and have been proven to resonate with your fans. If you sell your least expensive ones, then you're reducing friction for shoppers even more.

Along with this, it's useful to know the larger themes with social commerce, too. According to an eMarketer report, the most relevant verticals for social commerce are categories like apparel, luxury goods, beauty, and home decor.

If you're in doubt about what to sell, then start with an experiment mindset. You don't need to put your entire catalog on social right away. Especially since social commerce is still gaining traction, not all your audience may be primed to purchase. A GlobalWebIndex study found that 21% of shoppers use social to make a purchase — a number that we'd expect to rise quite a bit in 2020.

2. Get the right tools at your disposal.
There are a ton of great options out there, but we want to highlight just a couple to give you a taste of what's possible. First, there's a messaging tool called ManyChat, which allows you to combine Facebook Messenger and SMS campaigns. ManyChat, and other chat tools like it, can be great for collecting leads and converting them into buyers.

Similarly, another great social commerce tool is jumper.ai. This tool comes with pre-built automated checkout chatbots, which integrate with all sorts of different tools and platforms. You can integrate it straight into Instagram to create a social commerce experience.

And along with third-party tools, there are new social commerce features coming to social networks all the time. We think it's really smart to continually try out these new features, both for their commerce potential and for the engagement boost you get from trying out new content on your accounts.

3. Partner with influencers and encourage your community to share your products.
These two groups — influencers and community — can be very powerful for your commerce efforts thanks to the way that networks like Instagram and Pinterest are set up. Many of their new features allow people to share your products on your behalf and still tie into the frictionless buying experience of a buyable Pin or Instagram shopping.

4. Measure your strategy
The ultimate goal with social commerce is to guide customers to checkout. And you can do this in any number of ways, through great content, two-way communication, and more. Ultimately, though, the best measurement of a social commerce strategy is in dollars and cents. How many sales did you make.

And at the same time, as we talked about above, not all your audience may be ready to shop just yet. Social commerce is still a trend in the making. Not everyone is on board.

So this opens up a variety of alternative measures for success. For instance,
How many emails you capture. These emails can become important for starting a relationship with your customers and helping guide them back to your social accounts or your e-commerce website.
You can also think about measurements like

Brand engagement, and
Completion of certain steps before the conversion
---
How to say hello to us
We would all love to say hello to you on social media – especially Twitter!
Thanks for listening! Feel free to connect with our team at Buffer on Twitter, Buffer on Facebook, our Podcast homepage, or with the hashtag #bufferpodcast.
---
About The Science of Social Media podcast
The Science of Social Media is your weekly sandbox for social media stories, insights, experimentation, and inspiration. Every Monday (and sometimes more) we share the most cutting-edge social media marketing tactics from brands and influencers in every industry. If you're a social media team of one, business owner, marketer, or someone simply interested in social media marketing, you're sure to find something useful in each and every episode.  It's our hope that you'll join our 27,000+ weekly iTunes listeners and rock your social media channels as a result!
The Science of Social Media is proudly made by the Buffer team. Feel free to get in touch with us for any thoughts, ideas, or feedback.