Only 10% of customer messages are answered on social media.
Yet some brands find a way to answer 100% of requests.
What's their secret?
Having many hands on deck certainly helps. We've found that some of the fastest-responding, maximum-delighting brands on social media employ a two-team approach to responding. Customer support teams handle all inbound product questions, and marketing or community grabs all messages related to the brand, the content, and community love.
We take a two-team approach at Buffer, and we'd love to give you an inside look at our process.
Keep reading for the blueprint on how we manage our social media responses:
1,500 customers helped each week
3,000+ messages sent each week
ASAP response times
---
The 4 keys to working together in the inbox
Set goals that complement one another
Create automation rules to get messages into the right spots
Pick a team to triage at least twice per day
Reply with a shared voice
Much more on each of these areas below.
---
1. Goal-setting for social media teams
One of the unique elements of a shared social media response strategy is that you have two teams working in the same area. This makes it all the more important that everyone's goals are aligned.
In our case, we have a customer support team and a marketing team sharing duties.
We start with the vision. Here's how each team thinks about the biggest of "whys" on social media engagement:
Customer support's vision: Set the bar for customer support
Marketing's vision: Deliver happiness to those who reach out seeking a connection with us.
Can you see a shared theme?
We're fortunate that our team's visions fit snugly side-by-side under the banner of CX (customer experience). This didn't happen overnight. We've had many conversations about cross-functional goals, and we definitely see more progress we can make in order to keep perfecting this partnership.
Our advice: Make alignment a priority from the start.
In terms of exercises to help you get there, we employed a couple: HubSpot's flywheel exercise to find opportunities to maximize delight, the Jim Collins vision framework to create a vivid description, and Julie Zhou's strategy litmus test to create alignment.
This big-picture vision-setting helps make the conversation about goals even easier. We've found that you don't have to share the same exact number goals across marketing and support as long as you're aligned on the bigger vision. For instance, these are the numbers we track within each area:
Customer support goals
Conversations — How many unique conversations did we participate in?
Replies sent — How many total replies did we send?
Average first response time
These goals help us track the volume of social media support requests as well as how fast we're able to respond to that volume. We've found that a speedy response is a great way to deliver delight to our customers, and we want to be sure we're organizing our team in such a way to meet that goal.
Marketing goals
Reaching inbox zero twice a day, morning and afternoon (inbox zero means that all messages in our Community folder have received replies)
Many marketing messages ("Love using @buffer!" or "This blog post from @buffer is so great") tend to be less urgent in nature. So rather than setting a lofty goal for response time, we prioritize a delightful experience by ensuring that everyone gets a response who needs one.
With Reply, it's very easy to pull our customer support stats. All Reply plans include robust reporting on your team's performance in the inbox. We refer to the overview report quite often: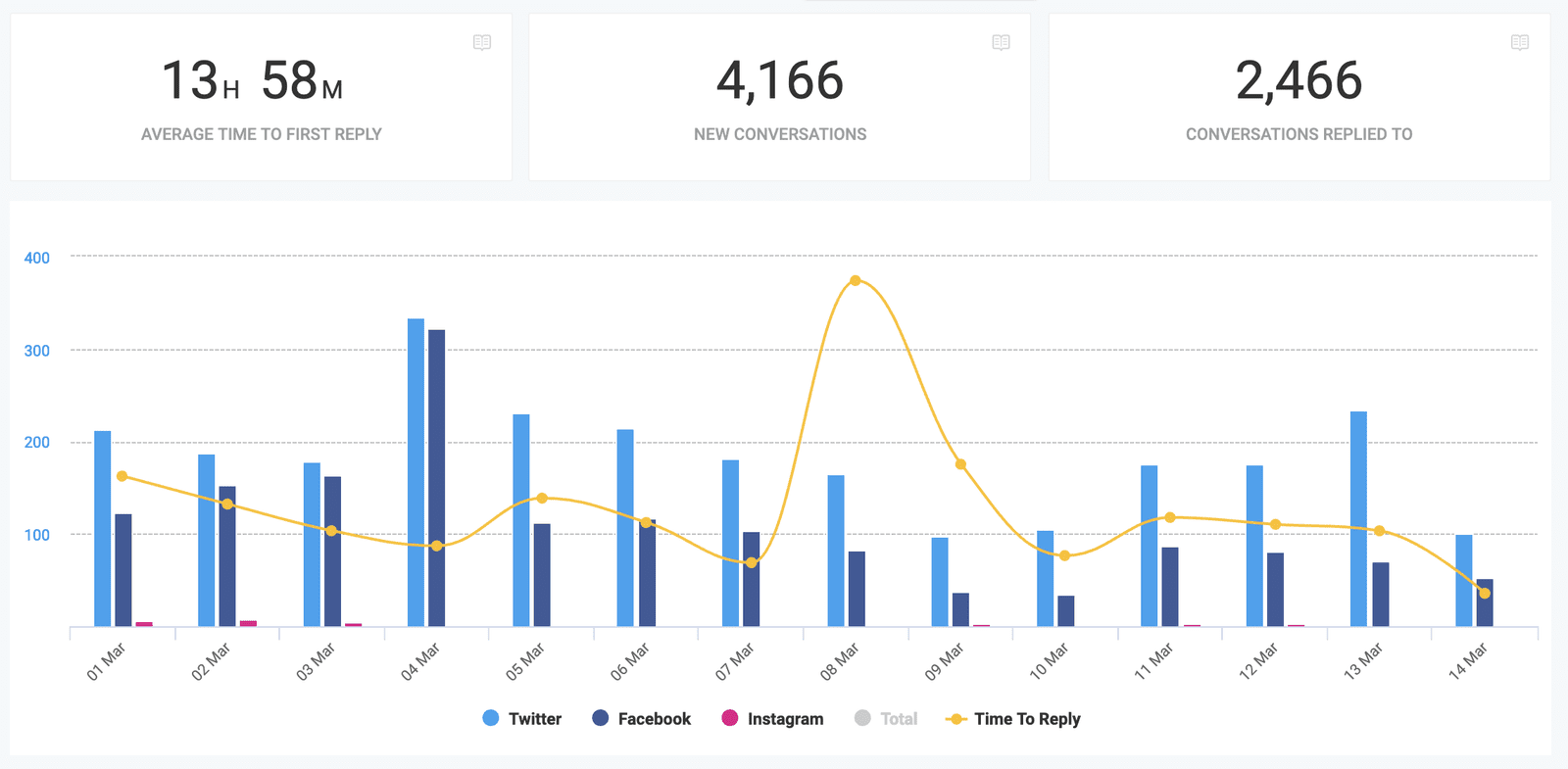 In addition, there are reports for engagement and individual teammate responses.
The engagement report shows how stats on open conversations and what percentages of conversations receive a reply. We use this data to track response time, volume, and how well we're engaging with our customers.
The teammate report breaks things down to the individual level, showing the number of conversations that each of your team participates in, as well as the social networks where those conversation occurred.
2. Automation rules to filter social media messages
We would be lost without the automation rules of Buffer Reply.
This is how we take the thousands of incoming messages each week and route them to the appropriate places. It's how we handle spam, how we filter out non-Buffer "buffer" mentions, and so much more.
Here's a peek at the many options we have in Reply's rules settings: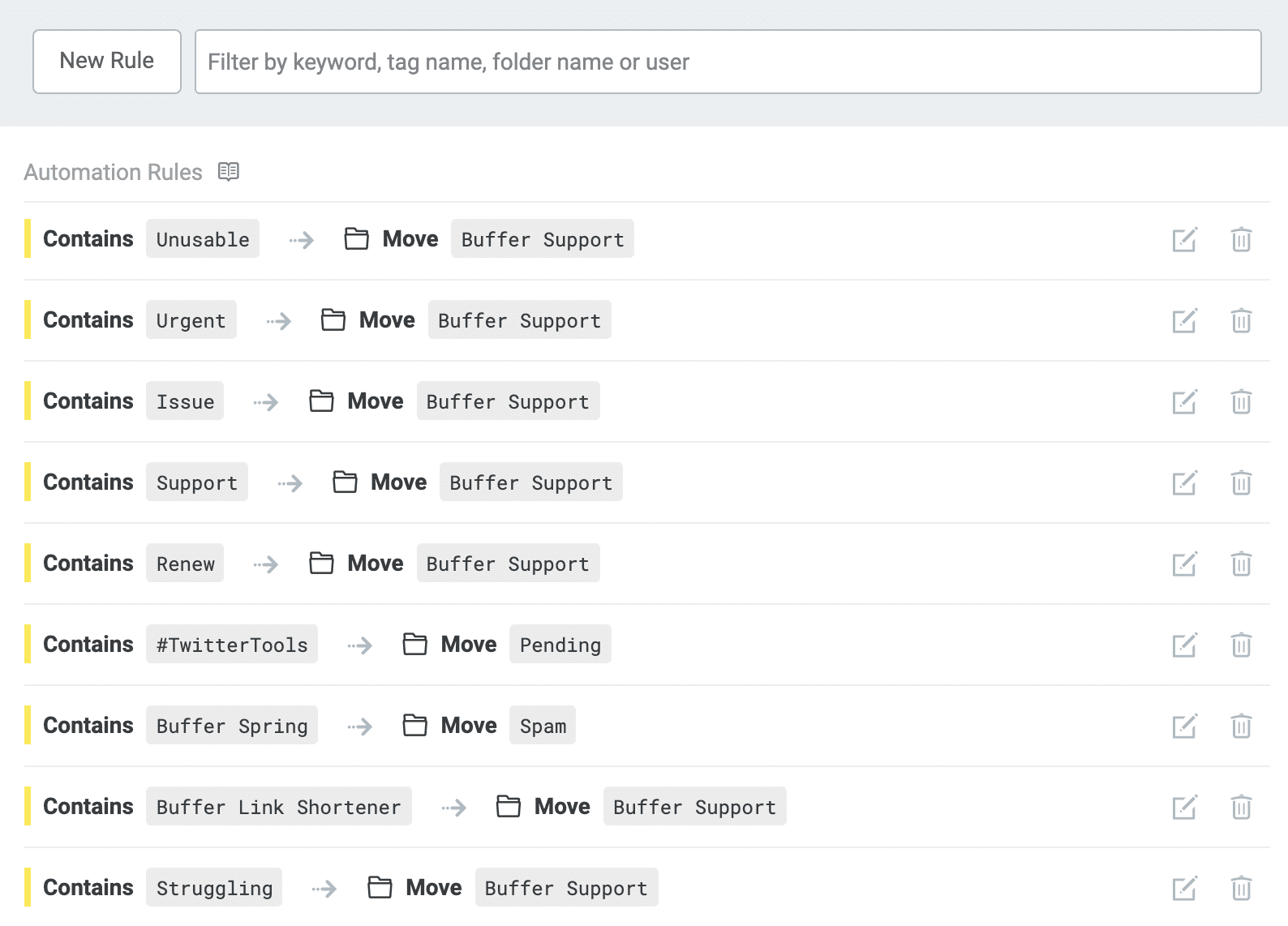 We can automate conversations according to these variables:
Contains
Contains (include links)
Contains only mentions
Begins with
Recipient is
Language is
Type is (Instagram comment, direct message, tweet, etc.)
Is in reply to tweet
And based on those "if" statements, then we can do one of the following:
Move to any folder
Assign to a teammate
Tag with any tag
Set status to "Closed"
We have hundreds of automation rules in place (literally; we add new ones all the time). We have a huge spectrum: large rules that put all comments into our marketing folder, small rules that mark very specific things as spam. If you're curious about any in particular, please do reach out and we'll share. Here's a sampling of five different ones we have in place currently:
Contains #BufferSupport → Move to Buffer Support folder
For awhile we were thinking of starting a new support handle. Instead, this hashtag and Reply's automation rules allow us to easily catch support requests from anyone who uses this hashtag across social.
Contains "Swag" → Move to Community folder
Since the marketing team handles swag, we route these conversations to their folder directly.
Type is "Instagram Comment" → Move to Community folder
The vast majority of Instagram comments are sharing love and support for us or our content. If any of them do end up being more support-related, the marketing team can easily move them into a different folder.
Recipient is "@BufferReply" → Move to Reply Support folder
We have a couple of extra handles reserved for our newer products, so we route any @-mentions of those handles into our support folders.
Contains "Stories Creator" → Assign to Mike Eckstein
We have a few one-off projects that get some love on social media. We like to alert the owner of these projects anytime they're mentioned.
---
3. Workflows for triage and replies
How to Triage
A blueprint for prioritizing tweets, comments, and messages that need a reply asap
During especially busy times, a social media inbox might have dozens or hundreds of unanswered messages.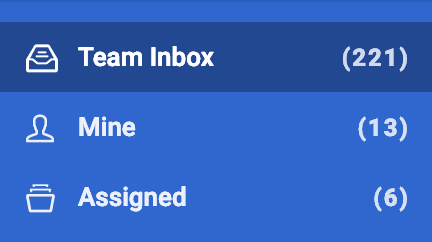 Where do you begin?
Our team begins by triaging.
The first step for triage …
We begin in our Team Inbox, which is the main landing spot for all new messages that have yet to be categorized or filtered into a separate folder. We move conversations manually from the Team Inbox to subfolders, and we have a number of automations that move incoming conversations where they belong.
Triaging is owned by our customer support team. We've found that triaging the messages that are in the Team Inbox folder gives us a quick sense of any current themes and emerging issues, and allowing our support team to have their finger on this pulse is extremely valuable.
What if there seems to be some kind of major problem?
If we do spot a major problem — typically multiple reports of serious trouble — we go into Slack, our team chat room, and post a message to our teammates. We have a separate playbook with our customer support plans during downtime and incidents.
Assuming there aren't any immediate issues, we take the messages in the Team Inbox and manually move each conversation to the appropriate folder. We have a couple main folders:
Product support. We have three folders for our three products: Publish, Reply, and Analyze.
Community. This folder includes any marketing questions, blog post shares, and general #bufferlove. ?
In addition, we have pop-up folders that exist during particular windows of time. For instance, we created folders for bugs (FB IG Down March 2019) or customer research (IG Connection Trouble).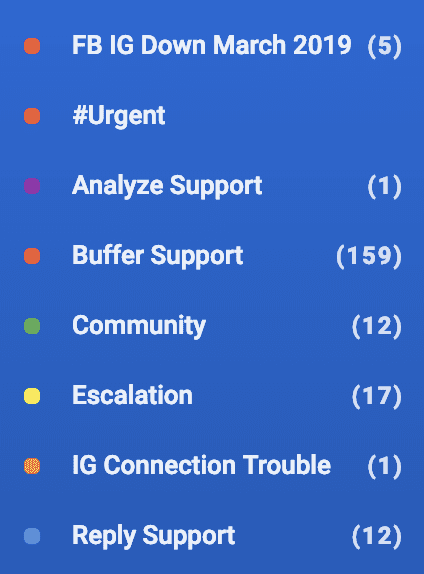 With Buffer Reply, we save a ton of time on this manual triaging with the quick keyboard shortcuts to move conversations. We type "M" to open up the window of folders, then type the first couple letters of the folder name we want. Voila!
How to perfect the art of like + close
Does every message need a response?
Well, it depends. (Not a great answer, I know.)
There are many different strategies and perspectives on this, and there are a number of different factors that could influence your decision: for instance, the volume of tickets, your social media team's size, and the type of responses you get.
For us, we do not add a new reply on every message we get. For some messages, we employ a like + close strategy.
On these, we favorite, heart, or like the customer's message, and we close the conversation, moving to the next one.
We find a number of scenarios when this makes sense for us:
After a good-bye at the tail-end of long back-and-forth threads with a customer
Conversations that are about Buffer but not addressing us directly with a question or invitation to engage
Love. We're lucky to have conversations where people are sharing their love of Buffer. We try to 'like' these, and then add them to the Community folder and assign
Links to our blog content where the text is the same as the headline
(If it's the first time someone has @-mentioned, then we try to add a thank you note in response.)
Here's how we easily tell in Reply whether an account has communicated with us in the past:

When is a "like" too ambiguous? Sometimes we'll come across tweets like "I love @buffer, [competitor] was rubbish." We leave these alone. No "like." We don't ever want it to seem like we're agreeing with harsh opinions about our peers.
4. How we reply to customer messages
Phew! Though it took most of this article to make it to this section, replying to conversations is definitely the bulk of the day-to-day work for social media engagement teams.
Here are some of the rules and product features that we put to good use when building relationships with our customers:
Main workflow
We try to work from oldest to newest to respect the customers who've been waiting the longest. This is true for our support team and for our marketing team.
We are friendly, conversational, kind, and empathetic — just as we strive to be in email support, product copy, blog posts, and everywhere else online
One of the key differences to note with social media engagement: these conversations happen in public, and we have character limits to consider. Therefore …
Lean in to being brief and conversational, but not at the expense of clarity.
Leave conversations feeling open. For example, you may say "Let me know how you get on / keep in touch / let us know if anything else comes up."
For longer conversations, add (1/2) or (2/2) as needed
Lean in to using screenshots, video walkthroughs and FAQ guides to save characters, too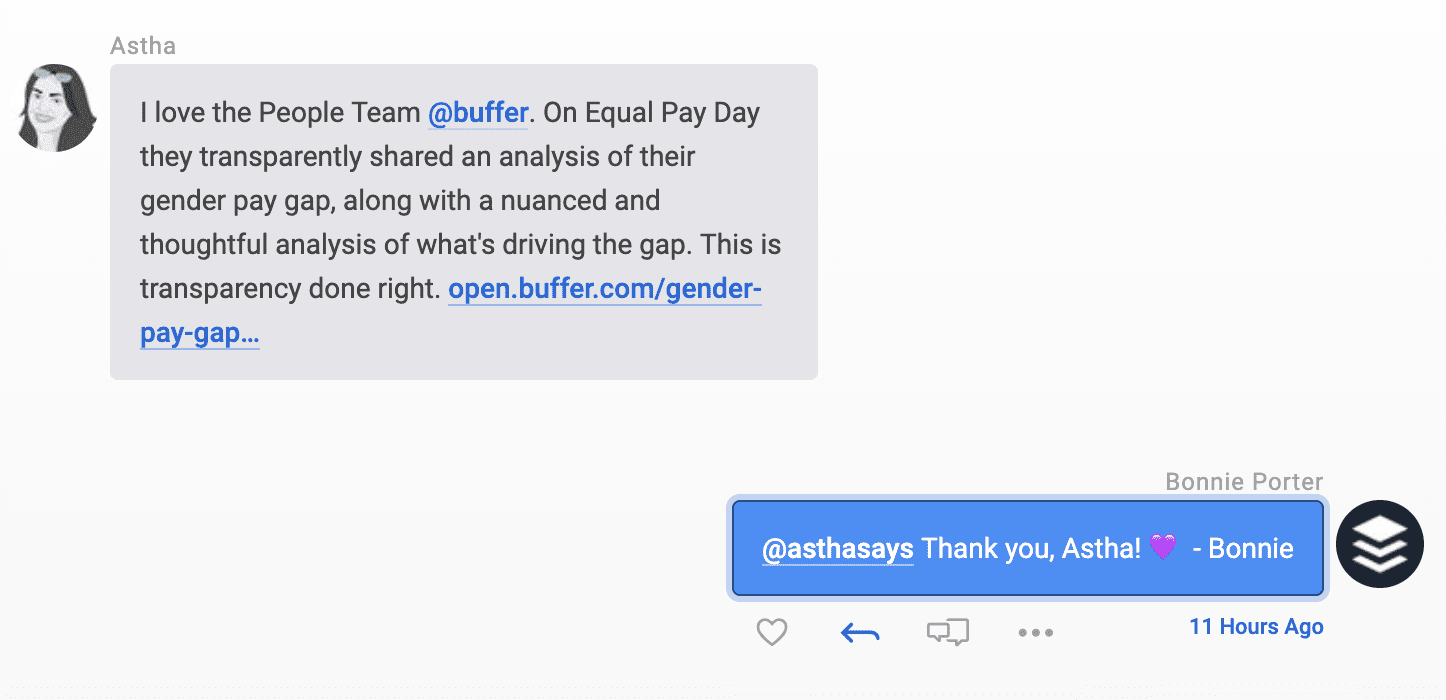 The majority of replying occurs in the folders for product support and marketing. In addition, we have a couple other places to look for conversations.
The Assigned folder contains messages that have been directly assigned to another teammate. These don't appear in any other folder, so we make a point to check in here each day to make sure nothing's assigned to a teammate who is out for the day or on vacation. We don't want customers waiting too long.
We have a Pending folder for our newer automation rules, and we check this folder at least once per day. It's similar to how you check your email spam folder to make sure nothing real and authentic slipped through the cracks.
Then when it comes to the features of Reply, we find these ones extremely handy for staying organized and working together.
Collision detection
Reply makes it easy to see who else is online with you and may be answering conversations that you were about to open. Even when you're in a conversation, you can see if others are in there already or are popping by. This helps make sure we don't send double responses to the same person.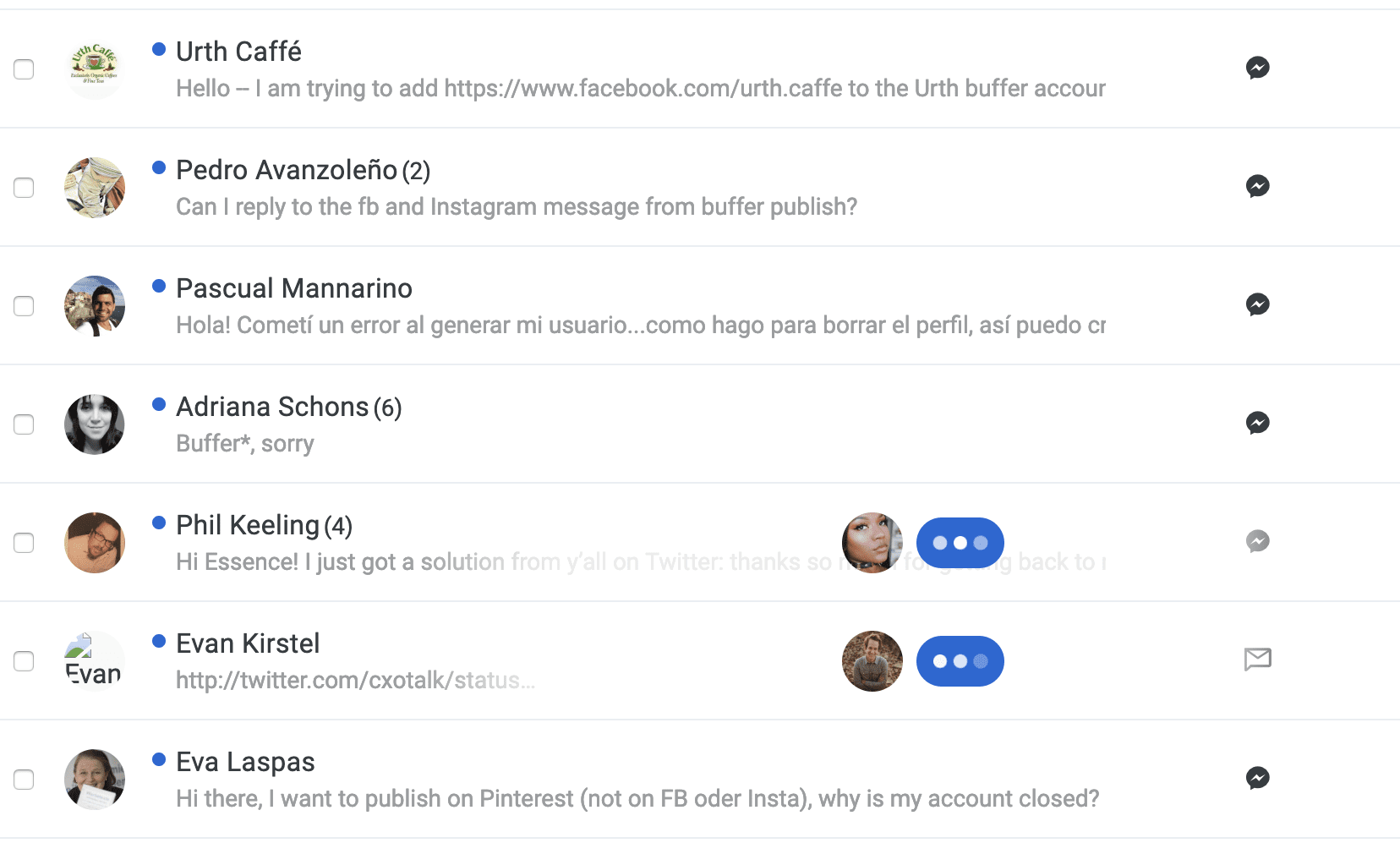 Customer Notes
We use the Note feature within the conversations to communicate with one another and share our thought process, next steps, links to admin accounts, and any other context as needed. These notes appear as callouts within each conversation inside Reply and are never seen by customers.
Saved Replies and FAQ articles
We will sometimes pull a saved reply for common questions. There's a shortcut for this: clicking on the icon or typing "##" in the composer. The same goes for links to FAQ articles. We can insert these by clicking on the icon or typing "+" in the composer.
And when in doubt, there's always an undo button. Phew!
Over to you
How does your team handle social media engagement? Any tips that we can try?
It'd be great to hear from you in the comments. We're also around anytime on social media. Know you know from this post exactly how we'd get back to you!