Stories were introduced to Instagram in August 2016, and as soon as the new featured dropped, the social media team at Bustle — a premium publisher reaching millennial women — were excited to see how the format could help the publisher connect with its audience in new and exciting ways.
It was an insta-success.
"From the start we've seen high performance from Instagram Stories," Hannah Caldwell, a New York-based Social Editor at Bustle, explained to us.
"We've seen completion rates as high as 92 percent for shorter stories and 60-70 percent for longer episodic content," she continued — and when you consider Bustle has amassed an audience of more than 4.5 million followers on Instagram, that's a lot of people paying attention to its content.
But what Bustle sees as most exciting about Instagram Stories isn't the high completion rates and viewer figures, but the number of really meaningful responses from it receives from people who view its content.
"We love when people message us to say how much they loved an episode and can't wait for the next one, or answer a question we've posted in the story," Hannah said gleefully.
But how did Bustle become so successful on Instagram Stories? We continued our conversation with Hannah to find out.
How stories help to diversify content
Bustle has built its following on Instagram by focusing on one specific type of content — something its digital-native readers are very familiar with: Memes.
"Memes are a major part of our brand," Hannah shared. "[But that] doesn't reflect the whole of what Bustle has to offer."
"Stories let us explore a number of facets that make up our brand — from beauty series to entertainment content to trivia games, we're able to share all that we are with our followers."
Bustle's experimental approach to stories and the resulting episodic stories series' has created plenty of opportunities for the business.
Embracing episodic content
"Our series have allowed us to partner with brands and influencers on social in ways that we couldn't before," Hannah explained.
For an example of this, look no further than Bustle's collaboration with Sephora Collection. The brands partnered on "The Beauty Lab" — a series consisting of four weekly episodes co-hosted by Bustle Branded Beauty Editor Irma Elezovic, and Sephora Collection National Makeup Artist Helen Phillips.
Each episode showcased a new beauty challenge and viewers could shop the items via swiping in the Instagram Story and through a series of endorsed posts on Bustle's Instagram.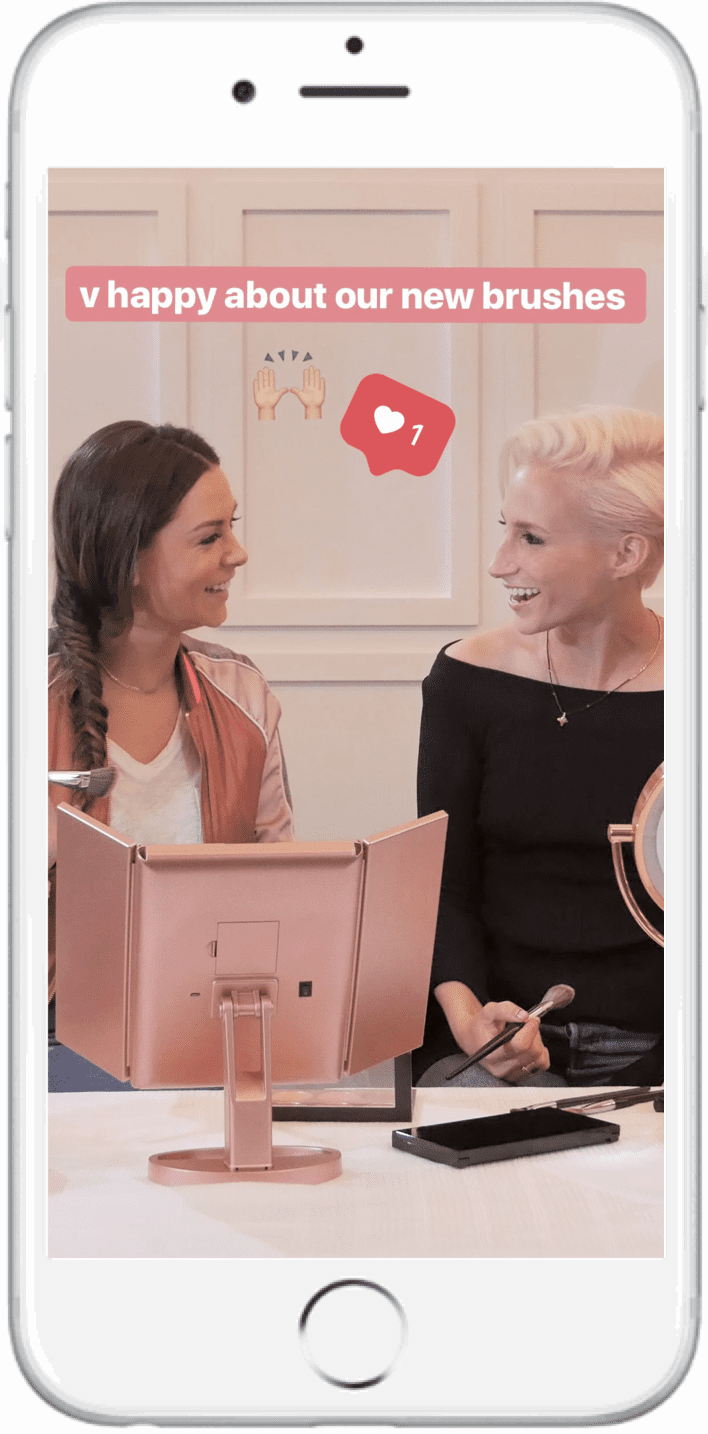 "Bustle's partnership with Sephora Collection last year earned a Digiday Award for Best Custom Advertising," Hannah shared. "The majority of our sales deals now have some kind of social component. And since we were one of the first brands to play around with Instagram Stories, especially in a serialized format, we definitely had some amazing coverage and brand recognition from that."
Keeping a stream of great content flowing
The 24-hour nature of stories can make content production seem really tough — after all, you're having to produce new content every day.
For inspiration, Hannah and the Bustle team look to their on-site content to see what topics are performing there. "First and foremost, we make stories that we as users would want to see," she explained. "Our on-site content is the best place to start."
When it comes to producing stories, Bustle aims to find the middle ground between high quality, and not looking overly produced. "We want it to feel like your friend could have made it since most of the time, that's whose Stories you're watching."
Staying true to the Stories medium
Most of Bustle's Instagram Stories are created using phones to ensure it feels like something your friend could have made.
"I do all shooting, editing, decorating, and posting from the phone. I do keep assets on my computer to keep things organized and occasionally do some small editing on desktop programs but for the most part, all phone," Hannah shared.
Bustle also embraces as many of the Instagram Stories features as they can to make the posts feel friendly, and native to the platform. "We want the content to feel true to the platform, so using the fun features Instagram provides is a great way to do that. Additionally, things like the Poll sticker makes a story interactive for the viewer which is a great way to keep them engaged and entertained."
Viewer engagement is the true measure of quality
Though Bustle tracks a bunch of engagement and audience metrics, Hannah looks at the often-unquantifiable and overlooked metrics to gauge the true success of Instagram Stories content.
Talking about the Beauty Call Instagram Stories series she produces, Hannah explained:
"Most episodes have a very high completion rate for how long the stories are but, more importantly, the fans have been very vocal about how much they love the series. Viewers send in suggestions for future topics, accolades for how entertaining it was, excitement for another episode to be live, and more. Even though it's harder to quantify, hearing praise from the viewers is always my favorite benchmark for success."
When all is said and done, conversations and engagement are a simple, yet incredibly effective way to gain both qualitative and quantitative feedback about the quality of your content.
As Hannah mentioned, Bustle is able to get real-time qualitative feedback around what people want to see more of, what they particularly liked and didn't like, episode ideas, and more. Hannah and her team can then turn around and make that a reality almost immediately with the ephemeral nature of Stories content.
After taking the qualitative feedback into account and adjusting their content strategy, Bustle then works in the quantitative data (real engagement numbers) to measure against their Stories experiments.
It's a continuous circle of useful and productive feedback.
The Instagram Marketing Strategy Series
A nine-part series on how to use Instagram for business. ➡️
Up next: