We just released our annual State of Remote Work report, and one of the most consistent responses is that when we ask remote workers if they'd like to work remotely (at least some of the time) for the rest of their careers, 98 percent of them said yes. A further 97 percent of people said they would also recommend remote work to others.
So what is it about remote work that makes people want to do it for the rest of their careers and recommend it so strongly to others?
The results have been the same. Over the last three years, every time we ask remote workers for the top benefit to remote work, they answer flexibility.
In our latest report, 32 percent of respondents said that the ability to have a flexible schedule is the most significant benefit to remote work, and 26 percent said it was the flexibility to work from anywhere.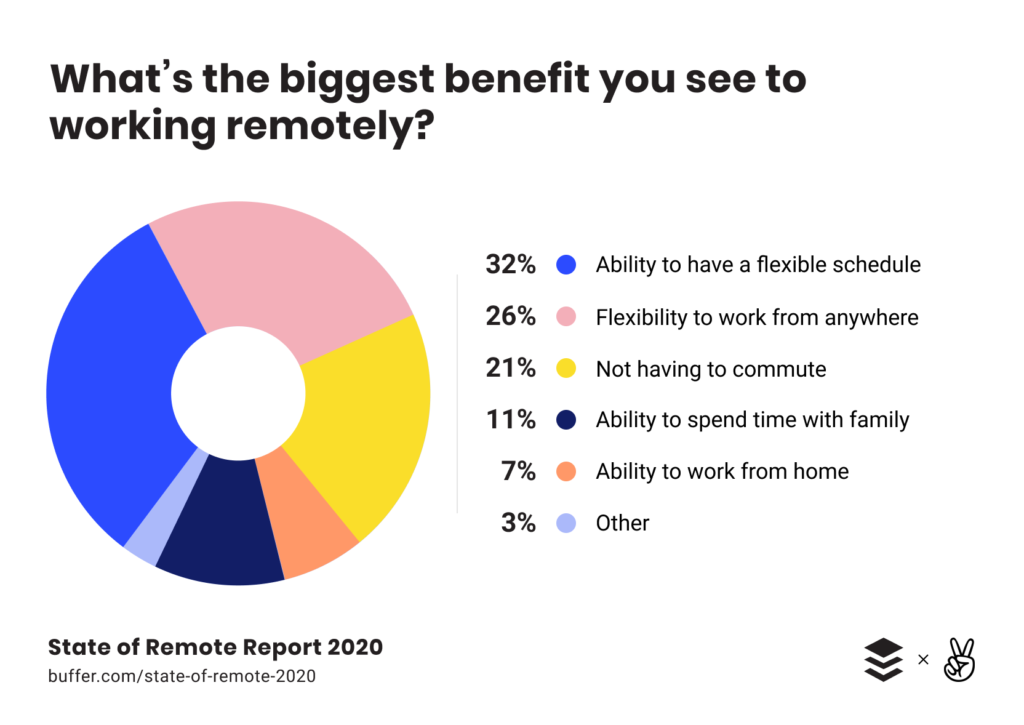 In our 2019 report, 40 percent of respondents selected 'flexible schedule' as the top benefit, and 43 percent chose the same response in 2018.
In today's race to acquire talented employees, employers have been adding remote work options to remain competitive. What these results show is that what employees want is to have is more flexibility in their work and lives, and remote work seems to be a top solution.
But what does flexibility mean when it comes to the workplace?
According to an article written by Joy Burnford, "Flexibility is the umbrella term used to describe any role that breaks the traditional norm of a rigid 9-to-5, five-day week structure. At its core stand individuals with potentially greater freedom over when, where or how to fulfill their particular roles."
This is the norm at most remote work organizations. They give their team the freedom to create their schedule. Instead of tracking their employee's hours, or monitoring their screens all day, they focus on the results that their team is producing. (Also called a results-only work environment.)
This type of flexibility doesn't only benefit remote workers. Flexibility often suggests trust. Trust to get work done, trust to set your schedule, trust to work somewhere where a manager isn't watching your every move. According to Harvard Business Review, respondents whose companies were 'high trust organizations' reported "being 50% more productive." They also found that "compared with employees at low-trust companies, 50% more of those working at high-trust organizations planned to stay with their employer over the next year, and 88% more said they would recommend their company to family and friends as a place to work."
Here are a few things we do at Buffer to cultivate a culture of flexibility:
Teammates work with their managers to set their schedules and work hours; there are no team-wide schedules or expectations.
Teammates have the freedom to work and live from wherever they are happiest and most productive. Our benefits include coworking spaces, coffee shops, and home internet so that teammates can select where they'd like to spend their time working.
As an organization, we focus on cultivating asynchronous communication practices so that teammates don't feel that they need to be checking-in online all day.
If anything pops up and a teammate needs to take a day off of work, they are always given that day.
We want Buffer teammates to feel empowered to do their best work and choose their own structure for what that looks like for them.
We'd love to know what flexibility looks like at your organization! What are some things your company does to create flexibility? And if you work remotely, is it true that flexibility is a top benefit for you? Leave us a comment with your thoughts. ?