The very first time my Jawbone UP24 vibrated on my wrist, signaling that it was time to get ready for bed, I laughed out loud. I was standing in a pub in central London, beer in hand, and in practical terms, 2 hours from home. Bed time?! Ridiculous!
This is the thing, though. If you want to get 8 hours of sleep, and you want to get up and start your day at an early hour, then 10 p.m. is apparently a sensible bed time.
I'm not that well known for sensible bed times. At the same time, the core part of my job involves sending up to 100 emails per day, and I'd be crazy not take advantage of any extra brain power!
How the Jawbone helps us improve
My Jawbone UP24 is one of the perks of my job. We have all been given these clever little gadgets so that we can measure and improve our activity levels and sleep, and also support our teammates efforts to improve. It's such a clever little thing! It has sensors to track my daily steps and my sleep, a little buzzer to notify me when I should get off my butt if I've been idle too long, and Bluetooth to send all that data to my phone.
The cleverest part for me is the smart alarm, which will wake you a little earlier than your alarm time if you're in a light sleep phase. Having an alarm that goes off when you're almost awake anyway is a much more comfortable experience, believe me! I think wearable technology is such an exciting development, motivating us to make lifestyle choices that improve our health. I think that's pretty special!
Your sleeping pattern can literally be the habit of a lifetime, and I have learned it can be a really tough thing to reconfigure! Having never measured my sleep before, I was a little surprised to figure out that I had probably been getting around 6 hours sleep per night. With science and research and evidence insisting that I would be a better person if I got more sleep, I was determined to start achieving those sleep goals.
How I changed my habits: No screens, lots of advice
It took some rather big shifts to my social life. I particularly avoid going out on the 'school' nights, when I knew I wanted to be up early next morning to be productive. I'm lucky enough to work for a super flexible company and am able to vary my work hours within reason.
Yet at the same time I am more comfortable with a morning routine, and pretty much wake up at the same time every morning with or without an alarm clock, whatever time I've gone to bed.
The other thing I decided to do was avoid lit screens after 9 p.m. They stimulate your brain, and that doesn't help set you up for falling asleep early. I need to get out of the habit of having my iPhone by my bed, but those ties are strong…
I've found that changing sleep habits is tough. It's taken me weeks to get a routine of going to bed early and not feel like I'm wasting half my evening. Laying in bed with a very much awake consciousness babbling away about everything. Waking up in the early hours because I've had as much sleep as I'm used to getting by 4 a.m. And actually finally getting up a little fuzzy-headed thinking maybe I've had to much sleep and I'm now in the realms of hibernation.
The great thing about being part of a team of UP wearers is that I can see how everyone is getting on. I quickly spotted who was really good at getting their sleep goals, and I decided to ask them for tips.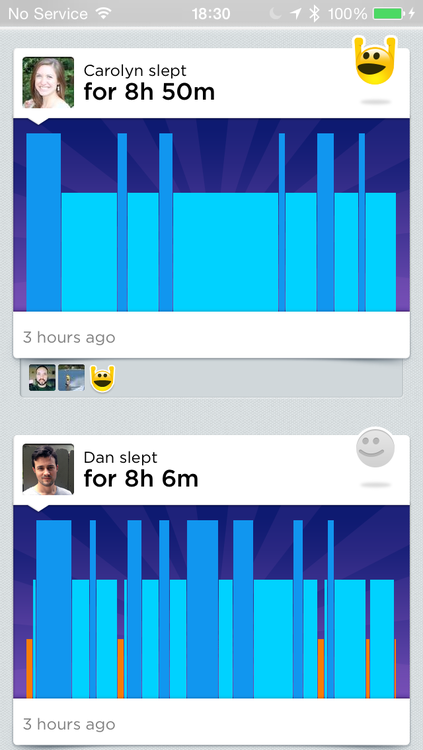 This turned out to be fun! Patrik regularly gets really good sleep and when I asked him his secret, he laughed and told me to try pushing my tongue against the roof of my mouth when I can't fall asleep! Bizarre, but it worked really, really well!
Good sleep is an ongoing journey
I'm writing this post having just hit a three-day streak of my 8-hour sleep goal. My body and mind are reaping the rewards, I feel like that guy in the movie Limitless.
Well, the truth is that I don't really feel a huge amount different just yet. I really believe that you can't focus on one change short term and expect huge differences in your life. For me, the foundation of wellness is a combination of getting enough sleep, eating well, physical activity and mental well-being, and self improvement is a long journey.
Creating a journal of my progress feels like a great way to record my experiences and I feel that by sharing them I'm making myself a little more accountable.
Oh, and I haven't turned into a monk by any means. You'll see me in a pub in central London with a beer in my hand on special occasions. Like weekends. Except maybe a little earlier in the evening ;)
Have you ever tried to improve your sleep patterns by measuring sleep or with other experiments? How did it go? I'd love to hear your findings in the comments!
This post originally appeared on my personal blog, which focuses on personal development and self improvement, along with some inspiration and fun.